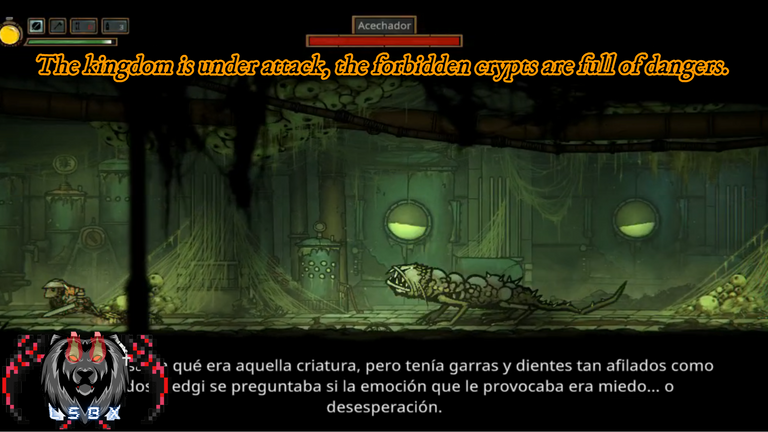 Anteriormente en Tails of Iron habíamos conocido el poblado de los topos, puesto que con la ayuda de nuestro amigo el topo pudimos salir de las minas, descubrimos el tipo de tecnologías que se encuentran debajo de estas minas olvidadas por el mundo.
Nos enfrentamos a muchos topos en la arena para obtener algo de oro y equipamiento miliar, los cuales algunos de ellos nos incrementaron mucho nuestro daño y defensa, también compramos muchos diseños para que el herrero que se encuentra en el castillo carmesí pueda fabricarnos mejores equipamientos del que tenemos.
El día de hoy perderemos a un amigo fiel al reino y tomarán secuestrado a nuestro hermano, puesto que nos enfrentaremos a muchos enemigos y protegeremos al reino de las ranas.
Previously in Tails of Iron we had met the mole village, since with the help of our friend the mole we were able to get out of the mines, we discovered the kind of technologies that are under these mines forgotten by the world.


We faced many moles in the arena to get some gold and militia equipment, some of which greatly increased our damage and defense, we also bought many designs so that the blacksmith who is in the crimson castle can make us better equipment than we have.


Today we will lose a loyal friend to the kingdom and our brother will be kidnapped, as we will face many enemies and protect the kingdom from the frogs.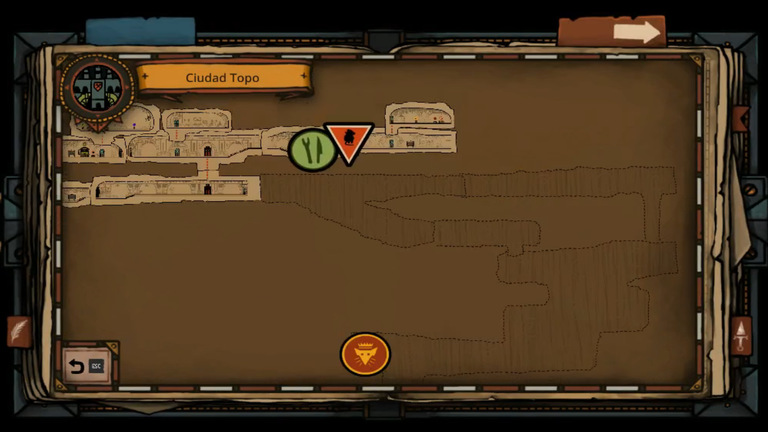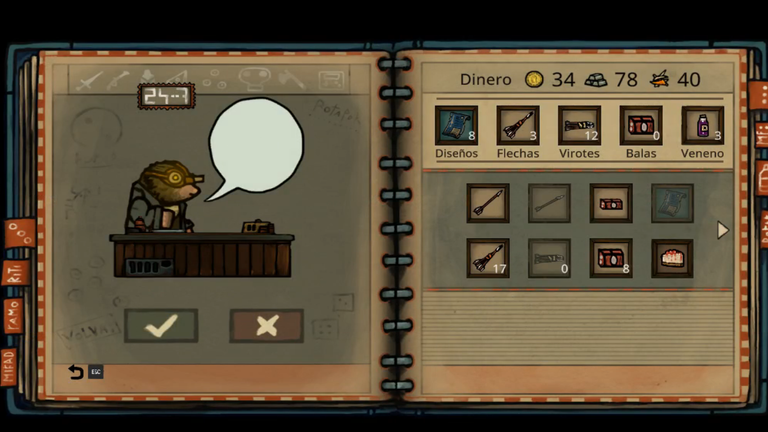 Luego de haber llegado a donde se encuentra el carro de nuestro amigo el Topo, nos enteraremos de que para que el carro funcione es necesario tener combustible, el cual se encuentra en las profundidades de esta mina, puesto que nuestro objetivo es ir allí y buscarlo si queremos volver a nuestro reino.
Dicho lugar se encuentra en lo más profundo, donde existe una máquina productora de combustible, según nos cuenta nuestro amigo el topo posiblemente necesitaremos electricidad para que funcione, ya que tiene un buen tiempo que no utilizaba su coche.
Recordemos que no podíamos avanzar porque en la entrada de la mina donde se encuentra el combustible, se encuentra unos guardias bloqueando el camino, puesto que para hacer que se muevan primero necesitaremos darle un pastel, el cual lo tiene a la venta el mercader que está cerca de la arena donde nos enfrentamos a muchos guerreros en el capítulo anterior.
Lo podemos comprar por 25 de oro, por suerte anteriormente nos habíamos enfrentado a los guerreros en la arena y obtuvimos algo de oro, una vez comprado el pastel se los entregaremos a los soldados y acto seguido podemos pasar en la mina.
After having arrived to where our friend the Mole's car is, we will find out that for the car to work it is necessary to have fuel, which is found in the depths of this mine, since our objective is to go there and look for it if we want to return to our kingdom.


This place is located in the deepest part of the mine, where there is a machine that produces fuel, according to our friend the mole tells us that we may need electricity to make it work, since he hasn't used his car for a long time.


Remember that we could not move forward because at the entrance of the mine where the fuel is, there are some guards blocking the way, since to make them move first we need to give them a cake, which is for sale by the merchant who is near the arena where we faced many warriors in the previous chapter.
We can buy it for 25 gold, luckily we had previously faced the warriors in the arena and got some gold, once bought the cake we will give it to the soldiers, and then we can go to the mine.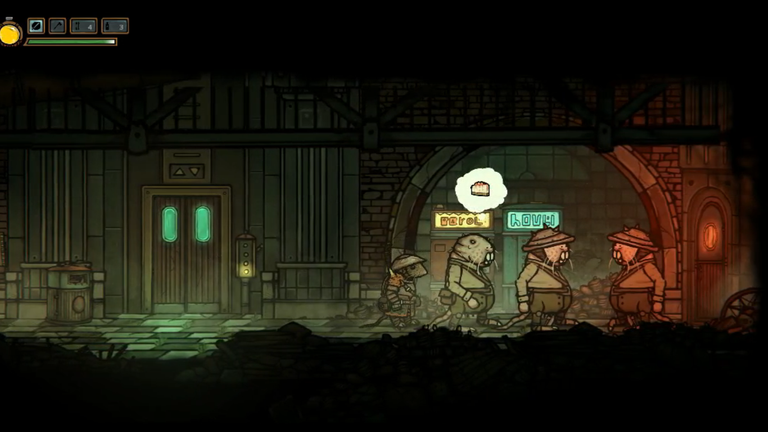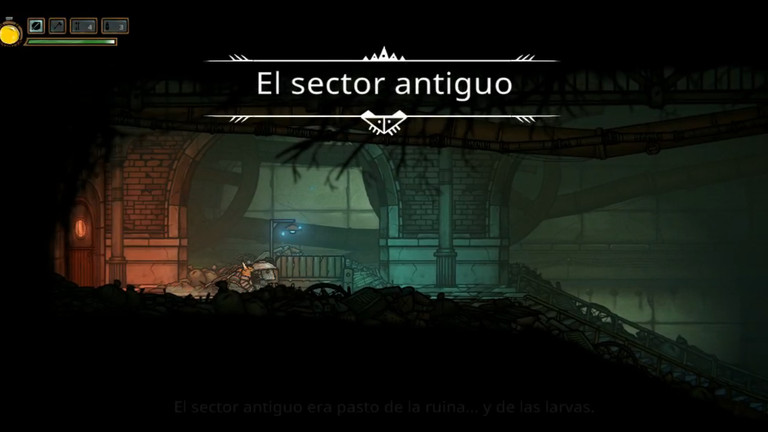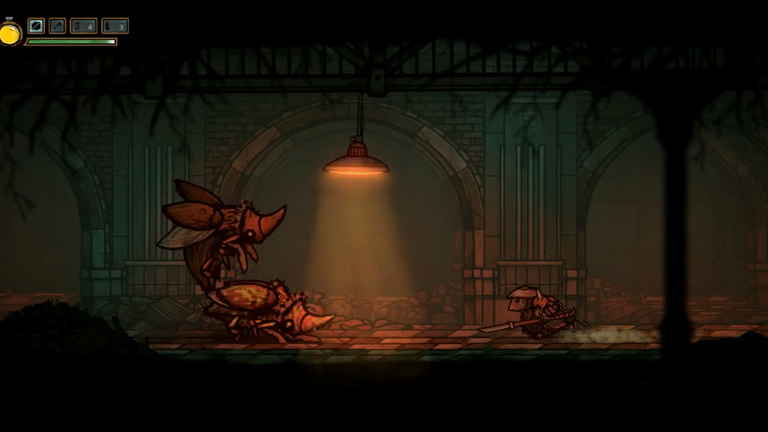 Más adelante estaremos en el sector antiguo de la ciudad de los topos, en este lugar podremos encontrar el combustible que necesitamos para el coche del nuestro amigo el topo.
Por el camino nos enfrentaremos a muchas Larvas, así que procura equiparte armaduras resistentes a las larvas, más adelante sentiremos la presencia de una extraña criatura en algunos sitios de esta mina.
Más adelante encontraremos la máquina productora de combustible, pero era verdad lo que nos decía nuestro amigo el topo, ya que efectivamente estará inoperativa por el tiempo que no se ha utilizado, puesto que necesitara de energía para que vuelva a funcionar.
Later we will be in the old sector of the city of moles, in this place we can find the fuel we need for the car of our friend the mole.


Along the way we will face many Larvae, so try to equip armor resistant to larvae, later we will feel the presence of a strange creature in some places of this mine.


Further on we will find the fuel producing machine, but it was true what our friend the mole told us, since it will be inoperative for the time that has not been used, since it will need energy to work again.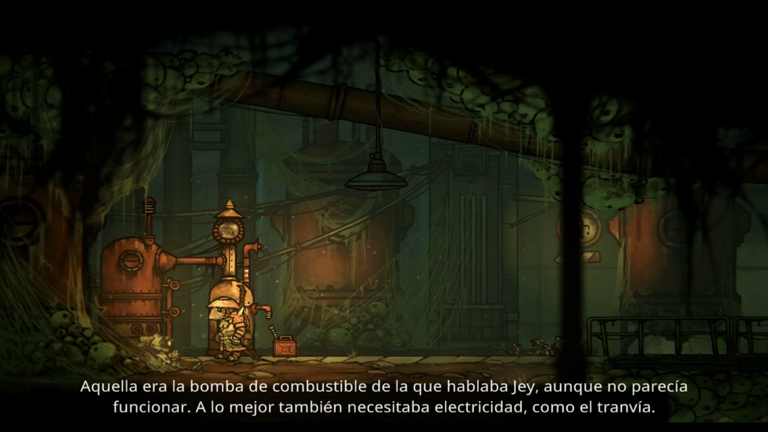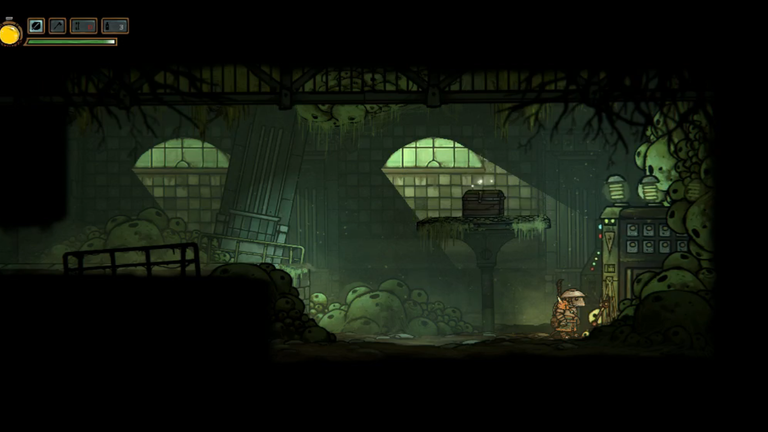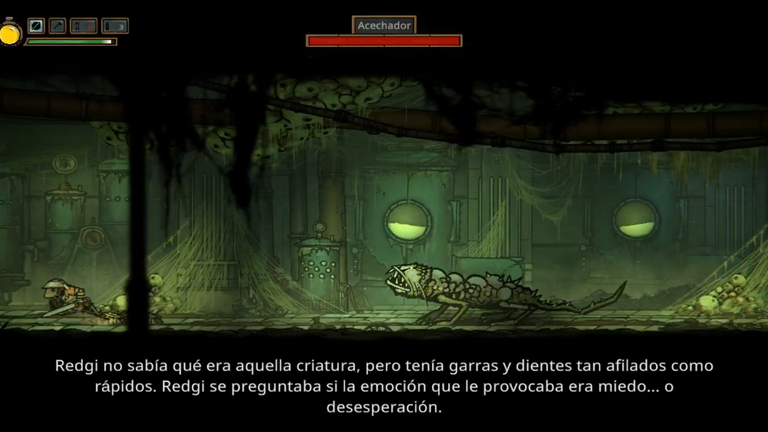 Si bajamos un poco más veremos que las palancas que activan la energía no está a lo lejos, del lado izquierdo y derecho están las palancas para activar la energía, también podemos obtener algunos cofres del tesoro en el camino, uno de ellos posee una poderosa espada.
Una vez que busquemos el combustible, lo que se encontraba en lo más profundo acechándonos finalmente sale a la luz, una repugnante criatura llamada Acechador, nuestro rey Redgi no estaba seguro de lo que estaba viendo, nunca había visto algo como esto, puesto que tiene enorme dientes y filosas garras.
Al matar a la criatura podremos obtener nuestro combustible he de ir a donde nuestro amigo el topo para poder ir a nuestro castillo finalmente.
If we go down a little further we will see that the levers that activate the energy are not far away, on the left and right side are the levers to activate the energy, we can also get some treasure chests on the way, one of them has a powerful sword.


Once we search for the fuel, what was deep inside stalking us finally comes to light, a disgusting creature called Stalker, our king Redgi was not sure what he was seeing, he had never seen anything like this, as it has huge teeth and sharp claws.


By killing the creature, we can get our fuel and go to our friend the mole, so we can finally go to our castle.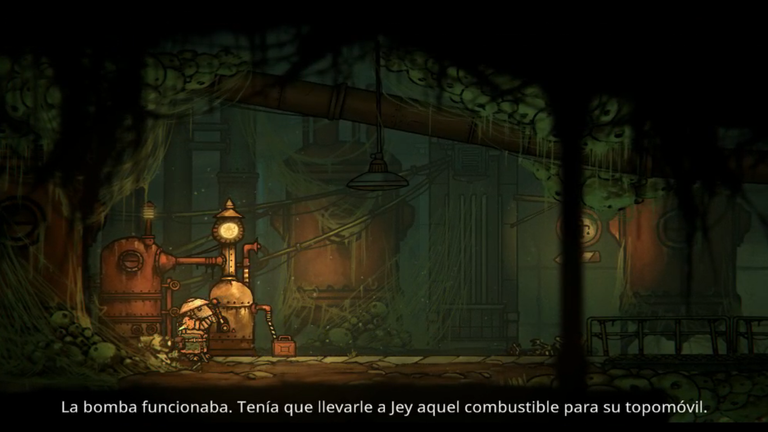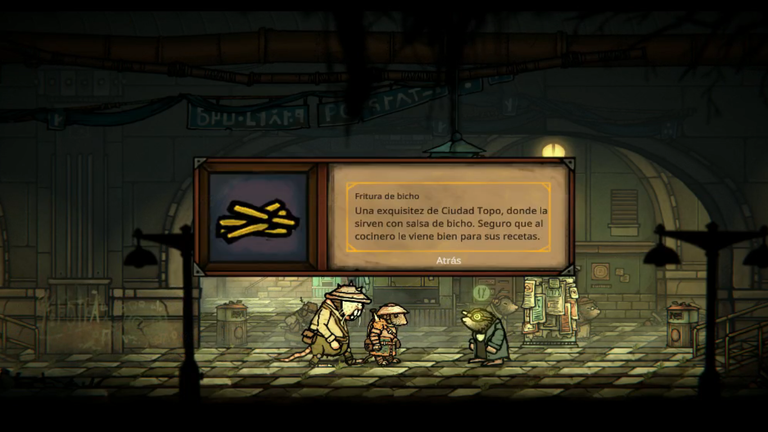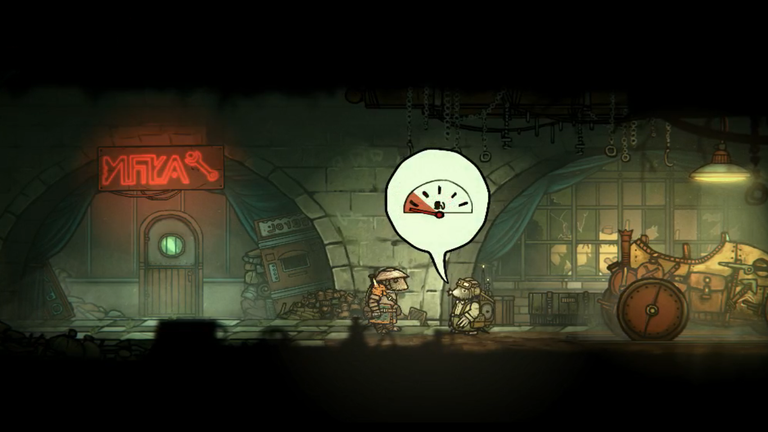 Mientras estemos de camino en estas minas encontraremos el aceite que nos pedía aquel tipo que se encuentra antes de la sala de mecánica donde se encuentra el carro, puesto que una vez que se lo entreguemos nos dará unas frituras de bicho, las cuales se las daremos al chef de nuestro reino para incrementar más nuestra vitalidad.
Una vez en donde nuestro amigo el topo le daremos el combustible y finalmente iremos a nuestro hogar, Redgi se preguntará que habrá pasado desde que estuvo desaparecido todo este tiempo.
Una vez en el fuerte carmesí veremos que todo está cerrado y con guardias por todas partes, puesto que teníamos demasiado tiempo fuera de nuestro castillo, ya las tropas estaban preparadas para la guerra, algo grande se avecinaba a nuestro castillo.
While we are on our way in these mines we will find the oil that the guy who is before the mechanical room where the cart is, once we give it to him, he will give us some bug fries, which we will give to the chef of our kingdom to increase our vitality.



Once at our friend the mole we will give him the fuel, and finally we will go to our home, Redgi will wonder what happened since he was missing all this time.


Once in the crimson fort we will see that everything is closed and with guards everywhere, since we had too much time away from our castle, and the troops were ready for war, something big was coming to our castle.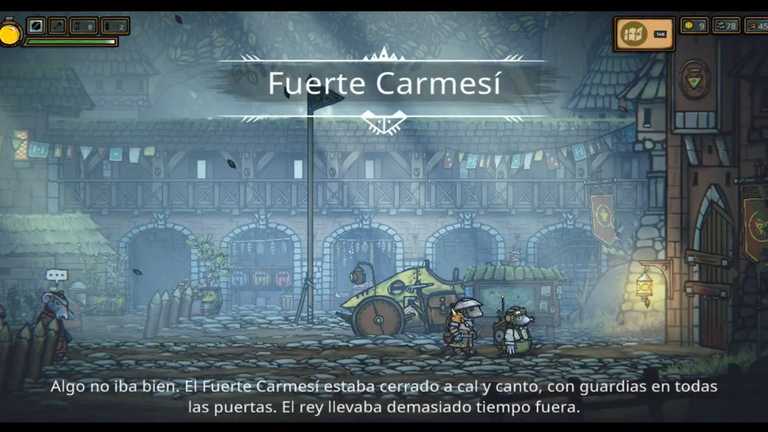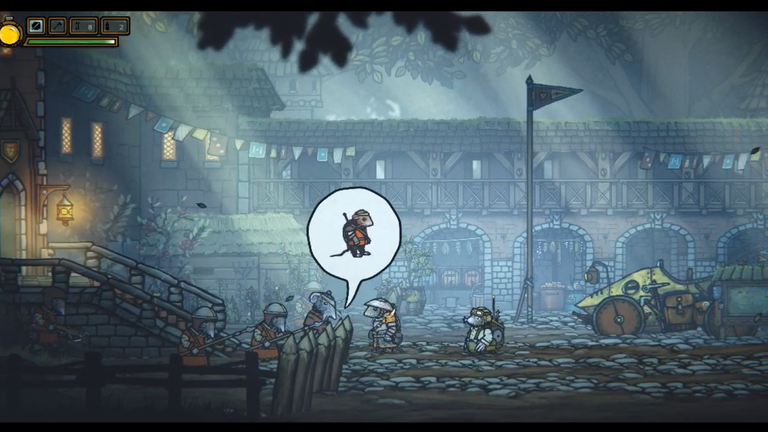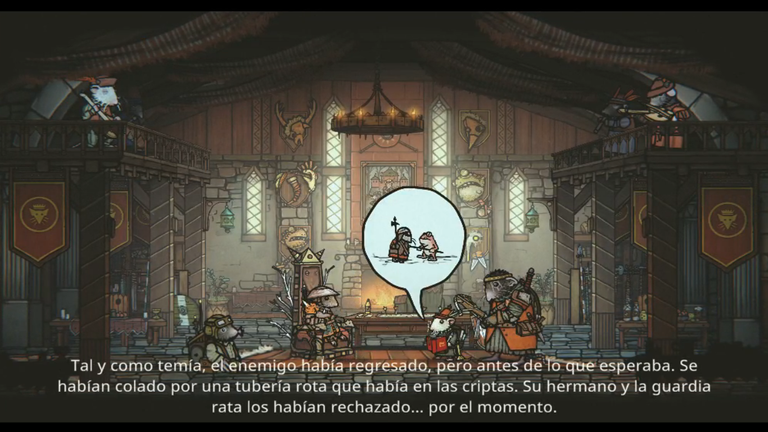 Al hablar con el comandante de las tropas de nuestro reino, nos dirá que las ranas han apresurado su paso de conquista y se dirigen hacia nuestro castillo, él tomó el trabajo por sus propias mano y mando a todas las tropas a defender el castillo.
Nuestro objetivo es ir a la sala del trono para hablar con nuestro consejero real, puesto que veremos a nuestro hermano mayor esperando en el trono, puesto que nuestros informes indican que las ranas han comenzado a pasar por las tuberías de las criptas, las cuales se encuentran en el inferior de nuestro castillo, las ranas pensaron que iban a tomar el castillo desde ese lugar, por suerte ya habíamos explorado las criptas antes y habíamos tomado precauciones por si esto sucedería.
Ahora nuestro objetivo es ir a las criptas y desterrar a las ranas de este lugar, en esta misión nuestro hermano mayor y nuestro amigo el topo nos ayudará para salvar a nuestro reino.
When we talk to the commander of the troops of our kingdom, he will tell us that the frogs have hurried their pace of conquest and are heading towards our castle, he took the job into his own hands and sent all the troops to defend the castle.
Our objective is to go to the throne room to talk to our royal advisor, since we will see our older brother waiting on the throne, since our reports indicate that the frogs have begun to pass through the pipes of the crypts, which are at the bottom of our castle, the frogs thought they were going to take the castle from that place, luckily we had already explored the crypts before and had taken precautions in case this would happen.


Now our goal is to go to the crypts and banish the frogs from this place, in this mission our big brother and our friend the mole will help us to save our kingdom.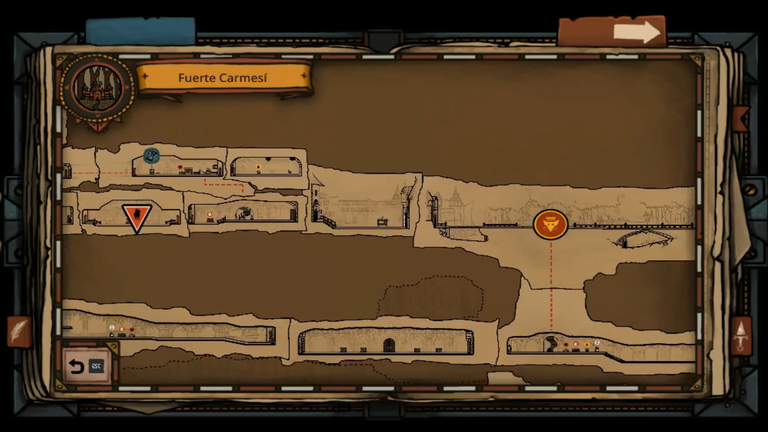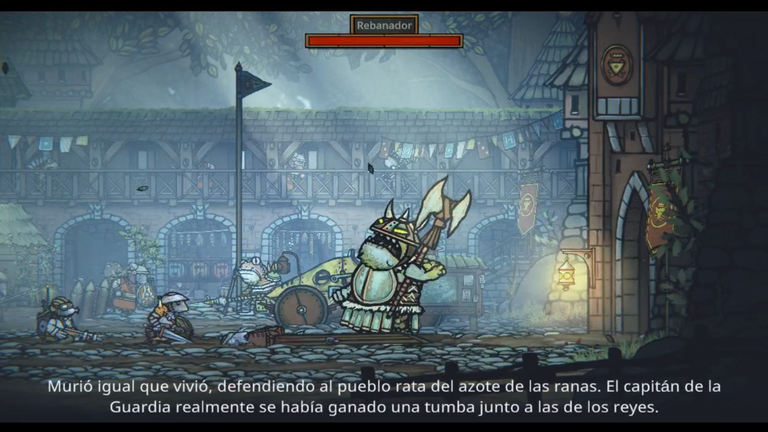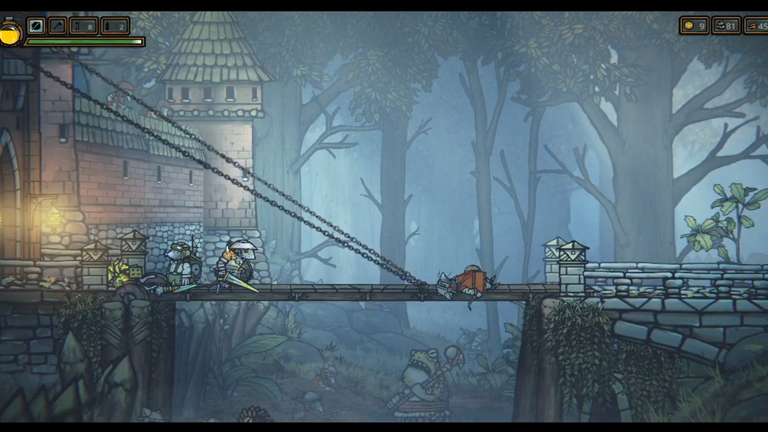 Una vez que vayamos de camino a las criptas veremos que el portón real se encuentra bajo ataque, puesto que capitán de la guardia se acerca para evitar que lo rompan, pero en el intento un enorme guardián llamado rebanador aparece y mata a nuestro capitán…
Nos enfrentaremos a la temible criatura, una vez derrotado veremos que una horda de ranas se acerca al castillo desde la entrada, puesto que los mataremos a todos, también veremos como nuestros guerreros desde las murallas del castillo se encuentran batallando con estas malvadas ranas.
Once we are on our way to the crypts we will see that the royal gate is under attack, since the captain of the guard approaches to prevent them from breaking it, but in the attempt a huge guardian appears and kills our captain...


We will face the fearsome creature, once defeated we will see that a horde of frogs is approaching the castle from the entrance, since we will kill them all, we will also see how our warriors from the castle walls are battling with these evil frogs.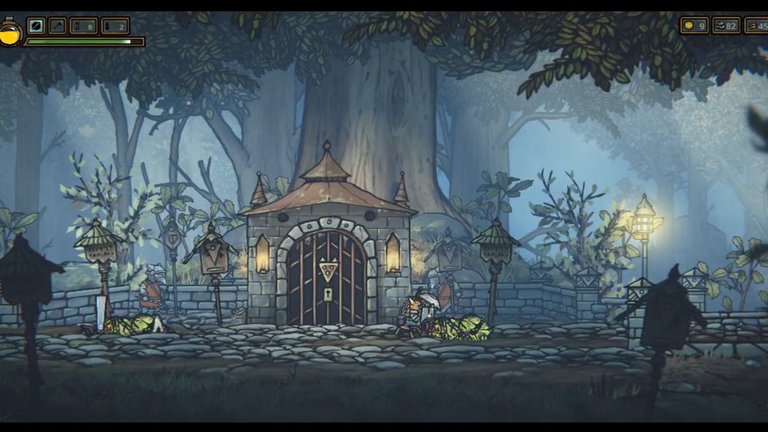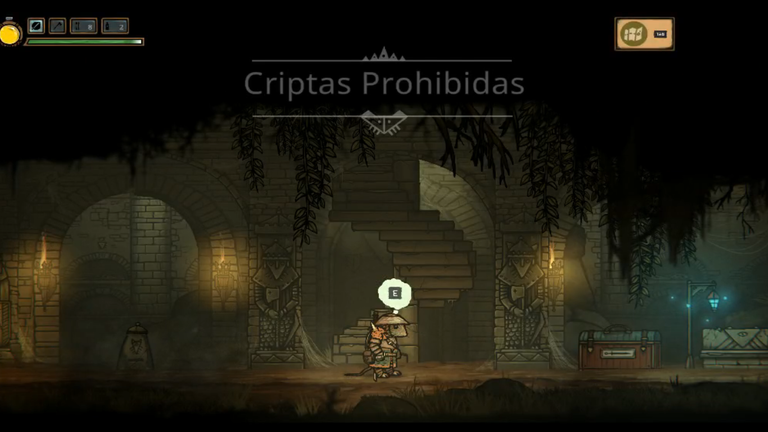 Una vez que estemos en la entrada de las criptas nos enfrentaremos a dos guardianes ranas, puesto que acto seguido bajaremos hacia las criptas.
Cuando estemos en las criptas prohibidas veremos que nuestro amigo el topo ya está más adelantado y nuestro hermano mayor por su sed de venganza ya se ha adelantado un poco, puesto que nuestro rey redgi estará preocupado por su hermano, ya que son demasiadas ranas y no podrá con ellas él solo.
Más adelante nos enfrentaremos a dos guardianes, gracias al equipamiento que poseemos podemos matar a estas ranas con mucha facilidad, y si nos equipamos la espada del rey que nos dan en el trono, más rápido todavía podemos acabar con nuestros enemigos.
Una vez que estemos en las tuberías de la cripta, veremos como nuestro hermano mayor es secuestrado, también vemos como le ponen un mascara y se lo llevan dentro de las tuberías, recordemos que el gas que emana de ellas es muy tóxico.
Nuestro amigo el topo nos menciona que en su reino venden un casco antigás tóxico, puesto que nuestro objetivo es ir a comprarlo y así poder salvar a nuestro hermano mayor.
Continuará…
Y de esta manera finaliza la publicación de hoy hermanos, espero les sea de su agrado, hasta la próxima.
Once we are at the entrance of the crypts, we will face two frog guards, since we will then go down to the crypts.


When we are in the forbidden crypts we will see that our friend the mole is already more advanced and our older brother for his thirst for revenge has already advanced a little, since our king redgi will be worried about his brother, since there are too many frogs, and he will not be able to deal with them alone.
Later we will face two guards, thanks to the equipment we have we can kill these frogs very easily, and if we equip the king's sword that they give us on the throne, even faster we can kill our enemies.


Once we are in the pipes of the crypt, we will see how our older brother is kidnapped, we also see how they put a mask and take him into the pipes, remember that the gas emanating from them is very toxic.


Our friend the mole mentions to us that in his kingdom they sell a toxic gas helmet, since our goal is to go to buy it and thus be able to save our older brother.
To be continued...
And thus ends today's publication brothers, I hope you like it, until next time.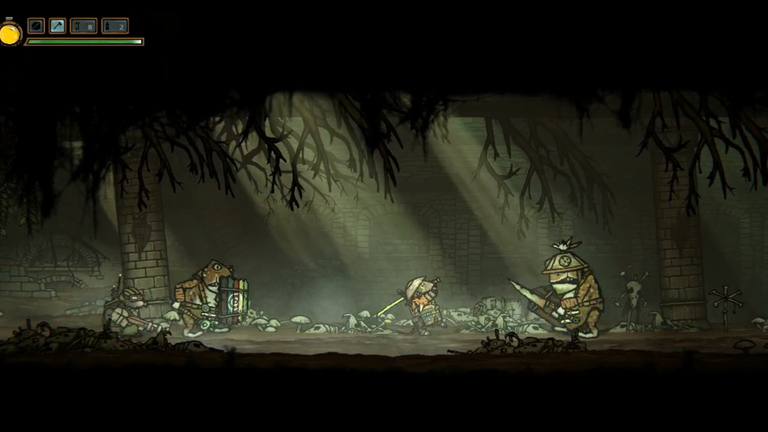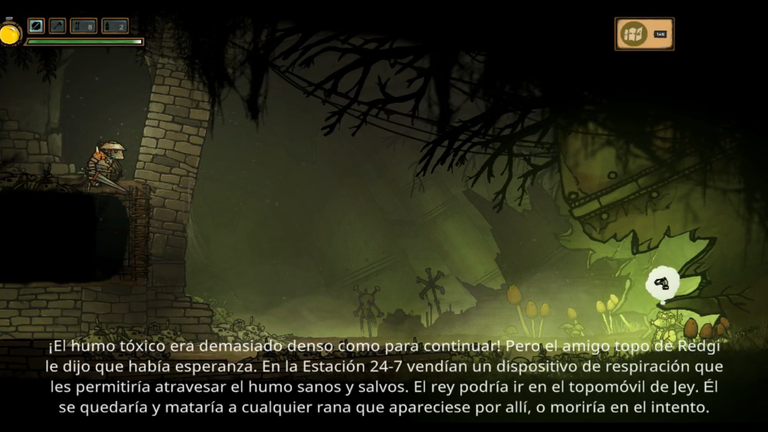 Los separadores son de mi autoría, los captures son realizados desde mi perfil de jugador en mi ordenador, las ediciones del gif son creados por mí.
The separators are of my authorship, the captures are made from my player profile on my computer, the gif edits are created by me.
Programas que utilicé para crear mi diseño es este:
This is the program I used to create my design:
Gif y portada cortesía de Canva
Gif and cover courtesy of Canva
Traducido por Deepl