Talad Noi (small market) is an old Chinese settlement to the south of Chinatown or Yaowarad road in Bangkok. I have been drawn to explore this area alone during the three months' lockdown last year. However, most the the important sites were closed so I just had a short walk around old houses and Chinese shrines in this area. Later on, an old friend asked me to lead a walking tour of Talad Noi area, I gladly agreed to the request. So, we had that wonderful one day walking tour of the old Chinese community. I took my friend to the old Chinese mansion (So Heng Tai) and the small Chinese shrine by the river, see my previous post. We continued to walk along several small alleys observing the remaining old houses.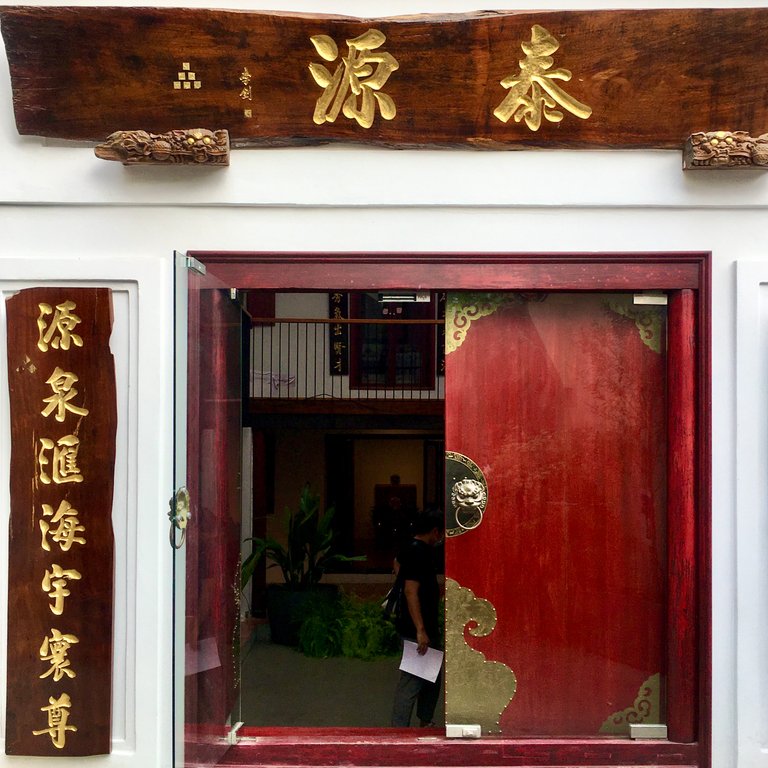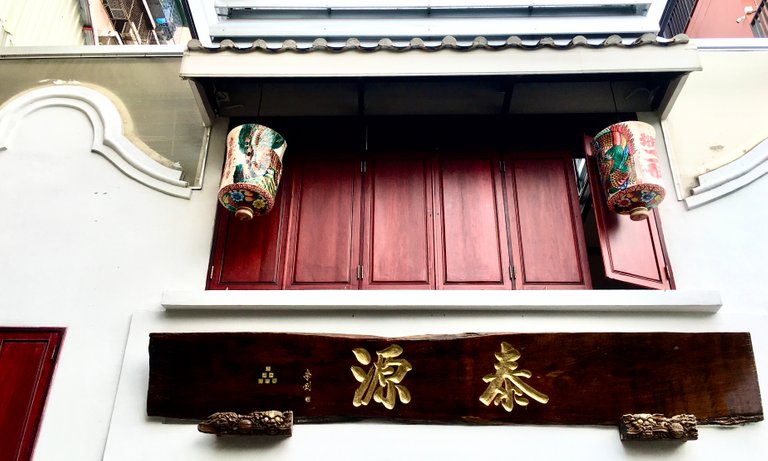 Some of these old houses have been transformed into charming new hotel, restaurants and coffee shops. Unfortunately these have remained closed as tourism has been put on hold since the pandemic lockdown. We stumbled on a new hotel where the owner was having a company of people to make an advertisement video of the new hotel. We were allowed to have a look around the ground floor.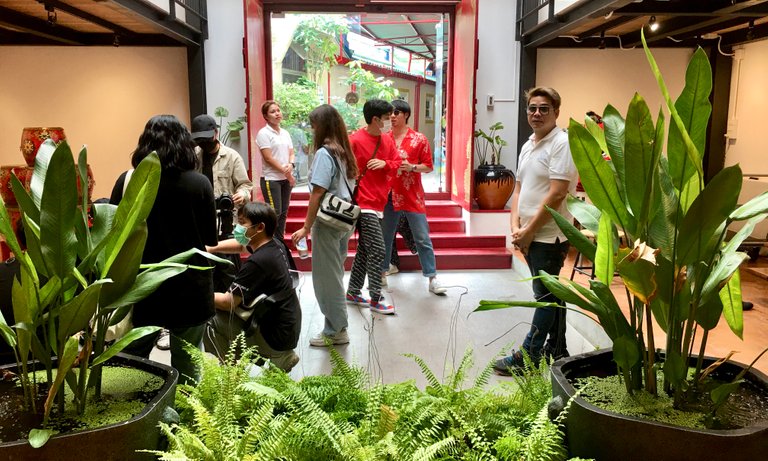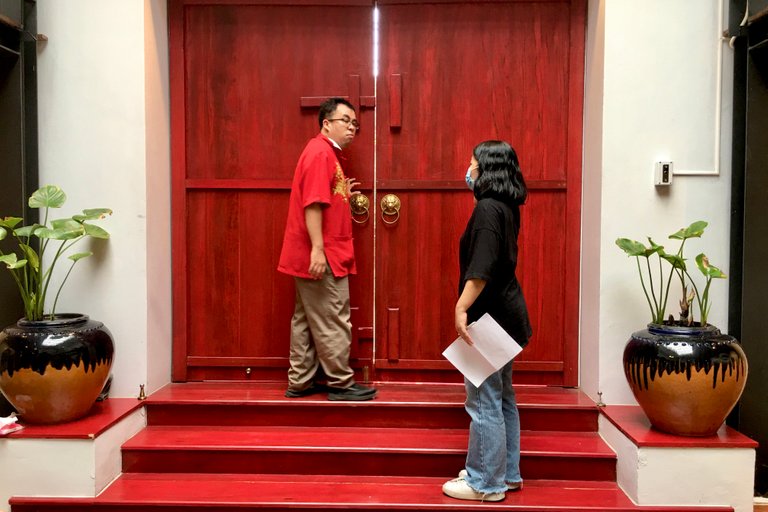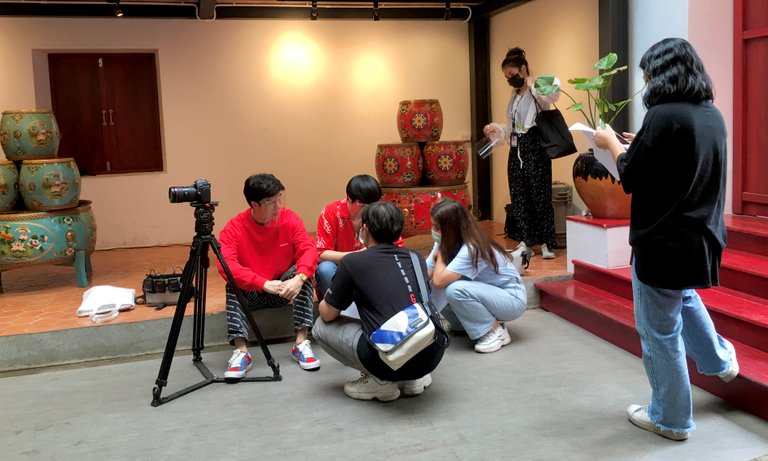 My friend was very attracted by the Chinese drums and antique furniture inside the old house. I was curious about the interior design and the old Chinese wooden door which was exactly the same as all the wooden door in my grandmother's house. I could recall the heavy wooden doors with large wooden locks; it never dawn on me that all the wooden furniture in her house would be considered valuable antiques nowadays. I did wonder who had all the old furniture from her house. I just hoped whoever got those antiques did not throw or give them away in order to buy new modern furniture.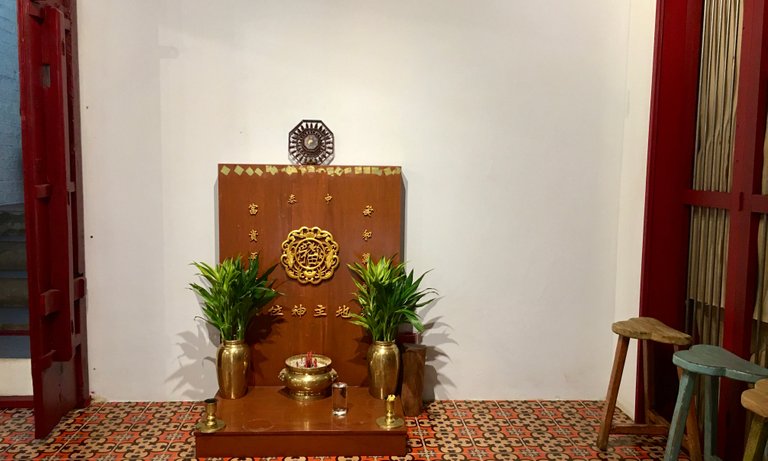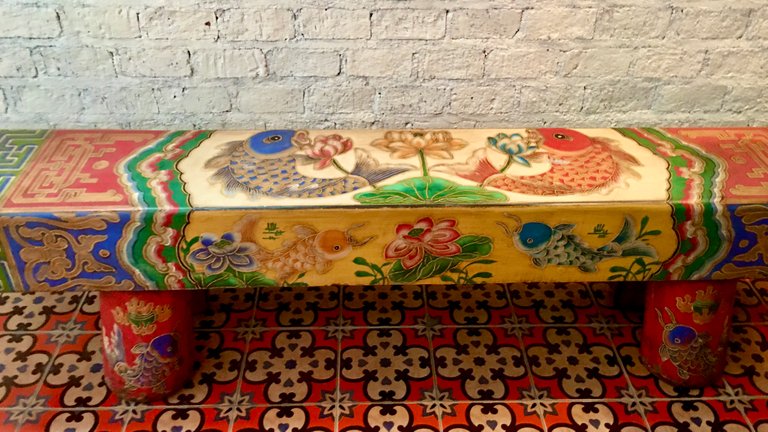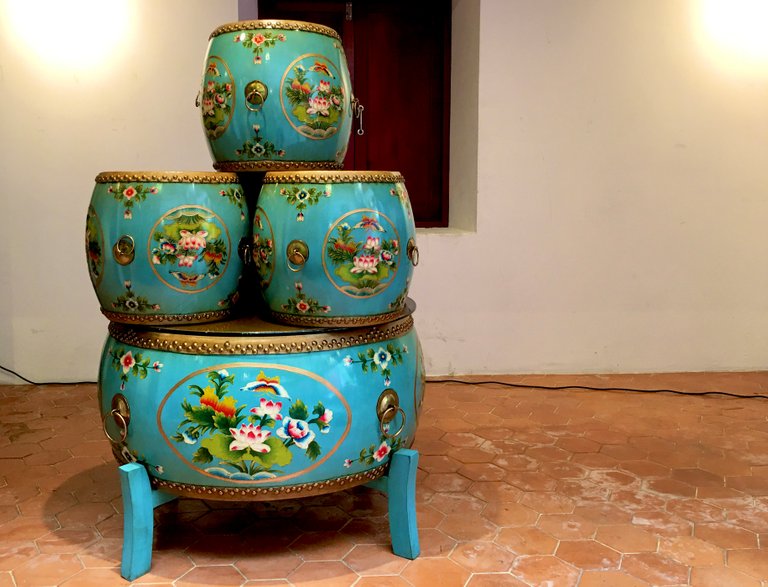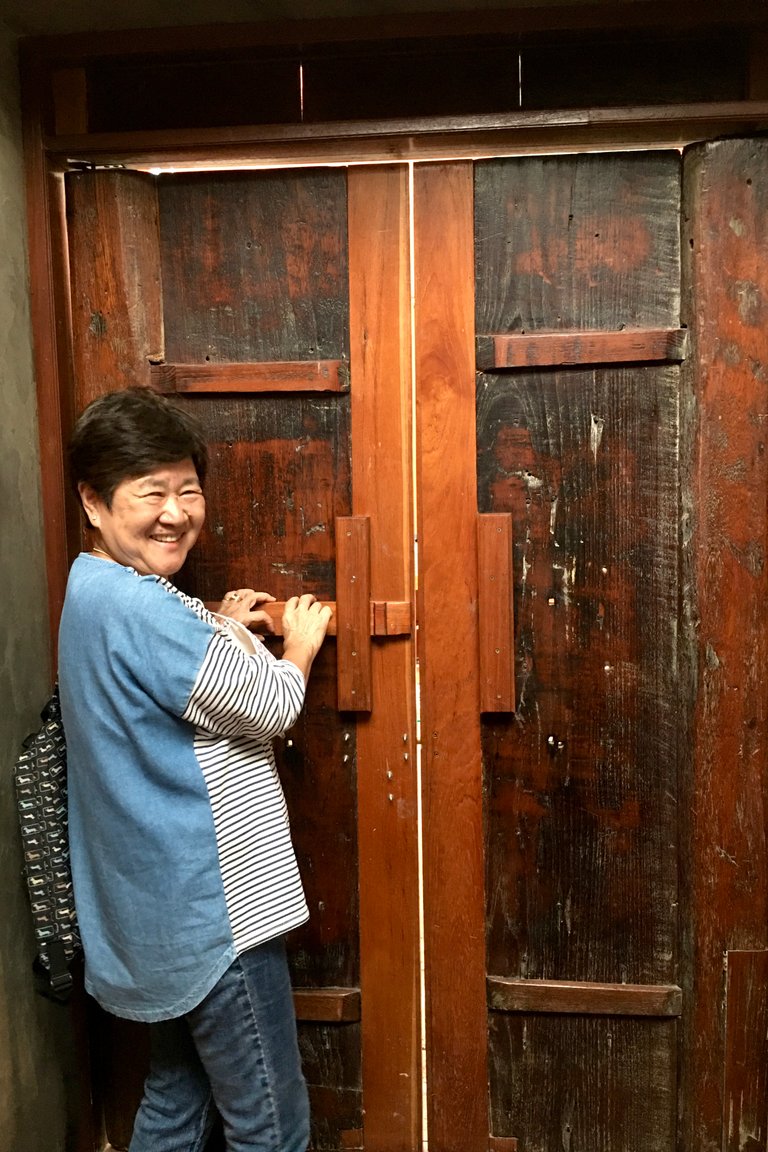 วันนี้เราจะพาเดินเล่นต่อตามตรอกแคบๆในตลาดน้อย ครั้งก่อนเราเคยพาไปดูบ้านเรือนเก่าๆที่ปรับทำเป็นร้านกาแฟ และบ้านโซวเฮงไถ่ที่มีการสร้างสระว่ายน้ำกลางลานบ้าน ตลอดจนศาลเจ้าจีนโบราณ เราจะเห็นว่าตลาดน้อยเต็มไปด้วยประวัติศาสตร์และสถานที่ที่น่าสนใจมาก พวกเราจึงเพลินมากกับการเดินไปเรื่อยๆตามทาง เพราะเราไม่รู้ว่าจะเจอบ้านเก่าให้เดินดูอีกไหม และเรากับเพื่อนก็โชคดีที่เดินไปเจอโรงแรมใหม่ ที่ดัดแปลงจากบ้านเก่า เจ้าของกำลังให้คนมาถ่ายวีดีโอเพื่อทำโฆษณาลงสื่อ เขาต้องการทำการประชาสัมพันธ์สถานที่เพื่อรองรับนักท่องเที่ยวในอนาคต เราขอเจ้าไปเดินเล่นถ่ายรูปข้างใน เพื่อนของเราชอบกลองจีนและเครื่องเรือนที่ทำด้วยไม้ เราสนใจประตูไม้ที่ทำเรียนแบบประตูโบราณ เหมือนกับที่เราเคยเห็นที่บ้านคุณย่าของเราเลย แต่ของเก่านั้นประตูจะเป็นไม้เนื้อแข็งที่หนักมาก และมีกลอนไม้ทั้งชิ้น การต่อไม้จะไม่ใช่ตะปูเลย เราเดินไปดูอ่างล้างมือมีทำด้วยถังไม้ด้วย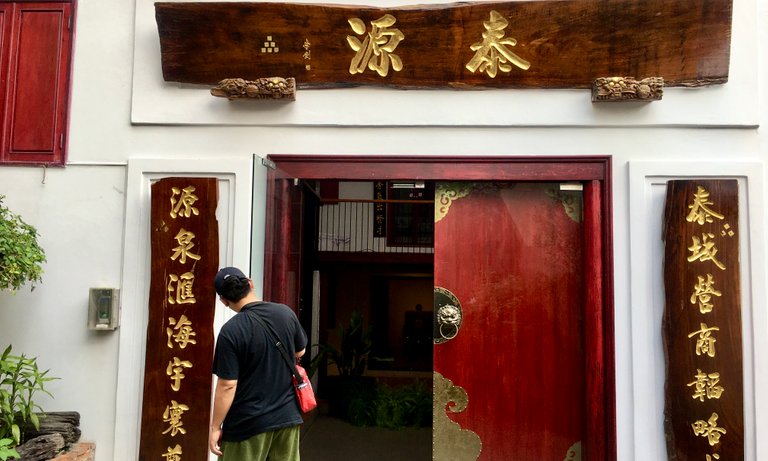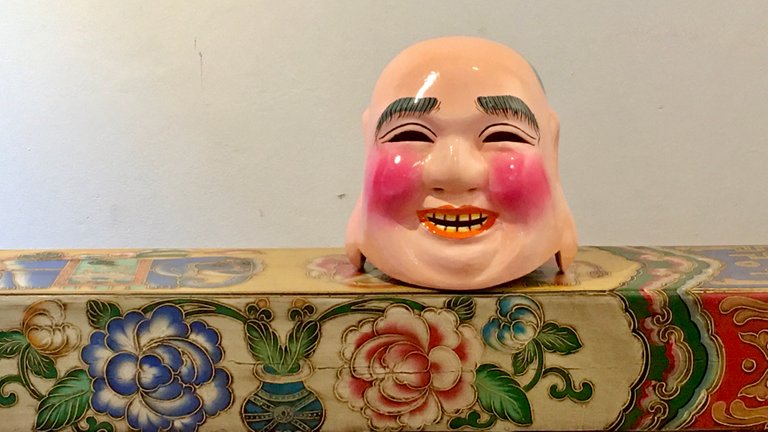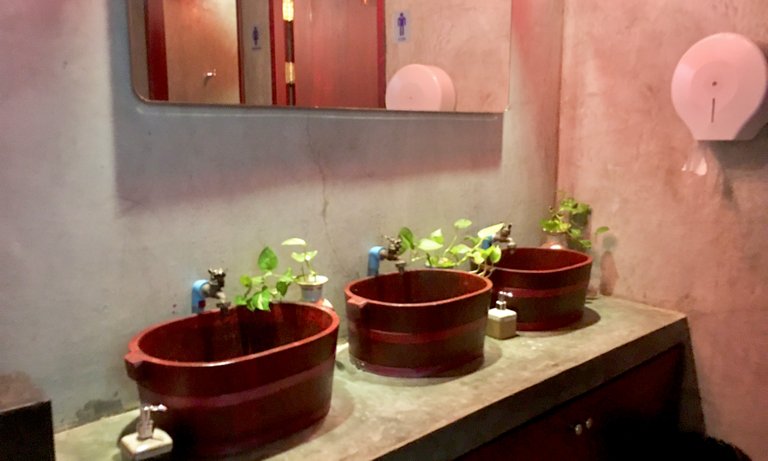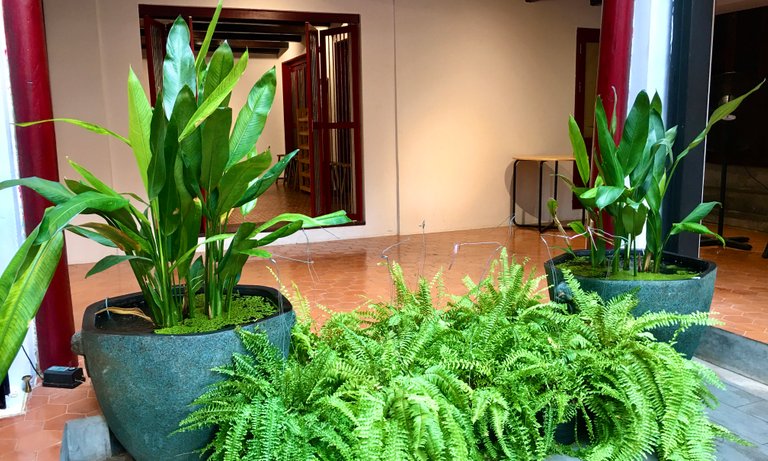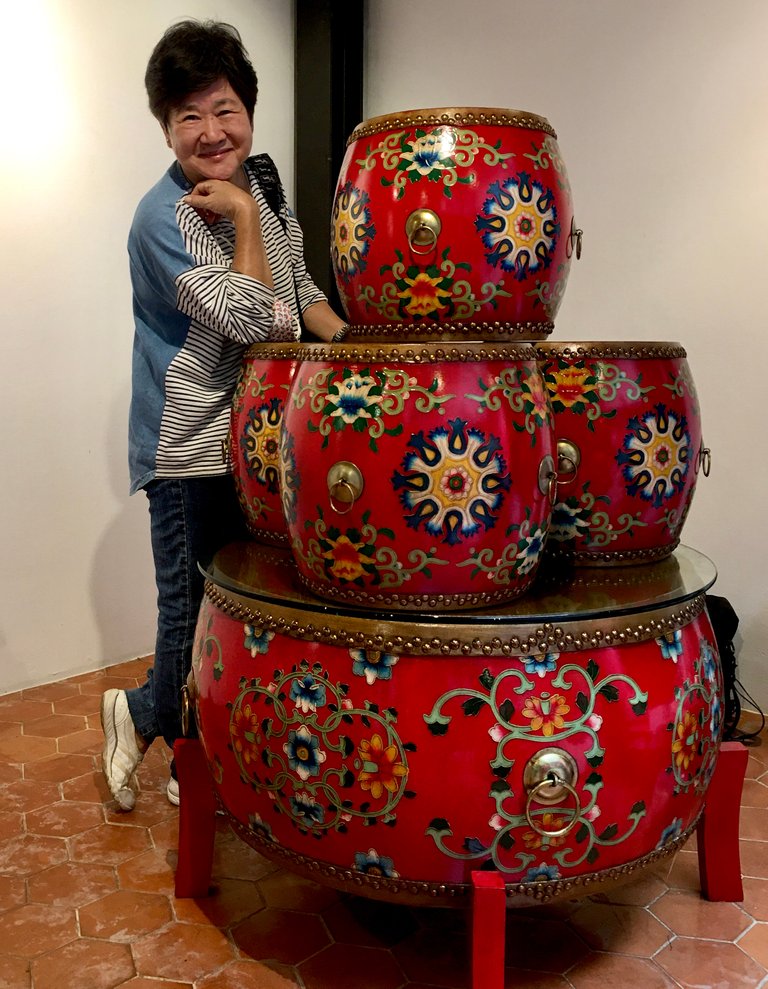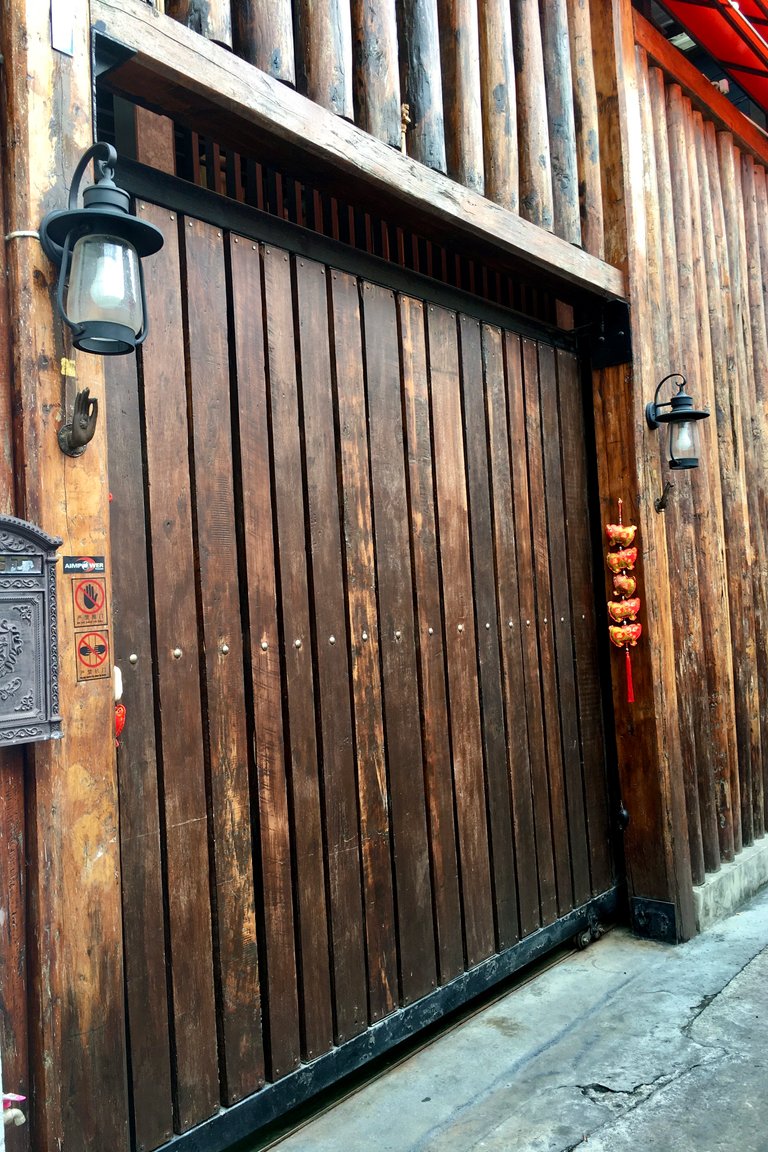 We found several old houses, over a hundred years old, in both good and bad condition. Some old houses have been nicely renovated while others were left unoccupied. One row of old houses looked as if the houses would topple over in a rainy storm. It would take a lot of money to renovate these houses and the non-existence of tourism would not be very conducive to investing in renovation. So, one positive outcome of tourism is the incentive to preserving or renovating of old houses.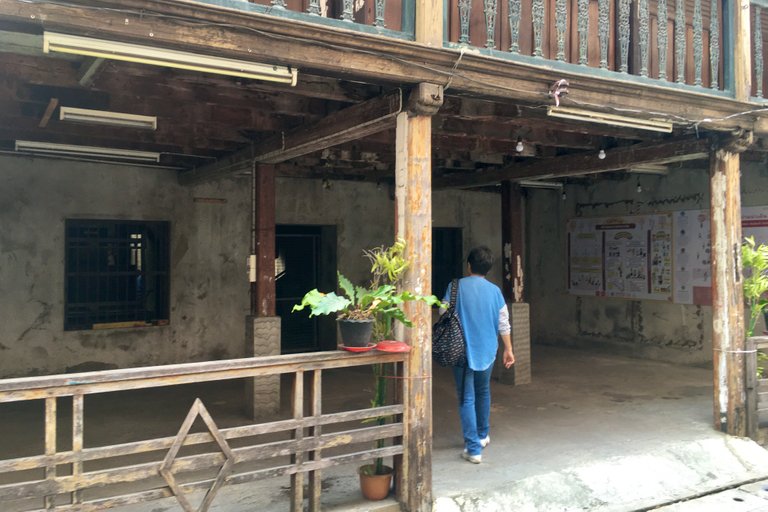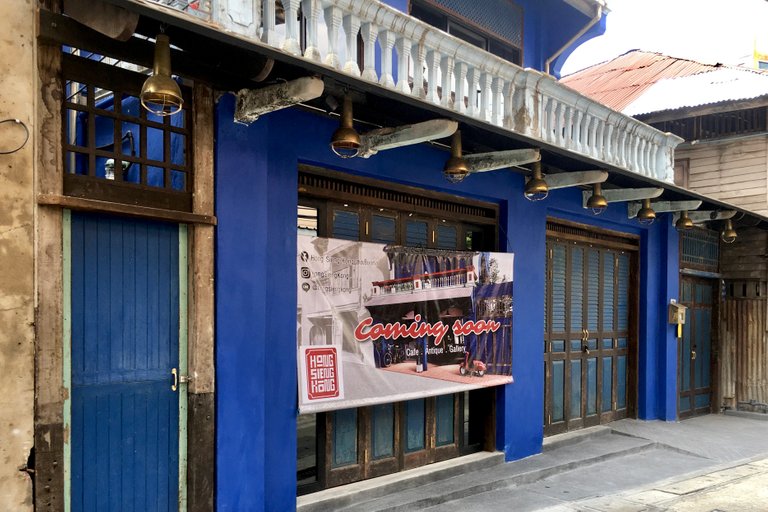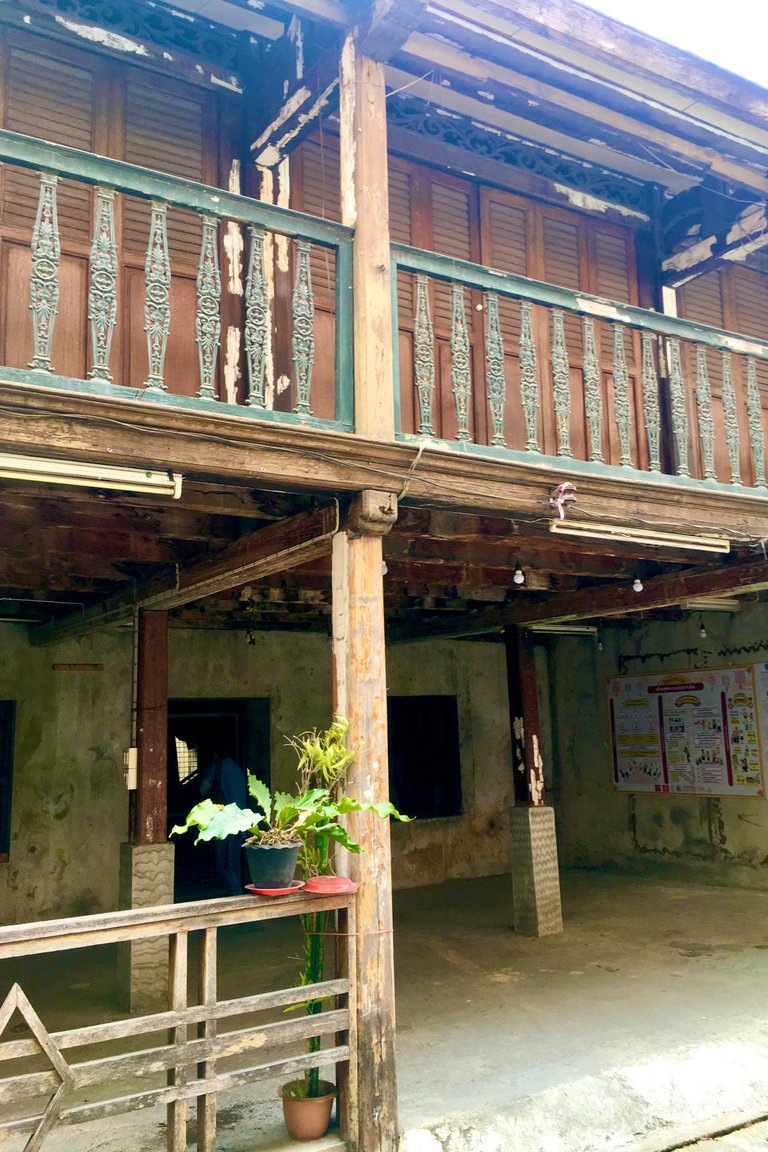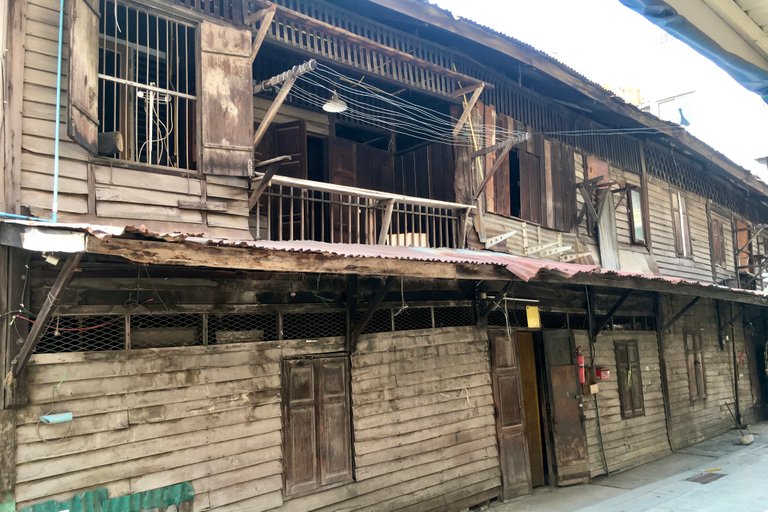 เราเดินไปเจอบ้านเก่าอีกหลายหลัง บางแห่งมีการซ่อมแซมปรับปรุงให้สวยงามเพื่อรองรับนักท่องเที่ยว แต่หลายหลังดูเก่าแก่จนทรุดโทรมมาก เราคิดว่าคงต้องใช้เงินจำนวนมากในการปรับปรุงบ้านเก่าให้น่าดูเหมือนใหม่ แต่การท่องเที่ยวที่หายไปคงไม่มีเหตุผลให้ลงทุนเพื่อบูรณะบ้านเก่าๆ เราดูความสวยงามของบ้านไม้เก่าแล้วก็อดนึกเสียดายไม่ได้ ทุกอย่างคงเปลี่ยนแปลงไปเรื่อยๆ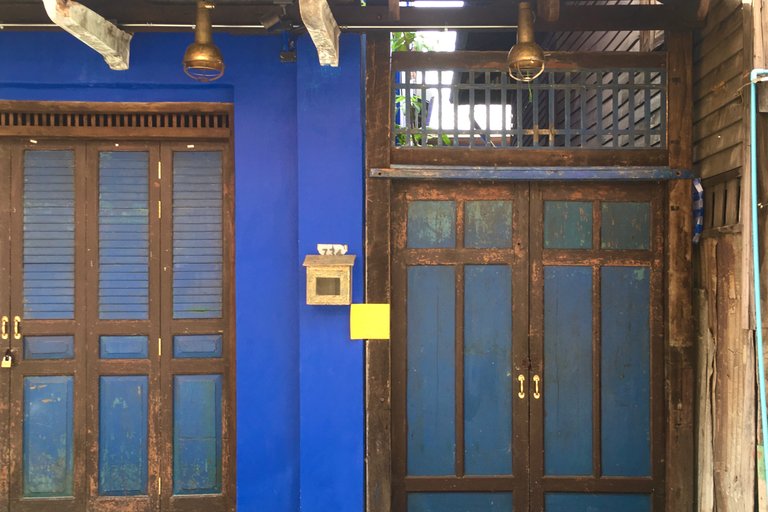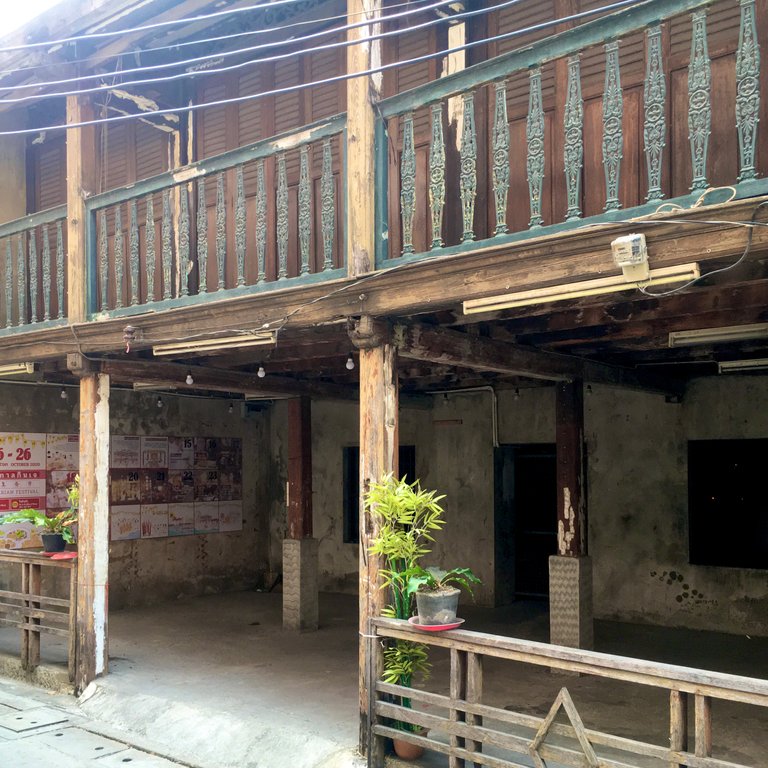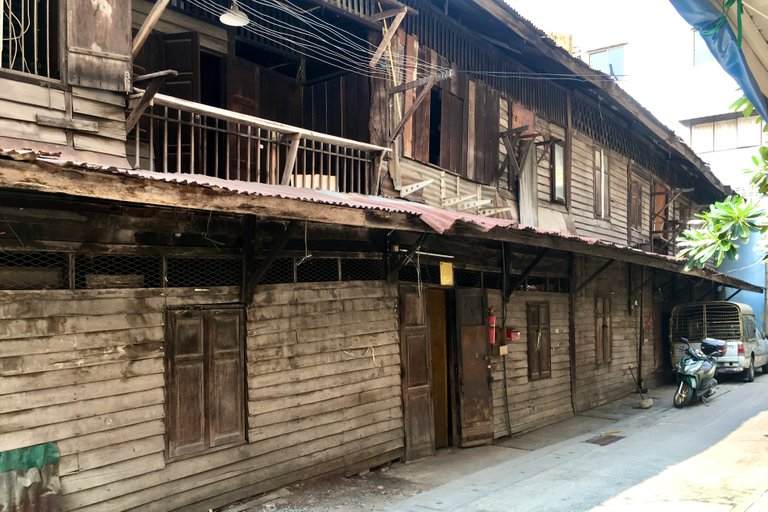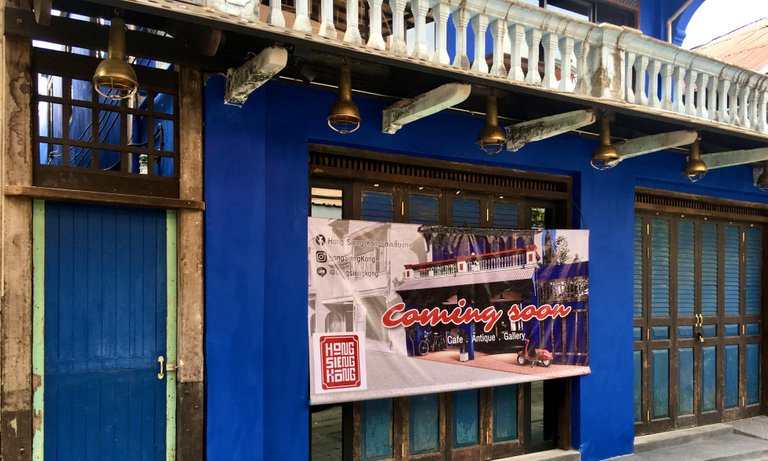 From old houses and narrow alleys, we emerged into side streets of townhouses which is known as 'Siang Kong'. Siang Kong is the area near Chinatown where the old Chinese community has been trading secondhand car parts and engines since after the Second World War.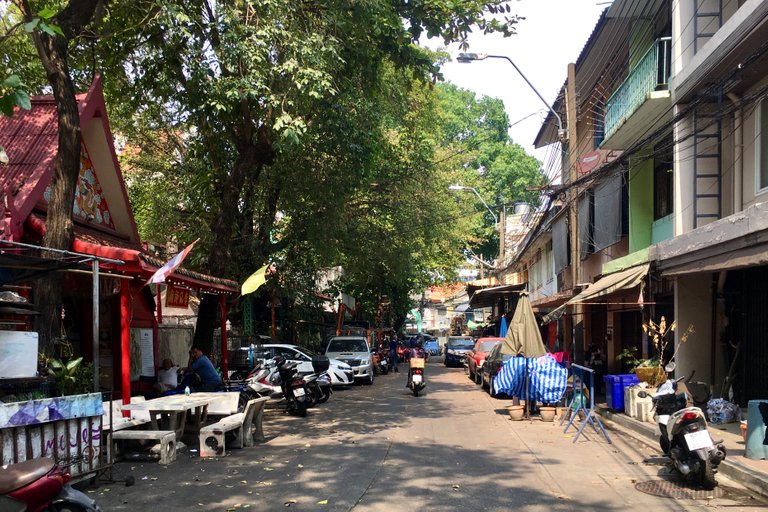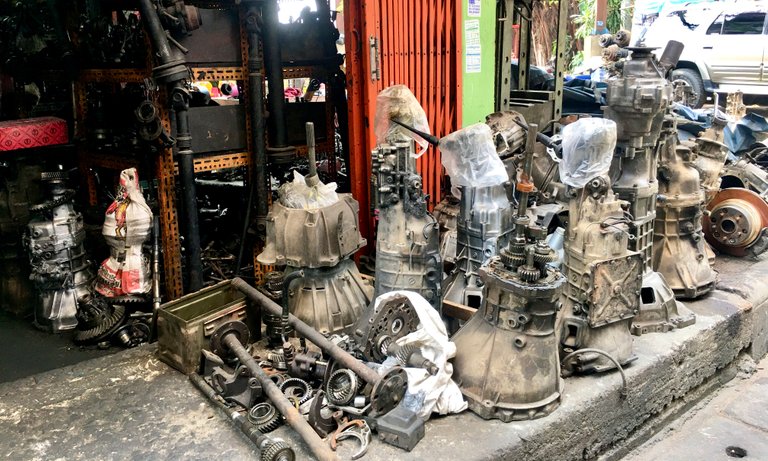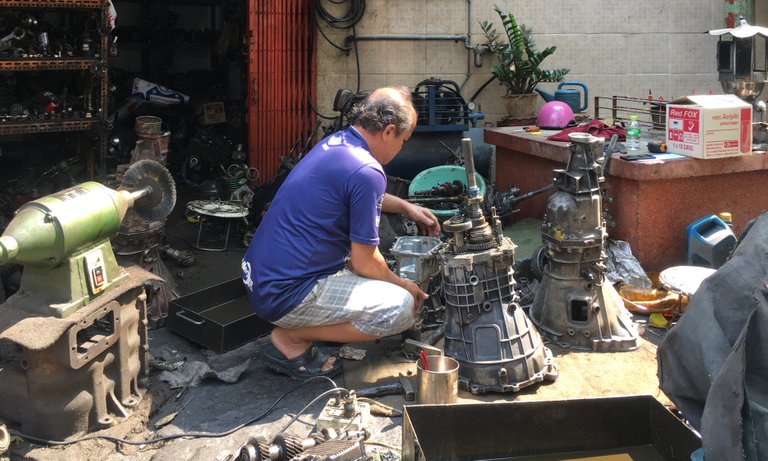 เราเดินไปเรื่อยจนมาถึงแหล่งที่คนเรียกว่า เชียงกง ซึ่งเป็นแหล่งรวมอาหลั่ยรถยนต์ เครื่องยนต์และส่วนประกอบของเครื่องยนต์รุ่นเก่าๆ เราจะเห็นแต่ละบ้านมีเครื่องยนต์กองเต็มหน้าบ้านและในบ้าน เราแปลกใจมากที่มีชิ้นส่วนของเครื่องยนต์มากมายเป็นกองพะเนินแบบนั้น ชาวจีนในชุมชนนี้เริ่มมีอาชีพเก็บของเก่าจักรยานเก่าๆ มาซ่อมแซมแล้วส่งไปขาย ช่วงหลังสงครามโลกครั้งที่สอง มีรถยนต์มือสองมาก ทำให้มีการซื้อรถมือสองเพื่อขายส่วนประกอบของเครื่องยนต์ เวลาผ่านไปหลายสิบปีจนชุมชนนี้เป็นแหล่งรวมอาหลั่ยรถยนต์ทุกยี่ห้อและเกือบทุกรุ่นที่มีคนใช้ในเมืองไทย
เราได้คุยกับช่างที่กำลังซ่อมและล้างเครื่องยนต์ ทำให้รู้ว่าเขาเรียนรู้เรื่องนี้ตั้งแต่เป็นเด็กฝึกงาน ในต่างจังหวัดแหล่งรวบรวมเครื่องยนต์มือสองก็เรียกว่า เชียงกงเช่นกัน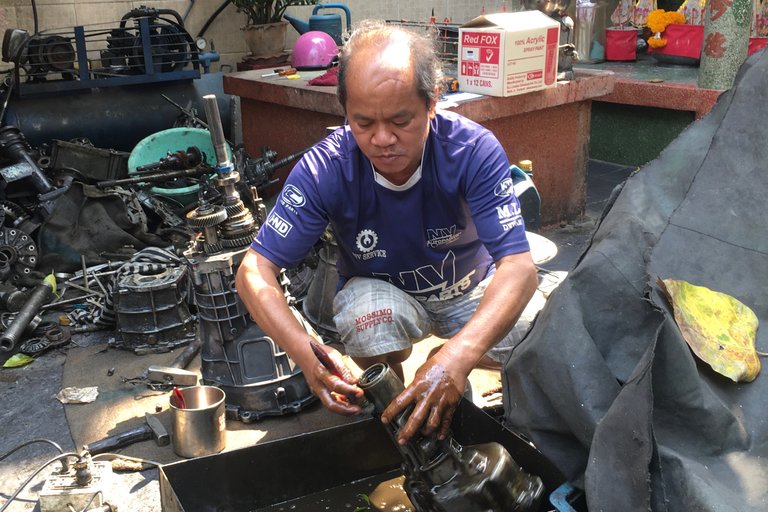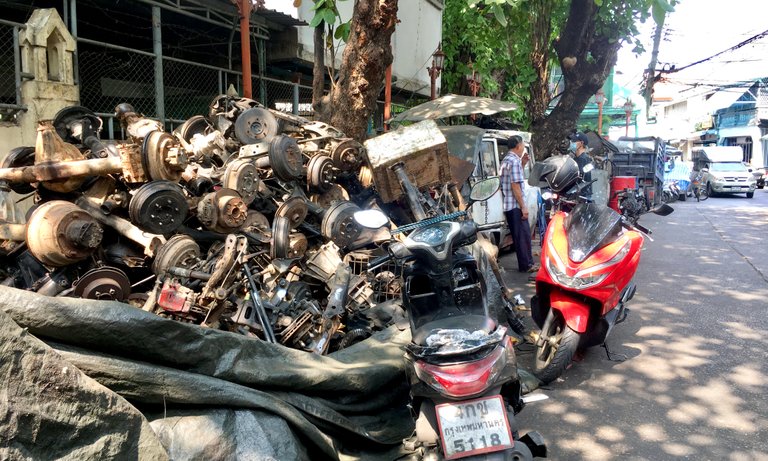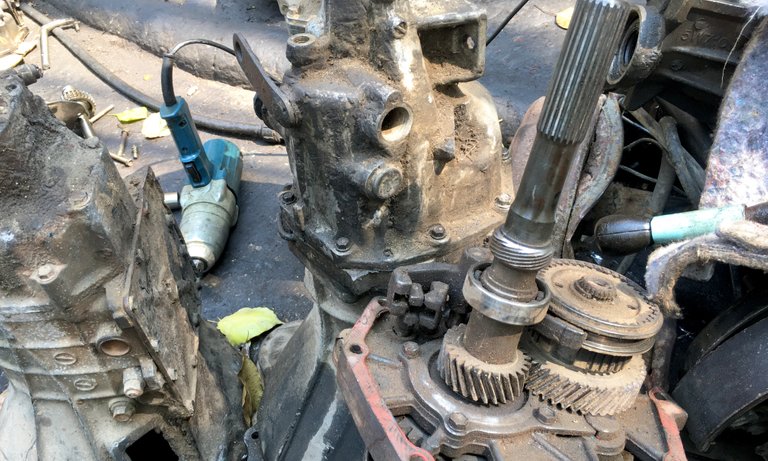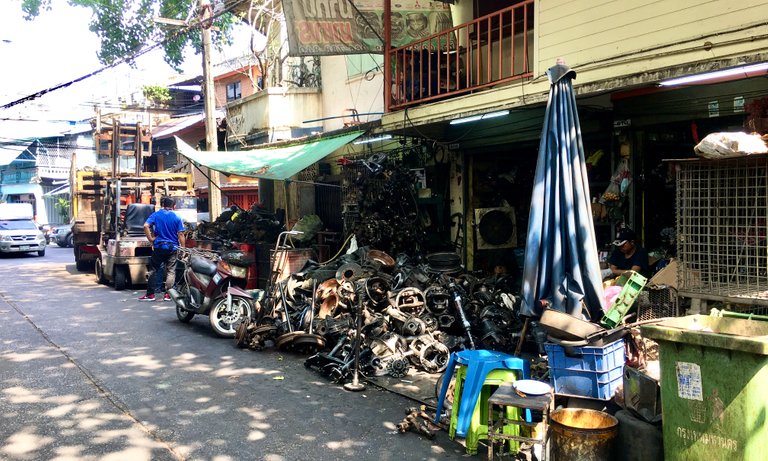 The Siang Kong in Talad Noi is very popular with people who want to find cheap secondhand car parts or old car engines which are still in working condition. In the past, some local Chinese were making a living by collecting recycling materials and old bicycles. They would repair old bicycles to be put on sale. After the Second World War, many decommissioned cars came into the market. This area was the center for people hunting for special car parts and exchanging secondhand parts. The business kept growing over the years so most of the houses in this area share the same profession. It was amazing to see piles of car parts and engines of all sizes and shapes inside and in front of these townhouses.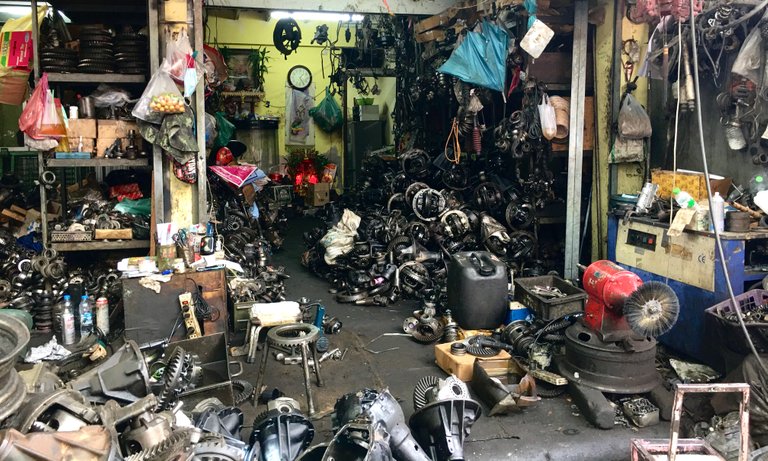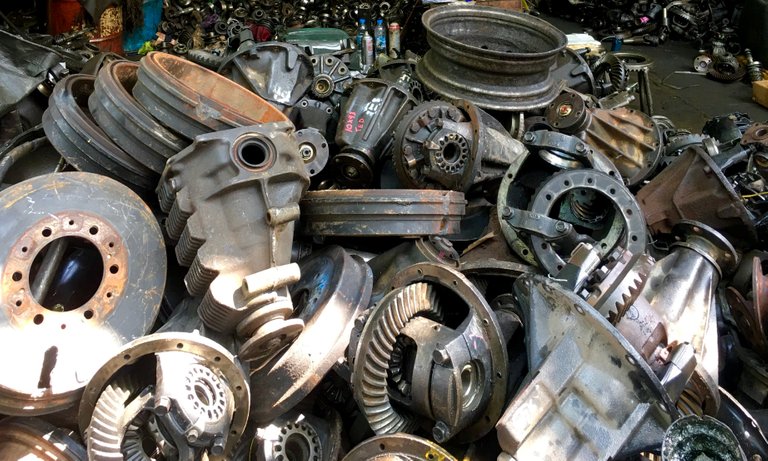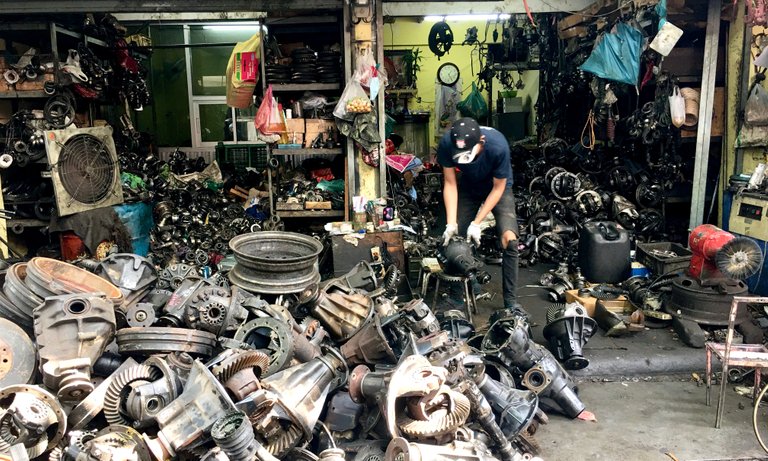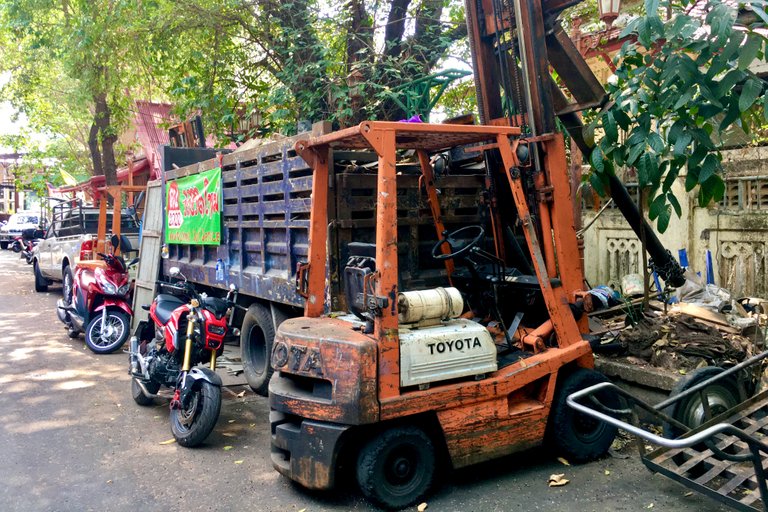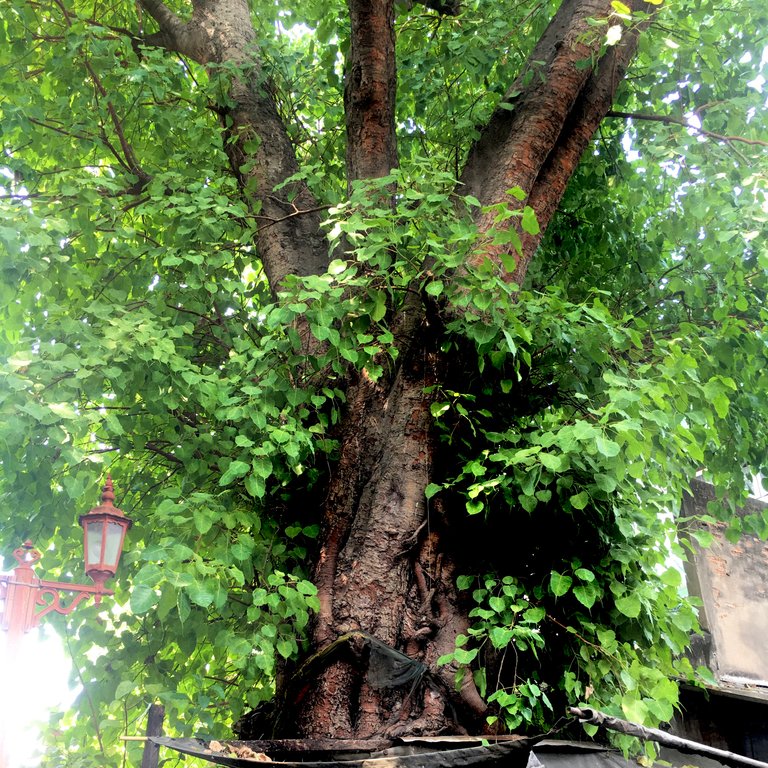 Wishing you peace, good health and prosperity.
Stay strong and cheerful.