Drawing from memory
---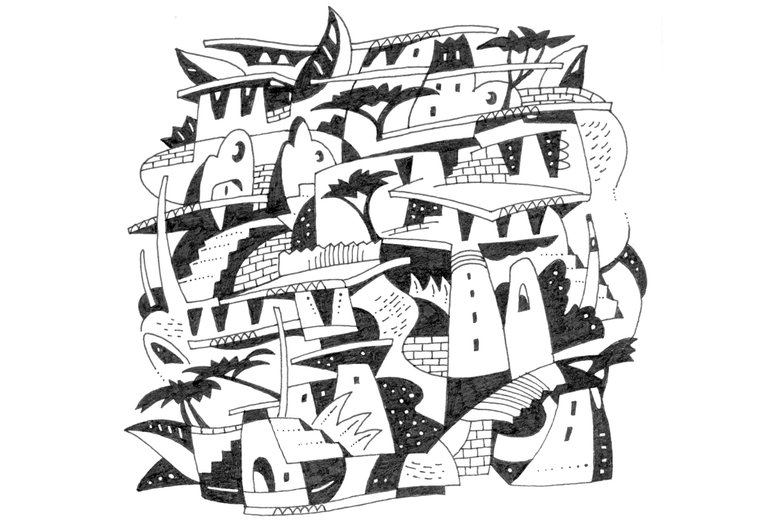 Dwellings built one on top of another
In this post I am sharing three drawings I've done that were clearly influenced by building forms – architectural styles I see in places I have visited.
The first drawing came about from thoughts of how so many old villages are built one on top of another, dwelling upon dwelling upon dwelling over time. Like adding a room for a family member, it is fascinating to see how they have grown organically to accommodate changing needs. I love how old towns are a composite of elements that somehow hold together. They show a sense of planning and social organization not seen in the places I have always lived. But then, the place I live in was not built for me, but to sell to someone, anyone. It has no connection to my past.
The lure of archways
Archways are interesting to use in a composition as well. Maybe it is because they are gateways, invitations into inner spaces. They have a kind of magnetic effect on me, where I want to see what is inside them – something new and unexpected around each corner. An interesting window, an ancient carved wood door, a tree growing up out of a decorated pot, a hidden tiled room, perhaps leading to a private balcony.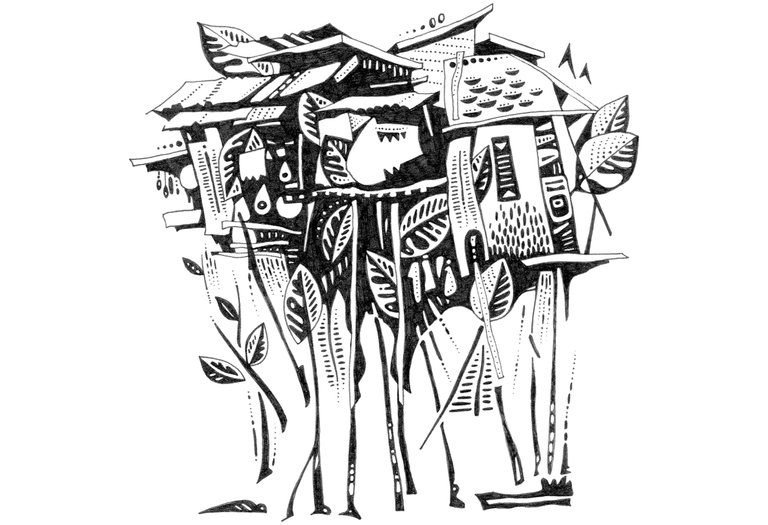 Houses on stilts
Years ago when driving through the countryside of Cambodia, I was completely taken by the natural beauty of the green, lush land after the rain, and by the houses built on stilts. Especially the houses. They are built on stilts to protect the farmers from floods during the monsoon rains. But to me they seemed like such fun places, forts for adults, escapes from enemies.
Sometime later they were the subject of this drawing, done from memory like the others. Of course I take all the liberties I choose in drawing these, as they are not meant to represent any specific place or scene. Rather they are opportunities to explore form and contrast, texture and pattern. Adding trees and plants into them gives some relief to the more rigid architectural forms.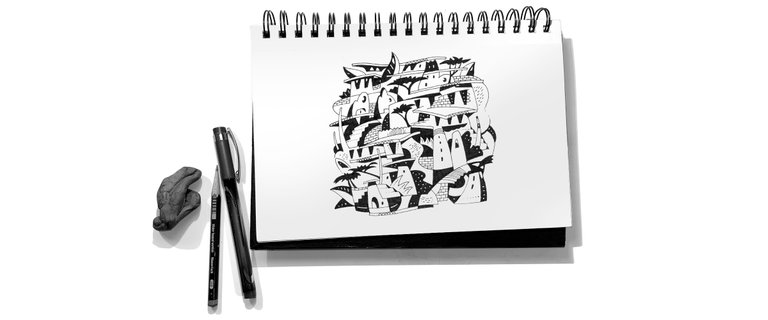 The influence of memory
Have you ever been to a place where you realize you like it, but are not sure exactly why? Memory seems to be similar, being a blend of senses and emotions. I think drawing from memory or impressions is pretty nebulous as well. Do we really remember the taste of that pasta, or that color on a faded façade? A specific object may be prominent in our memory, but the peripherals are probably not, allowing for the creative mind to fill in the gaps. I find it quite pleasing to begin a drawing with something I like or has meaning to me, and then allow it to take its own course in the process of nurturing something new into being.
© All Rights Reserved @mrsomebody
Thanks for reading this post. Please follow me at @mrsomebody and comment below.