Before I start, I have a confession to make. I really should of included the following into my last post as it is in fact, the end of the same road trip.
I guess I felt like this wasn't worth posting about as I was there literally 3 hours or so before darkness fell. But now that I look back, this was a mini experience in itself, so enjoy...
Where is Lyrrelton & Corsair Bay?
To put it simply Christchurch. I was now in Christchurch, the final destination of this road trip. But despite being in the area, I didn't actually see Christchurch, that coms later...
But this place is up there as one of the weirdest places I've camped and as you can see, it's fairly popular!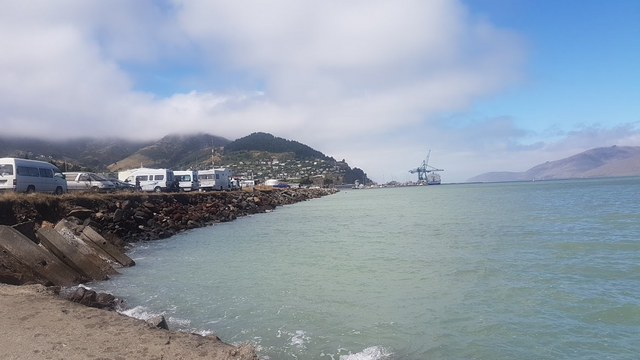 Is that a Cargo ship in the background?
Yep
That's right, I was at the docks! Normally not the prettiest of places to be ,with murky dark brown water usually. But here as you can see was very different, the water was almost turquoise?


I completely failed to line this panorama up, but you get the idea; and no, none of these pictures are edited or filtered. What you see is what you get.
I watched the cargo ship try to turn around with the help of two tug boats. It took what seemed like forever! I know they're big ships but come on, someone needs to work on the turning design of those things.
Then as I mad my way back to the campervan I saw a cloud, sitting on the mountains in the background.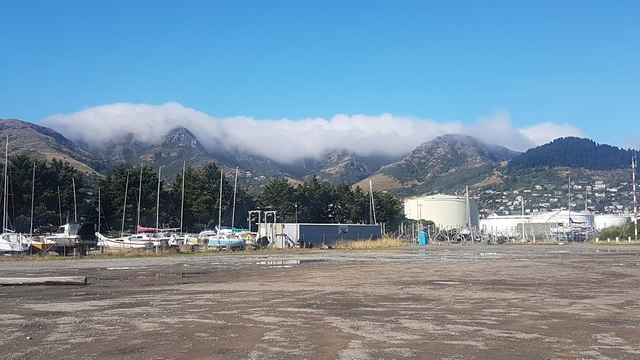 Now you're probably thinking the same as everyone else that was there. Bid deal...it's a cloud.
Yes but I'd never seen a cloud behave in this way. You'd be forgiven for thinking that it was just passing by but it was literally sitting there, like some sort of lazy cat. You have to understand that there were very few clouds around by now and the others were blowing away in the wind, but this one just stayed there.
Things like this always catch my eye, it just didn't make sense, especially with all the other clouds passing by.
---
It was a hot sunny day whilst I was there, I can't remember exactly how hot but hot enough. If I'd have to guess I'd say 27/28 C maybe hotter. But what really made it seem unbearable was the fact we had no water! We were completely out! Not a situation you want to be in.
I was sweating a lot and despite knowing I'd survive the evening, it was extremely uncomfortable without any water. It wasn't even 6 O clock yet.
I decided to go on a hunt for fresh water so I packed my backpack with the biggest container of about 5 litres followed by 2 1 litre water bottles. Luckily there's sources online that help you in these situations.
A combination of maps.me and campermate led me to decide that a nearby ruby ground was my best bet. I had no idea if the water fountain worked or was still there.
It took me about half an hour to walk there which for me was such an odd experience. It reminded me of those children in need ads: "Jamal has to walk 3 miles every day to collect water for his family, please spare £5 now to help of call 0800 …..blah blah
I was that person...except it was wasn't 3 miles.
By the way I never pay money to these "charities". You would think by now that after the millions raised, they'd of built something better than one water line with a pump tap. That's because most of the money goes straight into the governments pocket. I already pay enough tax, so they can piss off!
Anyway, where were we?
So I made it to the Rugby ground and low and behold, there it was! An old rusty shrine of glory. But there was one problem...there was rugby training on. I got a few stares as I approached the fountain and began to fill up the smallest bottle first hoping they'd let me off. The water came out slowly and it felt like a sniper had me lined up. I felt so guilty!
After filling up both bottles and half of the 5 litre tank, I headed back. It was heavy going but mission accomplished.
---
Refilled and re hydrated, it felt safer to wonder away from camp and explore. That's when the evening completely changed.
Lyttelton Bay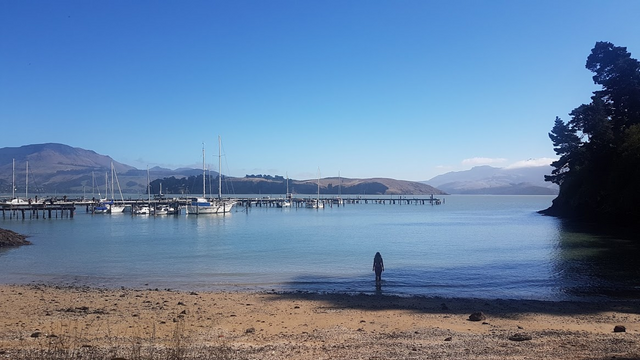 The first bay was a small secluded beach with no one around. It was sheltered from the wind and the water was completely still, a great place to relax.
Continuing on, the views started to open up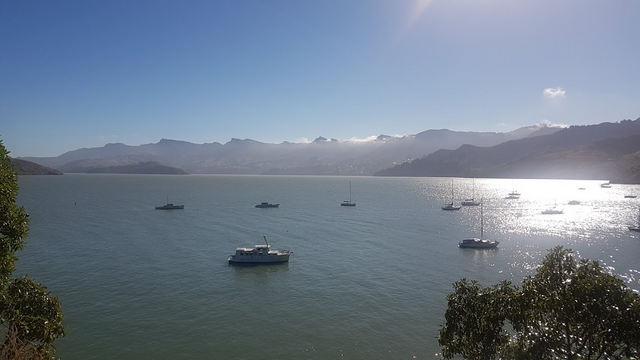 Corsair Bay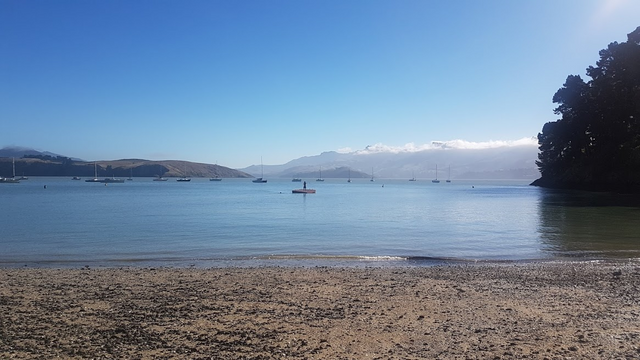 This bay was more open and it was clearly a more popular destination. There was people around as you can see and public toilets. I thought this is the place to settle for the evening.
Again a very peaceful and relaxed atmosphere where you can forget about all your worries. As I looked out, there was a pontoon? Floating about 40 meters or so out from shore. I had my swimming shorts in my bag and a towel so thought, why not.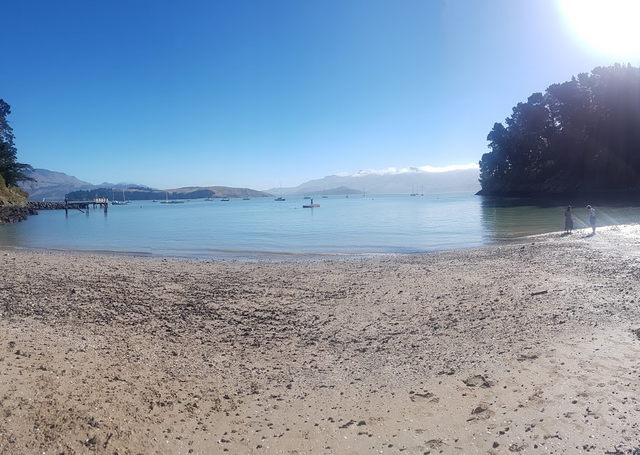 You can just about make out a person standing up on the pontoon. That person is me :-)
The water was freezing! But so refreshing considering how hot, sweaty and dehydrated I was an hour earlier. I decided to stay out there for a bit, away from everyone else just in my own bubble reminiscing on my journey so far and reminding my self of the people back at home going about their normal working lives.
I couldn't believe the environments I'd experienced during the past few days. From beautiful lakes and bright blue rivers to the most miserable weather and watching penguins come in.
Not to mention I jumped off a bridge and survived.
Quite a week in my books.
So to end the trip near a quiet bay on a warm sunny evening was more than I imagined. It's just crazy what could be round the next corner, you really never know.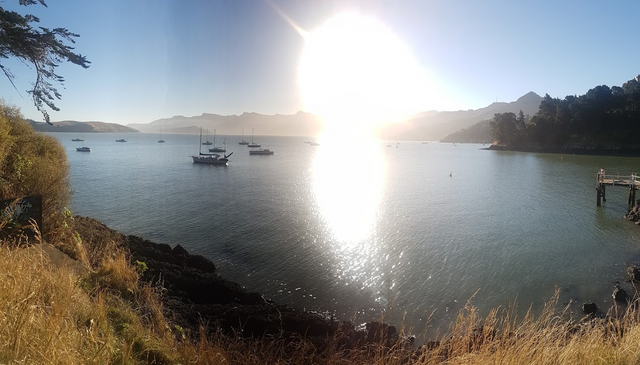 As always, thanks for visiting.