Hey, hey! I'm back to tell you part 2, the second day of my hike on the Camino de Santiago. :)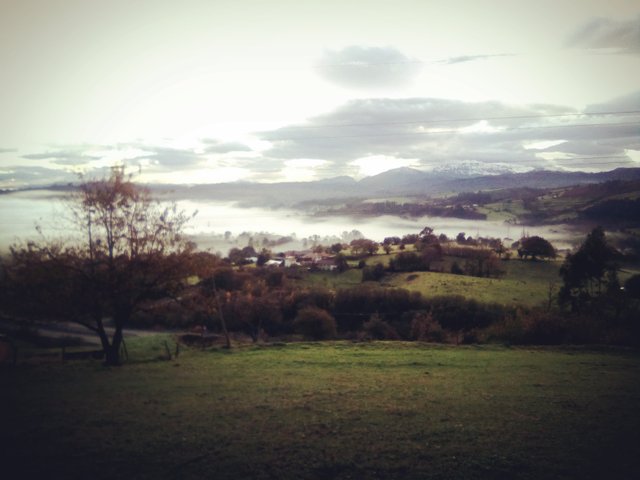 At the end of my first day, I had tried to find an albergue. Alberges are hostels for pilgrims that you can find at the major stops along the trail; some are public and some are private. Public ones, I'd read, cost about 6 euros a night to stay at, and private ones about 10. As I found out that night and almost every subsequent one, however, so late in the year most of the albergues are closed, and I had to take what I could find, which usually turned out to be private rooms at the cost of about 25 euros. It was a lot more than I'd been expecting to spend, but I came to peace about it, and actually concluded that it was a bit more age-appropriate. After all, I'm not 18 years old, or even in my 20s... or even in my early 30s, anymore. ;)
So my second day I headed out into a lovely misty morning.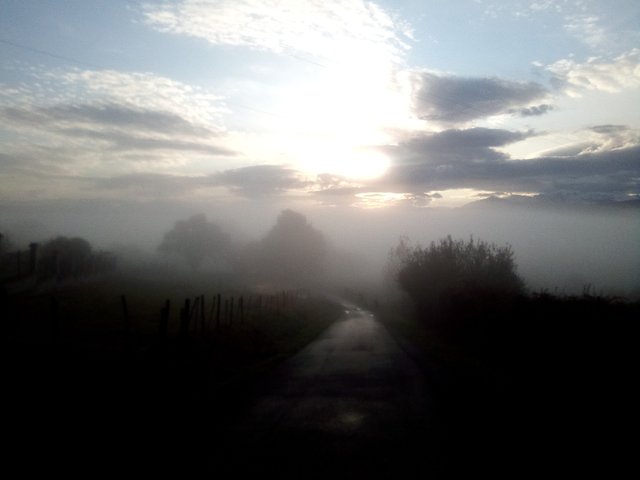 The woman who ran the motel where I'd stayed warned me I needed to buy food in the next village, because after that there would be nowhere to buy anything for a long way. However, classic Stephanie-style, I walked past that village without noticing it. By the time I realized, I'd gone too far to head back, and I began to worry a bit because I didn't think I could handle hiking all day without food.
Pretty soon I came to another village, a really beautiful one on a hillside, and I thought I'd just see if I could buy food from any of the inhabitants. I walked by a very promising-looking farm with an abundant garden, and the owner was standing just outside, so I asked him if I could buy some food. He didn't seem to understand that I wanted to buy it from him though, and pointed down the road, saying there was a bar farther down. I thanked him and went on, and before I knew it, I'd passed out of that village too, without having seen any bar or establishment that sold any food!
I prayed that God would provide something for me to eat.
And then there,
right in the middle of the path,
was a big,
fat,
juicy apple,
just waiting for me!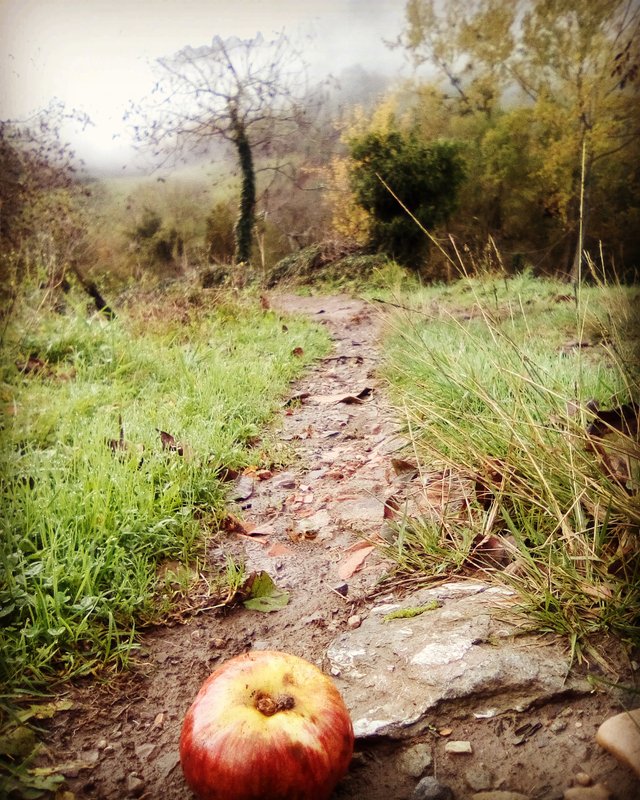 That, and another one I picked up, were enough to tide me over until I found a shop later. I was so happy I was laughing. The Lord does provide. :)
~ ~ ~ ~ ~ ~ ~ ~ ~ ~ ~ ~ ~ ~ ~ ~ ~ ~ ~ ~ ~ ~ ~ ~ ~ ~ ~ ~ ~ ~ ~ ~ ~ ~ ~ ~ ~ ~ ~ ~ ~ ~ ~
It's funny how, in all the hours of all the days you hike, you really only remember a few snapshots, and then you wonder what did you actually see, or where were you, the rest of the time? I guess the purpose of these posts is to share those moments with you, not to chronicle every step of the way. One thing I remember from that day, probably because I took a picture of it, was this beautiful old monastery: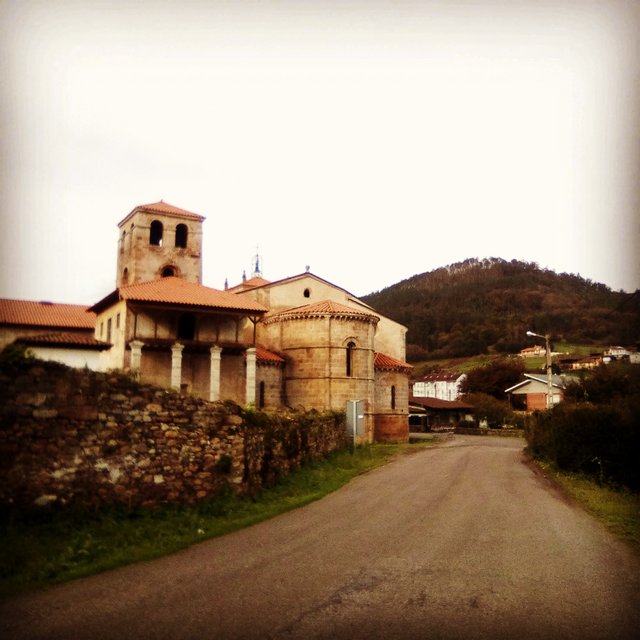 I also remember I had a text message exchange that day that really upset me. I remember walking along thinking about it and trying not to stare at the ground. When I reached the end of the etape, or recommended hiking distance for that day, it was only about 2 in the afternoon, and I didn't feel like stopping and sitting alone in some gloomy damp hostel by myself, alone with my thoughts, so I made a phone call and found there was a hostel open about another 2 hours down the trail. I decided to go for it.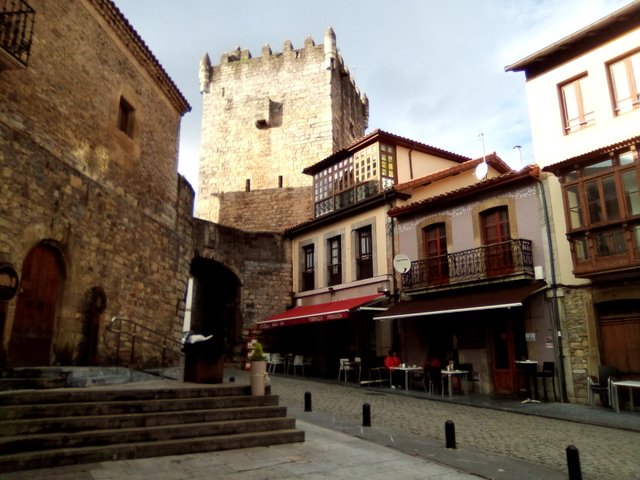 Salas, the official stop for the second etape, is a beautiful medieval town, but I decided not to stay
I continued walking and was glad I did, for more reasons than one as you shall see, but for the moment I was just happy that the sun had come out. When I knew I must be getting close to the village with the open hostel, I saw a sign pointing downhill saying there was a waterfall to see if you were willing to hike a kilometer more (and then back). I can't resist a good waterfall, and physically I felt okay, so I went down to see it. It was totally worth it. :)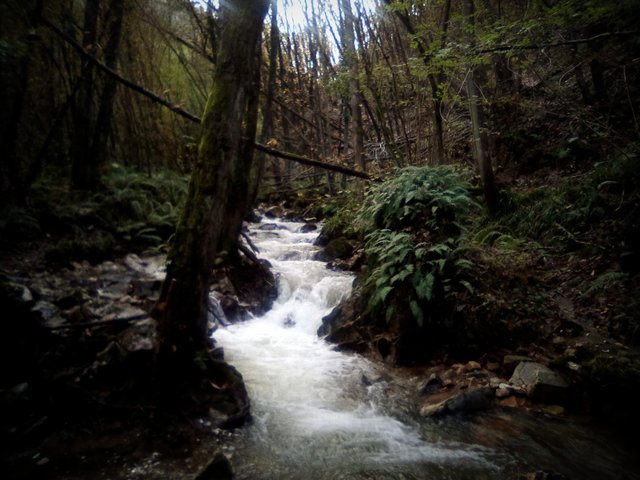 By the time I hiked back up out of the woods, it was already getting towards dark. I saw a deliciously cozy looking house on the opposite hill, and hoped so much that it was the albergue I was headed for. It was!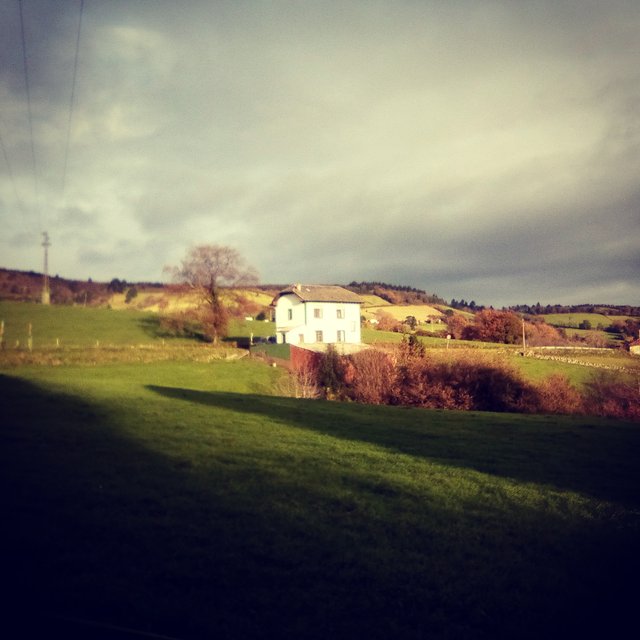 I knocked at the door and met Nicolás, the proprietor. He was a hiker from Valencia who had a dream of running an albergue on the Camino de Santiago, and now he is living out his dream in this lovely farmhouse he rents, with an incredible view. He said he'd had a thousand pilgrims over the summer, but that I was the first to pass through in a month!
We spent a happy evening in the kitchen, chatting by the wood stove. I remember at one point he said, "Wow, I talk a lot!" and I said, "It's because you haven't had company for so long!" I think we both needed the company that day, and since I also have a dream of owning a farmhouse in Asturias, it was great to talk to someone who'd accomplished just that.
The next morning, I showed Nicolás the things I'd brought from my shop, and he asked me if I'd come back some time to paint a mural of a snail on the wall of the entryway. I was so honored and of course I said yes! I called him up a couple weeks ago to see if he still wanted me to do it. He said yes, and told me one hiker had gotten stranded there with him for the entire quarantine! I haven't gone to do the mural yet, but I've started doing a practice version on a canvass, and once we can figure out some transportation, I'll be so glad to visit Albergue Fontanaya again.