El 12 de octubre es día elegido para festejar el día de nacional de España. Este día fue elegido por ser cuando la expedición española capitaneada por Cristóbal Colón llegó a América.
October 12 is the day chosen to celebrate the national day of Spain. This day was chosen because it was when the Spanish expedition led by Christopher Columbus arrived in America.
Pienso que habría efemérides mejores para un día tan importante para España como es su fiesta nacional y que aún seguirían teniendo más sentido como podría ser el día que se casaron Isabel I de Castilla y Fernando II de Aragón uniendo los reinos. O el día que se terminó la reconquista del reino de Granada nazarí.
I think there would be better ephemeris for a day as important for Spain as its national holiday and that it would still make more sense as it could be the day that Isabel I of Castile and Ferdinand II of Aragon were married, uniting the kingdoms. Or the day the reconquest of the Nasrid kingdom of Granada ended.
Para todas las fechas habrá personas a favor y otras en contra. Sin contar los independentistas o enemigos de todo lo que sea el reino de España.
For all dates there will be people in favor and others against. Not counting the independentistas or enemies of everything that is the kingdom of Spain.
Pues por casualidades del destino pude estar un 12 de octubre en la capital del país y ver de cerca parte del desfile militar y quedó grabado gracias a mi vieja cámara Sony Cibershot. Aunque era de mi hermano se la pedía en todo momento.
Well, by chance of fate I was able to be on October 12 in the capital of the country and see closely part of the military parade and it was recorded thanks to my old Sony Cibershot camera. Although it belonged to my brother, I asked him at all times.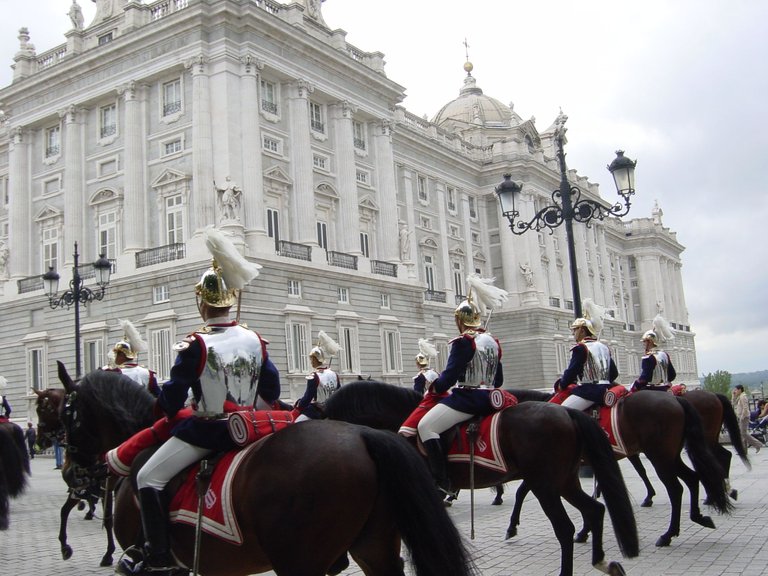 Pude ver de cerca al cuerpo de guardias de su majestad a caballo pasando delante del Palacio Real por la calle Bailén.
I could see up close the body of his Majesty's guards on horseback passing in front of the Royal Palace on Bailén Street.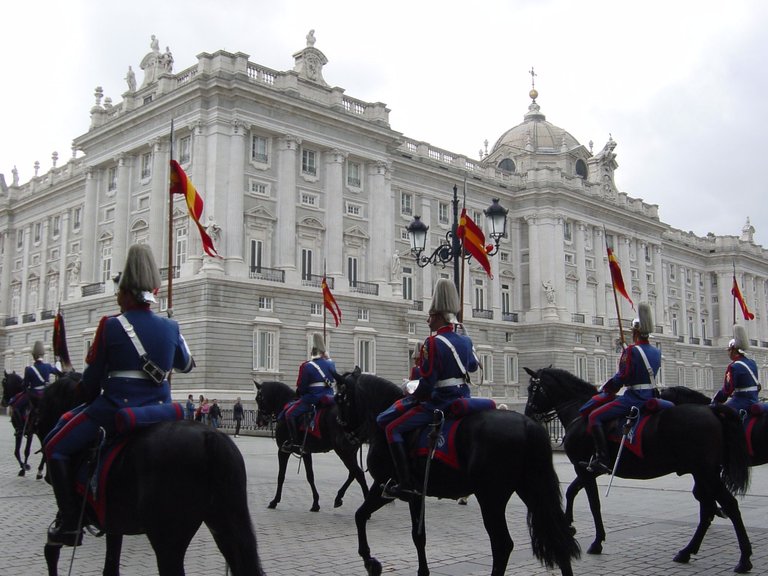 En la plaza de Cibeles pasaba el desfile militar y estaba atestado de gente. Con el Palacio de Comunicaciones de fondo, pude ver las fuerzas armadas camino del Paseo del Prado.
The military parade passed by in the Plaza de Cibeles and was packed with people. With the Palacio de Comunicaciones in the background, I could see the armed forces on their way to Paseo del Prado.
Aquí tenemos un carro Leopard 2.
Here we have a Leopard 2 tank.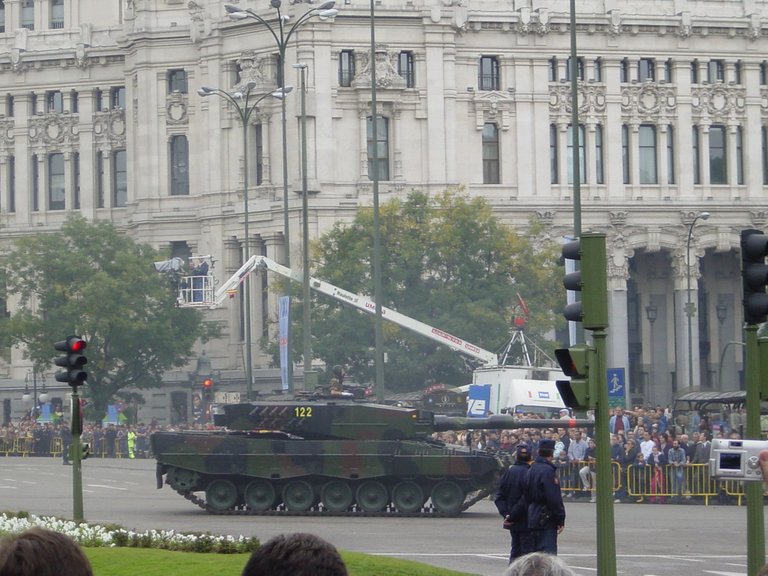 Justo ayer leí que los veteranos carros de transporte de personal M113 como el que aparece en la fotografía, el ejército de tierra los va a mantener en activo hasta 2035. Eso quiere decir que se siguen fabricando piezas y la buena utilidad de este vehículo.
Just yesterday I read that the veteran M113 personnel transport tanks like the one in the photograph, the land army will keep them active until 2035. That means that parts and the good utility of this vehicle are still being manufactured.
Podemos observar un curioso carro usado por la unidad de ingenieros o zapadores del ejército español. Sobre una barcaza de un M60 de fabricación americana donde se le ha eliminado el cañón, y se le ha acoplado una retroexcavadora muy útil en labores en el campo de batalla.
We can observe a curious tank used by the engineering or sappers unit of the Spanish army. On a barge of an American-made M60 where the gun has been removed, and a very useful backhoe has been attached to work on the battlefield.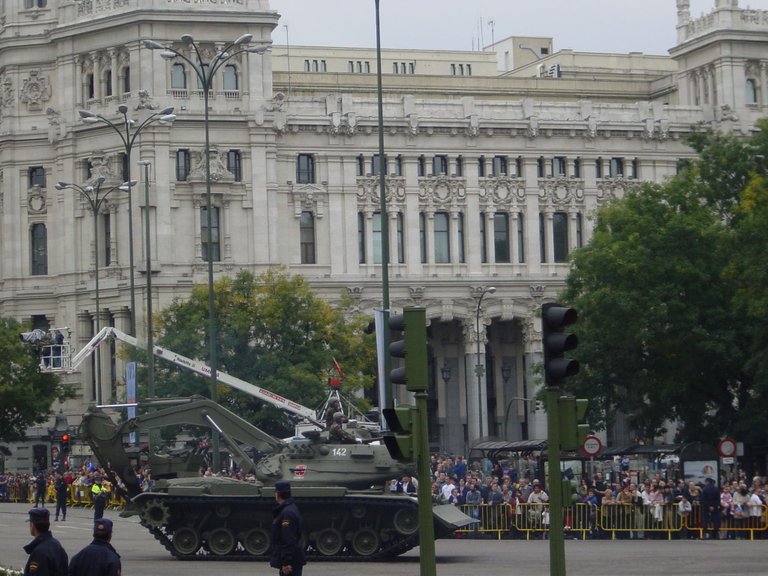 Para terminar dejo otros vehículos de artillería como los M109 y el carro Pizarro.
Finally, I leave other artillery vehicles such as the M109 and the Pizarro tank.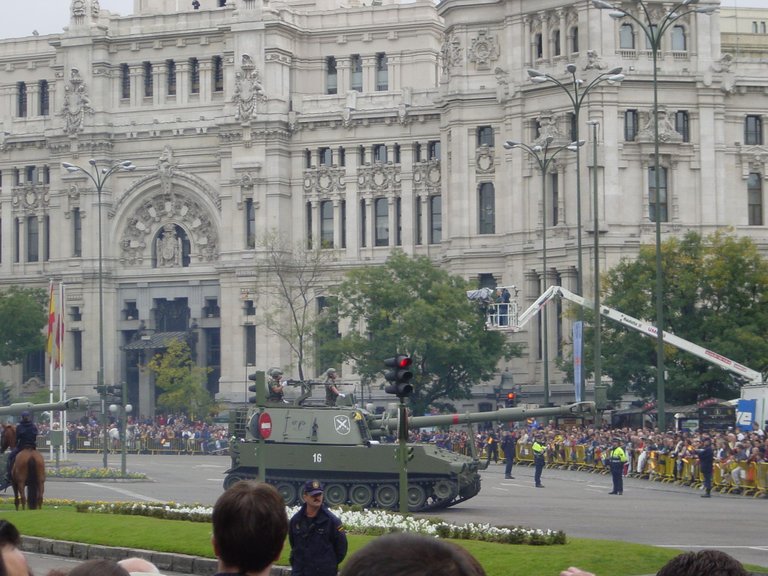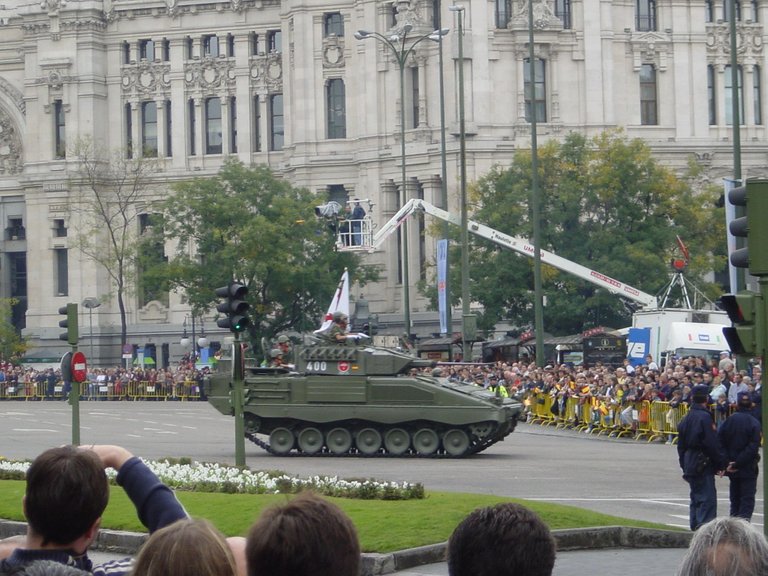 Esperemos que todos estos carros solamente se usen para desfiles y no para lo que fueron concebidos.
Hopefully all these tanks are only used for parades and not for what they were conceived.
Photos by @cuvi taken with an Sony Cibershot
2021 All rights reserved
Fotografías de @cuvi hechas con una cámara Sony Cibershot. 2021 Reservado todos los derechos.
By @cuvi,
Creador de contenido desde 2016
Content creator since 2016