That's it, we made it! We just passed the bar of 100k users, and couldn't be more grateful for the trust you have all put in us!
The funny thing is that the Chrome Store seem to have been delayed for a few days, and by the time it was finally updated, we were already above 110,000 weekly active users, as you can see above.
Weekly active users are defined on the Chrome developer dashboard as The approximate number of Chrome browsers that loaded the item in the past seven days. It actually includes all Chromium based browsers, also including Brave and Opera.
Our ecosystem is growing!
More than just a good news for us as Keychain team, I think it is a good indicator that our ecosystem as a whole is growing, and that Hive dApps are attracting more and more new users to our community. We will keep using our central position in the ecosystem to incite users to try and explore the different dApps. We already do this through the Explore dApps menu on our mobile App browser home page, and plan to also add it on the extension side in the future, after we are done with the current refactor.
I (@stoodkev) personally think that one of our biggest strength in this community is that although there is some competition between dApps, there is even more synergy. Some of us started on Hive through blogging and are now invested in gaming dApps, others joined for the NFTs and are now making videos, etc.
On top of this, after seeing all the work done by Hive core devs and dApps developers showcased at HiveFest, it would be hard not to be optimistic about Hive future!
Quick dev update
Just a quick development update since we're here.
Our goal is to complete two things by the end of the year, or at worse by end of January:
The extension refactor. At this point, @cedricguillas almost finished working on the extension popup and I'm working on background operations and dApps requests.
Mobile App HAS integration. If you don't know what Hive Authentication Service, please read @arcange's blog about it. As showcased at the HiveFest, we already have a POC implementation on Keychain mobile, but it is still far from being production ready, so we're working on it.
Download the Apps
All download links are available on our landing page. For mobile, you can use the links below:
To import accounts quickly from your Hive Keychain extension to your mobile App, use the QR Code scanner by pressing the QR code logo:
On your extension, navigate to the menu (top right button), then to Manage Accounts and finally click on Show QR Code.
Discord
To communicate with us or test features ahead of time, join our Discord by following this link :
https://discord.gg/3EM6YfRrGv
Or scanning this QR Code :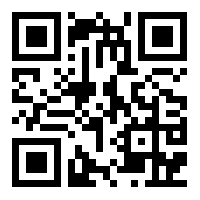 Core Team
@stoodkev : CEO - Witness
@cedricguillas : Dev
@nateaguila : UI/UX
@yabapmatt : Advisor - Witness
@aggroed : Advisor - Witness
---
Support Hive Keychain development by voting for our proposal on PeakD (on the upcoming section)or with HiveSigner.