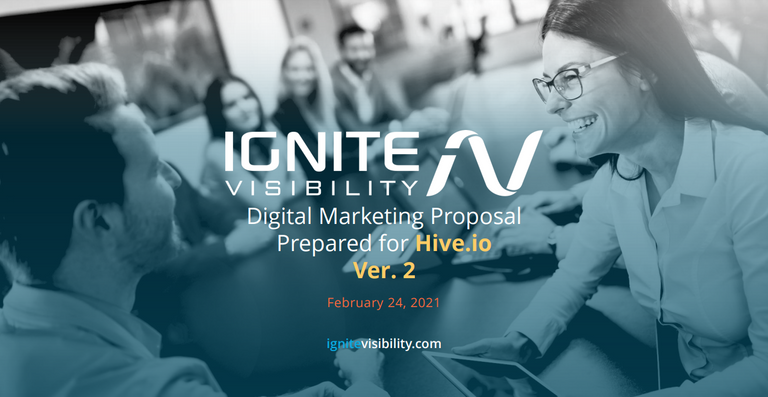 This is the final marketing proposal. Follow link to vote.
SHORT SUMMATION:
WHAT?
A 4 month, all encompassing marketing campaign with possible extension in Email marketing, advertising, PR, influencer marketing and conversion rate optimization.
WHO?
Ignite Visibility. A high profile, multiple times awarded, TOP 10 US marketing agency.
WHY?
Because HIVE can have top level marketing. Serious projects have serious partners.
INTRO:
For the last few months I've been working with a US based marketing agency, "Ignite Visibility", on developing a custom marketing campaign for HIVE. It was a challenging but productive experience.
A few times now I have taken feedback from the community on the approach we should be taking. The campaign has been adjusted based on that feedback.
In the following post i will cover each channel that will be used for marketing HIVE with ultimately the fee (condensed) being shared for each. The complete fee structure breakdown will be shared at the end of the post.
Ignite Visibility client highlight, honors and awards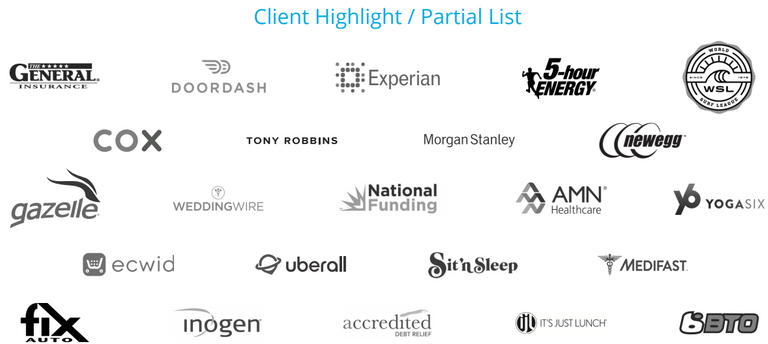 1. CRO - Conversion rate optimization: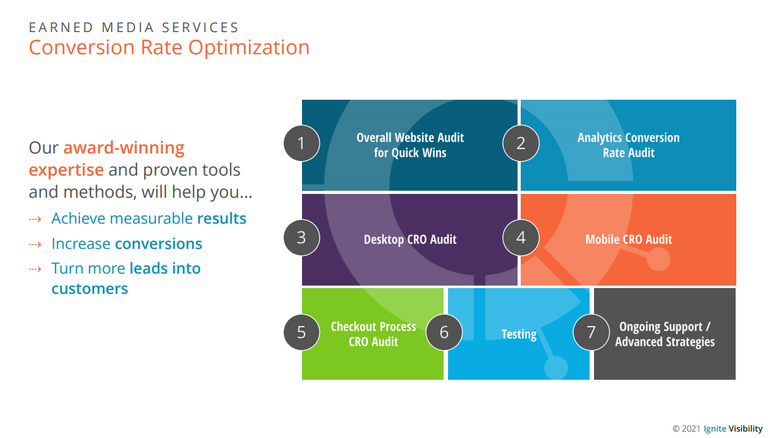 CRO relates to creating a system for increasing the percentage of visitors converted into customers. In case of HIVE it relates to converting visitors to Hive.io and frontends into Hive users/investors. Concretely what CRO includes is the following:
⇢ Customer Research Audit, Landing Page/templates Review & Recommendations
⇢ Landing Page LoFi Wireframe
⇢ Wire Frame Development & Implementation
⇢ Ongoing Optimization & Testing
⇢ Onsite Conversion Recommendations & Implementation (Heatmapping, pop ups, etc.)
⇢ Pop-Up Management
⇢ A/B Testing Experiments
Due to the complexity of the HIVE platform, in regards to the final results, a custom system will be created that will utilize traditional metric tracking through tools like Moz and SEMrush as well as pulling data directly from the blockchain. This is where the extremely helpful data provided by community members like @arcange, @dalz, @penguinpablo etc. will come into play.
The goal is funneling as many users as possible into Dapps of their interest and/or trading pairs on various exchanges where HIVE is traded.
Feedback, efficient solutions and materials (pop-ups for example) will also be provided to any frontend, like @peakd, Hiveblog, @leofinance for example, interested in receiving them.
Ignite Visibility has shared some tips ahead of time with more concrete solutions coming later on. I find this channel extremely important and by looking at some results where CRO was utilized, I was assured that this is an essential addition for our marketing campaign.
Monthly fee: $1687.5
2. Influencer Marketing: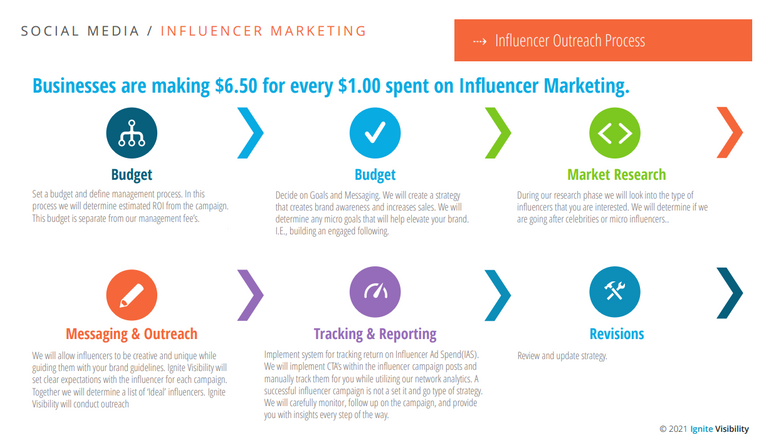 The community has recognized influencer marketing as an essential part of any future HIVE marketing campaign. For that reason it was an important part of my discussions with Ignite Visibility.
When I mentioned, in the opening short summation, "serious projects having serious partners", this is one of the channels, in my opinion, where that will show the most.
Ignite Visibility will use its developed web of contacts to approach influencers for us, their already established reputation and very high standing in the industry opening many more doors than any of us individually could open.
Their primary goal will not be finding influencers for us to spend a part of the budget on but rather, first and foremost, attracting likeminded individuals with large followings that share our HIVE values of decentralization, freedom of speech and censorship resistance.
We often forget that HIVE has a strong message to send out and it already does so many of the things millions of people in the mainstream crave.
How many times have you seen on twitter or on facebook influencers asking for "a censorship resistant platform where you cannot be banned for speaking your mind", not being aware that such a thing already exists here on HIVE?
Did that not frustrate you? Your comment below their post getting lost in the noise, not reaching their ear. Well now we can work to fix that.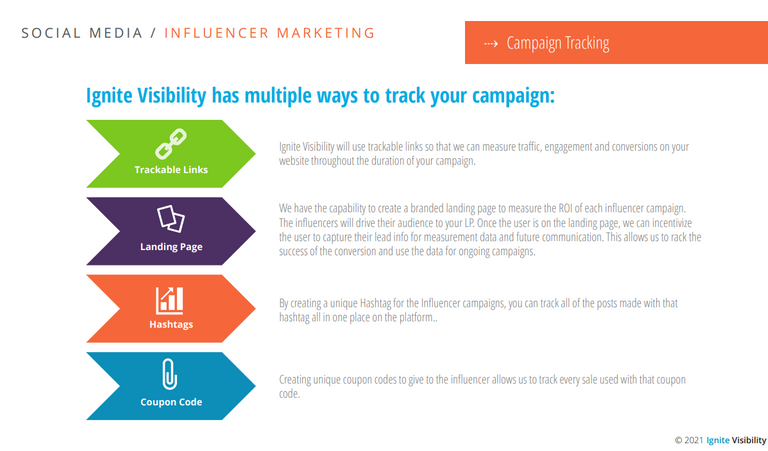 Ignite Visibility, again, has a vast array of tools at their disposal (ex. Traackr) that will help them determine potential targets most suited for our needs. The ultimate goal is not a "one off mention/shoutout" but rather an onboarding with staying power or an ongoing partnership.
We have also determined that celebrity endorsements, the likes of which we have seen just a few days ago backfiring in Justin Suns latest stunt, will not be pursued. There are far better ways to utilize the budget.
One more thing to mention is that in case their base service provides significant results without us having to spend our budget, the funds will be set aside, either used elsewhere or returned back to the DHF at the end of the 4 month contract period.
Monthly service fee: $2000
Proposed monthly influencer budget: $3000
3. Advertising Campaign: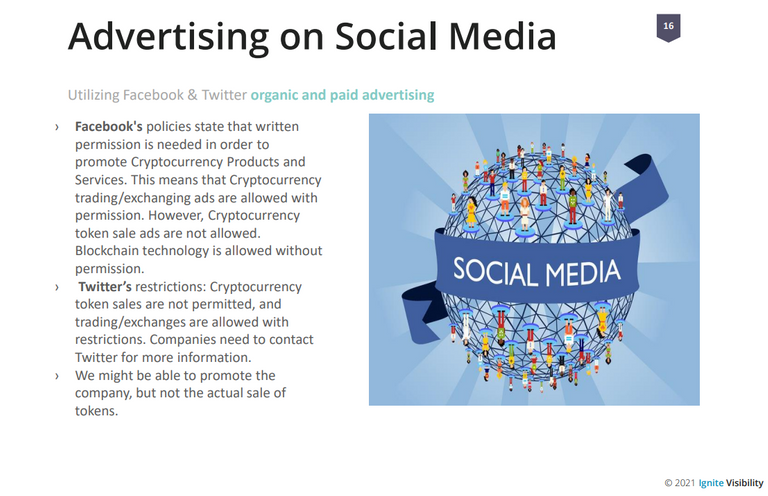 This is potentially the most straight forward marketing channel to cover so I will try and keep it short.
Ignite Visibility will create and manage our advertising campaign on legacy social media sites as well as other targeted sites. They will provide creative services by creating industry standard banner ads optimized for the targeted audience.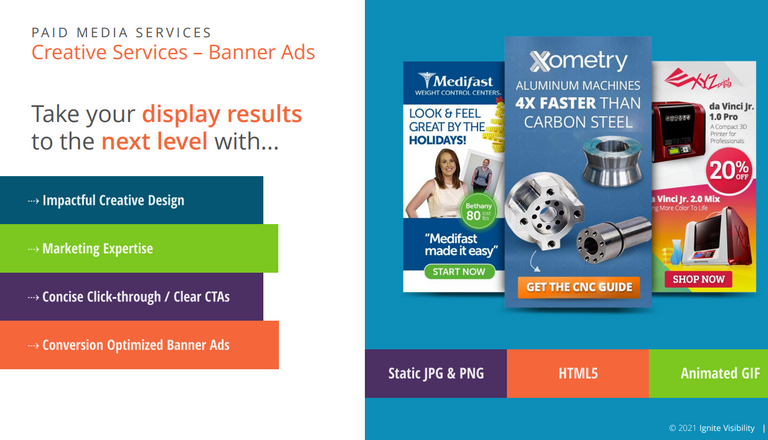 The projected results for this channel alone, not including influencer, email marketing or any other indirect effect of this partnership, is projected to be 750 new users a month.

Monthly service fee: $3000
Proposed monthly advertising budget: $10000
(From second month, month 1 will be used for analysis and content creation for the advertising campaign)
4. Digital PR: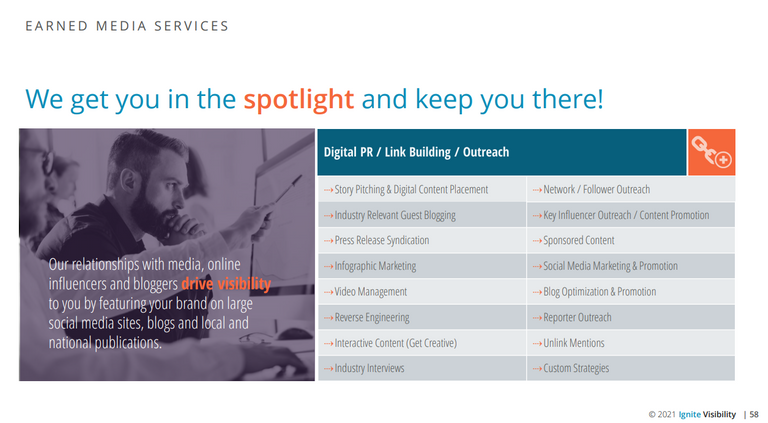 Digital PR agencies network with journalists, bloggers and influencers and send online press releases to gain high-quality backlinks, social media mentions and improve their Search Engine Optimisation (SEO).
As an extension of the influencer marketing channel Ignite Visibility will provide us with PR services as well.
To get a more precise grasp of how they will provide this service, the following are their presented methods used for digital PR:
⇢ Journalist Response Requisition
⇢ Press Releases
⇢ Unlinked Mention Monitoring
⇢ Endemic & Non-Endemic Outreach
⇢ Guest Blogging Outreach & Writing
⇢ Story Brainstorming & Pitching
⇢ Broken Link Outreach
⇢ Competitive Backlink Gap Analysis
⇢ Citation Sourcing
⇢ Top-Profile Creation
⇢ Directory Listings (Local Only)
⇢ Media List Creation
This includes publishing articles and press releases, working on product features and reviews, affiliate marketing, nurturing journalist and content writing contacts to secure press hits, using social media to gain exposure and building brand trust through online reviews.
When approaching Ignite Visibility for PR, one of my examples was the brilliantly written article by a Decrypt journalist covering the STEEM/Justin Sun story. There is so much about HIVE that would be interesting to new tech bloggers/journalists we will be focusing on with this channel.
These Digital PR strategies have a positive impact on a website's Search Engine Optimization (SEO) when done well.
Monthly service fee: $2250
5. Email Marketing:
Email marketing allows you to create targeted and personalized messages. This can help us build meaningful relationships with our users.
Email marketing has been one of my personal requests to be added to HIVEs all encompassing marketing campaign. When done in a tasteful and professional way I have seen it do wonders. I have also seen it work on me multiple times.
A professionally done email marketing campaign conveys a message to the user of a vibrant and active community and business. The important thing is to not overdo it!
There are many things that can be included in the messages.
Check out this cool travel post about Tibet by @xyz!
Hey, here is the new music video by @zxy!
Heres whats in with the latest #HIVE news!?
The most recent Dapp addition to the ecosystem!
Dapp airdrop coming!
etc.
I find email marketing essential for maintaining engagement over a longer period of time by reminding the user that HIVE is a dynamic, constantly growing ecosystem with new and interesting things happening every day.
On the backend of things covered by Ignite Visibility the system is much more complex than it might seem at first glance. Alongside with creating the content such as "Welcome series automations" and "email capture pop-ups" they will be doing analytics and optimization of this channel throughout these 4 months.
The services they will provide related to this channel will be the following:
⇢ Build out a Welcome Series automations that aligns first welcome touch with incentive on email capture overlay to increase conversion rates and enhance subscriber experience
⇢ Capitalize on web traffic by building out onsite email captures
⇢ A/B test appearance logic, incentive, and creative
⇢ Increase capture conversion rates with nano bar across site and adding incentive to
footer email capture
⇢ Test exit intent overlays to visitors potentially leaving the site as well as cart abandon
overlays to mitigate cart abandons
⇢ Develop and utilize subscriber attributes and behavior for key send segments
⇢ Testing and optimization
Monthly service fee: $4000
6. Budgeting:
As I stated in my multiple posts and comments during my time working on this partnership, my focus would be creating a proposal for us that offers us mainstream and industry level marketing but does not overburden the DHF. For that reason there have been a number of delays of posting this proposal because I asked for multiple fee structure revisions.
I feel I have achieved that.
I have also stated that I would leave it to the community to decide any of my personal compensation for the work over these last 4 months but to speed this along I will waive any personal upfront compensation (in case this has significant results I will consider creating another proposal). @ausbitbank created a nice little page for tipping, any of you feel appreciative of the work, heres a link. https://hive.ausbit.dev/@lordbutterfly/tip.
1 time onboarding and initial content creation fees: $6900 USD

TOTAL BUDGET (Ignite Visibility): $98,500 USD
TOTAL MONTHLY BUDGET: $24,625 USD

Banking fees 2% + $20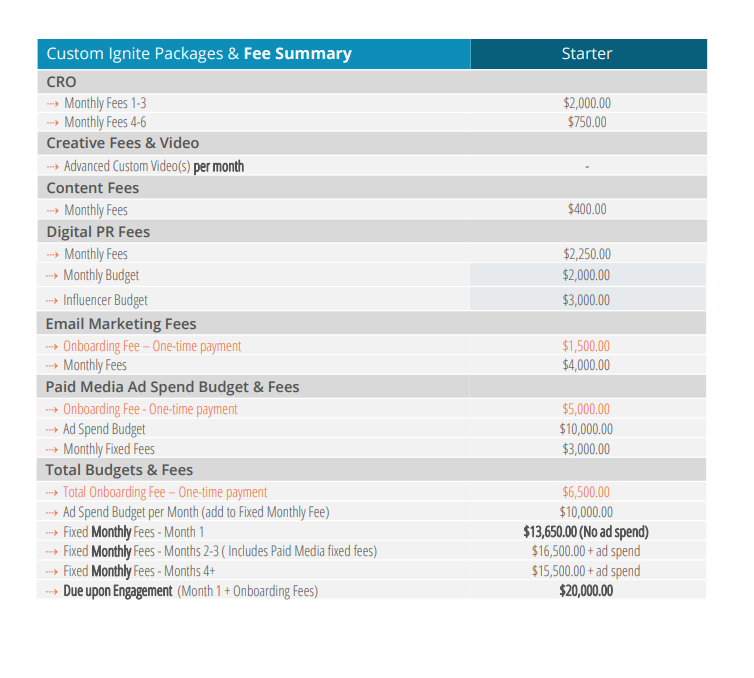 Due to the way the DHF pays out funds, in order to not have to wait 4 months to accumulate the funds the daily payout will be set to 1620 HBD a day.
The proposal will run for 4 months ( just a bit more than 2 are needed for funding) leaving enough time for everyone to be made aware of the proposal. The proposal will be be either canceled on fund accumulation or the funds used for the potential continuation of the proposal.
I will look into the possibility of forwarding the onboarding fees as soon as they are payed out by the DHF so they can start working on the campaign ASAP.
Since I will be personally signing the contract under my name, I would be exposed to too much risk to consider a month to month payment, due to the possibility of stakeholders simply stopping voting the proposal. For that reason we would need to accumulate as much funds as we can in the shortest amount of time. 1620 HBD seemed a good number that would not overburden the DHF.
PERSONAL DAILY BUDGET: 20 HBD
On top of that I will ask for 20 HBD a day for my services during the next 4 months. This does not include the last 4 months of work I have done and is more of a courtesy payment that helps satisfy the tax ministry in Croatia. The work done already and in the future is not in any way reflected with this budget.
Because I would be taking on risk by receiving almost 25K USD to my personal account, the IRS (equivalent) has recommended when reporting these deposits I report the personal fee received so that amount can be taxed. Due to the gains tax in Croatia on crypto being 10%, the total amount of tax payed in this whole process will be $60.
Knowing the taxes those living in the US have to pay I consider this a bargain and a very important part of the value I am personally offering to HIVE.
Some of my future services:
⇢ I will be personally signing the contract under my name. All information from my side will be made public.
⇢ I will provide regular reports on the results of the campaign.
⇢ I will maintain constant contact with the agency and join their weekly/monthly calls. (witnesses and DAPP founders will be encouraged to join)
⇢ I will organize interviews with Ignite Visibility CTO, with prominent crypto youtubers I have personal contact with.
⇢ I will organize AMAs with Ignite Visibility for the HIVE community to partake in.
CONCLUSION:
There is very little needed to be said here. I have brought you industry level marketing to the HIVE blockchain. 1 year without marketing has passed since we split from STEEM. 5 years without marketing during STEEM has passed as well.
Lets finally change that!