---
---

---
En esta oportunidad les presentaré y hablaré del nuevo integrante del hogar, se trata de un gatico, hermosamente atigrado de ojos rayados muy lindos, que adopté desde el mes de marzo. Le puse por nombre Shanti, cuyo significado es algo así como estar en paz según la cultura Hindú.
In this opportunity I will introduce and talk about the new member of our home, it is a kitten, a beautiful tabby with very cute striped eyes, that I adopted since the month of March. I named him Shanti, whose meaning is something like being at peace according to Hindu culture.
---
---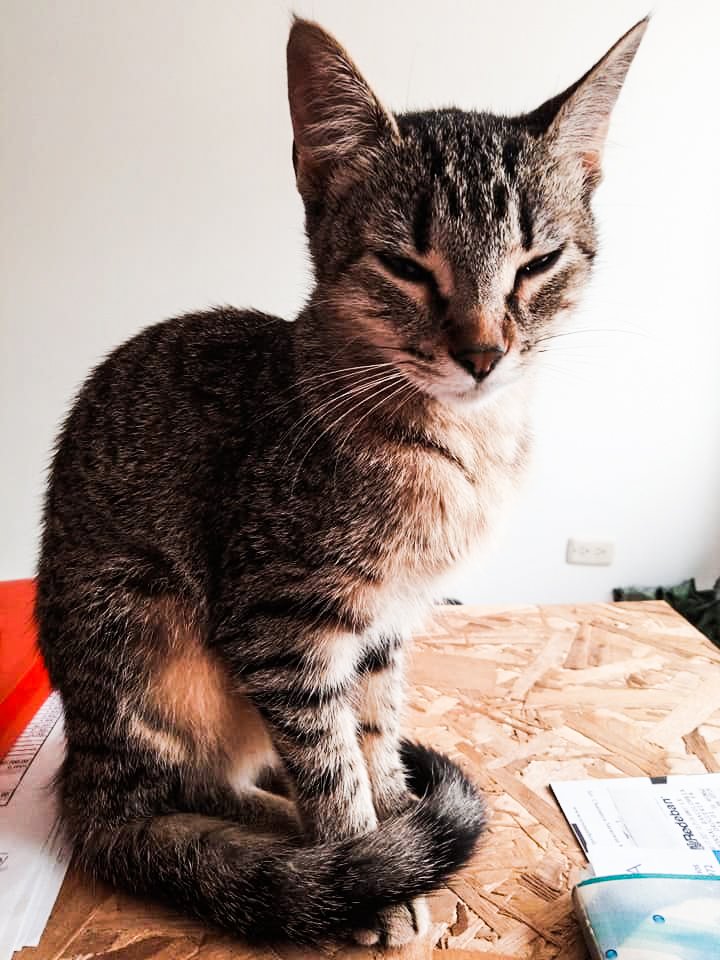 ---
---
Cuando eres migrante, una de las cosas por las que pasamos es romper con todos los vínculos que tejimos durante nuestra vida, es algo muy doloroso, y en ocasiones traumático por eso el hecho de decidir tener mascota resulta muy confuso, lo deseas pero a veces el temor de si podrás mantenerla con bienestar es un poco angustiante. Al menos ese era mi caso. Desde hace tiempo pensaba en tener un gato, una nueva experiencia que quería vivir.
When you are a migrant, one of the things we go through is to break all the bonds we have woven during our lives, it is something very painful, and sometimes traumatic, that is why deciding to have a pet is very confusing, you want it but sometimes the fear of whether you will be able to keep it with wellbeing is a little distressing. At least that was my case. I had been thinking about getting a cat for a long time, a new experience I wanted to live.
---
---
---
---
Llegaba el mes de marzo de 2021, y en uno de esos grupos de whatsapp donde estoy, una señora pasó la foto de un gato muy pequeño en tonos grises, apenas podía abrir sus ojitos, y se conmovió de inmediato, y de manera casi espontánea le escribí a la señora para preguntar por el gato, su respuesta me desanimó, pues me dijo que ya una familia le había escrito que iban a adoptar al gato gris. Me puse triste, ella me ofreció otros gatos, unos blanquitos, le dije que no, que el gris fue el que me conmovió y que si para un próxima si tenía otro así que me lo quedaba.
It was March 2021, and in one of those whatsapp groups where I am, a lady passed a picture of a very small cat in gray tones, he could barely open his eyes, and was moved immediately, and almost spontaneously I wrote to the lady to ask about the cat, her response discouraged me, because she told me that a family had already written that they were going to adopt the gray cat. I was sad, she offered me other cats, some white ones, I told her no, that the gray one was the one that moved me and that if she had another one for the next one, I would keep it._
---
---

---
El tema de que fuese un gato como atigrado, tiene su historia en mi niñez, donde compartí hermosos momentos junto a mi abuelo paterno, quien alimentaba a un gato callejero que el llamó Jim, y era muy parecido a mi Shanti, de allí el hecho de que cada gato en tonos atrigrados que veía en la calle, me acordaba de Jim el gato callejero que mi abuelo alimentaba y le hablaba como todo un adulto, las conversaciones entre mi abuelo y Jim me hacían reir, yo le decía: abuelo el no te escucha y mi abuelo se reía.
The fact that it was a tabby cat, has its history in my childhood, where I shared beautiful moments with my paternal grandfather, who fed a stray cat that he called Jim, and was very similar to my Shanti, hence the fact that every cat in shades of tabby that I saw in the street, reminded me of Jim the stray cat that my grandfather fed and talked to him like an adult, the conversations between my grandfather and Jim made me laugh, I told him: grandfather he does not listen to you and my grandfather laughed.
---
---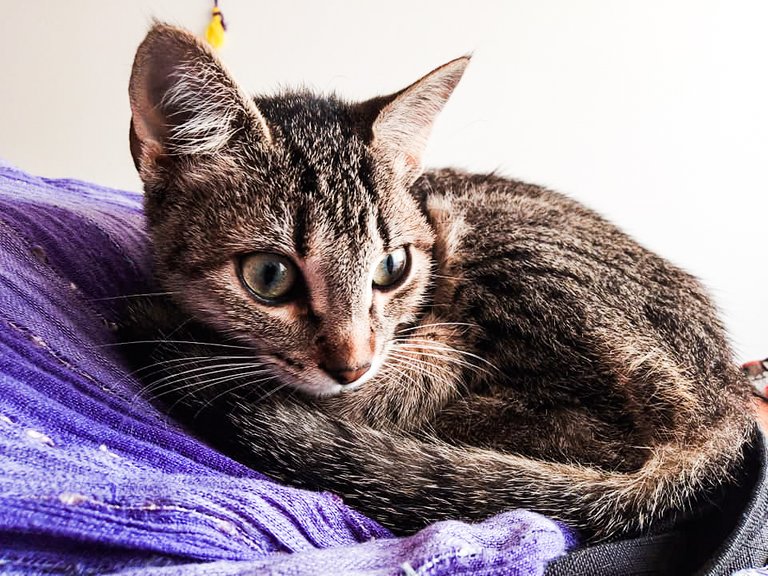 ---
---
Una tarde del 4 de marzo, la señora del gato gris, me llama para decirme que la familia que había decidido adoptarlo no le atendían el celular y que ella ya había salido a la cita a entregarlo, me pregunto que si lo quería, que lo pasaba dejando en donde vivía, me puse nerviosa, le dije que si de una vez, no estaba preparada con nada para el gato, solo nervios y mucha incertidumbre, recuerdo pensé luego de trancar el teléfono que no debí aceptar, que fue precipitado y no me equivoqué, acá ya estamos en septiembre, ya han pasado 7 meses de relación con Shanti como nuestro nuevo compañero, es más que la mascota de la casa, es un gran compañero, curioso, inquieto, dormilón y juguetón. Agradezco tenerlo conmigo, ya no es igual salir ni llegar a casa, ver su carita y esos ojitos que nos reciben al llegar, al despertar, tenerlo cerca mientras trabajo en el computador, incluso mientras cocino está presente.
One afternoon on March 4th, the lady with the gray cat, called me to tell me that the family that had decided to adopt him was not answering her cell phone and that she had already gone to the appointment to deliver him, she asked me if I wanted him, that she was leaving him where she lived, I got nervous, I said yes at once, I was not prepared with anything for the cat, just nerves and a lot of uncertainty, I remember thinking after locking the phone that I should not have accepted, that it was hasty and I was not wrong, here we are in September, it has been 7 months of relationship with Shanti as our new companion, he is more than the pet of the house, he is a great companion, curious, restless, sleepy and playful. I am grateful to have him with me, it is no longer the same going out or coming home, seeing his little face and those little eyes that greet us when we arrive, when we wake up, having him around while I work on the computer, even while I cook he is present.
Fue una buena decisión tenerlo en casa, Shanti representa un nuevo vínculo para mí, ese momento de permitirnos nuevas experiencias en el nuevo lugar donde vivo pero a la vez conectado con el recuerdo de mi niñez, con el gato de mi abuelo y aquellas anécdotas.
It was a good decision to have him at home, Shanti represents a new bond for me, that moment of allowing us new experiences in the new place where I live but at the same time connected with the memory of my childhood, with my grandfather's cat and those anecdotes.
---
---
Traducido con www.DeepL.com/Translator (versión gratuita)
Translated with www.DeepL.com/Translator (free version)
---
---
---

---
---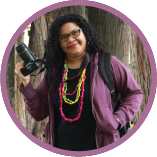 Sobre Mi

"La fotografía me lleva a integrarme desde una perspectiva única con mi entorno, plasmando a través del lente, aquello trascendente para mi"
---
---