Hace casi un año mi mascota empezó con vomitos, decaimiento y aumento de la temperatura... Le di acetaminofén pediátrico, sin embargo no mejoró, la lleve al veterinario y estaba expulsando secreción por vía vaginal.
Almost a year ago my pet started vomiting, decay and increased temperature ... I gave him pediatric acetaminophen, however it did not improve, I took her to the vet and she was expelling discharge vaginally.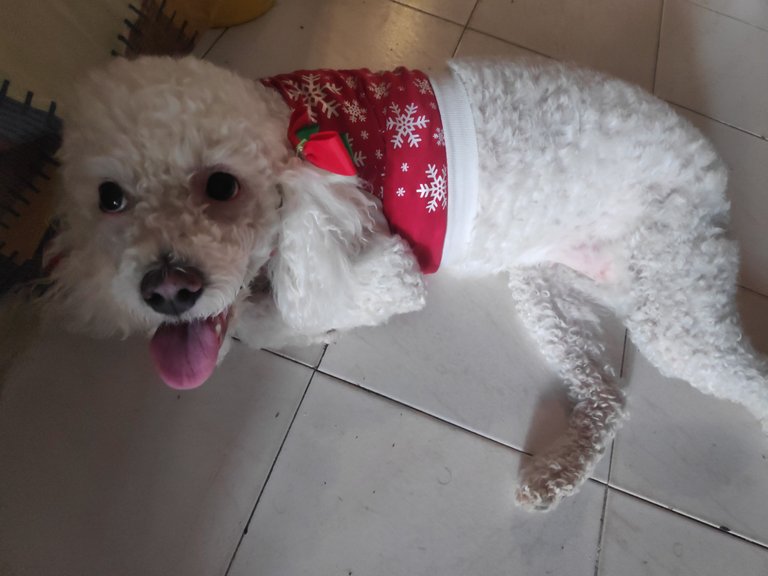 Al revisar, la veterinaria me dice que puede ser una piometra (pus o líquido en el útero)!por la sintomatología pero para confirmar es necesario hacer una ecografía y de ser positivo se debe operar de emergencia. Llaman al médico ecográfico y gracias a Dios estaba disponible por lo que llegó rápidamente pues no se encontraba en la institución.
When checking, the veterinarian tells me that it may be a pyometra (pus or fluid in the uterus) because of the symptoms but to confirm it is necessary to do an ultrasound and if it is positive, an emergency operation should be done. They call the ultrasound doctor and thank God he was available so he arrived quickly because he was not at the institution.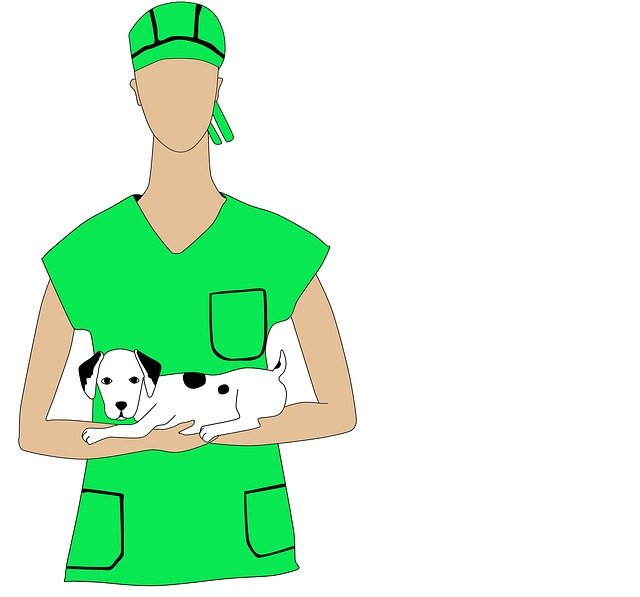 Imagen de waldryano en Pixabay
Al realizar el eco confirma el diagnóstico, por lo que indica una serie de exámenes para ver su estado de salud y saber si era posible la operación, le sacan la sangre y me dicen que como es urgente estarían listo al atardecer
When performing the echo it confirms the diagnosis, for which it indicates a series of examinations to see their state of health and to know if the operation was possible, they draw the blood and they tell me that as it is urgent they would be ready at dusk.
Estábamos en semana radical no había actividad por lo que no había muchos sitios a los que acudir, fueron momentos muy angustiantes pues cada vez Shira estaba más decaída, ya casi no se movía, la secreción era mayor, y si no estaban bien los valores no la podían operar.
We were in a radical week, there was no activity so there were not many places to go, they were very distressing moments because each time Shira was more downcast, she hardly moved anymore, the secretion was greater, and if the values were not correct, no they could operate it.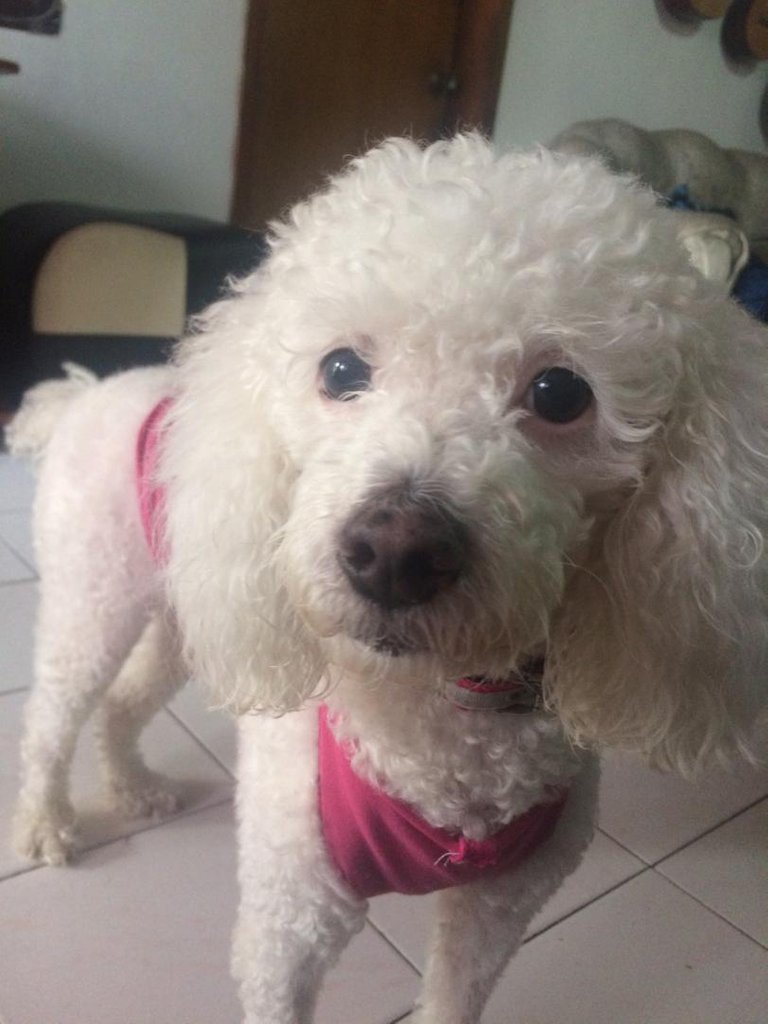 Al mandarme los resultados gracias a Dios todo estaba dentro del rango normal, pautan la cirugía al día siguiente en horas del medio día, ya que era la disponibilidad del cirujano, fueron momentos muy ansiosos, la operación duraba 1 hora aproximadamente y consiste en extraer todo el útero, eliminar varios módulos mamarios y para aprovechar la anestesia quitar una hernia umbilical.
When sending me the results, thank God everything was within the normal range, they scheduled the surgery the next day at noon hours since it was the surgeon's availability, they were very anxious moments, the operation lasted approximately 1 hour and consists of removing all the uterus, remove several mammary modules and to take advantage of anesthesia remove an umbilical hernia.
Me llaman que todo salió bien y ya la podía buscar, al verme semana vez se lanzó hacia mi (cosa que no podía hacer) tenía las heridas sensibles, lo más difícil fue su recuperación. No podía saltar ni correr, ella duerme en un segundo piso en su cama por lo que la tuvimos que bajar, y ella siempre me acompaña dónde voy, yo duermo en el segundo piso, por lo que me mudé a la sala por casi 2 meses debido a que se le abrieron varias heridas y tardaron en cicatrizar.
They call me that everything went well and I could look for her, seeing me once a week she threw herself at me (which she could not do) she had sensitive wounds, the most difficult thing was her recovery. I couldn't jump or run, she sleeps on the second floor in her bed so we had to lower her, and she always accompanies me wherever I go, I sleep on the second floor, so I moved to the living room for almost 2 months due to the fact that several wounds were opened and they took time to heal.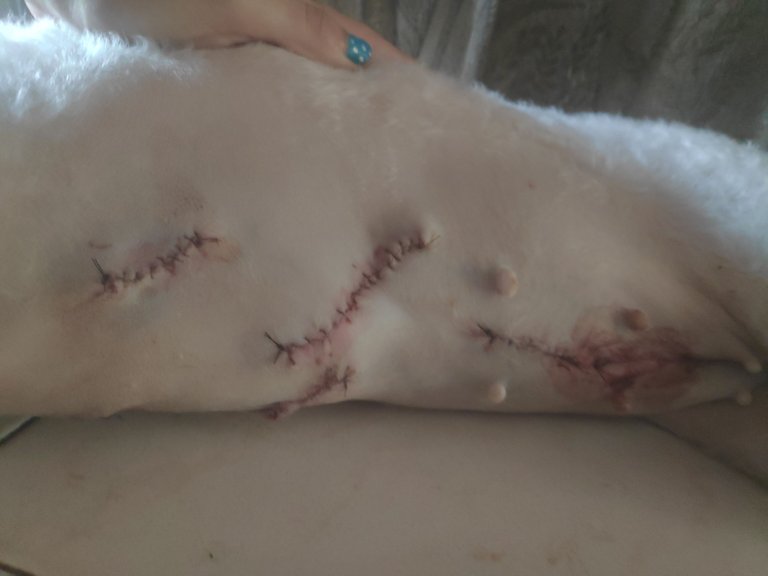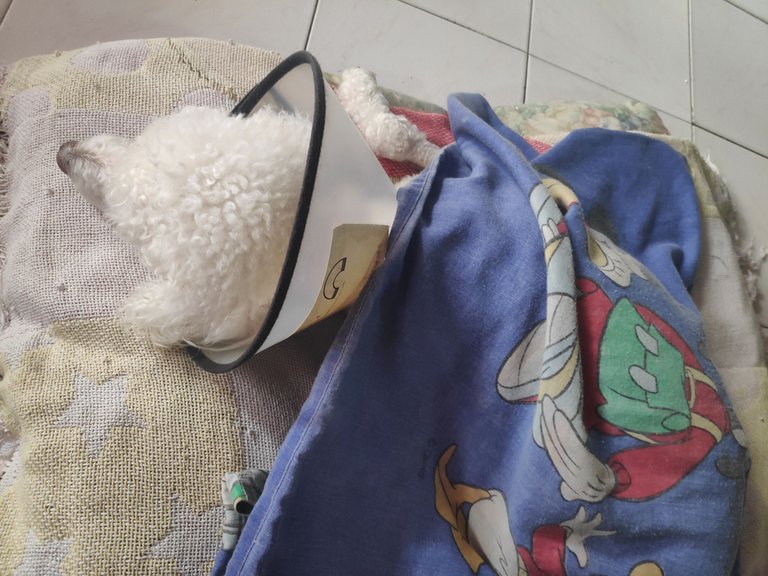 Fueron curas dolorosas, para evitar que se infectan, una vez hechas las curas era tapar lo que le generaba incomodidad, además le retiraron mal unos puntos por lo que tuve que retirar yo nuevamente (gracias a Dios soy médico por lo que tenía los instrumentos para hacerlo) de verdad ella se portó de maravilla a pesar de toda manipulación nunca fue agresiva solo se quejaba con movimientos.
They were painful cures, to prevent them from getting infected, once the cures were done it was to cover what caused discomfort, they also removed some stitches badly so I had to remove it again (thank God I am a doctor so I had the instruments to do it) really, she behaved wonderfully despite all manipulation, she was never aggressive, she only complained with movements.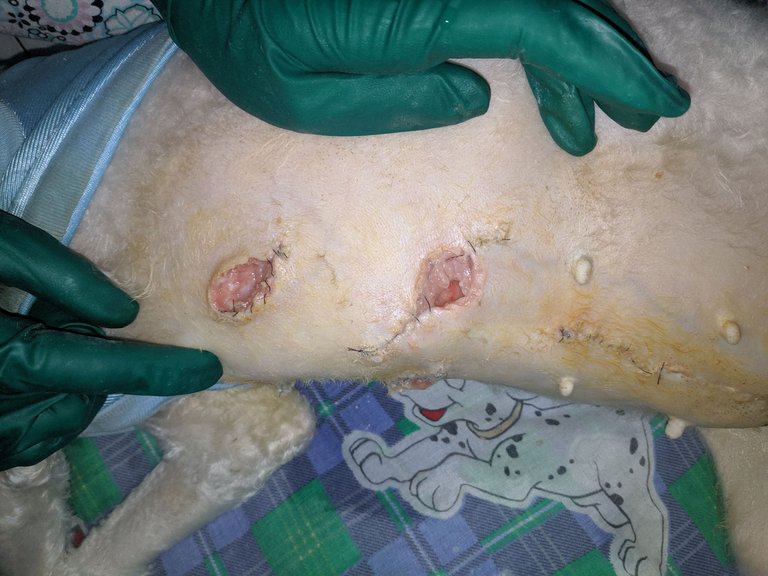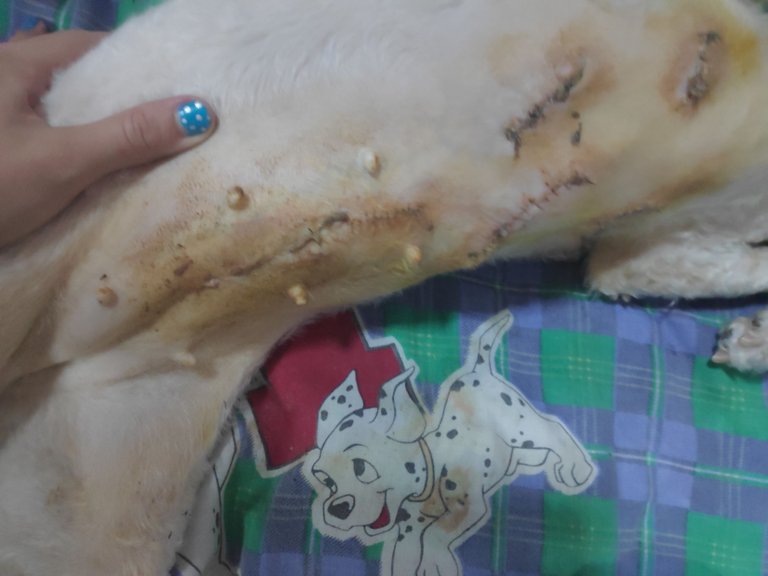 Poco a poco fue cicatrizando todo y volviendo a la normalidad, cambié mis días y comodidades por un tiempo, pero lo hice con mucho amor pues no hay amor tan puro como el de las mascotas te pueden regalar son como un hijo y ella necesitaba de mis cuidados.
Little by little everything was healing and returning to normal, I changed my days and comforts for a while but I did it with a lot of love because there is no love as pure as that of pets they can give you, they are like a child and she needed my care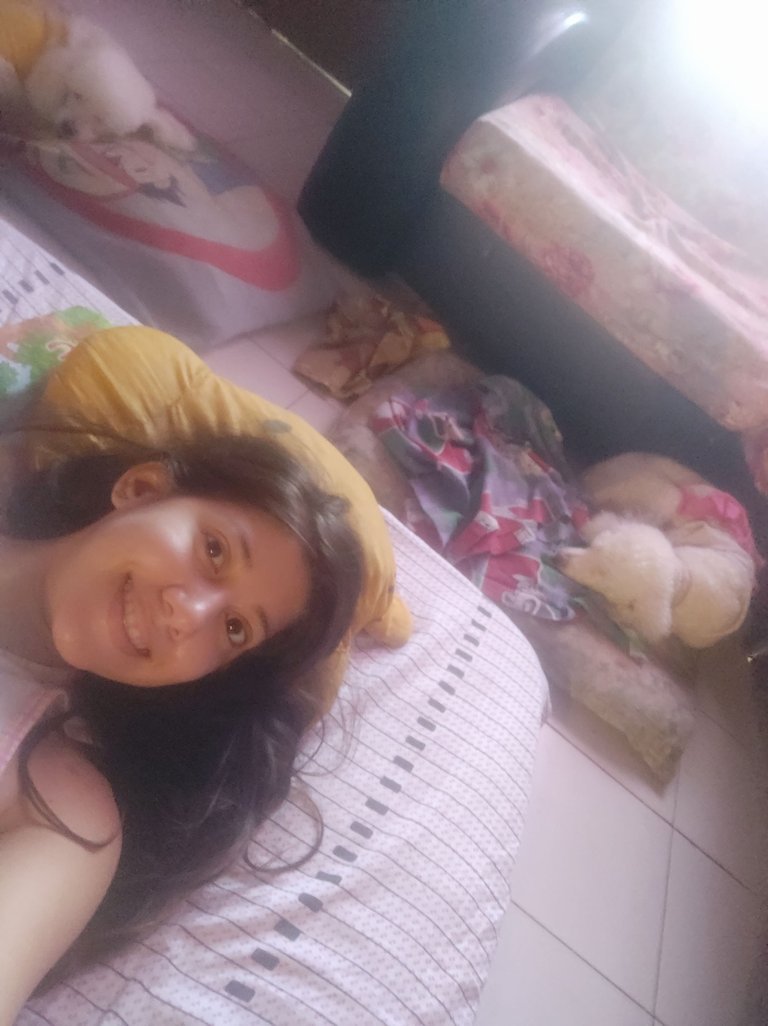 Hoy en día sigue corriendo y siendo juguetona hasta más que antes, increíblemente jajaj y aunque no le pude sacar crías agradezco el tenerla conmigo por unos años más.
Today she is still running and being playful even more than before, incredibly hahaha and although I couldn't get her babies I appreciate having her with me for a few more years.