---
[ENG] Hello dear Hive Pets Community! I hope they are doing their best.
Today I come to introduce you to the last, but not least, member of the wolfpack: McQueen. And I say that it is "the last", because it is the most recent entry into the family.
His story is a bit particular, so I will try to approach it in the best possible way.
To start McQueen's story, you have to go back in time, specifically to July 2009, the moment when Raya, yes, Luna's mother and Kafu's lover, gave birth to her first litter (whose father was a husky I don't know), in which 5 cute puppies were born, including McQueen.
---
[ESP] ¡Hola, estimada comunidad de Hive Pets! Espero que se encuentren lo mejor posible.

El día de hoy vengo a presentarles al último, pero no por eso menos importante, integrante de la manada: McQueen. Y digo que es el último, por ser el ingreso más reciente a la familia.

Su historia es un poco particular, así que trataré de abordarla de la mejor manera posible.

Para iniciar la historia de McQueen hay que ir atrás en el tiempo, específicamente a julio del año 2009, el momento en el que Raya, sí, la mamá de Luna y amante de Kafu, dió a luz a su primera camada (cuyo progenitor era un husky al que desconozco), en la que nacieron 5 lindos cachorritos, entre los que se encontraba McQueen.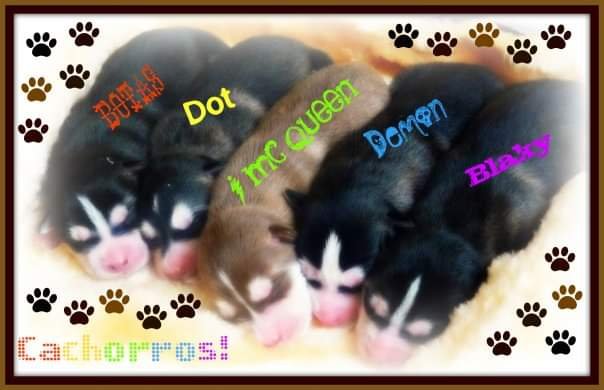 (Primera camada de Raya 27/07/09. Foto cortesía de Ariana Romero)
[ENG] At that time, Ariana, Raya's mother, was dating a boy, who over time would become a good friend of mine, to whom she gave the adorable little Lightning McQueen as a gift.
---
[ESP] En ese momento, Ariana, la mamá de Raya, salía con un chico, que al pasar el tiempo se convertiría en un buen amigo mío, al que le dió como obsequio al adorable pequeño Rayo McQueen.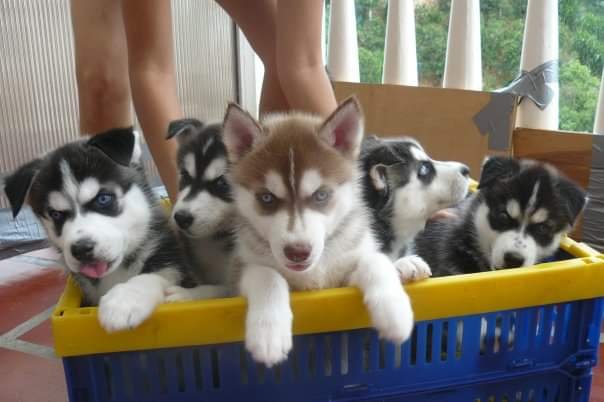 (Primera camada de Raya 10/09/09. Foto cortesía de Ariana Romero)
[ENG] This good friend, McQueen's dad, took great care of McQueen, and I even took care of him for him on a couple of occasions for travel reasons. This is how, when my friend decided to open his horizons, in 2018, and move to another country, he entrusted me to McQueen to be his new caretaker and manager.
And that's how McQueen came to my house, to be part of the Kafu and Luna herd, a phase that is not as simple as it might sound, because McQueen was not well received by Kafu in the first instance. So, already having years of experience with Kafú and later with Luna, I knew that the best way to establish a healthy relationship between them was for them to share long walks because being wolves is something that they both enjoy, in addition to that during the walks, dogs generally relax and achieve a neutral state where interacting with other dogs is easier.
---
[ESP] Este buen amigo, papá de McQueen, cuidó fantásticamente de McQueen, e incluso yo lo cuidé por él en un par de ocasiones por motivos de viajes. Así fue como, al momento de mi amigo decidir abrir sus horizontes, en el 2018, y mudarse a otro país, me confió a McQueen para ser su nuevo cuidador y responsable.

Y fue así como llegó McQueen a mi casa, a formar parte de la manada de Kafú y Luna, una fase que no es tan sencilla como podría sonar, pues McQueen no fue bien recibido por Kafú en primera instancia. Así que, ya teniendo años de experiencia con Kafú y luego con Luna, sabía que la mejor manera de establecer una relación sana entre ellos, era que compartieran largos paseos porque al ser lobos es algo que ambos disfrutan, además de que durante los paseos, los perros en general, se relajan y logran un estado neutro en el que relacionarse con otros perros es más fácil.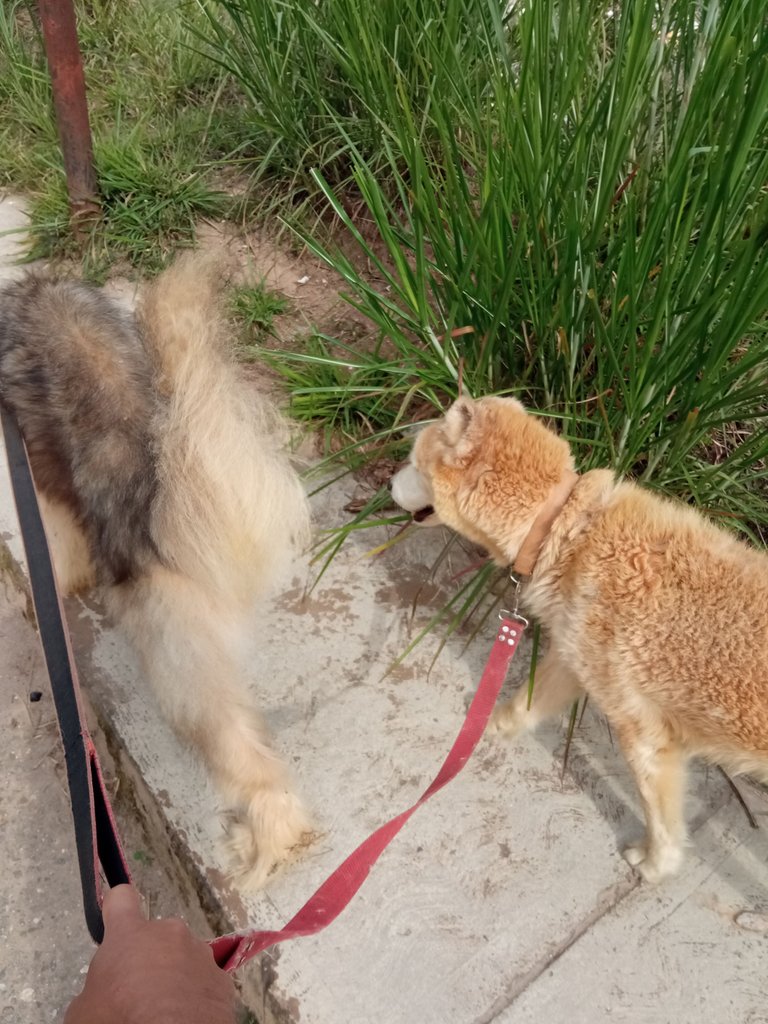 (Kafú y McQueen paseando 01/05/21)
[ENG] Today Kafu, Luna and McQueen, along with Kiki, are the furry friends who have given me a way of understanding living beings that I was ignorant of, which is based on respect for life, in which it is a responsibility to attend to what of us it depends and that love is a language that transcends species.
I hope you enjoyed getting to know McQueen, and thank you always for your support! ✌🏼
---
[ESP] Hoy Kafú, Luna y McQueen, junto a Kiki, son los amigos peludos que me han regalado una manera de entender a los seres vivos que ignoraba, que se basa en el respeto por la vida, en que es una responsabilidad atender al que de nosotros depende y que el amor es un lenguaje que transciende especies.

Espero que hayan disfrutado de conocer a McQueen, y, ¡Gracias siempre por el apoyo! ✌🏼