On the 9th of July the Canadian police got a message of a dangerous driver in Alberta. The police were shocked to find a driver who was asleep letting his Tesla Model S drive autonomously at speed close to 140 KPH.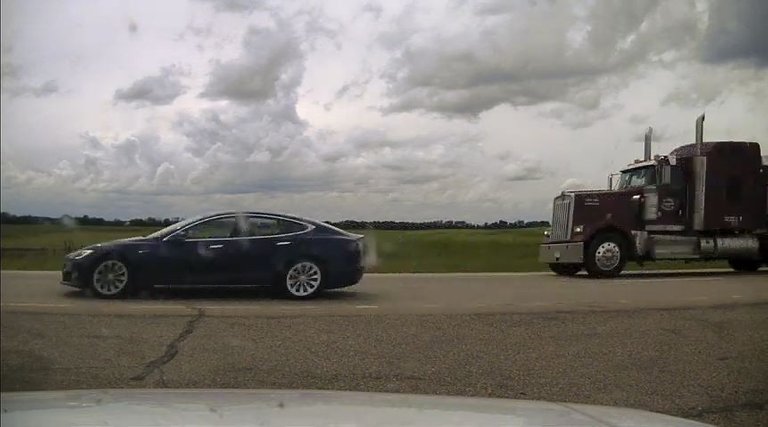 Credit: Royal Canadian Mounted Police
It looked as if the car was driving all alone at a speed of 140 KPH (87 MPH) with the front seats fully reclined and both the passengers were asleep. They even published a photograph in which you can clearly see that nobody was driving the vehicle. Apart from the car itself.
150 KPH And Asleep
The policemen started to pursue the vehicle and it even sped up to the speed of 150 KPH (93 MPH). After the vehicle was forced to stop, the driver – a 21-year-old man from British Columbia – was accused of going over the speed limit. He also had his driver's license revoked for 24 hours at the spot because of his obvious fatigue. Later he was accused of reckless driving.
The police did not say in which way the driver circumvented the vigilance protection which requires the driver to hold the wheel. But we know it can be somewhat easily circumvented even by a tennis ball in the wheel. The system should stop the car if the driver fails to hold the wheel even after several warnings.
The police also emphasize that current autonomous systems cannot be used without the supervision of a driver. They aren't fully autonomous and should only be considered assistants. The Autopilot function available in the Tesla car only offers the second level of autonomy out of five possible where the fifth is a fully autonomous car.
Autonomous Fatigue
The Tesla Model S combines an adaptive cruise control, line assistant, parking assistant, and newly it even offers assistance with changing lines. To automate these things it uses many sensors including eight different cameras, a radar, and an ultrasound.
What needs to be said is that making sure a car driving autonomously can be more fatiguing than regular driving. This is confirmed by the fact that the Canadian police are the first to stop a Tesla that had its driver fall asleep behind the wheel. But since the seats were reclined in this case it most likely was not an accident.
The situation should be improved by using the activity of the eyes to make sure the driver is still aware. Some automotive companies already provide this feature. It is much harder to circumvent this system and on top of that, it can also make sure the driver is not only awake but also watching the road.
Sources:
---
If you like the content I'm producing about science maybe you will like the content I produce about gaming as well! Be sure to check out my other posts!