T H U N E R S E E
Travel / S w i t z e r l a n d
by Ruben Cress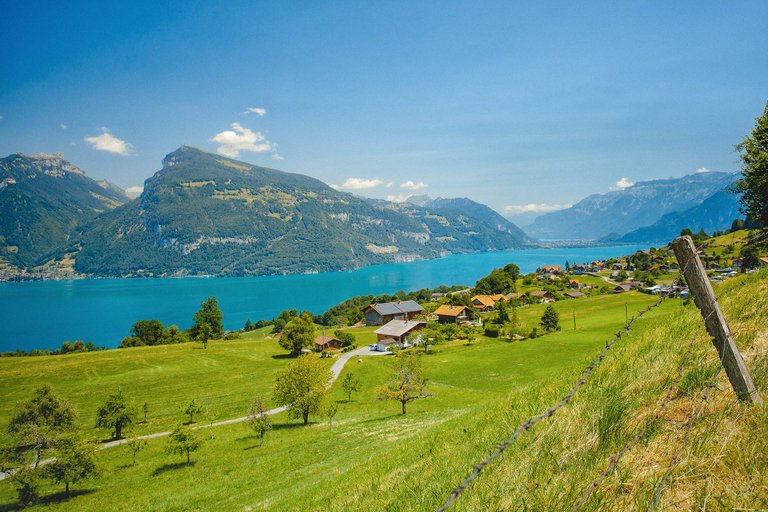 Ruben Cress | Thunersee, Switzerland
---
S u m m a r y
A beautiful view of the Thunersee visible from Aeschi bei Spiez, Switzerland. I honestly think that Aeschi bei Spiez is one of the hidden gems in Switzerland as at the time of visiting there wasn't much advertisement of Aeschi bei Spiez on the internet when browsing on Google. After driving for hours and hours, it became pretty dark, and I was tired. At that time I was in Aeschi, and I had no idea where I had to go to set up camp for the night. Google maps showed me the nearby camping site I rented, but it was kind of a maze in the darkness. What was even more challenging, was setting up the tent in the night without making too much noise.
Since I had absolutely -no idea- what was out there, you can imagine I was happily surprised waking up in such a beautiful area. I should share what I woke up next to. I've visited this place both times when I was visiting Switzerland. Green grass, turquoise colored water, healthy air, mountains, singing birds (which is nice for a change, listening to crows is starting to annoy me, especially when it is a broken one) what else do you need to wake up?
---
C A M E R A   D E T A I L S
| | |
| --- | --- |
| Camera | Canon 5D MARK II |
| Lens | Canon EF17-40mm f/4L USM |
| Shutterspeed | 1/100 |
| Aperture | f/5.0 |
| ISO | 100 |
---
Have you ever been to Switzerland?
I absolutely love Switzerland, it may be my 2nd favorite country in Europe (Sweden comes first). Have you ever been to Switzerland? Or what is your favorite country to visit?

Cheers,
Ruben

Follow me on Foundation | Follow me on Twitter | Follow me on Instagram