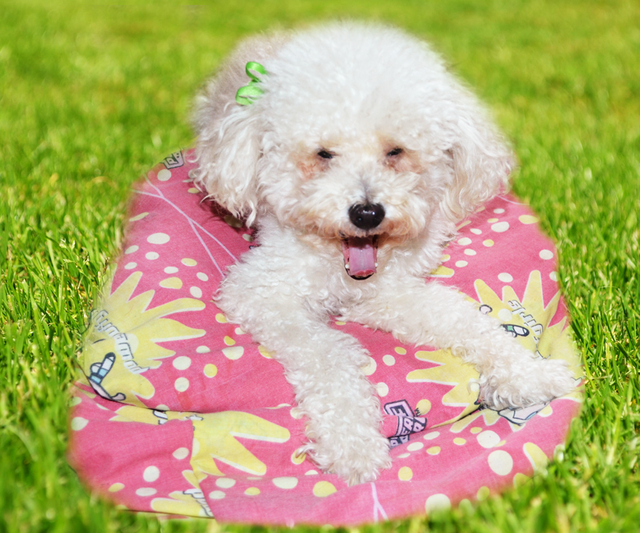 PAMELA IN THE GARDEN | Photo Editing Kantos
Greetings dear friends, I am very pleased to begin with this stage of learning photography.

As many know I am a musician and teacher, but since a few days ago I have in my hands a Nikon D3100 and I have given myself to the task of starting to take pictures, I want to learn this beautiful art that has attracted my attention since I was a child, for this reason I have begun to look at many publications of photographs trying to learn a little of the people who are professionals in this area.
Saludos queridos amigos, me complace mucho comenzar con esta etapa de aprendiz de fotografía.

Como muchos saben soy músico y docente, pero desde hace unos pocos días tengo en mis manos una Nikon D3100 y me he dado a la tarea de comenzar a tomar fotos, deseo aprender este bello arte que me ha llamado mucho la atención desde que era un niño, por esta razón he comenzado a mirar muchas publicaciones de fotografías tratando de aprender un poco de las personas que son profesionales en esta área.
---
Practice Makes a Master
Many years ago I heard the phrase: "Practice Makes a Master", and never had it been so valuable to me, as it is today, since at this moment I have a camera, I know theoretically how it works, but the time has come to point and shoot.
La Práctica hace al Maestro
Hace muchos años escuché la frase: "La Práctica hace al Maestro", y nunca había tenido tanto valor para mí, como hoy en día, puesto que en este momento tengo una cámara, sé teóricamente su funcionamiento, pero ha llegado el momento de apuntar y disparar.
---
The Model
I have always liked pets, and at home I have "Pamela", she is a loving poodle of 6 years, who is with me since birth, she is the pampered of my wife
@luces
.
So much so that he has made several poems inspired by her.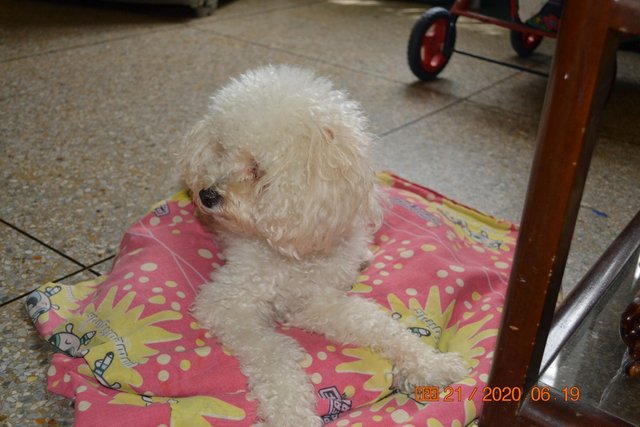 ---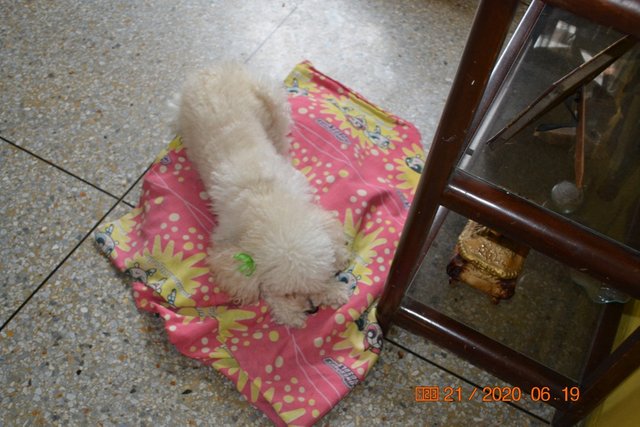 La Modelo
Desde siempre me han gustado las mascotas, y en casa tengo a "Pamela", es una cariñosa poodle de 6 años, que está conmigo desde recien nacida, ella es la consentida de mi esposa
@luces
.
Tanto así que ha realizado varios poemas inspirados en ella.
---
---
Best Pose
After taking many pictures, I think this was the best pose, with the best angle and the expression on her face was very nice.
La Mejor Pose
Luego de tomar muchas fotos, considero que esta fue la mejor pose, con el mejor ángulo y la expresión de su rostro fue muy bonita.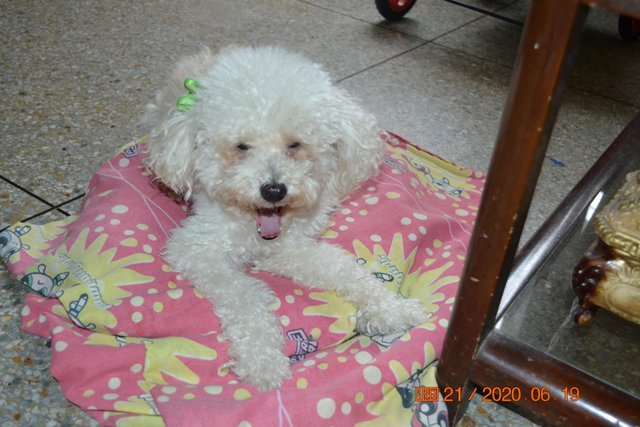 La foto fue tomada en mi apartamento, en vista de que no tengo jardín y por la situación de confinamiento no puedo llevarla en estos días a un parque, busqué en pixabay una imagen de un prado, y con el software photoshop, hice una edición usando la técnica de fusión cuyo proceso expliqué detalladamente
The photo was taken in my apartment, since I don't have a garden and due to the confined situation I can't take it to a park these days, I looked for an image of a meadow in pixabay, and with the software photoshop, I made an edition using the fusion technique whose process I explained in detail
---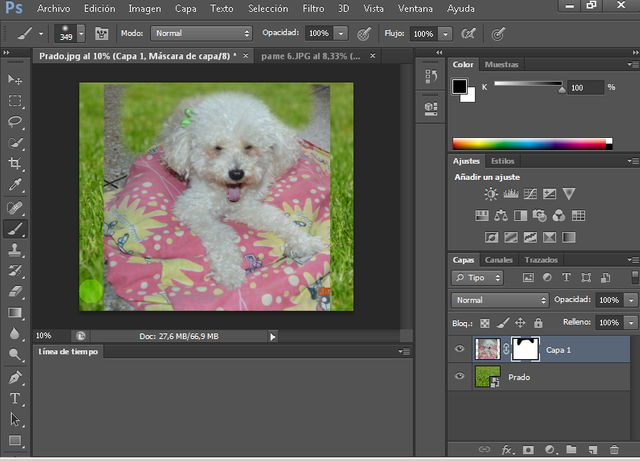 ---
It's necessary to note that taking into account another post, I tried to remove as much space as possible around the image so that the attention was more concentrated on the model, and the meadow worked very well as a frame in combination with the zoom and new alignment of the image...
After doing the fusion process, I made a color curve correction process, to give more brightness and a warmer color to the image, since the new background makes us think that the photo was taken outdoors in a sunny day.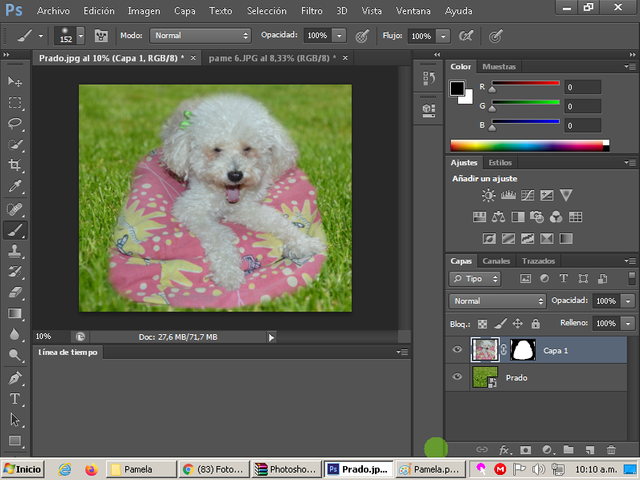 ---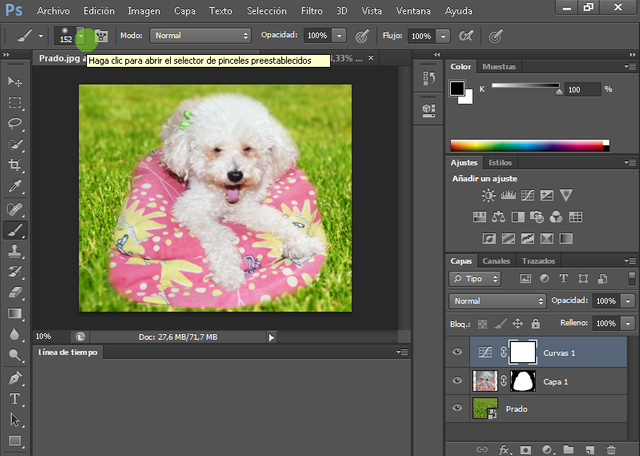 Es preciso hacer notar que tomando en cuenta otro post, traté de quitar el mayor espacio posible alrededor de la imagen para que la atención estuviera mas concentrada en la modelo, y el prado funcionaba muy bien como marco en combinación con el acercamiento y nueva alineación de la imagen..
Luego de hacer el proceso de fusión, realicé un proceso de corrección de curvas de color, para darle mayor brillo y un color mas cálido a la imagen, puesto que el nuevo fondo nos hace pensar que la foto fue tomada en exteriores en un día soleado.
---
I must say that all the photos of "Pamela" (my dog) were taken by me Gregory Ortiz @kantos, with my Nikon Camera D3100.
I can say that I loved the result of the photo, I am a beginner in this, but I want to learn a lot, I would love to read in your comments, the observations and recommendations you can make me to improve.
Debo decir que todas las fotos de Pamela fueron tomadas por mí Gregory Ortiz @kantos, con mi Cámara Fotográfica Nikon D3100.
Puedo decir que me encantó el resultado de la foto, soy un novato en esto, pero deseo aprender mucho, me encantaría leer en sus comentarios, las observaciones y recomendaciones que puedan hacerme para mejorar.
---
---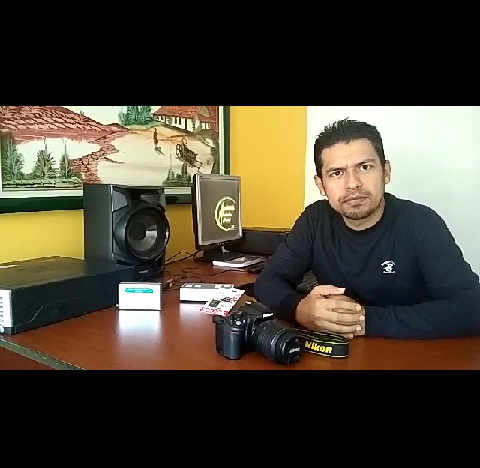 Agradezco inmensamente su atención y tiempo.
I am immensely grateful for your attention and time.