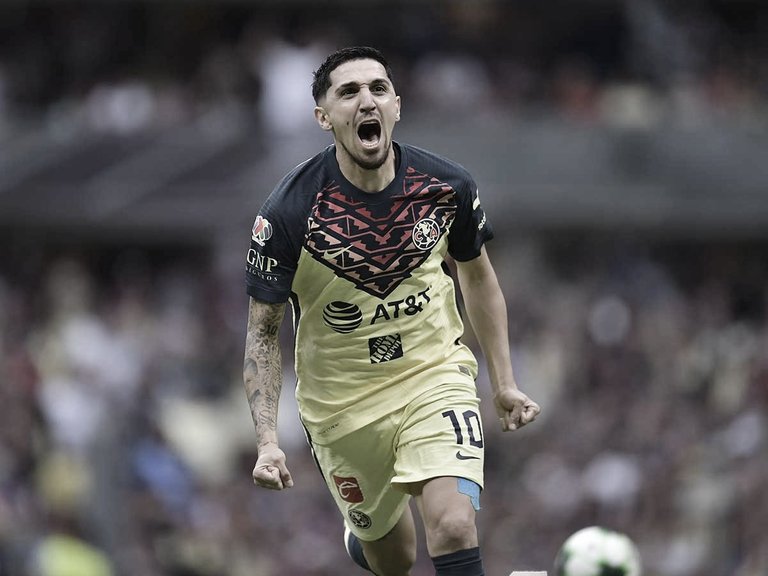 ---
"No me asombra la calidad de jugadores. Desde que bajé en la cancha, la levantada de los golpes que tuvimos en el primer tiempo y la segunda, perdón por la palabra, tengo jugadores con unos 'huevos' tremendos, han salido de situaciones adversas, en situaciones límite, estoy orgulloso y feliz de tener esta clase de jugadores." – Fernando Ortiz tras haber conseguido el pase a semifinales con su Club América.
"I'm not surprised by the quality of the players. Since I went down on the pitch, the upturn from the blows we had in the first half and the second, pardon the word, I have players with tremendous balls, they have come out of adverse situations, in extreme situations, I'm proud and happy to have this kind of players". - Fernando Ortiz after having secured a place in the semi-finals with his Club América.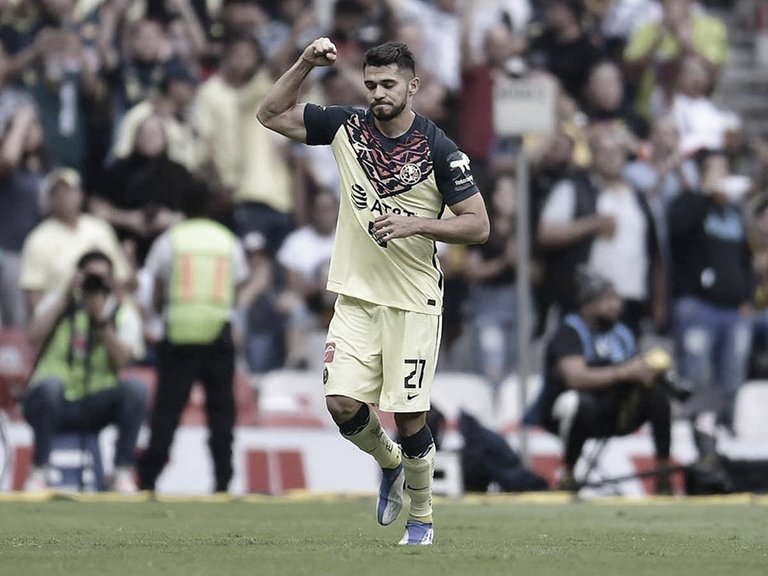 ---
El renacer del América de la mano de Fernando Ortiz ha sido no menos que una grata sorpresa en el este torneo Grita México C22; "el Tano" llegó a Coapa y devolvió la ilusión a un grupo de jugadores que encadenaban una desastrosa racha con Santiago Solari. "El Indiecito" tuvo un muy buen porcentaje de efectividad en las dos temporadas regulares que dirigió al equipo, pero sus águilas se caían en los momentos importantes y para el arranque del presente torneo todo se derrumbó en la gestión de Solari.
The rebirth of America under Fernando Ortiz has been no less than a pleasant surprise in this Grita Mexico C22 tournament; "El Tano" arrived at Coapa and gave hope back to a group of players who had been on a disastrous streak under Santiago Solari. "El Indiecito" had a very good percentage of effectiveness in the two regular seasons he coached the team, but his team were falling at important moments and by the start of the current tournament everything collapsed under Solari's management.
Tras haber tocado el fondo de la tabla general, el América de "el Tano" Ortiz ha logrado algo que no lograba desde el Apertura 2019, volver a la instancia de semifinales; en aquel torneo aún se encontraban bajo la dirección de Miguel Herrera y terminaron cayendo de manera estrepitosa en la final ante el Monterrey en el Estadio Azteca, continuó Herrera sin poder trascender, llegó Solari con el mismo resultado y hoy los de Coapa se encuentran en la antesala de la final de la Liga MX.
After having been at the bottom of the general table, América under "El Tano" Ortiz has achieved something they haven't achieved since the Apertura 2019, returning to the semi-finals; in that tournament they were still under the direction of Miguel Herrera and ended up falling in the final against Monterrey in the Azteca Stadium, Herrera continued without being able to transcend, Solari arrived with the same result and today the Coapa team are in the prelude to the final of the Liga MX.
---
Lo ganó el América en el Estadio Azteca.⚽️🦅
America won it at the Azteca Stadium ⚽️🦅
---
---
El juego de vuelta ante el Puebla en el Estadio Azteca fue igual de ríspido que el de la ida en el Cuauhtémoc, pero con una diferencia sustancial. Los de Coapa impusieron el ritmo de juego durante todo el partido, fueron jerárquicos ante un Puebla que fue todo lucha y entrega, aunque adoleció de los chispazos de calidad tan característicos de su futbol.
The second leg against Puebla at the Estadio Azteca was just as rough as the first leg at the Cuauhtémoc, but with a substantial difference; the Coapa side imposed the pace of play throughout the match, they were hierarchical against a Puebla side that was all fight and commitment, although they lacked the so characteristic sparks of quality in their football.
---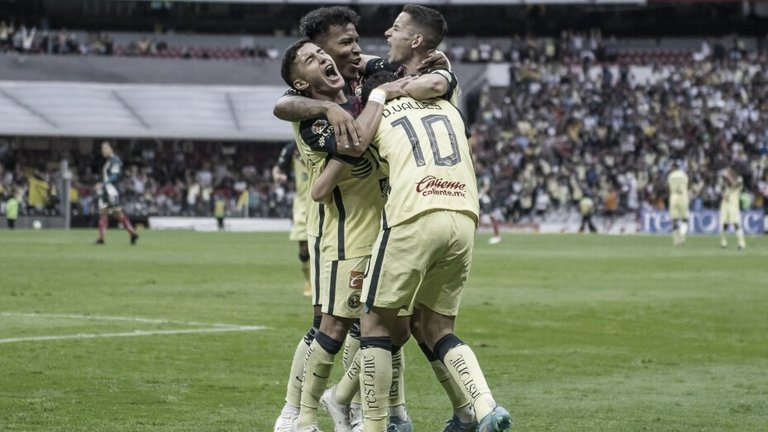 ---
Los de Coapa fueron generando ocasiones y en una de ellas, al minuto 27, Bruno Valdéz conectó un formidable centro de Diego Valdés, su remate se anidó en el marco poblano pero el central paraguayo del América estaba en fuera de juego y el tanto no contó y las águilas tendrían que seguir remando en busca de la ventaja.
The Coapa side were generating chances and in one of them, in the 27th minute, Bruno Valdéz connected with a formidable cross from Diego Valdés, his shot nestled in the Puebla goal but the Paraguayan centre-back of América was offside and the goal did not count; Las Águilas would have to continue rowing in search of the advantage.
Remaron y encontraron la puerta al minuto 42', gran despliegue de Zendejas con la pelota, contemporizó y cedió para Alvaro Fidalgo, el asturiano dentro del área sirvió con absoluta ventaja para que Henry Martín firmara de cabeza el 1-0 para los de Coapa a quienes la alegría de la ventaja les duró poco y nada. En el añadido de la primera parte, Segovia remató a segundo poste un centro de Maxi Araujo, sobre la línea rescató Pedro Aquino, pero Israel Reyes hizo bueno el rebote con una chilena para emparejar el marcador al descanso.
They rowed and found the net in the 42nd minute, a great display by Zendejas with the ball, he took his time and passed to Álvaro Fidalgo, the Asturian inside the area served with absolute advantage for Henry Martín to head in the 1-0 for the Coapa team, whose joy at the advantage was short-lived. In the added time of the first half, Segovia headed a cross from Maxi Araujo to the far post, Pedro Aquino saved on the line, but Israel Reyes made good use of the rebound with a bicycle kick to level the score at the break.
---
Tras haber tocado el fondo de la tabala en este torneo, el América está en semifinales.
Having been at the bottom of the standings in this tournament, America are in the semi-finals.
🔸Con #TodoEnLaCancha este escudo está en Semifinales #JuntosPorLaGlor14 🦅🔹 pic.twitter.com/0aqg6AumxE

— Club América (@ClubAmerica) May 15, 2022
---
América se serviría de firmar un grandioso segundo tiempo y con ello sellar su pase a las semifinales, poco antes de cumplida la hora de juego, Diego de Buen derribó en el área a Bruno Valdéz y tras revisión en el VAR se pitó penalti a favor de los dirigidos por Ortiz. Cobró Diego Valdés y Antony Silva atajó en primera instancia, pero el colegiado mandó a repetir el cobro puesto que el guardameta paraguayo se adelantó; segunda oportunidad desde el manchón para el 10 chileno que en esta ocasión no perdonó y devolvió la ventaja a los azulcrema.
América had a great second half and with it sealed their place in the semi-finals, just before the hour mark, Diego de Buen brought down Bruno Valdéz in the box and after a VAR review, a penalty was awarded in favour of Ortiz's side. Diego Valdés took the spot-kick and Antony Silva saved at first attempt, but the referee ordered a retake as the Paraguayan goalkeeper stepped up; a second chance from the spot for the Chilean 10, who this time made no mistake and gave the Azulcrema the lead back.
El tercer tanto de los de Coapa llegaría en una contra de manual, gran salida de Pedro Aquino que hizo una perfecta lectura del espacio y tiempo para ceder a Valdés por el andarivel izquierdo, muy mal colocado estaba el conjunto de "La Franja" y Valdés sirvió en bandeja a la llegada de Zendejas que simplemente tuvo que empujar la pelota al fondo de la portería. 3-1 y el América aseguraba el boleto a semifinales.
The third goal for the Coapa side came from a textbook counter-attack, a great start by Pedro Aquino who made a perfect reading of the space and time to pass to Valdés on the left flank, "La Franja" team was very poorly positioned and Valdés served on a plate for Zendejas who simply had to push the ball into the back of the goal. 3-1 and América secured their ticket to the semi-finals.
El conjunto de Larcamón encontró un infructuoso descuento sobre el final; un penalti claro de Bruno Valdéz sobre Guillermo Martínez que Fernando Aristeguieta transformó en el 3-2 (4-3 globa) definitivo. América avanza y habrá de enfrentarse al Pachuca, líder del torneo, en la instancia de semifinales.
Larcamón's side found a fruitless equaliser late on, a clear penalty from Bruno Valdéz on Guillermo Martínez that Fernando Aristeguieta converted to make it 3-2 (4-3 on aggregate). America advanced to face tournament leaders Pachuca in the semi-finals.
---
Las acciones del encuentro en el Azteca que culminó con la vuelta azulcrema a semifinales:
The action from the match at the Azteca that ended with the Azulcrema's return to the semi-finals:
✍🏼: Paco Andújar ⚽