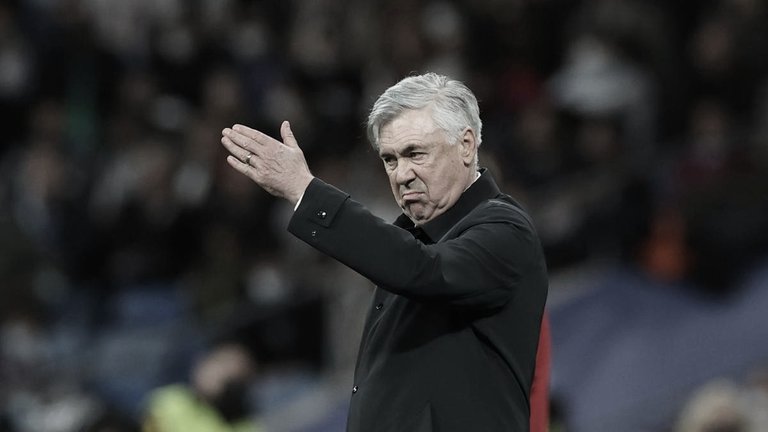 ---
"Después de esta etapa en el Real Madrid es probable que me retire. Pero si el Real Madrid quiere que esté aquí otros 10 años, estaré otros 10 años" – Carlo Ancelotti sobre su futuro en los banquillos.
"After this stage at Real Madrid it is likely that I will retire. But if Real Madrid want me to be here for another 10 years, I'll be here for another 10 years" - Carlo Ancelotti on his future in the coaching ranks.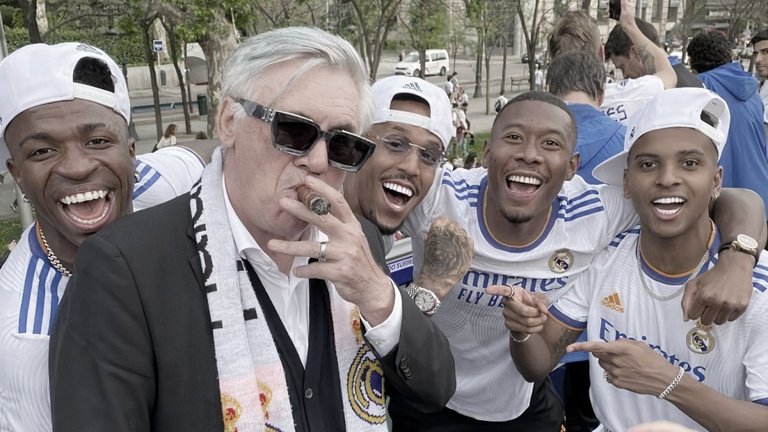 ---
Aquel pequeño Carlo que en algún momento corría por las calles de Reggiolo con una pelota en los pies y aprendió el valor de la paciencia el mimo con el que su padre trataba los quesos que producía, es hoy un estratega histórico del futbol y de su amado Real Madrid.
That little Carlo who once ran through the streets of Reggiolo with a ball at his feet and learned the value of patience from his father's care for the cheese he produced, is today a historic manager of the world football and of his beloved Real Madrid.
Vive un momento sumamente dulce tras haber conquistado el único título que se le resistía -LaLiga- con el Real Madrid, hoy Ancelotti puede presumir de haber conseguido todos los campeonatos a los que puede optar un entrenador con el conjunto merengue. Carletto es ya un histórico en la entidad de Chamartín y apunta a conseguir nuevas glorias con los blancos.
He is living an extremely sweet moment after having won the only title that had eluded him - LaLiga - with Real Madrid, today Ancelotti can boast of having won all the championships that a coach can win with the Merengues. Carletto is already a historic figure at the Chamartín club and he aims to achieve new glories with Los Blancos.
---
Carlo V de Reggiolo. 👑
Carlo V of Reggiolo. 👑
---
---
En la primera temporada de su segunda etapa en el Real Madird, Ancelotti ha conquistado una Liga con aplastante superioridad sobre el resto de competidores; un título que lo coloca como el único entrenador en la historia del futbol mundial en ganar las 5 grandes ligas europeas.
In the first season of his second spell at Real Madrid, Ancelotti has won a league title with overwhelming superiority over the rest of his rivals; a title that makes him the only coach in the history of world football to win all five major European leagues.
Carlo no solamente arrasó con la competición liguera al inicio de su segundo periodo como timonel del barco blanco, ya se ha posicionado como uno de los mejores entrenadores en la historia del club y se encuentra en la antesala de disputar la vuelta de una eliminatoria clave que podría representar su segunda final de UEFA Champions League con el conjunto de Chamartín.
Carlo not only swept the league competition at the start of his second spell at the helm of los Blancos, he has already established himself as one of the best coaches in the club's history and is on the cusp of contesting the second leg of a key tie that could represent his second UEFA Champions League final with the Chamartín club.
---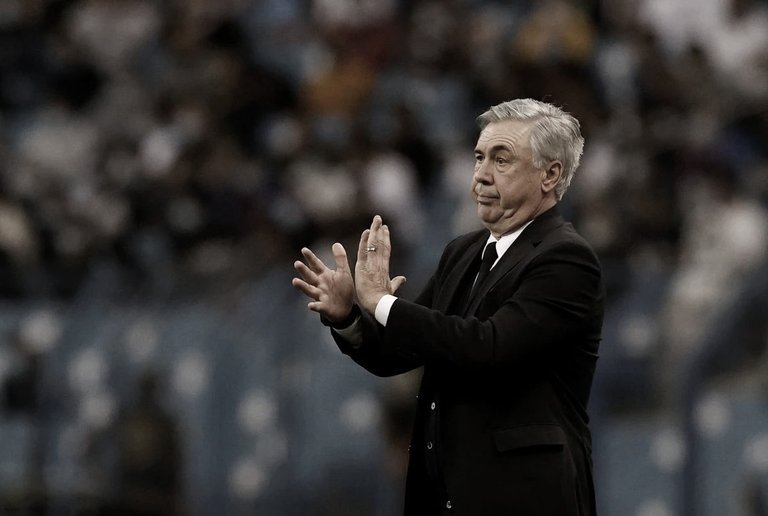 ---
Ancelotti es ya el entrenador con mejor porcentaje de efectividad al frente del conjunto blanco, habiéndoles dirigido durante tres temporadas y conquistando hasta el momento seis títulos en la entidad de Chamartín: una UEFA Champions League -la Décima-, un Mundial de Clubes, una Supercopa de Europa, una Copa del Rey, una Supercopa de España y el reciente lauro de La Liga.
Ancelotti is already the coach with the best effectiveness percentage at the helm of Los Blancos, having coached them for three seasons and having won six titles at the Chamartin club so far: a UEFA Champions League -la Décima-, a Club World Cup, a European Super Cup, a Copa del Rey, a Spanish Super Cup and the recent La Liga title.
---
El "Imperatore" es ya historia viva del Real Madrid. 🏆🙌
The "Imperatore" is now living Real Madrid history. 🏆🙌
Carlo Ancelotti es historia pura del madridismo. Ha ganado todos los títulos que ha disputado al menos una vez con el Real Madrid:

☑️Liga
☑️Copa del Rey
☑️Supercopa España
☑️Champions
☑️Supercopa Europa
☑️Mundial de Clubes pic.twitter.com/UiDb1PnsgM

— Manu Heredia (@ManuHeredia21) May 3, 2022
---
Carlo vive un idilio con los blancos, son un matrimonio feliz, el italiano es un eterno enamorado del club y de Madrid como ciudad, y el Madridismo le quiere por su pasado y agradece su presente en la casa blanca. Agradecimiento que Ancelotti devuelve abiertamente, puesto que ha declarado que volver al Real Madrid es una de las mejores cosas que le ha podido pasar en la vida.
Carlo lives an idyll with Los Blancos, they are a happy marriage, the Italian is an eternal lover of the club and of Madrid as a city, and Madridismo loves him for his past and is grateful for his present at the club. Ancelotti's gratitude is openly returned, as he has declared that returning to Real Madrid is one of the best things that could have happened to him in his life.
Su leyenda blanca es ya imborrable, su peso como entrenador en el panorama mundial es incontestable y, con 62 años, comienza a plantearse su futuro; ha dicho que el Real Madrid habrá de ser el último equipo que entrene en su carrera, pero está dispuesto a quedarse al frente de su amado conjunto blanco 10 años si el club así lo desea. ¡Larga vida al Rey! ¡Larga vida a Carlo V de Reggiolo!
His white legend is already indelible, his weight as a coach on the world stage is indisputable and, at 62, he is beginning to consider his future; he has said that Real Madrid will be the last team he coaches in his career, but he is willing to stay at the helm of his beloved team for 10 years if the club so wishes. Long live the King! Long live Carlo V de Reggiolo!
---
Ancelotti en la rueda de prensa previa al encuentro clave contra el Manchester City:
Ancelotti at the press conference ahead of the key game against Manchester City:
✍🏼: Paco Andújar ⚽