¡La familia es lo Primero!




Hoy de vuelta a la pista, luego de un pequeño retiro y de una etapa de concentración familiar, se hace presente el momento propicio para realizar una enriquecedora sesión de calistenia y estiramientos musculares en busca de esa elasticidad que todos requerimos, sobre todo al momento de sentir rigidez en nuestro cuerpo, producto de la inactividad, estrés o el estado de ánimo.
Por esto, al llegar de mi jornada laboral, he puesto manos a la obra y en compañía de mis hijos hemos salido a caminar un rato, a ejercitarnos y a enriquecernos con lo maravilloso de compartir en familia. En esas situaciones difíciles siempre se debe enfocar en las nuevas generaciones, por eso se ha hecho perfecto el momento para abrazar a mis seres queridos y seguir adelante.


Family comes first!

Today back on track, after a small retreat and a period of family concentration, it is the right time for an enriching session of calisthenics and muscle stretching in search of that elasticity that we all require, especially when we feel stiffness in our body, product of inactivity, stress or mood.
For this reason, when I get home from work, I have put my hands to work and together with my children we have gone for a walk for a while, to exercise and to enrich ourselves with the wonderful feeling of sharing as a family. In these difficult situations we must always focus on the new generations, so it has become the perfect time to embrace my loved ones and move forward.
Nuevamente hemos tomado los ejercicios a cielo abierto como nuestros preferidos, con estos se siente más oxigenación y nuestra concentración en las actividades es mucho más aguda, es una especie de encuentro con nosotros mismos. Entonces, decidí realizar los ejercicios en compañía de mi hijo Keny David, aprovechando la ocasión de enseñarle algunos movimientos y animándolo a seguir adelante, a tomar los ejercicios como parte de nuestra cultura.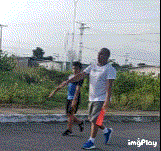 El comienzo fue suave, con un precalentamiento en miembros inferiores, tronco y miembros superiores (de abajo hacia arriba), para inmediatamente pasar a la caminata, ésta la complementamos con movimientos alternos de brazos, con la intención de activar los músculos de la zona intercostal, con ritmo sostenido durante un lapso de tiempo de 10 minutos. Durante la pausa activa, le comento a mi hijo sobre la importancia de la respiración, debemos controlarla para no cansarnos demasiado rápido, así que inhalamos por la nariz y exhalamos por la boca lentamente. A esto que le sigue el trote, a ritmo de moderado a suave, durante un lapso de tiempo de otros 10 minutos.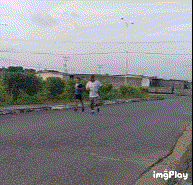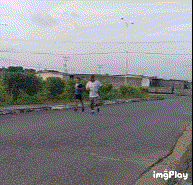 Again we have taken the open air exercises as our favorite, with these we feel more oxygenation and our concentration in the activities is much sharper, it is a kind of encounter with ourselves. So, I decided to do the exercises in the company of my son Keny David, taking the opportunity to teach him some movements and encouraging him to go ahead, to take the exercises as part of our culture.
The beginning was soft, with a warm-up in lower limbs, trunk and upper limbs (from bottom to top), to immediately move to the walk, this was complemented with alternating arm movements, with the intention of activating the muscles of the intercostal area, with a sustained rhythm for a period of 10 minutes. During the active pause, I tell my son about the importance of breathing, we must control it in order not to get tired too quickly, so we inhale through the nose and exhale through the mouth slowly. This is followed by jogging, at a moderate to gentle pace, for another 10 minutes.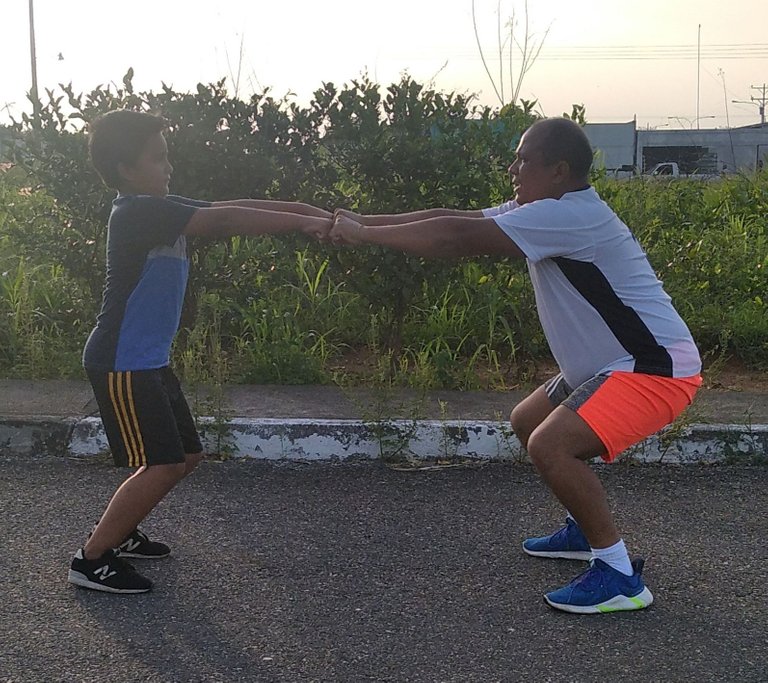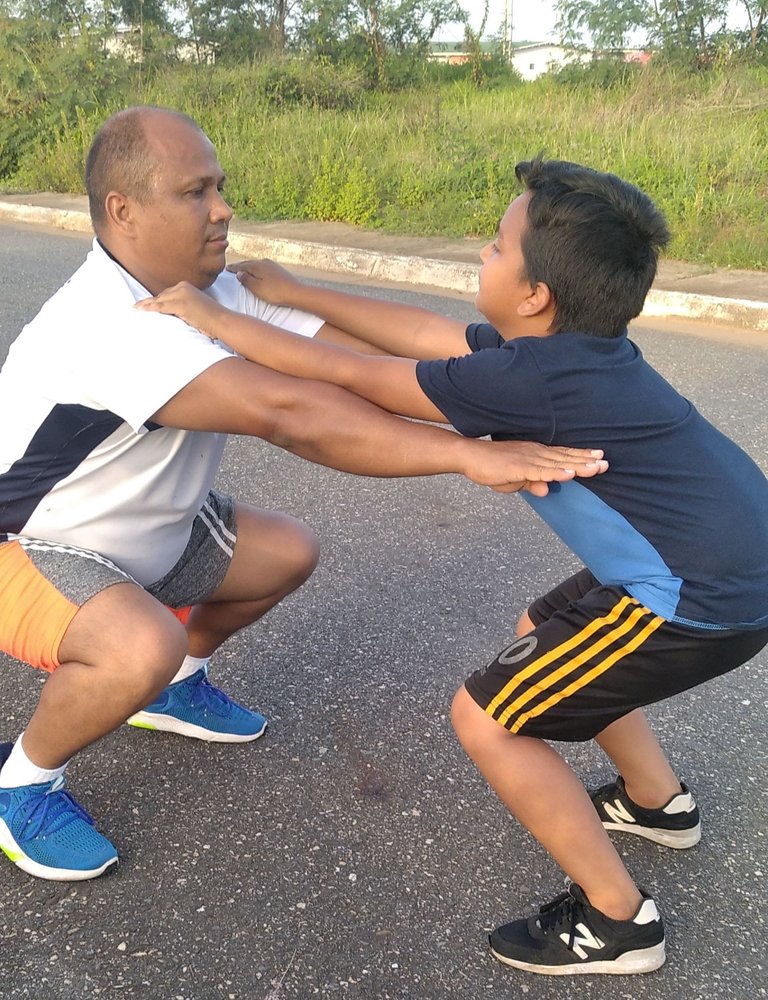 ---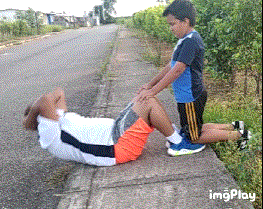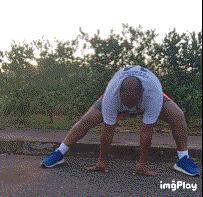 Culminada la etapa de acondicionamiento, realizamos estiramientos leves, con un poco de mayor intensidad de mi parte. Estiramientos musculares en piernas y brazos en busca principalmente de elasticidad muscular y lo complementé con tres series de abdominales superiores, para ganar algo de movilidad y reacción.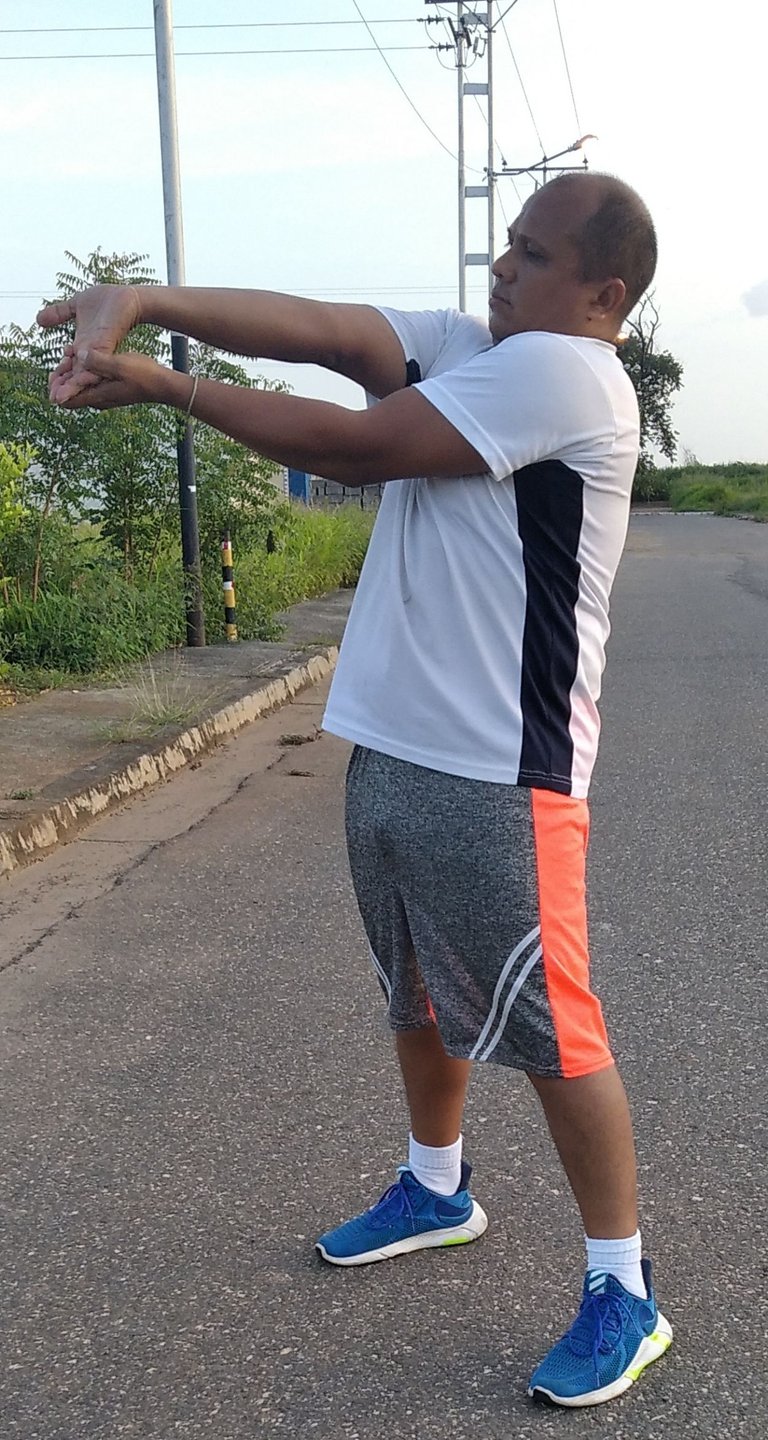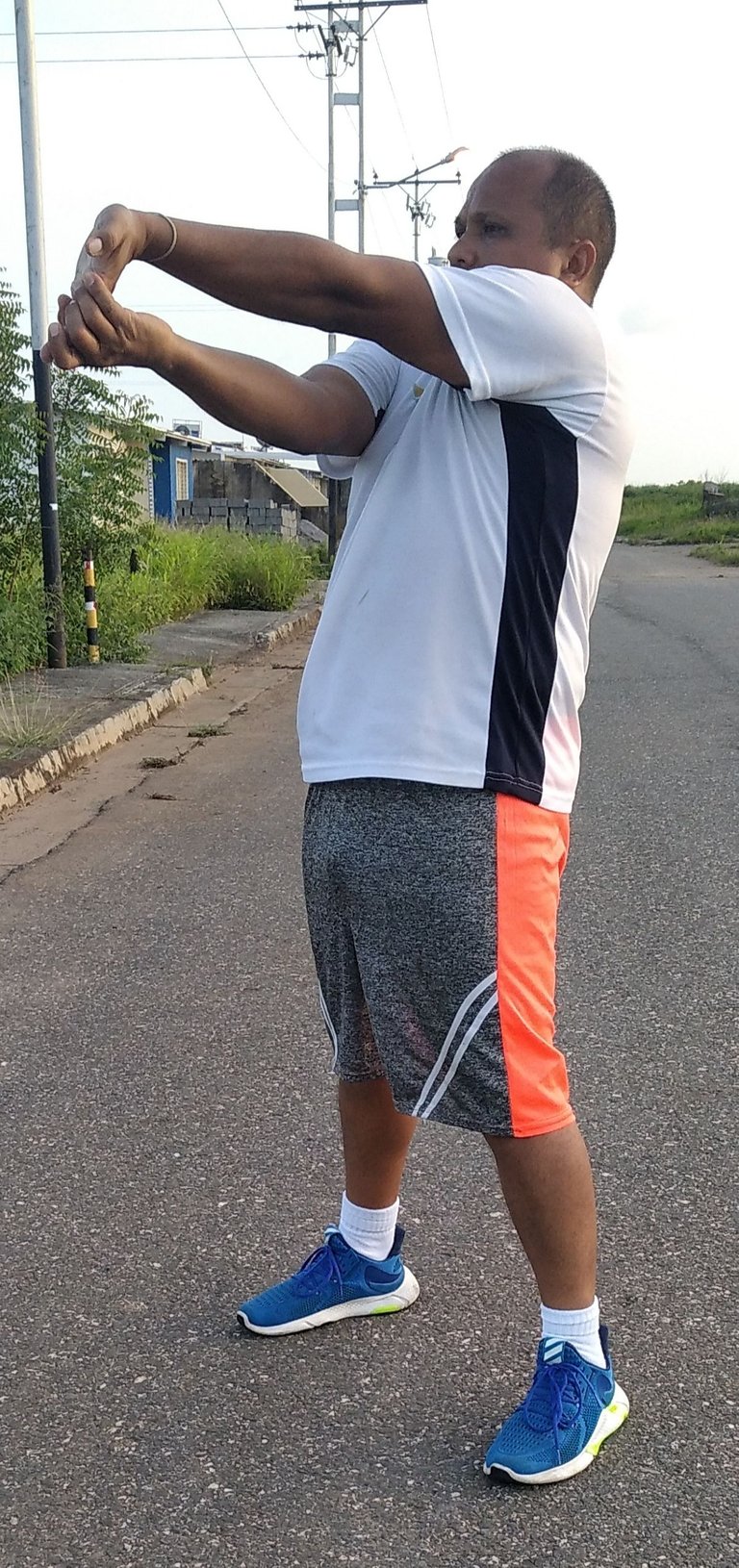 ---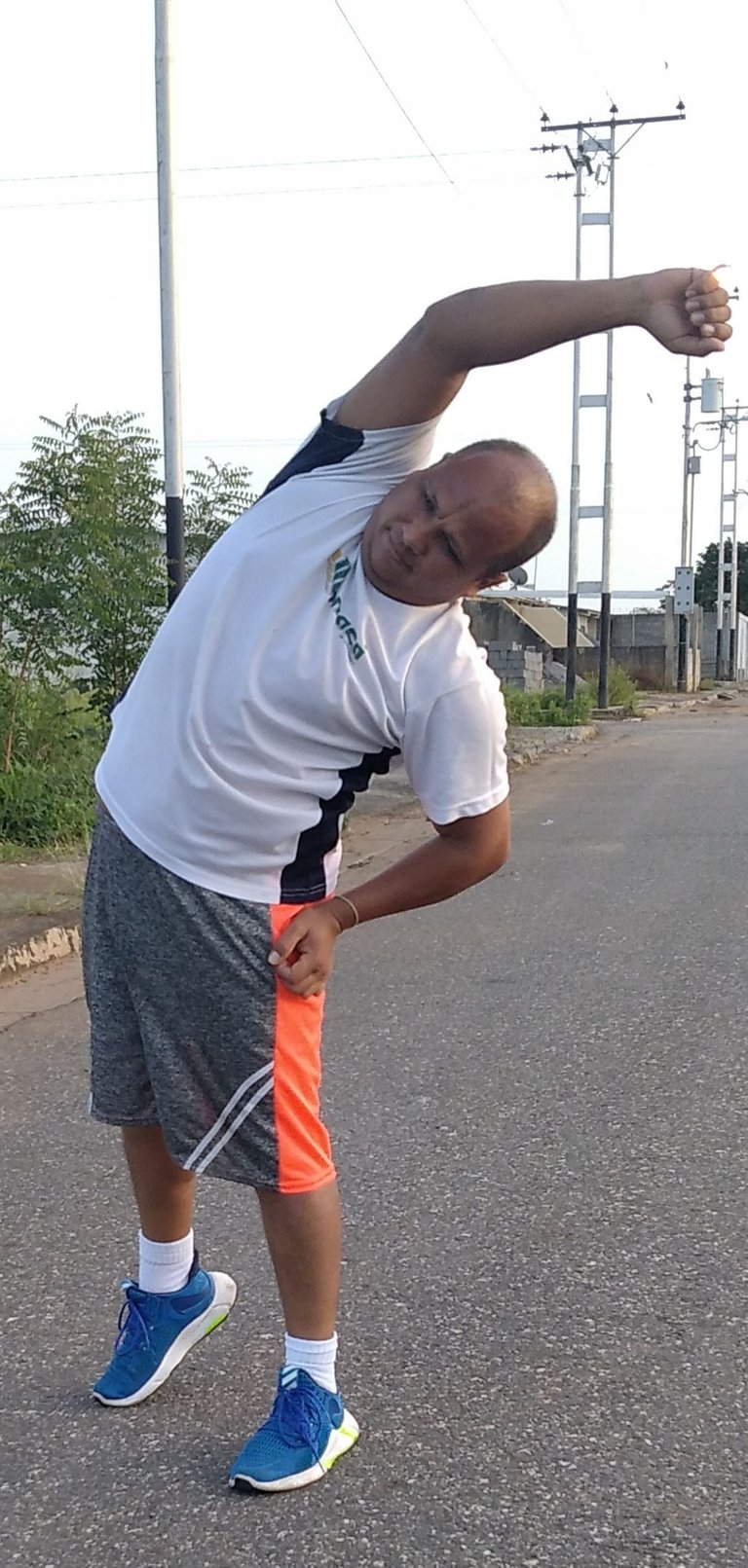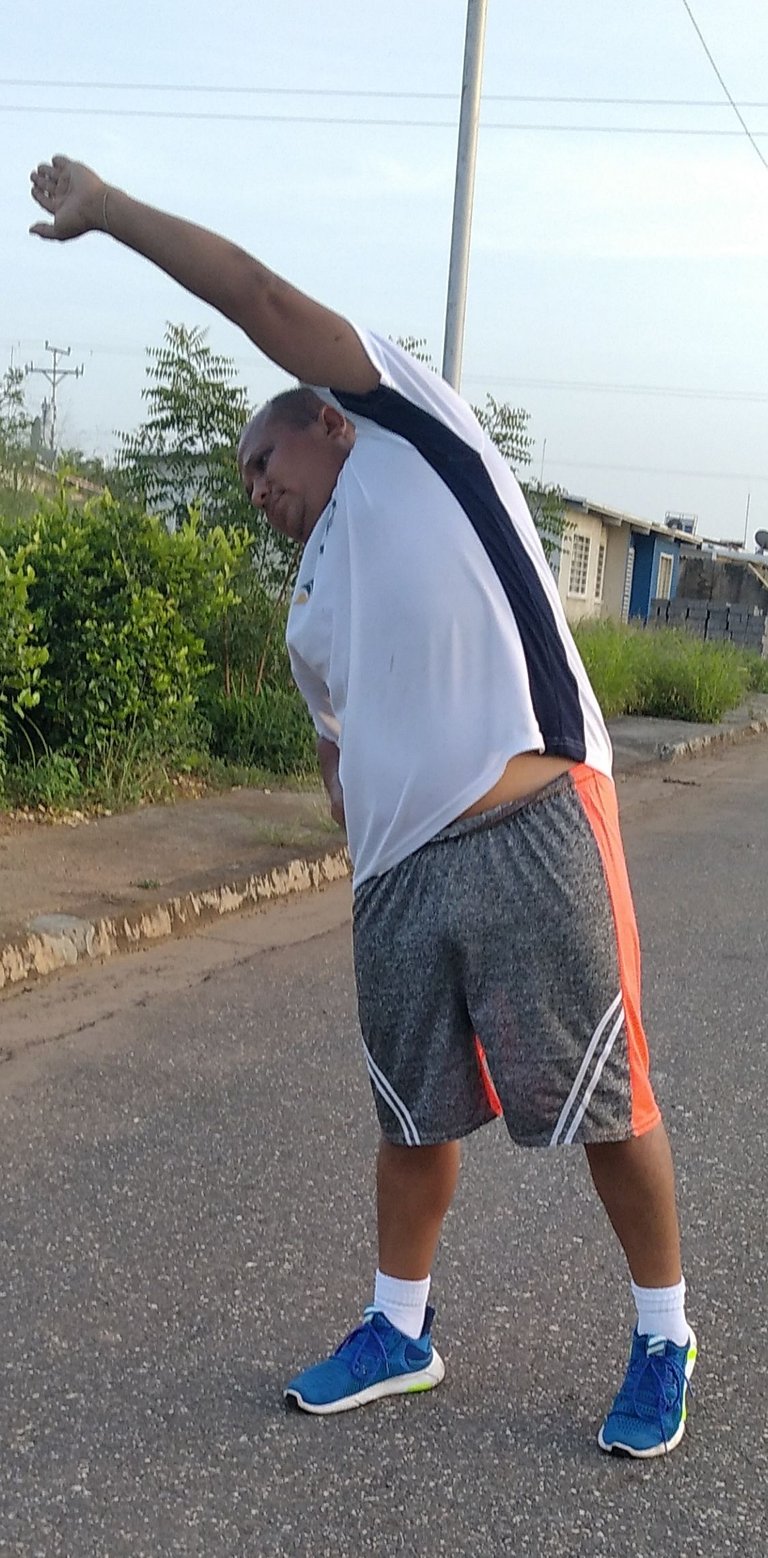 ---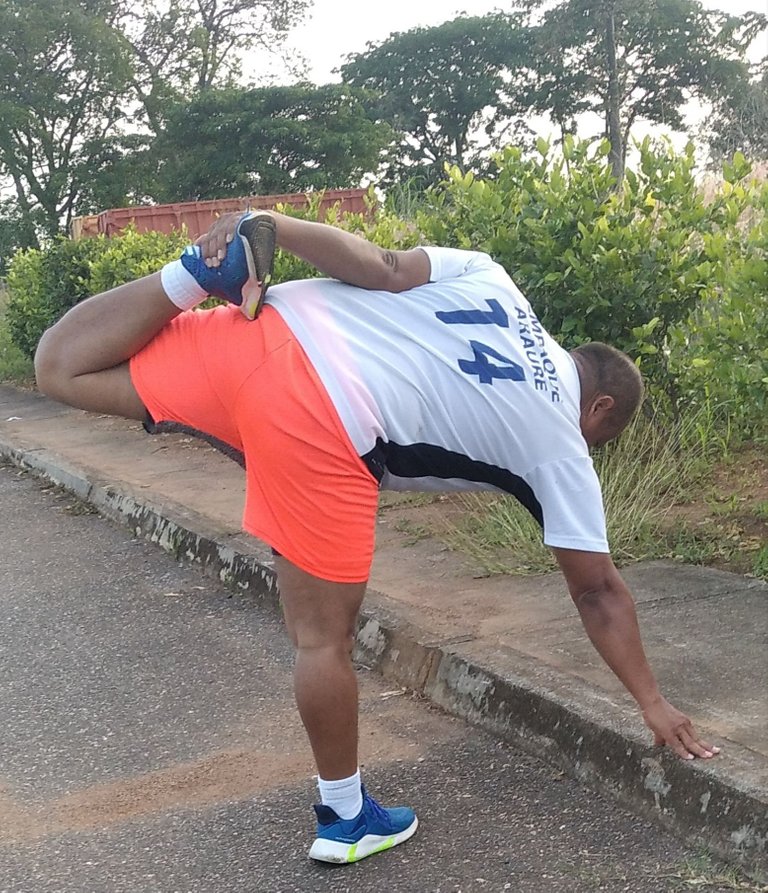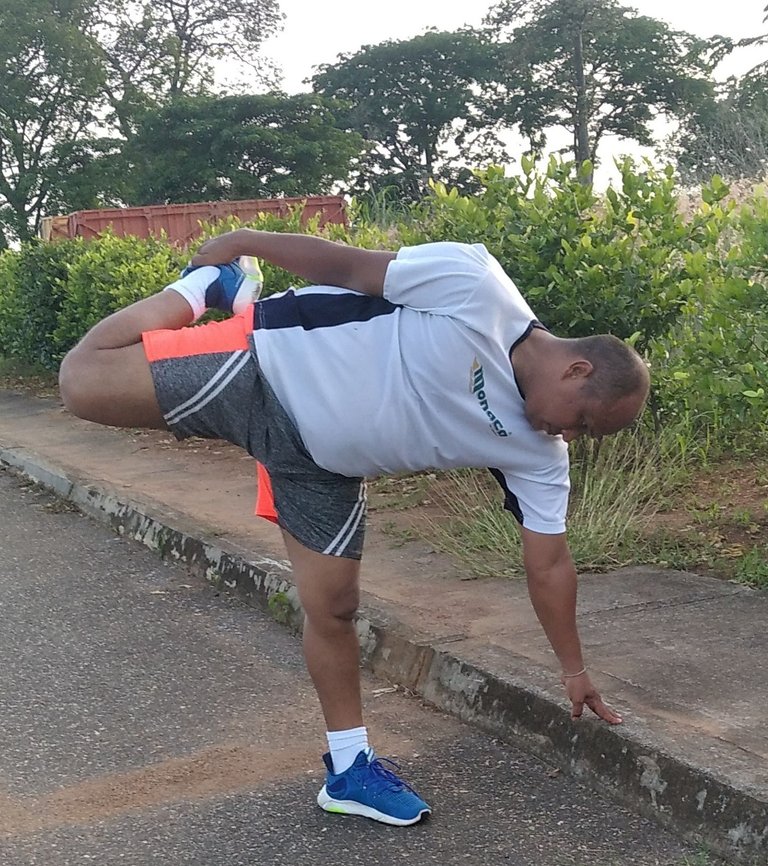 ---


---

After the conditioning stage, we did some light stretching, with a little more intensity on my part. Muscle stretching in legs and arms, mainly looking for muscle elasticity, and I complemented it with three sets of upper abdominals, to gain some mobility and reaction.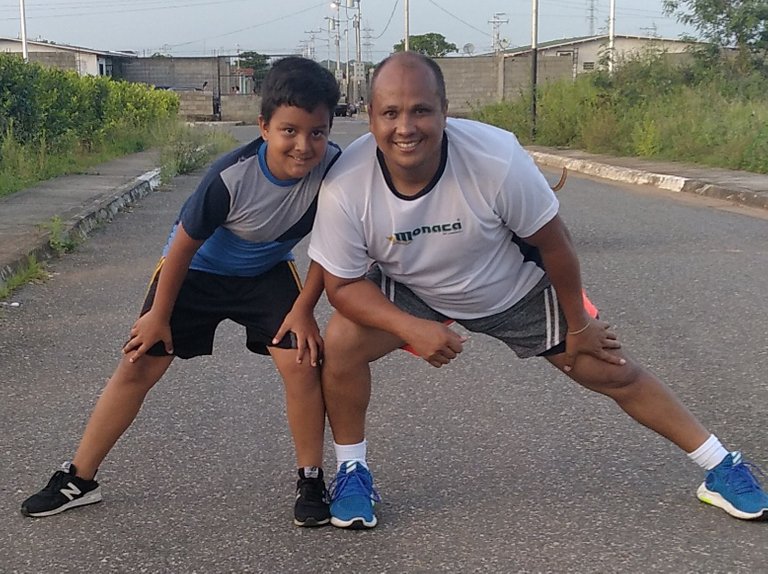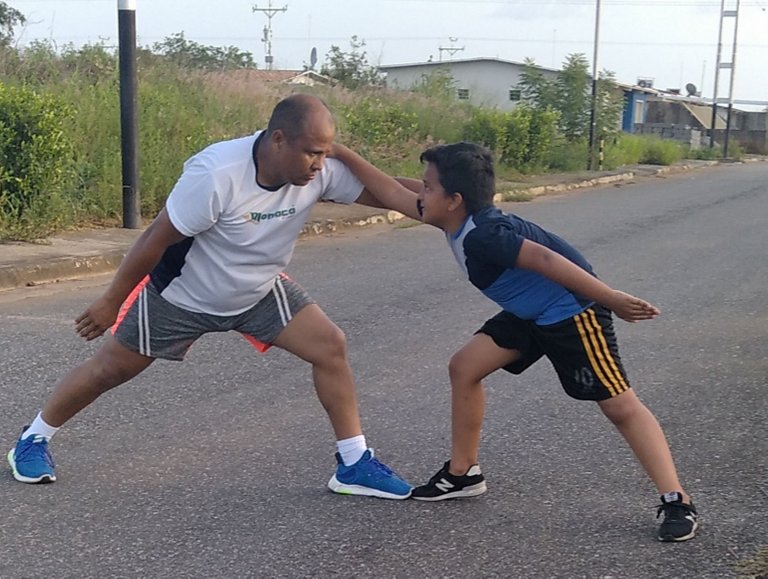 Para finalizar, leves estiramientos sostenidos en brazos, dorso y piernas (de arriba hacia abajo). con control de la respiración para hacerla a un ritmo más lento, con la intención de bajar las revoluciones y enfriar paulatinamente los músculos trabajados. No sin antes intercambiar ese fluido energético con un caluroso abrazo con mis hijos, quienes han sido excelentes compañeros de faena y el punto de apoyo más grande de todos para continuar en el camino de la vida.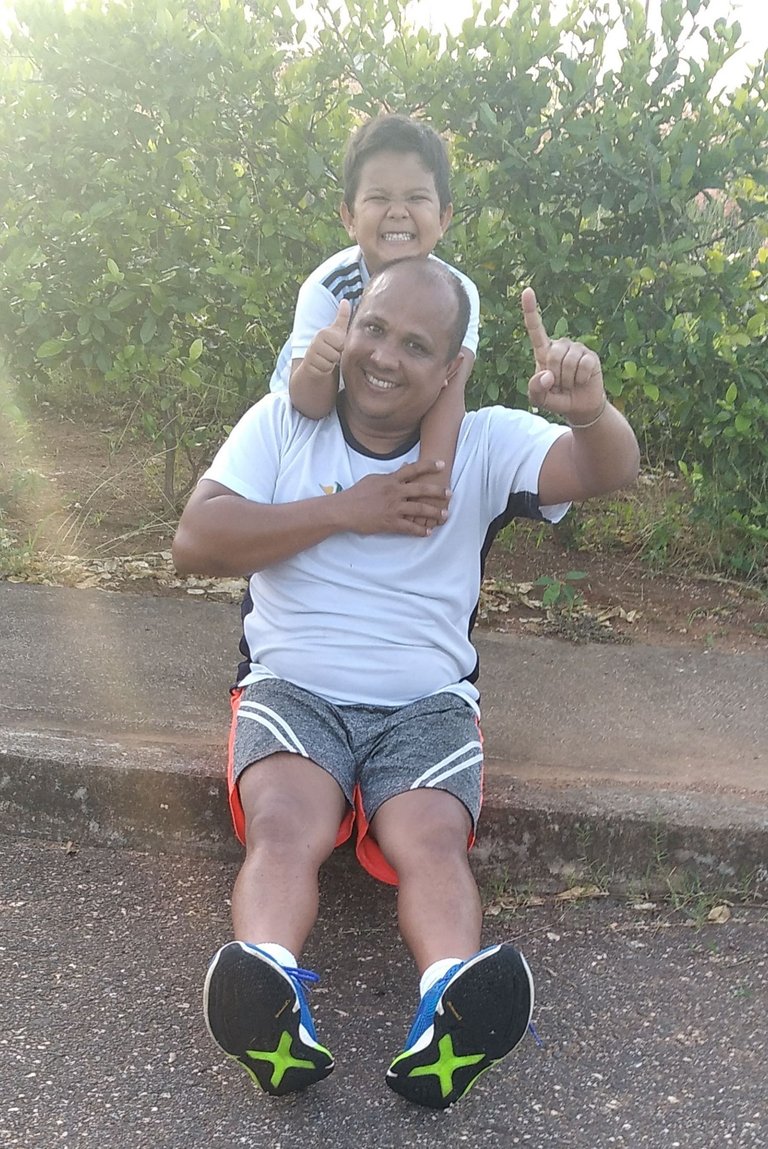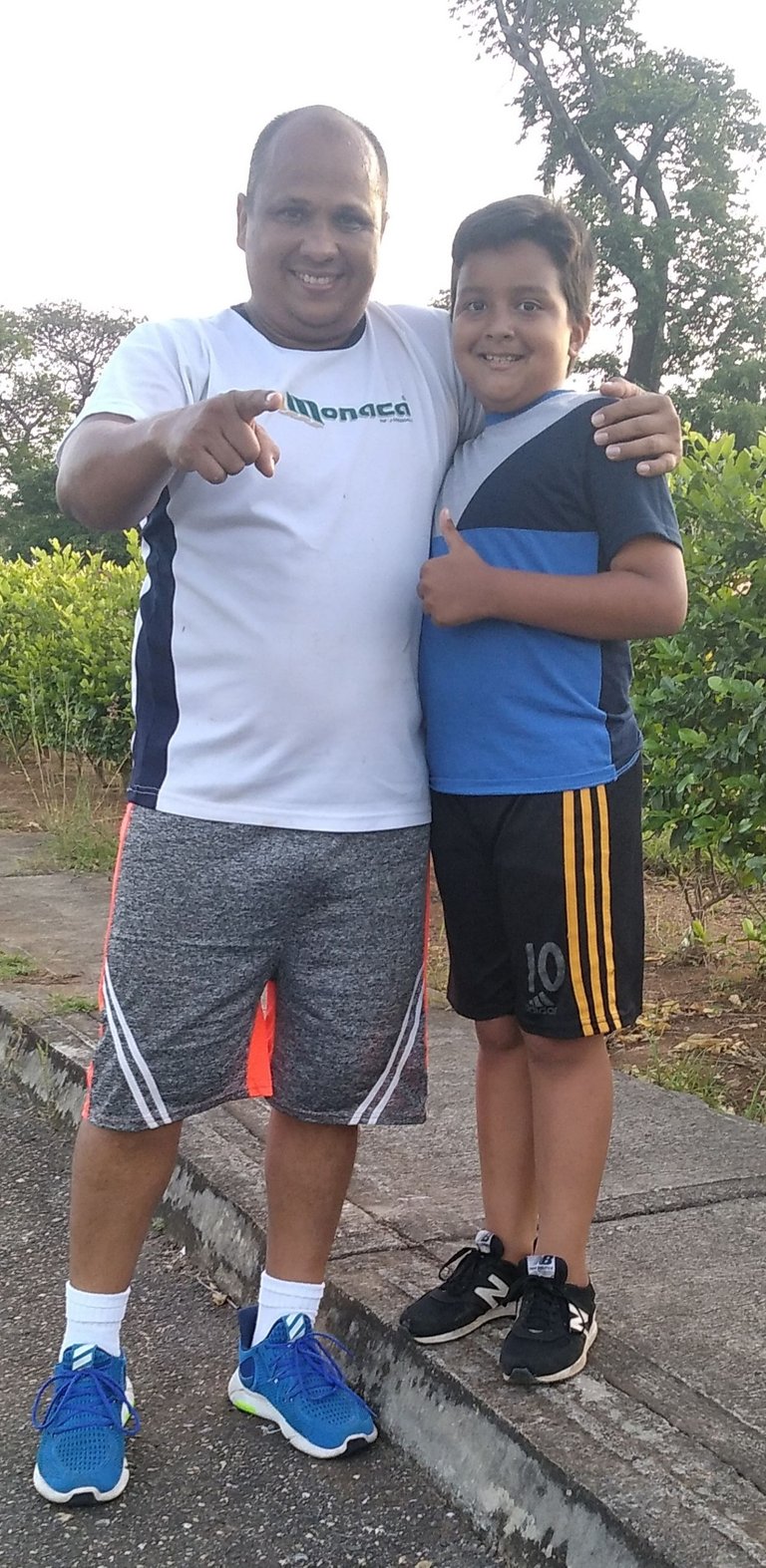 To finish, light sustained stretches in arms, back and legs (from top to bottom), with breathing control to slow down the pace, with the intention of lowering the revolutions and gradually cooling down the muscles worked. Not before exchanging this energetic fluid with a warm embrace with my children, who have been excellent companions and the greatest support point of all to continue on the path of life.


Imágenes y Videos realizados por mi paqueño hijo Daniel Jesús.

Gifts elaborados por mi persona en la aplicación ImgPlay.

Images and Videos made by my little son Daniel Jesús.


Gifts made by me in the ImgPlay application.


---

Texto traducido en Deepl en su versión gratuita.
Text translated in Deepl in its free version.

---