---
Local farmers in the city of Tal Abyad block a convoy of trucks carrying stolen Syrian wheat and heading to the Turkish borders.
The local Syrian farmers have been protesting the criminal acts of NATO's terrorists those working under the protection of NATO's Turkish Army and loyal to the NATO's top leader Erdogan and those of the Kurdish SDF separatist militias loyal to Trump and Israel,
More information on the above in this report: Local Farmers Block Stolen Syrian Wheat Shipment heading to Erdogan.
To watch the short video click on the above player; the below thumbnail serves as the featured image when sharing on social media: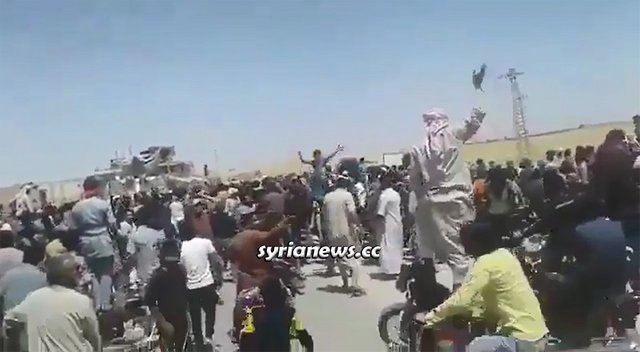 ---
Your objective comments are always welcome.
---
You might find this site useful to buy and sell Bitcoins using your PayPal account, I get a tiny commission and so can you when you introduce others: Paxful Exchange
---
Follow @ArabiSouri:
Twitter: Arabi Souri
Syria News: www.syrianews.cc
---
Donations are highly appreciated, just click on the Donate button via PayPal or Credit Card: Donate
You can also donate with Hive or HBD or even delegate some much-needed HP here :)
#Syria #Iran #Russia #InformationWar #Wahhabism #Zionism #alQaeda #FSA #Nusra #ISIS #Terrorism #Saudi #Qatar #Israel #Net #Neutrality #Mainstream #MSM #Control #WarOfTerror #kurdistan #sdf #kurds #RegimeChange

---
▶️ 3Speak