The good thing about hiring a pre-organized tour is that they may take you to places you didn't expect to go, as was the case with this alfajore factory. As a Food Engineer that I am, I really enjoy this type of tour because I like to see all kinds of factories and how they are managed, either with large machinery or with some other more artisanal ones. In this case, we visited a small family business from Córdoba where its main products were alfajores and also some of the traditional "Fernet" 😅.
Lo bueno que tiene contratar un tour pre-organizado es que quizás te llevan a lugares con los que no contabas ir, como fue el caso de esta fábrica de alfajores. Como Ingeniera en Alimentos que soy, disfruto mucho este tipo de paseos porque me gusta ver todo tipo de fábricas y cómo se manejan, ya sea con grandes maquinarias o con algunas otras más artesanales. En este caso, visitamos un pequeño negocio familiar cordobés en donde sus principales productos eran los alfajores y también un poco del tradicional "Fernet" 😅.
---
---
I think that at this point in life my family is already used to me bringing alfajores from every place I go. And it is that this candy is the traditional one in Argentina and in each tourist point of the country there is a variety of alfajores to bring as a souvenir. On this occasion, it was the turn of the Cordovan alfajores made by hand in this small factory 😃.
Creo que a esta altura de la vida mi familia ya está acostumbrada a que traiga alfajores de cada lugar al que voy. Y es que esta golosina es la tradicional en Argentina y en cada punto turísitco del país hay una variedad de alfajores para traer de recuerdo. En esta ocasión, fue el turno de los alfajores cordobeses elaborados artesanalmente en esta pequeña fábrica 😃.
---

For those who don't know, an alfajor is a candy made up of two layers of dough and filled mainly with "dulce de leche", a kind of caramelized jelly made up of sugar and milk. These alfajores may or may not be covered in chocolate, the dough can be of different types such as vanilla, chocolate, even cornstarch or puff pastry and there are also other varieties of filling such as jams or peanut paste. There is a big world behind alfajores, but the ones I like the most are the ones filled with dulce de leche and in this factory they made those, and with chocolate coverage. Exquisite! Have you ever tried them? 😃
Para aquellos que no saben, un alfajor es una golosina formada por dos tapas de masa y rellenas principalmente por "dulce de leche", una especie de jalea acaramelada formada por azúcar y leche. Estos alfajores pueden estar cubiertos o no por chocolate, la masa puede ser de distintos tipos como vainilla, chocolate, incluso maicena u hojaldre y también hay otras variedades de relleno como mermeladas o pastas de maní. Hay un gran mundo detrás de los alfajores, pero los que más me gustan a mí son los rellenos de dulce de leche y en esta fábrica hacían de esos, y con la cobertura de chocolate. ¡Exquisitos! ¿Los han probado alguna vez? 😃
---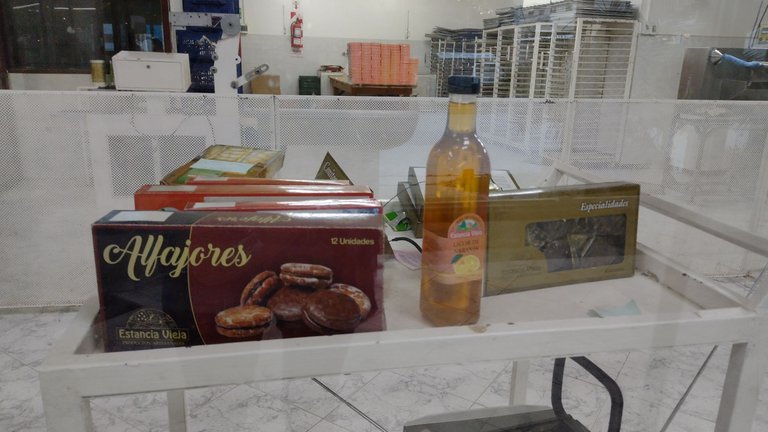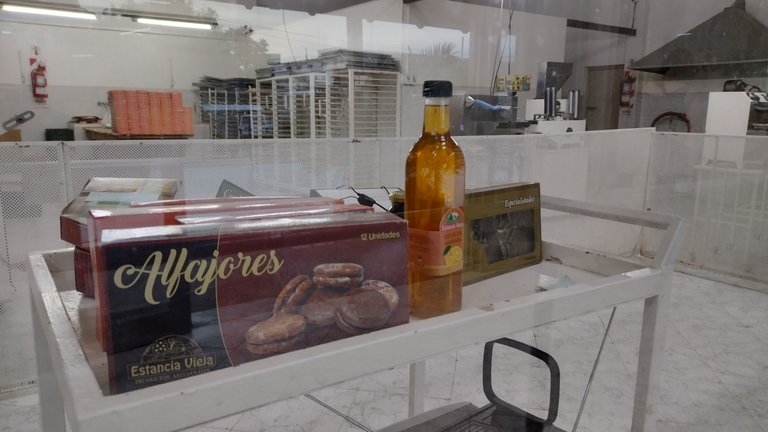 ---
As for the elaboration, the preparation of the alfajores does not require so much technology if it is a small factory. Everything here was semi-automatic, from the mixers to the fillers. The crucial part is the baking of the tapas, and for them they used an oven with several trays. Then, the filling was made unit by unit and they were packed in individual bags and then in a box. All this artisanal process takes a lot of quality control, which made these alfajores a good option to take as a souvenir to families ❣️.
En cuanto a la elaboración, la preparación de los alfajores no requiere tanta tecnología si se trata de una fábrica pequeña. Todo aquí era semiautomático, desde las amasadoras hasta las rellenadoras. La parte crucial es el horneado de las tapas, y para ellos utilizaban un horno con varias bandejas. Luego, el relleno se hacía unidad a unidad y se empaquetaban en bolsas individuales y luego en caja. Todo este proceso artesanal lleva mucho control de calidad, lo que convertía a estos alfajores una buena opción para llevar de recuerdo a las familias ❣️.
---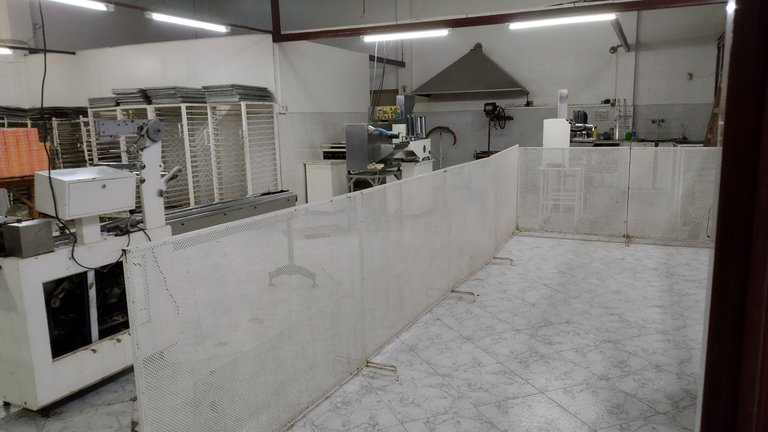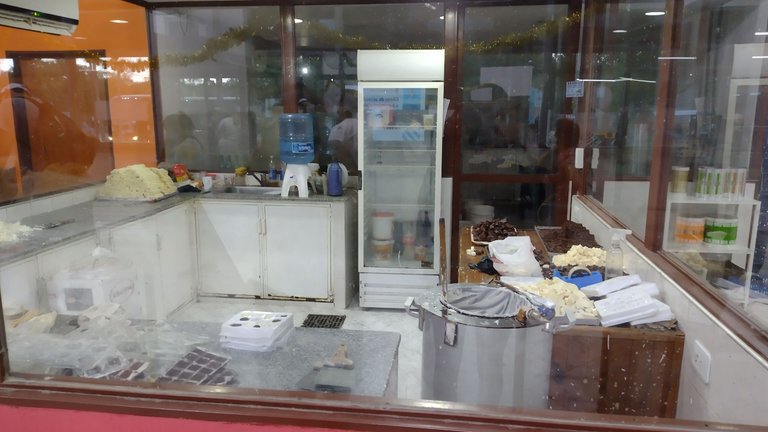 ---
Another product that they prepare in this factory is the traditional "Fernet", so consumed in our lands. This drink is an infusion of different herbs that was born as a medicinal syrup, but thanks to fermentation it became an alcoholic potion. Currently, its best combination is with Coca Cola since it is only undrinkable because of how bitter and strong it is. Have you heard about this drink? 😃
Otro producto que preparan en esta fábrica es el tradicional "Fernet", tan consumido en nuestras tierras. Esta bebida es una infusión de distintas hierbas que nació como un jarabe medicinal, pero que gracias a la fermentación se transformó en una pócima alcohólica. Actualmente, su mejor combinación es con la bebida Coca Cola ya que solo es intomable por lo amargo y fuerte que es. ¿Habían escuchado sobre esta bebida? 😃
---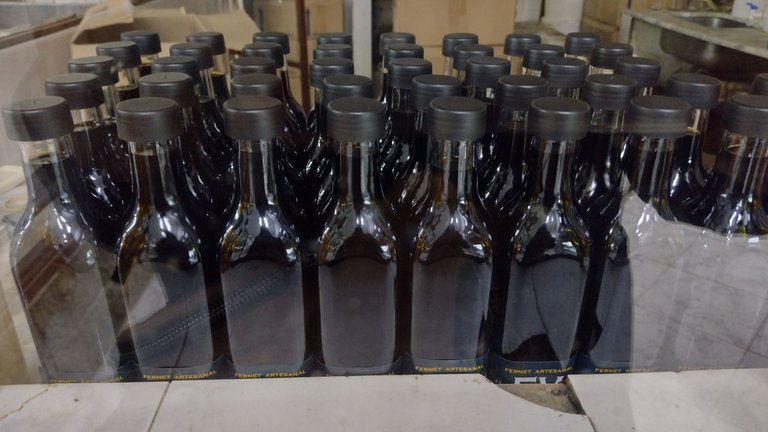 ---
Visiting this factory was a good experience for all of us who participated in the talk guided by one of the employees there. The truth is that there is never a bad time to eat an alfajor, so we took some with us for the rest of the trip. I was happy to see this production process because it brought me closer to the area of ​​food engineering that I love: the important thing is to learn a little more every day ❤️.
Visitar esta fábrica fue una buena experiencia para todos los que participamos de la charla guiada por uno de los empleados de allí. La verdad nunca es mal momento para comer un alfajor, así que nos llevamos algunos para el resto del viaje. Estuve feliz por ver este proceso productivo ya que me acercó al área de la ingeniería en alimentos que me encanta: lo importante es aprender cada día un poco más ❤️.
❤️ Hope you liked this post! Thanks for reading. ❤️
❤️¡Espero que les haya gustado este post! Gracias por leer. ❤️
---

With lots of love. / Con mucho amor.
Lau 💕.
---
📸 Cover created with Canva. All the images are my property 💕.
📸 Portada creada en Canva. Todas las imágenes son de mi propiedad 💕.
---