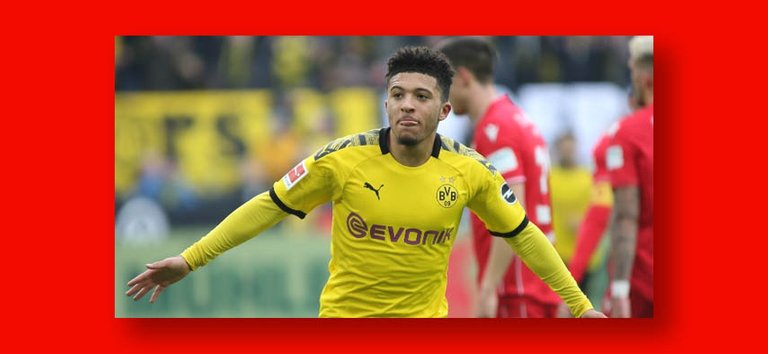 image source
Our attention is still on Borussia Dortmund as they have quite a good number of world-class youngsters. In my previous post, we looked at Haaland, a young player who rose to the limelight very quickly for his tremendous goal-scoring abilities and has attracted a lot of praise, comparison to former Dortmund goal-scoring weapon and attention from other top clubs across Europe. Today will still keep our focus on Dortmund, but this time, out attention turns to yet another forward player, a fellow youngster and a world-class talent – Jadon Sancho, a player who is doing great things at Dortmund at the moment and much like Haaland, Sancho has also attracted a lot of attention to himself and a lot of top clubs are chasing after his services.
While Jadon Sancho might be a very young player who blew up to the scene a few seasons ago, he is one of the players that doesn't need any introduction as his works at Dortmund speaks heavily for itself. When you talk of the best players at Dortmund, Sancho will definitely be in the top 2 as he is one of the few players making things happen at Dortmund. Last season was great for him as a player, this season is going on pretty well for me as we have seen what he is capable of doing at the highest level in the champions league, even though it was unfortunate for them to exit the competition in the hands of PSG. We have seen he continue to improve and become better and it is quite sad that the whole pandemic has slowed down the whole momentum of football actions at the moment. Nonetheless, next season is will be another fresh new season, and a lot of talking points have been made concerning the player and what we should expect from him next season…
For me, when I see a player like Jadon Sancho, I see a player that is heading for greatness. We all know his abilities on the ball and it is not a coincidence why a lot of top clubs are after his services for next season. While his future at Dortmund isn't certain yet, I assume he would remain at Dortmund next season and if he continues to improve, there is a huge probability that he will score a lot of goals and create many chances for the team. With that, I expect more goals and assists from him next season.
What are you expecting from Sancho next season?