Hello and welcome to the post❤
I hope you all are doing well just as the technologies are increasing day by day and solving human problems❤😉😉
My warm greetings to the wonderful community and to @crypto.piotr for managing the community so well❤
I kept checking and upvoting/commenting in the community but couldn't post because of online exams :( :( that are still in progress :(
But here is the post and i hope you guys will enjoy👇🖤🖤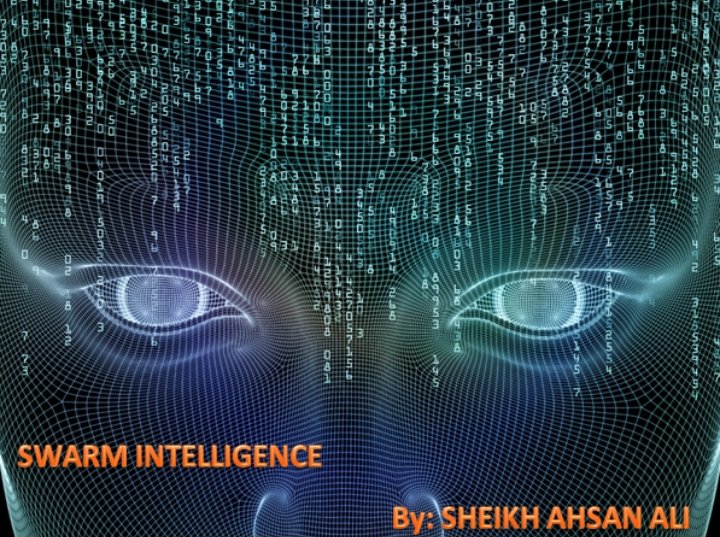 Edited but Referenced
Artificial intelligence is one of the leading technologies in the world that is utilized to lower human efforts. It helps in designing smart intelligent and efficient machines that work or think like humans. Many examples can be given in the form of Siri, Google Assistant, Speech recognition, smart LEDs and much more.
Technically AI can be defined as the simulation of HUMAN INTELLIGENCE PROCESSES that are performed by machines especially computer systems.
Now let's talk about SWARM INTELLIGENCE.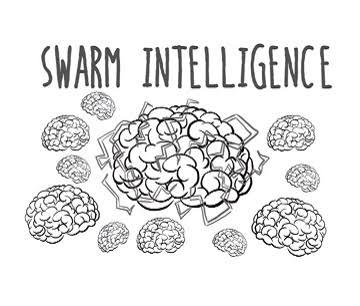 Source
Swarm intelligence is mostly inspired from nature mostly from biological systems. It is an observation taken from a population of simple agents(ants or birds) that interact with each other and their environment.
In the following, I will be explaining some of the examples of SWARM INTELLIGENCE and I would love to hear from all of you if anyone of you has observed a kind of act from natural agents that tends be the sort of SWARM INTELLIGENCE.
EXAMPLE 1
· Fish in the Dangerous Waters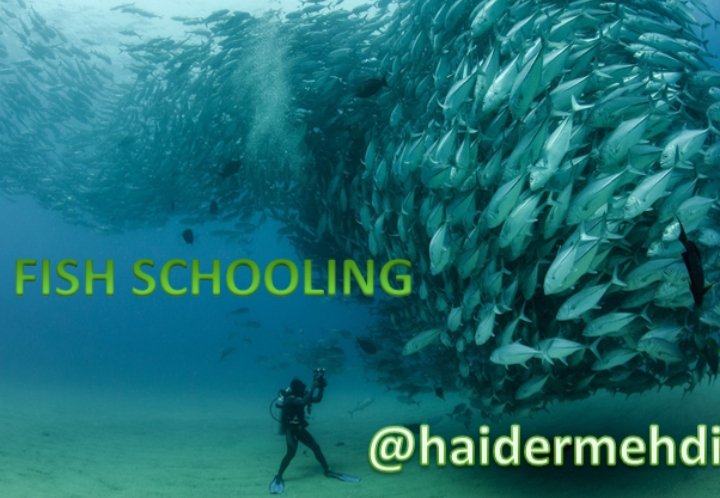 Image source
When a group of small fish is travelling the water, they are observed to stay closer to each other, when they sense any danger they gather themselves more closer so that the big fish do not attack them.
EXAMPLE 2
· FLOCK OF TRADING BIRDS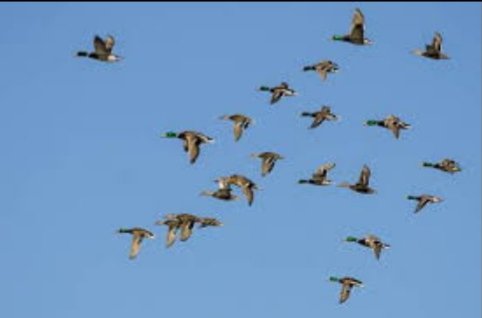 Reference
If you sometime look up in the sky, you may see a flock of birds that are trading from one place to another, it is often seen that they travel in a particular shape.
· The shape is seen as an arrow and the leader of the pack keep changing. Moving in this shape helps them reduce air pressure and increase their speed.
THE ANT COMMUNITY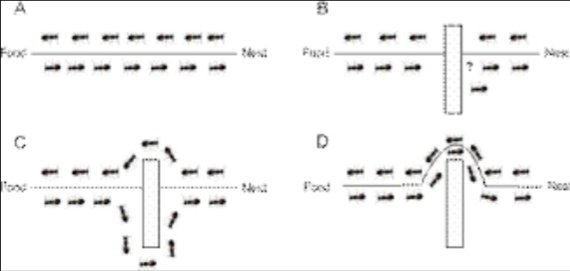 · The ant community is the most observed and the one with most work done upon. Therefore, we will also talk over it I a bit detail.
· When an ant or two leave for a known destination of food for the first time, they use different ways in order to find the optimal way to the food destination.
· On their way to the destination, they drop a liquid known as 'pheramone' which is then used and followed by other ants.
· It works simply. The ant that gets the food first will also return first to the home and hence the intensity of pheromone would be darker there. Similarly as more and more ants will follow the route, the pheromone intensity on that route will increase and ants will avoid going the other way.
· This is how simply the Ant colony optimization works. This has also been given a shape of an algorithm to find optimal ways from one place to another.
Other examples of swarm intelligence in nature include hawks hunting, animal herding, bacterial growth and microbial intelligence.
❤❤❤❤❤❤❤❤❤❤❤❤❤❤❤❤❤❤
Since i have provided with proper refernces and also that i have not copied the content, i can proudly say that the Post is free of Plagiarism.


❤❤❤❤❤❤❤❤❤❤❤❤❤❤❤❤❤❤
In Love With The Project.Hope Community❤❤❤

❤❤❤❤😘😘😘😘😘😘😘😘😘😘❤❤❤❤
Moreover, i promise to stay and follow the rules of the Project.Hope community and maintain solid interaftion❤
I would love to hear from you guys about your views.
Please resteem to help this post reach wider audiences❤❤❤❤😍😍😍😍
I would love if you take out two minutes and send me a review of what you think can be related to Swarm Intelligence.
❤🖤❤🖤❤🖤❤🖤❤🖤❤🖤❤🖤❤🖤❤🖤
Beneficiary to ph-fund set at 25%😉😉😉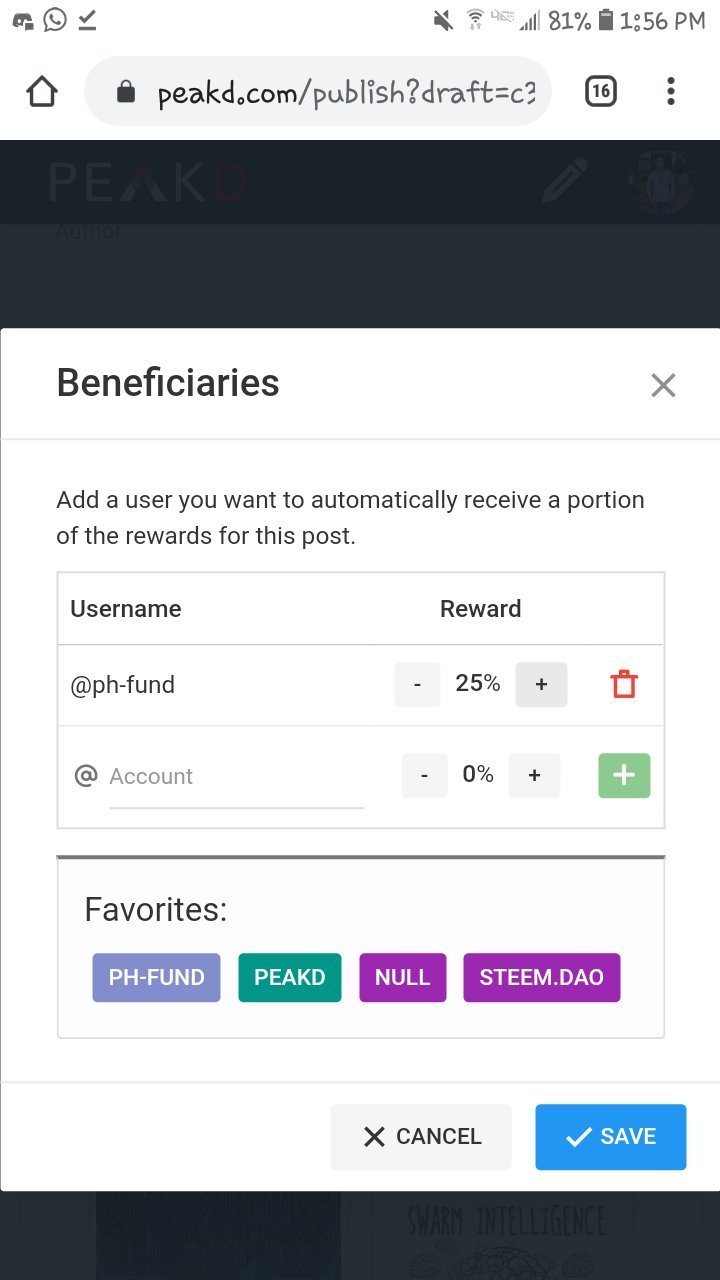 Wish you all a very good day ahead❤❤🖤🖤