Some days ago, I made a post on an old Tatra 77/87, a remnant of the Czechoslovakian automotive industry in the 1930s, and 40s. I wrote as to how it became a silent killer - owing to its ability to cruise at high speeds, yet combined with easily excitable handling. Joy-riding Nazis would soon pay the ultimate price, having stolen these cars from the innocent Czechoslovakians who had lived under their occupation in the Second World War.
These old Tatras had killed more high-ranking officers of the Reich, than in active combat - wrapping them around a tree, or sending them through a shop window. In the last paragraph, I wrote a little quotation - "Take what isn't yours, and you'll pay for it, sooner or later ". Short, but sweet enough to convey the message. Little did I know then, that it would give such ironical meaning a few days later.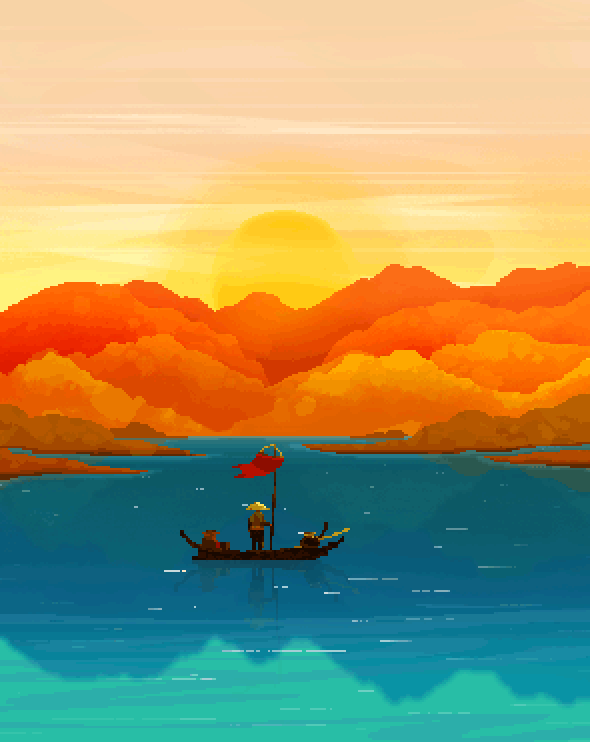 Credits to: Kenze Wee, Tranquility - Behance
There's always a repercussion, and we learn to enjoy a happy life by creating what we yearn, not by taking them from others. Karma, some call it. As any criminal knows well, a life of thievery is a difficult one to appreciate. To live, knowing that every walking hour would see your misdeeds catch up to you. There's a constant fear of the outcomes, and that one of these days, you'll have to pay the price for what you've stolen.
The only questions to ask, then - are you proud of what you've done? Proud over what you've stolen, and the ruination that's been left behind, unto others who never meant harm? What one taketh in force, they giveth whole worlds to repent.
---
---
A Fork In The Road.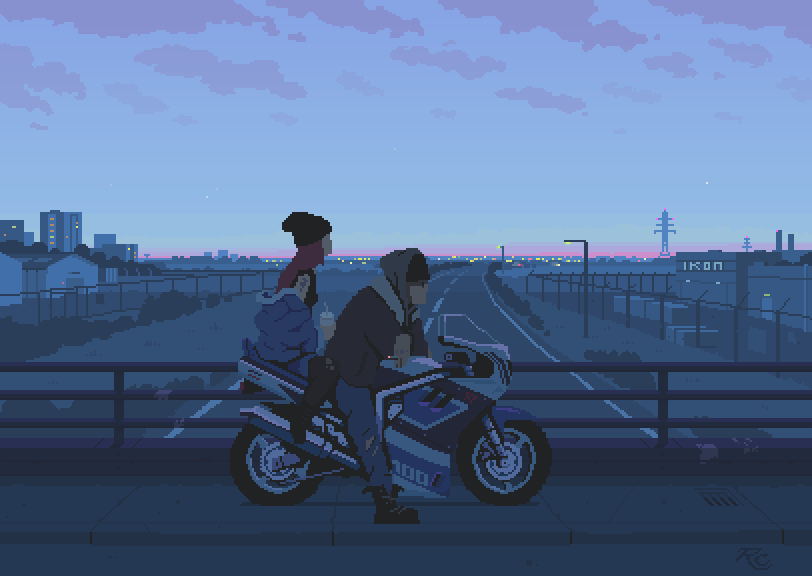 Credits to: Romain Courtois, Lovers At Dusk - Behance
Of course, the subject matter for today is regarding Steemit's new hard-fork, one with intentions of creating a "New Steem ". Perhaps then, on the surface at least, it seemed as though they had noble intentions. Following months of stagnation, perhaps it deserved a fresh breath of life, to have a second chance and recreate itself into the angel that it should've been. The reality couldn't have been farther from the truth however, as this angel has now sunken far below to the underworld. Walking in the simmering fires of hell, it's made peace with the devil, and so leaves a trail of destruction for others in its wake.
There are others who may acquaint you better with the technicalities, but in simple terms, the hard-fork can clearly be seen as having only one intention in mind - scorched earth. Following the creation of HIVE, those who had migrated onto the new chain still had their stake with Steemit, thus leaving us with the ability to vote and affect alterations on the old chain. This is especially true for those larger witnesses, that have for the past few years, toiled away at making honest improvements with Steemit.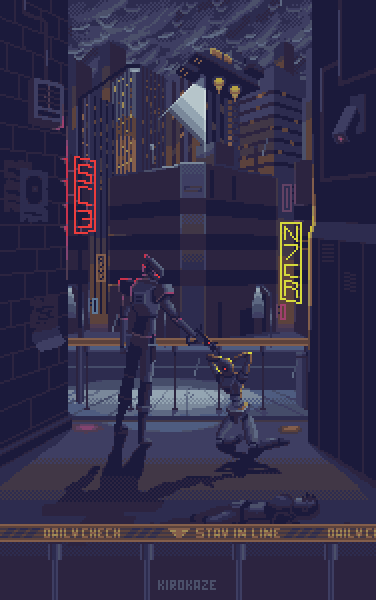 Credits to: Kirokaze Pixel, Daily Routine - Behance
As they practice a scorched earth policy, they had already isolated those witnesses and stakeholders from their accounts, containing funds which Steemit has now appropriated for themselves. These funds aren't just rewards for the curation, or creation of content, but are personal investments made for Steemit. Livelihoods at stake, with all those "dissenters " marked for their assets to be claimed by the State. They own nothing now, as only HIVE protects.
This saga doesn't end however, and even as I type this, there are countless multitudes of drama unfolding behind the curtains. Apparently, a hacker with possibly good intentions has re-acquired the keys, those which unlocks a $5 million plunder from the community - monies stolen by those witnesses and stakeholders - are now being transferred to an exchange. Perhaps, to be returned?
It continues, and surely someone, somewhere will rue this day. For the rest of us, the jests, and the memes of this spectacular failure might just live in infamy. Still, I do think about the cause, and effect of all this fighting. It may have created a state of war between those who have a large stake in either chain, but what does that mean for regular folk like myself, those who's only intentions were to have fun, and mingle? I never wanted war, nor did I want to choose.
---
---
To Divorce, To Part Ways.
Credits to: Kirokaze Pixel, Bridge Duel - Behance
When HIVE was borne from fire, out of the ruins from a bewildered Steemit, there were those who were taking sides. Those who I call friends had mostly moved onto HIVE, while others were clear on Steemit's apparent legitimacy. I kept quiet, and I insisted on one thing only - that both chains be allowed to co-exist in peace. Competition is welcome, but never force a user's hands into choosing one or the other, principles aside. Would you force that same fate unto a chid, having to choose between father, or mother following a divorce?
Of course not, and I wanted no part of that. Besides, there was plenty of room for two chains, and at the end of the day, Steemit and HIVE had the same end goals, from what I can see. Both exist to disrupt an already disruptive industry, as we see social media and content publishing growing ever larger, placing itself into a larger role in the machinations of human civilisation. If our target was greedy corporations, like Facebook, then why fight? The enemy of my enemy, is my friend, as they say.
It's far too late to discuss what happened, and how we got here. Suffice to say, I kept on posting and engaging with both HIVE, and Steemit. My priorities and liking stood with the former, though I kept sailing along, knowing that there's good people on both sides, all trying to enjoy themselves, and sharing imaginations aplenty. Over time however, I became more electrifyingly impassioned with HIVE, and how the community has rallied behind a "rebellion ". Equally, I felt more distant from Steemit, ever concerned over signs of malaise and a lack of enthusiasm.
But I can no longer accept being neutral, not with what's happened. I like to think of myself as a pragmatist first, and a principled fellow second. Yet, I cannot stand idly-by, not while I see a corrupt system steal - in broad daylight, mind you - from the common folk which had elevated it to greatness. How can I accept that a King has stolen from the people, out of petty concerns over threatening stability, or simply being unyielding? Could there not have been some process of mediation, or diplomacy, as adults would have them?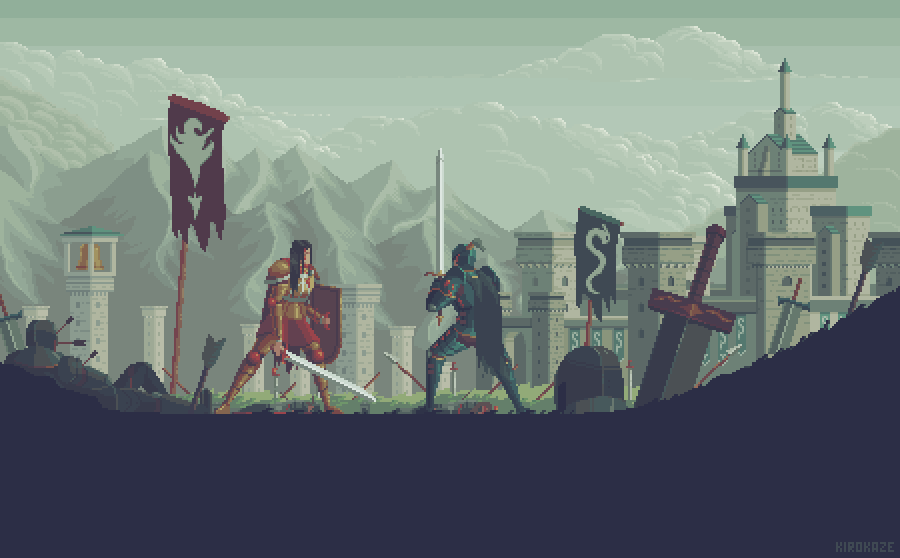 Credits to: Kirokaze Pixel, Last Ones - Behance
This is the last straw for me, and from this point onwards, I will no longer publish posts on Steemit, though I won't entirely disregard my curiosity every once in a while to see what's what. My most recent post which was posted here on HIVE, and then shared onto Steemit, was made within 24 hours of the fork. It received some interesting attention from an enraged community. To be more specific, this attention comes in the form of penises. Much of the male genitalia was vividly spammed onto the comments of that post, and I can imagine this may have happened to others as well.
Childish, perhaps. Though given the emotions that Steemit had caused, I can understand, and I will say, it might be well deserved for me. I can no longer wade between two factions, when one has clearly breached timely honours. Just as an unassuming citizen, caught in the crossfire between warring nations - an aggressor, and a youngling - I can no longer stay in the middle. It's not easy, and I never wanted this. But now, more than ever, I have to choose. My heart aches, but what can be done?
What about you, friend? Will you, or have you chosen?
Help Wanted...
P.S. As part of my steady abandonment from Steem, I'm in the process of withdrawing my funds. Clearly, this is something that must be done in silence, for fear of retaliation. Owing to my freelance work, even a relatively paltry sum like which I've built over nearly a year now, is considered a livelihood, and its loss would be devastating. The process thus far has been simple enough, with a power-down here, and a transfer there.
P.P.S If you know about how to make withdrawals quickly, smoothly, and subtly, then please let me know, or link a useful guide for my reference. Any help is greatly appreciated.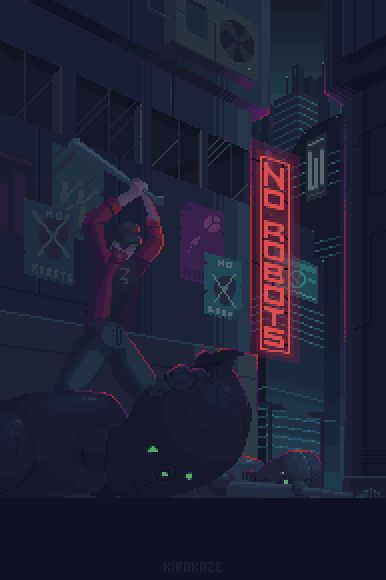 Credits to: Kirokaze Pixel, No Robots - Behance
---
---
Thanks for reading! For more updates on my blogs, or the more minute things in life, feel free to follow me on Twitter, LinkedIn, and Medium, and maybe give a shout there as well!
While you're at it, follow along @zacknorman97 for more, coming soon :-)