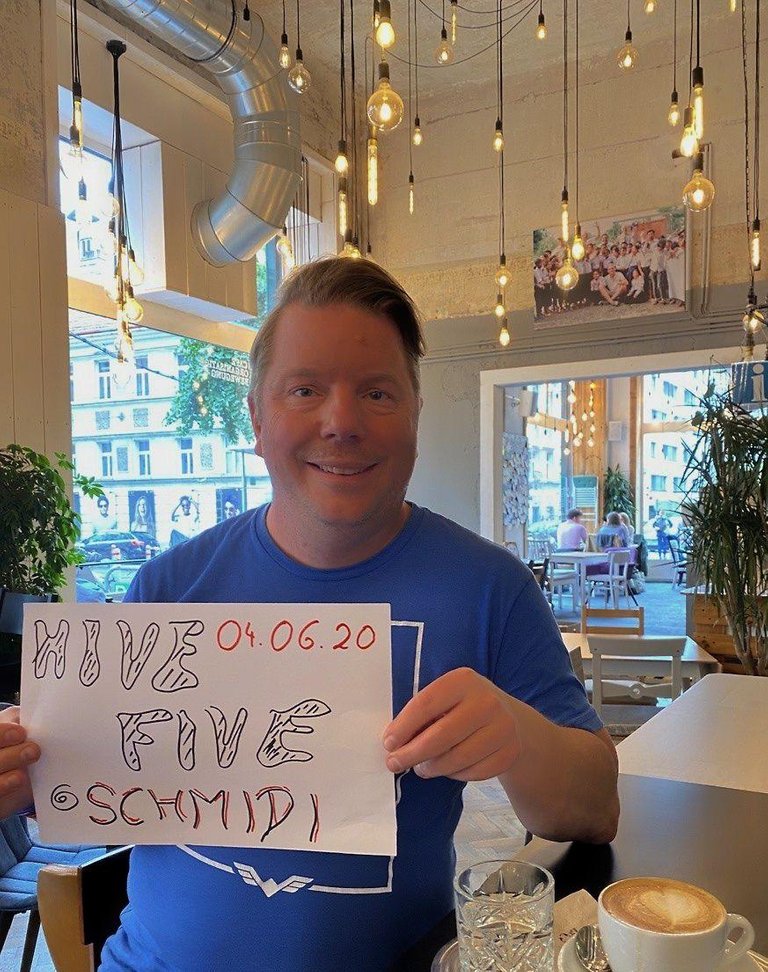 Hi HIVE Community,
My name is Werner Schmid and I am based in Vienna, Austria. My big vision is to travel with cool people, like you are, and my best friends around the world to coach, work together and to have a lot of fun at the best beaches and places around the world.
I love to show people a way to travel more often and to save up to 70% or 80% on their vacation. I did a lot of seminars, included the NLP Master, Hypnosecoach, Salescoach at one of my mentors Marc Galal in Germany and I learned also the "life & social consultant" in Vienna. So I love to help people to change their life step by step. That means for you more fun, freedom and fulfillment in your life. To make your living!
I am 45 years young and working everywhere in the world. I met my new friend @Manncpt who explained me the platform and how to write an #introduceyourself post. With my crypto revenues I am planning to help more people to join the network. So I am offering free workshops and open source courses to empower entrepreneurs and creatives worldwide.
So that's why I love what I am doing and I am really openminded to connect with other cool and amazing people. You never know why it's good. So just follow me and let's connect. Excited to get to know @mammasitta, @reishi, @subversivaktiv, @paras2, @vikisecrets, @thermoplastik, @siamcat, @reconnectnature, @mundharmonika and other Viennese crypto bloggers.
So you find me also on this channels
www.lifestytrainer.online
www.facebook.com/lifestyletrainer.online
www.facebook.com/wernerschmid
www.instagram.com/werner.schmid
https://www.snapchat.com/add/wernerschmid
---
Hi HIVE Community,
mein Name ist Werner Schmid und ich lebe aktuell in Wien, Österreich. Meine Vision ist es mit coolen Menschen und den besten Freunden die Welt zu bereisen, um an den schönsten Orten und Stränden zu coachen, gemeinsam zu arbeiten und mit viel Spaß an der Sache das Leben zu genießen. Cool oder Cool?
Ich liebe es Menschen Wege zu zeigen, wie sie öfters im Leben verreisen können und bis zu 70 bis 80% bei Urlauben und Buchungen zu sparen. Ich durfte viel von einem meiner Mentoren Marc Galal in Deutschland und weltweit lernen und so liebe ich es Menschen zu helfen Schritt für Schritt Ihr Leben zu verändern. Das bedeutet für Dich einfach mehr Spaß, Freiheit und vielleicht den einen oder anderen Dollar in Deinem Leben. Das bewirkt langfristig für Dich bessere Reisen zu besseren Preisen, definitiv mehr Geld und den Lifestyle, den du dir vorstellst.
Ich bin 45 Jahre Jung und aufgrund meiner derzeitigen Situation arbeite ich ortsunabhängig. Mein neuer Freund @manncpt hat mir hier alles gezeigt und mich eingeschult. Mit meinem Wissen will ich vielen Menschen helfen ihr Leben Schritt für Schritt zu verändern und Ihnen es zu ermöglichen öfters, besser und billiger zu verreisen. Verrückt, oder? Ich plane somit gratis Workshops und Kurse um jungen Menschen und Entrepreneurs kreativ zu fördern und ihnen diese Wege und Möglichkeiten zu zeigen. Um meine Vision nach außen zu tragen.
Ich liebe was ich tue und lerne sehr sehr gerne neue coole und lässige Personen kennen. Ich freue mich schon sehr @mammasitta, @reishi, @subversivaktiv, @paras2, @vikisecrets, @thermoplastik, @siamcat, @reconnectnature, @mundharmonika und andere Wiener Kryptoblogger kennenzulernen!
Folge mir und lass uns vernetzen.
Dein
Werner Schmid
Du findest mich auch auf folgenden Kanälen:
www.lifestyletrainer.online
www.facebook.com/lifestyletrainer.online
www.facebook.com/wernerschmid
www.instagram.com/werner.schmid
https://www.snapchat.com/add/wernerschmid