If we could have 1 bitcoin every time mainstream Indian news media created FUD on crypto ban since 2013-2014 I think we would've all been very rich! This is the newest FUD courtesy Bloomberg who are not new to this.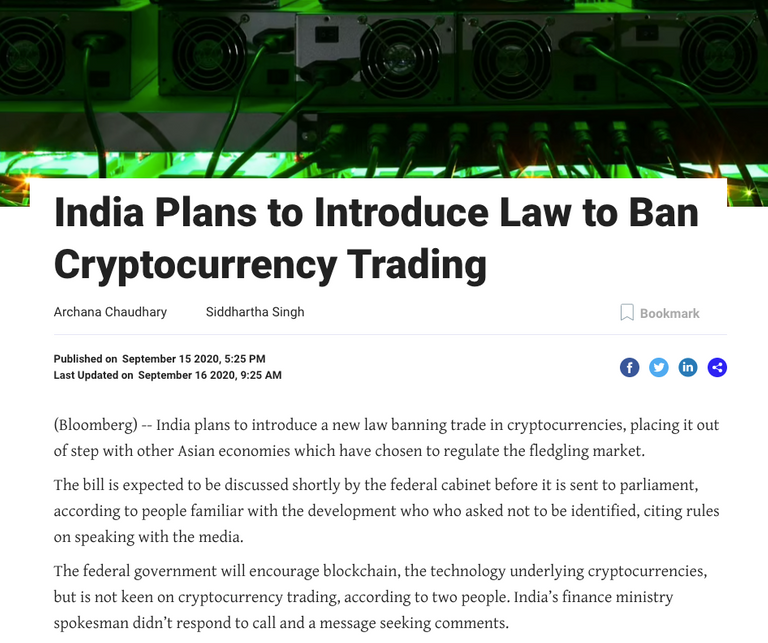 That's not to say there's no merit to this, there is some merit to this as the government has worked on a draft bill in the past to this effect and there's some possibility of introduction of a ban bill in the monsoon session in the parliament.
Nevertheless, this has happened far too many times already causing major panic amongst traders and long term investors in crypto from India.
For the time being keep calm and stay informed. CryptoKanoon are the best folks to follow today to stay updated on developments on the crypto regulatory/ban front as they are well informed and factual in their reporting.
Bloomberg as always fails to mention any sources to back up their claims.
Also worth noting is the following:
X.81 The Supreme Court vide its decision dated March 4, 2020 in the case of Internet and Mobile Association of India v. Reserve Bank of India has, on the ground of proportionality, set aside the Reserve Bank's direction in dealing with virtual currencies, where entities regulated by the Reserve Bank were directed not to deal in virtual currencies or provide services for facilitating any person or entity in dealing with or settling virtual currencies and to exit the relationship with such persons or entities, if they were already providing such services to them.
Reserve Bank of India has finally acknowledged the Supreme Court of India's judgment on banking services ban in its annual report. You can show this to your bank if they trouble you for trading cryptos.
Let's see how things progress from here. Don't get shaken by all these news, there's plenty of fight remaining in the crypto community from India.
This country has been reduced to a train wreck in various sectors by this government and all they can think of is banning whatever remaining employment and income streams exist through decentralised tech for its informed citizens.