One of my colleagues became a new father a week ago and has been on paternity leave. I congratulated him the other day just after the birth to which he quickly responded, but today he sent me a message:
"It's very exciting!"
One could be forgiven for thinking he was talking about fatherhood, but no, he was talking about Bitcoin. He is one of the guys that finally got in this year and has laddered up a little over the months and now, he feels validated. This sense of validation, that the right call was made, is important for most people to experience as for those who are new to crypto, there is plenty of room for self-doubt on the decision to invest, as there is a lot of FUD saying that those who do are delusional idiots, who have no grip on reality.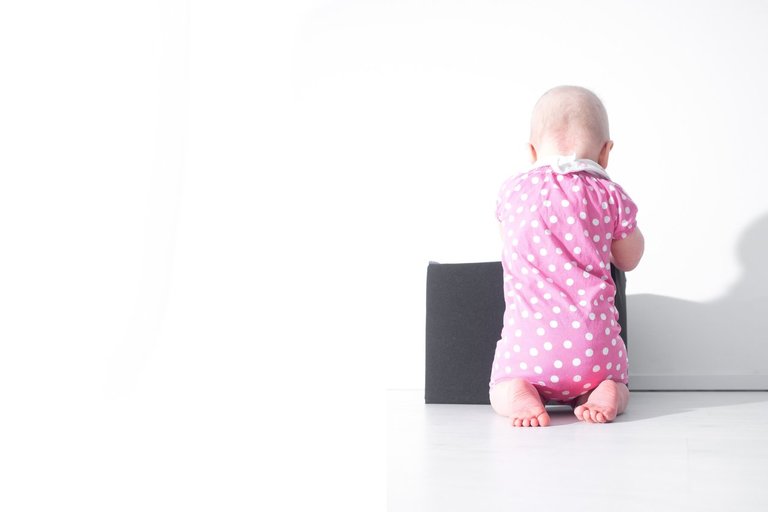 I have no idea how deep he went, but from where I know he bought at least some, he is looking at a 300% gain or so in the space of 6 months and while he likely has other traditional investments, this one has likely outstripped the earnings on all others by a fair margin. At the same time, he has said that the amount he has put in isn't the kind that is worth selling at this point, as while the percentage gain is enormous, the practical gain isn't going to change his life much. What I wonder though is, would it change his newborn's life?
With near universal consistency, parents want what is best for their children and a part of that includes their financial wellbeing, as most adults know that while money can't be happiness, it does have its advantages to facilitate a higher quality of life. But just imagine, I don't know what @edicted's doubling curve says about this, but say I have 1 Bitcoin today (worth about $22,000) and decided to "take the risk" and put 10% of it away for my daughter's 18th birthday, what would that 0.1 BTC be worth in 14 years from now and more importantly, what would that get for her?
Currently, it is worth 2200. So, 2200 invested at 10% for 14 years and compounded monthly would yield about 8800 dollars, That is assuming that I could find an investment that gives 10% p.a. consistently for 14 years as well. Therefore, for 0.1 Bitcoin in 2034 to be worth the same, Bitcoin would have to be at 88,000 dollars. This would be without risking the 0.1 trading or anything silly like that, just sitting it in a wallet and forgetting about it for a childhood.
What say you? does 88,000 dollars for a Bitcoin sound like a lot in 14 years from now?
And then of course, I'd have to think what that would provide my daughter at that time, someone who may be just heading off to school of some kind or, going out into the world to get a job of some kind. 8800 dollars doesn't do a great deal for her, but what it would do is give her a head start into something, or perhaps a buy-in for her own investment plans. Going into the world with something, is better than going in with nothing.
But, I would assume that most people would predict that if Bitcoin survives 14 years, it is going to be worth a fair amount more than 88K - so if we push it out by 10x, that 0.1 would be worth 88K by itself - which I assume would be enough for at least a deposit on an apartment 14 years in the future from today. At that price, even if salaries doubled from today's levels, that 88K would provide a +10% bonus for the next ten years on the average and this means that used well, my daughter would have not only the disposable income she can generate and save, but the bonus each year to play with at what is effectively no loss to her, as I have already covered the costs in the past.
In March, that 0.1 Bitcoin was about 350 dollars worth - today it is 2200 dollars worth, five years from now it will be ______ dollars worth. What is pretty exciting for the future is that at some point, there are going to be little bits of Bitcoin popping up from all over the globe where parents did have some foresight and put a little away for their children. This should definitely be the case if you see the future of Bitcoin as a store or generator of value - because it would be crazy to want to be able to provide for a child's future, but not put away some into Bitcoin or other cryptos now. Just imagine the potential of even the fearful saying, I know it is a risk, but 10% of everything I put away for my daughter is going to be into crypto.
But, the problem is the same as my friend above - we don't tend to have that long of an outlook on our investments and when it comes to putting away for our children, we can not only be cautious, but because the outlook is so long, we tend to be a little lazy, we want to be more "set and forget". I think this is why A hold crypto is perfect for this, as it can be bought now "cheaply" and put away in a secure location and stored, "risk-free" for as long as the keys are protected.
I don't have much Bitcoin, but I have still put a little away for my daughter for her future betterment, as well as the "just in case she needs" it in terms of other factors in life that might arise from the social volatility we are feeding. While I hope that she can use it in a way that she enjoys, if she needs it to save herself, that'll do too.
Anyway, my wife and I do put some money "in the bank" for our daughter, but I think that the world is getting too risky and the reward for doing so is far too low. So, while it isn't much, I think I will look to supplement my own crypto contributions for her by using a percentage of the fiat we put aside for her to buy a little crypto too. Thinking that if it is for Smallsteps, it can make the hodling take on a different meaning with a greater purpose. Is anyone else doing or planning to do this for their children?
I think most parents would agree that they will go to extraordinary lengths for their children and I wonder, will holding for them make potentially loose hands, grip much more tightly.
I have talked to my colleague a bit about this in the last few months when he has said that his holdings aren't significant and have planted the seed of - not significant today, but in 18 years from now...
"It's very exciting!"
Taraz
[ Gen1: Hive ]
Posted Using LeoFinance Beta