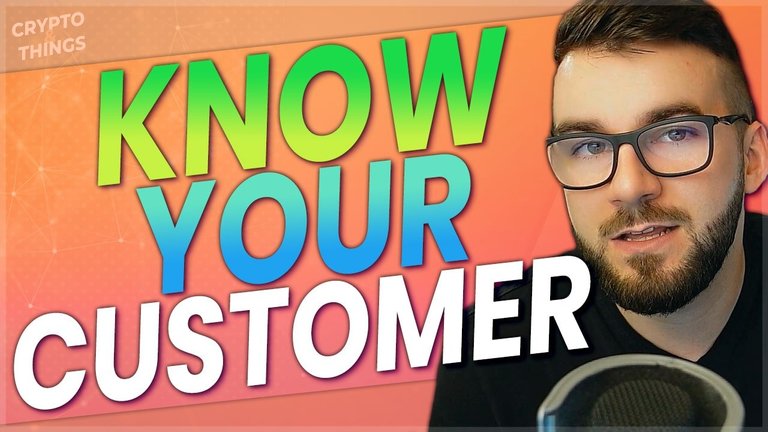 ---
KYC or know-your-customer is a very important way that centralized crypto exchanges track your information in order to verify you are who you say you are as well as to share that with tax collectors and mitigate your financial privacy. Let's talk about it.
While I respect that KYC is typically a big part of compliance, I feel that the original ethos of cryptocurrency focusing on decentralization, freedom, and privacy would not appreciate KYC verification in order to trade cryptocurrency and to onboard from fiat to crypto.
Video Timestamps:
00:00 Intro
0:26 What Is KYC
02:50 Why It Matters
05:40 Decentralized Exchange
07:30 My Recommendation
11:39 Secux Giveaway
12:29 Outro
According to Investopedia, "the Know Your Client or Know Your Customer is a standard in the investment industry that ensures investment advisors know detailed information about their clients' risk tolerance, investment knowledge, and financial position… KYC compliance typically involves requirements and policies such as risk management, customer acceptance policies, and transaction monitoring." It's main purpose is really for tracking you and complying with anti-money laundering laws and standards.
Note: One very important point I didn't touch on is that if you want to earn passive income, do it via staking or providing liquidity on a swap exchange because lending requires KYC verification and that will be tracked.
With a major exchange in Canada called Coinsquare recently giving all their customer data to the Canadian Revenue Agency, it's clear that government are becoming more involved in what you're doing with your cryptocurrency. Even if you want to be compliant to regulation, you may still want to have some financial privacy.
Many exchanges require some level of KYC which can be anything from including your address to your government issued ID. With these restrictions, you are very easily tracked. For those who don't appreciate KYC verification, they can use decentralized exchanges or any platform that allows them to transact without providing information or providing any KYC verification.
In the future I will do a comparison and review of the many DEXes that exist. This is a great place to get started: https://bitshills.com/best-non-kyc-crypto-exchanges/
Going forward, if you want to avoid KYC and ensure the most amount of privacy for your financial transactions, you'll want to avoid exchanges that want your information and gravitate towards those that do not collect your data.
I've covered swap exchanges before and while I think it's safest to stick to smart contract based platforms like Uniswap or PancakeSwap, but there are many platforms that allow you to trade that are worth the "risks."
You can find that video here: https://odysee.com/@ScottCBusiness:4/Swap-Exchange:e
This was my first video on it: https://odysee.com/@ScottCBusiness:4/Crypto-Swap-Exchanges-Make-Conversions-Easy-1:4
How important to you is your privacy? Do you avoid KYC or do you not mind it? Do you prefer centralized or decentralized exchanges? Let me know what you think about this in the comments below and don't forget to subscribe!
This is a LBRY first video meaning it shows up on LBRY before it gets published anywhere else. If you're not on LBRY, sign up and get started here: https://odysee.com/$/invite/@ScottCBusiness:4
Check this video out on LBRY to support me with monetization and no ads: https://odysee.com/@ScottCBusiness:4/Kyc:2
Disclaimer: This is not financial advice and is purely for entertainment purposes. What you see, hear, or read is my personal opinion, and any statements made are based on my views and should not be misconstrued as fact. My crypto portfolio may or may not be simulated
This was sponsored by SecuX. I'm doing a giveaway with them you can checkout here:
You can also order them from their shop
https://shop.secuxtech.com/
using the coupon codes below!
To Get 15% off use coupon code: "cryptothings" for SecuX V20 and W20 hardware wallet
To Get 10% off use coupon code: "cryptothingsw10" for SecuX W10 hardware wallet
---
▶️ 3Speak