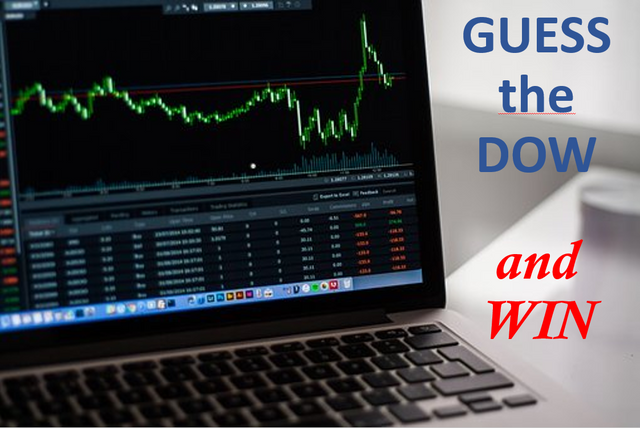 How do you think the Dow Jones Industrial Average will close at the End of the week? If you come closest to predicting the Dow closing figure taken from the following reference you will win the number of SPI shares that can be bought from the payout of this post (at least 1 SPI share guaranteed).
There are only a few rules.
upvote this post
provide your tip as a comment with one decimal in the following format "23.390,8"
provide your tip until Thursday
the tip that is closest to the closing figure taken from the following reference wins
all HBD paid out from this post are exchanged to SPI shares on HIVE-ENGINE or directly with @spinvest
90% of LEO paid out from this post are directly transferred to the winner
10% of LEO and the SPI Tokens will build the Jackpot, that will be won by a correct tip on the DOW figure (without decimal)
This game is designed in order make some promotion for the LEO tribe as well as for the SPI club. Engagement from the community is therefore much appreciated to get some traction. Hope you don`t mind the mention to make you aware of this.
@silverstackeruk @spinvest mod @spinvest-leo @spinvest-neo @spinvest-votes @bucipuci @chrisparis @conradsuperb @coolguy123 @d00k13 @darkmrmystic @elizabethbit @ericburgoyne @erikklok @felander @flemingfarm @geke
@huntforsteem @incubot @jk6276 @jk6276.leo @metzli @mytechtrail @oldmans @partitura @qam2112 @roger5120 @ronaldoavelino @samsemilia7 @shanibeer @shitsignals @silvertop @stayoutoftherz @sumatranate @taskmaster4450 @underground @welshstacker @khaleelkazi @threespeak @gerber @steem.leo @tarazkp
---
What are SPI shares?
SPI shares are tokens on Steem-Engine / HIVE Engine that are issued by @SPInvest. SPinvest is a tokenized investment fund/club for all users of social blockchains. Everyone is welcome! The concept of SPinvest is to get rich slowly by using time tested methods of earning, saving and compounding long term. This lets SPinvest offer an ROI of 20% per year on SPI tokens. We encourage long term investing on and off the blockchain. We hope someday everyone will HODL some SPI tokens that can be bought directly from @spinvest are through the steem-engine or dex.steemleo exchanges.