I'm a big fan of Defi, but it likely has some serious growing pains ahead...
In case you have been living under a rock for the last couple months, defi has been the primary driver of the recent crypto bull market.
Sure there are macro drivers as well, like the massive money printing and weakening of fiat currencies, but defi has been the hottest word in town for months now.
This is a trend that I think is here to stay but I think we are going to experience some series growing pains in the not too distant future.
There is currently roughly $7 billion locked in defi which is a bit of a drop from where we were back in early September when we had close to $10 billion locked in defi: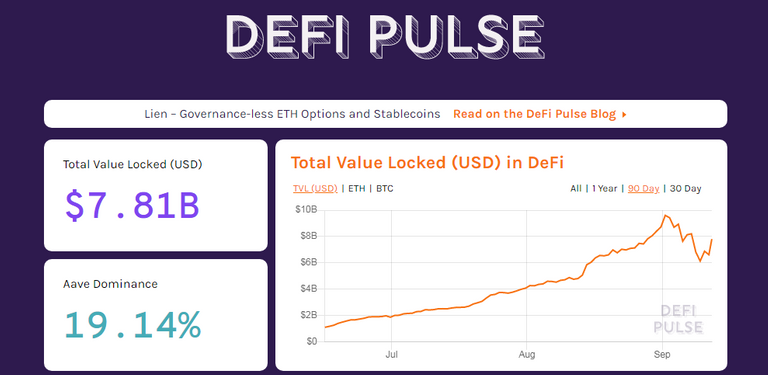 (Source: https://defipulse.com/)
However, I think this drop will be short lived as the gold rush of defi is likely far from over.
As it stands now defi is offering one of the first real use cases for cryptocurrency.
Sure some of them can be used for payments, and bitcoin will likely eventually work as a store of value, but as of right now today there hasn't really been too many things that have caught on with the masses as far as providing needed real world use cases.
Though I would argue that providing a digital store of value with a known limited supply is a use case in a world of money printing, but that is a topic for another day.
Anyways, defi has captured the attention of crypto and finance enthusiasts alike and taken the investing world by storm over the last several months.
Back in July there was roughly $2 billion locked in defi projects and now there is close to 4x that amount in less than 2 months time.
It's been a fun time for many of those participating and especially for those that got in early.
However, I think there are growing pains just around the corner for a couple reasons...
The first being that these liquidity pools open themselves up to money laundering issues. In many cases, there has been a total disregard of regulations and Know Your Customer/Anti-Money Laundering procedures. Which leads to a high risk of money laundering via liquidity pools. And my guess is that Securities and Exchange Commission will notice such activities pretty soon if they haven't already.
They are probably already trying to figure out how they can twist existing laws in order to come down hard on some of these projects.
Some argue that the KYC part of crypto needs to stay at the exchange levels only where fiat money comes in and out of crypto, but as crypto gains acceptance, there are people who are able to stay solely in crypto, which further complicates how regulators are going to regulate these things.
Whether I agree with it or not I think we are going to see some activity from the SEC relating to some of these projects in the coming months. It's how they tend to operate. Which was further evidence by their ruling a while back on Telegram and Ton where they essentially didn't let it launch anywhere, even though that was technically outside of their jurisdiction.
They have already shown that the rules don't fully apply to them.
The second major growing pain is already happening...
We have already seen a couple of these projects take off with huge sums of money in a very short amount of time with investors holding the bag.
From the Sushiswap incident, though it looks like he eventually returned much of those funds: https://news.bitcoin.com/sushiswap-returns-14-million-exit-scam/ to the plethora of other exit scams we are seeing play out in the defi space already.
Anytime large amounts of money can be made very quickly with very little oversight from regulators, scammers show up in droves.
I suspect we are going to see more in the way of scams over the coming weeks and months as well.
So, while I think defi is a great use case for crypto and is here to stay I think we are going to see some major growing pains in the coming months that will likely throw some cold water on the space for a period of time.
Stay informed my friends.
-Doc
Posted Using LeoFinance