The BTC Hash Rate hit a new all time high today
The amount of resources being put into securing the bitcoin network has never been greater than it is right now.
Bitcoin fell by over 20% within the last several days, from over $12k to just under $10k, yet the network's hash rate has never been higher.
Check it out: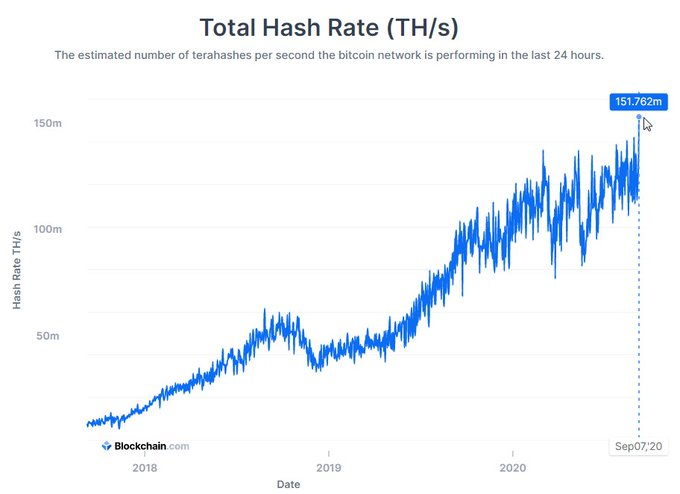 (Source:
1303314549316169733/photo/1) twitter metadata:c3NhdXJlbHx8aHR0cHM6Ly90d2l0dGVyLmNvbS9zc2F1cmVsL3N0YXR1cy8xMzAzMzE0NTQ5MzE2MTY5NzMzL3Bob3RvLzEpfA== ~~~
Which means the network is technically more secure than it has ever been.
All this talk about Ethereum and defi etc etc etc, and here bitcoin is, seeing more and more resources being put into securing the network.
At this point it almost seems like there is a disconnect between the fundamentals and the price...
The price of bitcoin has many inputs that go into it, however, the majority of it is based on speculation.
That being said, it still seems like there is a bit of a disconnect between it's fundamentals, the macro environment, and it's price.
Just some of the things bitcoin has going for it right now:
Hash Rate at all time highs
Number of wallets keeps increasing
Institutional interest has never been higher
Media coverage has never been better
Layer 2 innovations and defi exploding
Massive money printing globally
Negative interest rates
No growth economy
Stocks at all time highs
Gold at all time highs
Add all these things up and I would have to say that bitcoin would for sure be at new all time highs if I didn't know the current market price.
However, it's not, in fact it's technically not even close.
It's roughly half of where it was roughly three years ago back in December of 2017 when it climbed almost to $20k per coin.
What gives?
In my opinion the most likely outcome is that bitcoin is simply just lagging at this time. It likely has pent up energy that will be unleashed at some point and it will join the ranks of all time highs just like the other assets mentioned on my list above.
Also keep in mind that bitcoin has mostly been consolidating that massive move up to $20k from several years ago to this point...
As we work through that, we will eventually blast off to new highs.
Stay informed my friends
-Doc
Posted Using LeoFinance