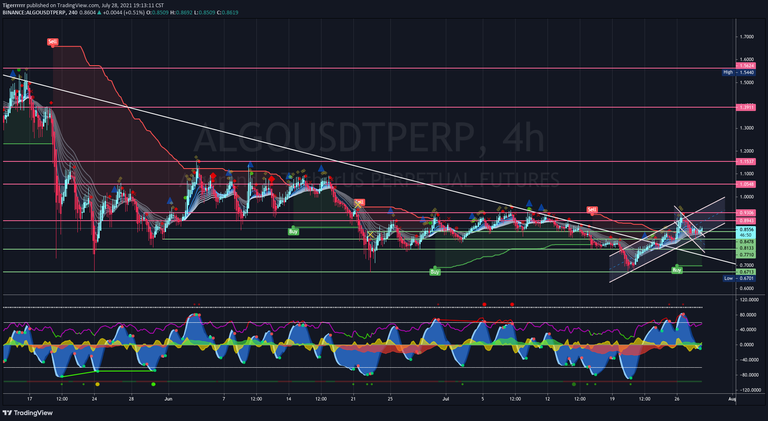 ALGOUSDT 4 Hour Chart
A good mid-week for the crypto market so far. Overall, many altcoins have up at least 10% - 30% from the low on 20th July 2021, some even go as high as 100%.
Let have a look at the ALGO chart, in a 4-hour time frame spotted an Ascending Channel. The big pattern in the ALGO chart is an Ascending Channel and inside a big pattern identify there's a Breakout from the Descending Channel. I view it as a signal of a continuation of the current trend which is BULLISH.
The hard Resistance on ALGO as the chart is at 0.87 and once it breaks the resistance then would be expecting more upside. ALGO has been testing the Support area at 0.82 - 0.83 and it has been well defended by the buyers.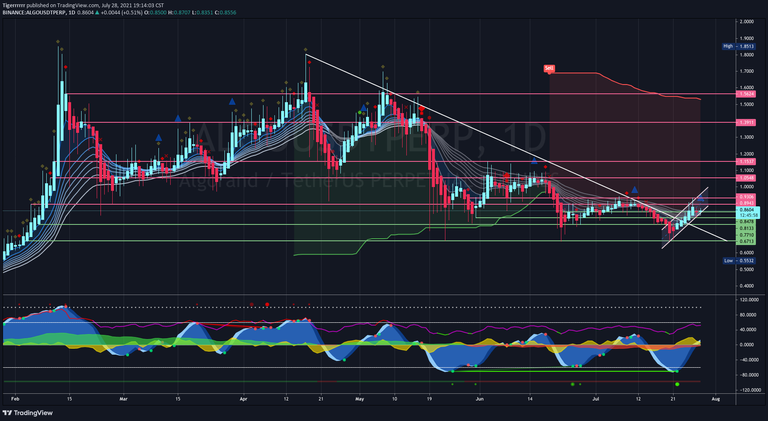 ALGOUSDT Daily Chart
Every time the price went up to the downward Trendline, it got rejected. Finally, on 23rd July 2021, the downward Trendline has been break indicated that Bullish is in control now.
5 consecutive days was a green candle with a Bullish Divergence on the Daily Chart, a breakout of Descending Triangle and I view it as a Bullish but... after every rally, there's a pullback.
As always Trading is risky, and all of this is only MY PERSONAL OPINION/VIEW on the ALGO chart and this is 100% NOT FINANCIAL ADVICE.
What is your take on ALGO chart?
Posted Using LeoFinance Beta