Today I got out of bed seeing the price and the bitcoin graph as I do every day, so I see what was happening during the night and I make my hypotheses in the day. The first thing I see is that on the 4-hour chart, it has 8 bullish candles and is just too close to hit its last high.
El día de hoy me levante de la cama viendo el precio y la gráfica de bitcoin como hago todos los días, así veo que ocurrió durante la noche y hago mis hipótesis en el día. Lo primero que veo es que en la gráfica de 4 horas, tiene 8 velas alcistas y está a poco de tocar su último máximo.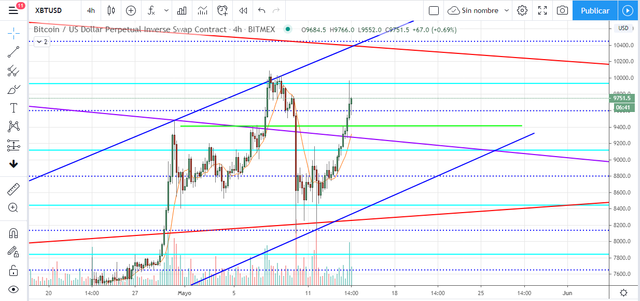 The first thing I feel when I see this graph is the feeling of greed, which tells me "buy, buy, buy that will go even higher in price", on the other hand, my experience as a trader tells me "don't go in, you have a very vertical and uninterrupted climb, usually goes down a lot after such behavior ".
Lo primero que siento al momento de ver esta grafica es el sentimiento de codicia, que me dice "compra, compra, compra que va a subir aún más de precio", por otro lado mi experiencia como trader me dice "no entres, tiene una subida muy vertical e ininterrumpida, usualmente baja mucho luego de un comportamiento así".
Without a doubt, this is an example of the dilemmas that traders have to face in these markets, and it can be the difference between being profitable over time and not being profitable. In this case, I do think it can go up a bit more, but it fails to give me an acceptable risk-benefit range, because I hope it will touch a major resistance at $ 10,300, but it also had an extremely vertical movement that makes me suspicious.
Sin duda, esto es un ejemplo de los dilemas que sufrimos los traders en estos mercados, y puede ser la diferencia entre ser rentable en el tiempo y no serlo. En este caso, si creo que puede subir un poco más, pero no logra darme un rango de riesgo-beneficio aceptable, porque espero que toque una resistencia importante en los 10.300$, pero también tuvo un movimiento sumamente vertical que me hace desconfiar.
Personally I have not entered the market yet (I have a btc hodl for a long time, and what I am currently entering is more on trading, so I am interested in a performance in $), but I still have the voice in my head that tells me " if you do not enter you will lose an opportunity ", and it is just the same one that told me "sell now, it can break the bullish channel" when it was at $ 8,500.
Personalmente no he ingresado al mercado aun (tengo un hodl de btc desde hace tiempo, y lo que ingrese actualmente es más de trading, por lo que me interesa un rendimiento en $), pero tengo aun la voz en la cabeza que me dice "si no entras perderás una oportunidad", y es justo la misma que me dijo "vende ahorita que puede romper el canal alcista" cuando se encontraba en los 8.500$.
I think that having a psychological health is important for all traders, it is difficult to control the impulse to trade if you are not in acceptable stress levels and you do not have a trading plan, at the end of the day impulsive decisions can lead you to take a wrong decision, or making the right one but not being psychologically prepared to stay profitable.
Pienso que tener una salud psicológica es importante para todos los traders, es difícil controlar el impulso de operar si no te encuentras en niveles de estrés aceptables y no tienes una planificación de trading, al final del día las decisiones impulsivas te pueden llevar a tomar una decisión errada, o tomar la correcta pero no estar psicológicamente preparado para mantenerte en la rentabilidad.
It is extremely important to have experience in the markets, this is what differentiates profitable traders from non-profitable ones, because you can better control your emotions and you will be able to identify traps you fell into at first.
Es de suma importancia tener experiencia en los mercados, es esto lo que diferencia a los traders rentables de los que no lo son, porque se puede controlar mejor las emociones y podrás identificar trampas en las que caíste en un principio.
Happy trading / Feliz trading
Posted Using LeoFinance