Yesterday Hive broke a support at $ 0.30, at the same time that BTC made an abrupt downward movement, although in this case Hive found a lower price level than what it has had in the past (using Binance as Exchange).
El día de ayer Hive rompió un soporte en los 0.30$, al mismo tiempo que BTC realizaba un movimiento brusco a la baja, aunque en este caso Hive se encontró con un nivel de precio más bajo que lo que ha tenido en el pasado (usando Binance como Exchange).
This only says that we are going to look for a new important horizontal support area, which I think could be given at approximately $ 0.26 since it is the support of a falling wedge and in a chartist language it can be something very plausible.
Esto solo dice que vamos rumbo a buscar una nueva zona de soporte horizontal importante, que pienso se podría dar en los 0.26$ aproximadamente dado que es el soporte de un falling wedge y en lenguaje chartista puede ser algo muy plausible.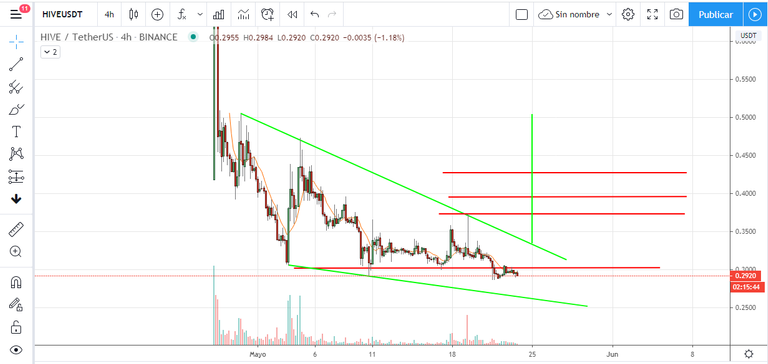 This move may be accompanied by another bearish move in Bitcoin that is expected in the coming days. Despite this, it may not take long for it to start rising as we are in the middle of a bullish figure that may still have several weeks left.
Este movimiento puede ser acompañado por otro movimiento bajista en Bitcoin esperado en los próximos días. A pesar de esto, es posible que no tarde mucho tiempo en comenzar a subir ya que se encuentra en el medio de una figura alcista a la que le puede quedar varias semanas aun.
On the other hand, in the case of an ascending price, we can find the most important resistance at $ 0.33, being a good place to take profit, and in the case of passing the downtrend line (upper green line), we could see a new bull run that brings us to approximately $ 0.50, just in case of breaking the resistance and closing the daily candle on it, you should not operate a pump. So far, I'm expecting a downward move soon, rather than looking for new highs.
Por otro lado en el caso de un precio ascendente, podremos encontrar la resistencia más importante en los 0.33$, siendo un buen lugar para tomar ganancia, y en el caso de pasar la línea de tendencia bajista (línea verde superior), podríamos ver un nuevo bull run que nos lleve a los 0.50$ aproximadamente, solo en caso de romper la resistencia y cerrando la vela diaria sobre esta, no se debe operar un pump. Hasta ahora sigo esperando por un movimiento bajista.
Happy Trading
Feliz Trading
Posted Using LeoFinance