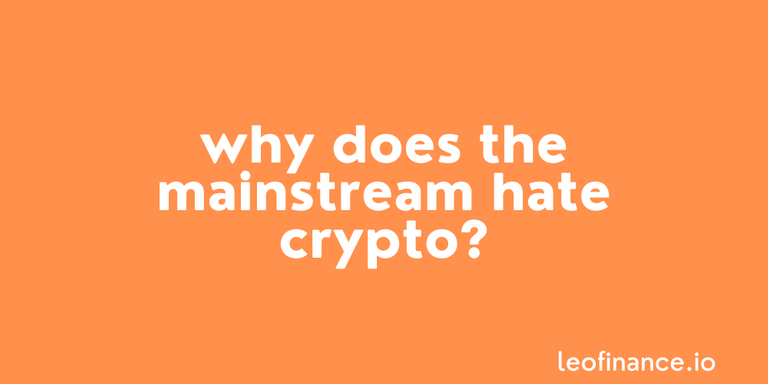 Direct from the desk of Dane Williams.
---
I'm genuinely baffled by the genuine hate that crypto receives on Twitter from the mainstream.
If you've recently clicked a mainstream tech, art or sport themed Twitter account talking about crypto, you would have no doubt been greeted with a barrage of hate.
No, not just a slight wariness of crypto and blockchain tech, but a proper deep hate for it and anybody in the thread who dares offer an alternate opinion.
I find this not only this public pushback, but complete vitriol amongst already marginalised communities, completely baffling.
This is a story that I feel I can personally relate to.
You see, I'm a football fan in Australia.
In this country, football is very much a niche sport.
A country where the mainstream media and competing codes have a vested interest in ensuring that is where it remains.
Those with a monetary interest at the top push the agenda and the fans just latch on and create this depreciating cycle where you're made to feel like a criminal simply on a night out.
Now, as part of the crypto community, especially here on Hive, does that sound familiar?
Those with vested interests at the top like banks and legacy media organisations with a vested interest in seeing crypto fail?
A narrative that they create and their army of disciples in the financial and media world latch onto and are happy to perpetrate on their behalf?
Yep.
It's exactly the same.
And it's for this reason that I'm always shocked to read such uninformed, negative takes on crypto from within the Australian football community.
Those ignorant views blindly using their influence to push an agenda is exactly the same as what happens to football.
It's like the small kid that gets bullied, turning around and then bullying the smaller kid to feel better.
Truly baffling.
Within the Australian football community, we so often try to take the high road.
The community has to take an open, world view of the sporting landscape as a result.
Again, this is strikingly similar to how we view the world within the crypto community.
We are a truly global community where nation states and governments literally don't matter anymore.
Of course there are hooligans, racists and the like within the football community which the media can, and of course does, latch onto.
For what we say is unfair, negatively focused press.
We're not all like that and overall football fans actually provide far more good for their community than fans of other codes.
Again, sound familiar?
Yep, just like there are scams and bad actors within the crypto community, we know the decentralised infrastructure being built is literally life changing for humanity.
I'll say it once more, it is exactly the same!
Honestly, I don't have an answer to the question.
Just like the media companies investing in rival sports have a monetary interest to see football fail, those at the top have an obvious vested interest in seeing the financial status quo remain.
Should I not be expecting more from society to not be sheep that are just happy to go along and follow?
I mean especially those in already marginalised communities like tech nerds, digital artists and football fans, who seem to be the loudest in this regard?
You would think trying to build decentralised infrastructure that aims to shift the power from the few to the many, would actually be something extremely helpful.
So, why does the mainstream HATE crypto?
I'm genuinely baffled.
Best of probabilities to you.
Posted Using LeoFinance Beta