After spending the night at Camp Caliope Wari, as I told you in the last part of the first post of this trip through La Gran Sabana, the day dawned cool and clear. We prepared our breakfast, we ate and then we started to pack up our tents and our stuff because on this one-week tour, every day we were going to sleep in a different place.
Tras pasar la noche en el Campamento Caliope Wari, como les conté en la última parte del primer post de este viaje por La Gran Sabana, el día amaneció fresco y despejado. Preparamos nuestro desayuno, comimos y después empezamos a recoger las carpas y nuestras cosas porque en este tour de una semana, cada día íbamos a dormir en un sitio diferente.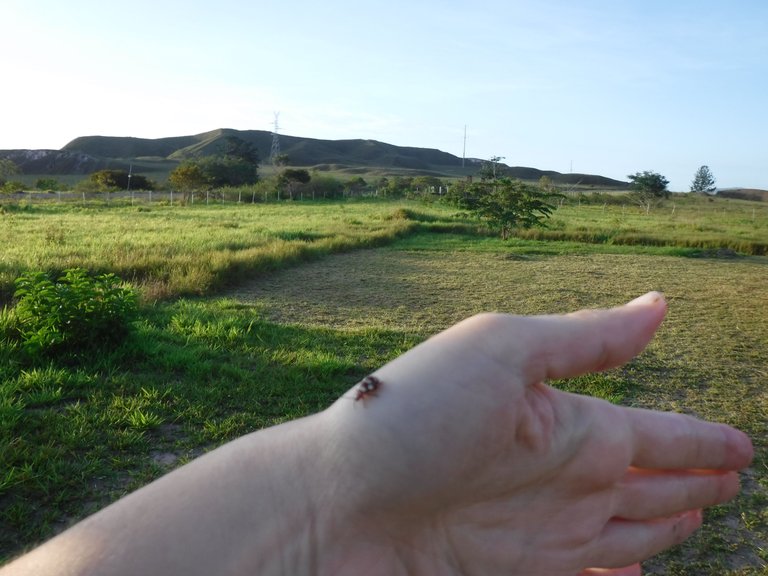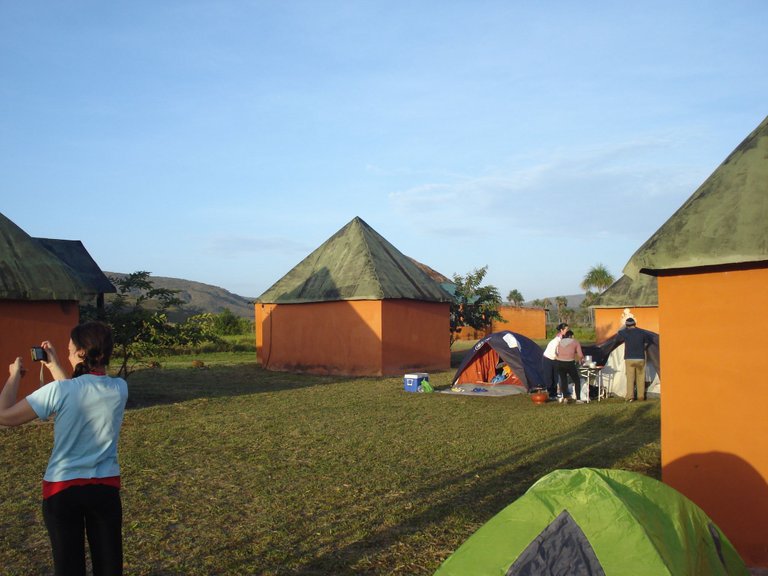 Photo taken by my sister @gatubela / Foto tomada por mi hermana @gatubela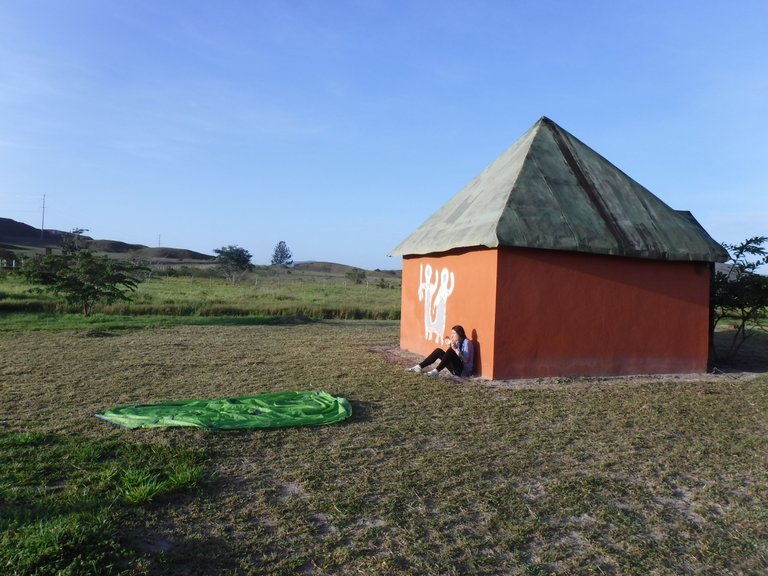 My sister having breakfast while I packed up the tent / Mi hermana desayunando mientras yo recogía la carpa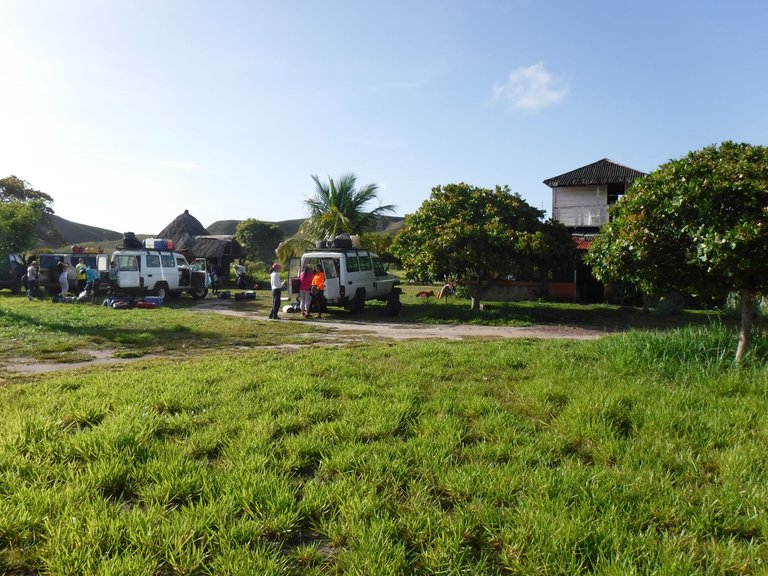 We got into the cars and headed for Santa Elena de Uairén, capital of the Gran Sabana municipality and where the largest population (about 30,000 inhabitants) of this remote area of southern Venezuela that borders Brazil is concentrated. It is less than 100 years old (1923) and has grown due to commercial, mining and tourist activity. Here you can get a little of everything: clothing and food stores, restaurants, banks, hospitals, hotels, tour operators, among other services.
Nos montamos en los carros y fuimos rumbo a Santa Elena de Uairén, capital del municipio Gran Sabana y donde está concentrada la mayor cantidad de población (unos 30 mil habitantes) de esta remota zona del sur de Venezuela que limita con Brasil. Tiene menos de 100 años de fundada (1923) y ha crecido debido a la actividad comercial, minera y turística. Aquí se consigue de todo un poco: tiendas de ropa y comida, restaurantes, bancos, hospital, hoteles, operadores turísticos, entre otros servicios.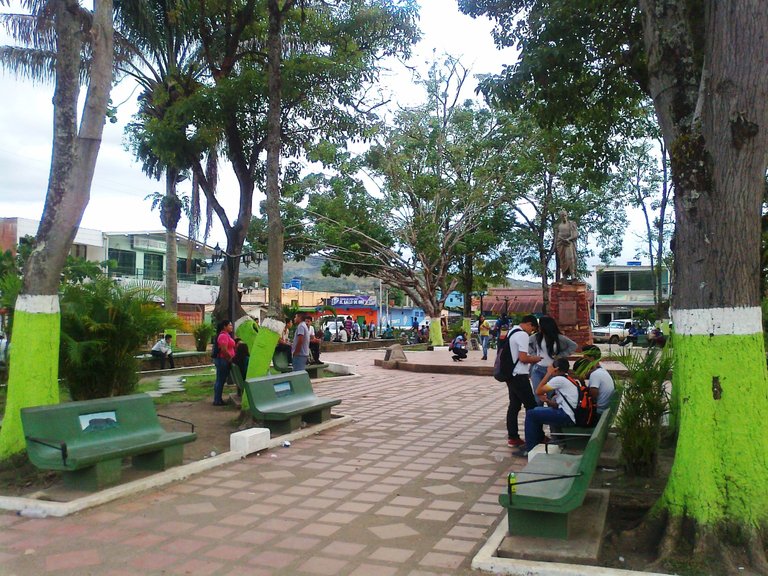 Bolivar Square in Santa Elena de Uairen / Plaza Bolívar de Santa Elena de Uairén
---
Capino, our guide, brought us here not only to get to know the place but also so that we could take advantage if we needed to buy something additional to what we had brought from Caracas (more canned goods, packet soups, bread, cookies, drinks, etc.), because where we were going to camp there was nothing but beautiful nature. As I had been in this town when I made the excursion to the Roraima tepuy, I remembered some interesting points and I told my sister that we should go for a walk for the couple of hours that we would be there so that she could get to know something beyond the center of the town, then we walked to the Cathedral of Santa Elena, a very particular construction because it's made with stones taken from the surroundings, it draws a lot of attention because in Venezuela there are not many buildings of that style.
Capino, nuestro guía, nos trajo para acá no sólo para conocer el sitio sino también para que aprovecháramos si necesitábamos comprar algo adicional a lo que habíamos llevado desde Caracas (más enlatados, sopas de sobre, pan, galletas, bebidas, etc), ya que donde íbamos a acampar no había nada más que hermosa naturaleza. Como había estado en esta población cuando hice la excursión al tepuy Roraima, me acordaba de algunos puntos interesantes y le dije a mi hermana que fuéramos a pasear durante el par de horas que estaríamos ahí para que conociera algo más allá del centro del pueblo, así que caminamos hasta la Catedral de Santa Elena, una construcción muy particular porque está hecha con piedras sacadas de los alrededores, llama mucho la atención porque en Venezuela no hay muchas edificaciones de ese estilo.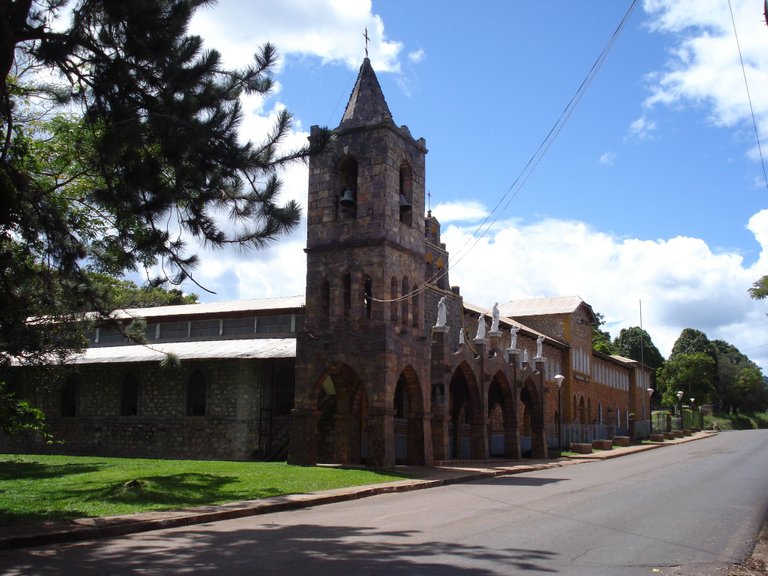 When I researched it, I read that it dates back to the 1950s and was an initiative of the Franciscan missionaries. Spaniards, Italians, Portuguese and Pemones, original inhabitants of this region, participated in its construction. We couldn't get in to see what it looked inside like because it was locked.
Cuando investigué sobre ella, leí que data de la década de 1950 y fue iniciativa de los misioneros franciscanos. En su construcción participaron españoles, italianos, portugueses y pemones, habitantes originarios de esta región. No pudimos entrar para ver cómo lucía por dentro porque estaba cerrada.
Pinmapple pin: //:# (!pinmapple 4.605150 lat -61.118917 long d3scr)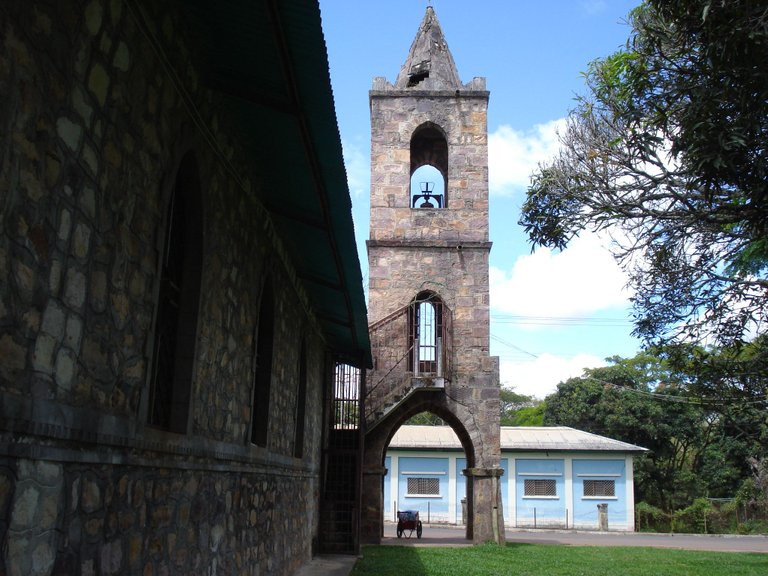 I also wanted to go there because the environment is very beautiful, from where the Cathedral is you can contemplate some pleasant views of the geography that surrounds the area.
Quise ir hasta allá además porque el entorno es muy bello, desde donde está la Catedral puedes contemplar unas agradables vistas de la geografía que rodea la zona.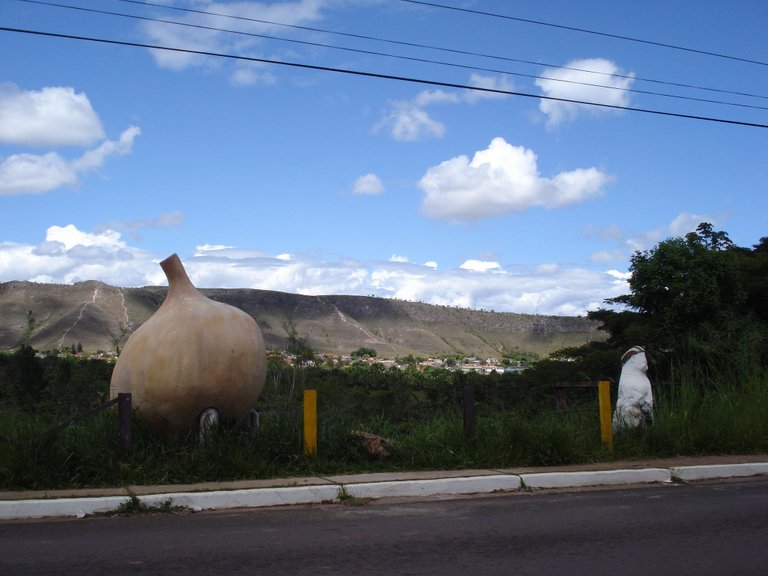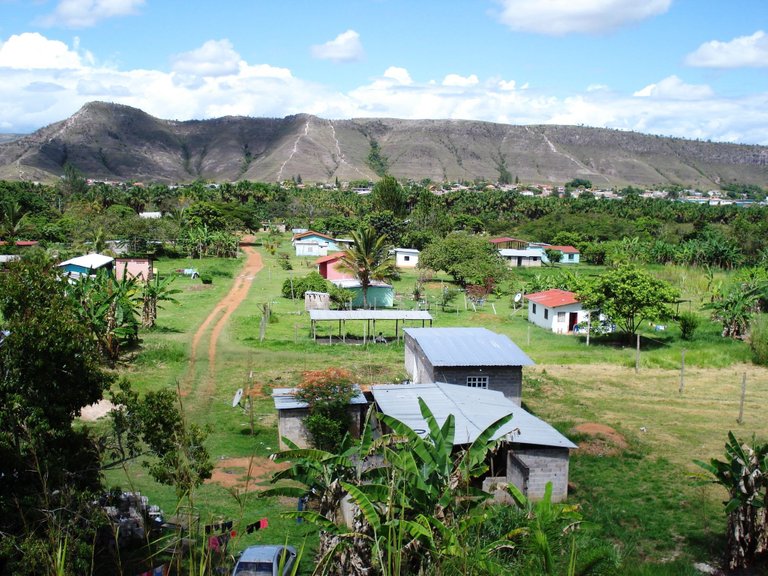 We got quite distracted walking around and my sister told me: "they're going to leave us", so we hurried to return to the center of the town where the group and the cars were but not all of them had arrived yet, a few minutes later we left to start the tour of the day making a stop at one of the many viewpoints along the Troncal 10 highway that crosses La Gran Sabana from north to south.
Nos distrajimos bastante caminando por ahí y mi hermana me dijo: "nos van a dejar", así que nos apuramos para regresar al centro del pueblo donde estaba el grupo y los carros pero aún no habían llegado todos, pocos minutos después partimos para iniciar el paseo del día haciendo una parada en uno de los muchos miradores que hay a lo largo de la carretera Troncal 10 que atraviesa La Gran Sabana de norte a sur.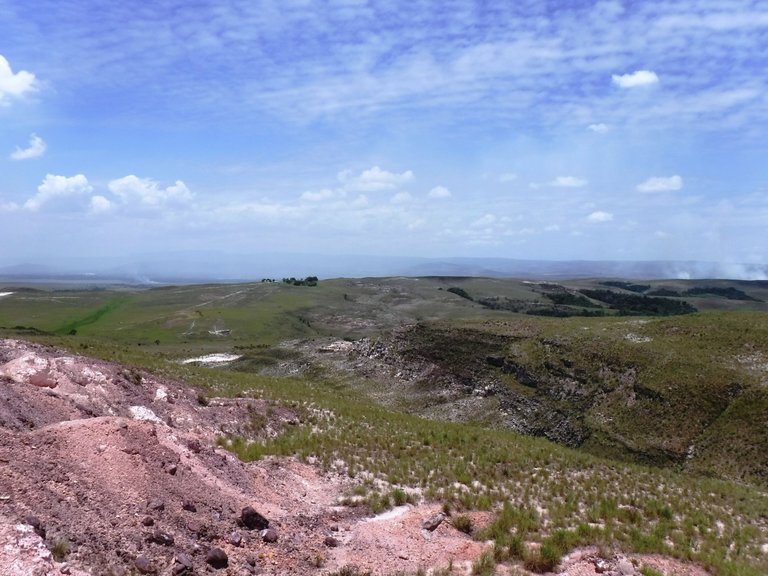 From here you can have a panoramic view of the eastern chain of tepuyes, those incredible table top hills that characterize the landscape of this area: Ilú-Tramen, Karaurín, Wadakapiapué, Yuruaní, Uei, Kukenán and Roraima. But even though the day was clear, the visibility was not very good, there was a kind of mist that didn't allow us to see these formations clearly.
Desde aquí se puede tener una vista panorámica de la cadena oriental de tepuyes, esos increíbles cerros amesetados que caracterizan el paisaje de esta zona: Ilú-Tramen, Karaurín, Wadakapiapué, Yuruaní, Uei, Kukenán y Roraima. Pero a pesar de que el día estaba despejado, la visibilidad no era muy buena, había como una especie de bruma que nos impedía ver estas formaciones con claridad.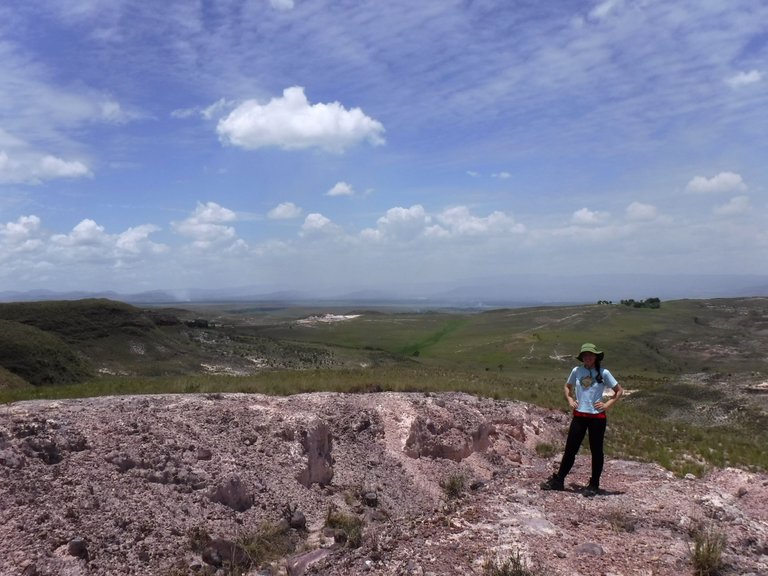 Look also at the ground that we were stepping on in this viewpoint, sandy and pinkish in color, when you looked at certain parts the sun made it shine, I suppose it has quartz in its composition.
Miren además la tierra que estábamos pisando en este mirador, arenosa y de color rosado, cuando te fijabas en ciertas partes el sol la hacía brillar, supongo que tiene cuarzo en su composición.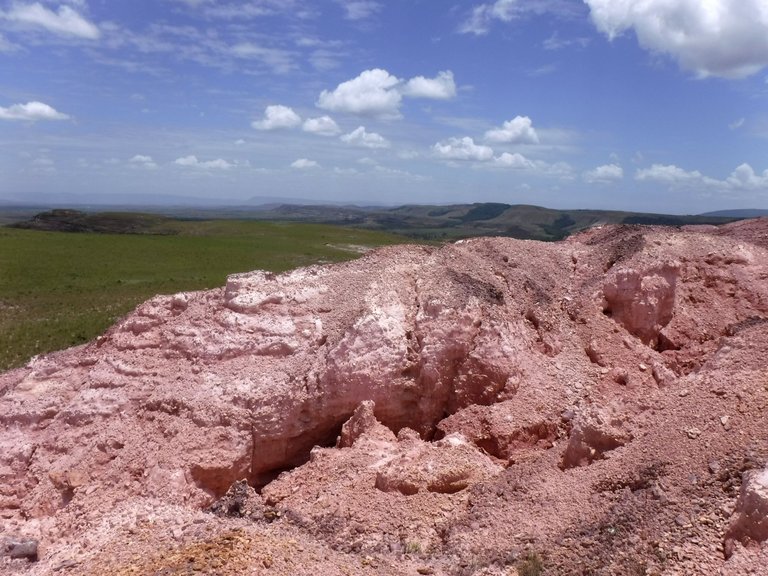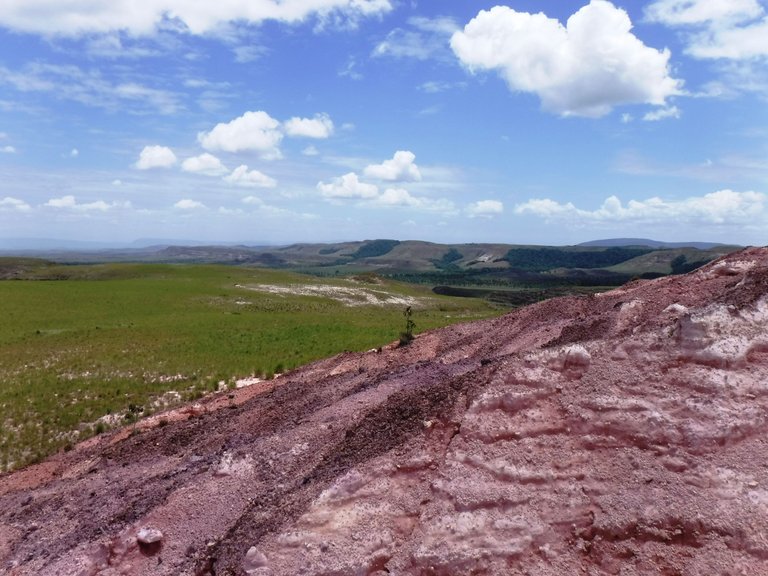 We returned to the Toyotas and drove through the immensity of the savannah along a dirt road, half an hour later we reached the point where we had to get out of the cars to continue on foot.
Volvimos a los Toyotas y rodamos en medio de la inmensidad de la sabana por una vía de tierra, una media hora después llegamos al punto donde teníamos que bajarnos de los carros para continuar a pie.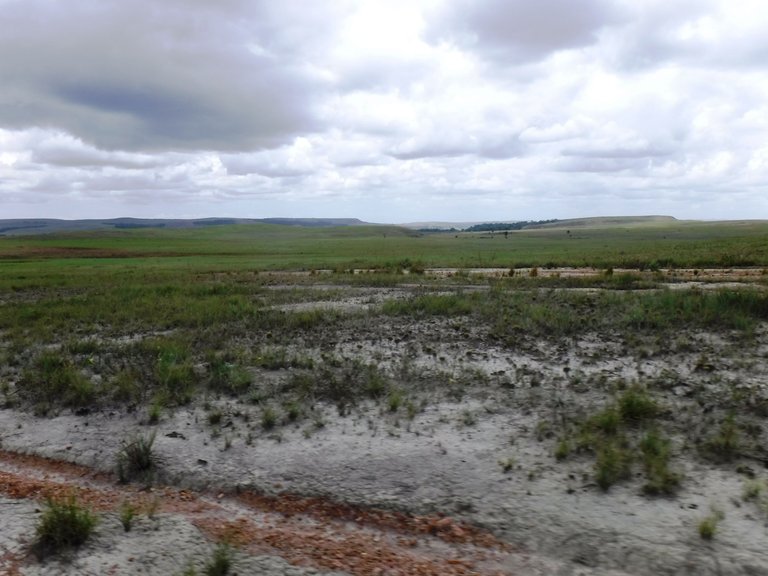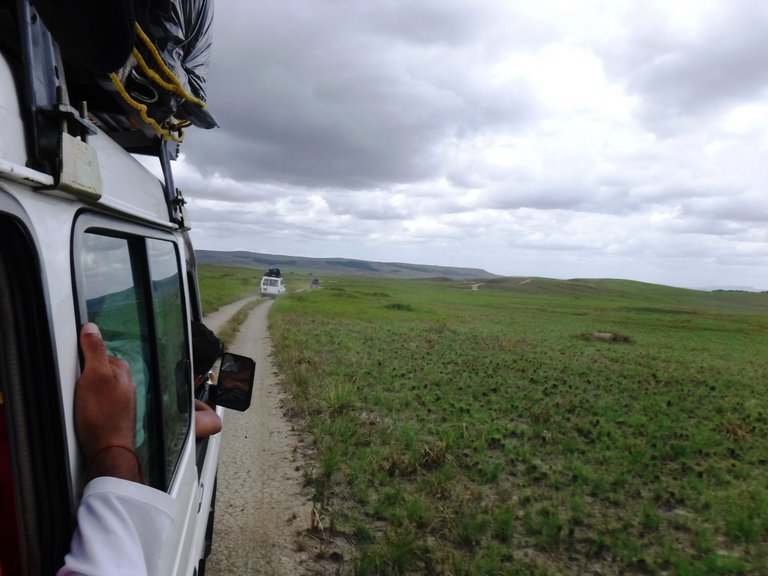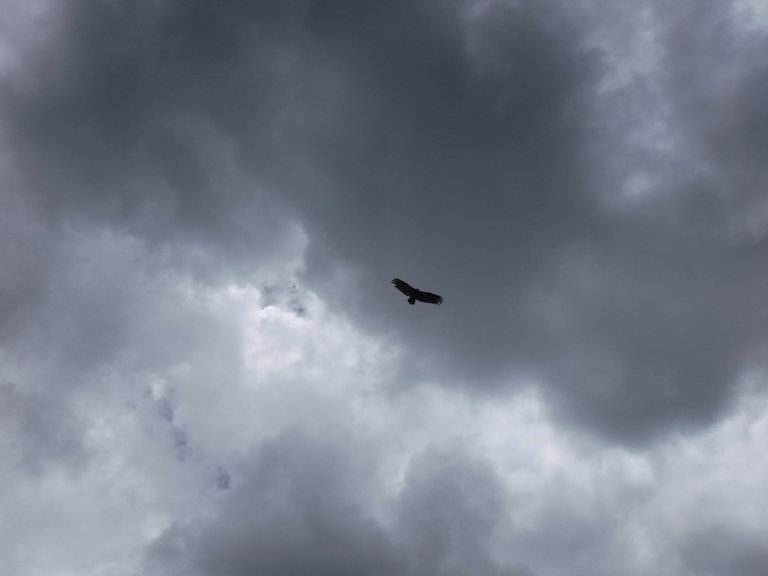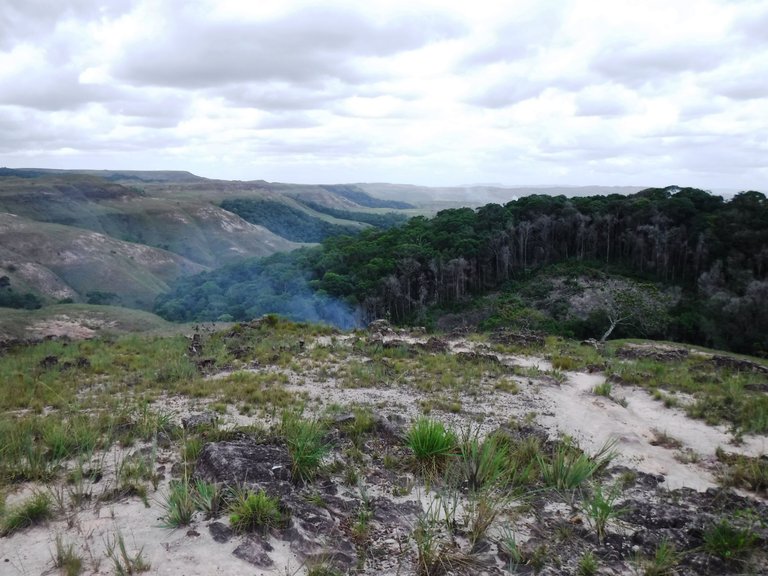 The star destination of this day was the Agua Fría (Cold Water) Falls or Anata-Pué, its name in the Pemón indigenous language. To get there you have to go down a path and enter the thick forest, we were all very excited about what we were going to find there.
El destino estelar de este día era el Salto Agua Fría o Anata-Pué, su nombre en lengua indígena pemón. Para llegar hasta ahí hay que bajar por un sendero e internarse en el espeso bosque, estábamos todos muy emocionados por lo que nos íbamos a encontrar ahí.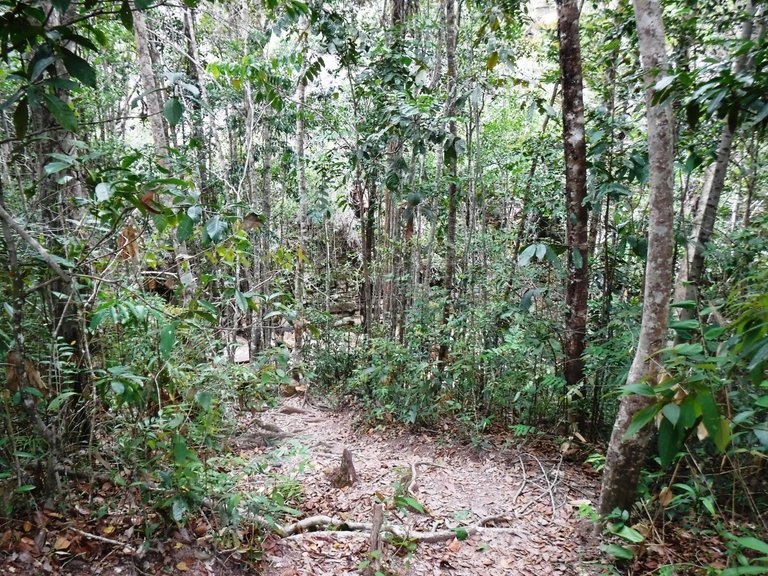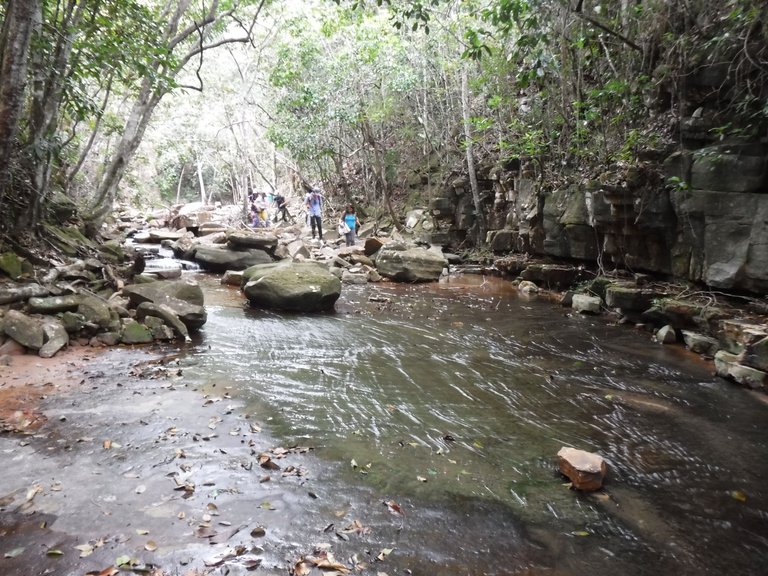 When the riverbed appeared, we took off our shoes and walked through the water in socks, this way you don't slip on the stones, they give you an excellent grip.
Cuando apareció el cauce del río nos quitamos los zapatos y caminamos por el agua en medias, de esta manera no te resbalas por las piedras, te dan un excelente agarre.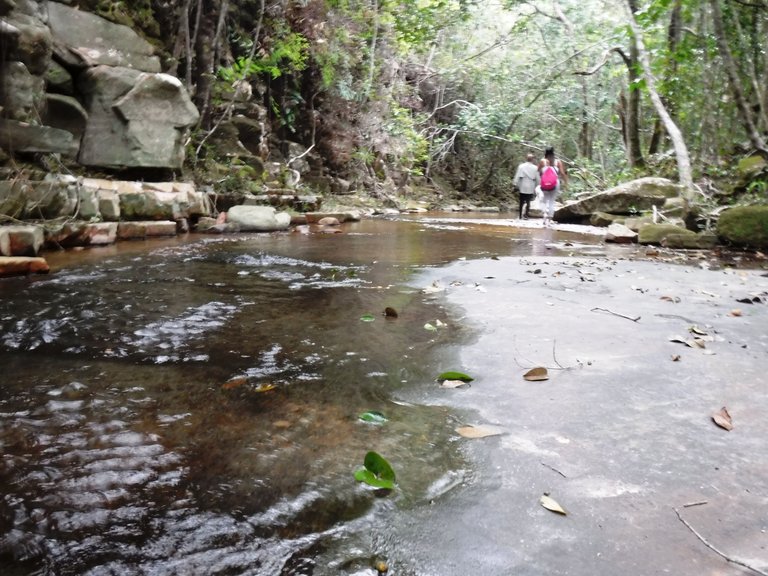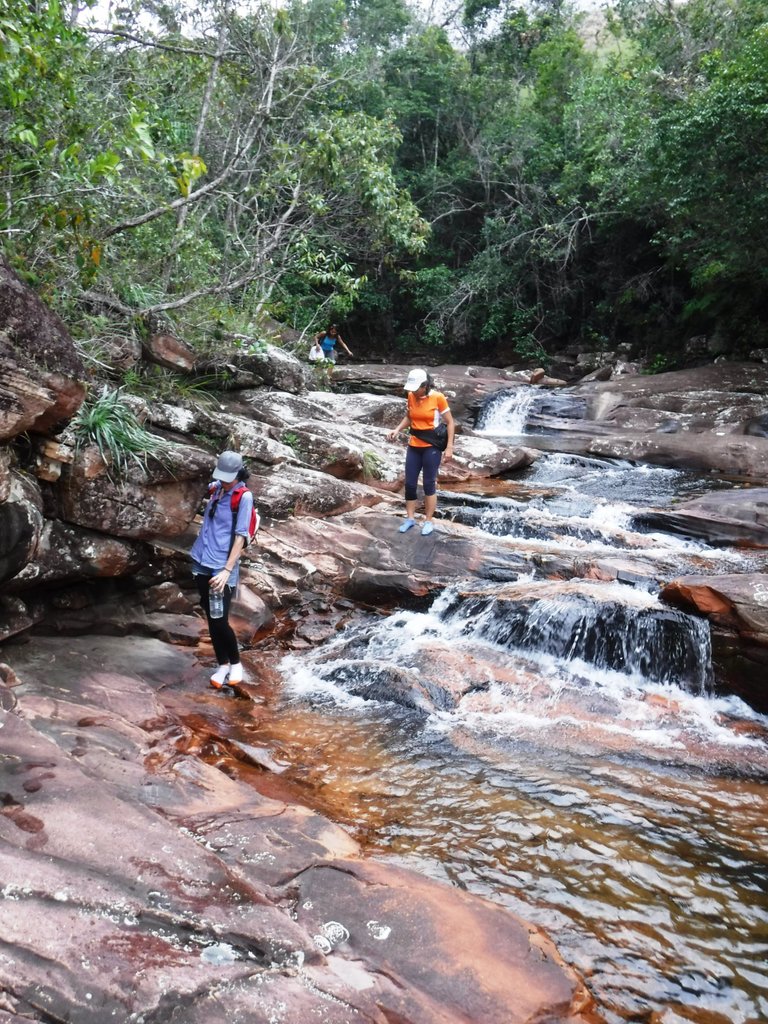 The route there led us to a part that ended in an abrupt waterfall and when looking up we can see the endless savanna landscape, the guide informed us that this point or viewpoint is known as The Window to Heaven or The Door from Heaven, deserved name, what do you think?
La ruta por allí nos condujo hasta una parte que terminaba en una abrupta caída de agua y al levantar la vista se ve el interminable paisaje sabanero, el guía nos informó que a este punto o mirador se le conoce como La Ventana al Cielo o La Puerta del Cielo, merecido nombre, ¿ustedes qué opinan?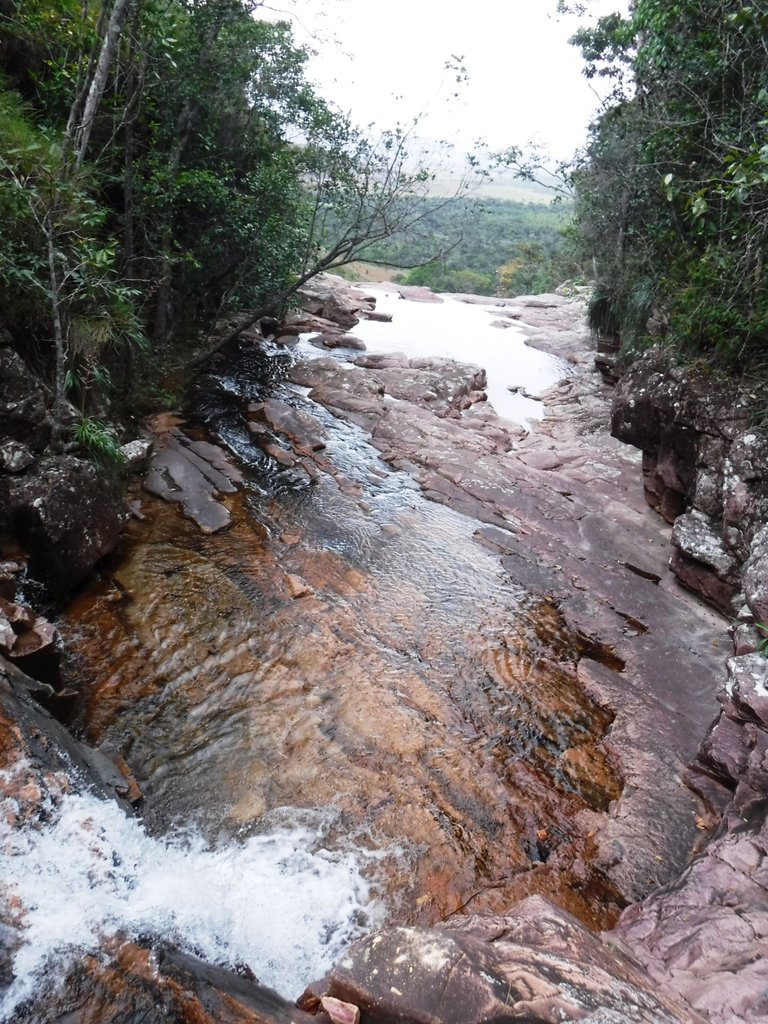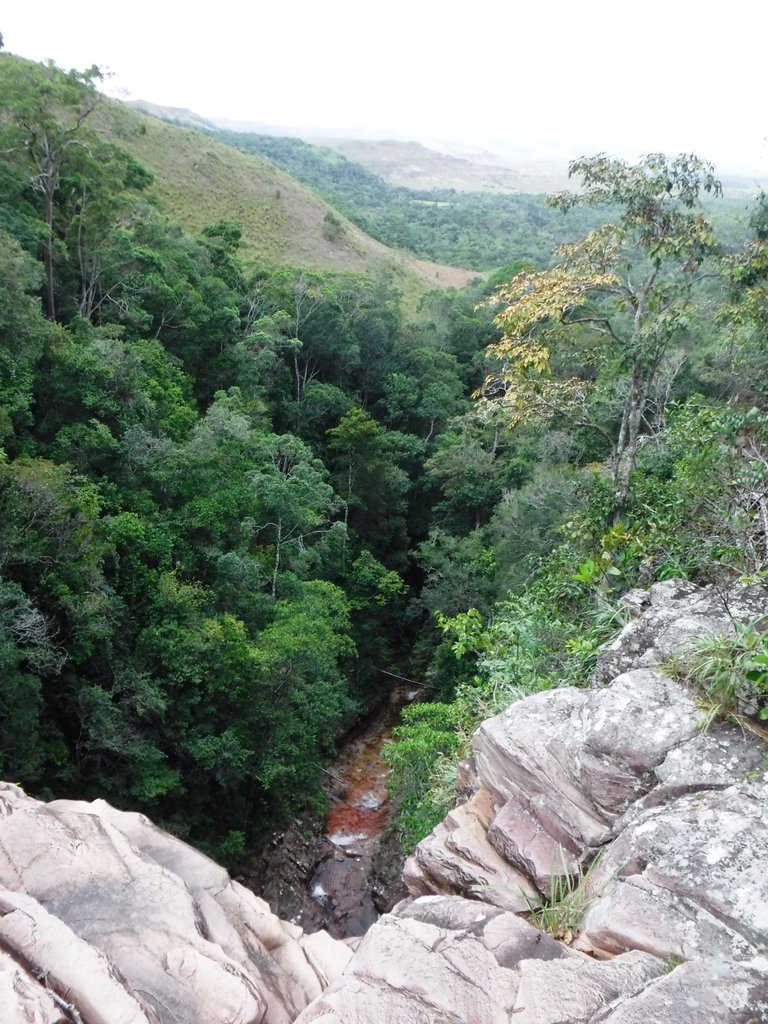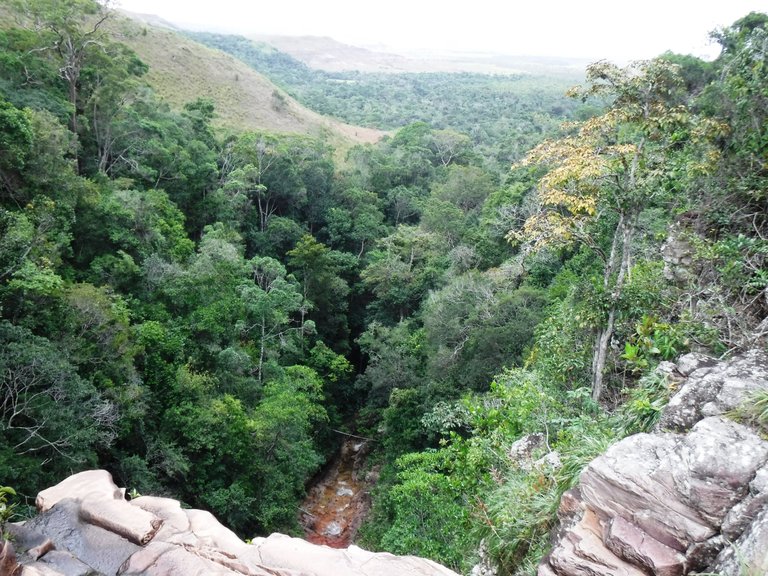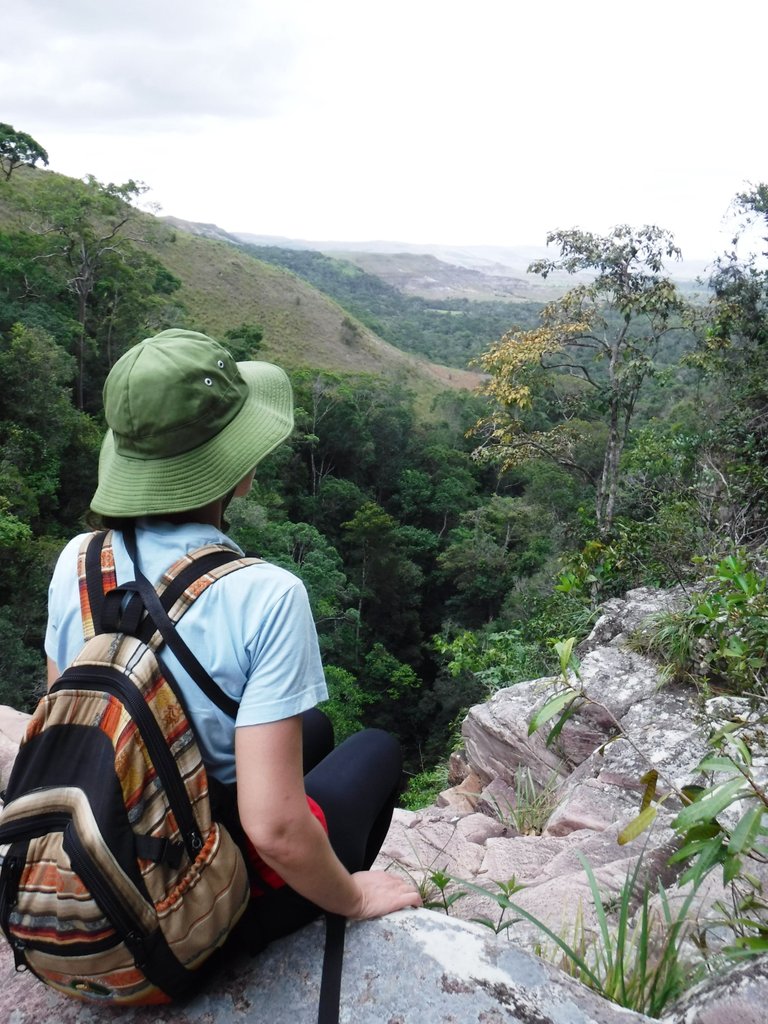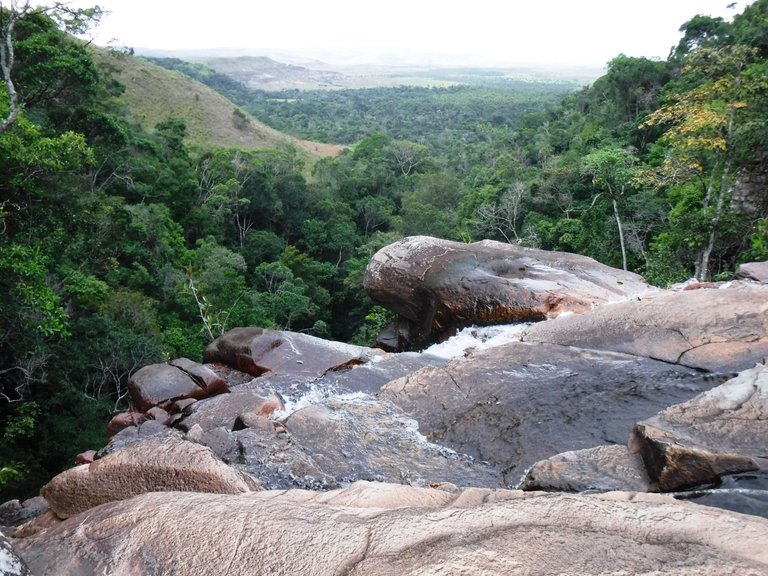 Some people in the group, including me, we cooled off in the small waterfalls that were around, I must say that the water was rudely cold.
Algunas personas del grupo, incluyéndome, quisimos refrescarnos en las pequeñas cascadas que había alrededor, debo decir que el agua estaba groseramente fría.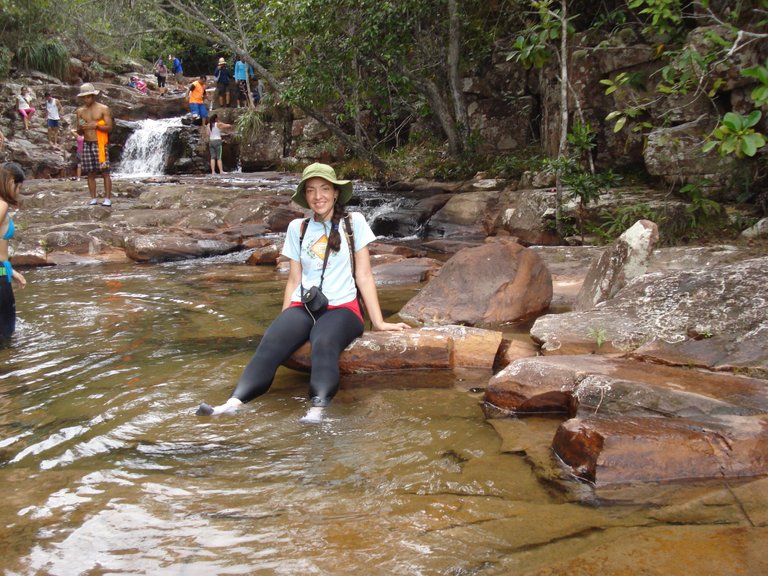 Photo credit: @gatubela / Crédito de la foto: @gatubela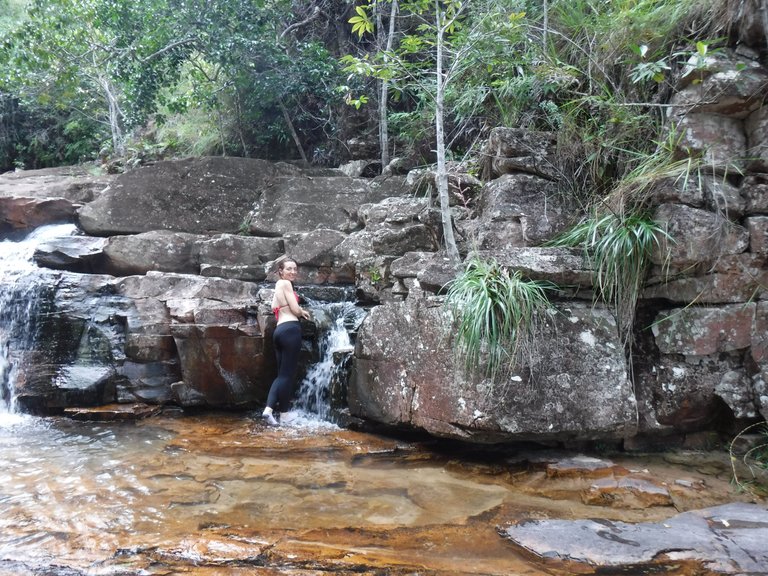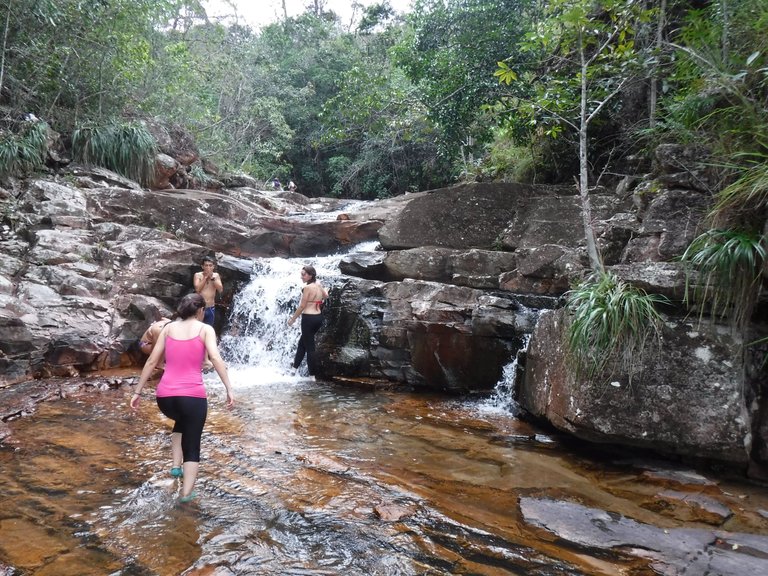 Then we went back along the path to go to the Agua Fría waterfall, which has a large pool surrounded by rocks from where you can jump into its icy waters without anesthesia hahaha, I think it's the best way. My sister didn't want to take a dip.
Después nos devolvimos por el sendero para ir al Salto Agua Fría, el cual tiene una amplia poza rodeada de rocas desde donde te puedes lanzar a sus heladas aguas sin anestesia jajaja, creo que es la mejor manera. Mi hermana no se quiso zambullir.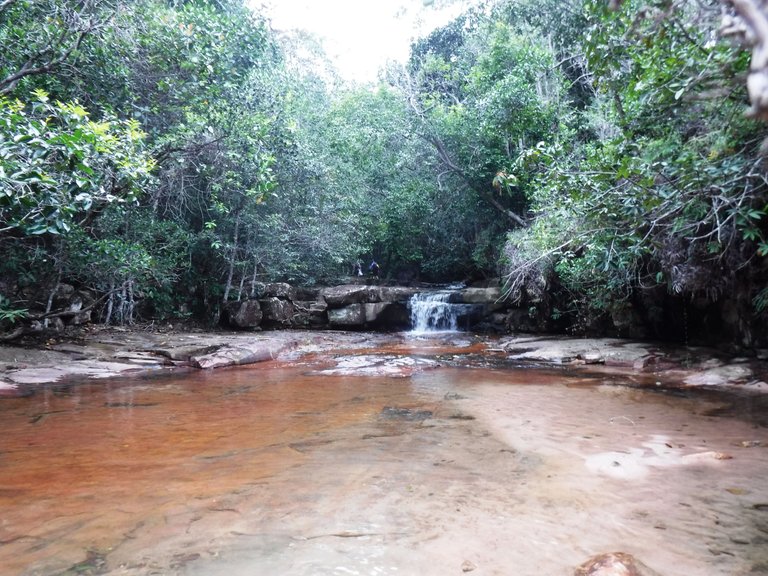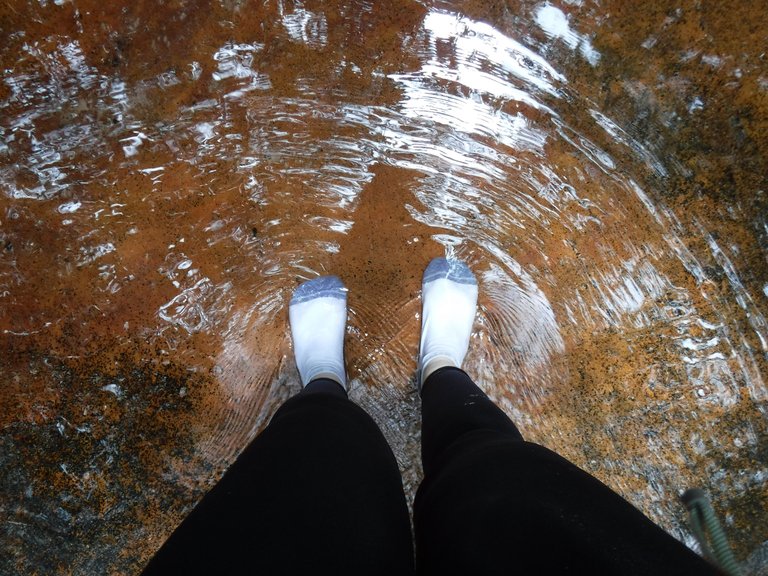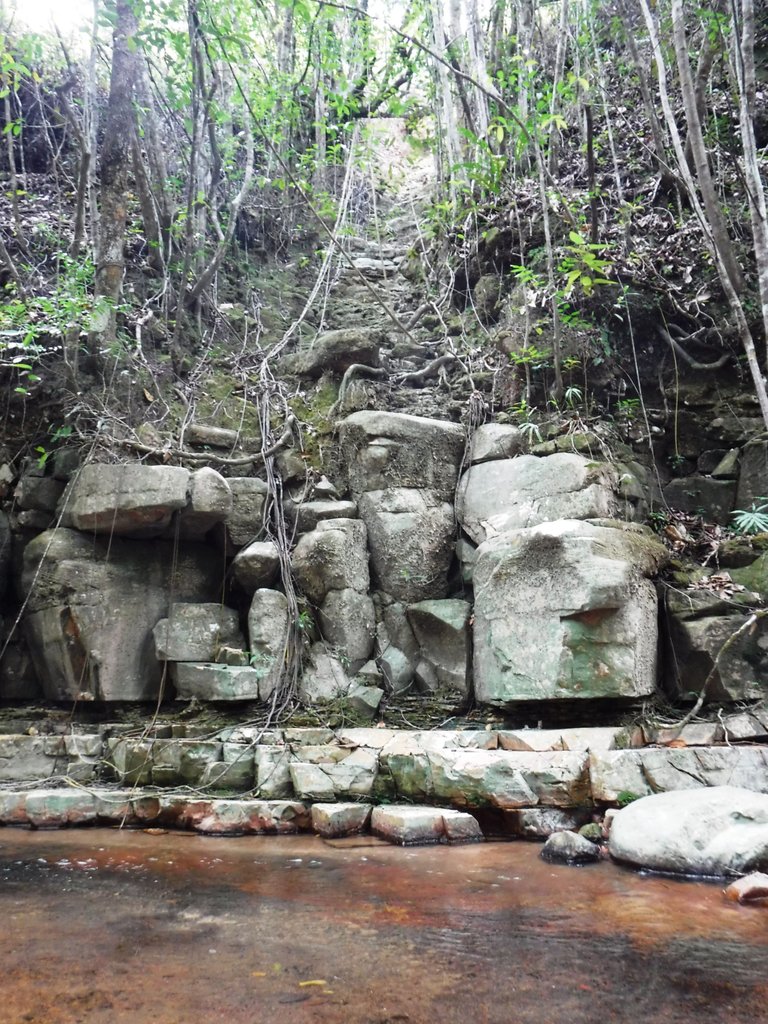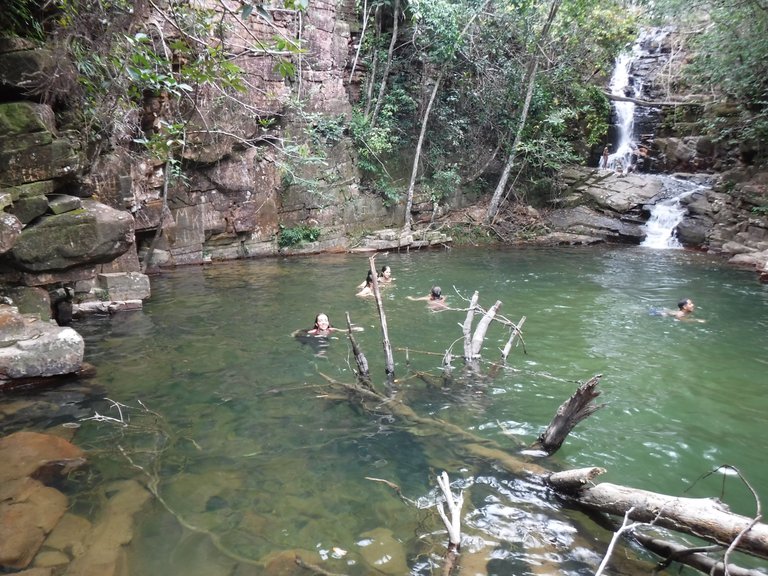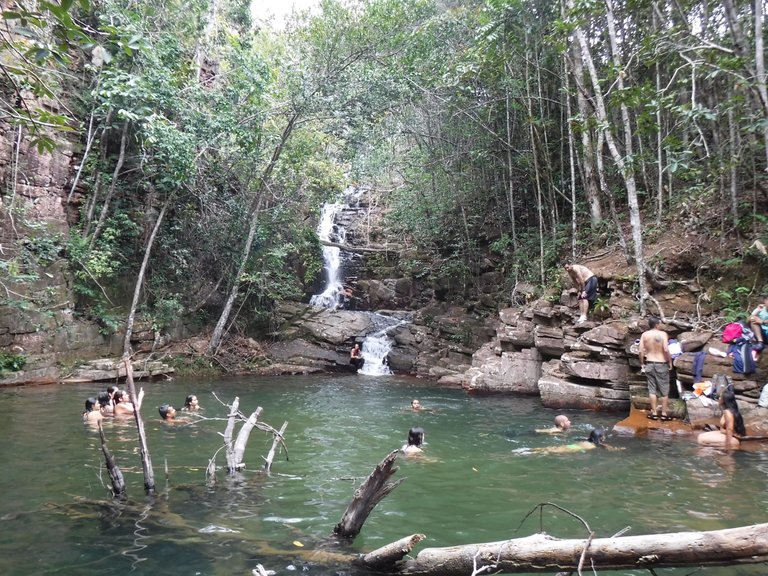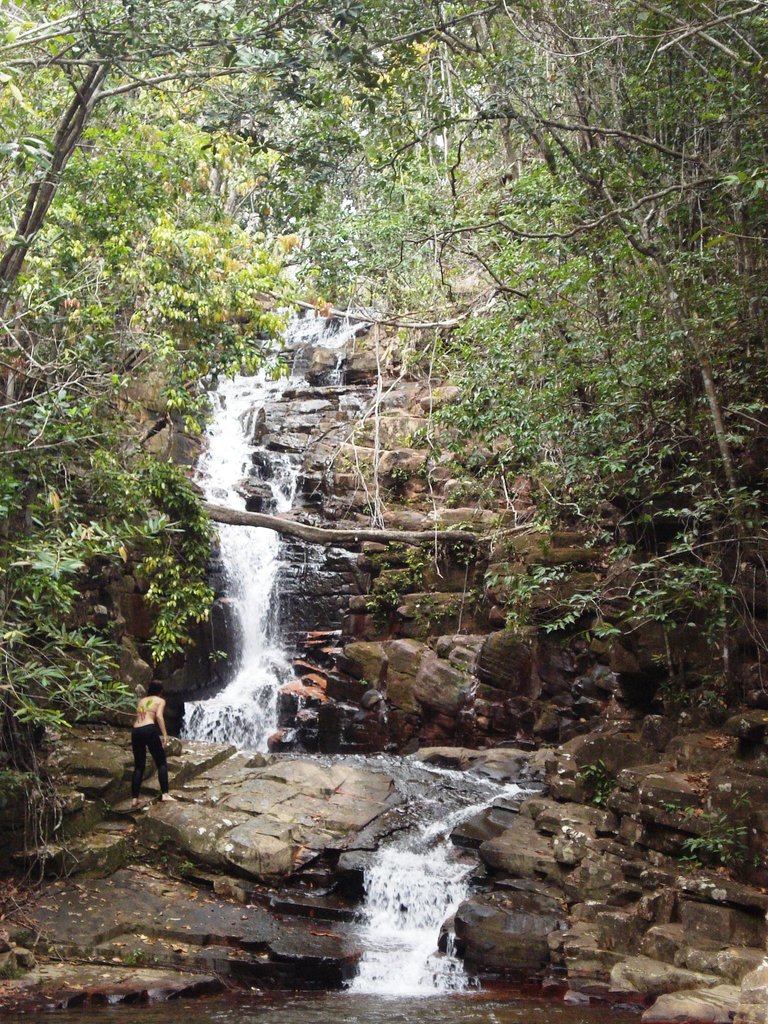 Photo credit: @gatubela / Crédito de la foto: @gatubela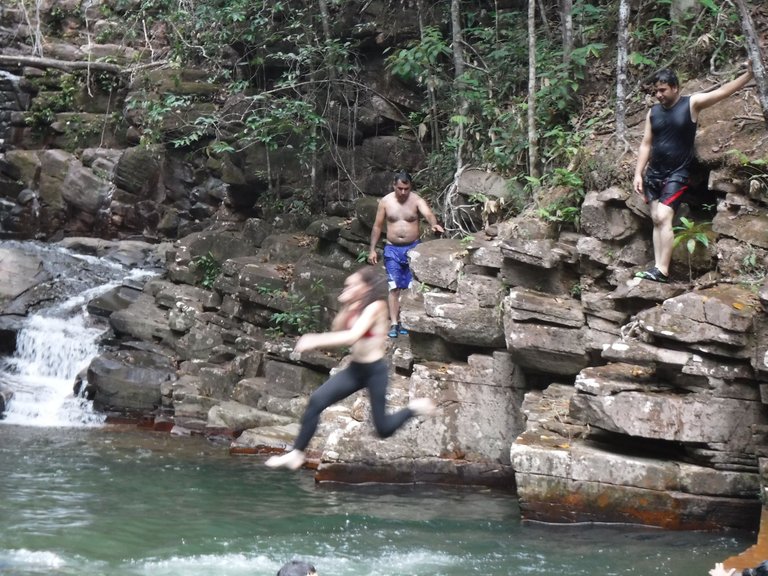 Me, to the water! / Yo, ¡al agua!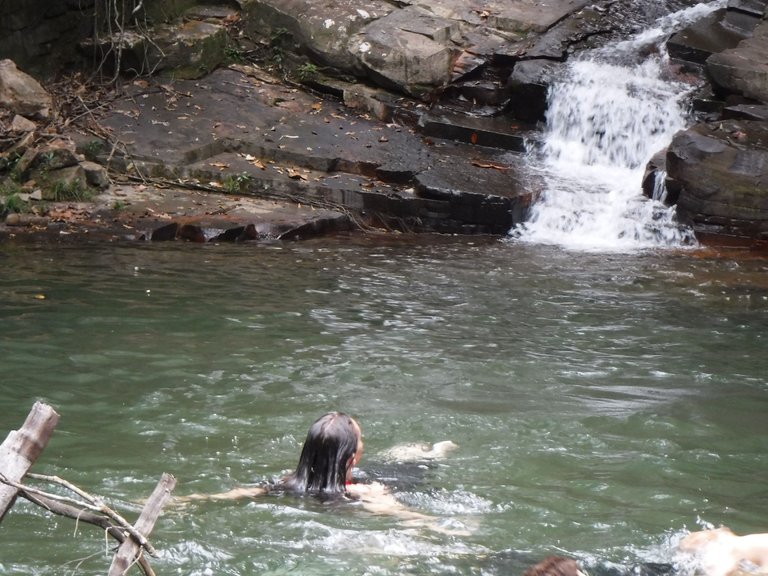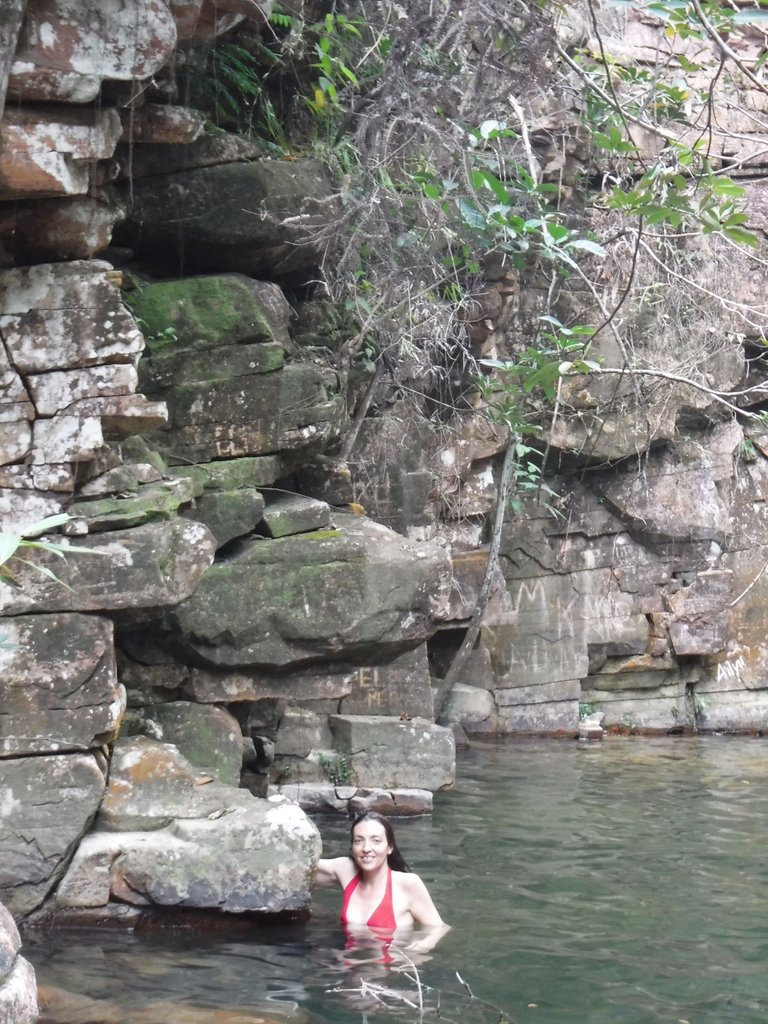 It was already around three in the afternoon when we left from there to the place where we were going to set up camp for the night, near the Velo de la Novia (Bridal Veil) waterfall. The place is beautiful, surrounded by some small elevations to which we climbed to take some photos, the bad thing is that the famous and tiny puri puri insects, the plague of this region, sucked a lot of my blood on the way, my sister came out unharmed because she wore long sleeves or who knows why.
Ya eran como las tres de la tarde cuando nos fuimos de ahí hasta el lugar donde íbamos a montar el campamento para pasar la noche, cerca del Salto Velo de la Novia. El lugar es bellísimo, rodeado de unas pequeñas elevaciones a las que subimos para tomar algunas fotos, lo malo es que los famosos y diminutos insectos puri puri, la plaga de esta región, me chuparon bastante sangre en el camino, mi hermana salió ilesa porque llevaba mangas largas o quién sabe por qué.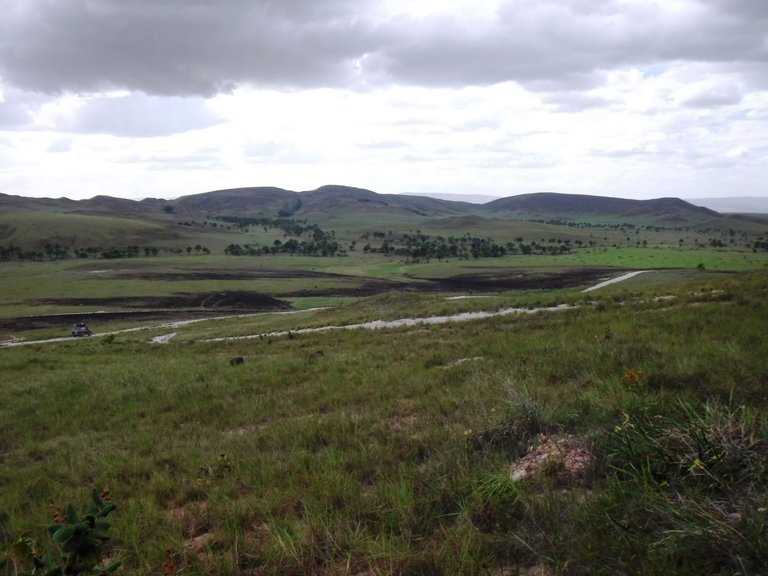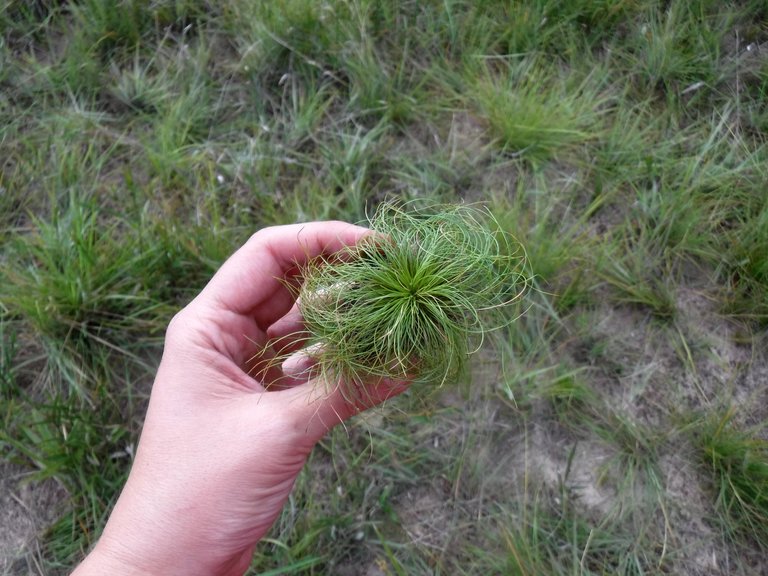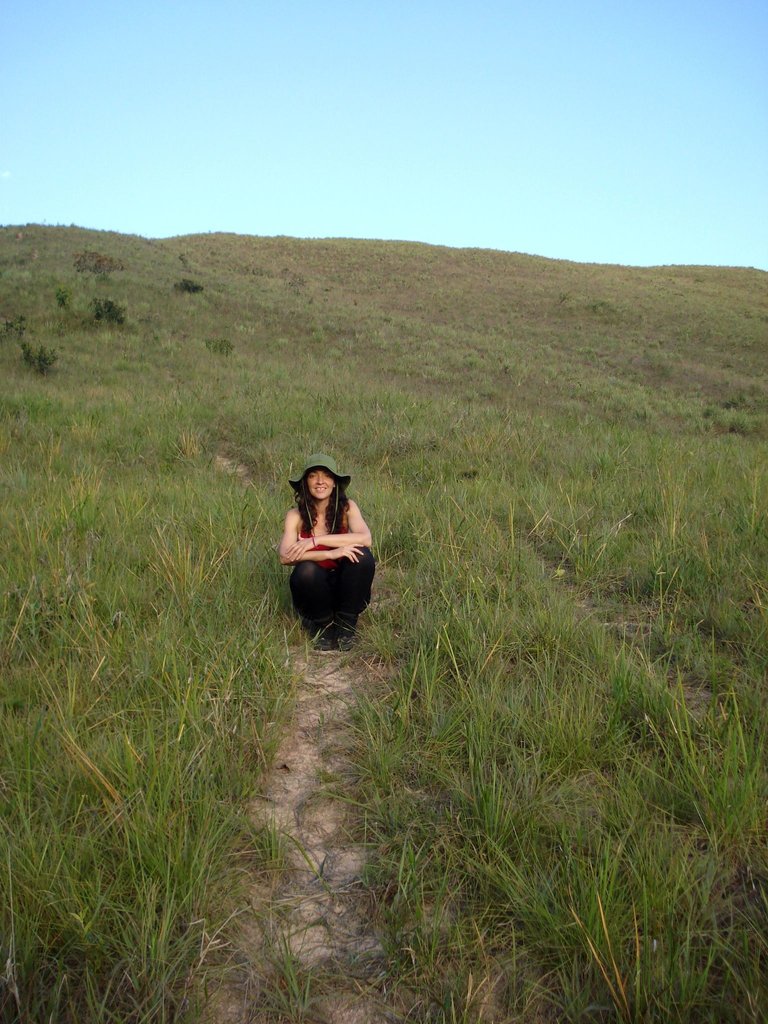 Photo credit: @gatubela / Crédito de la foto: @gatubela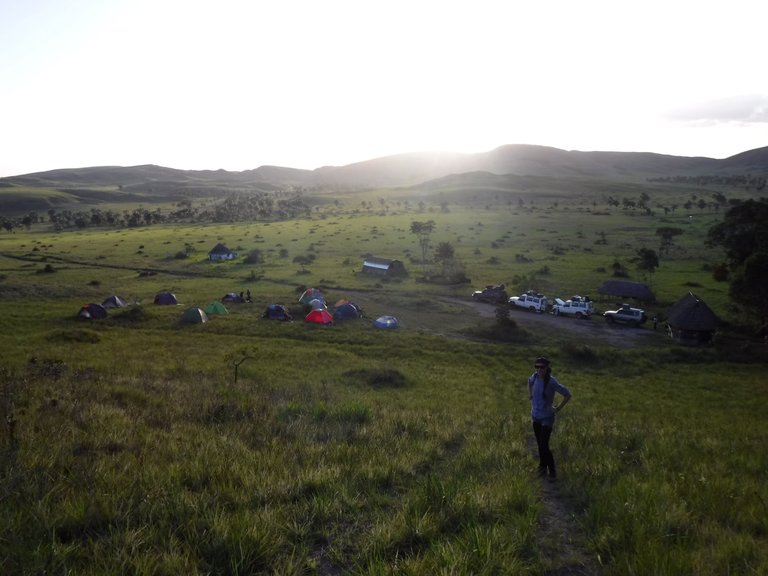 My sister and the view of our camp / Mi hermana y la vista de nuestro campamento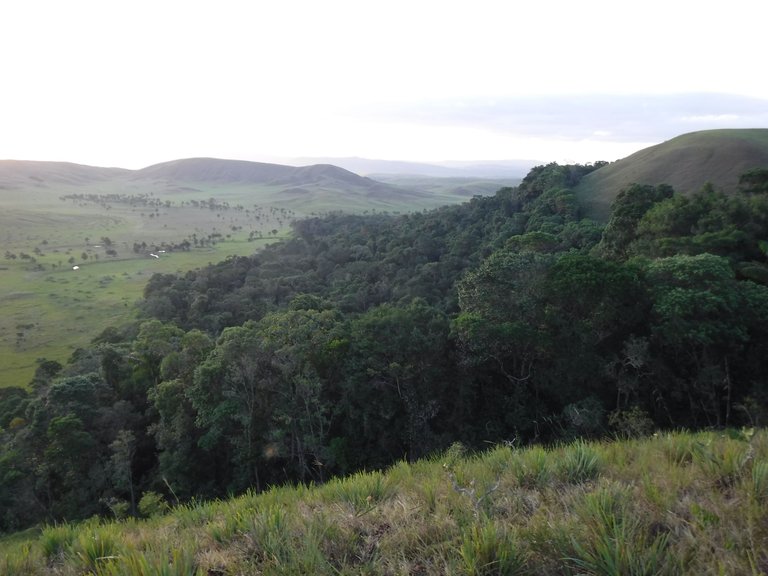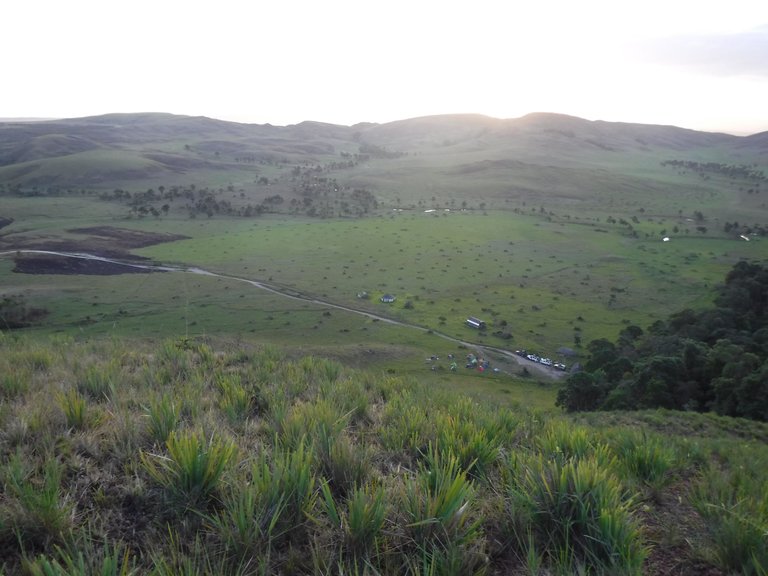 At night some people from the group had put on music and stayed up late dancing, we went to the tent around 10, anyway I didn't sleep much because I had some itching in various parts of my body, the puri puri sabotaged my rest… the moon was very beautiful at that hour.
En la noche algunas personas del grupo habían puesto música y se quedaron hasta tarde bailando, nosotras nos acostamos como a las 10, igual no dormí mucho porque tenía algo de picazón en varias partes del cuerpo, los puri puri me sabotearon mi descanso… la luna estaba muy bonita a esas horas.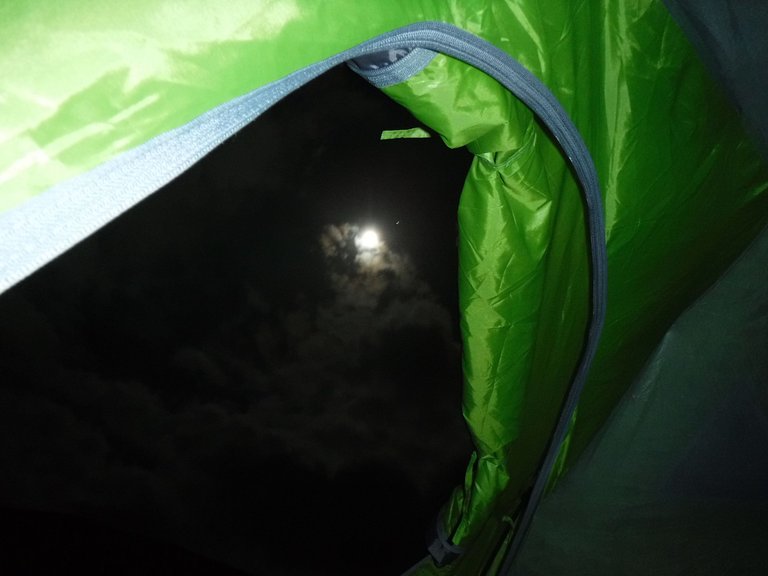 This journey through La Gran Sabana will continue…
Esta travesía por La Gran Sabana continuará…
If you want to read Part I, go here:
Si quieres leer la I Parte, entra acá:
Gran Sabana Tour - Venezuela, Part I: Arriving at Bolivar state, Stone of the Virgin and the Kamoiran Rapids / Tour Gran Sabana - Venezuela, I Parte: Llegando al estado Bolívar, Piedra de la Virgen y los Rápidos de Kamoirán
THANKS FOR READING! / ¡GRACIAS POR LEER!
Except the ones I mention were taken by my sister, the other photos are my property / Excepto las que menciono fueron tomadas por mi hermana, las demás fotos son de mi propiedad