Hikking adventure to Frey Refuge ⛰️
---


A couple of weeks ago, I share another hikking experience I did while being on holidays in Bariloche, Argentina. You can check it out here!.
This time, I will be sharing my experience in a 10km trail to get to the Frey Refuge, one of the oldest and most popular hikkings you can do. Although it is somehow physically challenging, it's a lovely way to enjoy awesome and breathtaking landscapes, as well as getting your exercise done for that day!

Our way to Frey Refuge
Frey Refuge can be found 1700 masl, it's one of the most popular refuges in Bariloche and it's pretty easy to hike over there, in comparison to the rest of the Refuges. It's located at the top of a beautiful hill that's surrounded by Gutierrez Lake and Nahuel Huapi Lake. Due to this, the sights you get while hikking are simply stunning!
My friends and I decided to go on this hikking adventure the previous day, in which we had visited a beach that's near the beginning of Frey Refuge's path. We got everything we needed to take with us: fruit, some sandwiches to have lunch at the top of the hill, water (of course), some snacks and lots, lots of sunscreen.
To hike to Frey Refuge, you have to get to Gutierrez Lake. This place gives you a lot of different things to do, as shown in this sign: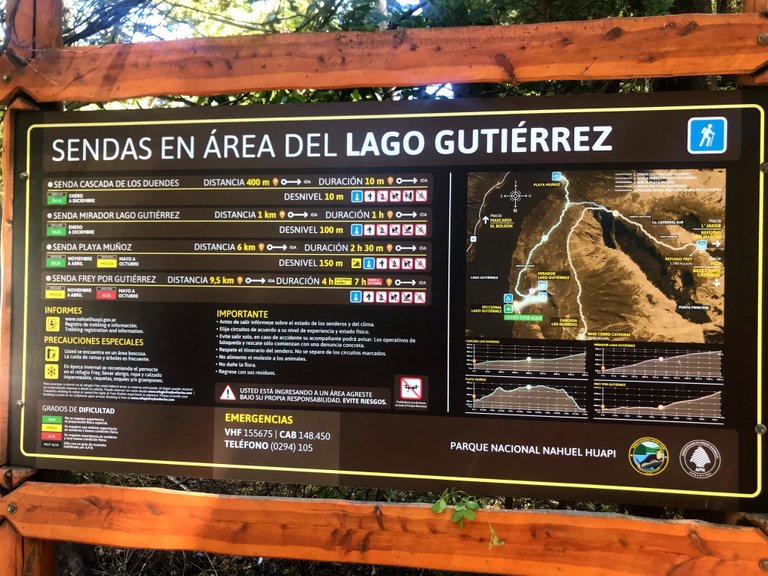 Informative sign of all the different paths you can follow in the Gutierrez Lake
You can either choose between visiting a waterfall, do a small 1km hike till you get to a panoramic point in which you can see all Gutierrez Lake, visit this beach we had been the previous day and, at last but not least, the almost 10km hike to Frey Refuge.
This hike allegedly supposed to be done in 4 hours in summer and in 7 hours during winter season, mostly due to the snow. Truth is that we never found out how those 4 hours were calculated, as we got to the top in about 2 hours and 15 minutes.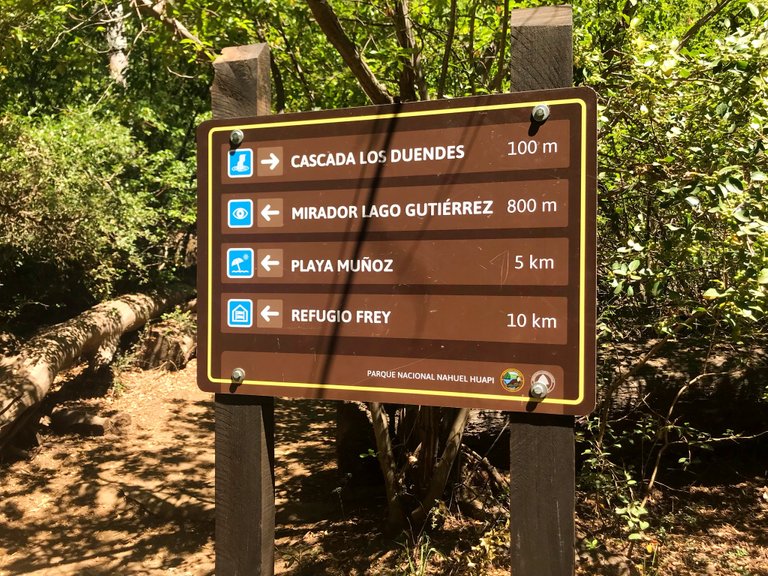 Informative sign with the different directions to take - we were heading to a waterfall and then to Frey Refuge
We started our journey by visiting the Cascada de los Duendes (Elf's Waterfall) that was just 100m away from where we were starting.
It was beautiful and worth it, we enjoyed the waterfall for a while, before getting into the hikking.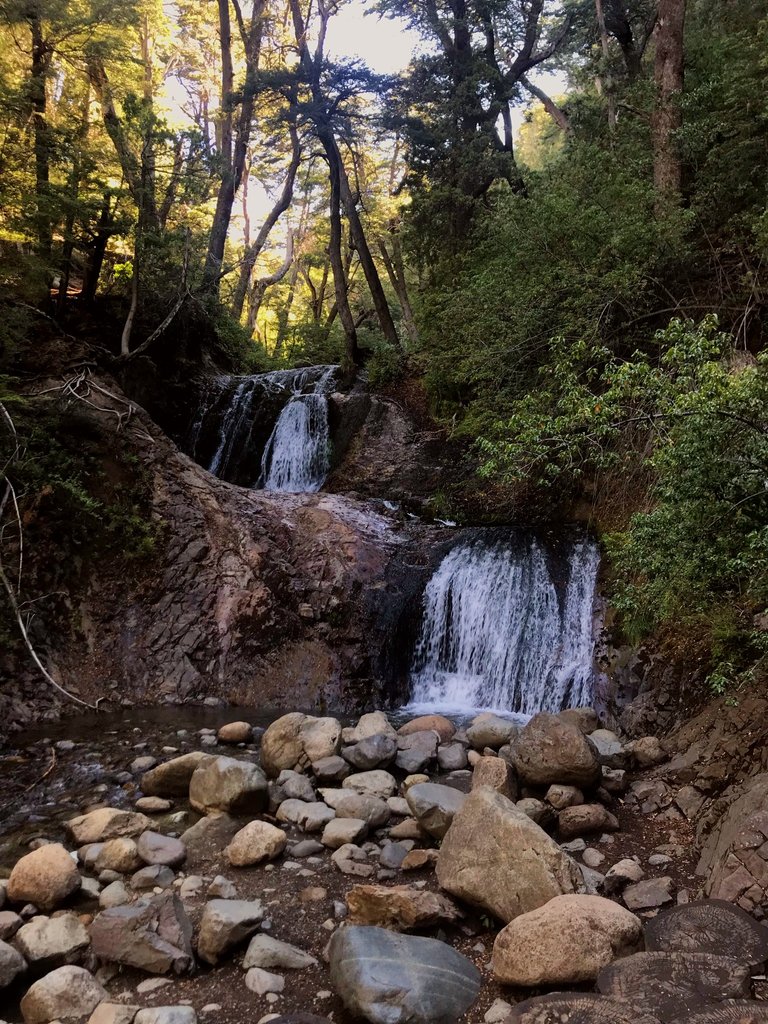 Elf Waterfall, really beautiful place to relax for a while

And off we went to what we thought it'd be a 4 hour adventure!
As soon as we got out of the forest part of the path, which didn't last longer than a few metres, the flora changed. There were no more tall trees, but a lot of bushes. Luckily the path was very easy to follow: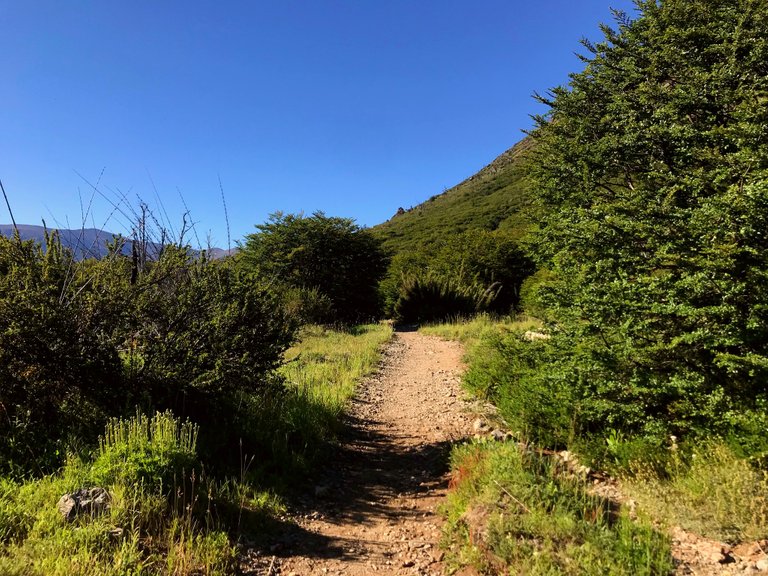 Bushes, bushes and more bushes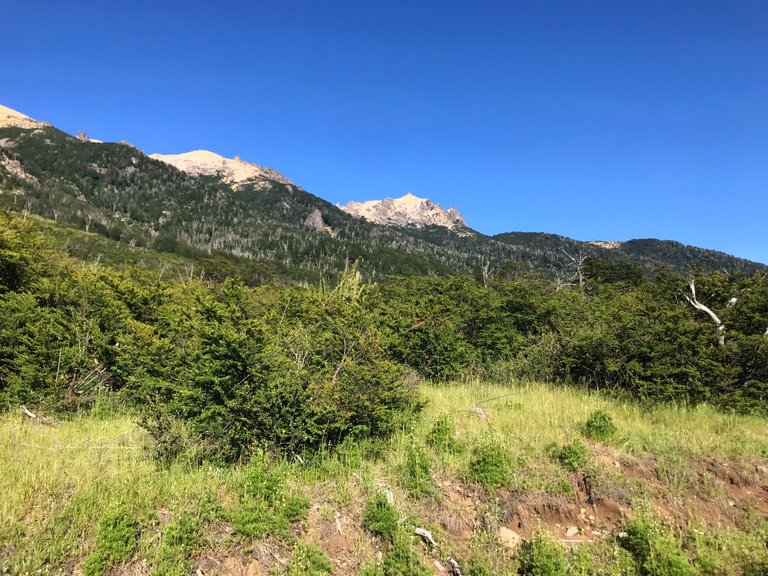 Raw nature <3
One of the things I love the most about hikking is that you get to see and enjoy nature at it's purest way. People are conscious that they need to be as careful as they can be to avoid any negative impact they might have on the environment. I'm glad to say that there was no litter between the bushes or any sign of damage made by humans.
It was a beautiful bright day, it wasn't that hot and the sky was crystal clear. We started, little by little, to gain elevation and the landscapes were beginning to show. We were almost alone at that time, as we had started at 8am, there was no one but us hikking there or getting down from the Refuge. It was incredibly peaceful to be able to be by ourselves enjoying such beautiful experience.
This was our first stop, not to drink water or have something to eat, but to take pictures, lol: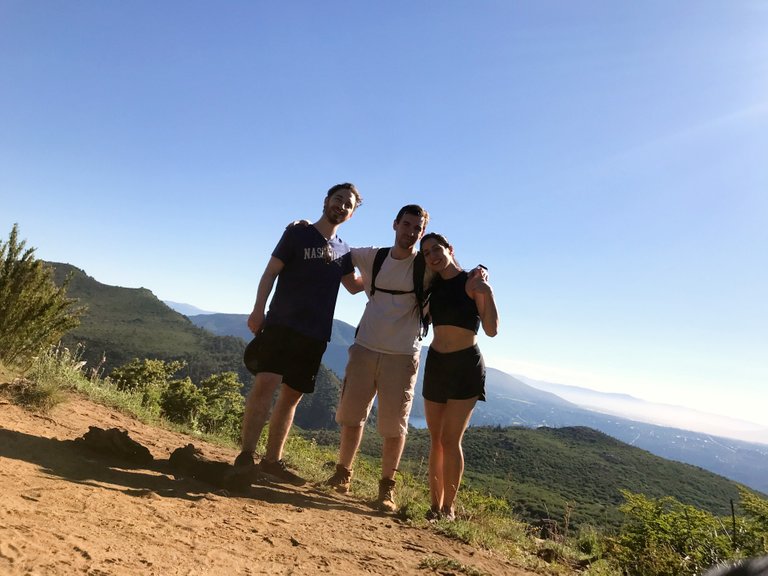 My friends and I enjoying the first nice sightseeing at the hikking, 5km since we started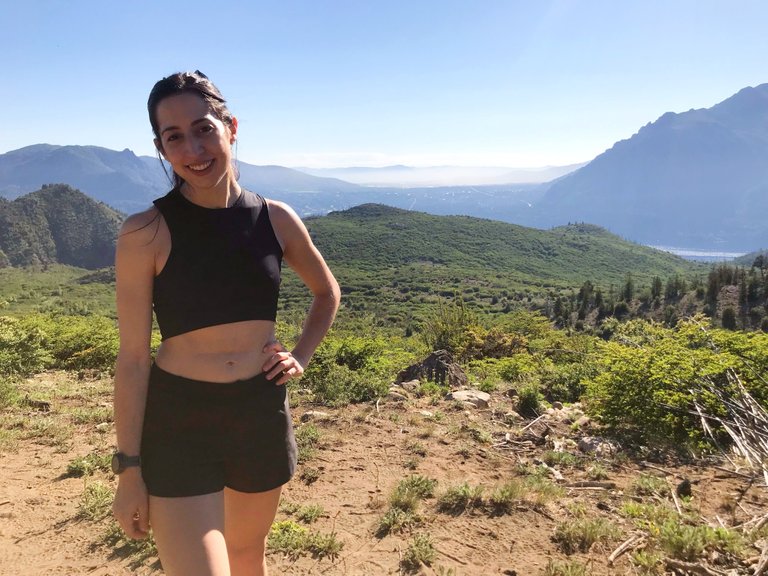 This is me, same spot as the previous one
At that moment, we were already into 5km into the hikking. So far, it had been incredibly easy to follow, as the elevation was really subtle. We got our first sight from the Gutierrez Lake, we enjoyed the view for a while and then we kept on walking. We were already half way and we were feeling great... we thought it'd be as easy as that all the way, but we were really wrong hahaha.

Up and up we hikked.
The flora started to change a bit, there were some shy trees starting to show, as we were getting closer to a forest. Lucky for us, as it was getting hotter and hotter, as we tried to protect ourselves as much as we could from all sun damage.
I simply love this kind of landscapes: trees, a path, mountains and bushes all the way. It's so peaceful!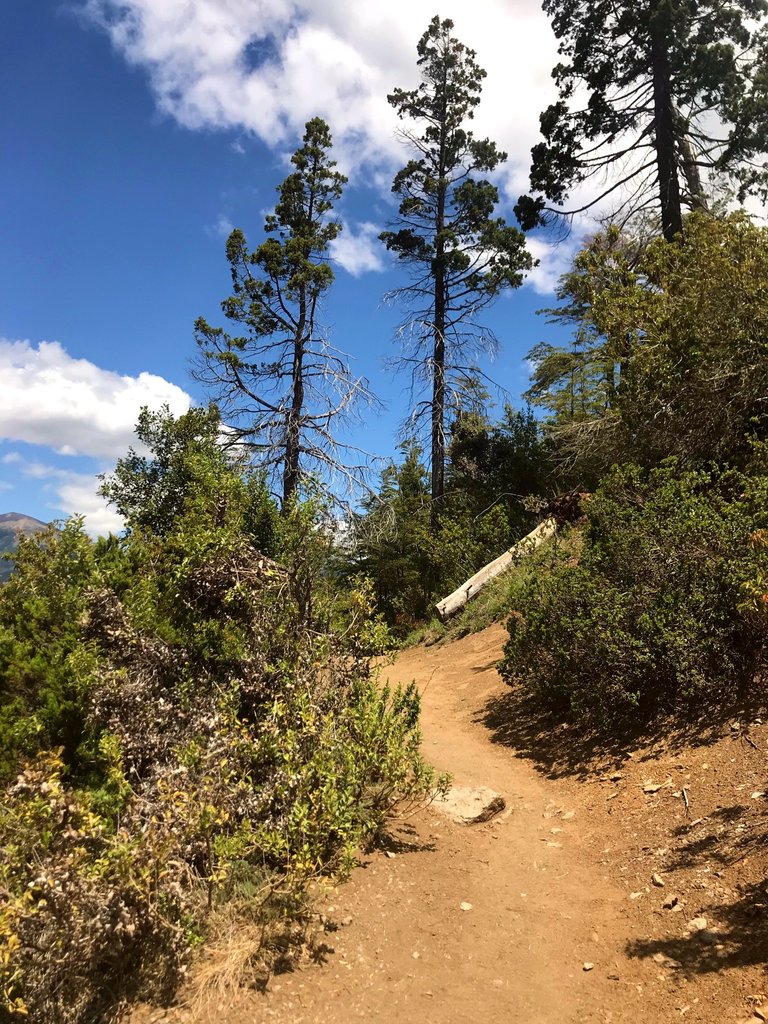 Slight elevation gain, flora started changing... the forest was near
As we kept walking, and almost 7km into the hike now, we got even more beautiful sightseeings of the lake. Sun was shinning, the sky was clear and we were having a really good time. Aside from the adventure itself, I got to know my friends from a different point of view, we talked about deeper things and that's something weird, as they're not always up for spiritual conversations, lol.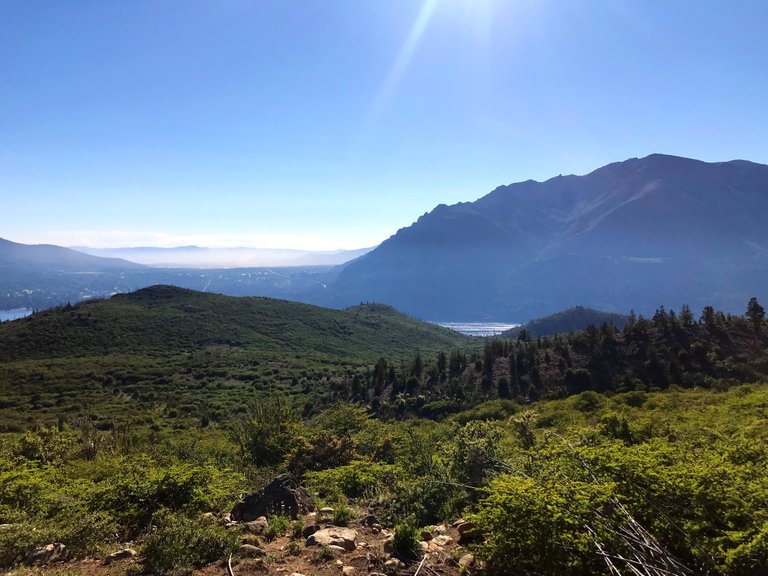 Hills and Gutierrez Lake at the back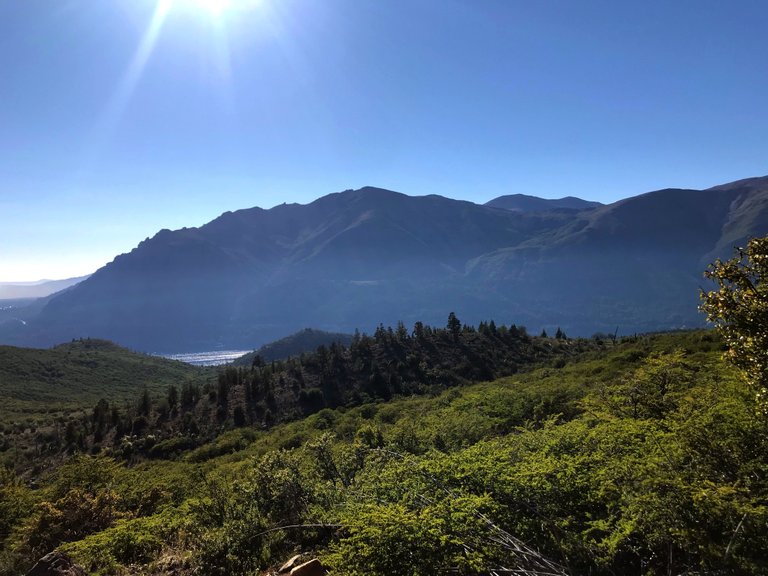 More hills and Gutierrez Lake at the back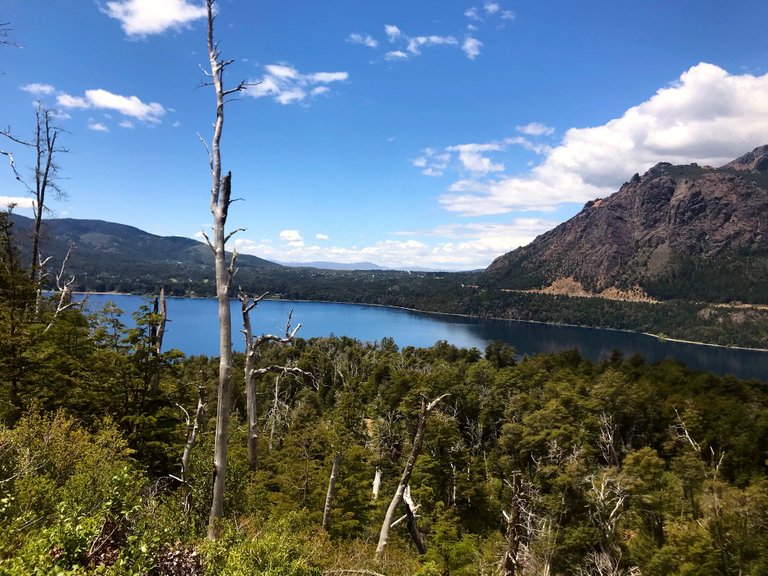 Reflecting lake, hills and trees. Beautiful!

When we got to the last km, which was the 9th, "the easy part" was over. Completelly over. Although we were gaining elevation little by little, it was more like a very easy walking path in which all we had to go was keep going.
We started to have something to eat as we saw a sign that said that we were only 1km away from the top... and that would take us up to an hour.
An hour just to hike 1km? Yeah. One hour. I still can't believe it... then we found out why: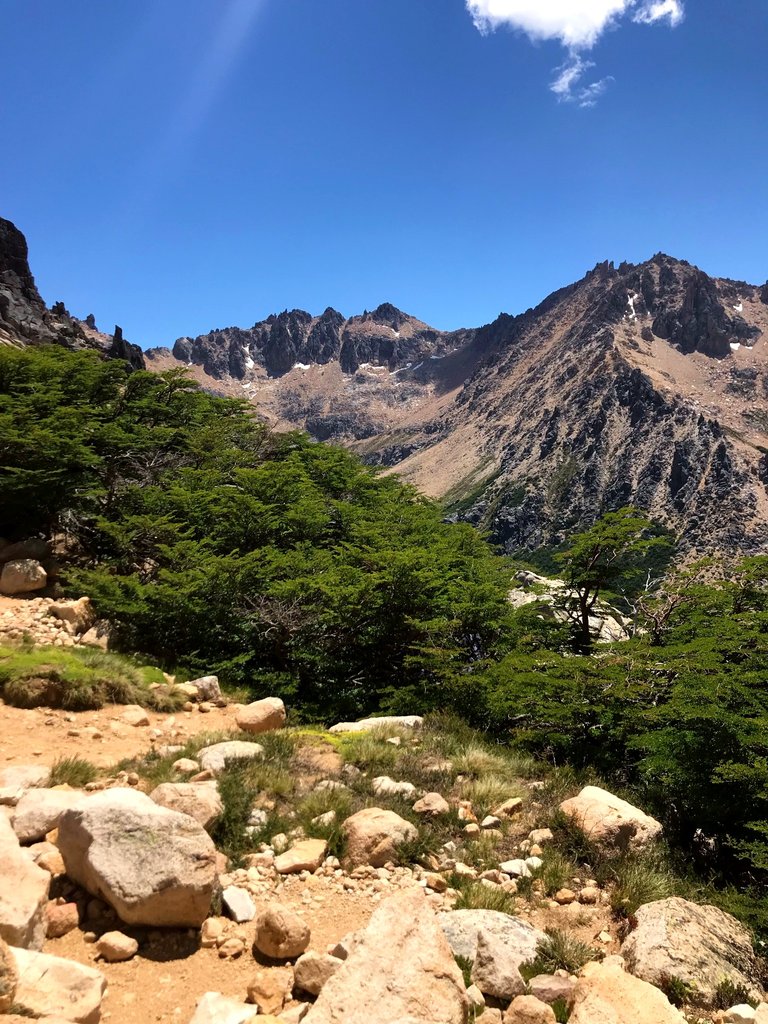 Last km of the hikking, a very rocky climb
The elevation increased in a very sudden way. Very sudden.
We couldn't walk quickly any more, we had to focus a lot on where we were stepping and it was challenging enough to make us climb from time to time. That last km was almost vertical and full of rocks, we had to be incredibly careful as we didn't want to get hurt or twist our ankles...
Climbing, little by little, we got almost to the top to catch some air. And that's when we saw what was on the other side of the rocks: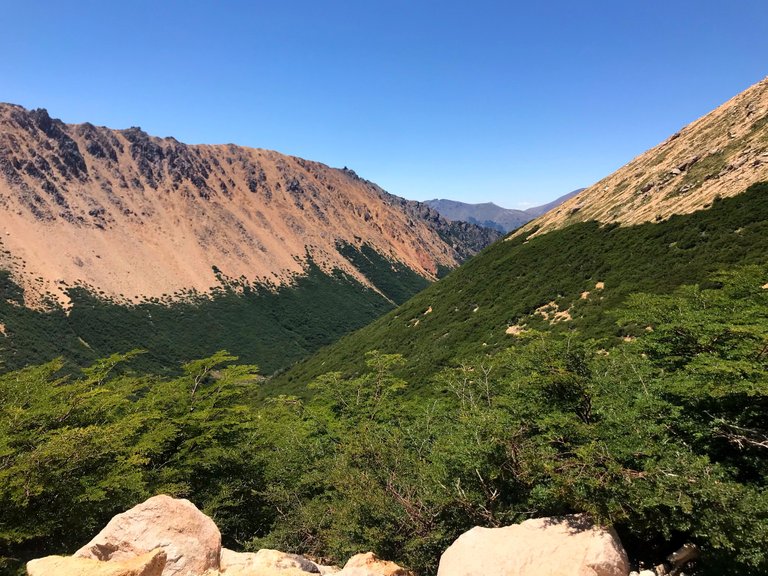 Hill conjuction, greenish vegetation and a great view!
The view was beautiful. All those green bushes and the joint of two different hills was simply breathtaking. We enjoyed the view for a while before heading up for the remaining 500m climb that we still had to do.
Then, I knew that the sign wasn't exaggerating: it took us 44 minutes to get to the top and complete that last kilometer. I had never, never in my entire life taken so much to do 1000m. As a runner, I'm used to running 10km in that time, so that was quite a new experience for me, lol.

Finally all the effort paid off!
We arrived at the top of the hill, we survived that last kilometer successfully and we were not defeated by the rocks, the climbing or even the annoying horseflies that were over there.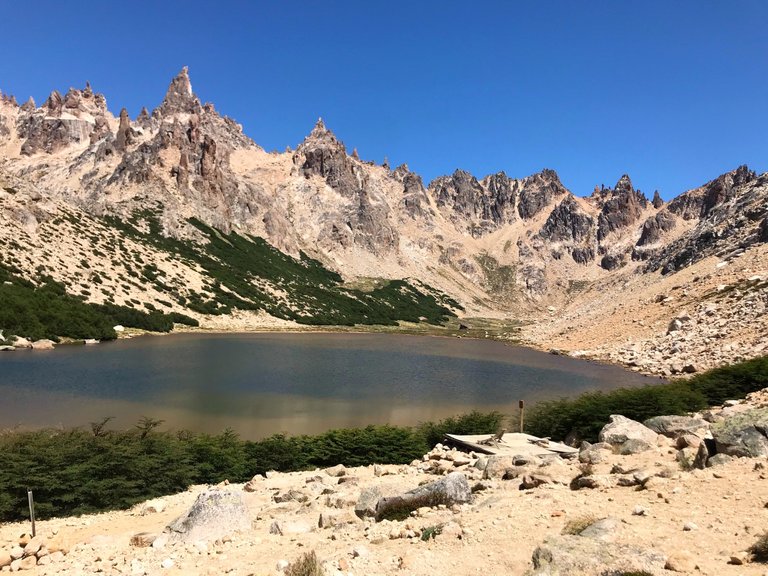 Toncek Lake, at top of the hill and next to Frey Refuge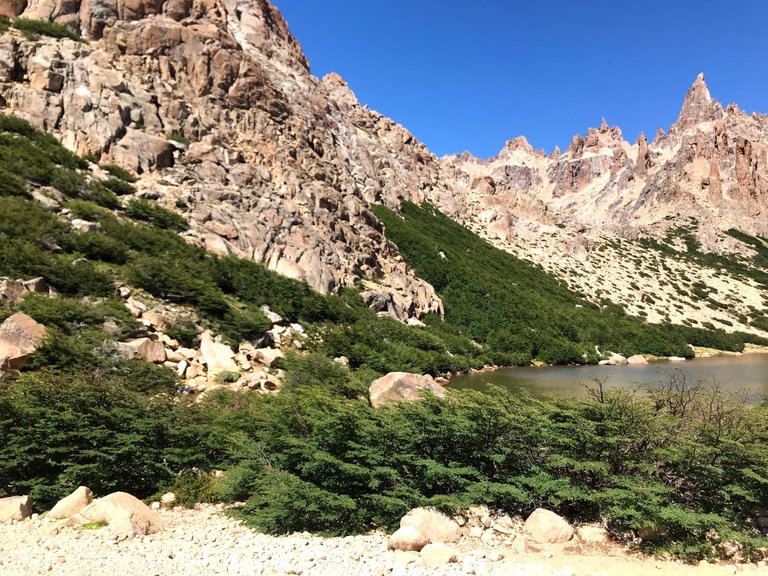 Rocky slope next to Toncek Lake
The view there was beautiful and so different from what I had seen. All those peaks and rocky formations were stunning. At the top of the hill there were two lakes, the one that you can see above is called Toncek Lake and it's the one that's nearest to the Frey Refuge. There's another one 2km away that's called Schmoll Lake, but we didn't get there as it meant two other km of climbing and we had enough of it, lol.

After being around for a while, we stopped to have lunch. We were incredibly ravenous after two hours of walking almost non-stop.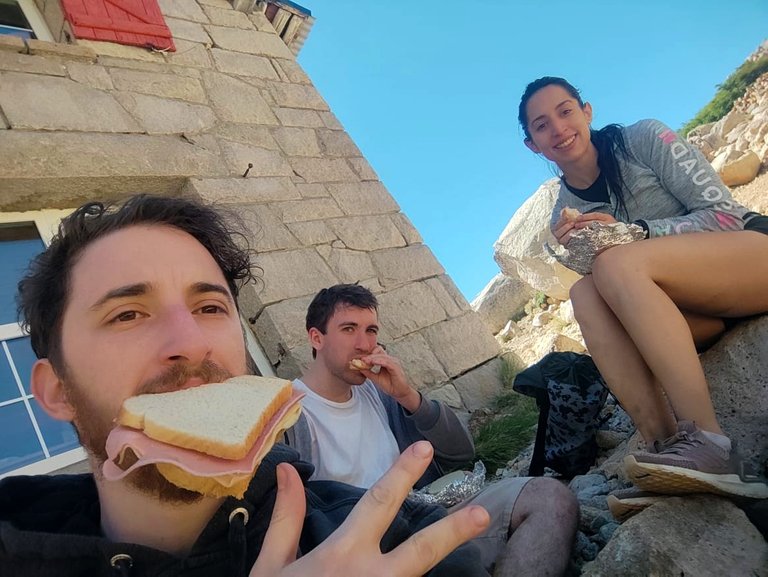 Lunch time!!
Of course, then it was picture time! The sights were beautiful, so we wanted to have nice memories from it... specially as we live in Buenos Aires, where we don't have any hill at all and it's a very different activity for us to do.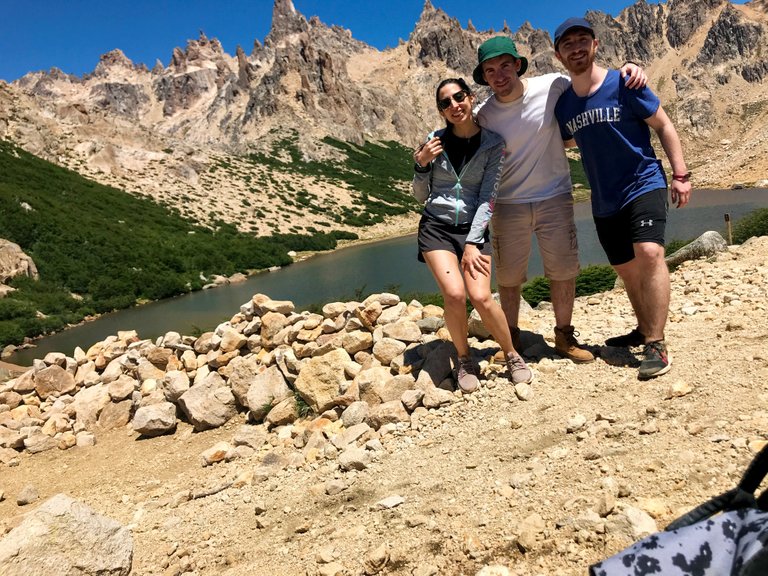 My friends and I next to Toncek Lake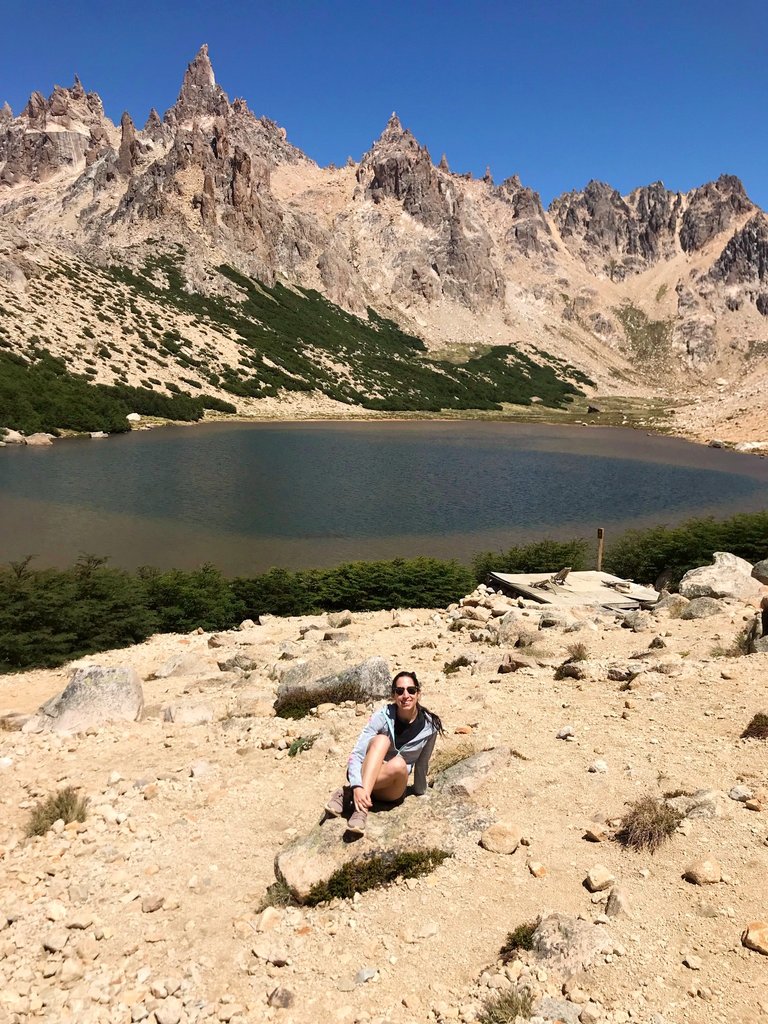 This is me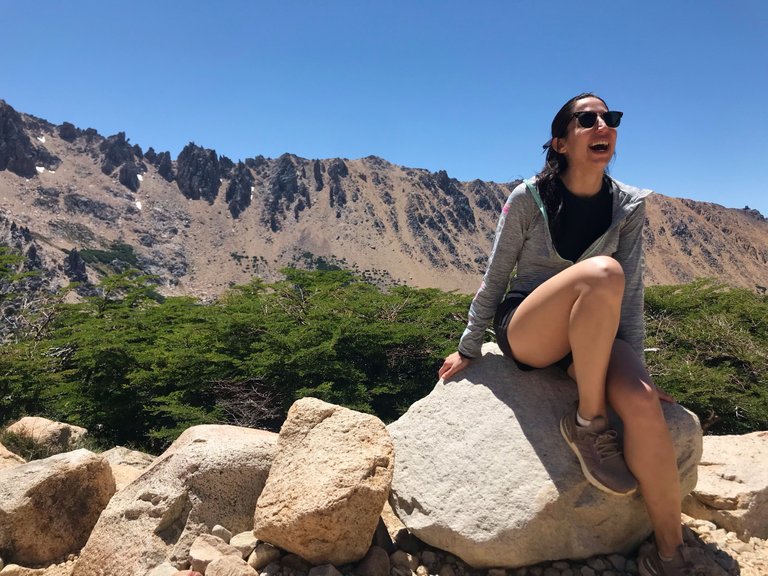 And me again...
I seriously enjoyed this activity, believe me. I'm already planning my next hikking trip, but this time on my own, to be able to connect and live the complete experience of all Refuges that can be found in Bariloche. These are Jakob Refuge, Frey Refuge, Black lagoon Refuge and Lopez Refuge. It's incredibly challenging physically and mentally, but now it's something that I can't take out of my mind... I'll give it a try next year!