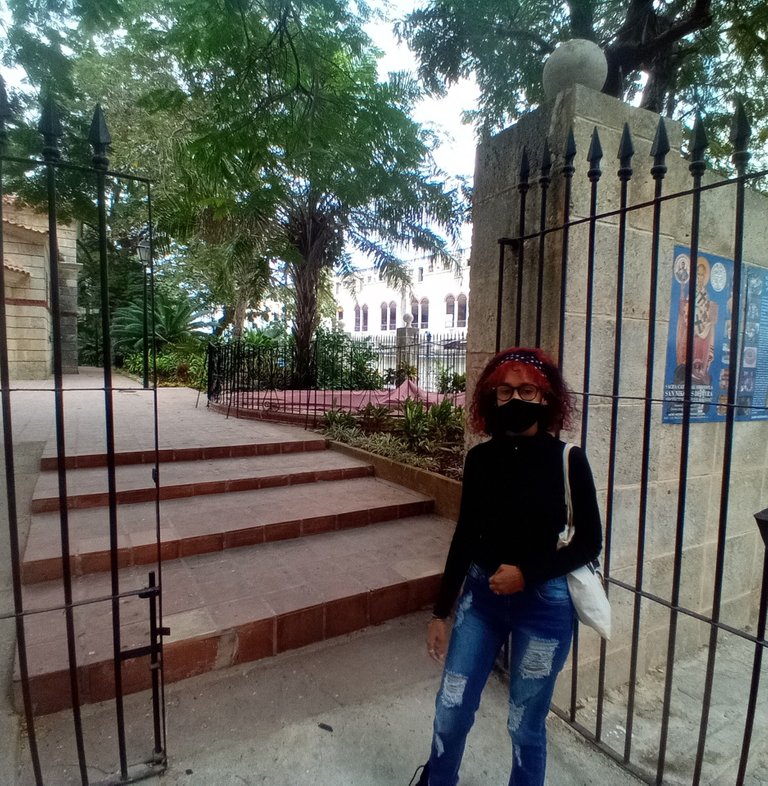 Hola amigos de Hive. Desde hace varios días mi novio y yo, llevamos realizando varios paseos a lugares históricos, de nuestra hermosa Habana Vieja. En esta ocasión, caminando sin rumbo y sin querer, nos topamos con el callejón Churruca, el cual recibió este nombre del marino español, brigadier de la Real Armada, Cosme Damián Churruca y Elorza, el cual falleció en la batalla de Trafalgar en octubre de 1805.
Hello friends of Hive. For several days my boyfriend and I have been taking several walks to historical places in our beautiful Old Havana. On this occasion, walking aimlessly and unintentionally, we stumbled upon the Churruca alley, which was named after the Spanish sailor, Brigadier of the Royal Navy, Cosme Damian Churruca y Elorza, who died in the battle of Trafalgar in October 1805.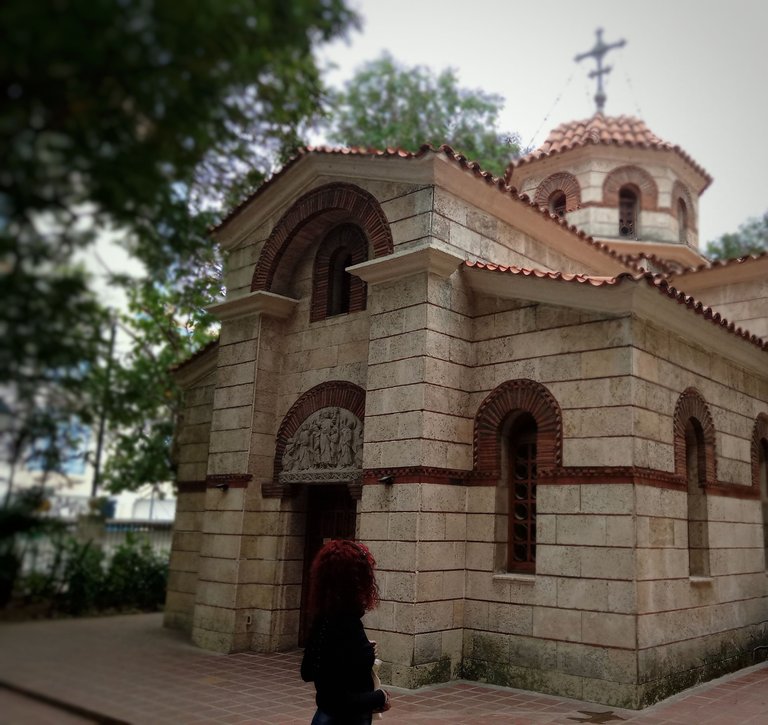 En la misma esquina de este callejón, justo detrás de la Plaza San Francisco de Asís, se encuentra la Santa Catedral Ortodoxa de San Nikolas de Mira. De las cual explicaré a continuación sus orígenes:
Antes del Triunfo de la Revolución Castrista en Cuba, en el año 1959, existía en Cuba una extensa comunidad ortodoxa griega-rusa, la cual encontraría refugio y oportunidades económicas, en la agitada Habana de los años 50. debió a la situación económica en la que había quedado Europa tras la Segunda Guerra Mundial. Segundo, eran de orígen balcánico, por lo que sufrían de racismo y xenofobia, ya que tras la caída del Reich, estos rusos mezclados con griegos, pasaron de la discriminación nazi, a una nueva discriminación, la soviética. Durante la caída del telón de acero, y la imposición del comunismo. Y por último, la oportunidad seductora del sueño americano, que provenía de la economía y riqueza, que emanaba la libertad de los Estados Unidos, y sus colonias.
At the very corner of this alley, just behind St. Francis of Assisi Square, stands the Holy Orthodox Cathedral of St. Nikolas of Myra. Of which I will explain below its origins:
Before the triumph of the Castro Revolution in Cuba, in 1959, there was an extensive Greek-Russian Orthodox community in Cuba, which found refuge and economic opportunities in the agitated Havana of the 50's, due to the economic situation in which Europe had been left after World War II. Second, they were of Balkan origin, so they suffered from racism and xenophobia, since after the fall of the Reich, these Russians mixed with Greeks, went from Nazi discrimination to a new discrimination, the Soviet one. During the fall of the Iron Curtain, and the imposition of communism. And finally, the seductive opportunity of the American dream, which came from the economy and wealth, which emanated from the freedom of the United States and its colonies.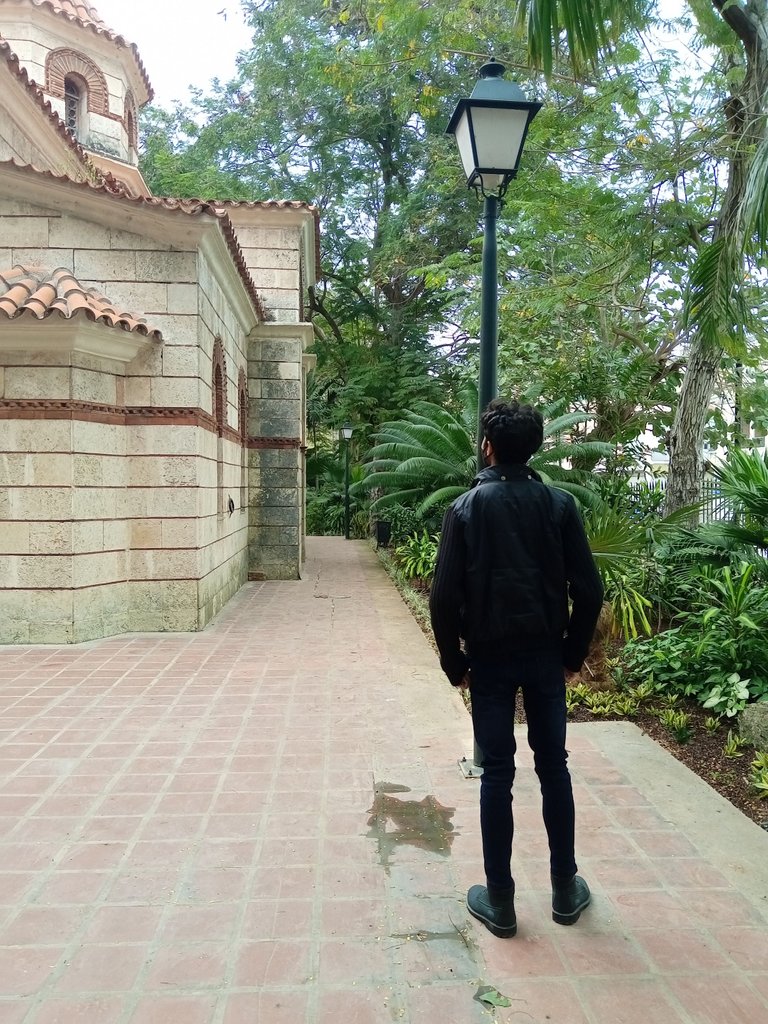 Por lo que era innegable, que está parte de la sociedad europea del este, pusiera rumbo a diferentes destinos del continente Americano. En especial Cuba, quien se consideraba una ramificación de los Estados Unidos, gracias al potencial económico, social, y gubernamental, que gozaba la isla en aquel entonces. Sin embargo, y como una tremenda curiosidad, que pone en contradicción lo antes dicho, estos ciudadanos, fieles a la religión ortodoxa, no llegaron a tener una iglesia propia hasta el triunfo de la Revolución de Fidel Castro.
Therefore, it was undeniable that this part of the Eastern European society was heading to different destinations in the American continent. Especially Cuba, which was considered an offshoot of the United States, thanks to the economic, social and governmental potential that the island enjoyed at that time. However, and as a tremendous curiosity, which contradicts the above, these citizens, faithful to the orthodox religion, did not have a church of their own until the triumph of Fidel Castro's Revolution.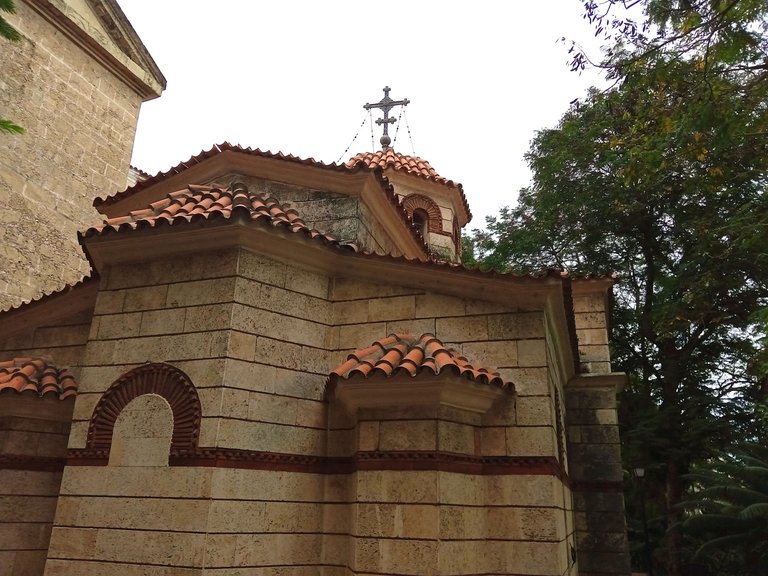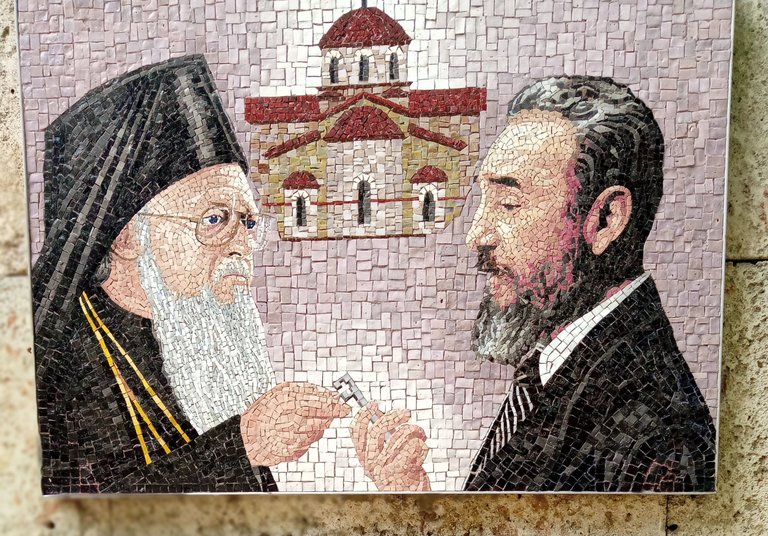 De esta forma, y envuelta en triquiñuelas políticas, llegaría a la Habana, una porción de la fé ortodoxa. Algo un tanto anacrónico, para una isla caribeña con raíces españolas, con el catolicismo como fé fundamental, y los cristianos y religiones africanas como contrapeso. Pero como decimos en Cuba, donde cabe uno, caben dos, y si caben dos, caben más.
In this way, and wrapped in political trickery, a portion of the orthodox faith would arrive in Havana. Something a bit anachronistic for a Caribbean island with Spanish roots, with Catholicism as the fundamental faith, and Christians and African religions as a counterweight. But as we say in Cuba, where there's room for one, there's room for two, and if there's room for two, there's room for more.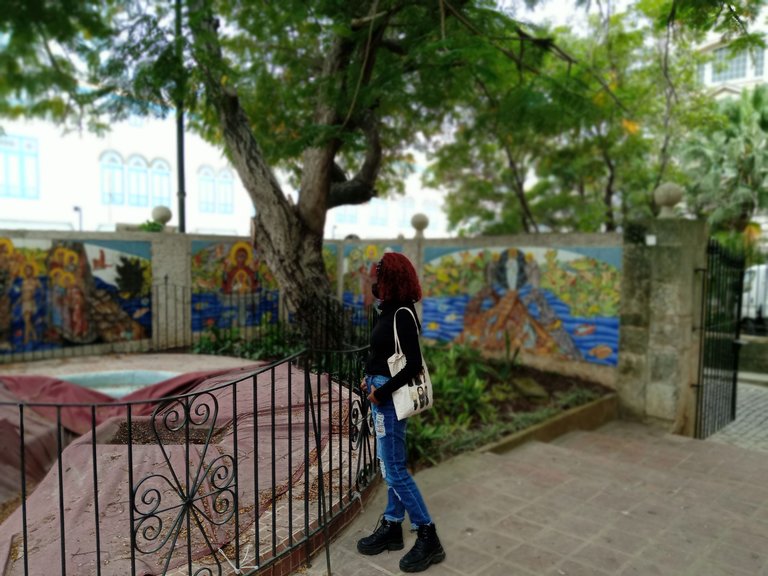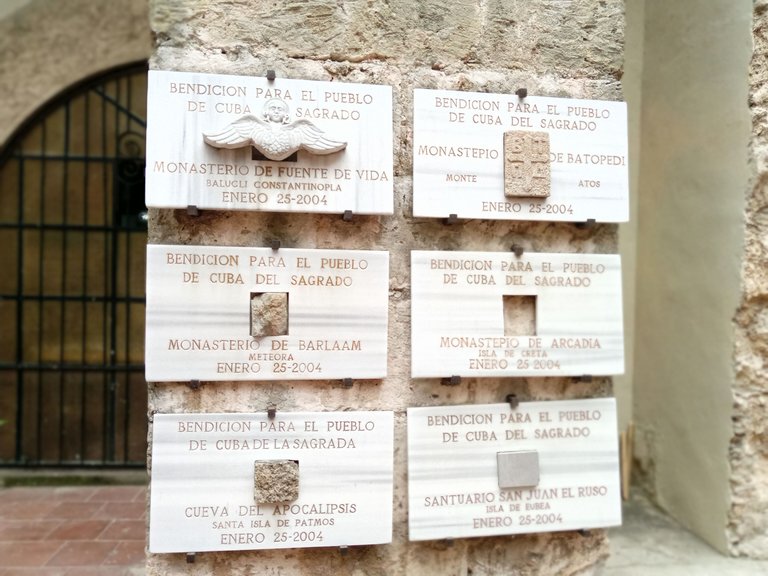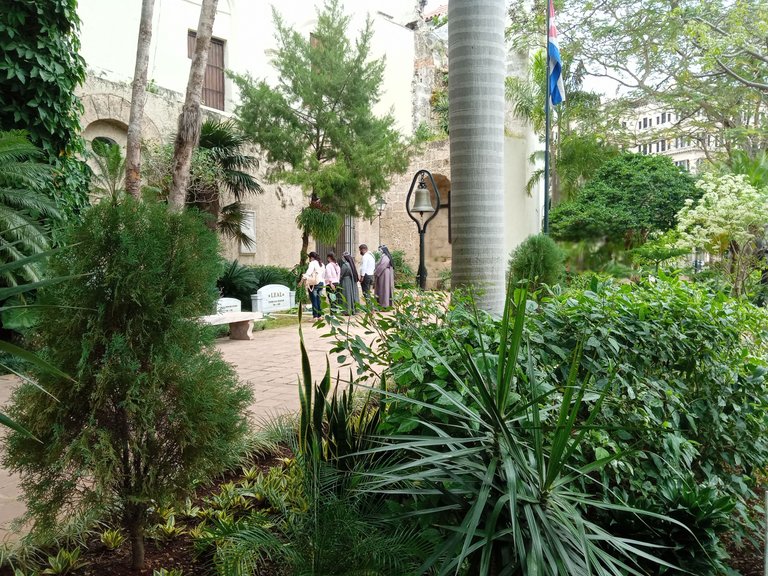 A un costado de la iglesia. Se encuentra un hermoso jardín, perteneciente también a la Iglesia de San Francisco de Asís. El cual goza de una increíble paz y armonía, tratándose de tierra santa, en este pequeño cementerio se encuentran reposando los restos de importantes figuras, como Luis de Velazco quien fue Comandante de la Real Armada Española, como otros que se han sumado en la actualidad, ejemplo de ello: Eusebio Leal, el Historiador de La Habana.
At one side of the church. There is a beautiful garden, also belonging to the Church of San Francisco de Asis. In this small cemetery are resting the remains of important figures, such as Luis de Velazco who was Commander of the Royal Spanish Navy, as well as others who have been added today, example of this: Eusebio Leal, the Historian of Havana.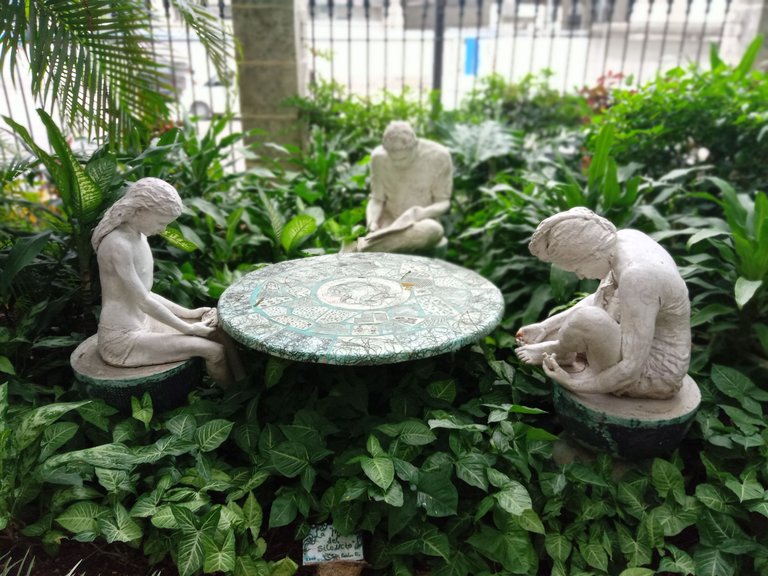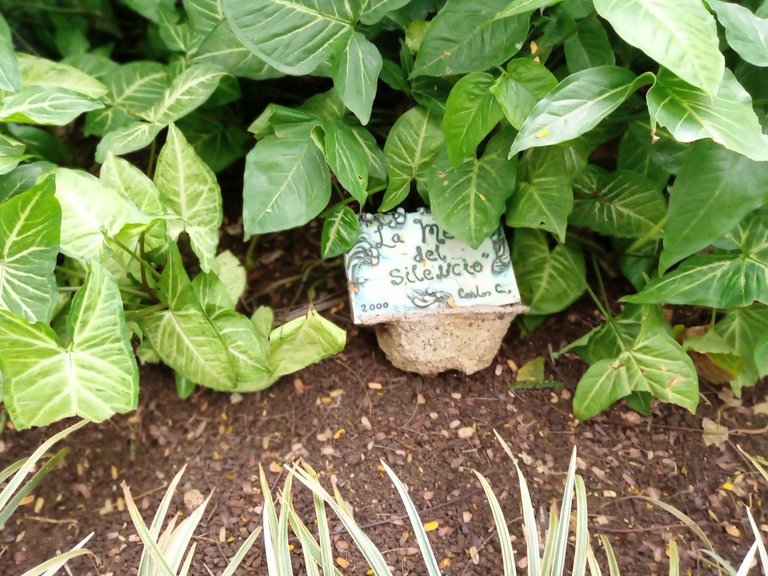 Entre tanto espesor verde y arboleda, se pueden presenciar varias esculturas, entre ella la estatua creada a la Madre Teresa de Calcuta, a quien está dedicado este angosto parque y "La Mesa del Silencio" que puede ser catalogada como hermosa a la vez de inquietante, la cual nos lleva a una profunda reflexión interna.
Among so much green thickness and grove, you can witness several sculptures, including the statue created to Mother Teresa of Calcutta, to whom this narrow park is dedicated and "The Table of Silence" that can be categorized as beautiful and disturbing, which leads us to a deep inner reflection.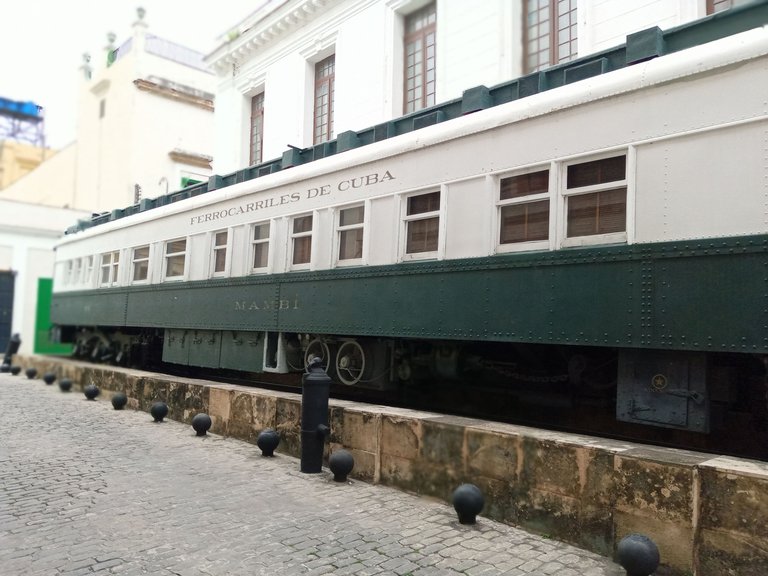 En otro rincón del callejón Churruca, se encuentra una pieza ferroviaria de tremendo valor histórico, no tanto para la humanidad, sino para el continente americano y la patria cubana. Uno de los primeros trenes en circular en América, ya que, Cuba, fue la primera nación de América Latina y el Caribe, que contó con la comunicación de trenes. Siendo, el que vimos en el callejón, un vagón de los primeros en llegar procedentes de Estados Unidos. Qué alberga la peculiar historia, de haber sido clave en el proceso de relaciones diplomáticas entre los mambises y los norteamericanos.
In another corner of Churruca Alley, there is a railway piece of tremendous historical value, not so much for humanity, but for the American continent and the Cuban homeland. One of the first trains to circulate in America, since Cuba was the first nation in Latin America and the Caribbean to be served by trains. The train we saw in the alley was one of the first to arrive from the United States. It has the peculiar history of having been key in the process of diplomatic relations between the Mambises and the Americans.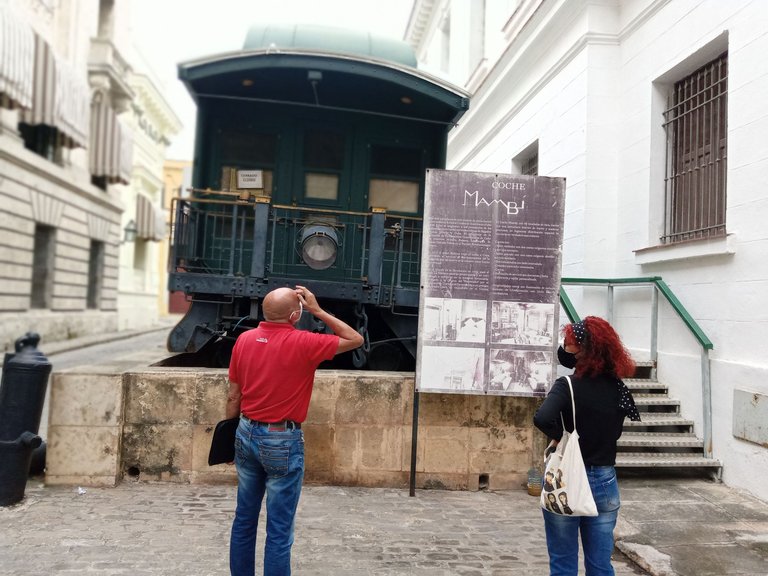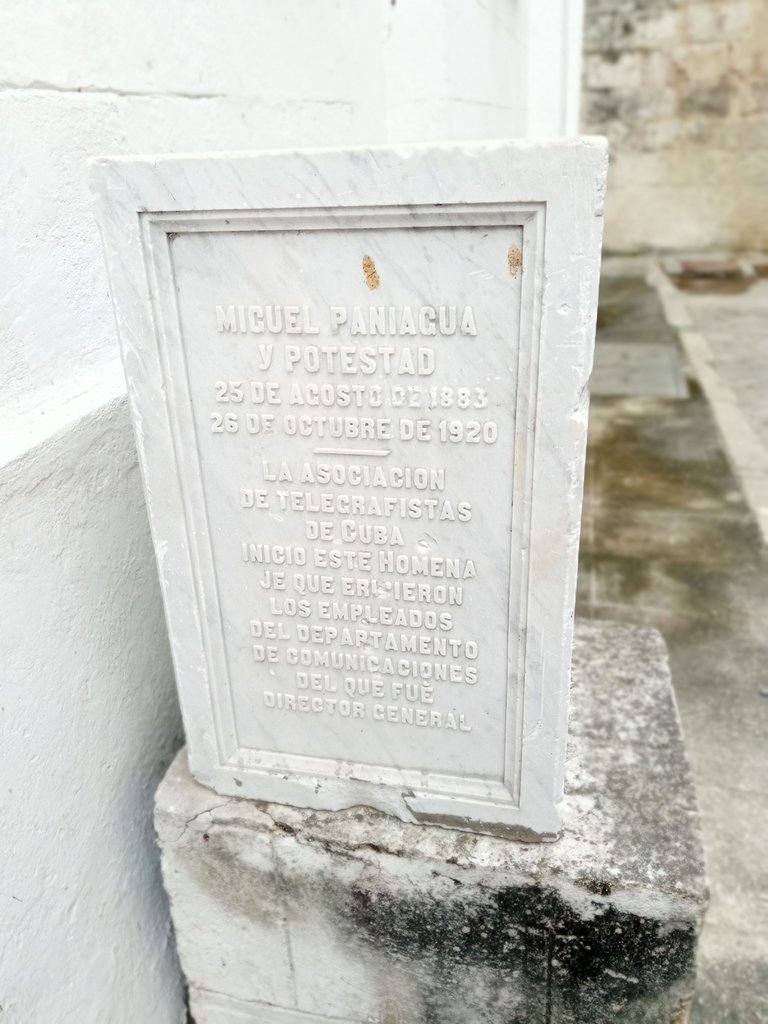 ---
Eso es todo por hoy. Espero les haya gustado mucho el artículo y resultara de su disfrute. Una vez, quiero agradecer a esta hermosa comunidad por todo el apoyo brindado desde mi comienzo en la plataforma.
That's all for today. I hope you liked the article and enjoyed it. Once again, I want to thank this beautiful community for all the support provided since I started on the platform.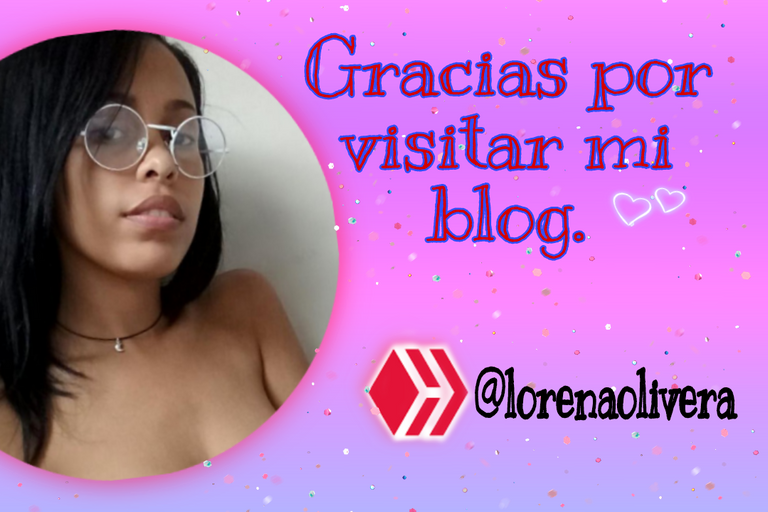 Todas las fotografías son de mi autoría. // All photographs are my own.