Hi folks!
I've thought a lot about how to write a post about Santorini since this place has an extremely special place in my heart. I've been dreaming about Santorini even before I decided to take my bachelor degree in Europe. Some of my notebooks in high school also have photos of this gorgeous island on them. Thus, at the moment I arrived in Europe, I had planned my Santorini trip already. However, it took me almost 3 years to make my dream come true.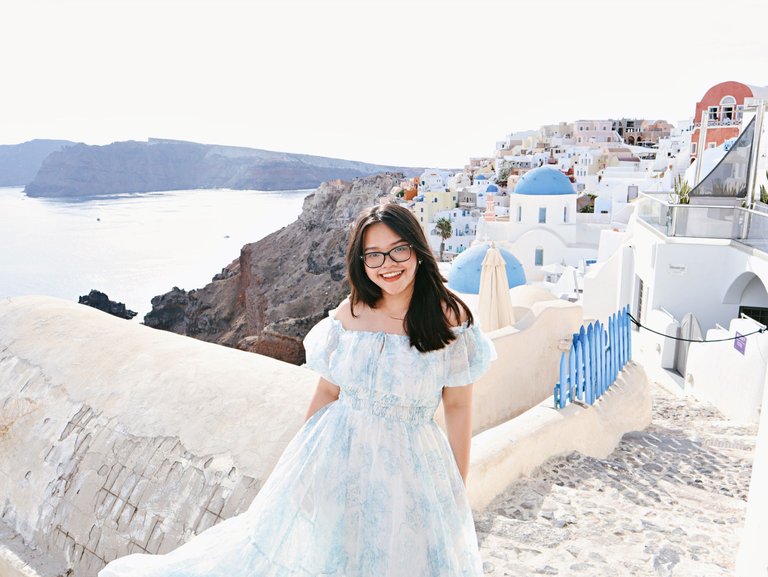 This is one of the iconic views in Oia, Santorini. I purposely wore this dress to match with the landscape 😁
Santorini is always a popular destination and it is also quite far from Geneva, so the plane tickets are usually too expensive for a student like me. Then, I finally found the tickets at one-third of the normal price and I was so happy. Unfortunately, the Coronavirus came and interrupted all of my travel plans. After all, when the Greek government started to loosen the restrictions last year, I luckily found couples of affordable tickets in the low season (in the middle of October) and went there. The islands didn't fail to amaze me even when I've already seen many pictures of this place. No wonder why it is so popular.
There are many things to do in Santorini, but I didn't have enough time to do all of them as I still had to study. However, I still have some must-visit attractions/ places on the islands to share with you.
The first are black and red beaches. There are several black beaches in Santorini such as Kamira, Perissa, or Perivolos.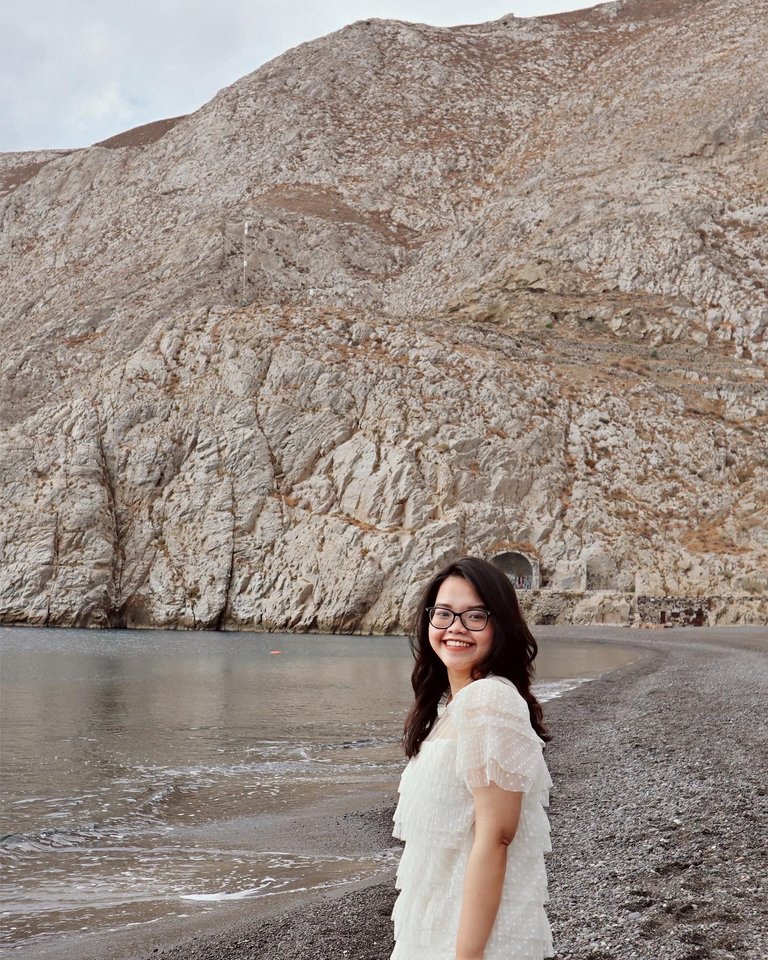 These photos are taken in Kamira. Although it was the end of October, the water was not too cold to swim there.
One of the most amazing views I saw in Santorini is the Red Beach in Akrotiri village. You can see that all the sand in this beach is red. It took me and my friend a lot of time to find the way there. As I checked on the internet, people said that there would be ferries to take us there, but when I came to the place, there were no active ferries. We and other visitors all struggled to find the ferries, maybe they were closed on that day since it was still in the middle of the pandemic. Luckily, we finally found a sign nearby that showed the way to Red Beach just by walking.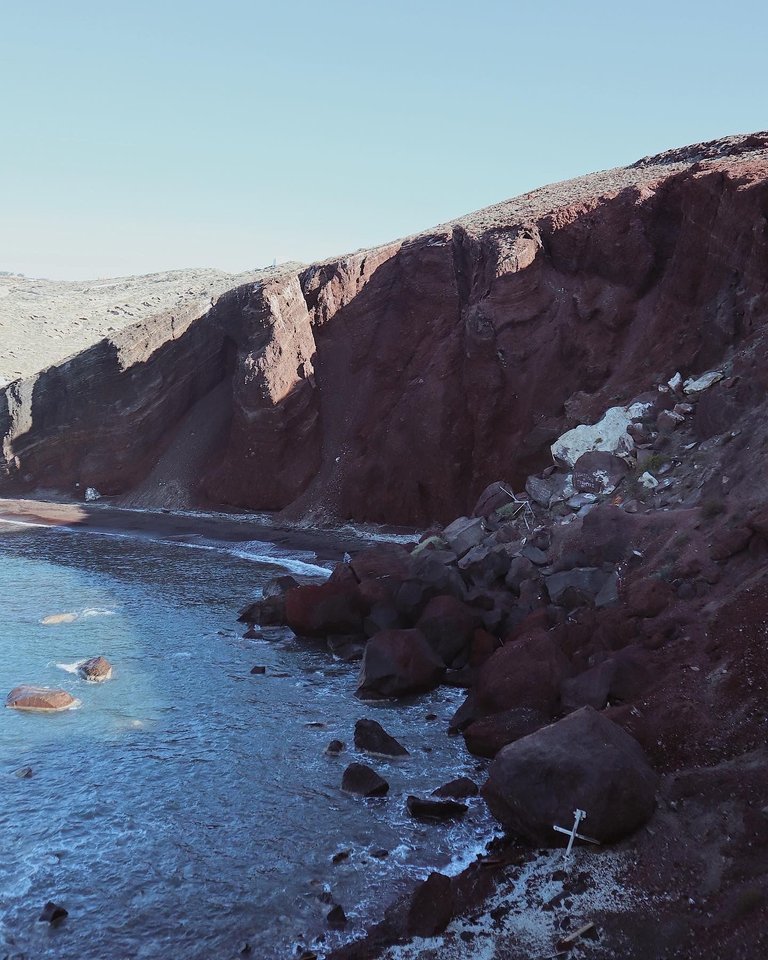 Isn't it so breath-taking?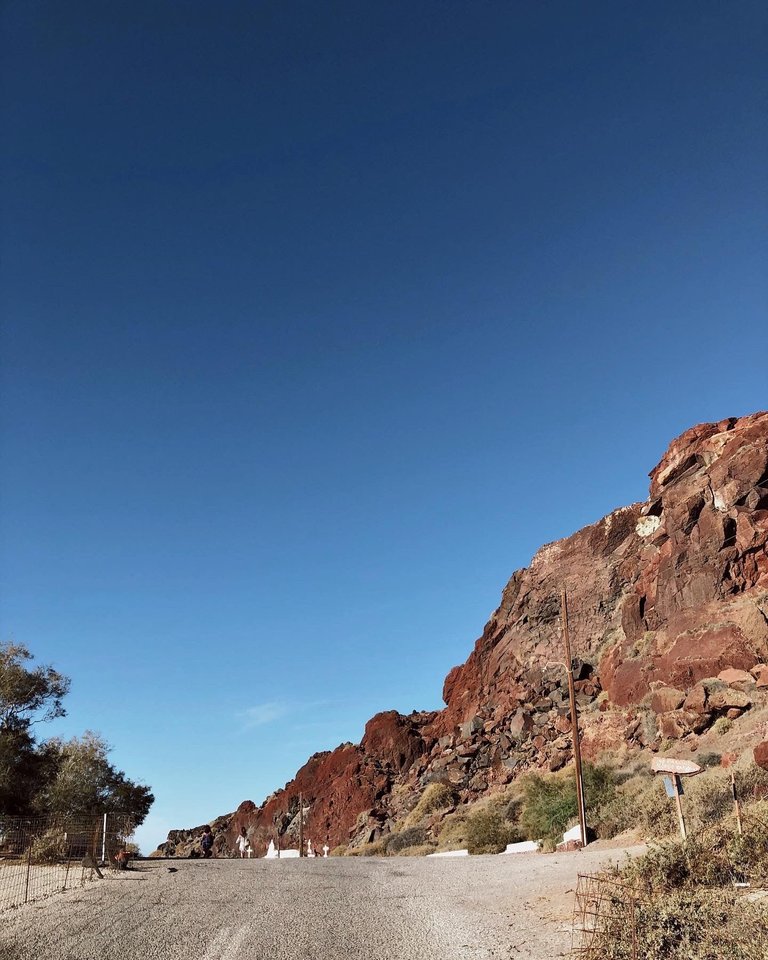 The way to the Red beach is also surrounded by the red-brown soil and sand.
These unique black and red rock, sand, soil in the islands have been formed as the result of several volcanic eruption that happened during the history of Santorini (retrieved from https://travelingeurope.biz/black-and-red-sand-beaches-in-santorini/)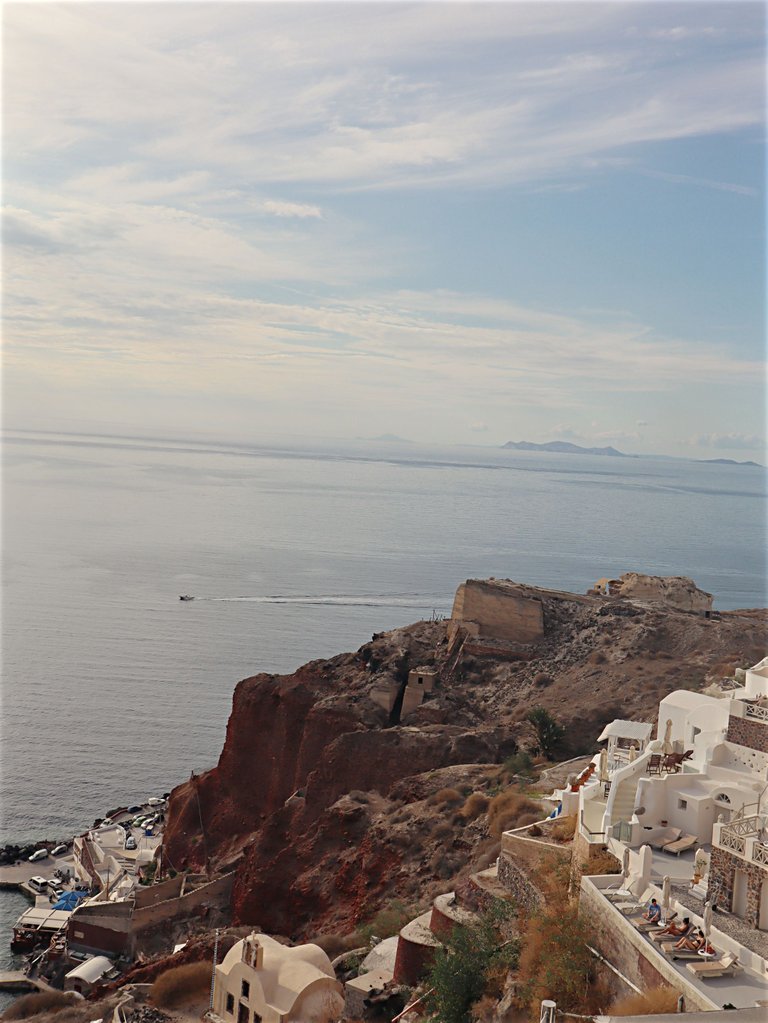 The unique red soil can also be found in Oia village.
That's all about the beaches. Let's move to the center of the island - Thira. There, you can find numerous shops and good restaurants and their prices are cheaper than the ones in Oia, which is the most famous village in Santorini. There are many shops that sell jewelry and local handmade products in Thira. However, I recommend you to visit different shop to have a price comparison since some shops just had very unreasonable prices for the same products. I remember that I wanted to buy a headband there, but in the first store I visited, it was 8 euros. So, I didn't buy it since I knew one of my friends used to buy the same headband in Santorini with a cheaper price. I then found another shop that sold it for only 4 euros. Except for the above problem, Thira is gorgeous.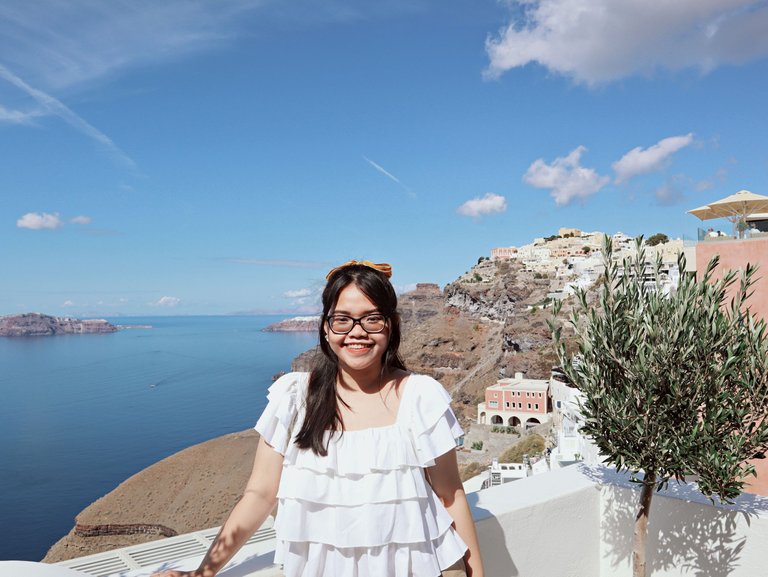 Me in Thira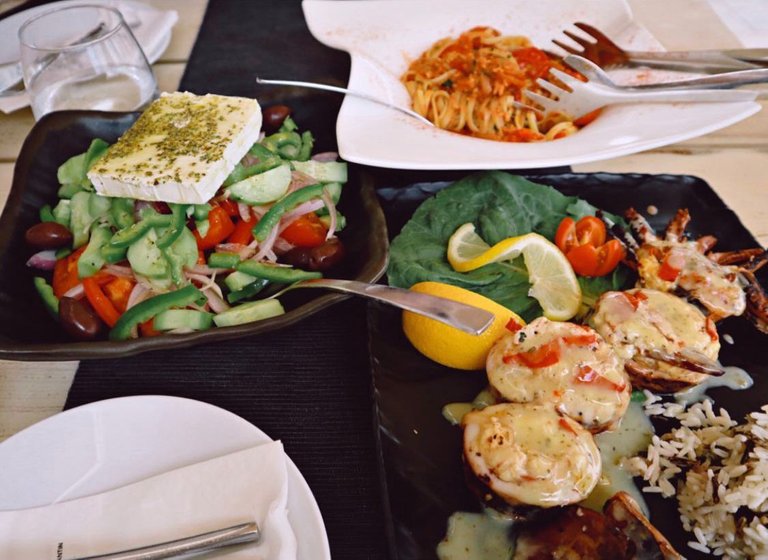 These were from Argo restaurant. The Greek salad was a little greasy to me since it had so much feta cheese. However, all the ingredients were so fresh, I usually don't like to eat tomato but the tomatoes in that salad were so fresh and sweet that I ate them all. Besides, their service was good. I really recommend this place.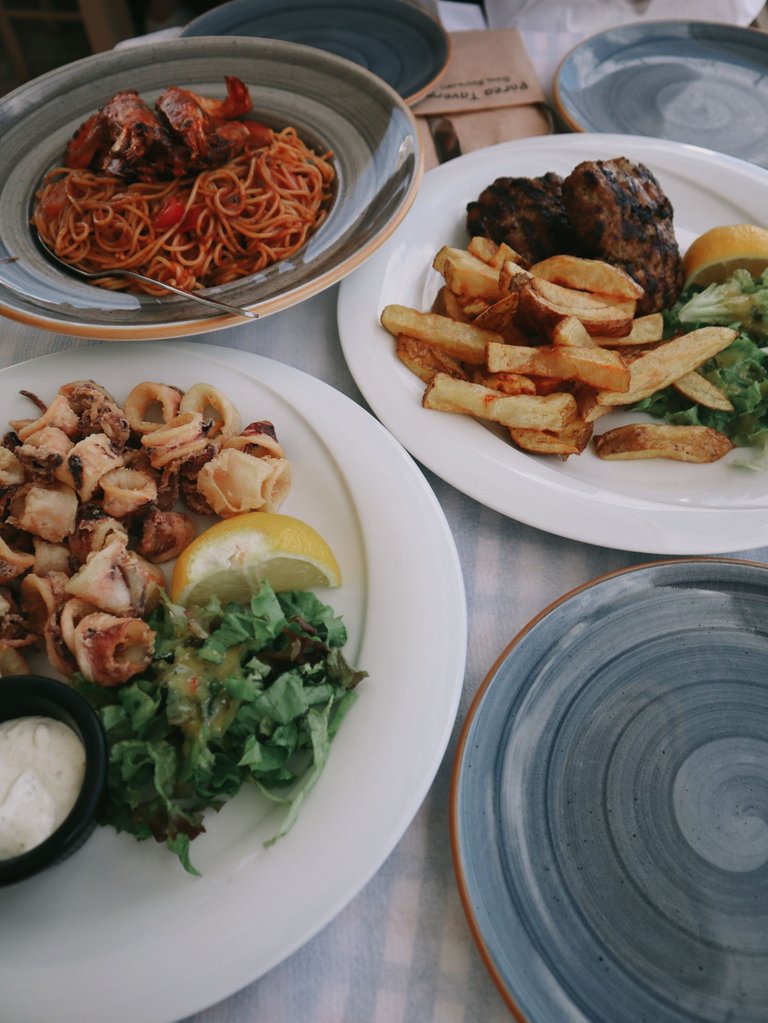 Most restaurants in Santorini have very fresh seafood.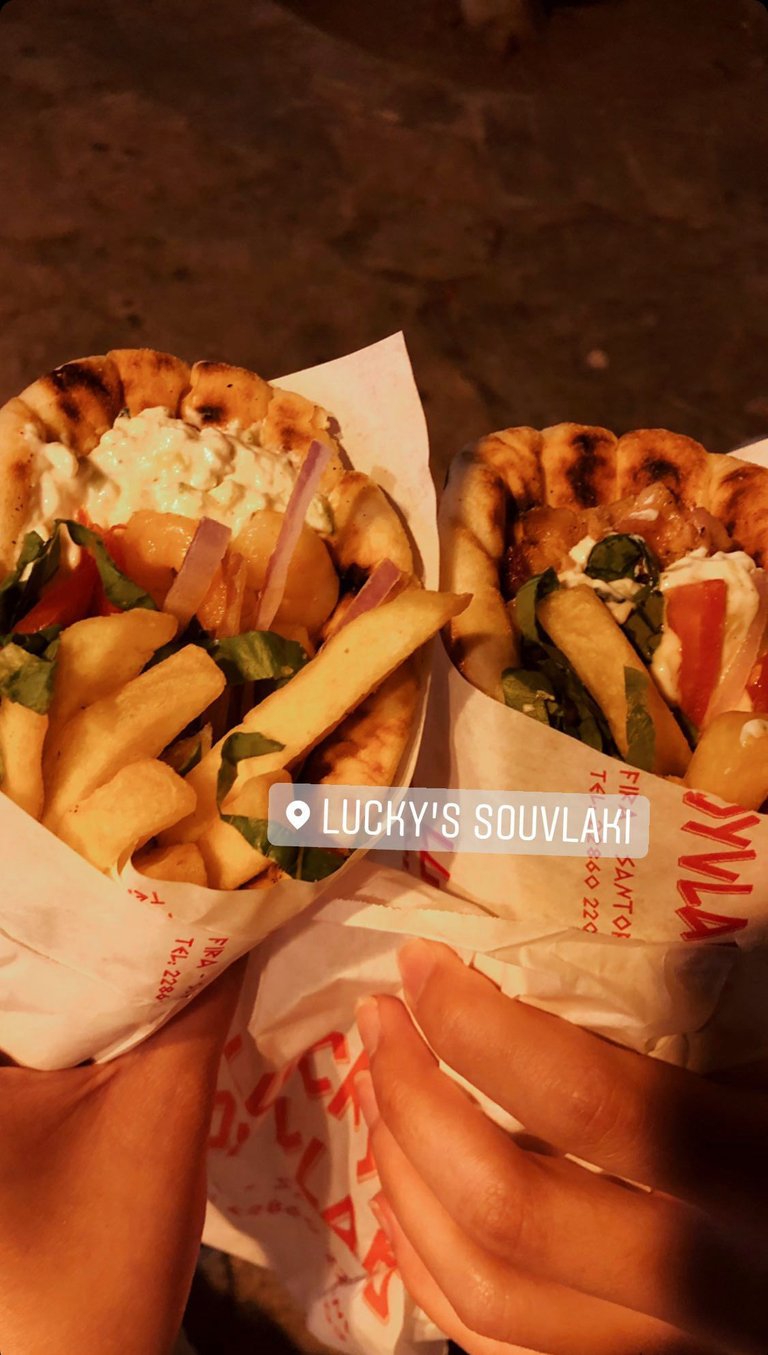 These were pitas from Lucky's Souvlaki (I had to screenshot this from my instagram's story. That's why it has the pinned location 😄). The pitas were tasty and I also love the place's customer service.
After shopping and enjoying the food in Thira, it's time to visit beautiful Oia.
Oia is synonymous for its blue domes churches and houses, and especially the gorgeous sunset. Oia is the best place to enjoy the sunset in Santorini.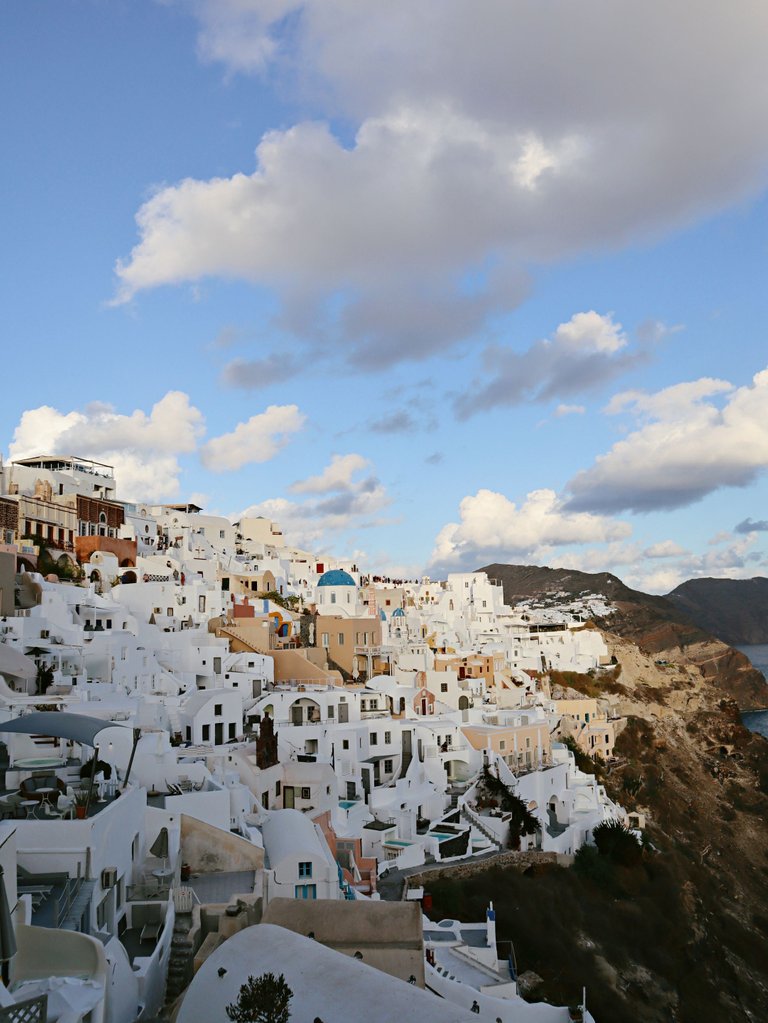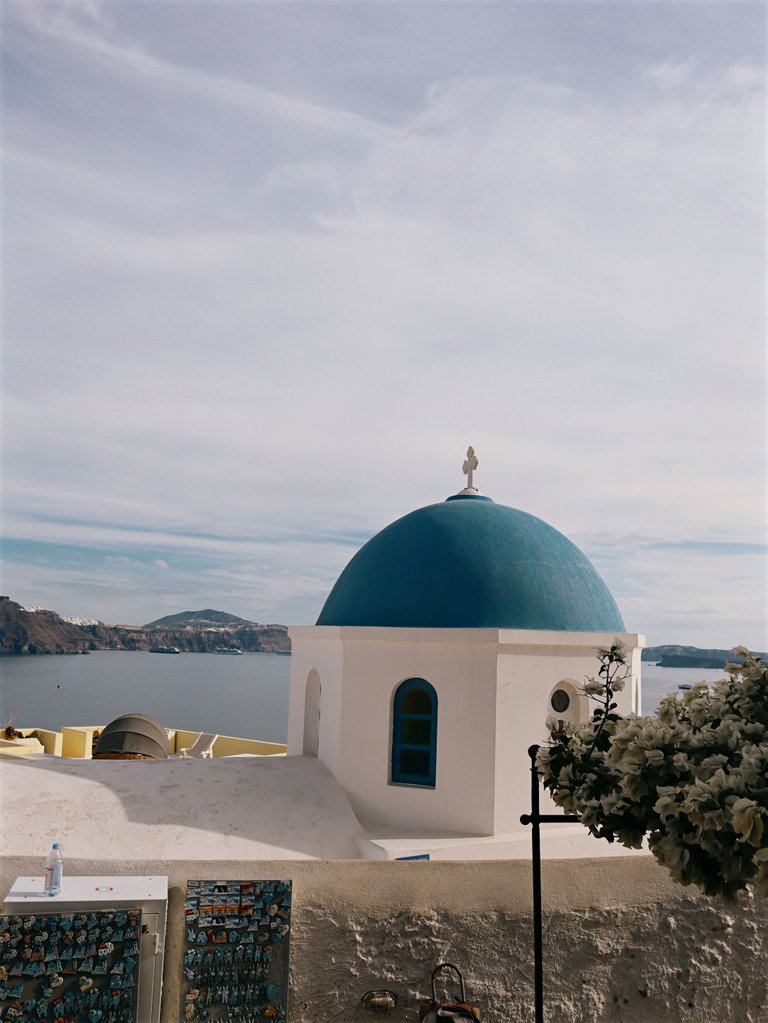 The iconic blue domes in Oia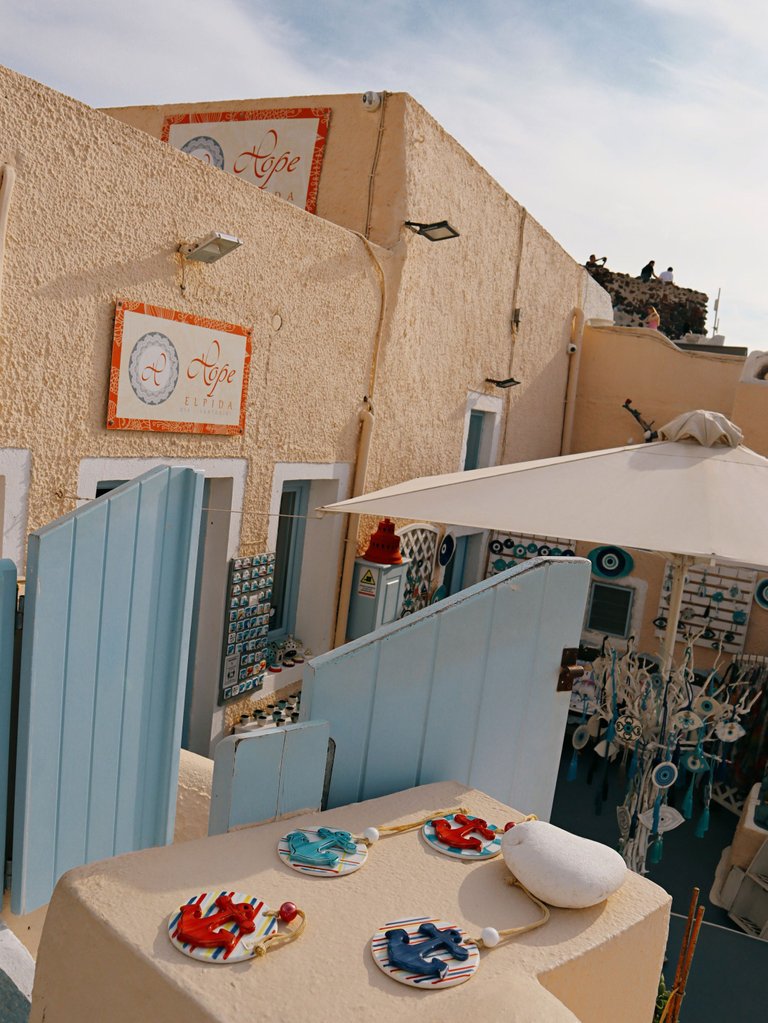 There are also shops in Oia but it is much more expensive than in Thira.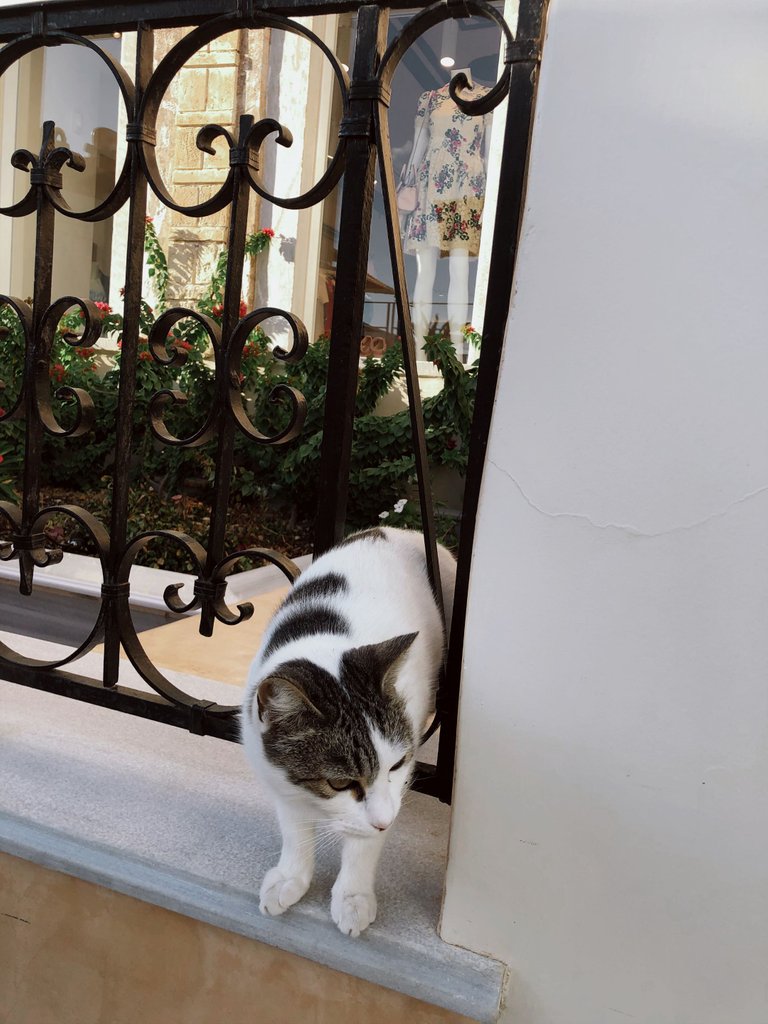 I found many cats on the island, especially Oia. So I guess the cats are also like to live in beautiful places 😂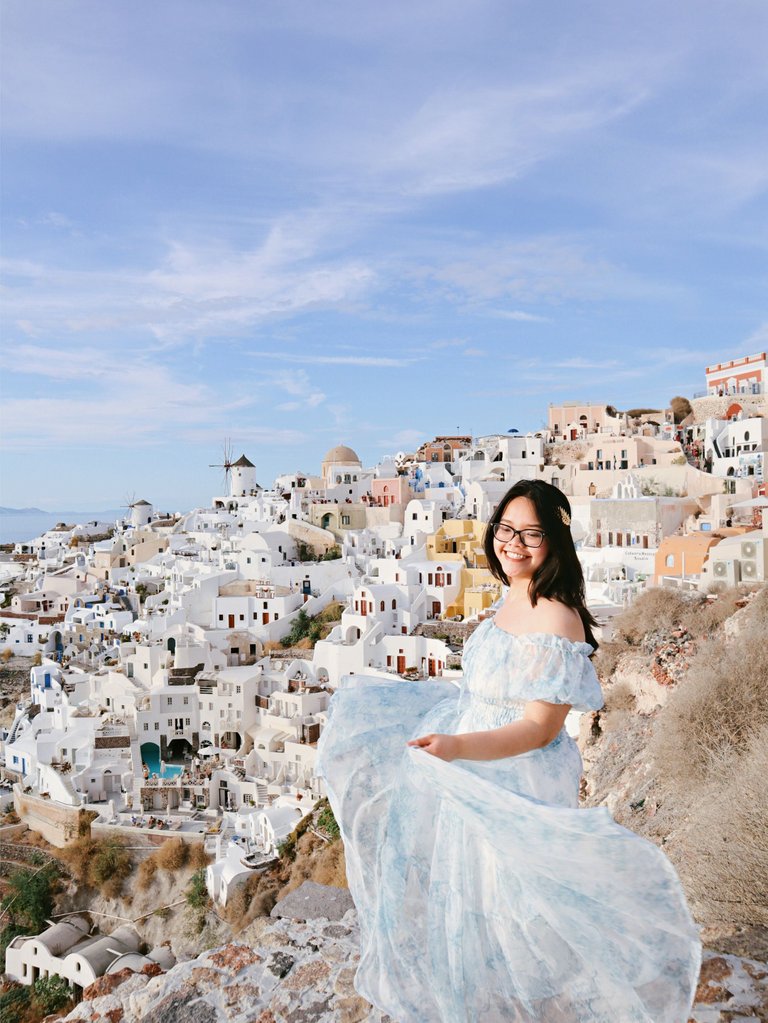 One of the most famous views in Oia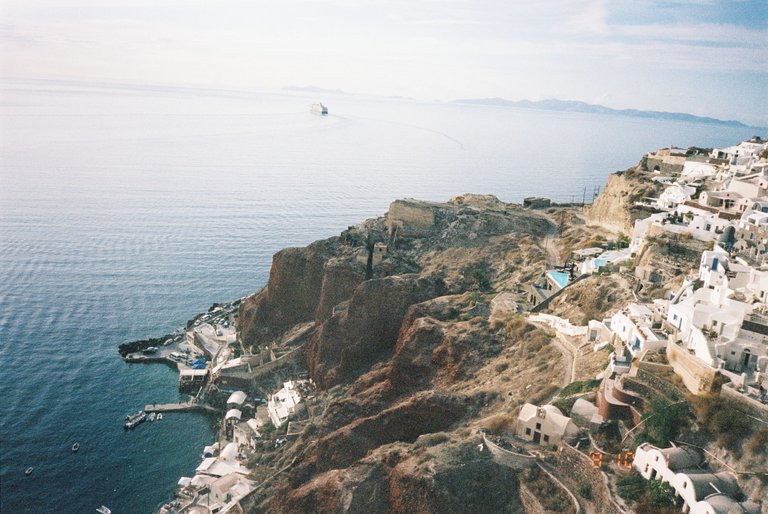 Oia on film
Film roll used: Kodak Portra 400
There are many lovely, artistic houses in Oia. In fact, the residential complex of Oia was even listed as an architectural monument by EOT/ Hellenic Tourism Organisation. There are two kinds of buildings in Oia: yposkafa and kapetanospita. The yposkafa are carved in the rocks of the caldera. These were houses of ship crew members in the past. While the kapetanospita were the ship owners' homes, who were richer and also the members in the middle-class. (retrieved from https://www.santorini-islandguide.com/villages/oia and https://www.aressana.gr/santorini-insiders-the-islands-unique-architecture/)

A lovely orange house in Oia. This house really stands out from other white and pastel houses.
It was great to walk around Oia before immersing myself in the gorgeous sunset there.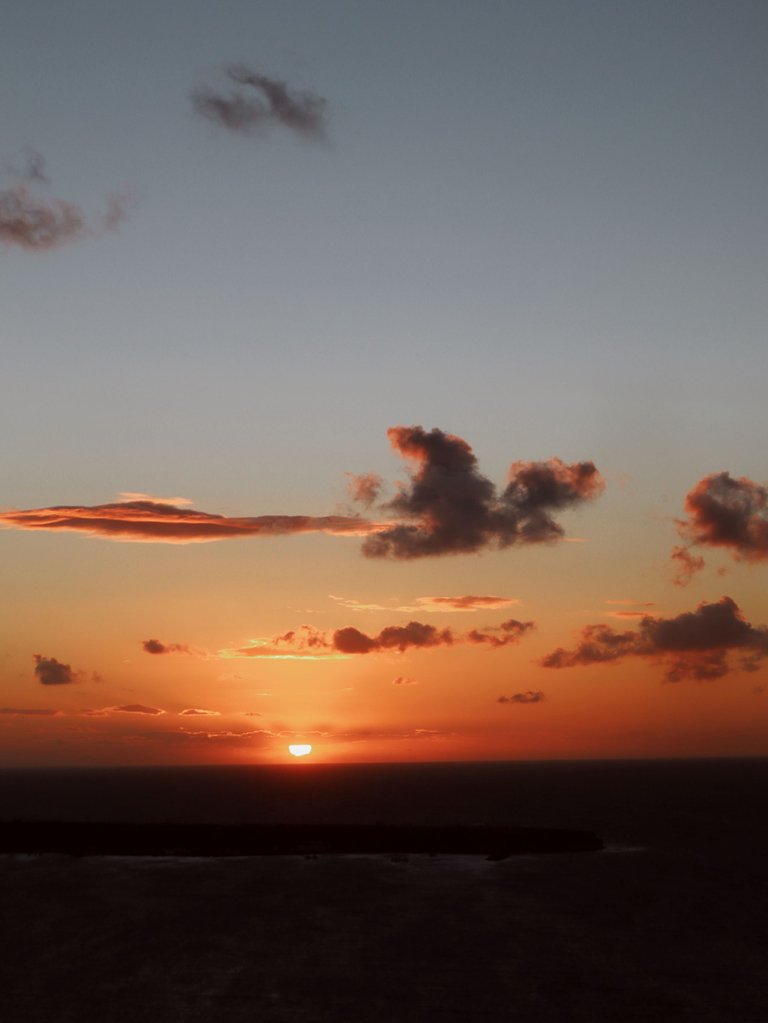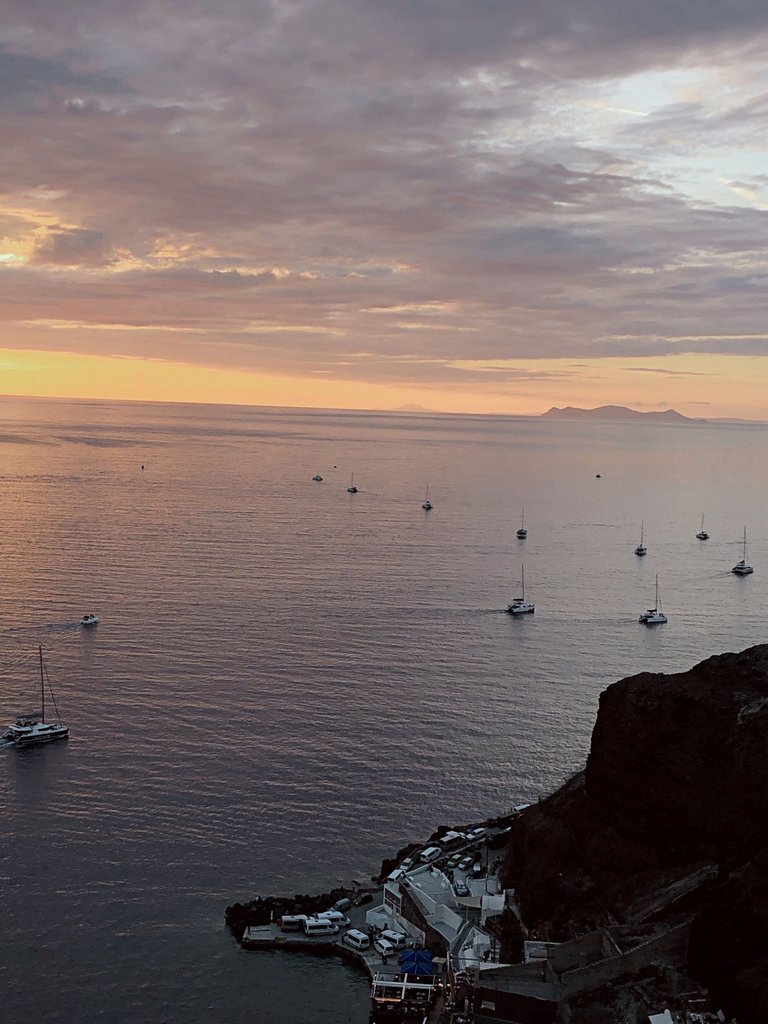 As a sunset lover, these views below were really a treat to me. I stayed in Santorini for 4 days and I went to Oia to enjoy the sunset everyday.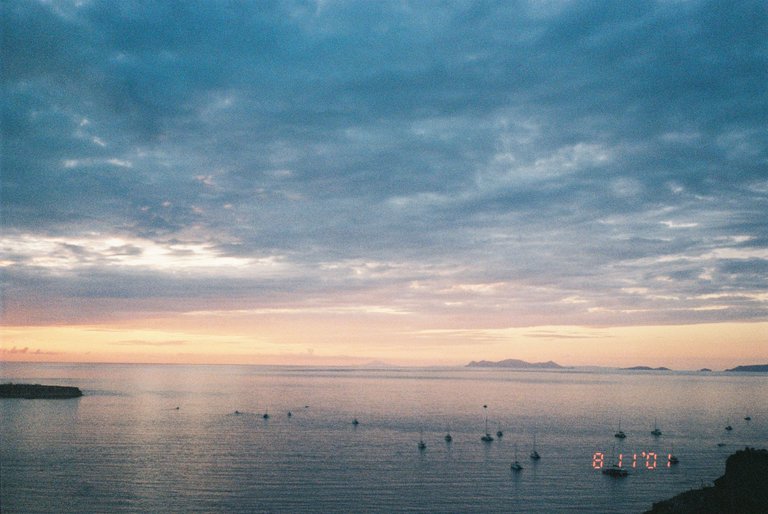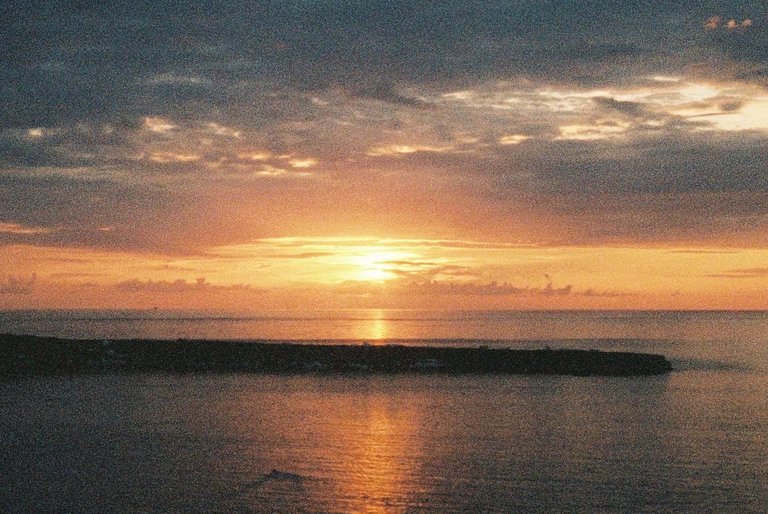 I took some of the photos of the sunset on film :))
Film roll used: Kodak Portra 400
That Santorini trip was really a dream to me. I hope I can visit this place again someday.
It's the end of today's blog.
Thank you and see you next time!