The first time I stumbled on this walking street was when I went to do some spices shopping at the 'Indian village' in the north side of Chinatown. I took a short cut which should bring me to Chinatown in a brink of an eye but it led me to a busy and noisy walking street along the old canal called Ong Ang. That was several months ago, around the second week of October, when the official opening of walking street at Ong Ang canal took place. I was so lucky to be there during the third day of the official opening. The venue would become alive every weekends, from Friday to Sunday, with street food stalls, flea market and musical bands.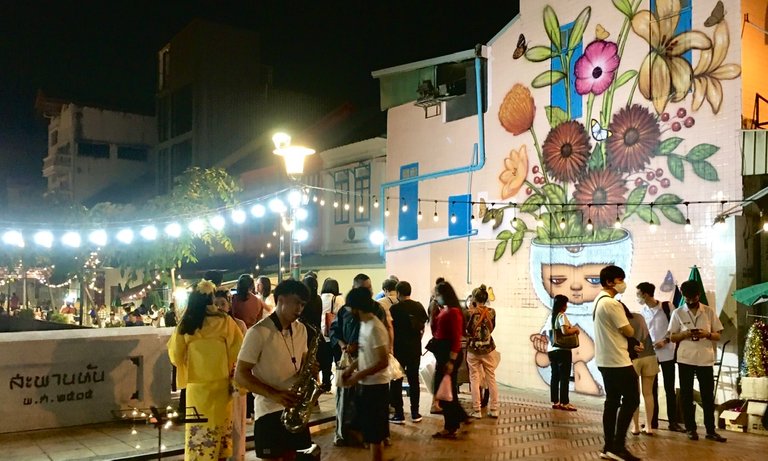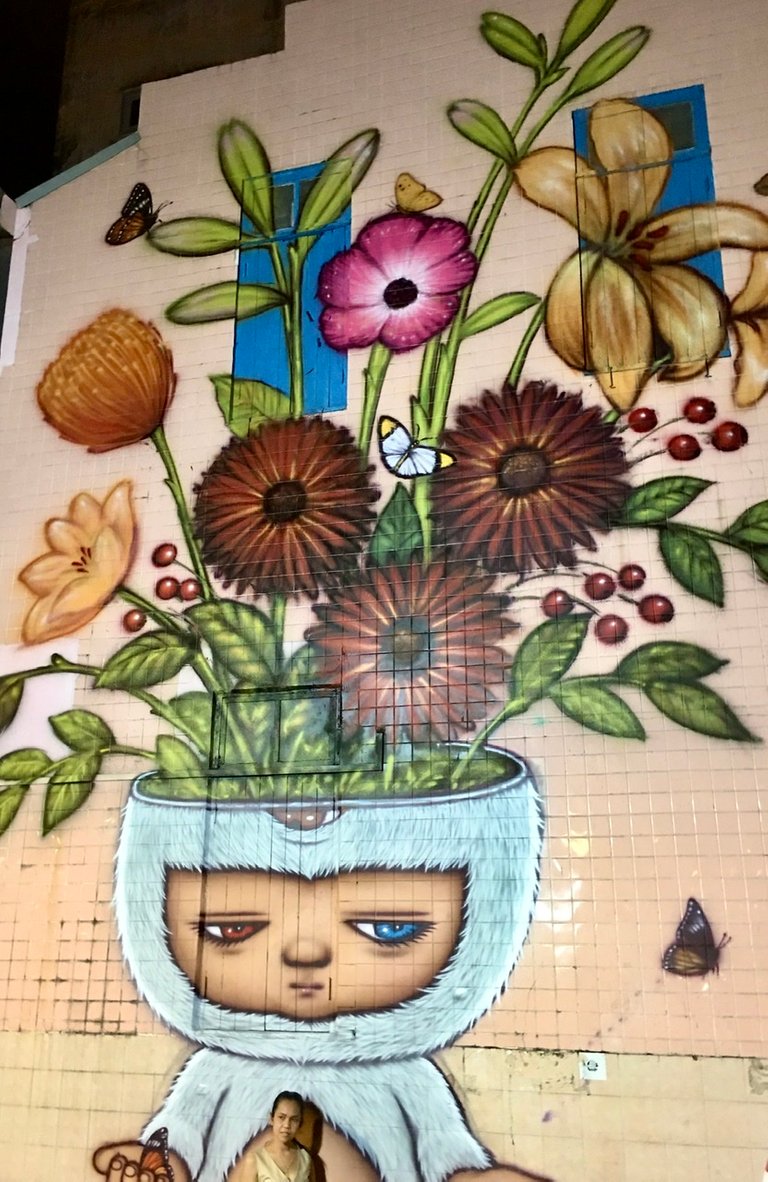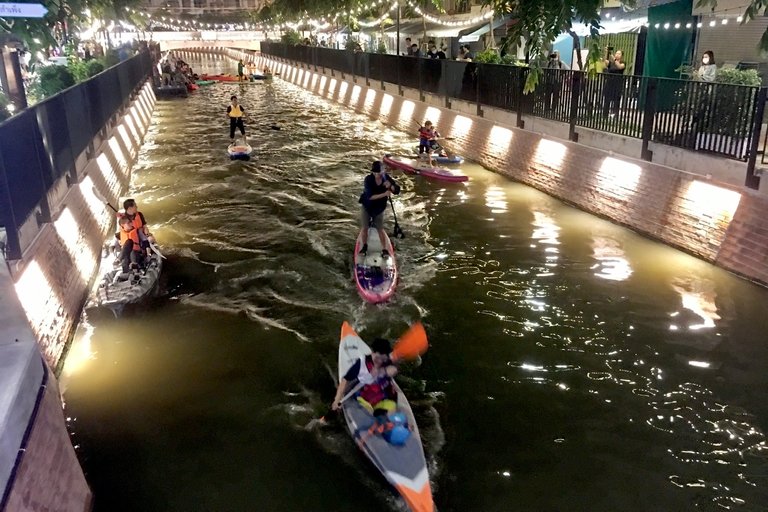 This area is used to be the second hand market for electronic gadgets, pirated video games and vintage model toys. A few years ago, there were over 500 small shops lining both sides of the canal. The canal itself was boarded up with metal sheets so that shoppers could walk across the canal and this offered more space for partitioning into more small shops. The Bangkok Authority had started a project to rehabilitate the canal as a cultural tourism spot. There were lots of controversies about the project which were not reported by the media.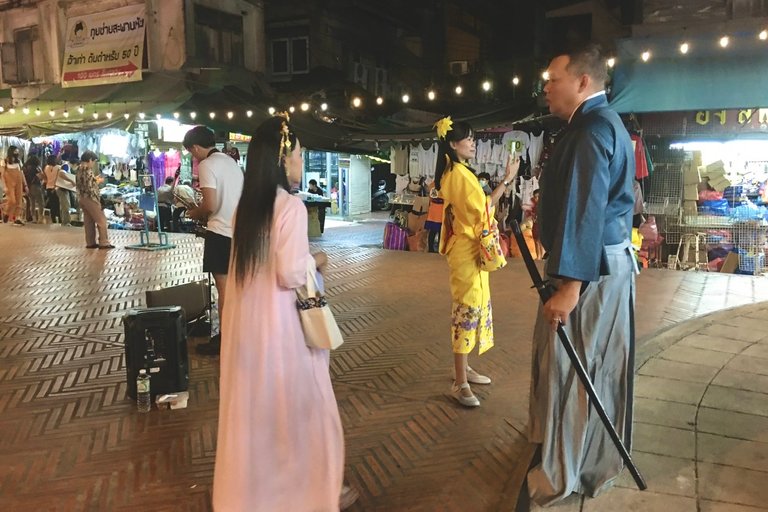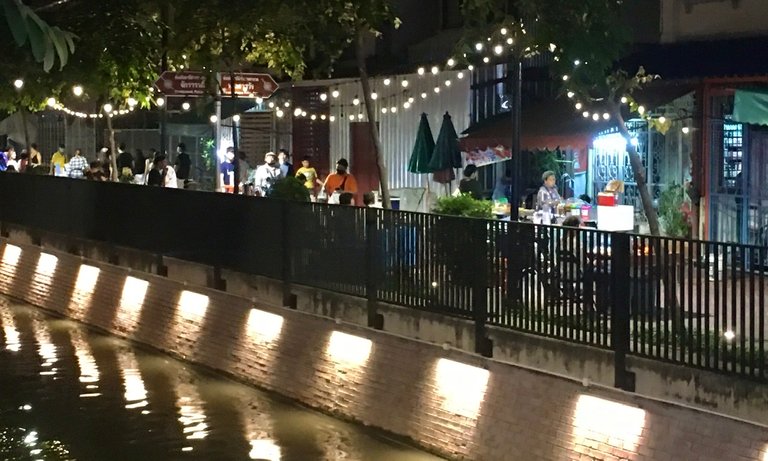 I only found out about this drastic change when I went there to buy some gadgets. All I saw was empty space and small shops were all gone. So, I was quite surprised that my short cut brought me into the middle of a big party on the renovated bridge across the canal. The whole area has been transformed into neat walking street with street art on both sides of the canal.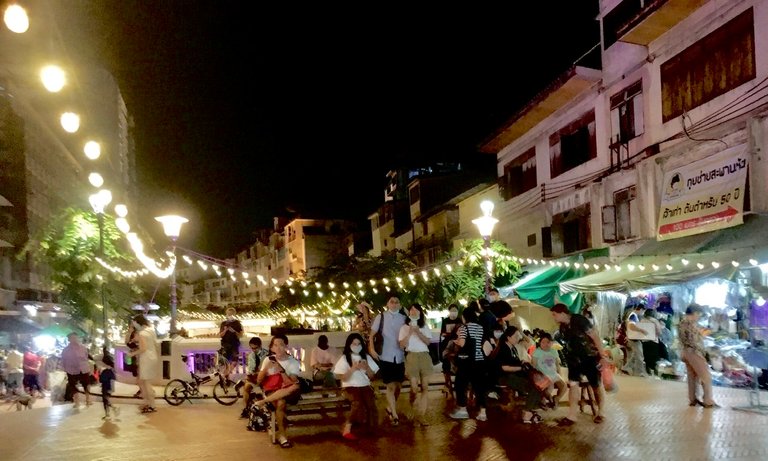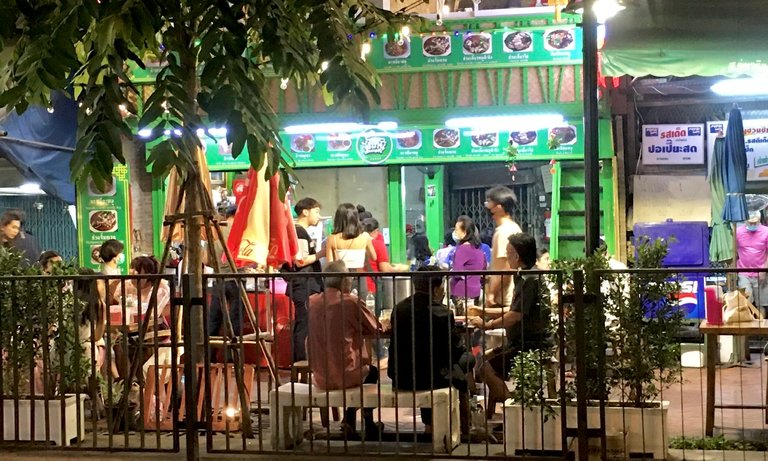 During the last day of official opening of the project, the canal was nicely decorated with lighting and plants. There were street food stalls and small restaurants along the canal. Some vendors were selling souvenirs and artistic goods while musical bands were competing for attention. I could see a small rock band on the left side of the canal while country music and jazz musicians were closer to the bridge.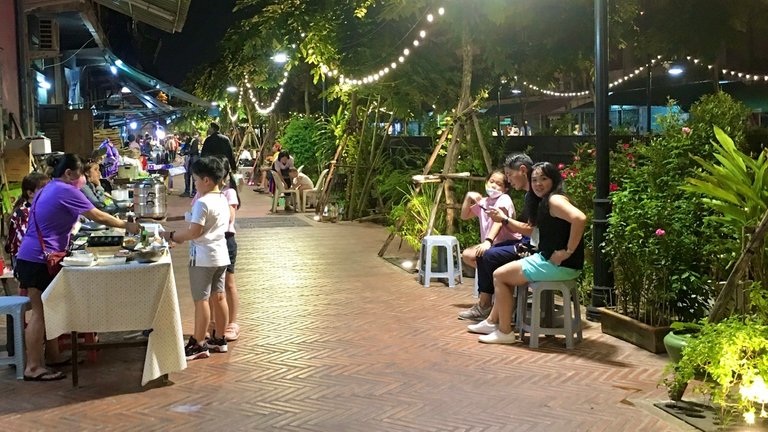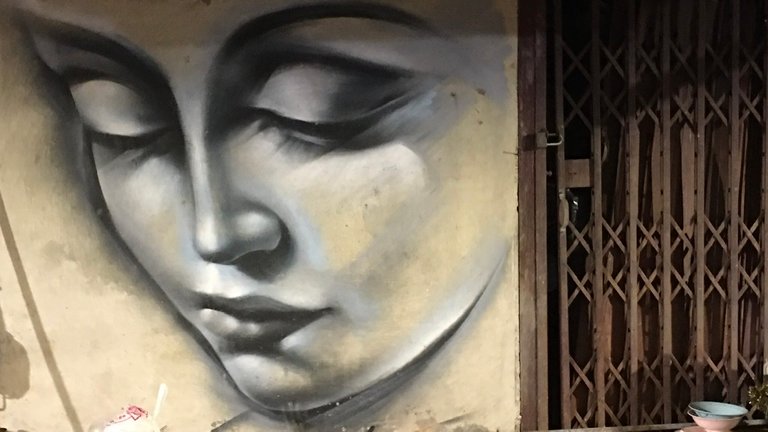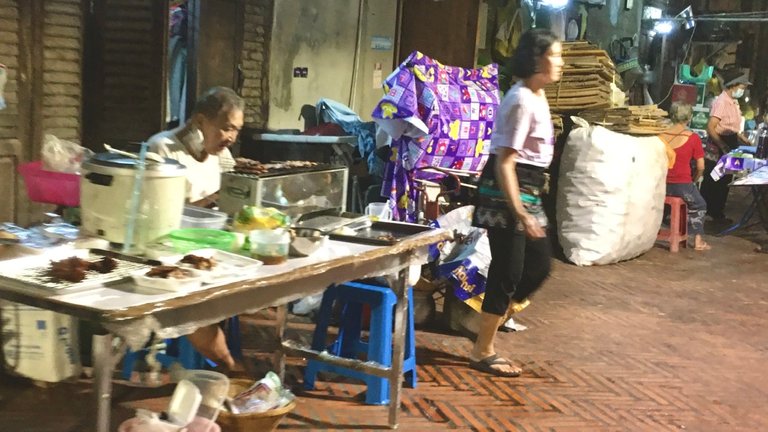 Most people who turned up were very smartly dressed with expensive brand names accessories and flashy diamond jewelries. I was very surprised that they were dressed up just for a stroll by the old canal. Then, I realised that some people were families of those officials who came to the opening party and there were a few television reporters covering the launch of the newly finished Ong Ang canal project.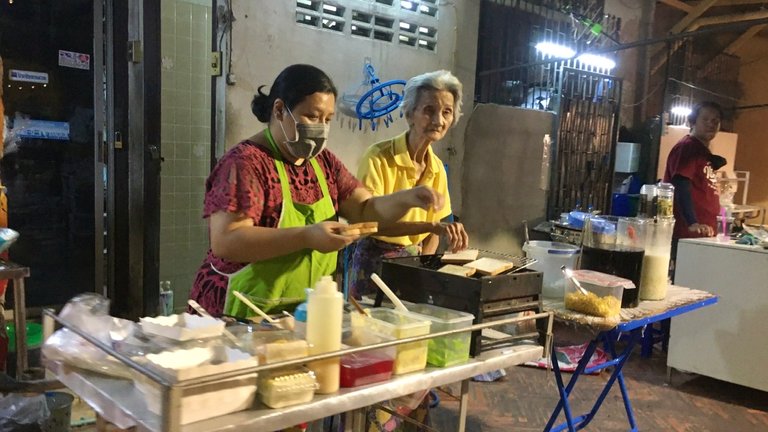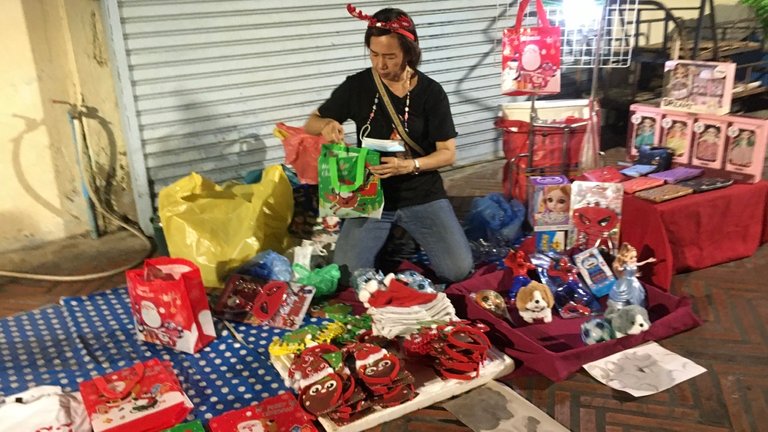 I noticed several people in period costumes and cross-play outfits: Japanese kimono and samurai including traditional Thai costumes. The main attractions were street art or wall paintings on walls along both sides of the canal. These paintings and drawings reflected the professions of local people who lived in the area such as Chinese street food, cloth shop and modern cartoons.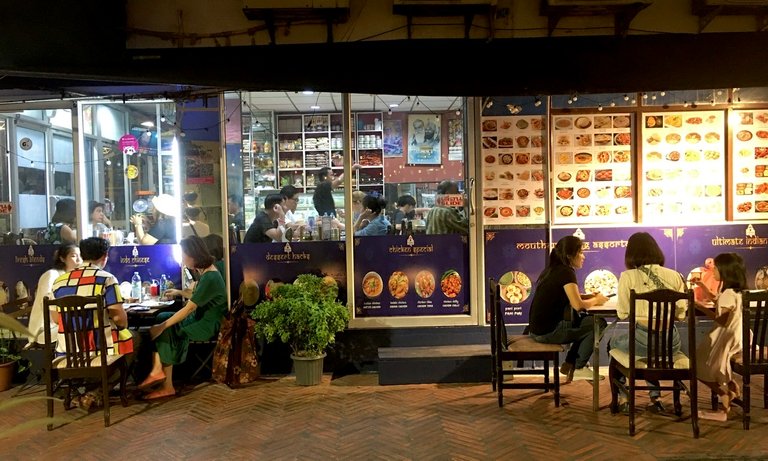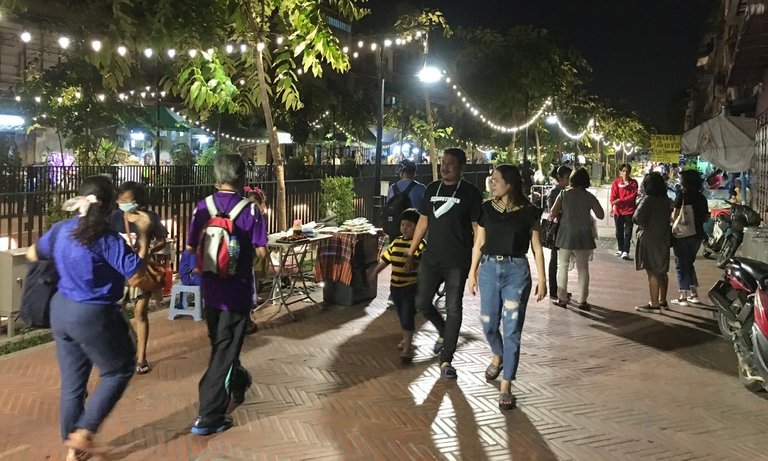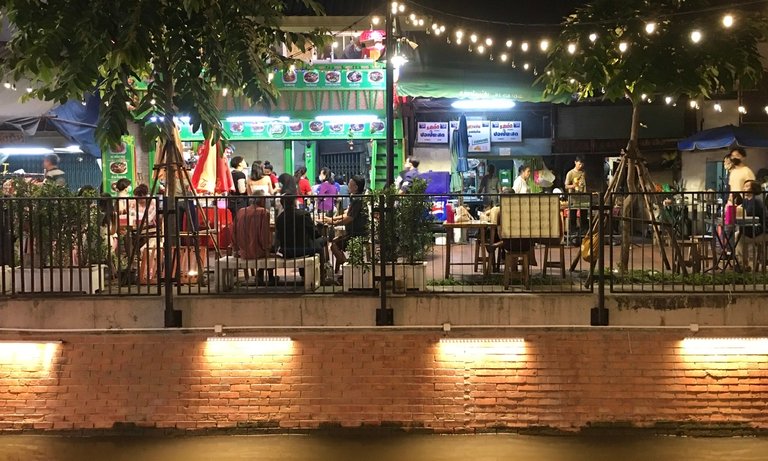 The other attraction was the kayak rowing in the canal. The smelly water in the canal had been transformed into much cleaner water without any rubbish and toxic pollution. The authority had several kayaks for rent and they were very popular among party goers. Some people did not have any previous experience with kayak rowing so they were not able to go very far. I was hoping on one would suffer from an accident in the middle of the canal.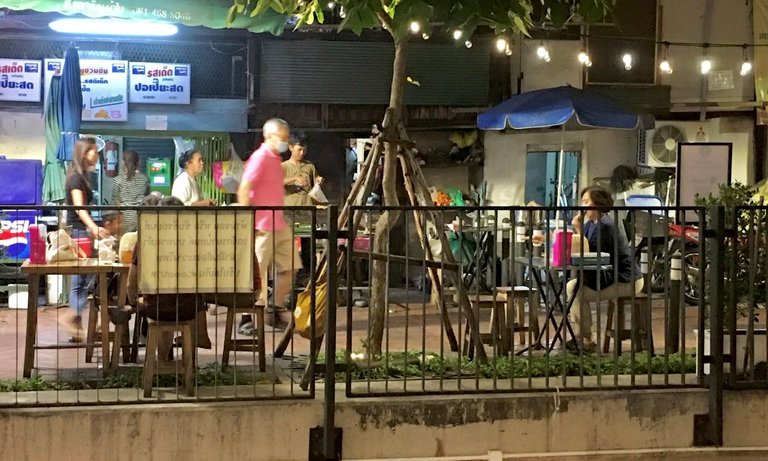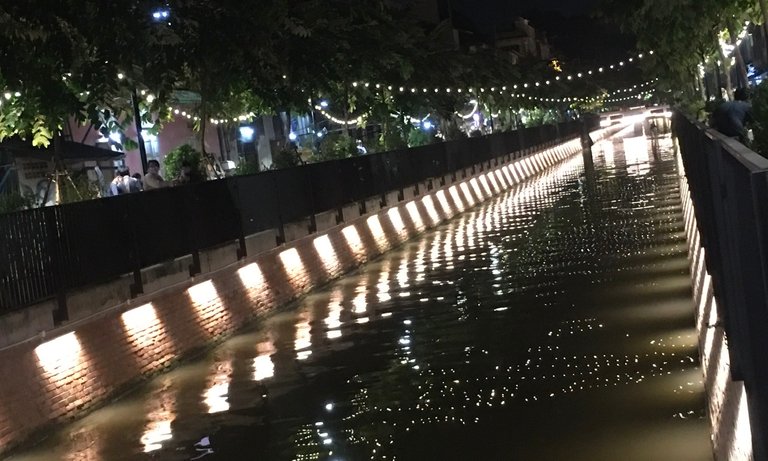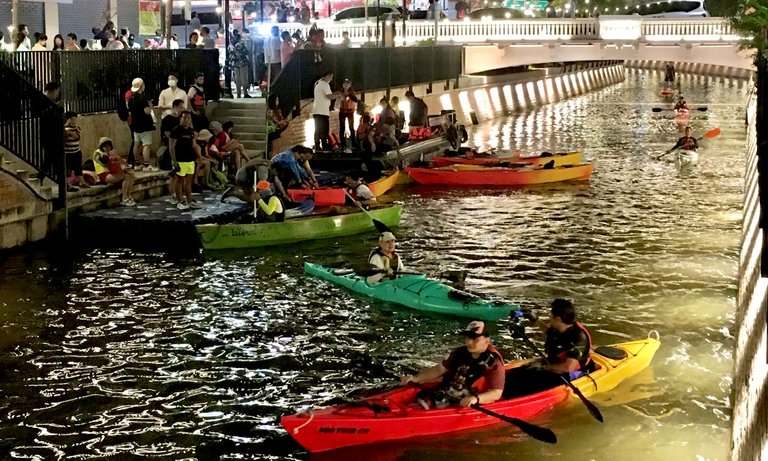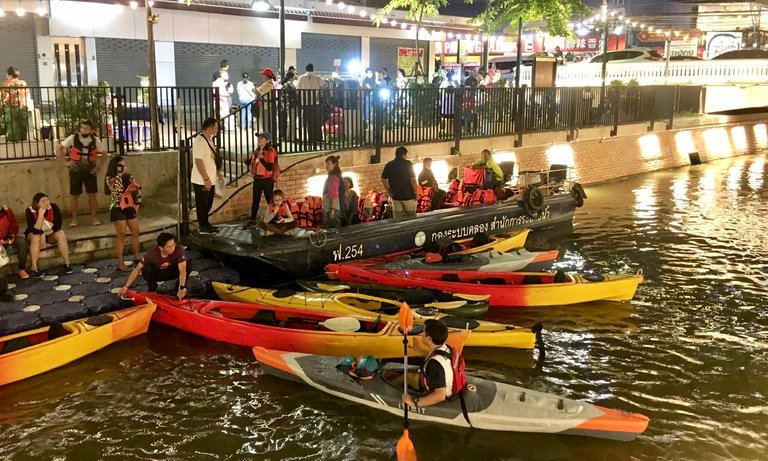 The superintendents had to help bringing first time rowers back to the base. It was good fun to see a race among other rowers. There was such a commotion and splattering in the canal. The atmosphere was very friendly and people took turns in taking photos with amazing street art. I could not cover all the street art as they were too many people and the lighting was not good in some places. I knew I would have to get back there again during daytime. But the evening walking was nicely cooler and relaxing. That was such a good opportunity to observe Thai people acting like tourists in the old part of Bangkok.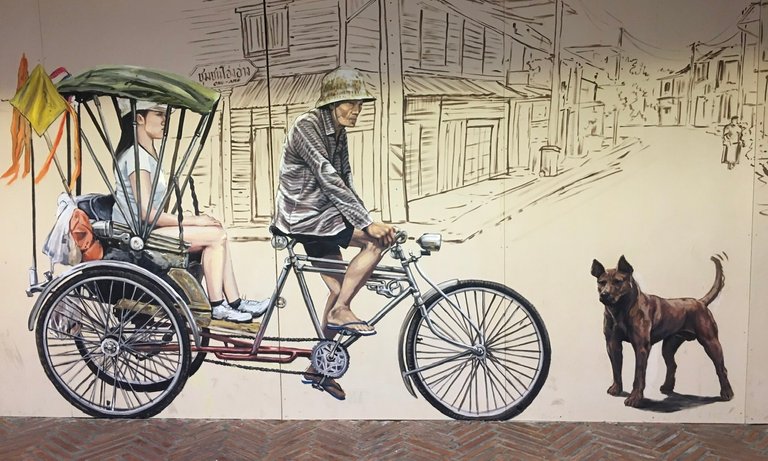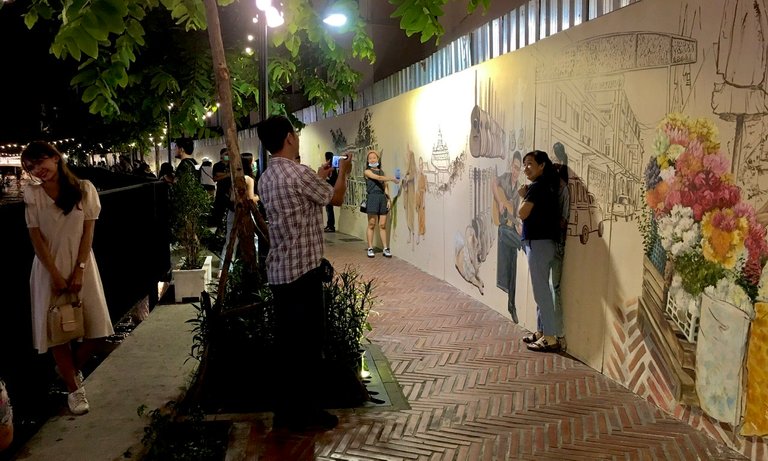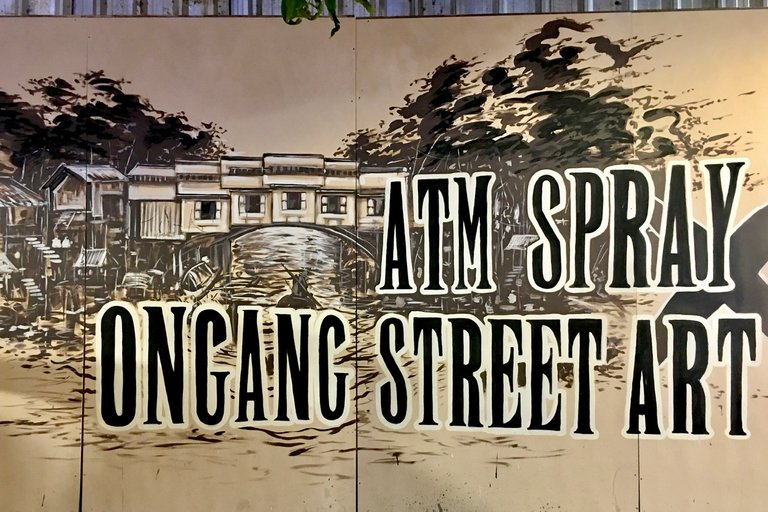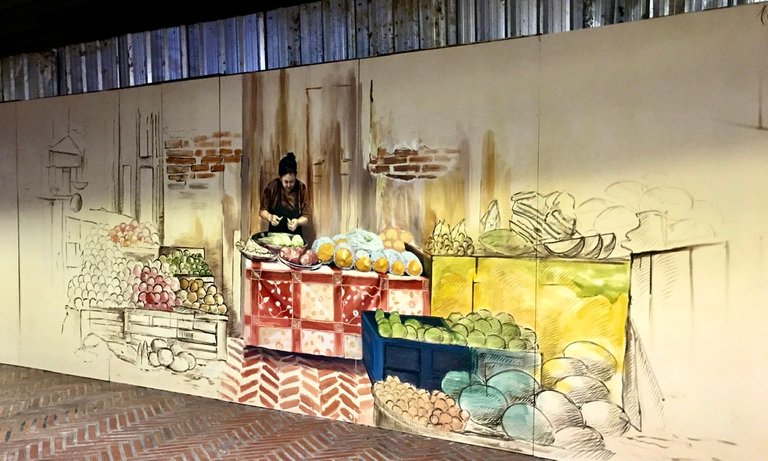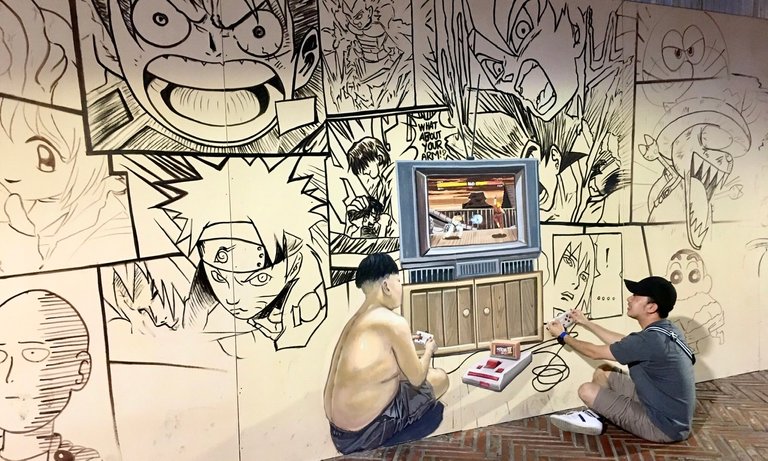 วันนี้เราจะเล่าเรื่องไปเดินเล่นที่คลองโอ่งอ่างแถวย่านสำเพ็งและสะพานหัน เราบังเอิญไปโผล่ที่นั่นหลังจากที่เราไปซื้อเครื่องเทศที่ตลาดของชาวอินเดีย เราหาทางลัดเพื่อเดินกลับไปถนนเยาวราช แต่กลับไปเจอคลองโอ่งอ่างในวันที่สามของการจัดงาน เปิดตัวคลองโอ่งอ่างพอดี เราก็เลยได้ร่วมงานปาร์ตี้ของงานนี้สนุกไปเลย มีผู้คนมาเที่ยวงานเยอะมาก คนส่วนใหญ่แต่งตัวดีมาก ดีเกินไปสำหรับมาเดินเที่ยวริมคลอง ในงานมีพนักงานระดับสูงของกทมด้วย คนที่มาส่วนหนึ่งจึงแต่งตัวเหมือนไปงานแต่งงาน มีคนโหลดเครื่องเพชรมาด้วยจนเราแสบตา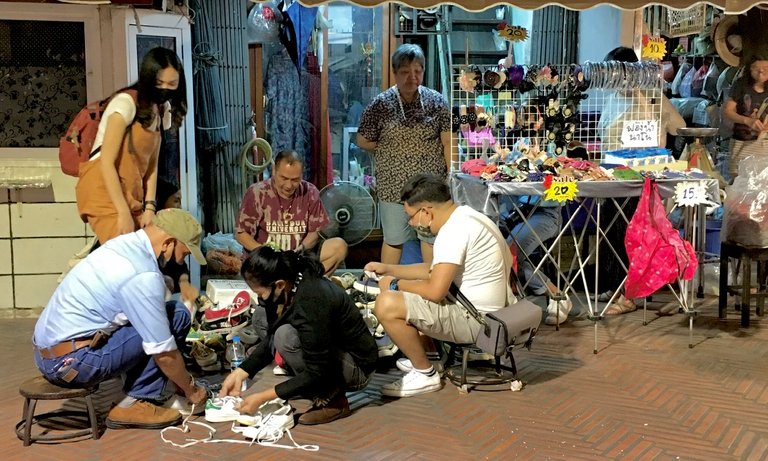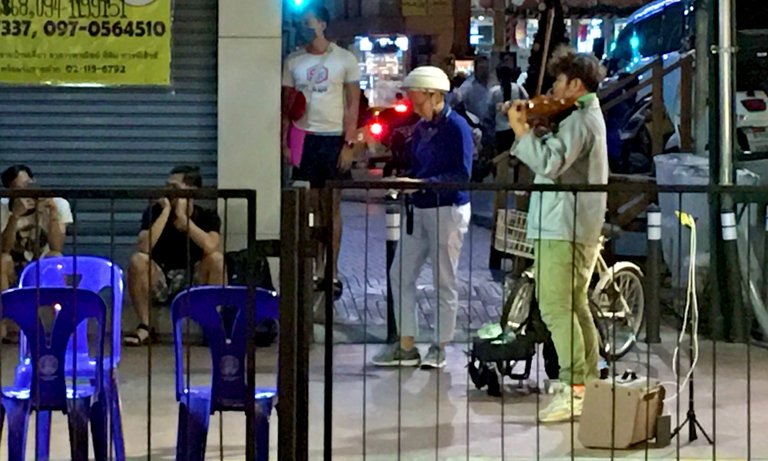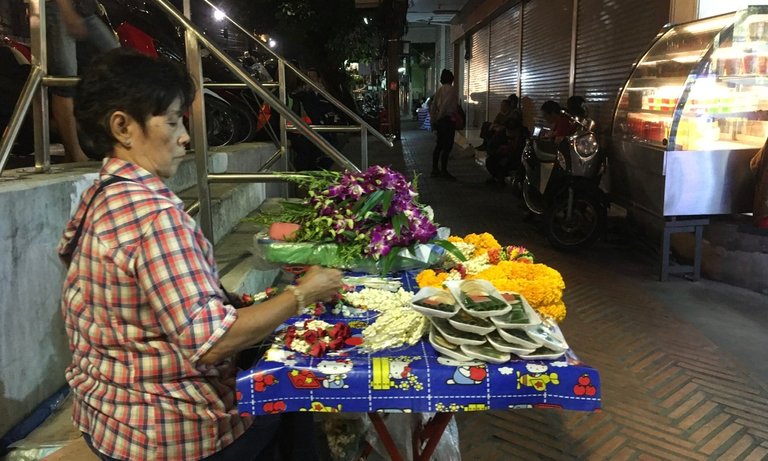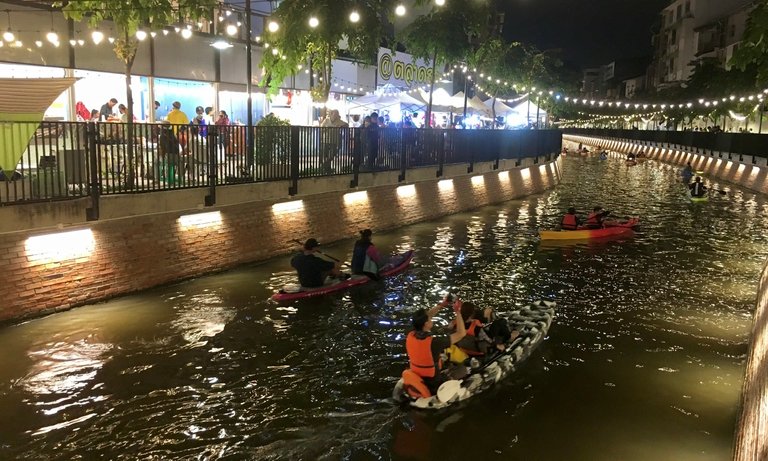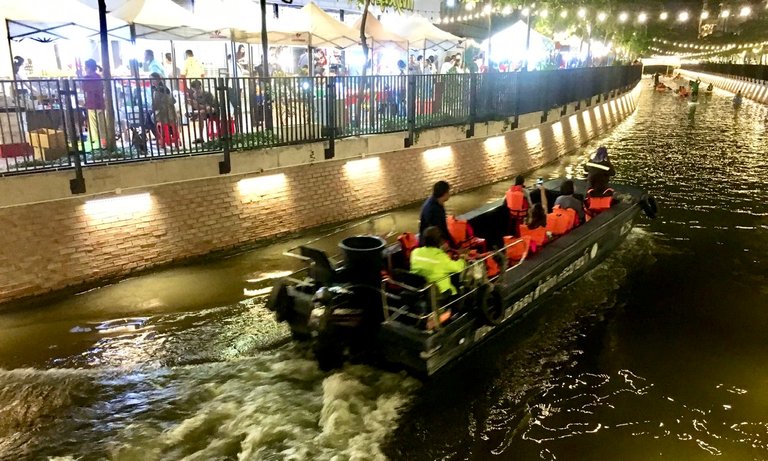 ตอนนี้คลองโอ่งอ่างกลายเป็นแหล่งท่องเที่ยวเชิงวัฒนธรรม และศิลปะในแถบทางทิศเหนือของถนนเยาวราช ตามสองข้างทางริมคลอง เราเห็นภาพวาดตามกำแพงมากมายตลอด คนที่มาเที่ยวก็เข้าคิวเพื่อถ่ายรูปเป็นที่ระลึก บางคนแต่งตัวคอสเพลย์เป็นชาวจีนโบราณและชาวญี่ปุ่น หลายคนแต่งตัวแบบไทยโบราณ สองข้างทางมีร้านขายอาหาร และของว่างน่ากินตลอดทาง และมีร้านขายของที่ระลึกด้วย งานนี้มีวัยรุ่นมาเที่ยวถ่ายรูปหลายกลุ่ม คลองโอ่งอ่างจะกลายเป็นถนนคนเดินทุกศุกร์เสาร์และอาทิตย์ มีนักดนตรีมาแสดงความสามารถกันหลายกลุ่ม เราคิดว่าต่อไปที่นี่ก็คงเป็นที่เช็คอินของวัยรุ่นมาถ่ายรูปกัน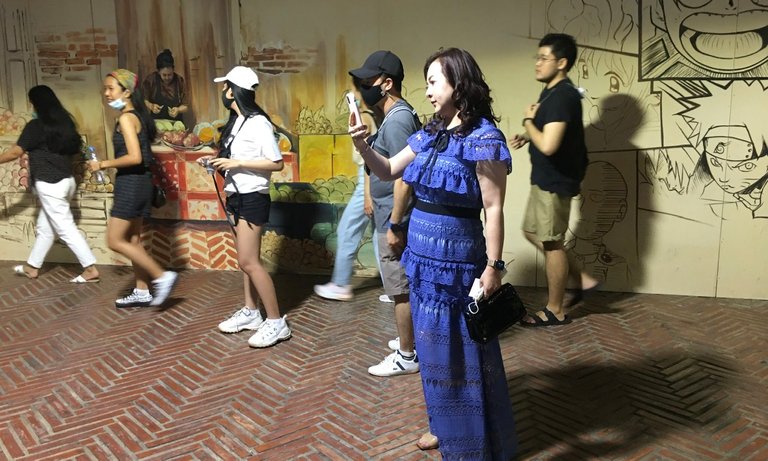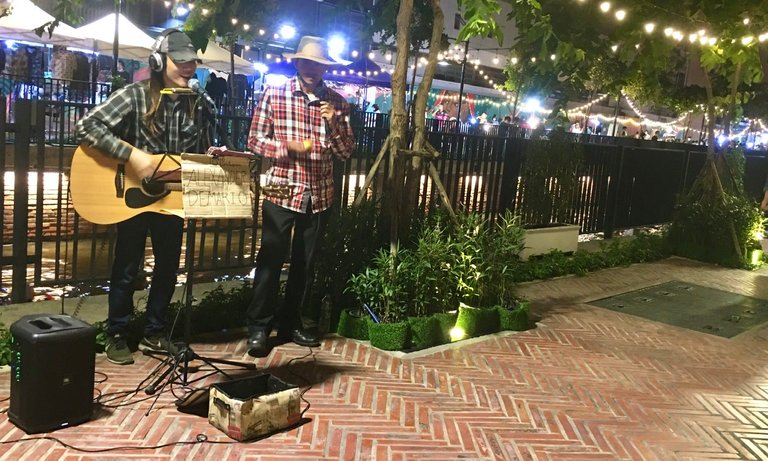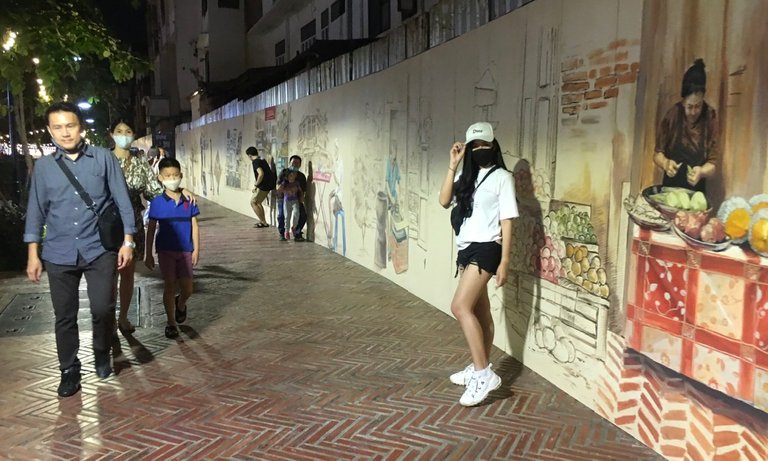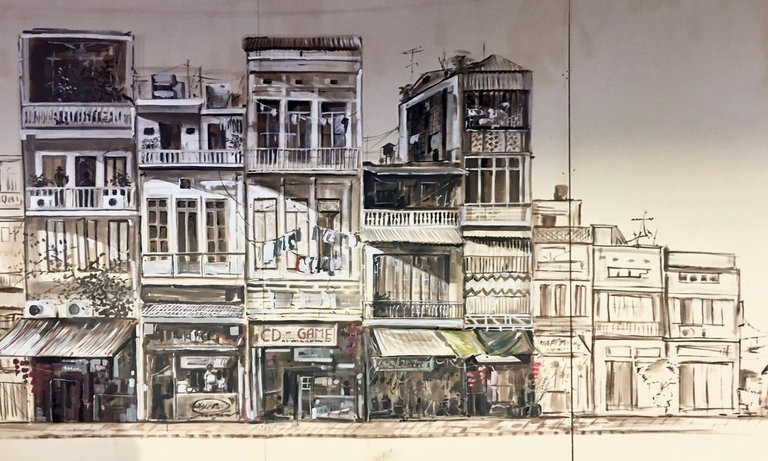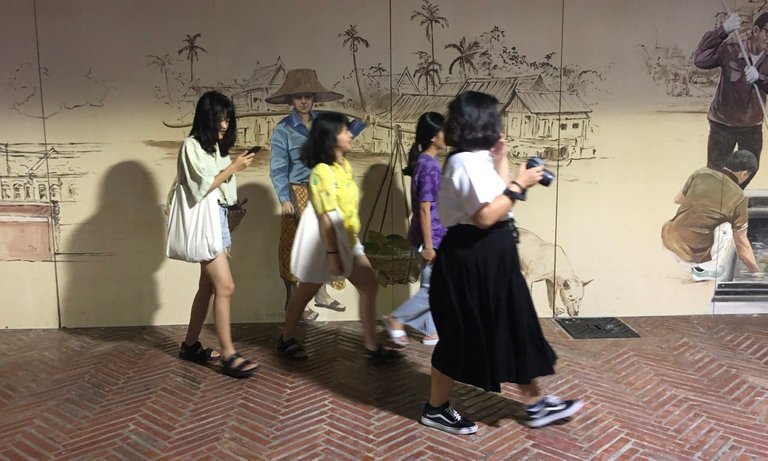 เราถ่ายรูปภาพเขียนตามกำแพงมาไม่หมด เพราะมีเยอะมาก และแสงส่องไม่พอในบางจุด สมัยก่อนแถวนี้เป็นแหล่งขายเคราทองมืออิเล็กทรอนิกส์ แผ่นวีดีโอและเกมส์เถื่อน และร้านขายของเล่นโบราณและแบบโมเดล ภายในเวลาไม่ถึงห้าปีก็เดิดการเปลี่ยนแปลงขนานใหญ่ เราแทบไม่ได้ข่าวเรื่องราวแถวนี้เลย ร้านขายของมากกว่า 500 ร้านหายไปหมด แต่นํ้าในคลองหายเน่า เขาจัดการปลูกต้นไม้ตามริมคลอง เพื่อทำให้เป็นแหล่งท่องเที่ยว สิ่งที่คนมาเที่ยวชอบคือ เจามีเรือคายัคให้เช่าพายเล่นในคลองโอ่งอ่าง บางคนทำทางจะไม่เคยพายเรือมาก่อน เราก็ลุ้นว่าจะมีใครเรือล่มหรือไม่ แต่ที่สนุกคือการแข่งพายเรือของคนที่เก่งแล้ว เราไม่เคยเห็นน้ำกระจายเต็มคลองแบบนี้มาก่อน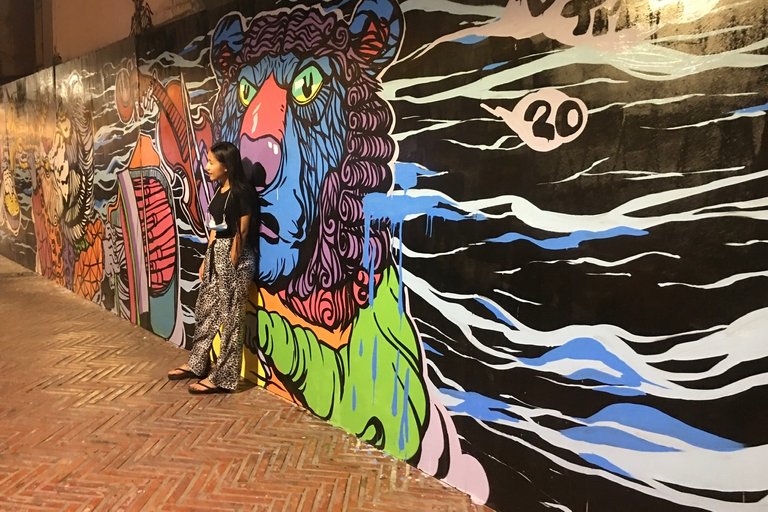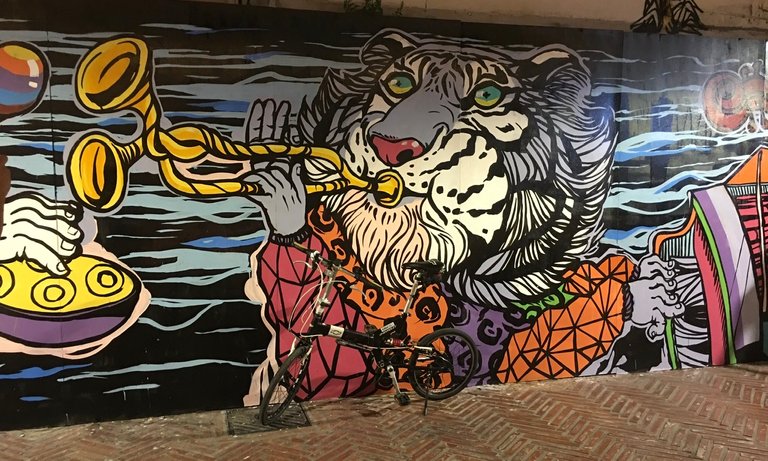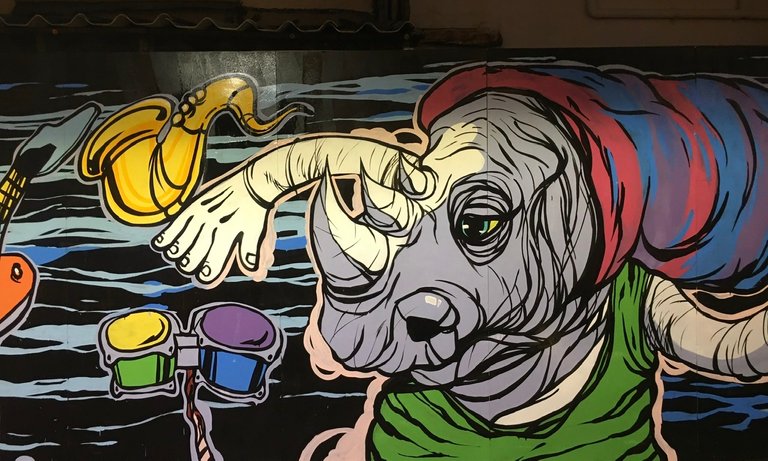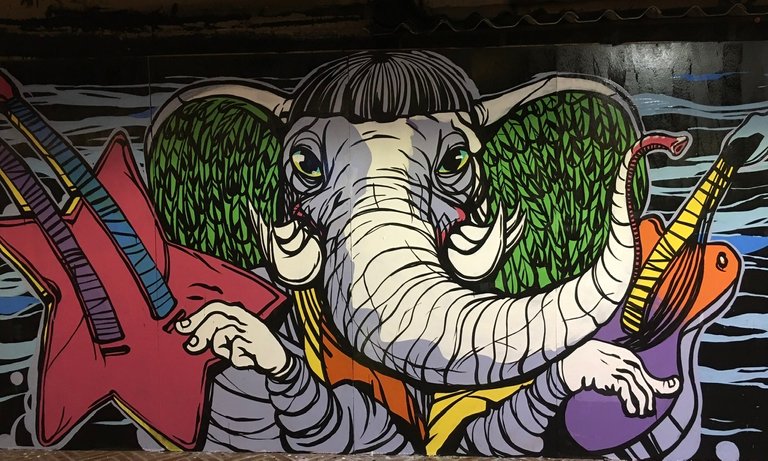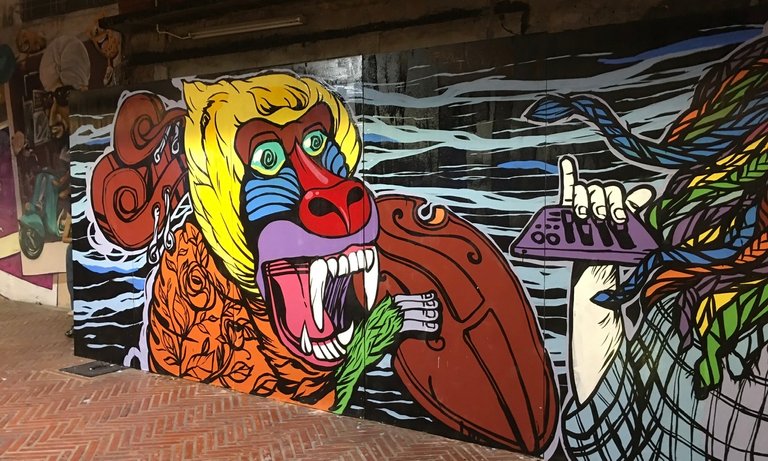 After all the investment and various volunteers' assistance in this project, the coronavirus pandemic had put a stop to tourism. I do hope that local tourists would come to make this new attraction lively during weekends. Local vendors are waiting for things to improve more drastically next season.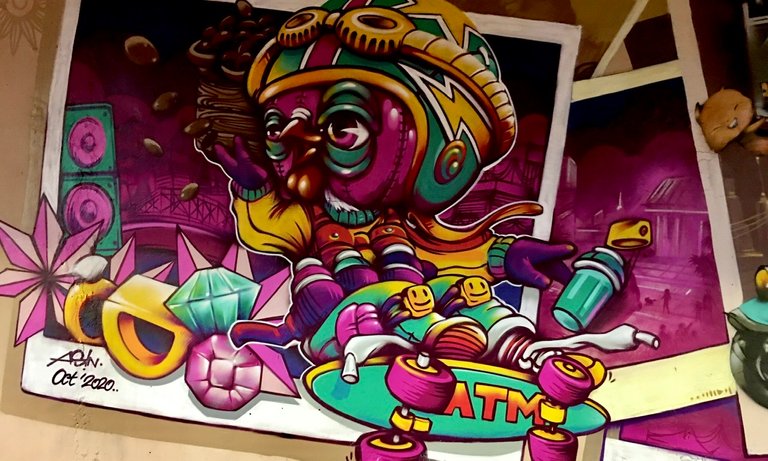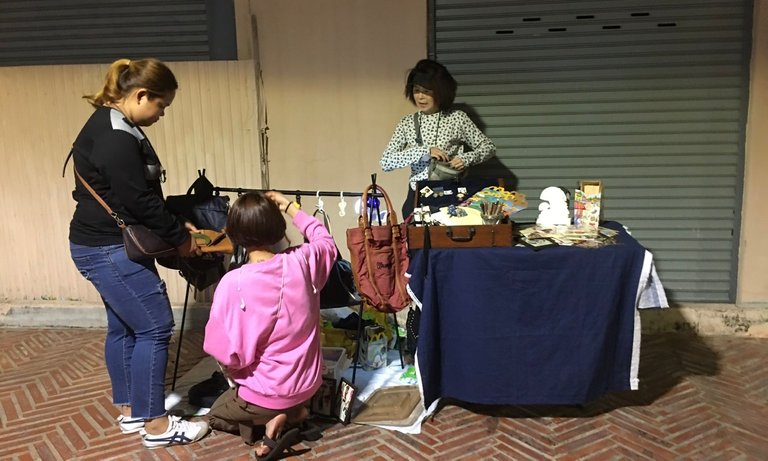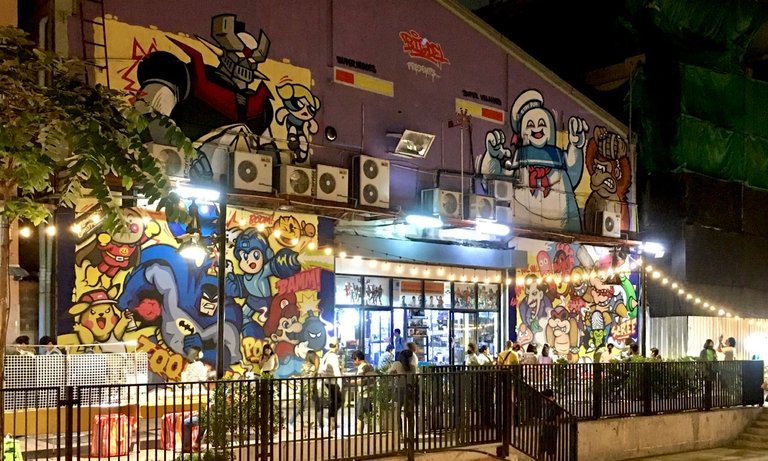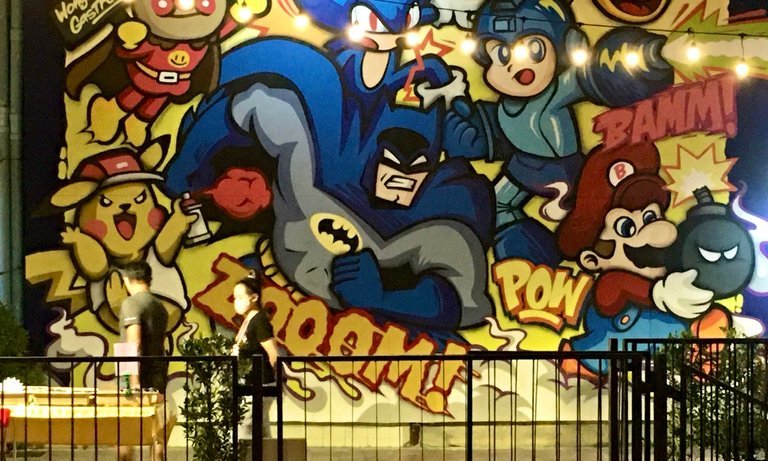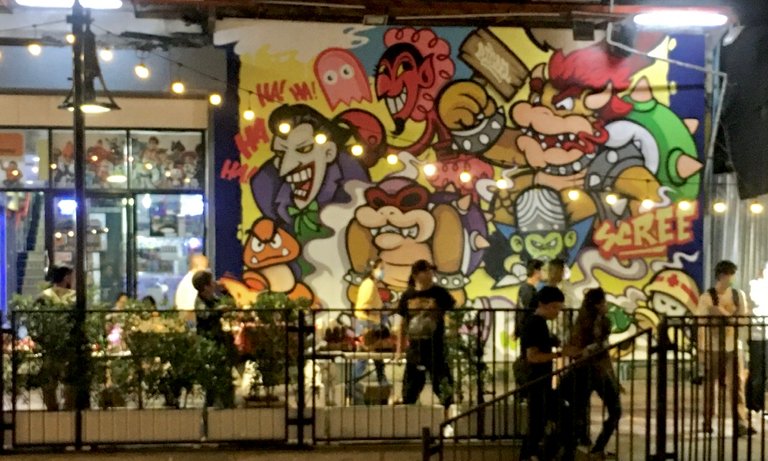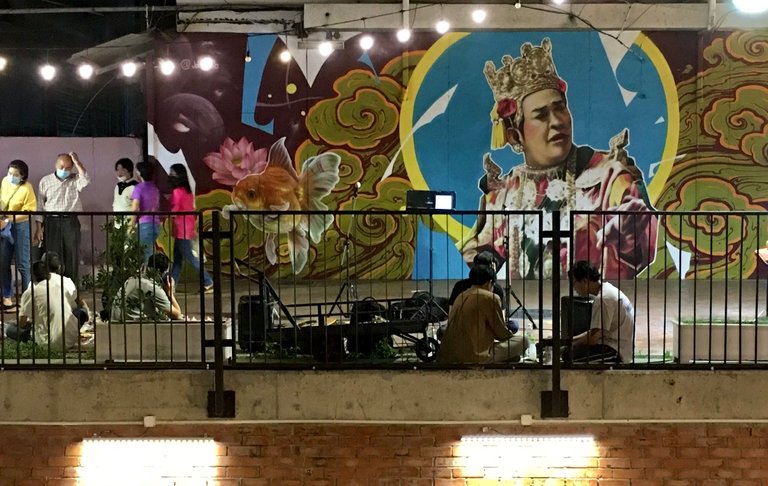 Wishing you peace, good health and prosperity.
Stay warm and cheerful.