The last time I visited Wat Saket or the Golden Mount Temple was last year, just before the long lockdown. I took a long lost friend,whom I met by accident at the big shopping mall, to make some merit at the temple. Wat Saket is also known as Golden Mount Temple as it has an eighty meters high man-made hill with golden stupa on top. That is where people go up to pay respect to the Buddha relics and enjoy a nice view of the old part of Bangkok. During Steemfest4 in Bangkok, I took two participants to the annual temple fair at Wat Saket. But this time the atmosphere was completely different, the temple was very quiet with few visitors and less than ten tourists taking photos on the hill and stupa.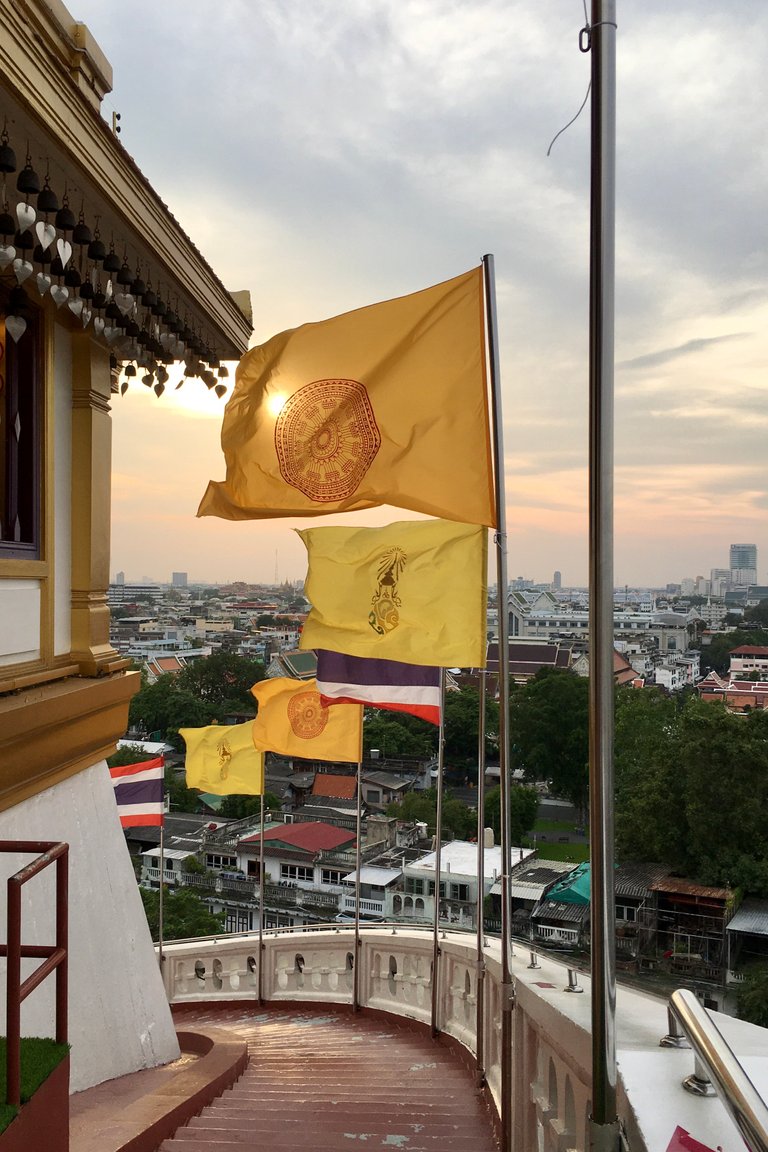 The reason why I took my friend to this temple was because she was complaining about her life and work situation. So, I suggested we went to pay respect to sacred Buddha relics and do some dana (offerings or charitable deeds) at Wat Saket.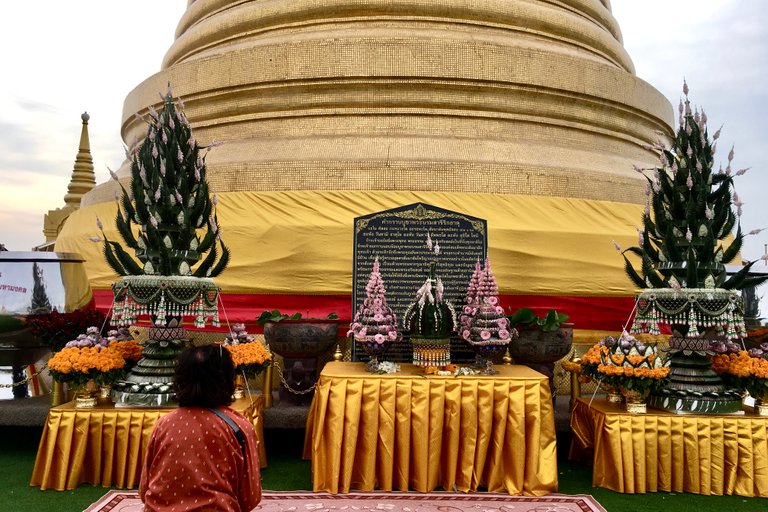 There was a surprising change to the surrounding of the temple. There appeared to be a man-made cave at the base of the hill with a new rocks or boulders display around the cave. Inside this cave was a model of the Standing Buddha in Bamiyum which was demolished by the Talebans in Afghanistan in 2001. There were also some antique objects and old Buddha statues inside this cave. I did wonder why the Abbot spent a lot of money on this strange project which seemed out of place to me. There was no senior monks around to answer my questions. The rocks or boulders placed around outside the cave also raised my eyebrows. I wondered whether these were donated by some Chinese millionaires or whether some monks have become interested in Feng-Shui or playing with stone energy.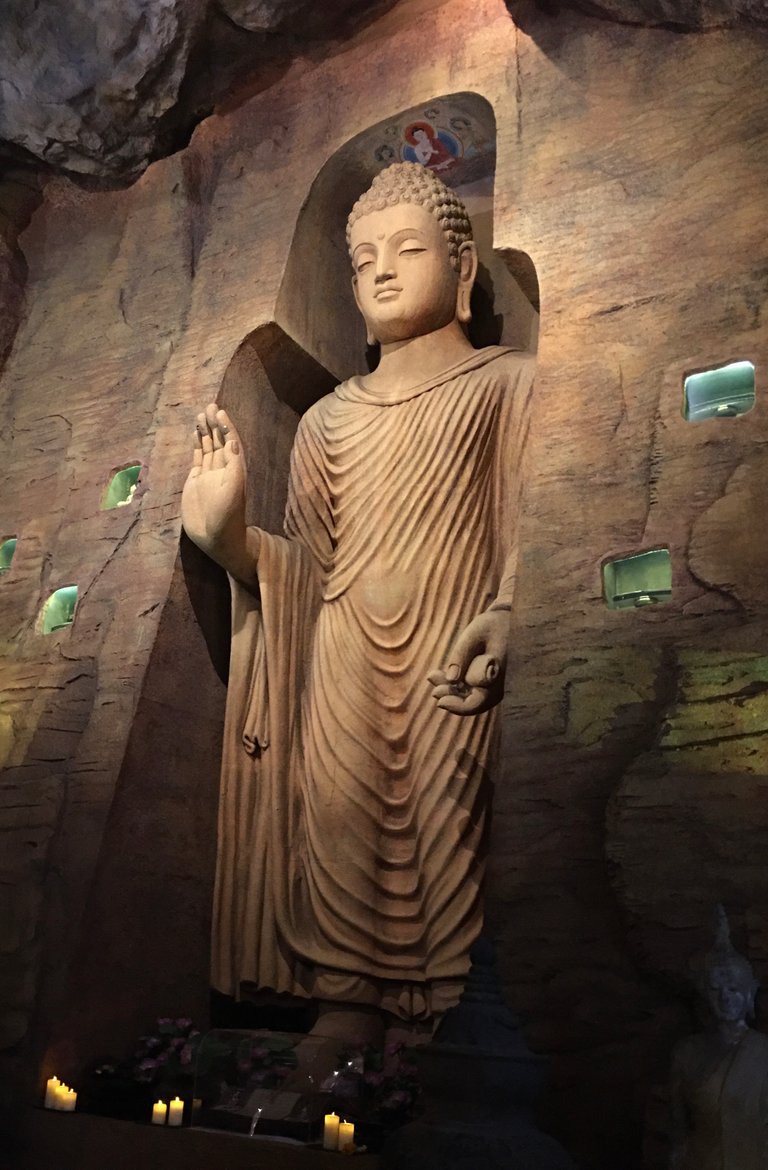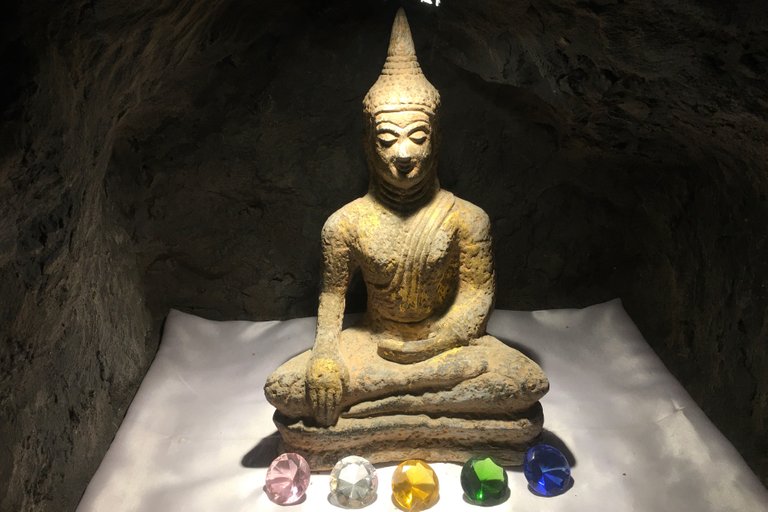 Each rock must be very heavy making me wondering about the numbers of trucks needed to transport them to the temple. I could feel the strong vibes from some of these big rocks which attracted my attention. They felt like some ancient tribe of people who had turned into stones during their long vigil of a secret cave. Now their old faces and shapes had been washed away by rain and streams of water. But their unique characters still remained intact and waiting to be recognised and appreciated.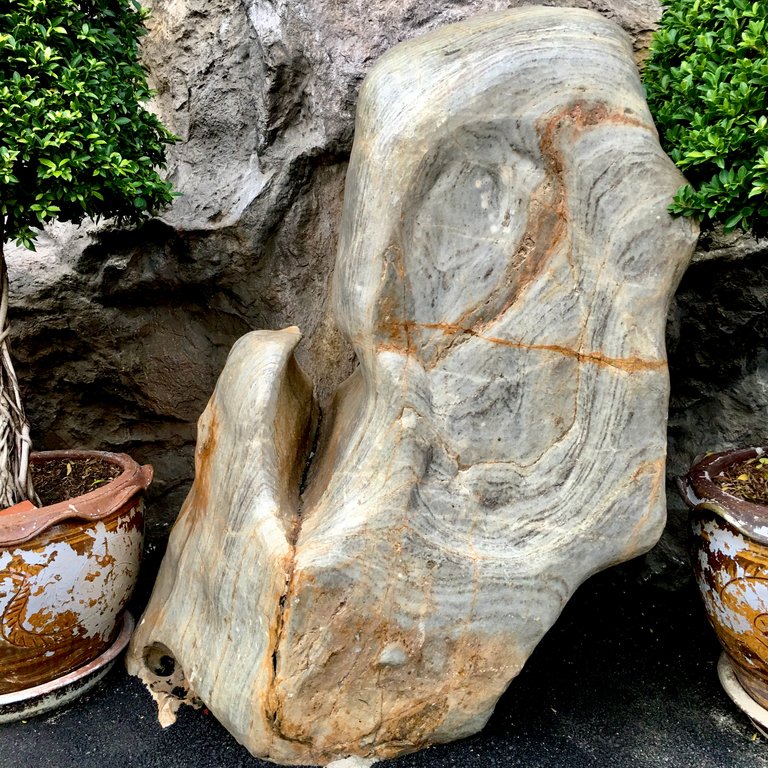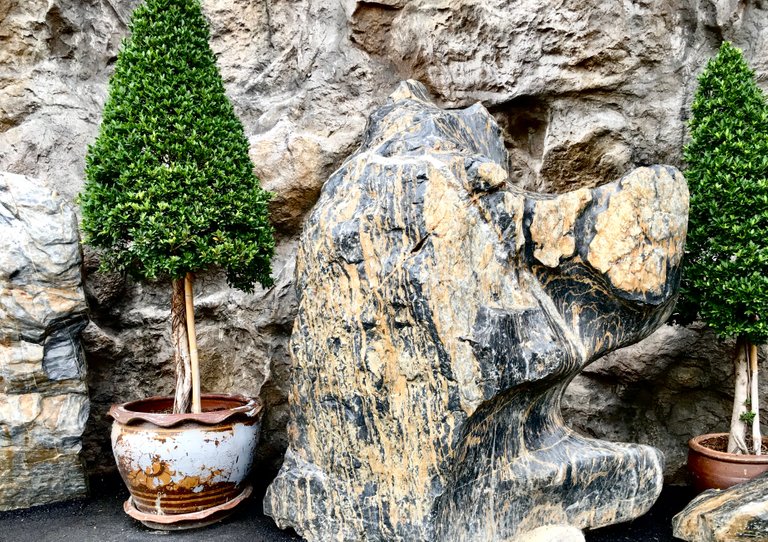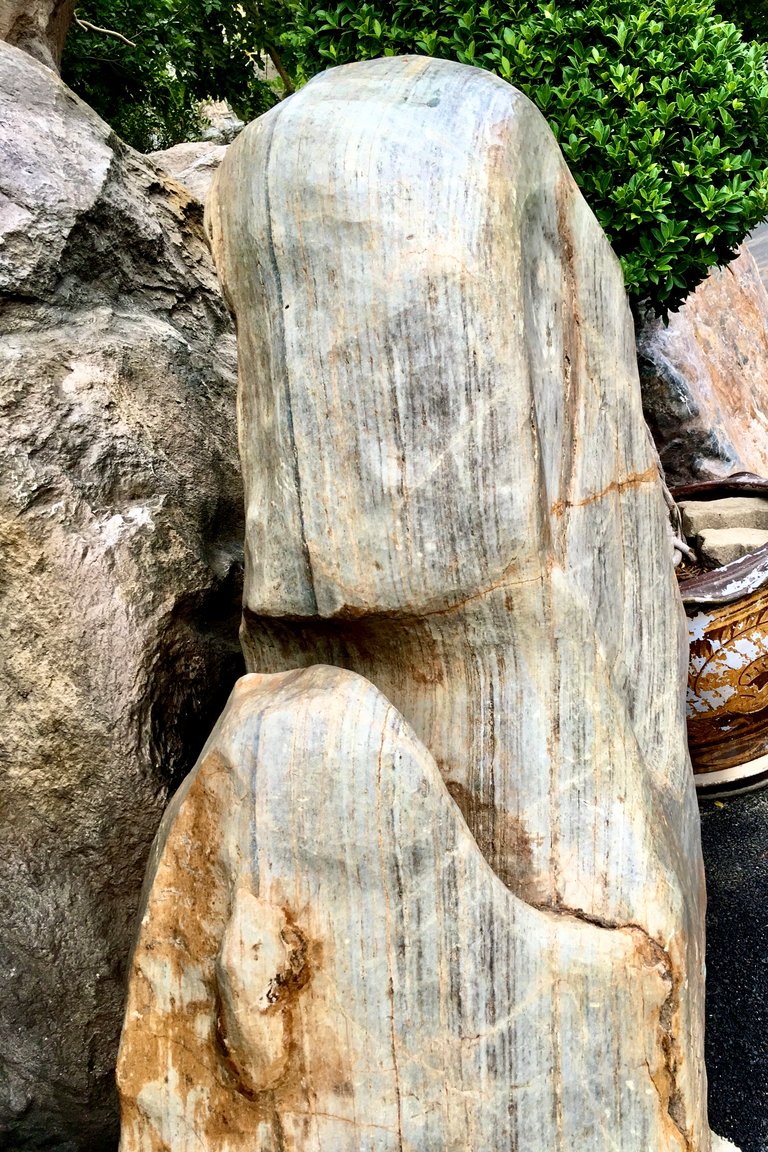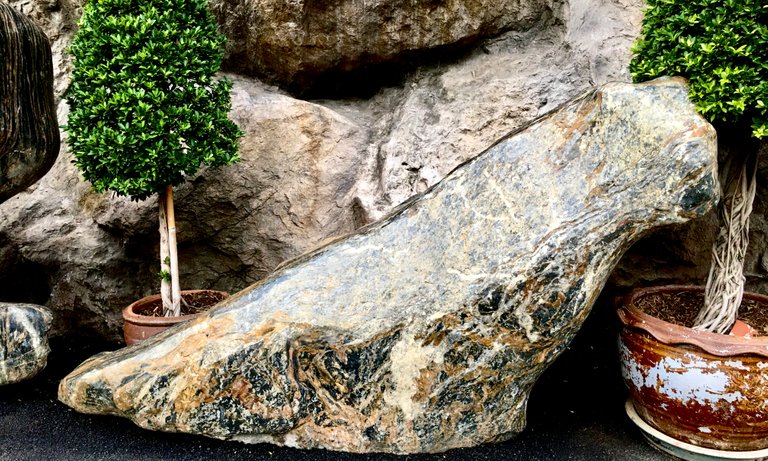 ครั้งสุดท้ายที่เราไปเที่ยววัดสระเกศก็เกือบครึ่งปีแล้ว เราพาพาเพื่อนเก่าที่เราบังเอิญไปเจอที่ร้านอาหาร ที่ห้างสรรพสินค้าไปไหว้พระทำบุญที่นี่ เขาบ่นเรื่องชีวิตและการงานว่าไม่ค่อยราบรื่น เราก็บอกว่าคงไม่ได้ไปวัดนานแล้ว เราไปกราบพระและเดินเที่ยวถ่ายรูปดีกว่า ตอนแรกเขาคิดว่าจะเดินไม่ไหวเพราะ ไม่ได้ออกกำลังกายนานแล้ว ในที่สุดเราก็ไปกันถึงที่วัดภูเขาทอง และเดินขึ้นไปไหว้พระที่พระเจดีย์ข้างบน เขาพึ่งเคยมาวัดนี้เป็นครั้งแรก จึงดีใจมากและเดินถ่ายรูปวิวกรุงเก่าพักใหญ่ แล้วเราก็ลงมาถ่ายรูปสวนหินและถ้ำจำลองที่ด้านล่าง สองอย่างนี้เป็นสิ่งใหม่ที่เราพึ่งเห็นเป็นครั้งแรกที่วัดนี้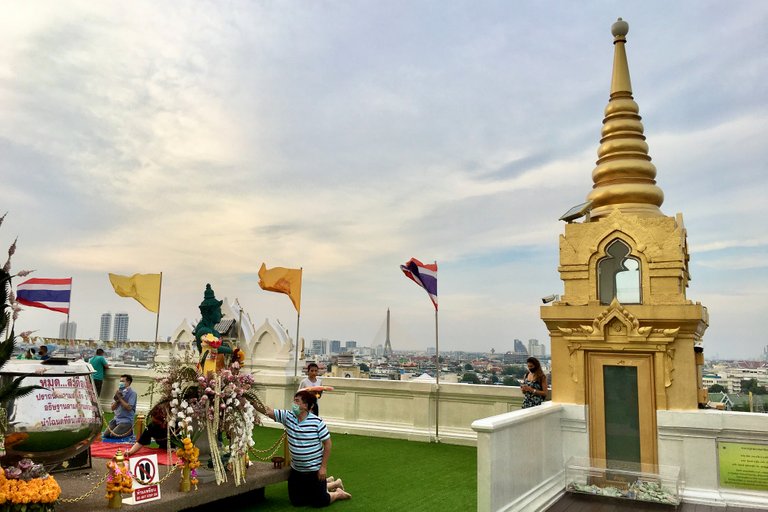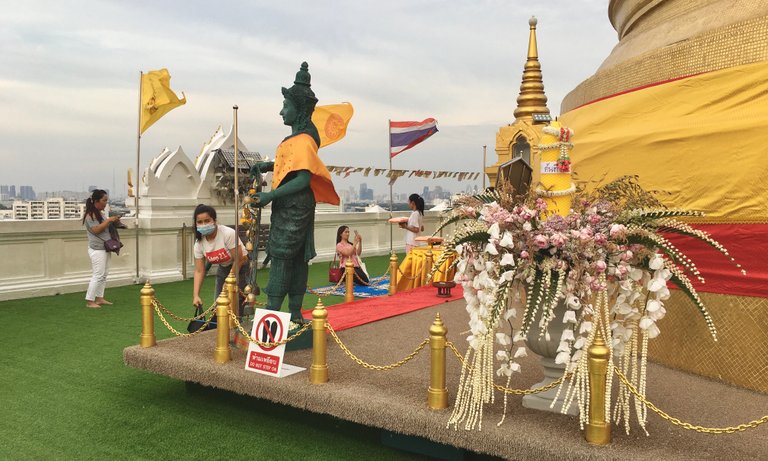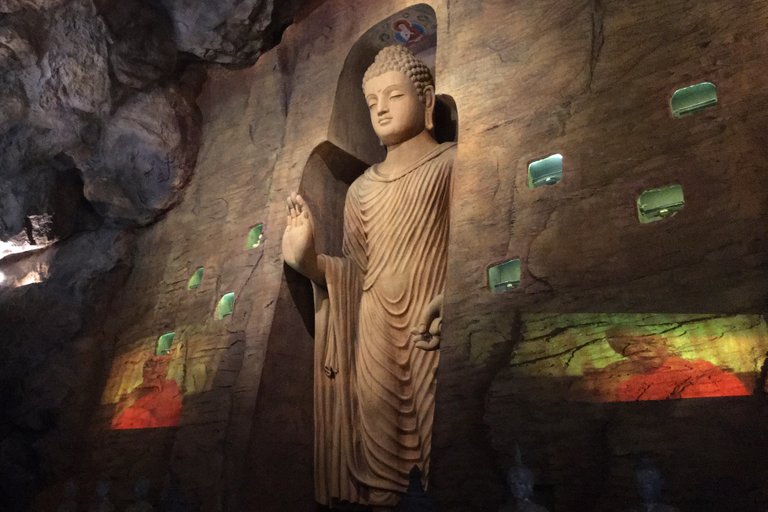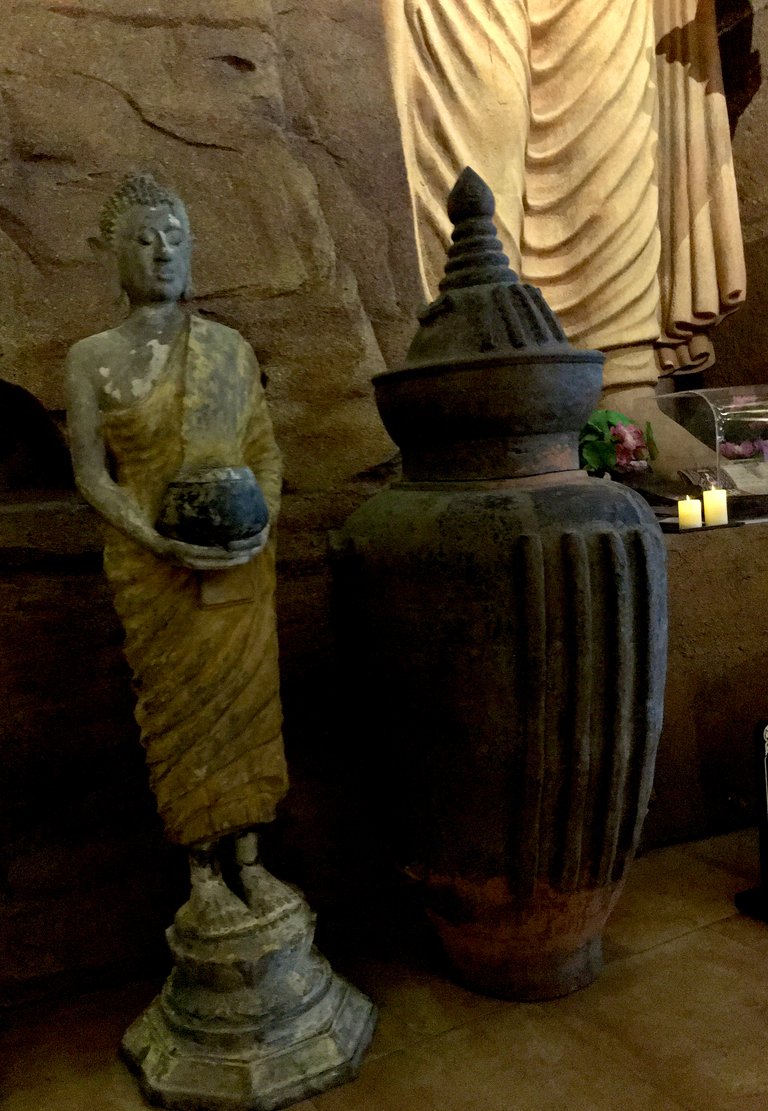 เราชอบบรรยากาศในถ้ำจำลอง และสวนหินก็น่าสนใจมาก แต่เราอยากรู้ว่า ทำไมอยู่ดีๆ ทางวัดก็ทำถํ้าจำลองที่มีรูปปั้นจำลอง ของพระพุทธรูปที่บาบิยัมในอัฟกานิสถาน แล้วก้อนหินเหล่านี้เป็นของที่คนนำมาบริจาคหรือ แถวนั้นำม่มีพระผู้ใหญ่ให้เราตั้งคำถาม ก็เลยไม่รู้เหตุผลที่แท้จริง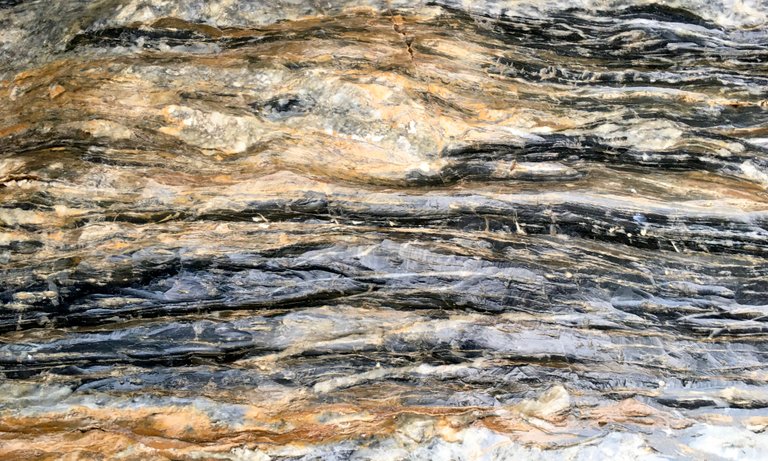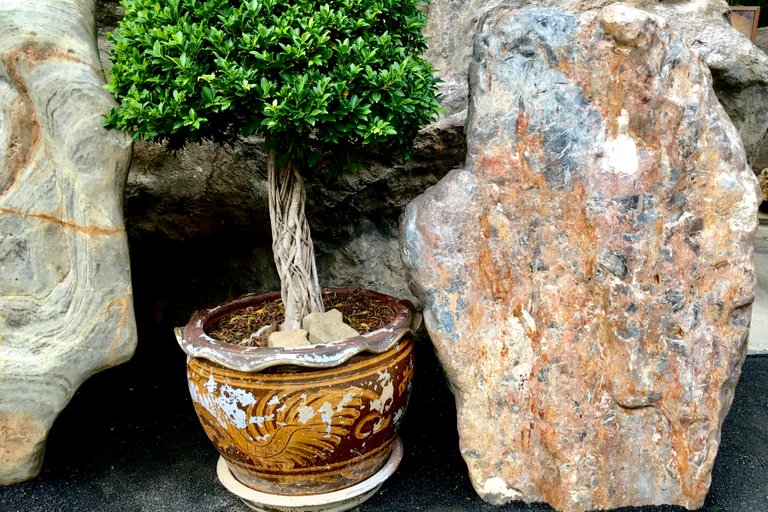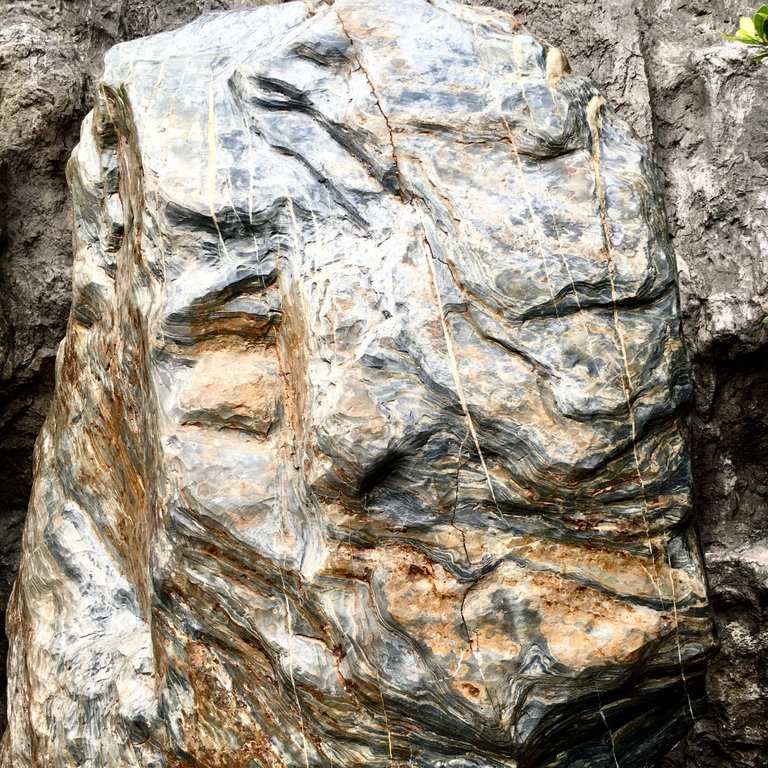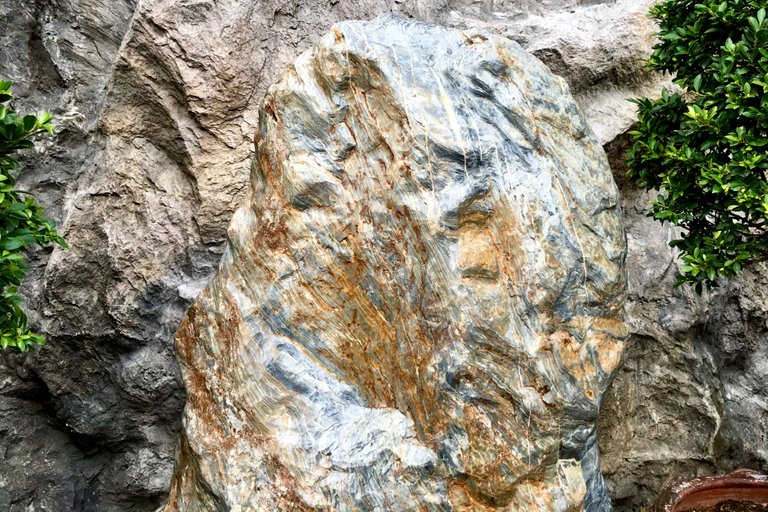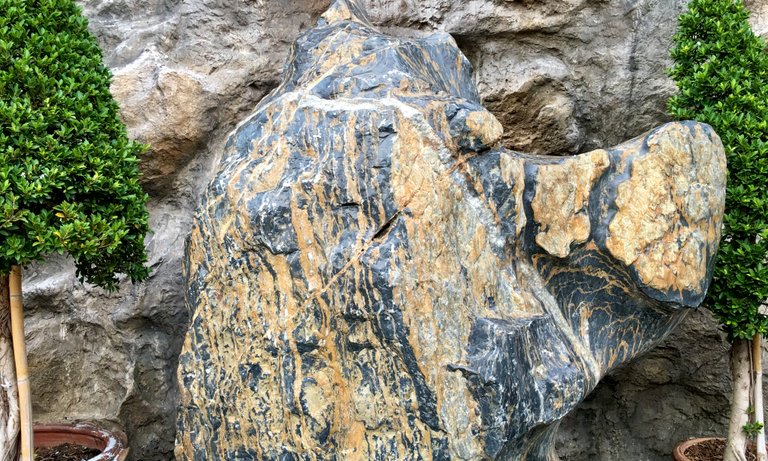 เราเดินดูหินที่ละก้อน ราวกับว่าหินแต่ละก้อนมีบุคลิกที่เป็นของตนเอง เหมือนยักษ์ที่กลายเป็นหินเพราะยืนเฝ้าถ้ำที่มีทรัพย์สมบัติซ่อนอยู่มากมาย หน้าตารูปร่างของยักษ์เหล่านี้ได้ถูกฝนและสายน้ำกัดเซาะจนเลือนหายไปหมดตามกาลเวลา เราสามารถสัมผัสได้ถึงพลังและบุคลิกของหินแต่ละก้อน เราชอบบางก้อนมาก ในขณะที่บางก้อนก็ดุและไม่รับแขกเท่าไรนัก น่าเสียดายที่เราไม่มีเวลานั่งเล่น และทำความรู้จักกับหินแต่ละก้อนให้มากกว่านี้ เรารู้ว่าหินเหล่านี้มีเรื่องเล่าโบราณมากมาย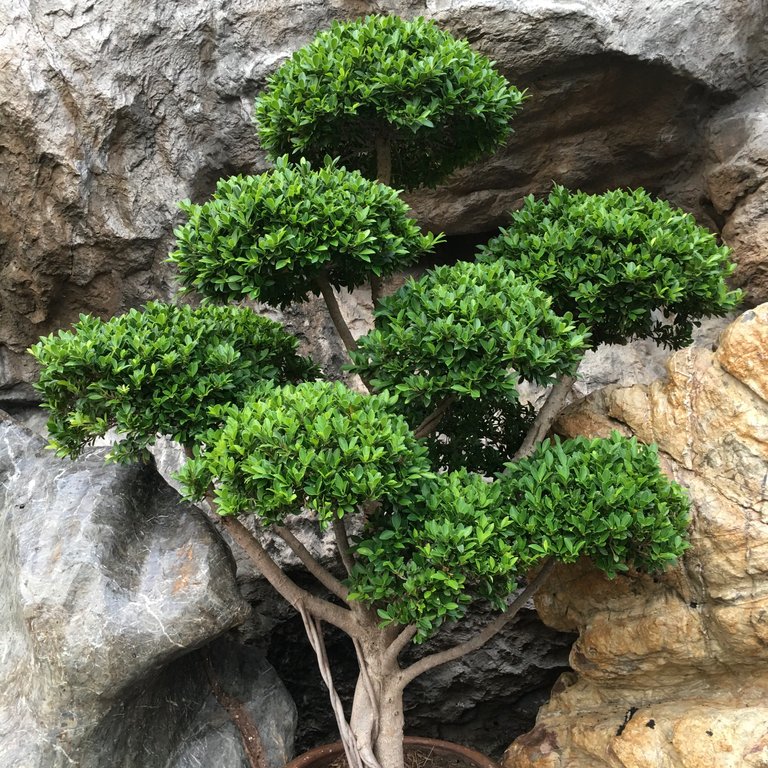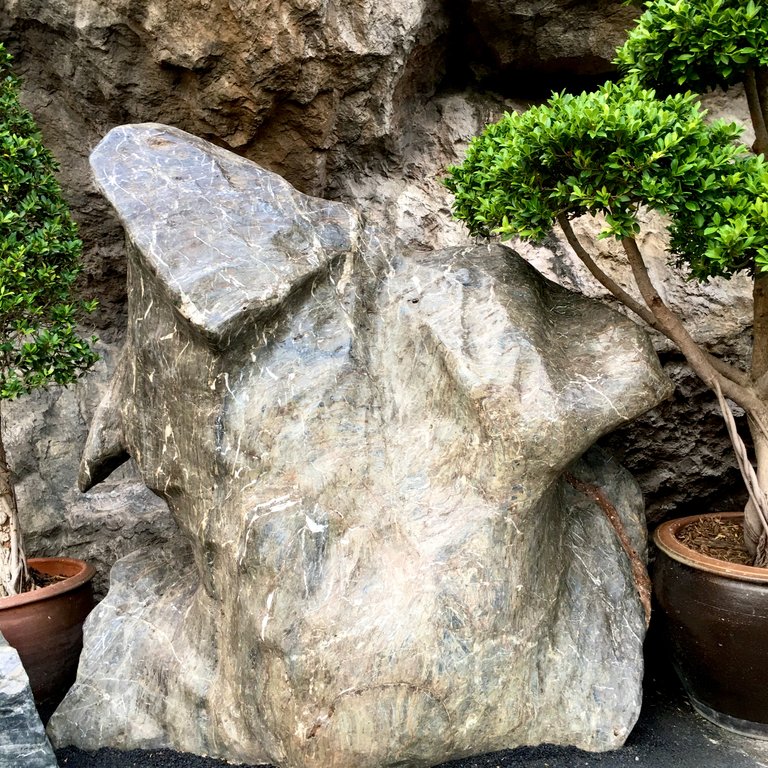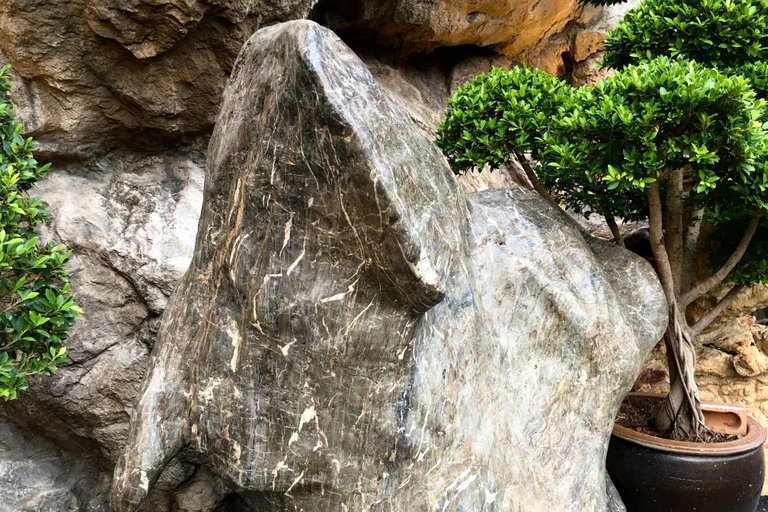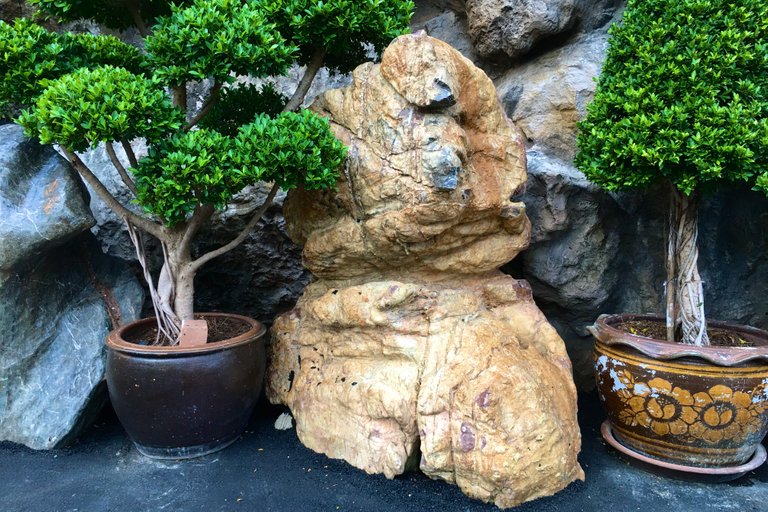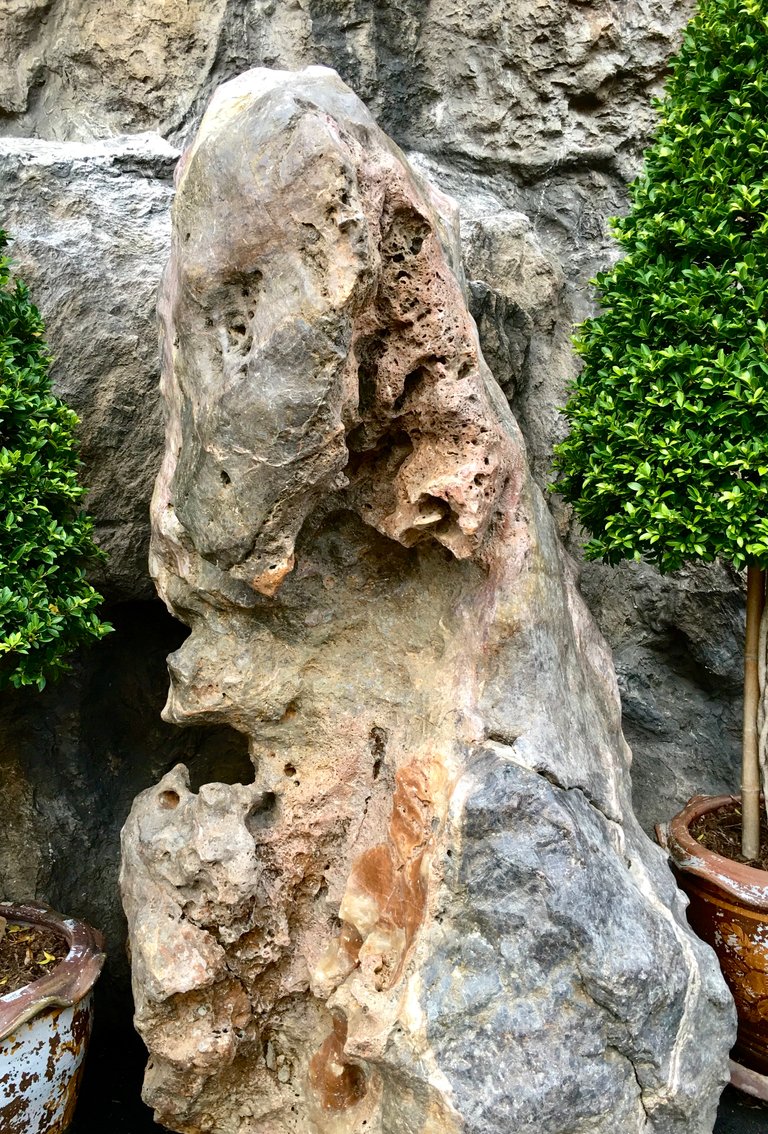 The sun was setting fast so I couldn't spend more time talking to these old rocks. Some gave out very friendly energy while some were rather aloof and guarded about strangers. I would have liked to listen to their stories about the past and what changes they had witnessed through the ages. I paid my respect to these old rocks and said my goodbye for the day.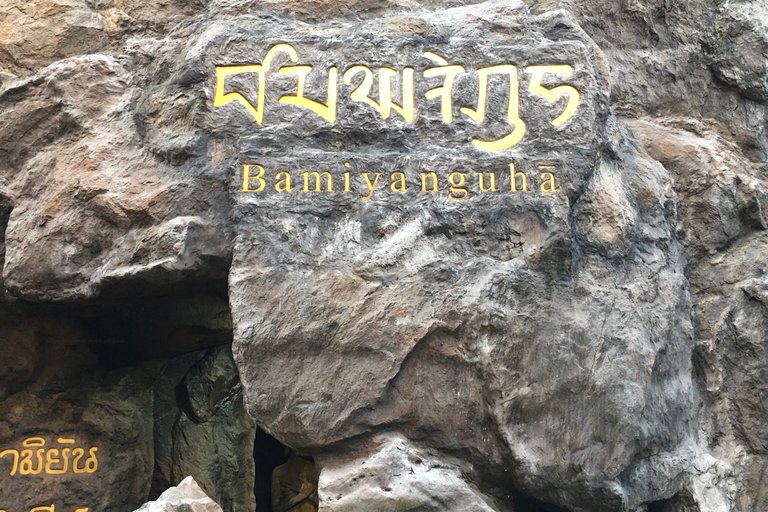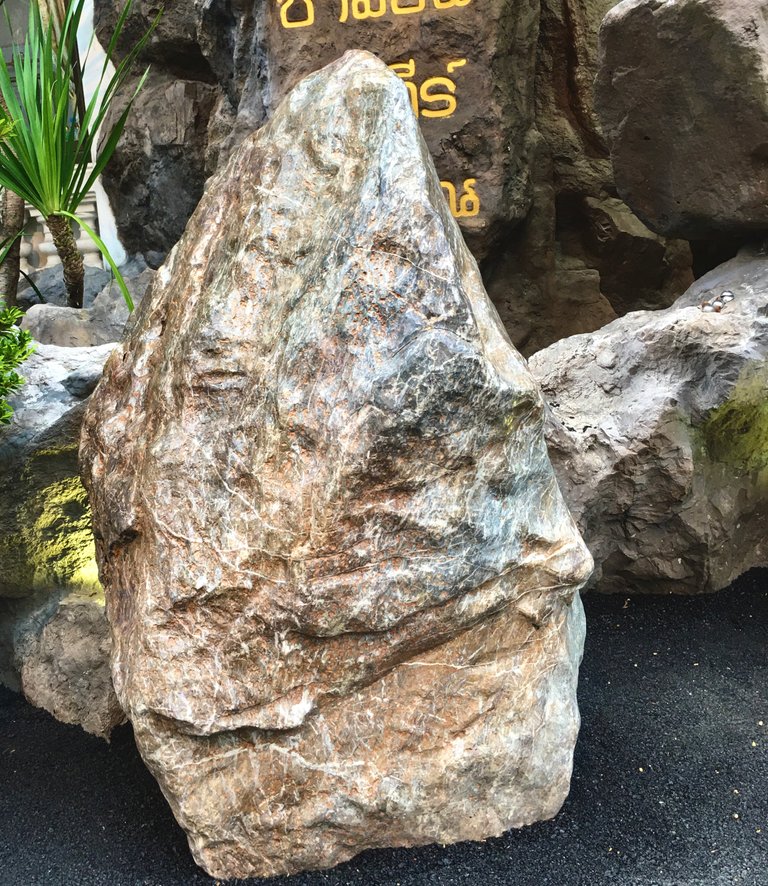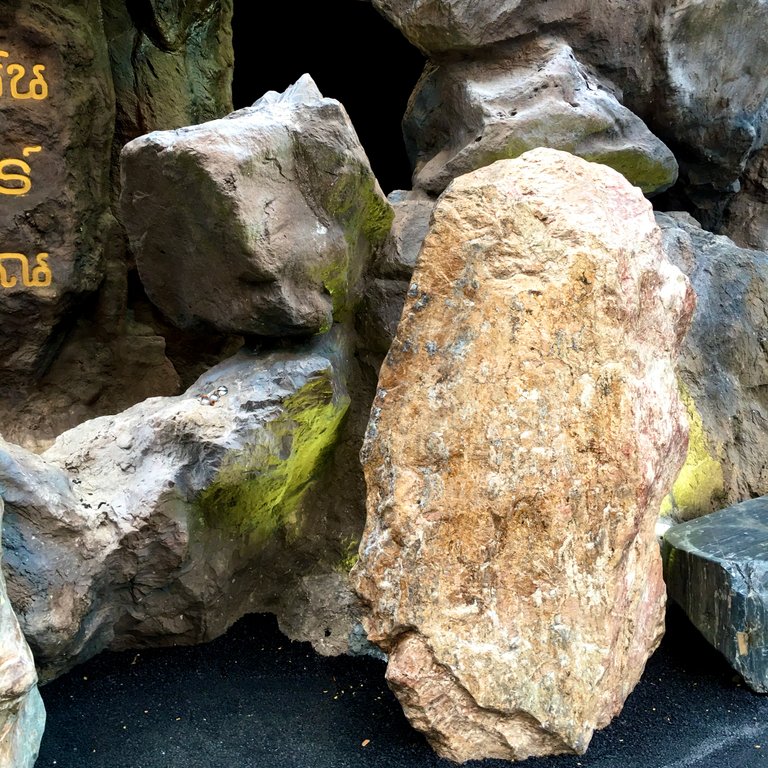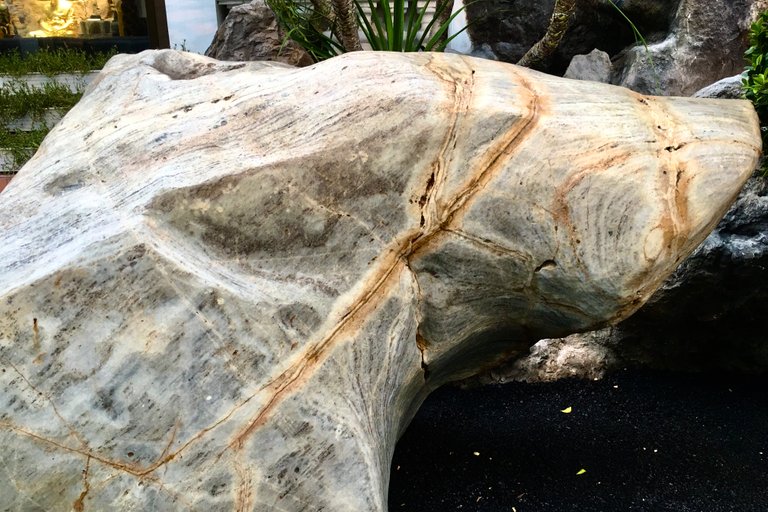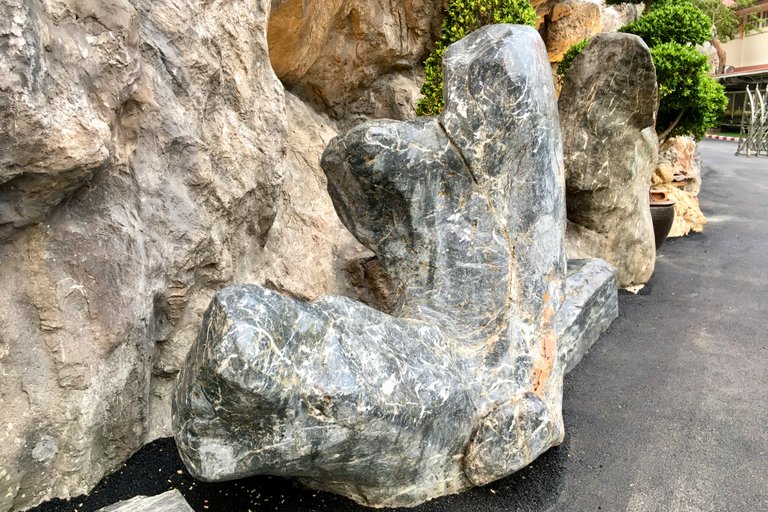 Wishing you all a very nice day!
Stay warm and cheerful.