Several days ago, I decided that my old friend and I ought to have some walking exercise somewhere nice. Suddenly the thought of the old restaurant by the river,where participants of Steemfest4 did have a whale of a time one evening in November 2019, came to my mind. That place is called Baan Rim Naam which means 'house by the water'. So, we took a tuk-tuk to River City where the diner cruise used to be full of tourists enjoying dinner while sightseeing the riverview during the night. Nowadays, the door area is very quiet and looking rather lonesome. We walked along Captain Bush lane for about ten minutes till we arrived at the "Horseshoe Shrine Alley" (Trok San Chao Rong Kueak).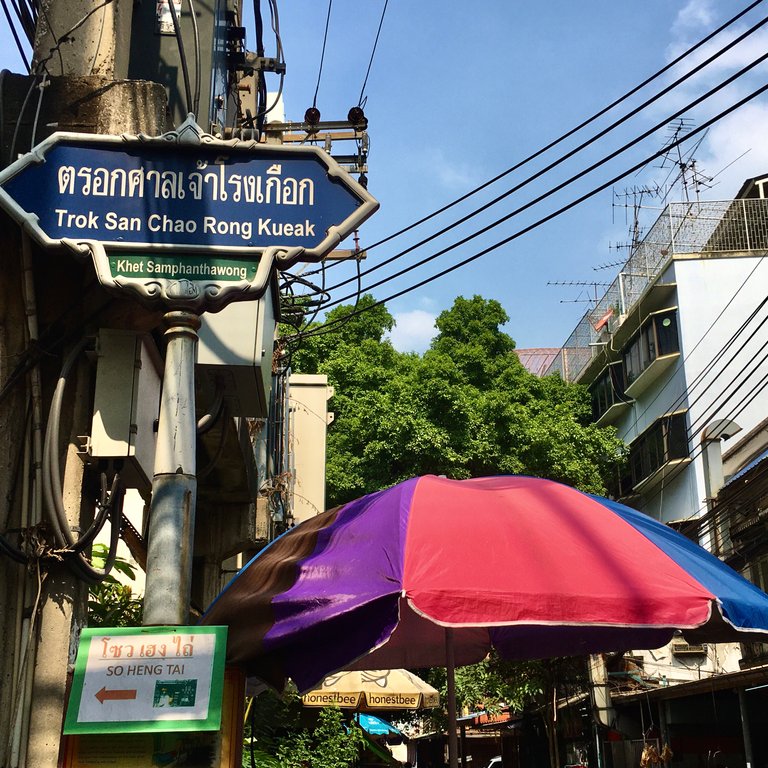 This narrow alley is where the old Chinese community of two languages' groups who migrated to Siam over two hundred years ago. This area is known as Talad Noi (small market). This area has been transformed into art and cultural tourist spot during the last few years. There are many old houses and merchants' mansions including old Chinese shrines dotted along this alley. By following the alley to the end, you would notice an old wooden house with blue metal door. There is also a white cat staring at you from the blue wall. This means that you have arrived at Baan Rim Naam.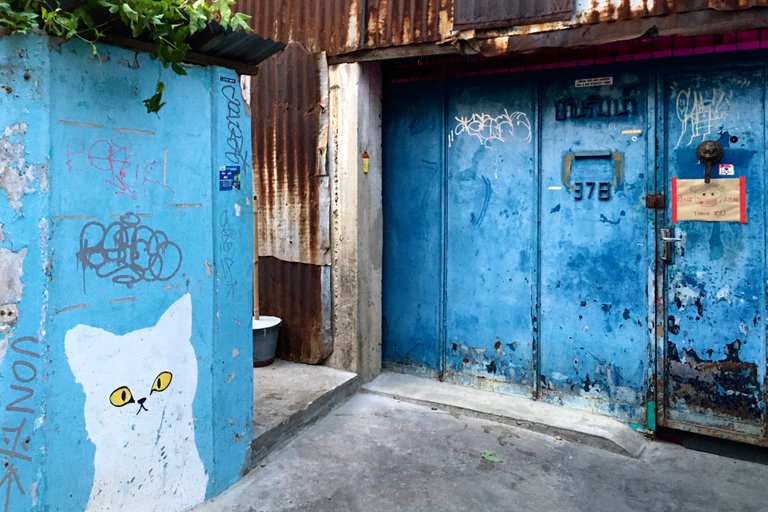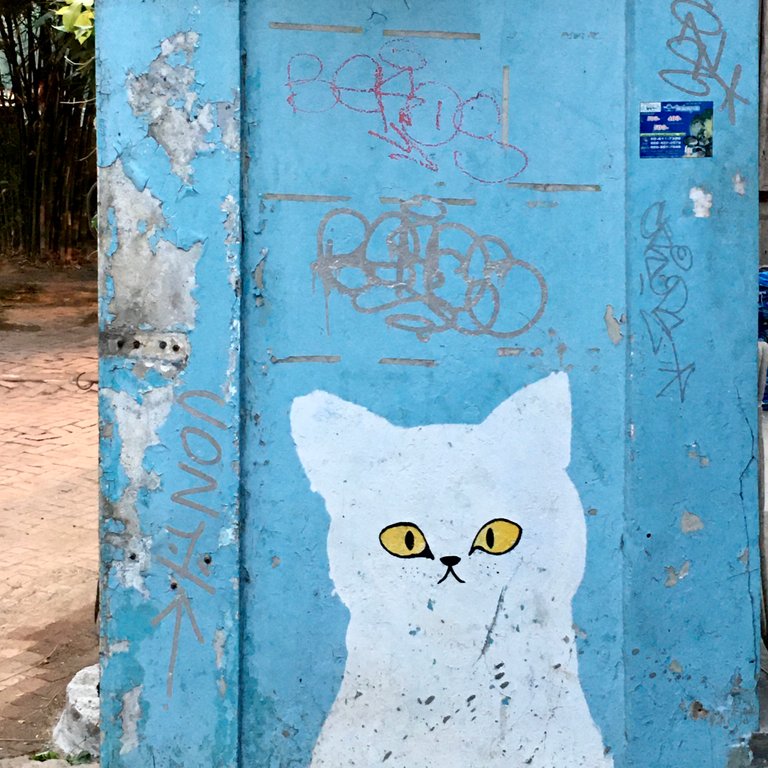 Nowadays the old metal door is out of commission and the other big wooden door is wide open leading into "House by the River" garden and large opening space. There is that compulsory barcode for people to register with their mobile phones. People who do not have mobile phones are requested to write down their names, phone number and time of entry on the notebook. In order to read temperature, guests have to open their palms in front of the small white machine. A short beep would be heard to confirm that the person has no high fever. I have never heard the sounding alarm from these machines in any malls or shops. So this could be implicating that the majority of Thai people are free from coronavirus infection.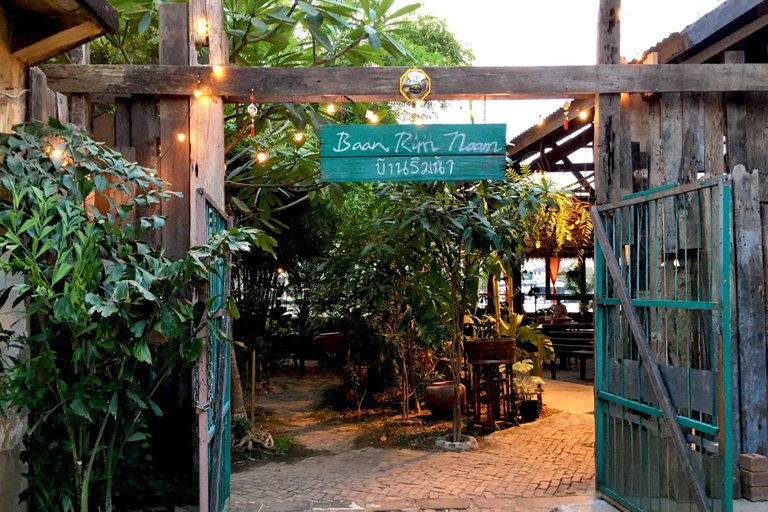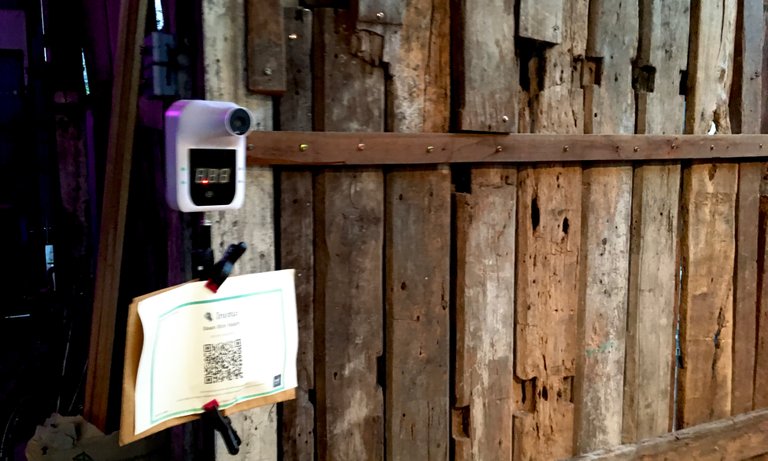 In the beginning, staff of shopping malls, restaurants and shops were deadly serious about taking temperature of each customer (then there were only manual thermometers) and long queues would be seen at entrances, which was contrary to 'social distancing'. Lots of people would be lining up to write down their names and other details on the notebook. So, I decided to buy another mobile phone which was so old fashion that it could not download any application. I did notice that older people were very concerned and carefully wrote down their names and details on these notebooks. On the other hand, savvy looking people tended to scribble nick names and illegible phone numbers. I am so glad that the fatigue has sunk in; I realised that all those notebooks with thousands of names were useless rituals to comply with the authority's orders. During the first week of implementing these measures, local officials were accompanied by a few uniformed soldiers with guns to big shopping malls; the marketing manager told me so. This created so much fear that the staff at the mall had to enforce the new procedures strictly. I thought they had declared martial law! One clever head of security guard told me that he thought all these procedures were useless; but he had to carry them out.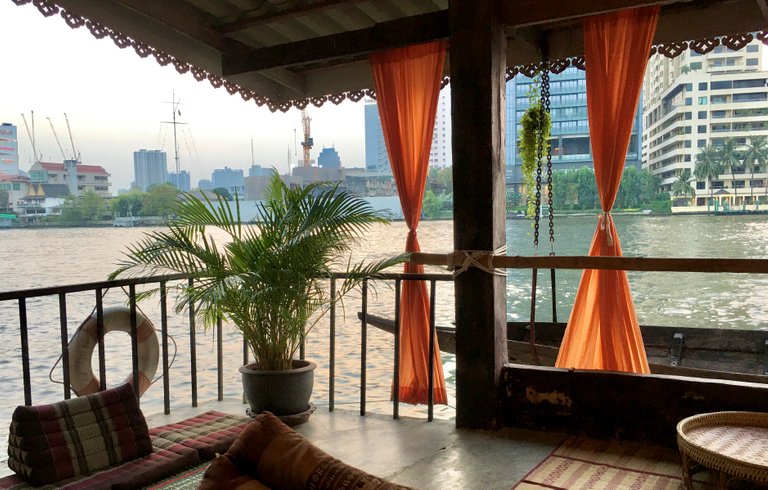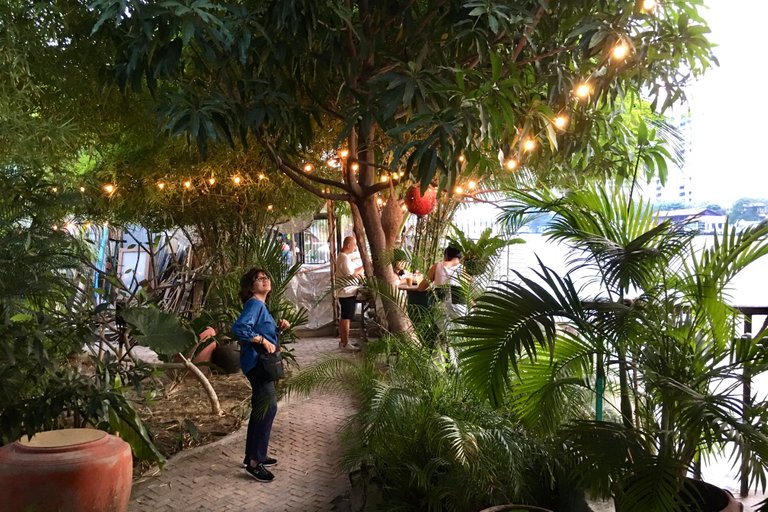 Nowadays, most people have become more relaxed and there is more flexibility among shopping malls' staff. Sometimes I just walked past without scribble my name on the entry book nor use the automatic temperature sensor. But I saw one scary machine in a mall which read the whole face; no one could get inside the mall without the approval of this intelligent monitor. The barrier at the door would be opened by the monitor. Wearing mask is also required when entering into shopping mall. But I have noticed how people start to wear masks on their chins. I think most masks are full of germs and bacteria as people treat masks similar to handkerchiefs.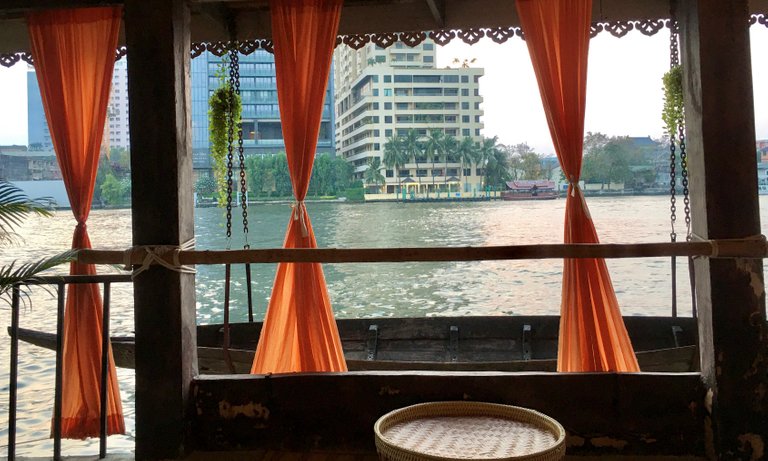 Luckily, the hot and dry weather means that some germs and viruses would eliminated naturally. But I have noticed that more children have become sick from new lung infections; it was so bad three months ago that it was on front page news about all children's beds in hospitals were full to capacity. I could not help wondering why doctors and experts on lung infections never give any opinion on the matter. They only recommend that children under two years old should not wear masks. I have discovered a few ordinary people with minimum formal education but could think critically and dare to question the common dictum. The other person was a dressmaker in the province; she told me in confidence that most masks were so filthy. She said she saw how people took off their masks with their dirty hands which have been holding or touching so many things all day. But this also reflected the fortunate fact that people's immune systems were quite vigorous as they did not fell ill from dirty masks.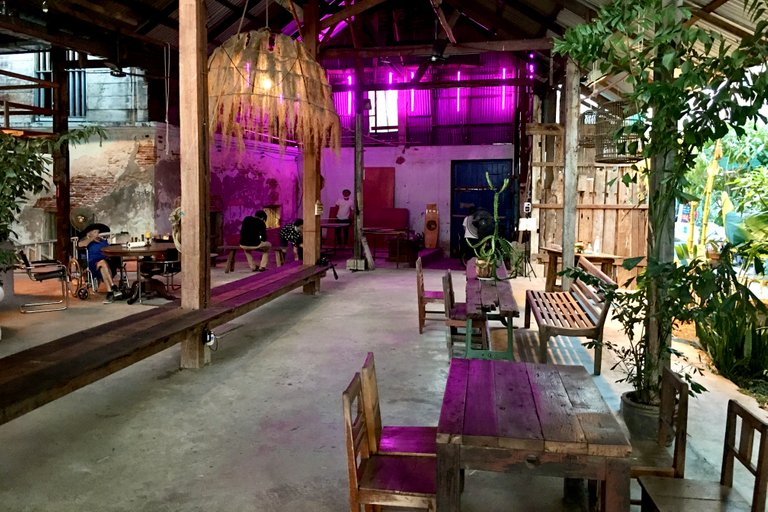 One of my friends complained that she could not think properly while wearing the mask. I forwarded her a paper on the adverse effect of wearing mask and warning about lung cancer. I always coughed after wearing a mask for over half and hour. So, I always wear my mask slightly under my nose and I took it off whenever I walk outside shopping malls. But the latest government's App for personal 'health passport' is very alarming. This new App is connected to the entitlement to receive pandemic relief money. Things are moving very fast towards social credit scoring system. I think I need to go back to Baan Rim Naam for a stiff drink!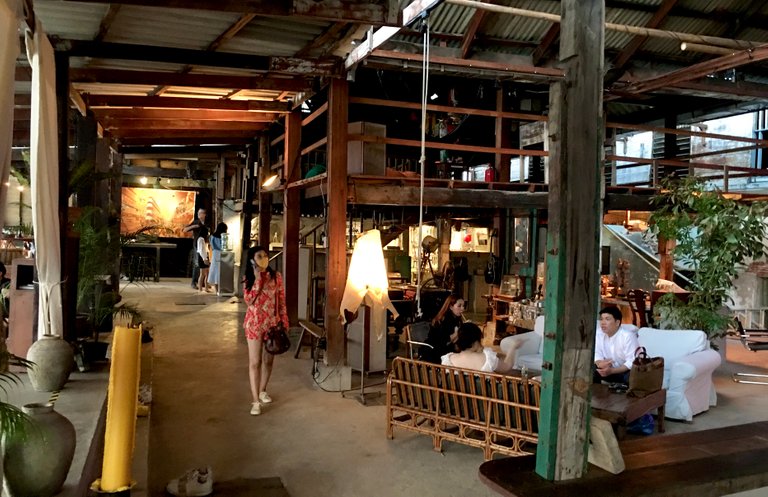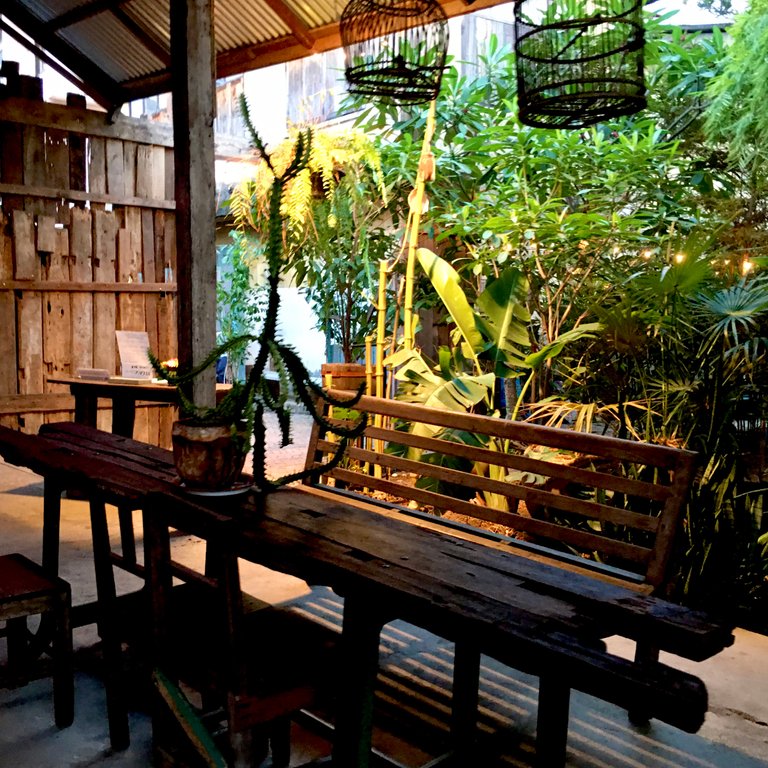 หลายวันก่อนเราเจอเพื่อนเก่าอีกคน เพื่อนัดกินข้าวเย็นกัน แต่เรายังมีเวลาแบะคอนากไปเดินเล่นออกกำลังกายกัน เราก็คิดถึงร้านอาหารริมแม่น้ำเจ้าพระยา ที่เคยเป็นที่จัดงานปาร์ตี้ของสตีมเฟส4 เมื่อเดือนพฤศจิกายน 2519 ที่อถวตลาดน้อย เราก็ชวนเพื่อนเก่าไปเดินเล่นแถวนั้น เราเรียกรถตุ๊กๆไปเพื่อประหยัดเวลา จะได้มีเวลาเดินมากขึ้น เราไปถึงริเวอร์ซิตี้ภายในเวลาห้านาที ที่นั่นเงียบเหงามาก สมัยก่อนที่นั่นจะเนืองแน่นด้วยนักท่องเที่ยวที่มาคอยขึ้นเรือล่องไปตามแม่น้ำเจ้าพระยา พร้อมอาหารเย็นบนเรือด้วย เรานะไปเดินเล่นที่ร้านอาหาร ชื่อบ้านริมน้ำ เราก็เดินตามถนนกัปตันบุชไปเกือบสิบนาที ก็เจอตรอกทางซ้ายมือชื่อ ตรอกศาลโรงเกือก ก็เดินตามตรอกไปประมาณสิบนาที ข้างทางมีรูปเขียนตามกำแพงให้ดูเล่น และบ้านเก่าเกือบร้อยปีตามตรอกก็ทำให้เราคิดถึงอดีตของบรรพบุรุษเราที่ต้องเดินทางไกลมาถึงเมืองสยาม ตอนนี้ย่านตลาดน้อยกลายเป็นแหล่งท่องเที่ยวเชิงศิลปะวัฒนธรรมที่วัยรุ่นชอบมาเดินถ่ายรูปมาก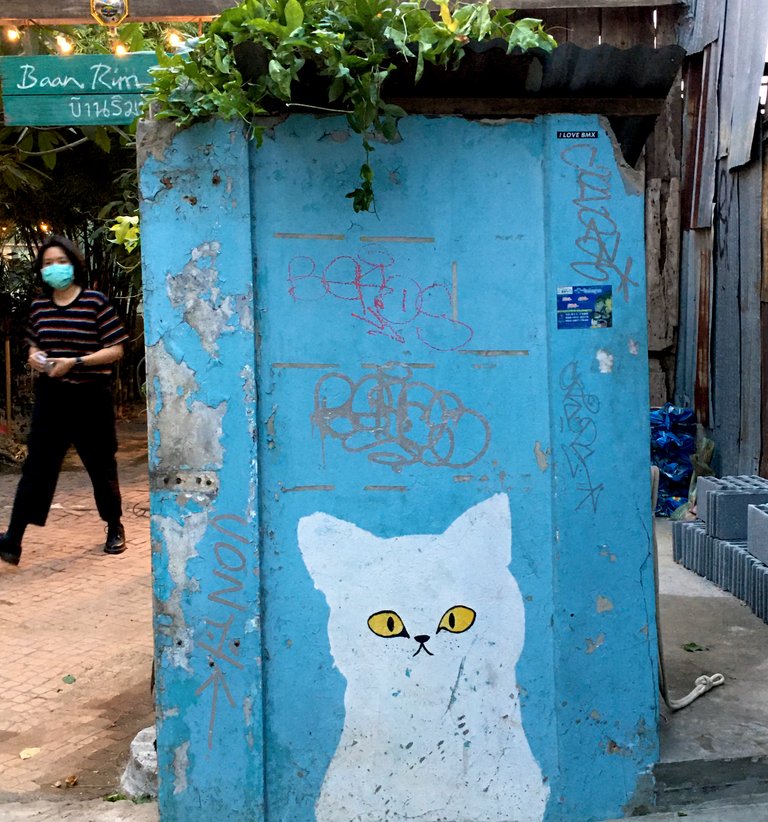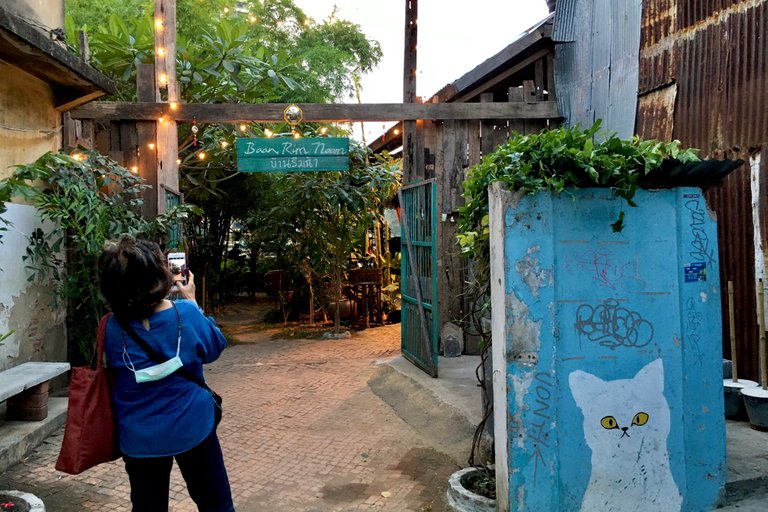 เราเดินตามตรอกไปสักสิบนาทีก็เห็นภาพแมวสีขาว และประตูเหล็กสีฟ้า นั่นคือบ้านริมน้ำที่ฝรั่งเคยมาจัดงานชุมชนปาร์ตี้ ประตูเหล็กโดนปิดสนิท เขาให้เข้าทางประตูไม้บานใหญ่แทน ก่อนเข้าก็ต้องสแกนบาร์โคด และตรวจวัดอุณหภูมิด้วยเครื่องวัดอัติโนมัติ เราเดินเข้าไปแวะถ่ายรูปไม่ถึงสิบนาที บรรยากาศดูเงียบเหงาและโล่งว่างไปหน่อย ข้างในมีแต่ลูกค้าคนไทย อากาศก็ค่อนข้างเศร้าด้วย เราคิดถึงความน่าทึ่งที่แพทย์และนักวิชาการที่รู้ว่าผลเสียของการใส่หน้ากากมีอะไรบ้างนั้น ไม่มีใครกล้าออกมาพูดความจริงเลย ความจริงทีมีการพิสูจน์แล้วในต่างประเทศว่าหน้ากากไม่สามารถป่องกันไวรัสได้ เพราะไวรัสมีขนาดเล็ก เพียง 0.1ไมครอน แต่หน้ากากป้องกันได้ 0.5ไมครอนเท่านั้น เรายังเจอบทความของแพทย์บอกว่าเชื้อแบคทีเรียในหน้ากากทำให้คนเริ่มเป็นมะเร็งที่ปอดแล้ว เด็กๆไม่ควรใส่หน้ากากเลย เพราะจะเป็นแหล่งสะสมเชื้อโรค แล้วเด็กก็หายใจลงปอด ซึ่งจะทำให้ป่วยเป็นโรคทางลมหายใจจากเชื้อแบคทีเรียนั่นเอง ความกลัวเป็นเหตุให้เสียสุขภาพ และพังเศรษฐกิจ คนที่ควรจะคิดเป็นก็ไม่ยอมแสดงความคิดเห็นที่มีหลักการและหลักฐานทางวิทยาศาสตร์ ความกลัวตายทำให้คนทำตามคนหมู่มาก โดยไม่คิดวิเคราะห์อย่างจริงจังและหาข้อมูลให้รอบด้าน อนาคตต่อไปคงดุเดือดกว่าเดิม เราคงต้อง้ตรียมตัวรับมือตั้งแต่บัดนี้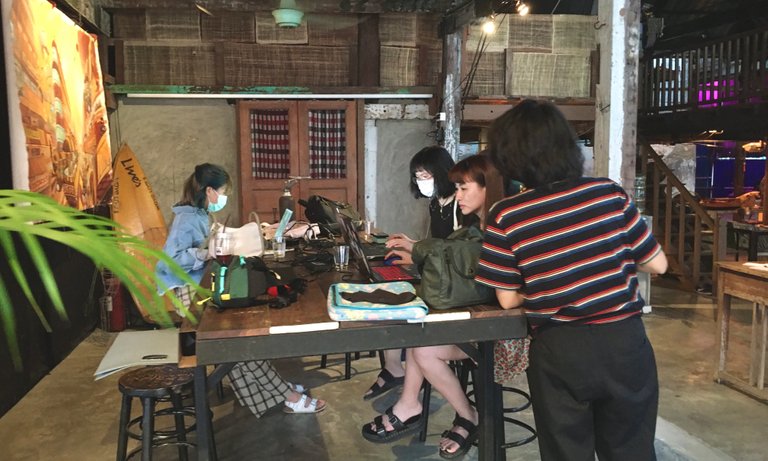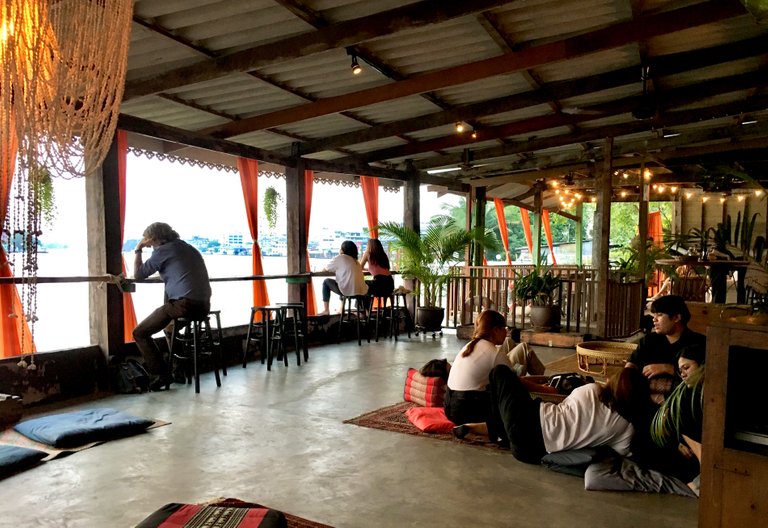 They were very few people at the restaurant. The atmosphere we rather quiet but very calm. The level of the river was very high as it's almost full moon. We did not want to have dinner there as we already had other plans. So, I quickly walked around and took some photos. There were people working as a group while others were sitting the cushions. I was rather surprised by the collection of LPs. I had a quick look at the menu but I still prefer my down to earth street food at much cheaper price. Fusion food is never my favourite; I prefer traditional food cooked according to old recipe! The older, the better!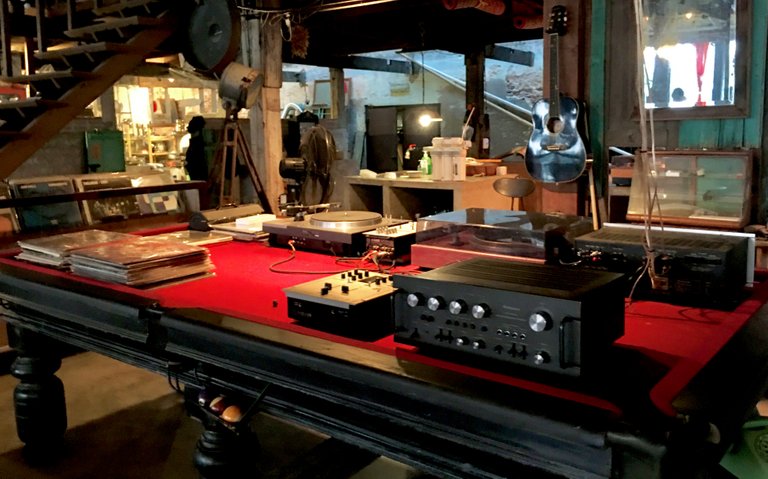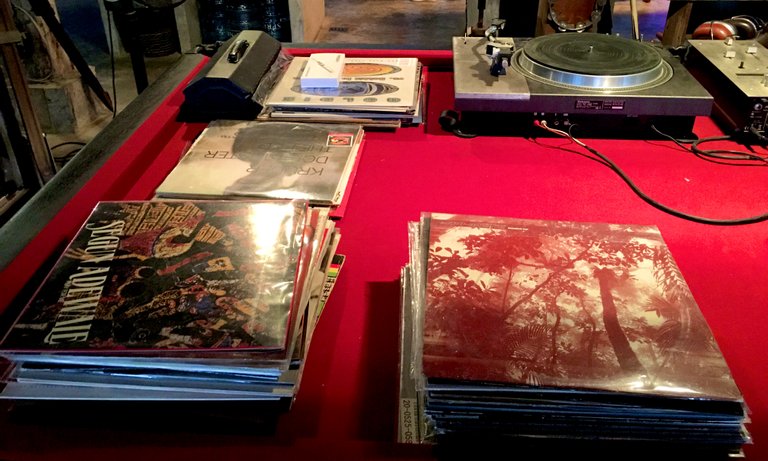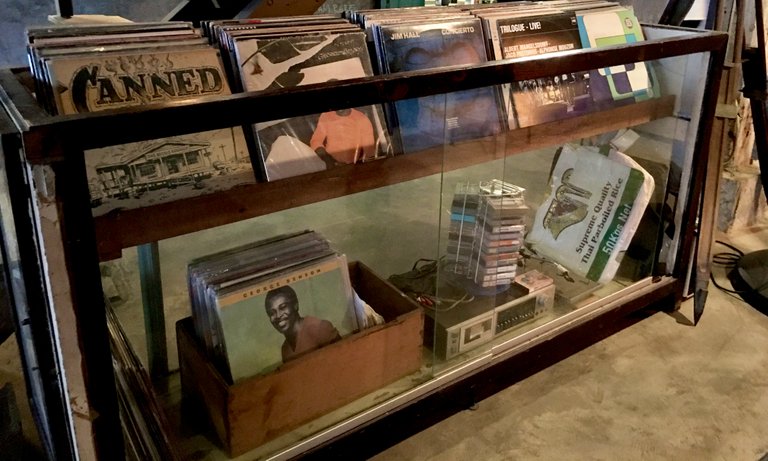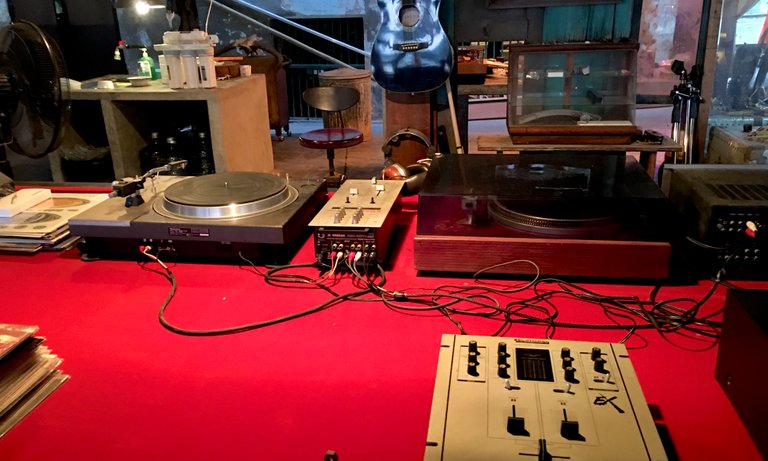 So, food could take me back to the past. Places, especially old places like this old restaurant, which was a warehouse of over two hundreds years' old, also brought me back to the old days of hundred of Chinese vessels floating along the river. I could imagine myself sipping expensive Chinese tea by the river while enjoying the exuberant activities on the river. Those were my good old days of long lost memory.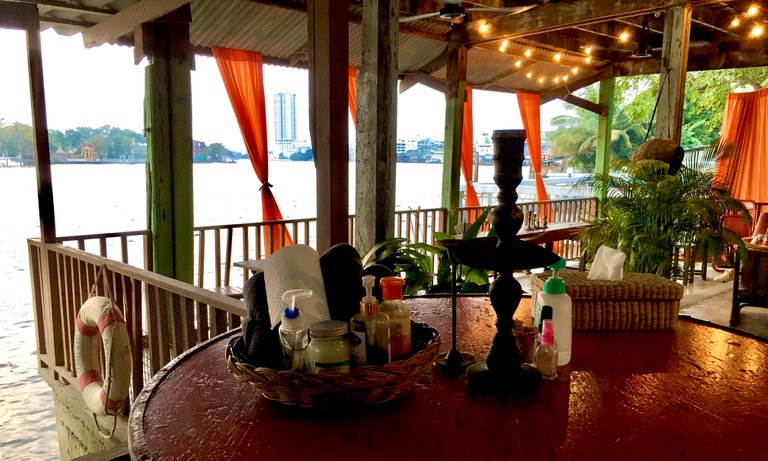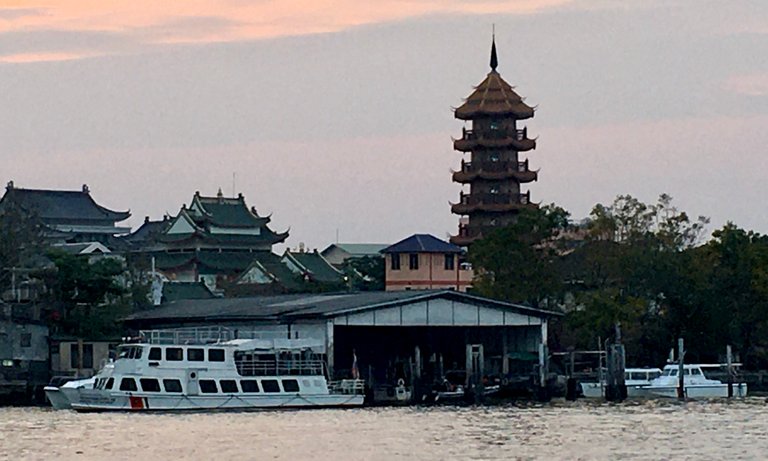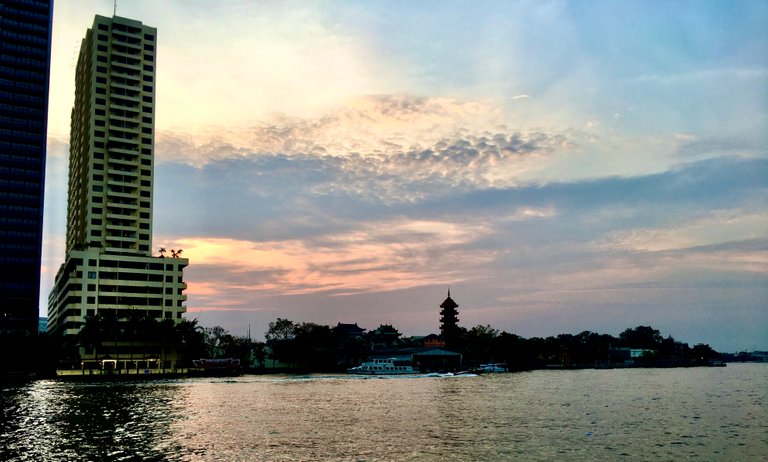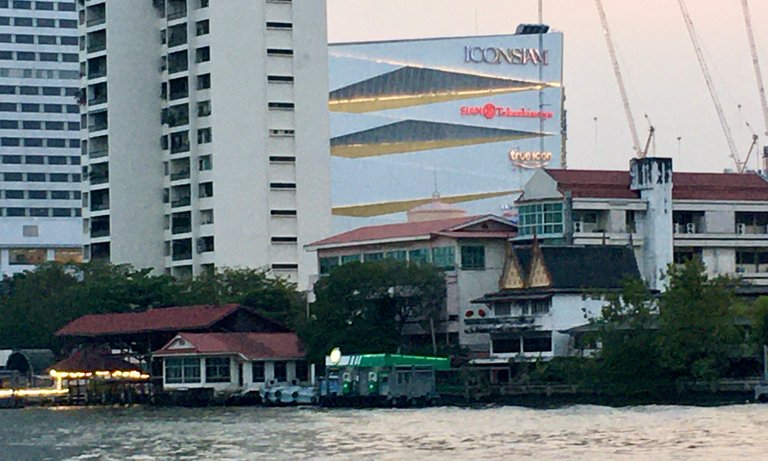 Wishing you peace, good health and prosperity.
Stay warm and cheerful.