This is my entry for #marketfriday hosted by our kind and lovely @dswigle. This post should have been written several months ago; but whenever I tried too hard to write a good post, the effort seemed to backfire in terms of delay and lethargy. The pressure I put on myself to write a good story which would reflect the unique experience of my visit seemed to get reactive feedback from my subconscious. So, I had to give more freedom to my mind without forcing my intention. It seemed as if there were two persons in my mind who didn't always see eye to eye with each other! The mind is truly mysterious to me still. That afternoon I took an old friend to the Temple of the Golden Mount, so we decided to explore an old and famous street food venue near this temple called Pratu Pee (Ghost Gate area) later in the evening.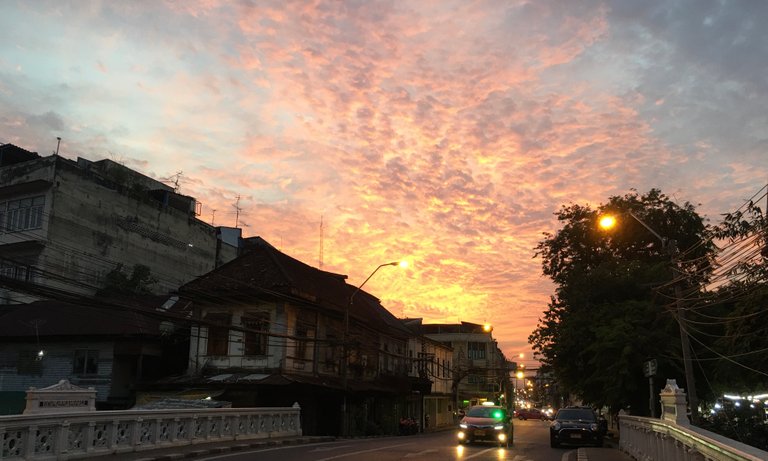 Luckily we could find a car park in a side street and walked about five minutes to the street food area on Mahachai road. The evening sky looked so dramatic that I wondered whether the sky was giving me a warning of some kind. There were some strange vibes in the air. I shrugged the weird feeling off as we negotiated the narrow footpath on an old bridge looking over a canal.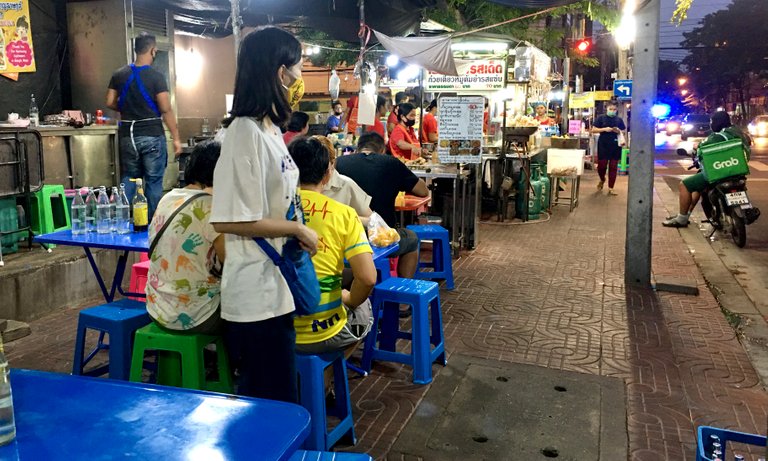 The old Ghost Gate (Pratu Pee) used to be the gate where dead bodies were taken out of the city wall to be cremated at the nearby temple (The Golden Mount Temple). In the old days the old city of Bangkok actually had a big wall with several gates. To protect the city from evil vibes and black magic; each gate had to have some special ceremony involving magical rituals and prayers. So, dead bodies were not allowed to go through these gates.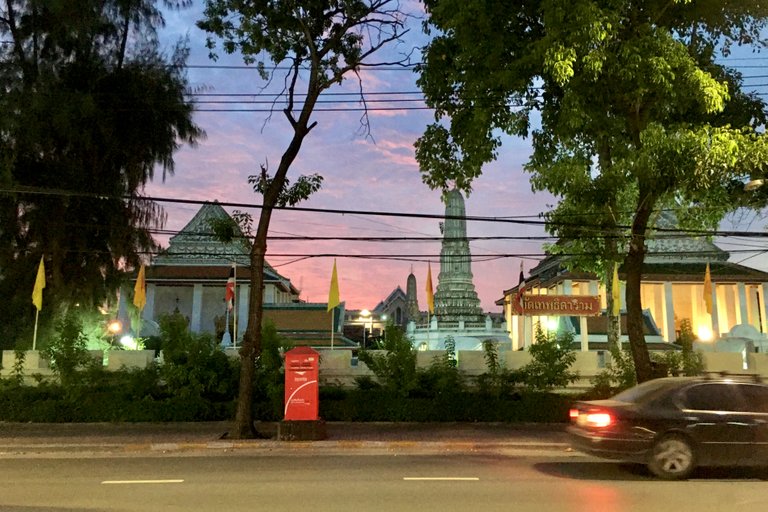 (The sun was setting across the street behind the old temple opposite where we were sitting, on the pavement near the noodle stall.)
A special gate would be assigned for bring out dead bodies which were supposed to have negative vibes outside the city to be cremated. As the city expanded over the years with no more prospect of war with the Burmese (during the colonisation process), most of the city wall and gates were abolished to make more space for more expansion. Nowadays we could only see a short portion of the old city wall and two gates in Banglumpoo and Pratu Pee areas. The Ghost Gate area has become a junction with a narrow road and old shop-houses which offer delicious street food since after the First World War.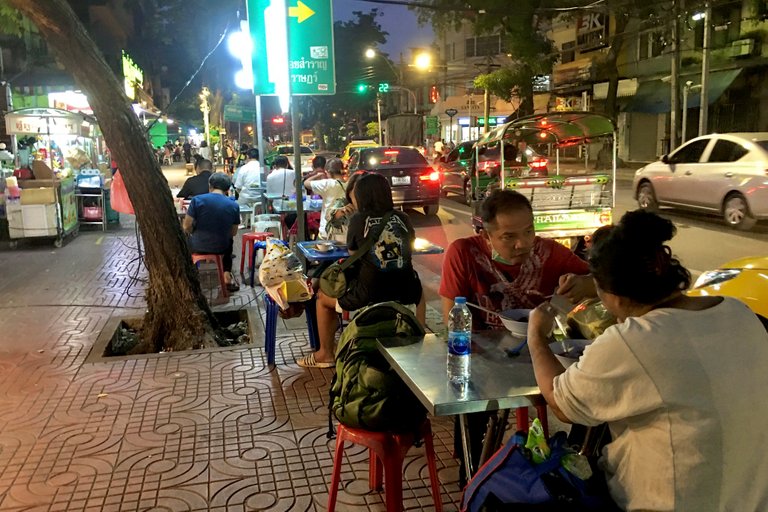 I couldn't help thinking that my uneasy feeling about the area might have been because there were hundreds of dead bodies in this area during the plague over a hundred years ago. I quietly sent sent compassionate vibes around the area and asked my guardians to protect me. The evening turned out to be very interesting and enjoyable; I couldn't believe that the quality of the food and sweets were very good and beyond my expectations. I had to chat more deeply with several vendors and pay them the compliments they deserved. The story about how they prepared the ingredients everyday for years reflected their dedication, integrity and pride in their profession. They were quite surprised that I could tell the difference in the taste and textures of their ingredients including the special attention they paid in the process of cooking. I was incredible impressed by these street food and so was my friend who was accustomed to five-star hotels' cuisine.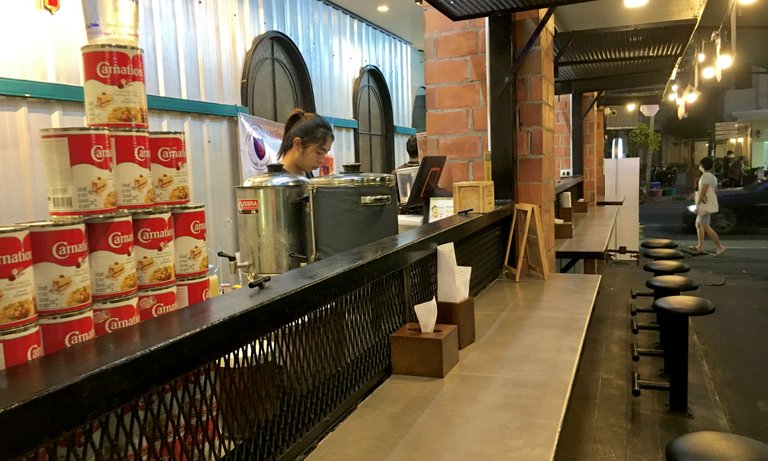 The row of street food stalls started opening from five o' clock in the evening. At the corner of the road there were about ten street food stalls with tables fully occupied. We walked passed the corner towards the famous old restaurant which was the originator of PadThai after the First World War. We were a bit intimidated by the outer design of this restaurant so we decided to explore the whole street food area and taste some of them before visiting the formal looking restaurant.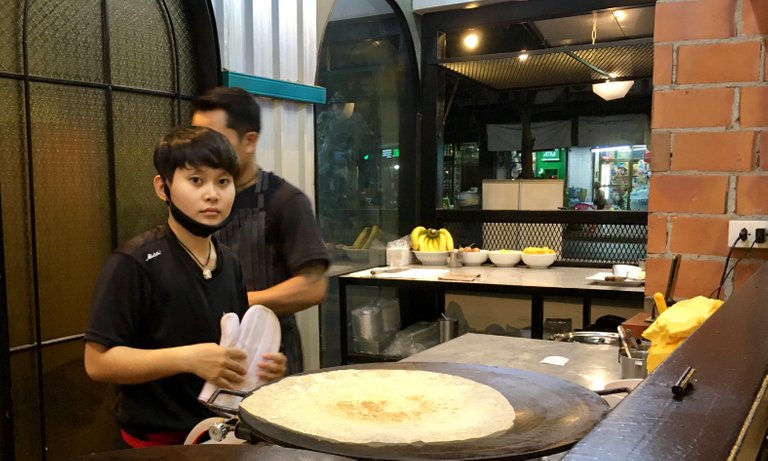 This is the famous Indian roti and tea shop. The staff were very shy and friendly. We were there quite early so there were plenty of seats available.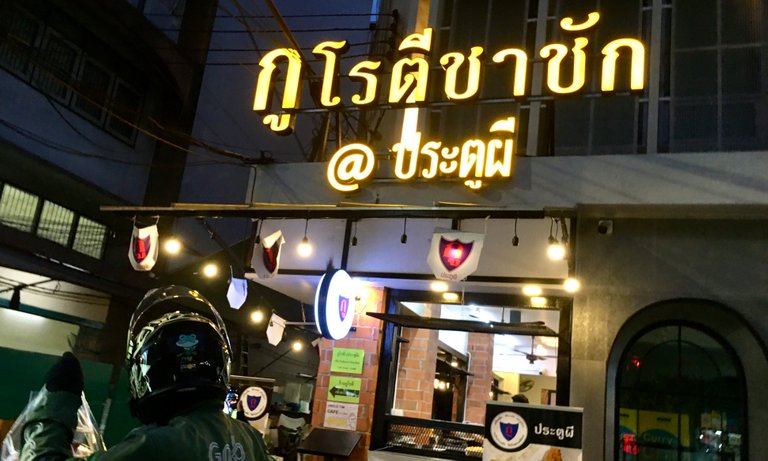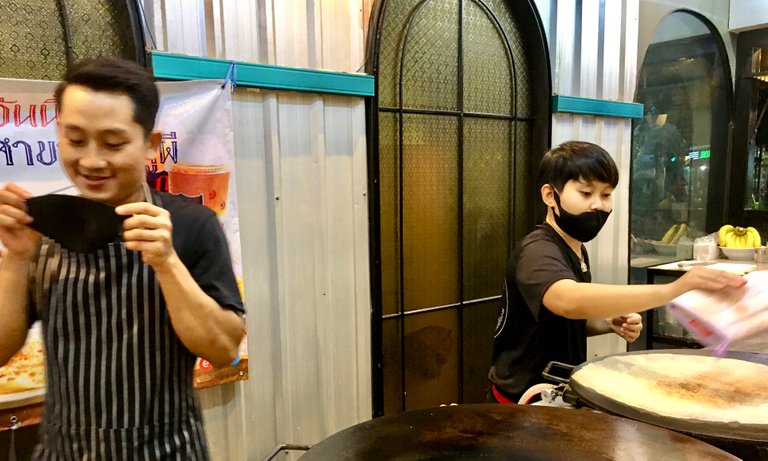 According to guide book, there are at least ten famous street food stalls along this road. But we could not possibly taste all the available street food, we decided to go for some light noodle soup with fish and prawn balls.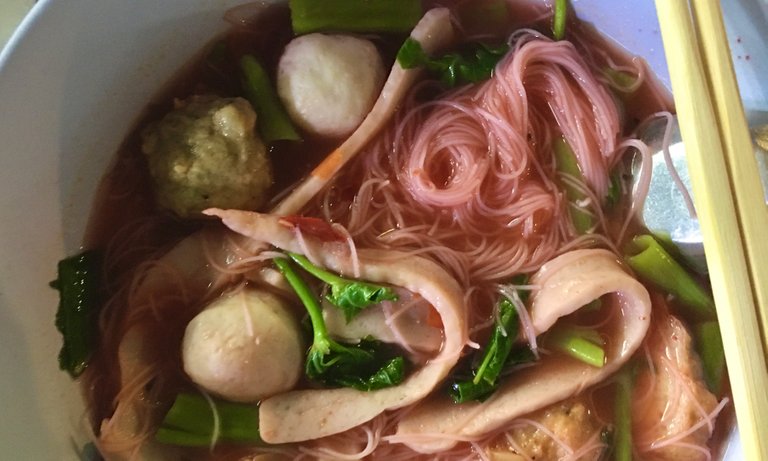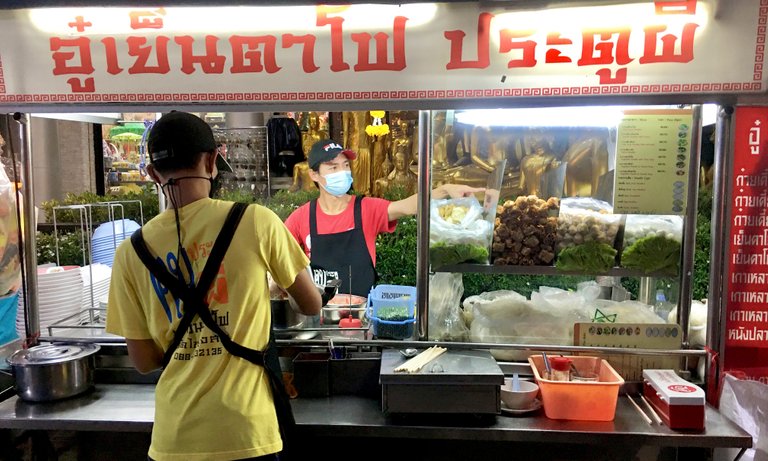 We decided that this was the best fish noodle in town! The home-made noodle and fish balls in red sauce were divine! We had double, one with soup and the second without the soup. The price was about 10% more expensive than regular street food, but it was worth it. The good thing was that the vendors did not use MSG. We made a mistake of having two bowls of noodles each. We had to take a five minutes' walk to digest the food before ordering the next course.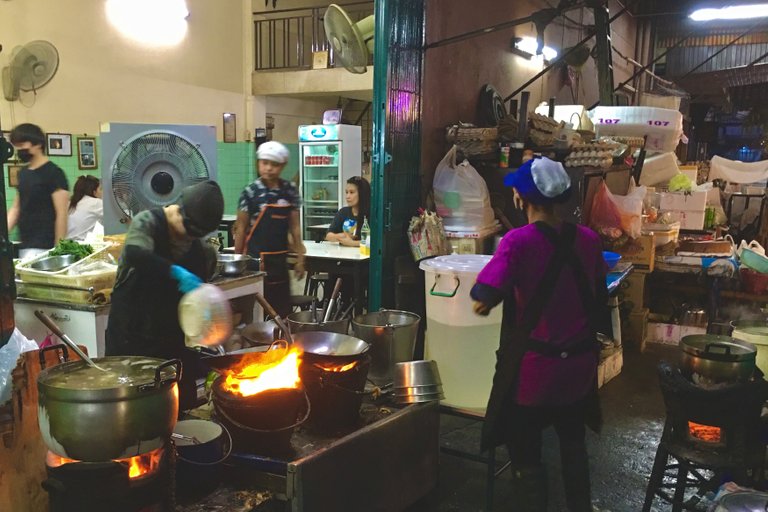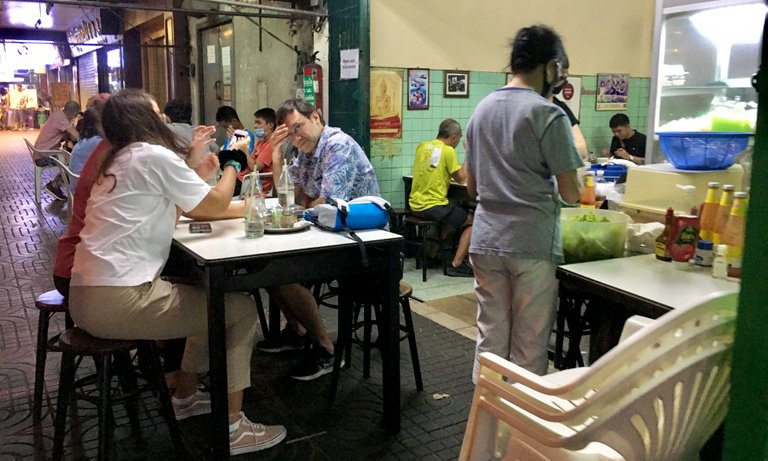 I spotted the famous 'Jay Fai' in her woolen hat and motorbike goggles cooking at the charcoal stove. Her restaurant is very famous for premium quality seafood and crab omelette which made her won a Michelin Star. Outside pandemic time, visitors had to reserve a table three months in advance as the waiting list was extremely long. I had seen very long line of people almost close to midnight in the old days while driving along this road. We had a look at the menu and prices so we decided to try the famous crab omelette some other days as we wouldn't be able to finish the big portion that evening. Most customers were foreign diplomats or expats working in Bangkok. Thai VIPs and high society people could be spotted here quite often.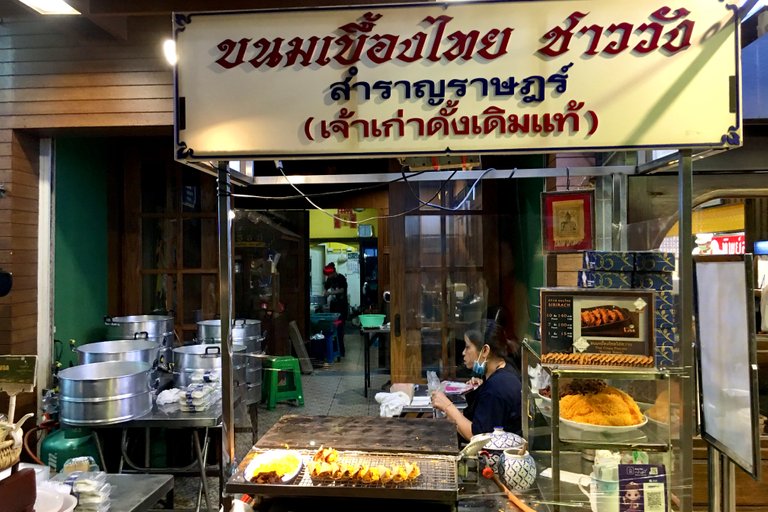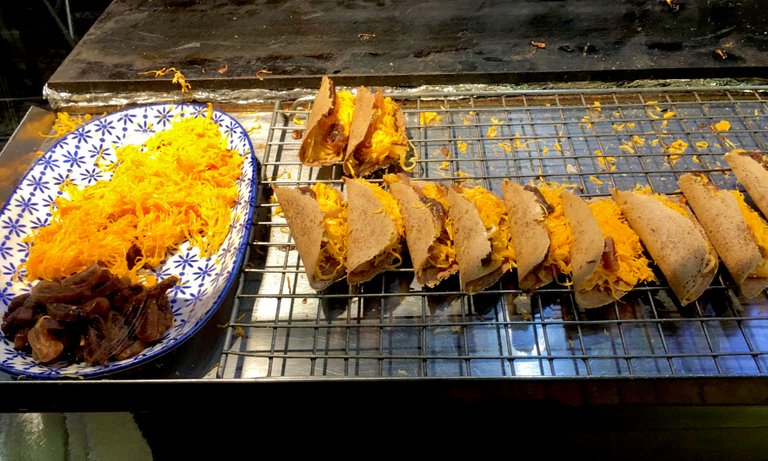 My friend decided to try some Thai crispy pancakes and bought some coconut sweets. These sweets were rather expensive as they were made according to old recipe from the royal kitchen. I settled down for a bowl of old style rice flour dumplings in coconut milk. At first I was dismayed by the small portion and high price. But after tasting a few spoonfuls, I was amazed by the fresh and soft dumplings with jasmine fragrance in creamy coconut milk without being too sweet. I thanked the vendor, Mr. Somwang, for a wonderful tasting experience. He told me that his secret was to use the juice of fifty fragrance coconut to cook the dumplings instead of water. No wonder the price was a bit higher than other places.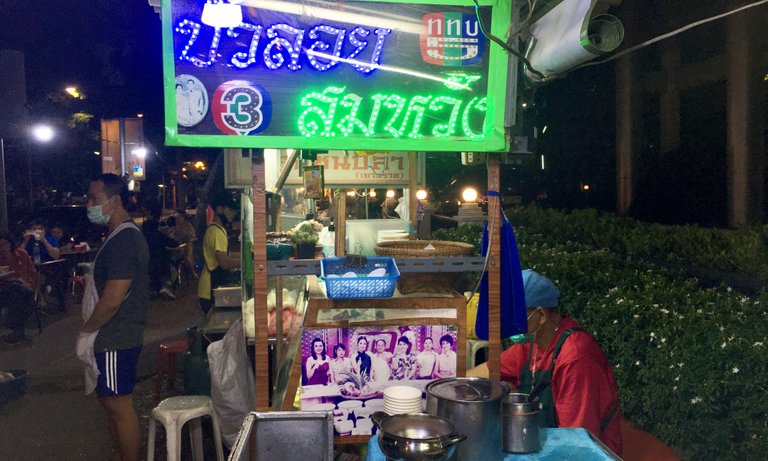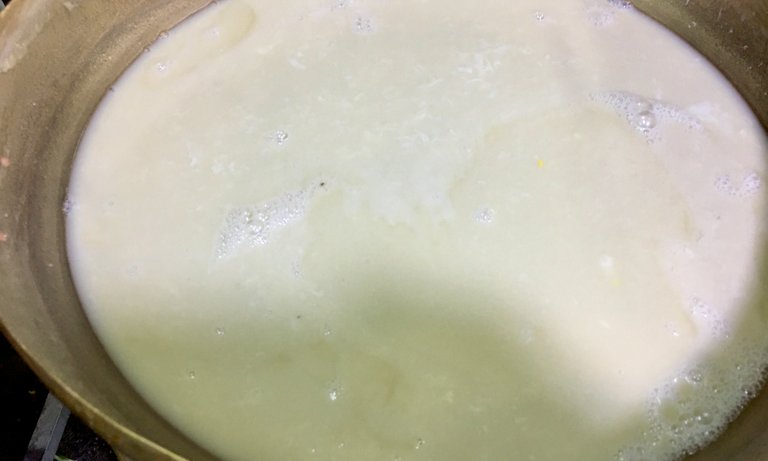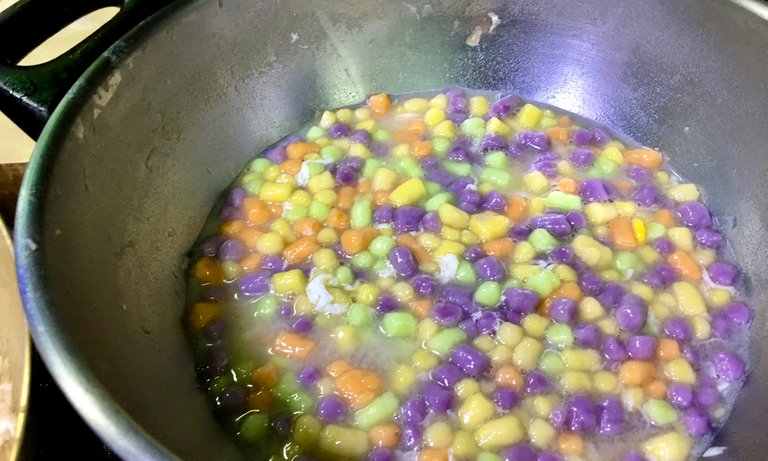 Our table was in front of an old PadThai restaurant called 'Old Uncle Pa' which is famous for cooking with charcoal stove. The smell was very attractive while the price was very reasonable. I tried to decide whether I should have my PadThai at this modest place or at the bigger and grander looking PadThai establishment ten meters away. We finally decided to go to the oldest and most well known PadThai restaurant as there was no long queue and there were free tables available. I would make a separate post on this old PadThai joint as we were pleasantly surprised by the experience we had there. The pleasure we experience in that place was far exceeding our expectations. The whole evening turned out to be a memorable and fantastic time for us; we were both looking forwards to going back there to taste other street food.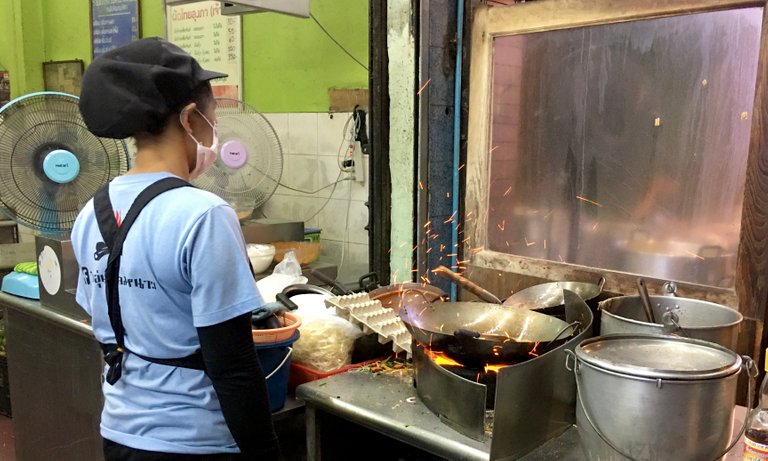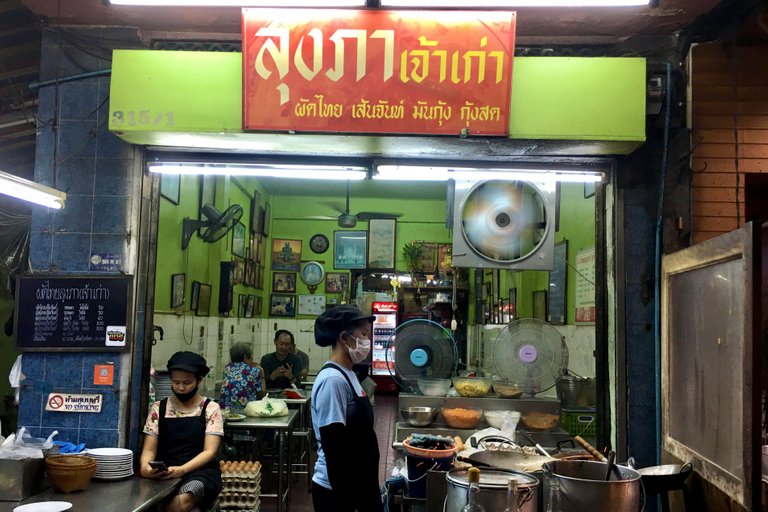 หลายเดือนก่อนเราพาเพื่อนเก่าไปไหว้พระที่วัดภูเขาทอง แล้วตอนเย็นเราก็ไปหาของกินที่แถวถนนมหาไชย ที่แยกเจริญราษฎร์ ที่มีของร้านอาหารที่มีชื่อเสียงมาตั้งแต่สมัยเมื่อสี่สิบปีแล้ว บางร้านมีมาตั้งแต่หลังสมัยสงครามโลกครั้งที่หนึ่งแล้ว โชคดีที่เราหาที่จอดรถได้ในซอยใกล้ๆ เราก็เดินข้ามสะพานมาที่ถนนมหาไชย พอมาถึงหัวมุมถนนเราก็เห็นร้านอาหารเกือบสิบร้าน ที่มีคนนั่งกินอาหารกันเนืองแน่น เราสองคนเดินเล่นไปตามถนนเพื่อสำรวจร้านอาหารว่ามีอะไรน่าสนใจบ้าง เราเห็นร้านขายพัดไทยขนาดสามคูหา ดูท่าทางหรูและราคาแพง พวกเราก็เลยเดินไปดูร้านอื่นก่อน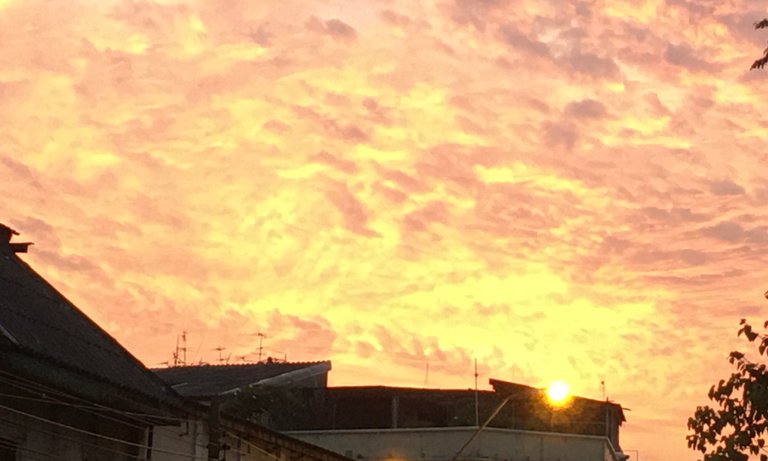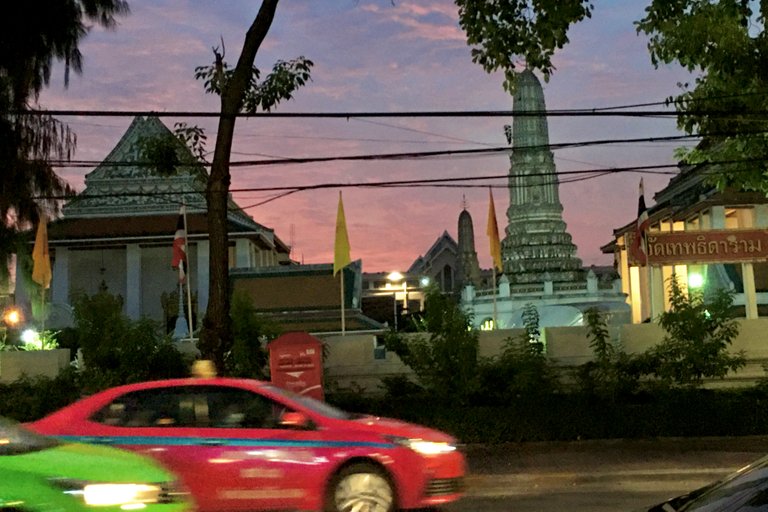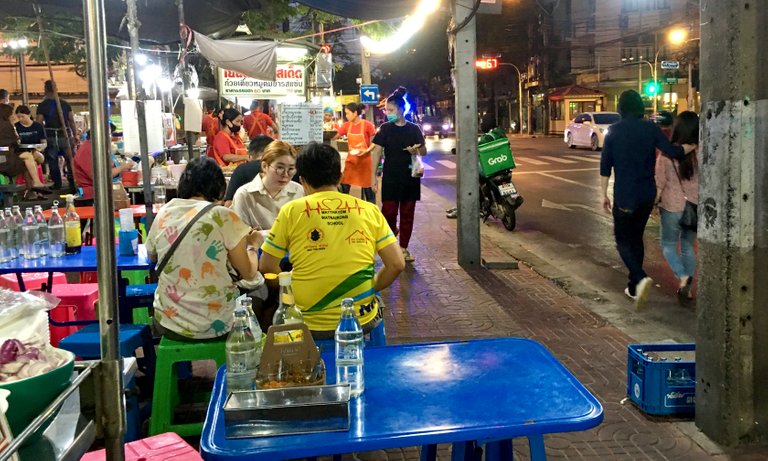 พวกเราคิดว่าควรไปลองกินอะไรเบาๆก่อน เราก็ไปลองเย็นตาโฟลูกชิ้นปลาแถวนั้น เราแปลกใจมากที่เขาทำทุกอย่างได้ลงตัวมาก เส้นลวกได้กำลังดี นํ้าซุปไม่เค็มไม่หวานเกินไป และของทุกอย่างสดมาก เราก็เลยกินกันคนละสองชาม ซึ่งพลาดมากเพราะทำให้เราไปกินอาหารต่อได้อีกไม่กี่อย่าง เราก็ไปเดินเล่นย่อยอาหาร ก็ไปเจอร้านเจ้ไฝที่มีชื่อเสียง จนได้ดาวมิชิลินมาหนึ่งดวง ร้านนี้ดังด้านอาหารทะเลที่สดและมีคุณภาพสูง ราคาอาหารก็สูงไปด้วย เราเห็นเมนูแล้วคิดว่าต้องมาใหม่ อยากลองไข่เจียวยัดปูที่ดังมาก เราคงต้องอดอาหารทั้งวันก่อนมาลุยกินอาหารเย็นที่นั่น เราเห็นเจ้ไฝกำลังยืนผัดอาหารที่เตาถ่านร้อนๆ เขาใส่หมวกไหมพรมสีดำและแว่นสำหรับขี่มอเตอร์ไซค์ ปกติร้านนี้จะมีคิวยาวมาก และต้องจองโต๊ะล่วงหน้าถึงสามเดือน ช่วงโควิดระบาดนั้น แถวนั้นไม่มีคิวเลย เพื่อนเราไปกินขนมหวานเพื่อคั่นเวลา เช่นขนมเบื้องชาววัง แต่เราขอลองกินบัวลอย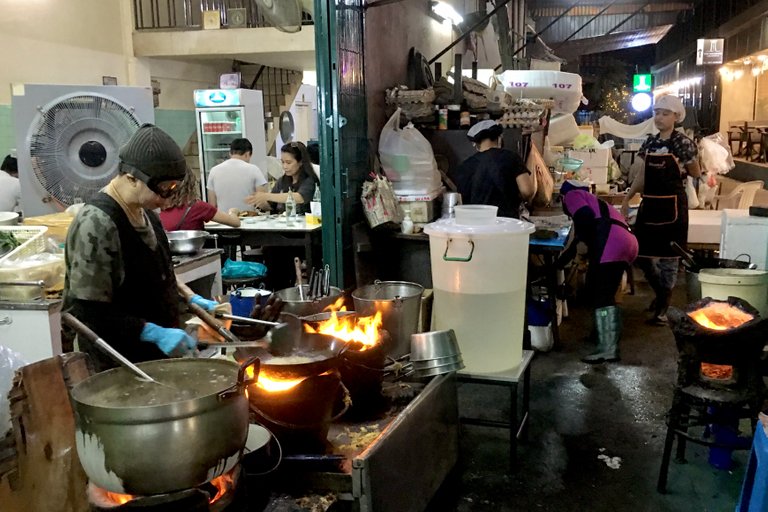 ร้านเจ้ไฝที่มีดาวมิชิลิน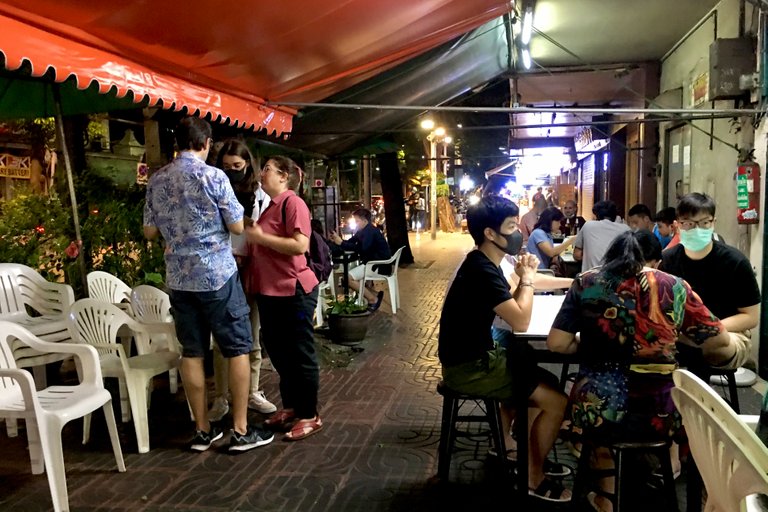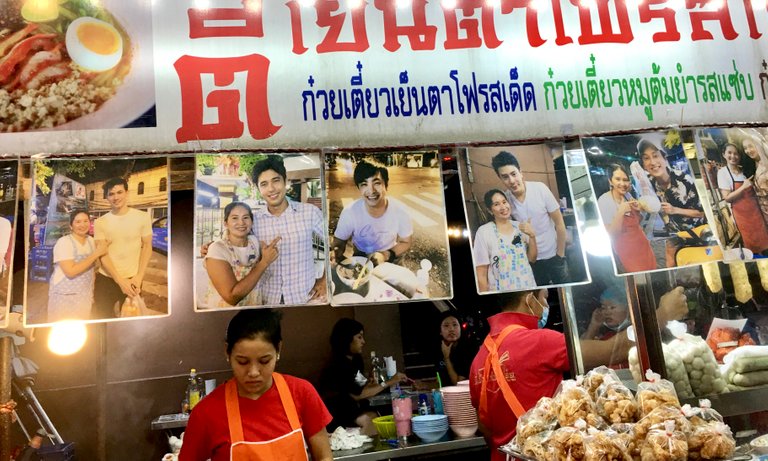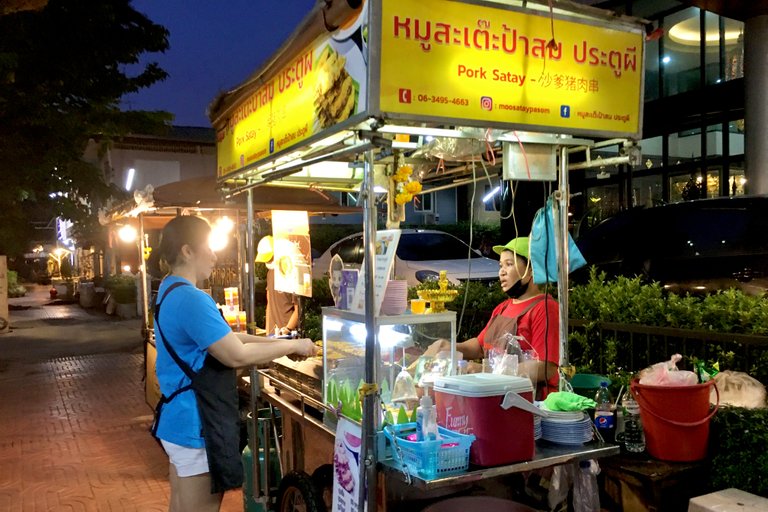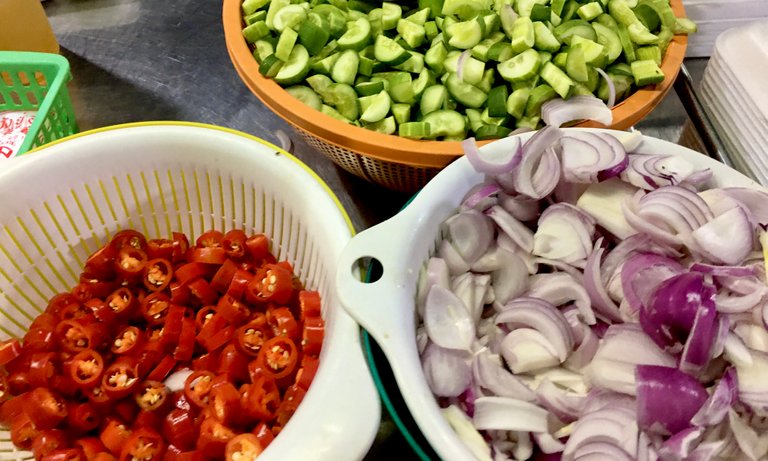 แถวนั้นมีร้านอาหารมีชื่อมากกว่าสิบร้าน ตั้งแต่ร้านทิพย์สมัยผัดไทย ร้านลุงภาผัดไทยเส้นจันท์เตาถ่าน ร้านอู๋ลูกชิ้นปลา หมูสะเต๊ะแม่บุญสม บัวลอยสมหวังทรงเครื่อง ขนมเบื้องและขนมไทยโบราณ ร้านตี๋เย็นตาโฟ ร้านลาดหน้า ข้าวต้มเป็ด ร้านซาลาเปา ร้านชาชักด้วย มันทำให้เราต้องคิดหนักว่าจะไปกินอะไรต่อดี เราติดใจขนมบัวลอยมาก เพราะหอมมากแต่ไม่หวานจนเกินไป เราจึงไปชมคนขายว่าขนมอร่อยมาก เขาก็เลยบอกว่าเขาใช้น้ำของมะพร้าวน้ำหอมห้าสิบลูก เอามาต้มขนมบัวลอย ขนมจึงมีรสชาติดีมาก พวกเรานั่งอยู่หน้าร้านผัดไทยลุงภาพอดี ทำให้เราตัดสินใจไม่ได้ว่าจะไปกินอะไรต่อดี เราคิดว่าที่ร้านทิพย์สมัยไม่มีคนเข้าแถวรอ ก็เลยตัดสินใจไปชิมผัดไทยที่ร้านทิพย์สมัยก่อน เราจะเขียนเรื่องนี้ต่างหาก เพราะมันเป็นประสบการณ์ที่ดีมาก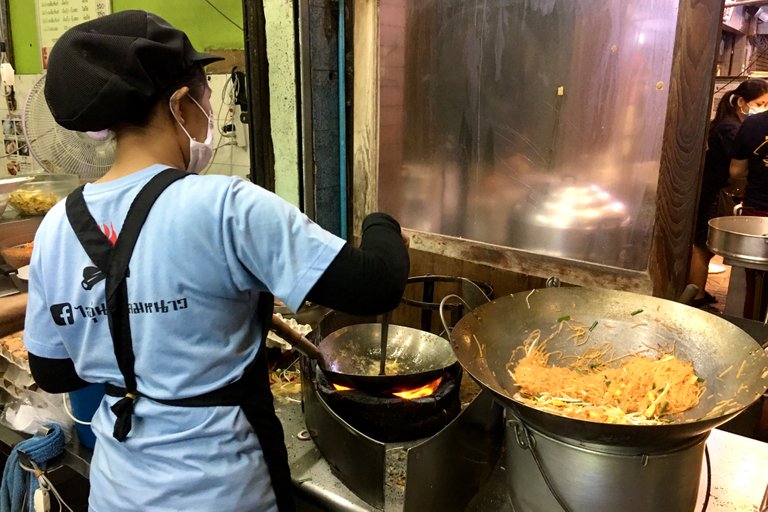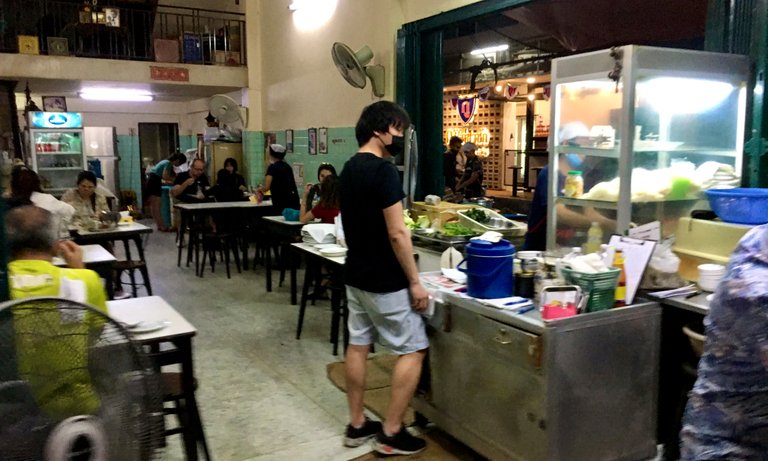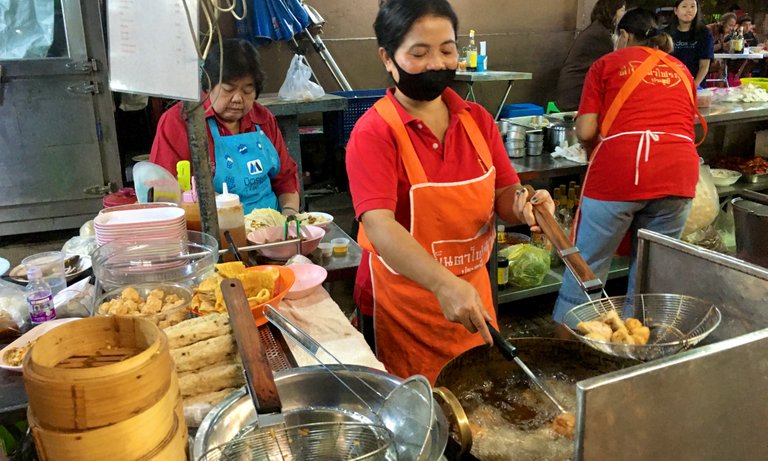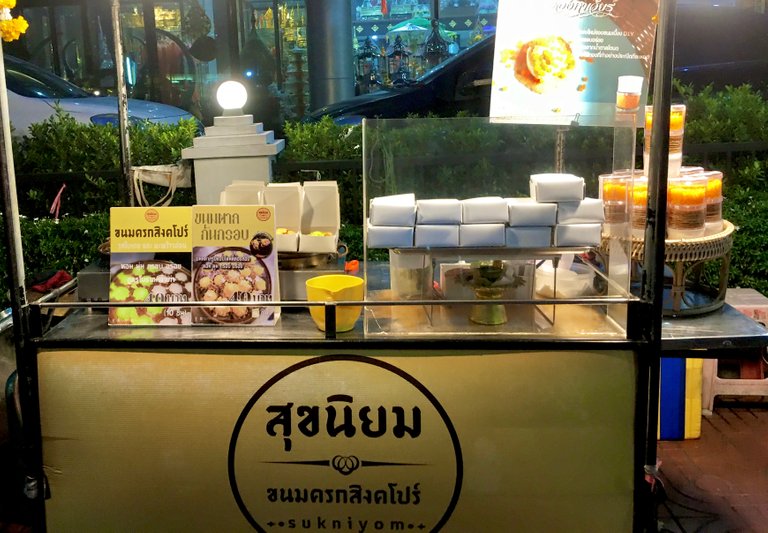 คนขายอาหารส่วนใหญ่ใจดีและเป็นมิตร พวกเขาปล่อยให้เราถ่ายรูปตามสบาย และยังตอบคำถามเราอีกมากมาย ถึงเคล็ดลับในการทำอาหาร เราคิดว่าครั้วหน้าเราจะไปกินผัดไทเตาถ่าน และโรตีชาชักของร้านแขก ตามด้วยขนมบัวลอยอีกถ้วยหนึ่ง เราคงต้องลองขนมเบื้องด้วยหนึ่งชิ้น และต้องอย่าลืมไข่เจียวยัดปูของเจ้ไฝด้วย คิดว่าคงตกเกือบพันบาทต่อคน แต่คงเป็นการฉลองครบรอบการมีโควิดในไทยสองปีเต็ม นี่ขนาดเป็นมังสวิรัติยังคิดว่าจะกินมากมายขนาดนี้ กลับมาคงต้องอดอาหารสองวันเพื่อปรับสมดุล เราก็ฝันหวานไปเรื่อยเพื่อปลอบใจตนเองให้เบิกบานแจ่มใส ท่ามกลางสภาวะที่น่าเป็นห่วงมากในบ้านเมือง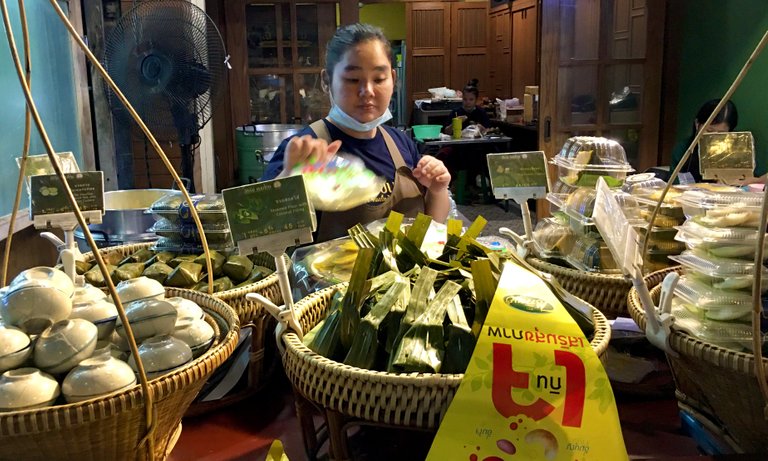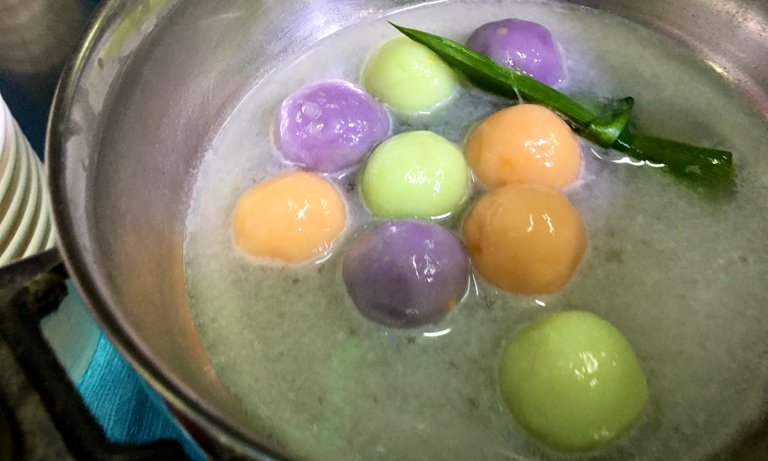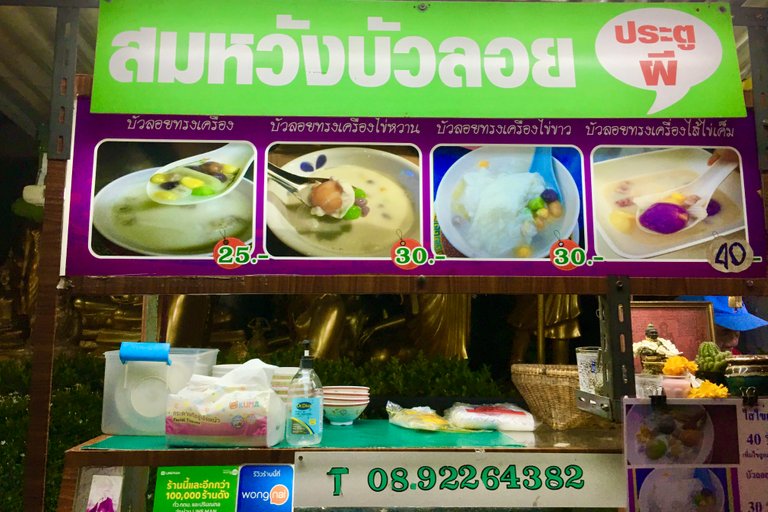 Wishing you people, good health and prosperity.
Stay strong and cheerful.