This post continues with the day trip I had with my old friend recently in Talad Noi, Chinatown through Sampeng market. It was a very nice day with bright sunshine and lots of energy to explore the old part of Bangkok. I grew up near Chinatown when I was a kid but I had never learned to appreciate that area till much later. It was only when I got nostalgic about the old house near Sampeng market that I started to revisit the place of my childhood and do some research for writing my story; then I began to appreciate my cultural roots and ancestors' pioneering spirit in the past. My friend's Chinese ancestors settled in the provinces and came into wealth from commerce. So, I was the more suitable guide for our expedition in the old Chinese market place of Chinatown. After paying respect to the Kwan Yin shrine, we walked along Yaowarad road where many gold shops could be found on both sides of this road. Then, I decided to take my friend to the oldest and most prestigious gold shop in Chinatown.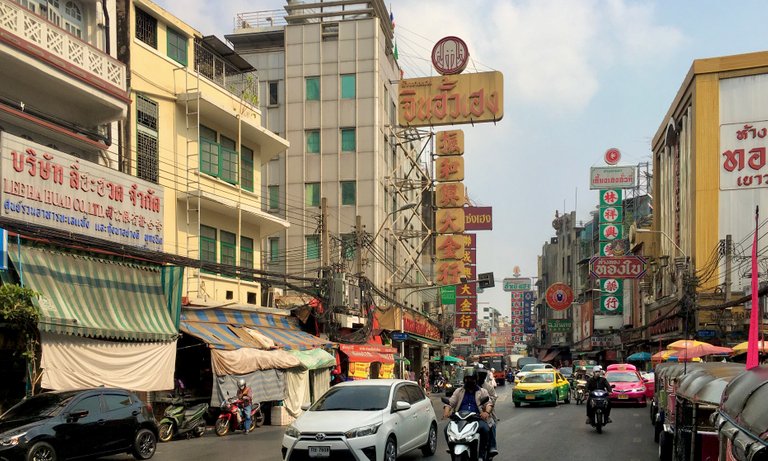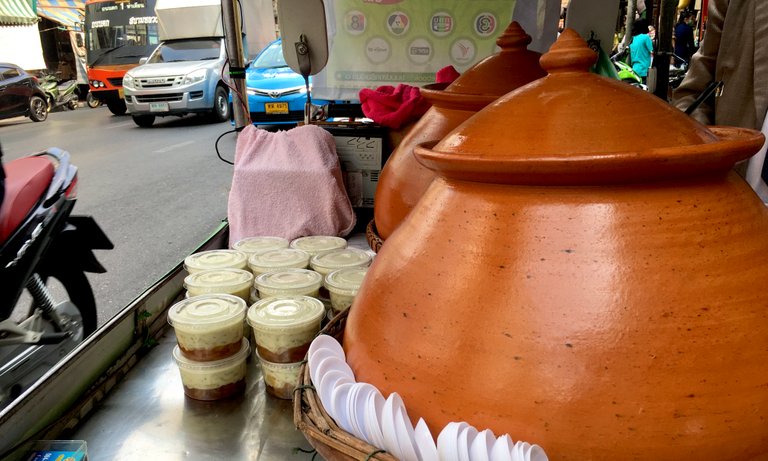 I was attracted by a trolley selling traditional Thai sweet called "pea krim khai tao" which means 'fish with turtle eggs'. However, this sweet is made from mainly rice flour, sugar cane, and coconut cream; the rice-flour dough was made into the shape of tiny fish and turtle eggs. These fish and turtle eggs are cooked in traditional earthen pots. One pot us salty, the other quite sweet; a portion of each should be served in a bowl. The thick coconut mild makes this my favourite Thai sweet.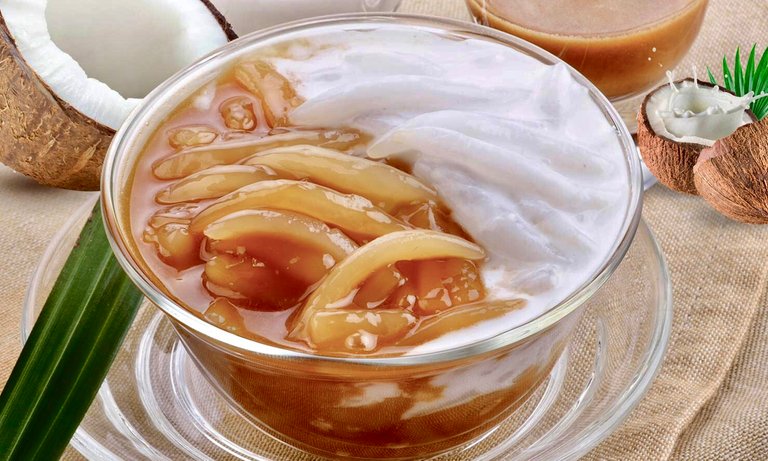 Pra Krim Khai Tao (Krim fish and turtle eggs sweet!) Source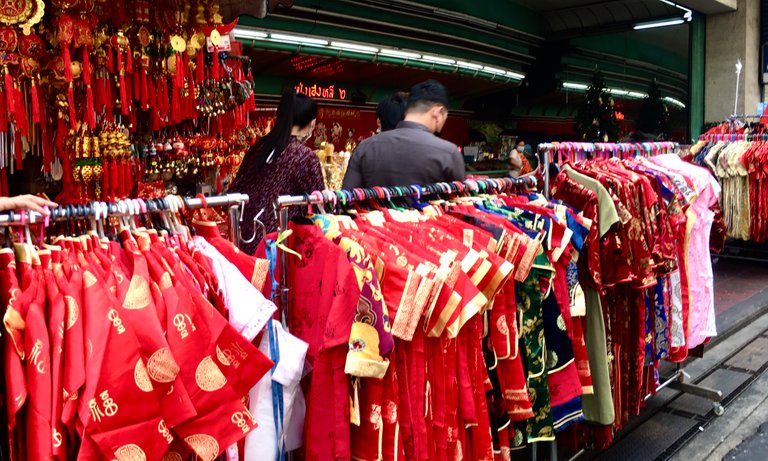 I meant to get myself a red Chinese shirt but we did not have time for shopping new red shirts. Everyone should have a red shirt this year as it is the lucky colour for metal Ox year. We took the left turn into Mongkorn (Dragon) road. The oldest gold shop called 'Tang Toh Kang' stood quietly among noisy street vendors on the right.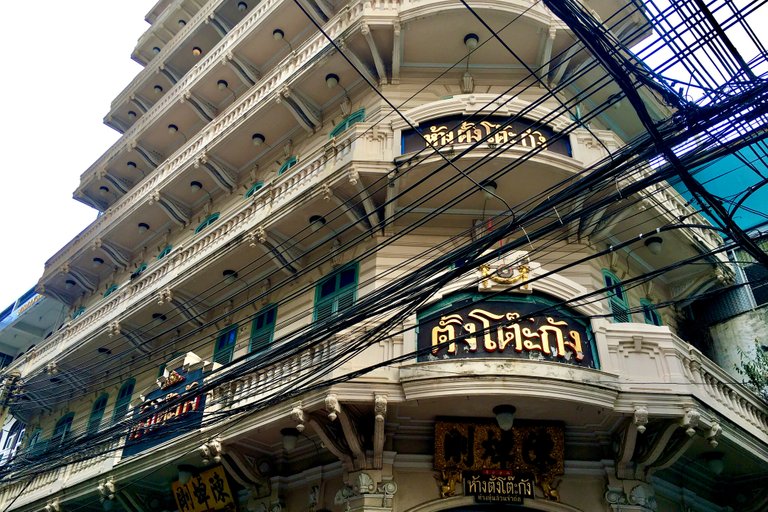 Opposite Tang Toh Kang is the Bangkok Bank building.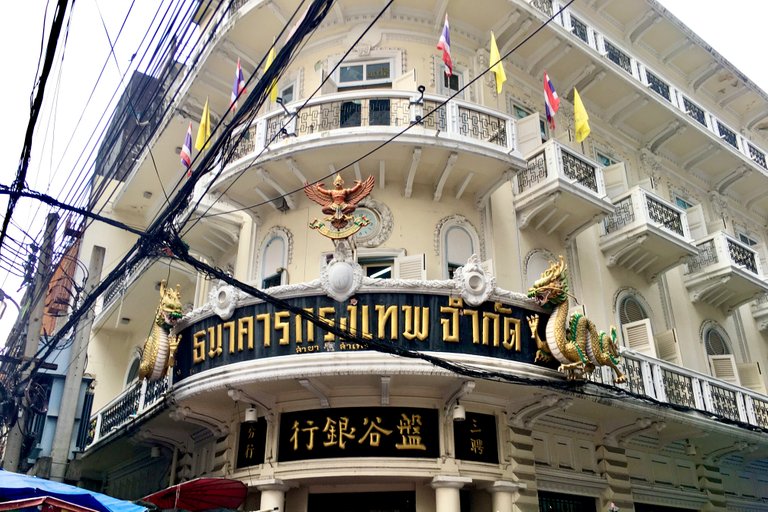 Tang Toh Kang is about 150 years old established by the immigrant Chinese goldsmith as a small stall by the river during the reign of King Rama IV. The first and second generations of the Tang families had worked very hard to build up wealth and financial security for their descendants. The seven floors building was built during the reign of King Rama V by a Dutch architect and the interior design was done by a Chinese designer from Shanghai. The gold shop was officially registered during the reign of King Rama VI. Because if its prestigious reputation, other families had used similar names for their shops to create the impressions of a long established gold business. Nowadays this gold shop is managed by the fourth and fifth generations of the Tang descendants.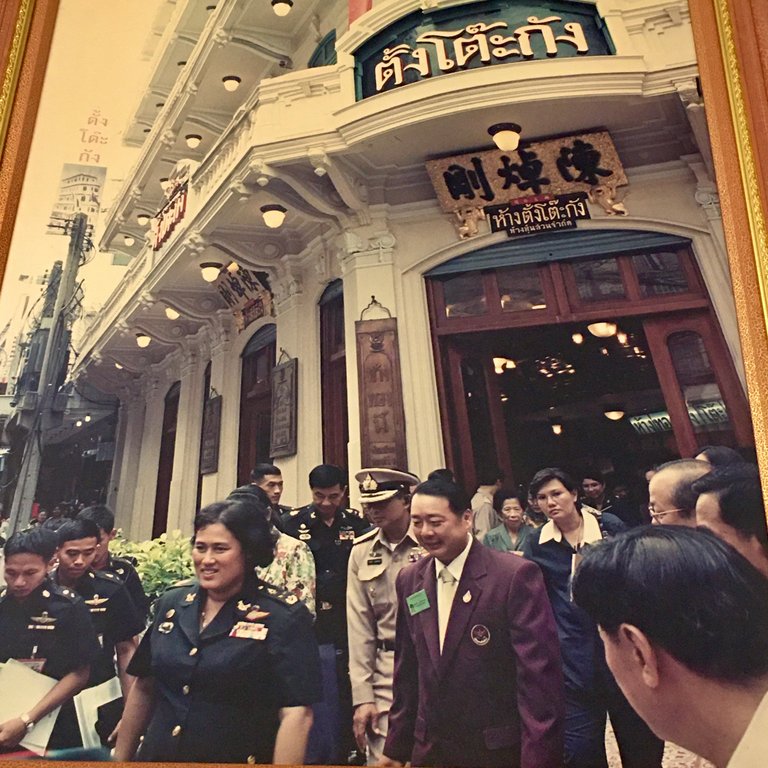 Photos of the shop during the historic visit by the Crown Princess.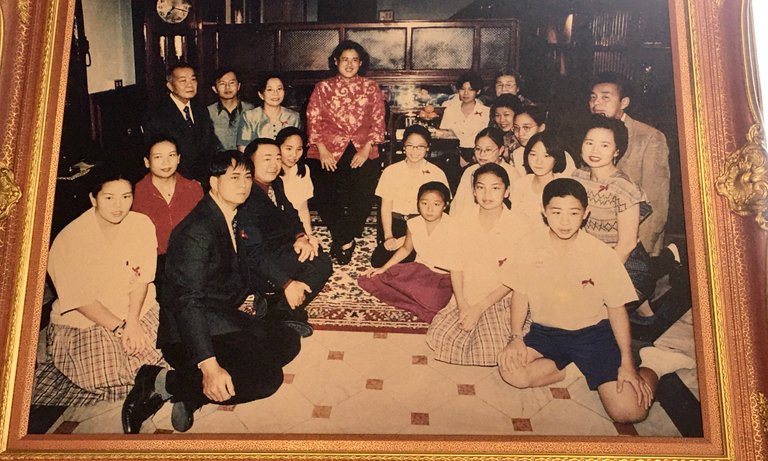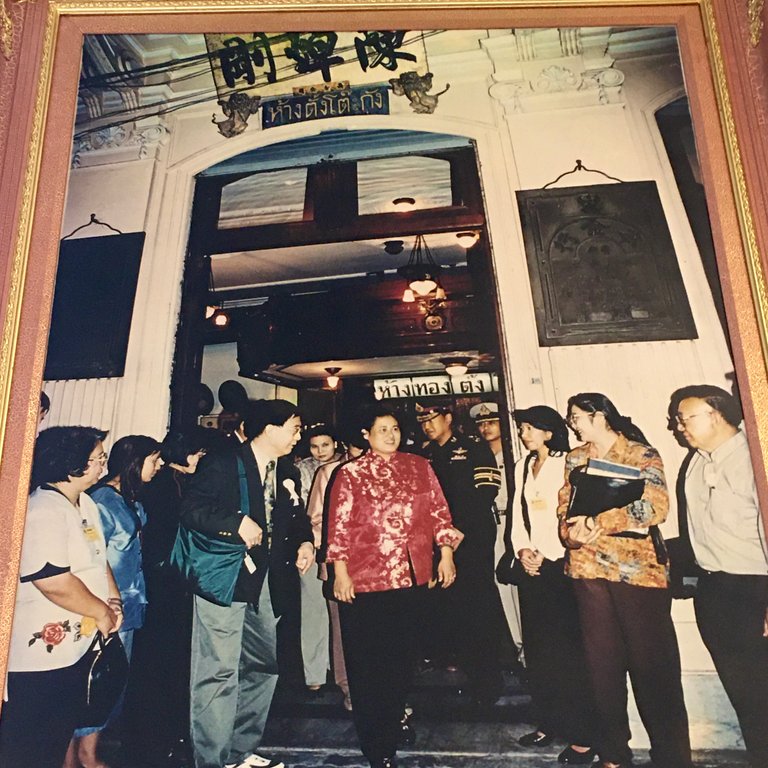 The staff of this shop were extremely polite and kind; they let us have a good rest in the air-condition reception area and let me take photos of the collection of Chinese antiques and old photos on the wall. The atmosphere was very easy-going and trusting. There was no railing between the gold display and customers like in most gold shops. The staff were over fifty years old reflecting the management's retention of old and loyal Chinese staff. I felt I was in a time dimension of the past, my father's generation. This is the only gold shop that sell 99.99% gold; the other shops sell 96.5 or 24K gold. I really enjoyed seeing high quality Chinese antique pieces in good condition.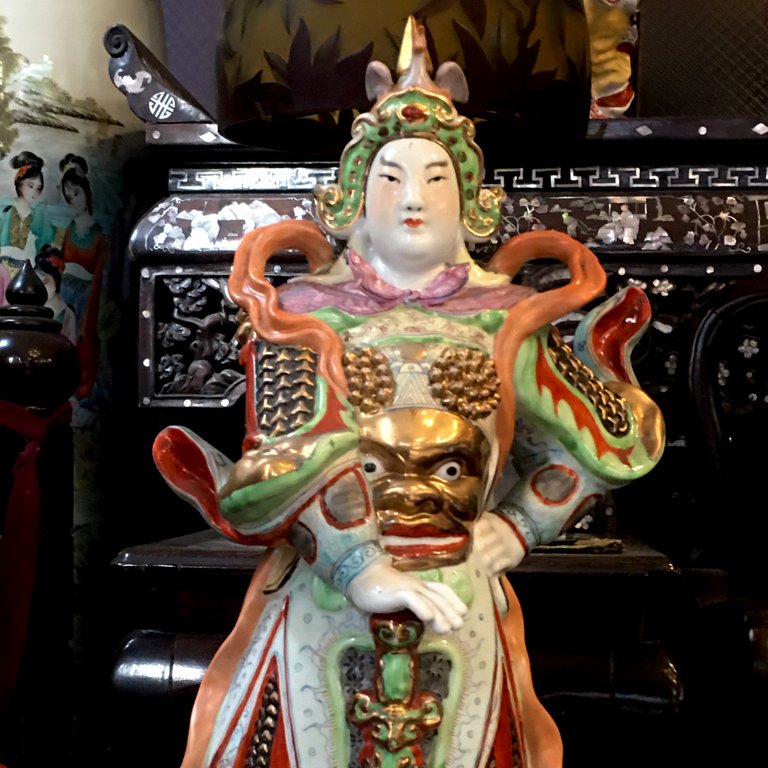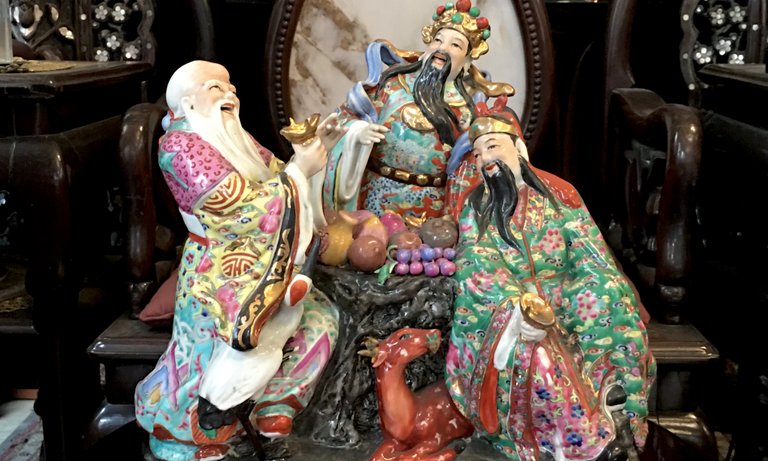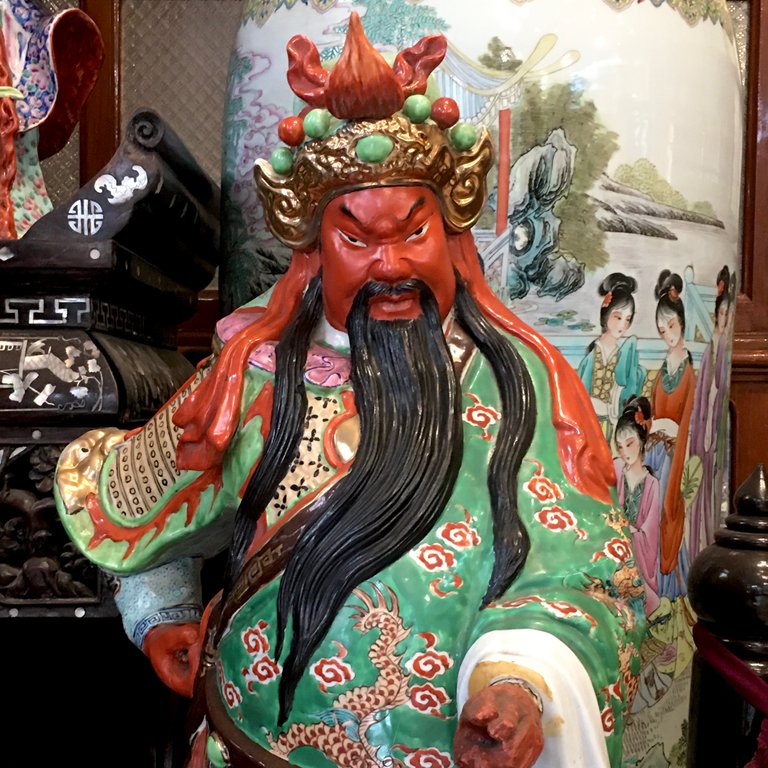 My friend told me that she used to know the eldest son of this Tang family while studying abroad. I told her I also used to know the second son and his wife several years ago but we lost touch. So I decided to ask one of the staff whether my friend's old friend was still in the family business. My friend got quite a shock to know that her old college friend died of heart attack a few years ago. One of the young descendants came to chat with us. She was the young member of the fifth generation; she told us that the families have grown quite big with in-laws, nephews and nieces. My friend used to drive around England with this old friend and another chap. Once everyone returned home to start a career, life just became too occupied to let us have the time to connect up with old friends. Each would normally work hard and settle down with a family and would become occupied with young children. Time just flew by and we all get much older and lose touch with our good old days.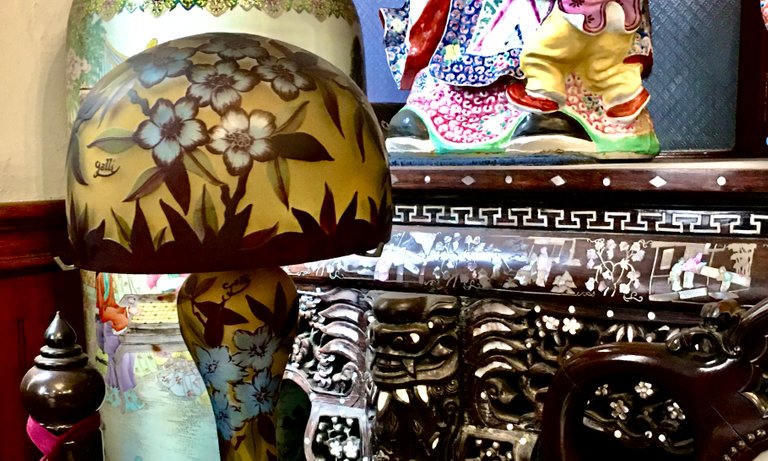 I also spotted an old art-deco lamp from Paris.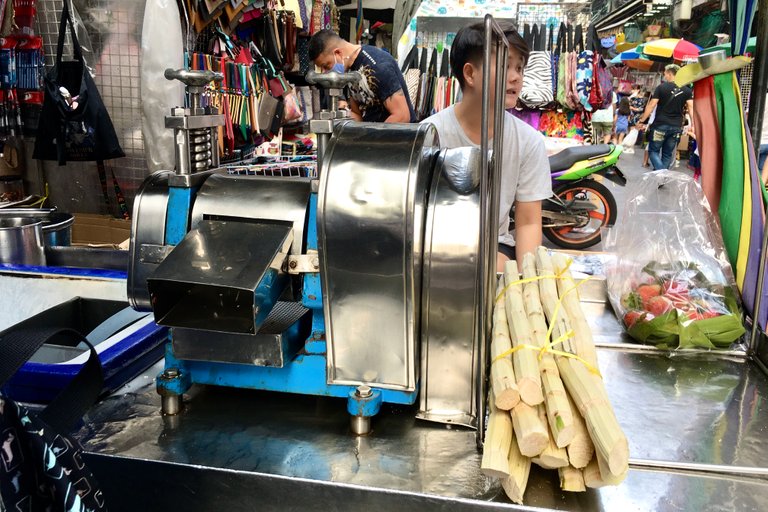 We had fantastic fresh sugar-cane juice in front of the old gold shop. I knew I had to grow my own sugar cane for juicing in the future. (We just planted three young sugar cane shoots in the garden last weekend.)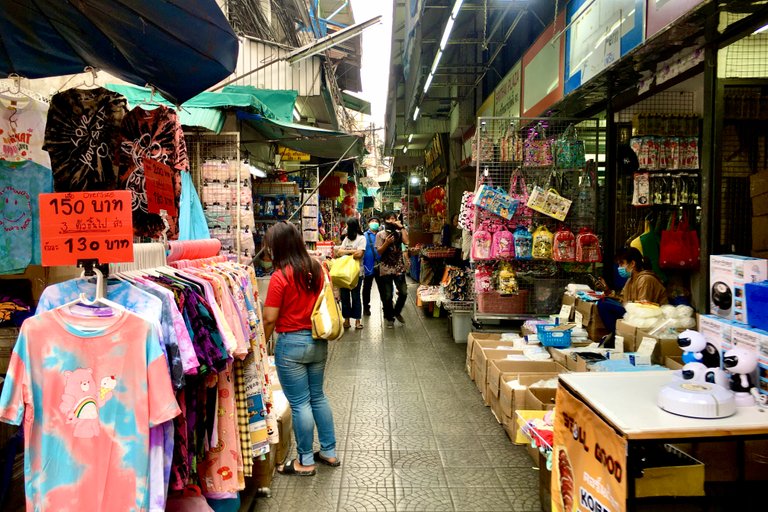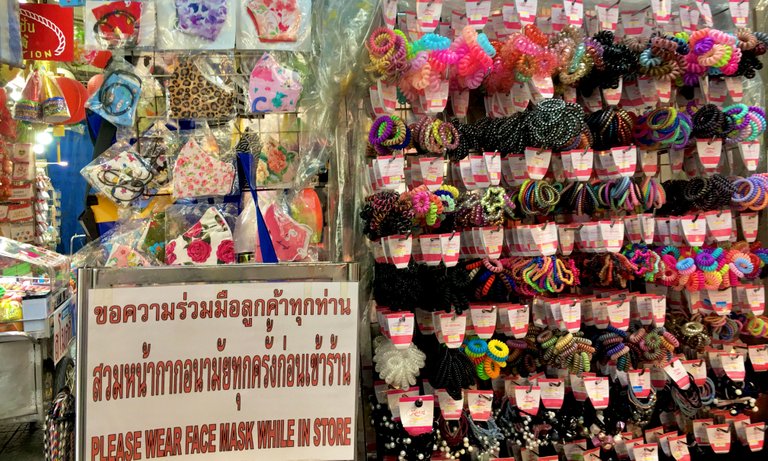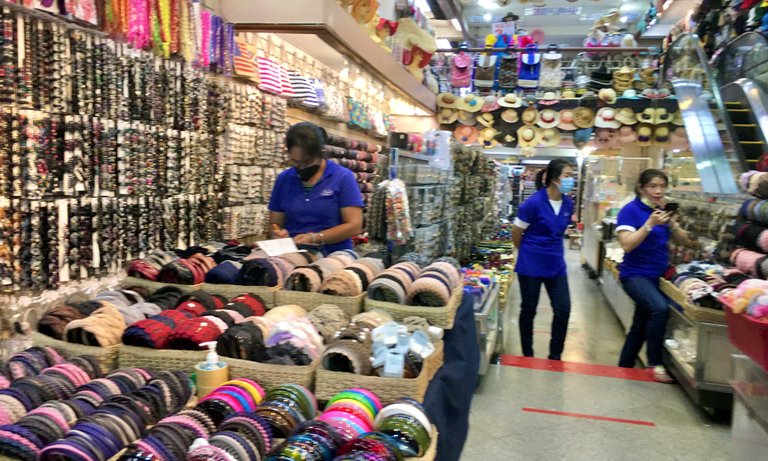 From the gold shop, I led my friend through a series of narrow alleys in side Sampeng market. This market was the first commercial and trading market set up by Chinese immigrants who came to settle down in Siam during the reign of King Rama IV. Sampeng market was the largest market which contributed towards economic growth during the evolution of Siam and the Rattanskosin period of expansion. Our first family home was very near Sampeng market. So walking along these alleys was very nostalgic for me. Though many shops have changed and my favourite sweet shops were gone, I felt so good to be among the crowd and have the opportunity to observe the changes and transformation of my old haunt. The majority of textile or cloth shops were gone since the Chinese imports destroyed our textile industry twenty years ago. There were few Indian shops selling imported silk and laces from Italy, Korea and Japan. The rest of the shops have turned into gift and accessories shops. We could spend the whole day looking at all the colourful and cute stuff on display. I did wonder whether these were imported goods from China!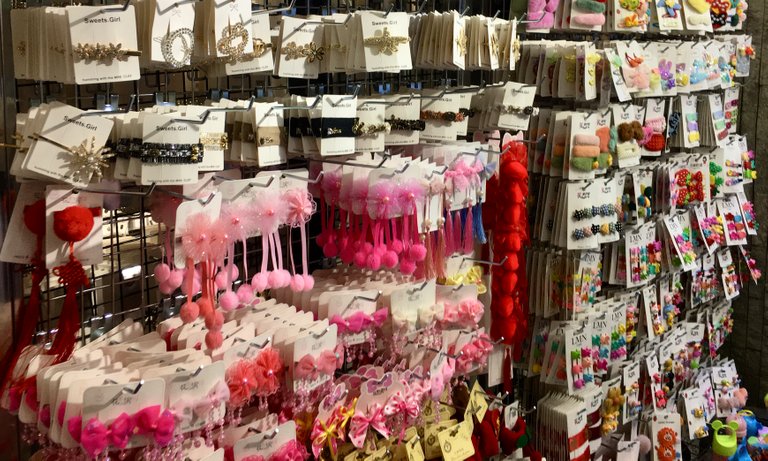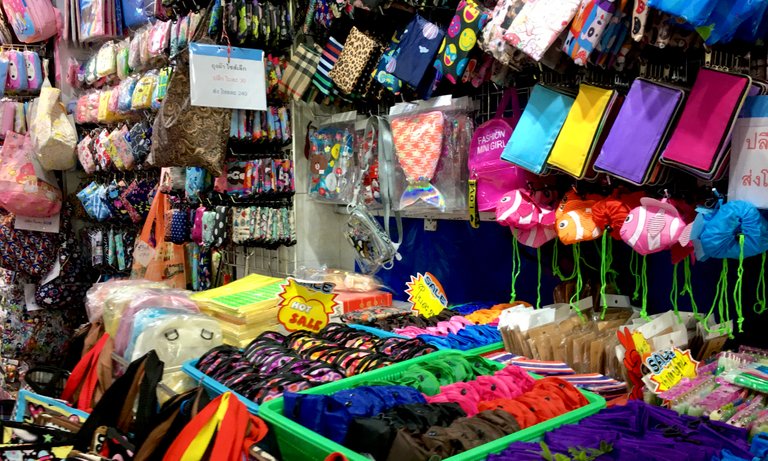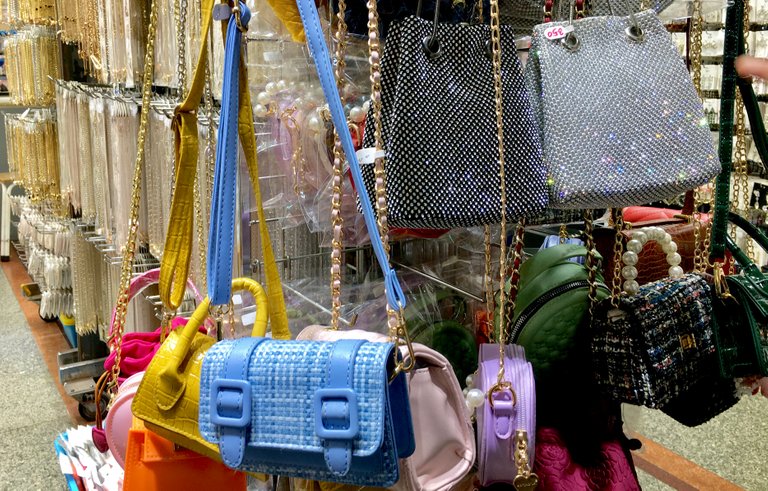 เราจะพาเดินเที่ยวจากถนนเยาวราชไปที่สำเพ็ง นี่เป็นส่วนหนึ่งของการ พาเพื่อนเก่าไปเดินเที่ยวถิ่นเก่าของเรา ตอนเด็กๆเราโตที่บ้านอยู่ไม่ไกลจากตลาดสำเพ็ง เราจึงรู้จักทิศทางและทางลัดแถวนั้น สมัยก่อนมีร้านขายขนมไทยอร่อยหลายร้าน เราก็ไม่รู้ว่าร้านพวกนี้ยังอยู่หรือเปล่า เราพาเพื่อนไปไหว้เจ้าเจ้าแม่กวนอิมก่อน แล้วพาเดินไปตามถนนเยาวราช เราเกือบอดใจไม่อยู่เมื่อเห็นขนมปลากริมไข่เต่า ขนมโบราณที่เราชอบกินสมัยเด็ก เดินผ่านร้านขายเสื้อจีนสีแดงก็อย่กจะได้เสื้อเชิ้ตสีแดงสักตัว แต่เราไม่มีเวลาแล้ว เราพาเพื่อนเดิาไปตามถนนมังกร เพื่อไปดูร้านทองเก่าแก่และมีชื่อเสียงมายาวนานกว่าร้อยปี นั่นคือร้านตั้งโต๊ะกังนั่นเอง ตรงข้ามก็คือธนาคารกรุงเทพที่สร้างในยุคเดียวกันคือสมัยในหลวงรัชกาลที่5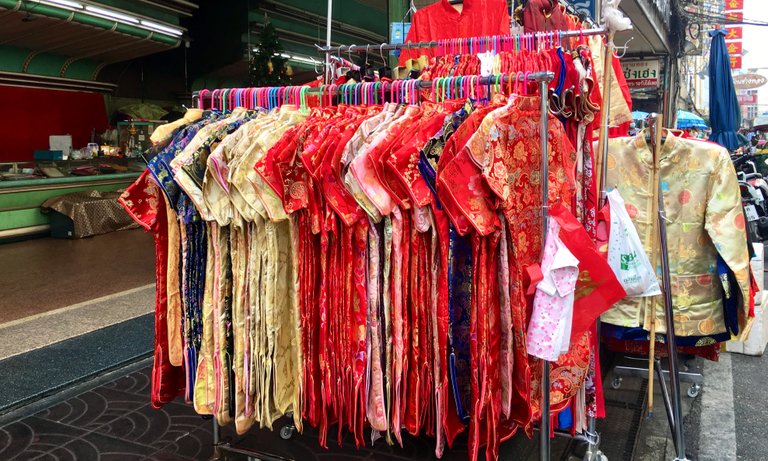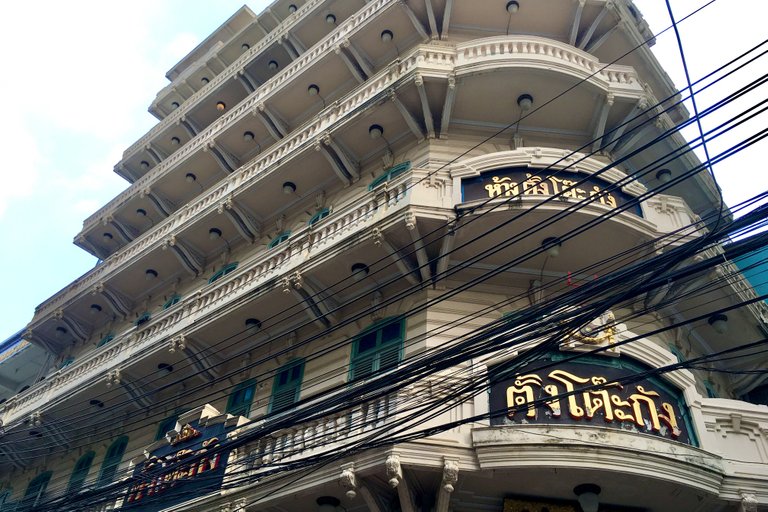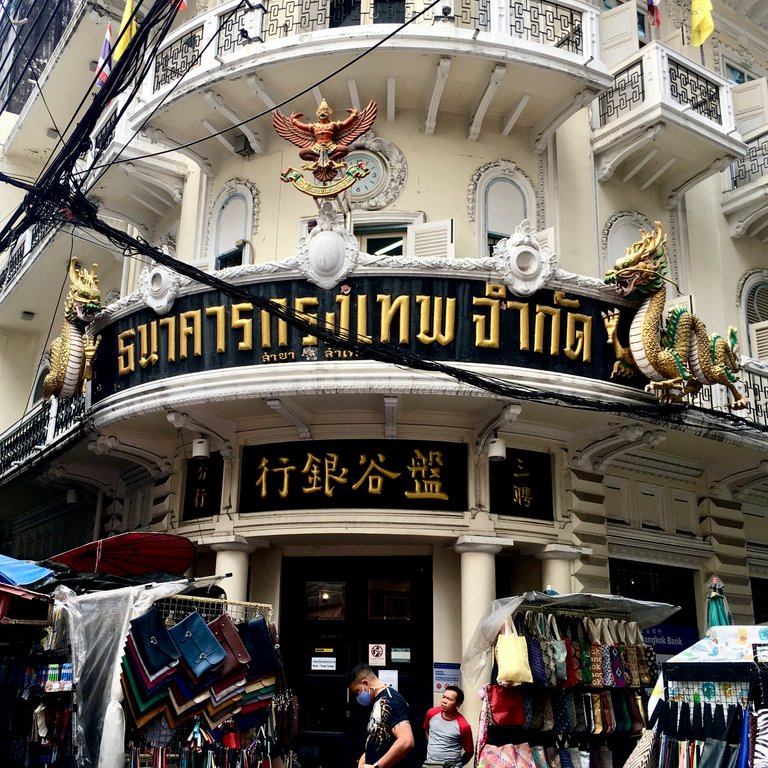 ตึกของร้านตั้งโต๊ะกังเป็นตึกเจ็ดชั้น สร้างโดยสถาปนิกชาวฮอลันดา และชาวเซี่ยงไฮ้เป็นคนออกแบบตกแต่งภายใน ตึกนี้สร้างในสมัยรัขกาลที่5 และเป็นตึกที่สูงใหญ่โอ่โถงมากที่สุดในย่านเยาวราชในสมัยนั้น ปัจจุบันร้านนี้ดำเนินการโดยคนรุ่นที่สี่และห้าแล้ว เราพาเพื่อนเข้าไปเดินเล่นในร้านทอง ซึ่งมีบรรยากาศเป็นมิตร และมีความใจกว้างมาก เขาปล่อยให้เราเข้าไปนั่งพักให้หายร้อน และยังให้เราถ่ายรูปของเก่า รูปปั้นกังใสของจีน และรูปที่อยู่ตามฝาผนังด้วย เพื่อนเราบอกว่าเคยเที่ยวเล่นที่อังกฤษกับลูกชายร้านนี้ แต่ขาดการติดต่อกันนานมาก เราก็ไปถามพนักงานในร้าน ก็ได้รู้ว่า เพื่อนที่เคยเที่ยวด้วนกันกับเพื่อนของเราพึ่งตายด้วยโรคหัวใจวายเมื่อสองปีก่อน เราก็ตกใจมากที่เสียตอนอายุไม่มาก เราก็ต้องปลงอนิจจัง และยอมรับว่าชีวิตนี้ช่างไม่แน่นอนเสียจริง เราประทับใจในความสุภาพและใจดีของคนในร้านมาก นับว่าเป็นร้านทองที่ไม่เคร่งครัดในด้านความปลอดภัยจนเกินไป แต่เราก็คิดว่าเขาคงดูคนเป็นว่าใครมาดีใครมาร้าย พอออกจากร้านเราก็กินนํ้าอ้อยคั่นสด มันอร่อยมาก จนเราอยากจะปลูกอ้อยไว้คั้นน้ำกินในอนาคต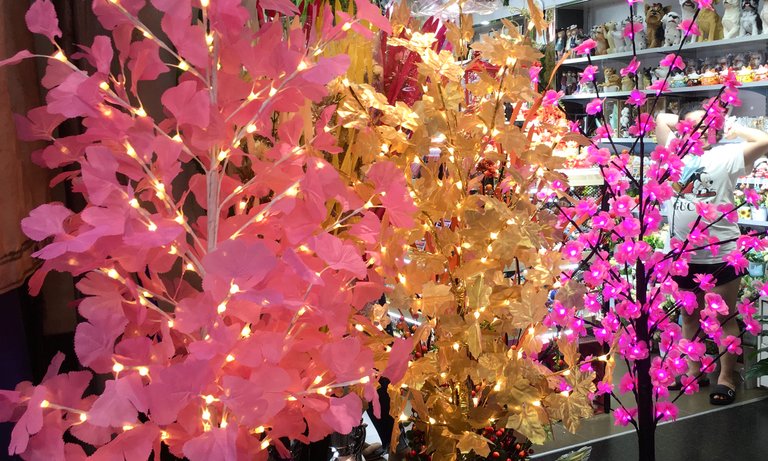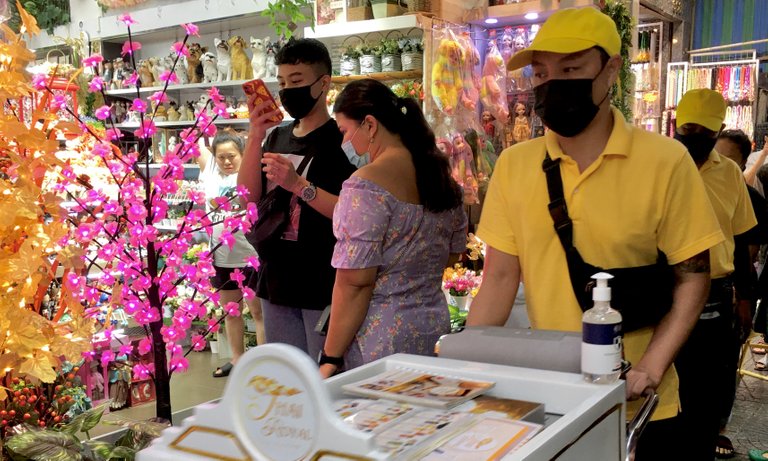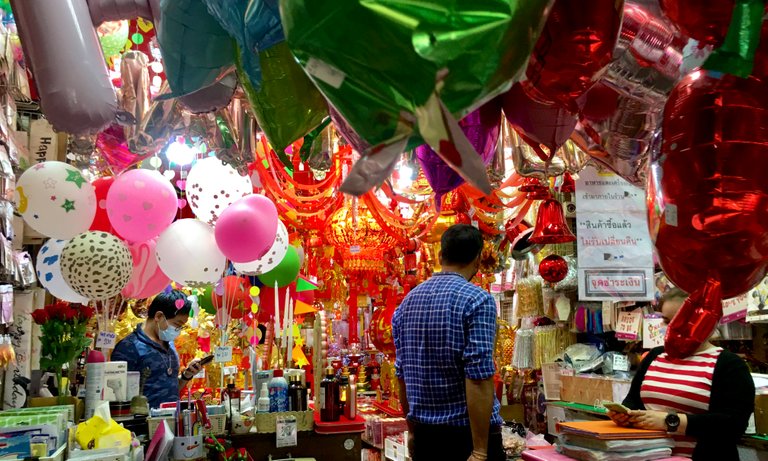 ร้านส่วนใหญ่ในสำเพ็งกลายเป็นร้านขายกิฟท์ช็อป กระเป๋า หมวก ของสำหรับแต่งสถานที่ในงานวันเกิด งานฉลองต่างๆ ไฟประดับ เครื่องมือในการทำเครื่องประดับ ของเล่น ปัจจุบันมีร้านขายผ้าเหลือไม่กี่ร้าน เพราะของนำเข้าจากจีนและเกาหลีเข้ามาตีตลาดไปยี่สิบกว่าปีแล้ว รัฐบาลไม่ช่วยอุตสาหกรรมไทยเท่าที่ควร เราก็อดคิดไม่ได้ว่าของที่ขายในร้านเหล่านี้ เป็นของนำเข้าจากจีนหรือเปล่า ต่อไปคนไทยจะมีงานทำหรือเปล่านี่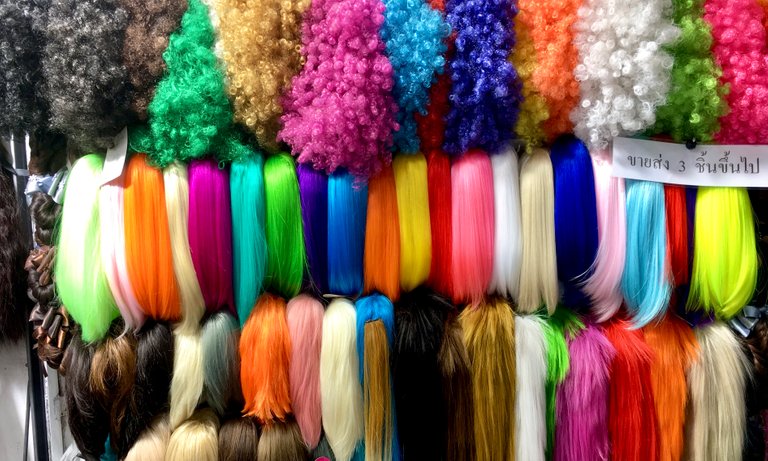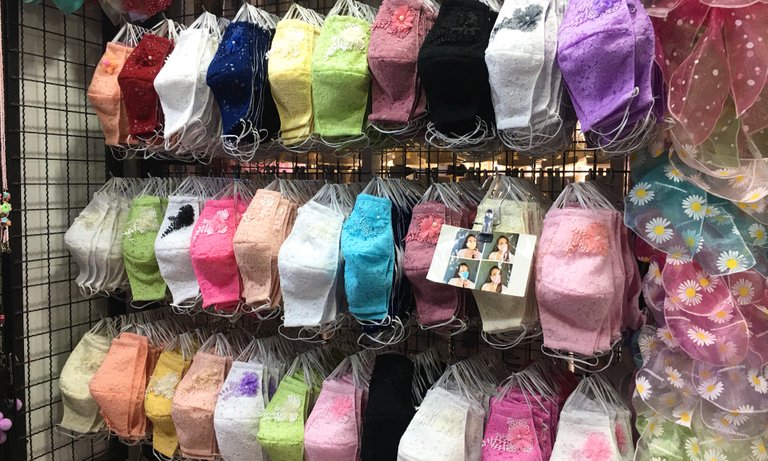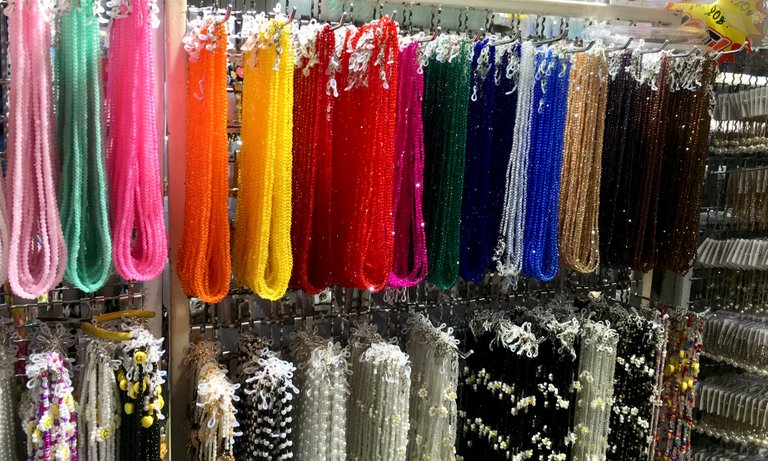 เราเจอคนเข็นรถขายขนมหลายอย่าง บางอย่างเป็นของชอบ เราจึงหยุดซื้อขนมกินเล่นตามทาง และสายตาก็มองดูของที่วางขายอยู่ตามร้านต่างๆ เราแปลกใจมากที่มีของวาวขายกลากหลายมาก มีหน้ากากสวยๆปักดิ้น และลูกไม้มากมายหลายแบบในราคาถูก มีสายคล้องหน้ากากหลากสีด้วย เพื่อนซื้อไปสีเส้น เรากินขนมต้มอบควันเทียนแสนอร่อย เพื่อนเราแวะซื้อของหลายอย่าง เราก็พาเดินผ่านสำเพ็งจนไปทะลุสะพานหัน เราจึงหาที่นั่งพักผ่อนกัน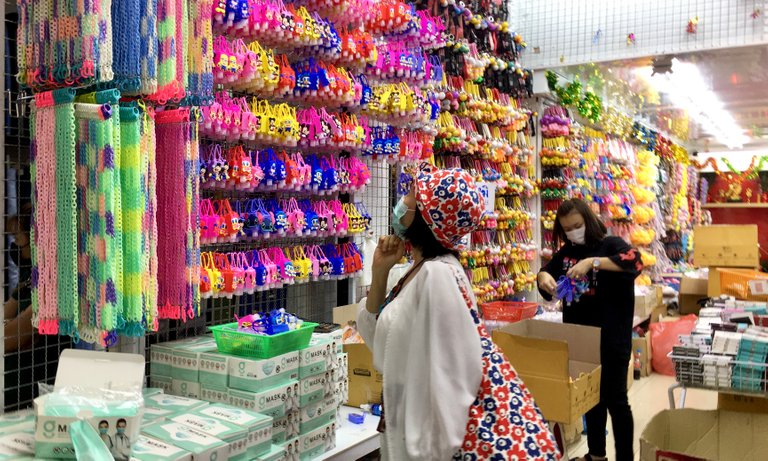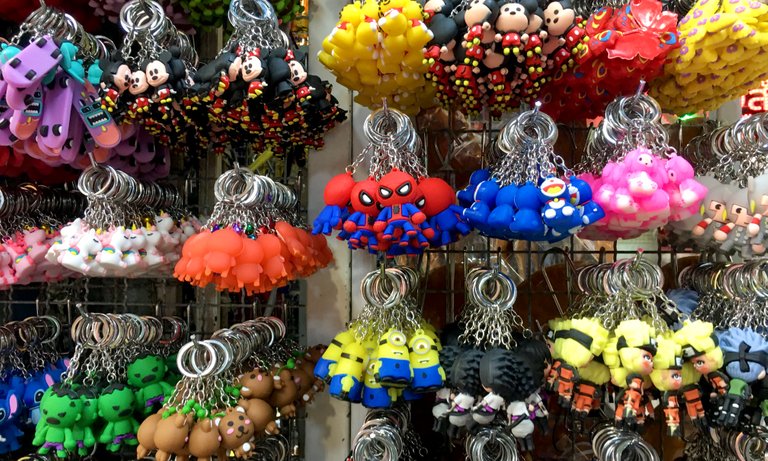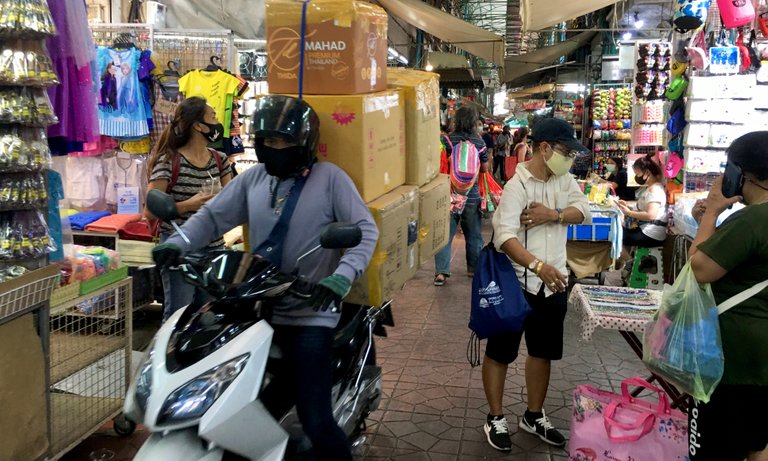 The walking tour was most enjoyable because I spotted a few more trolleys selling Thai sweets. I had a nice chat with the vendors, one vendor gave me a free tasting of her coconut ball sweet. I was very impression by the taste and jasmine fragrance; she knew how to make traditional Thai sweet, her manner was very kind and polite. So, I gave her a tip. I just wished I had been able to locate some old sweet shops of my childhood. But on a second thought, those vendors must have been well over a hundred years old if the shops were still open!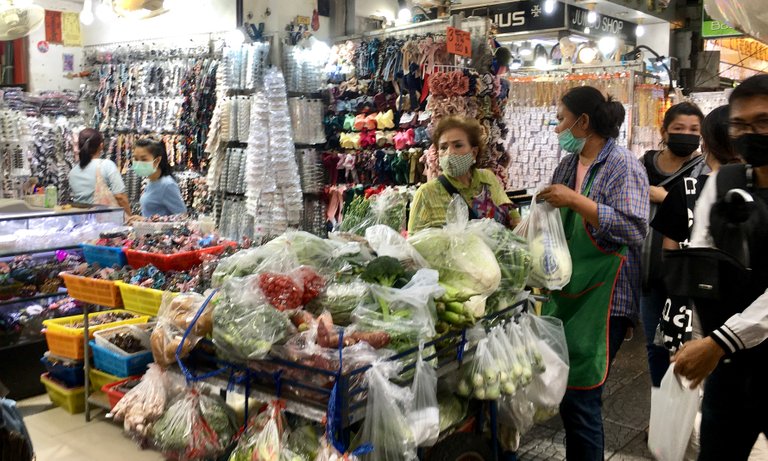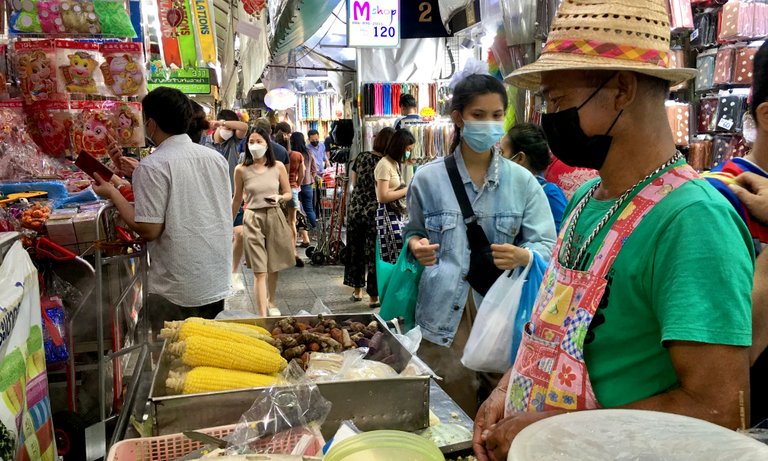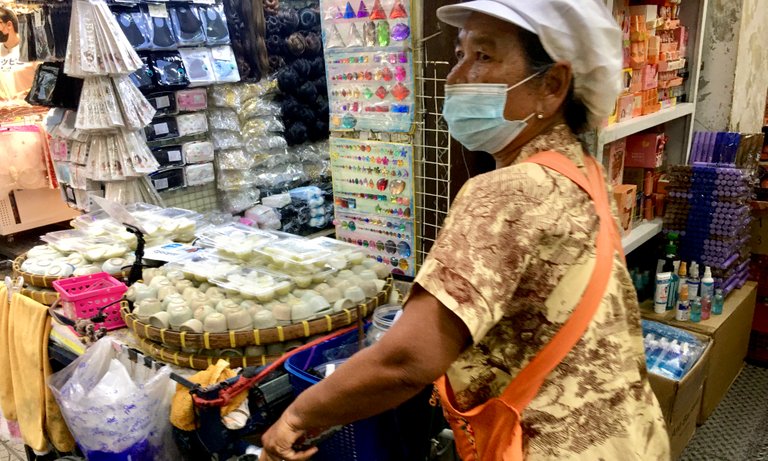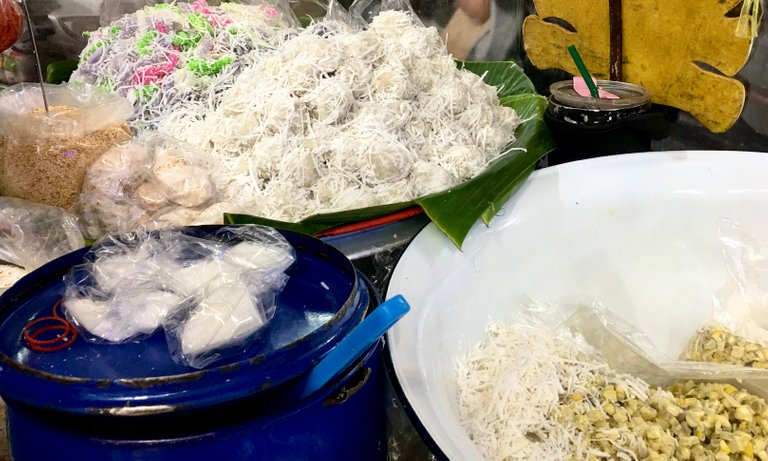 My friend enjoyed her shopping spree of cheap and nice accessories while I was having a good time buying my favorite Thai sweets. Sampeng is always my favourite and easy going market with lots of traditional Thai sweets and snack stalls. I hope to get back there again as I have to buy some beans at the Indian market nearby Sampeng next week. Hope you could come along!
Wishing you peace, good health and prosperity.