This is my late entry to #marketfriday hosted by our lovely @dswigle. I am afraid that the convoluted electromagnetic field in the universe and around the world have somehow managed to throw my timeline dimension in a fuzzy state. I lost count of time and was blown away by tides of happenings around my world of reality. Luckily I still could recall my memories so I could fit back to the present state of dimension. I feel that there's definitely something odd occurring in the bigger picture of reality. Perhaps someone has been trying to force open another dimension through the Large Hadron Collider in CERN. Several days ago, I ran out of chic peas. That presented a reasonable excuse to visit the Indian market at the north side of Chinatown. I haven't been there over a year so I was curious to see how those small Indian shops were doing after the long lockdown.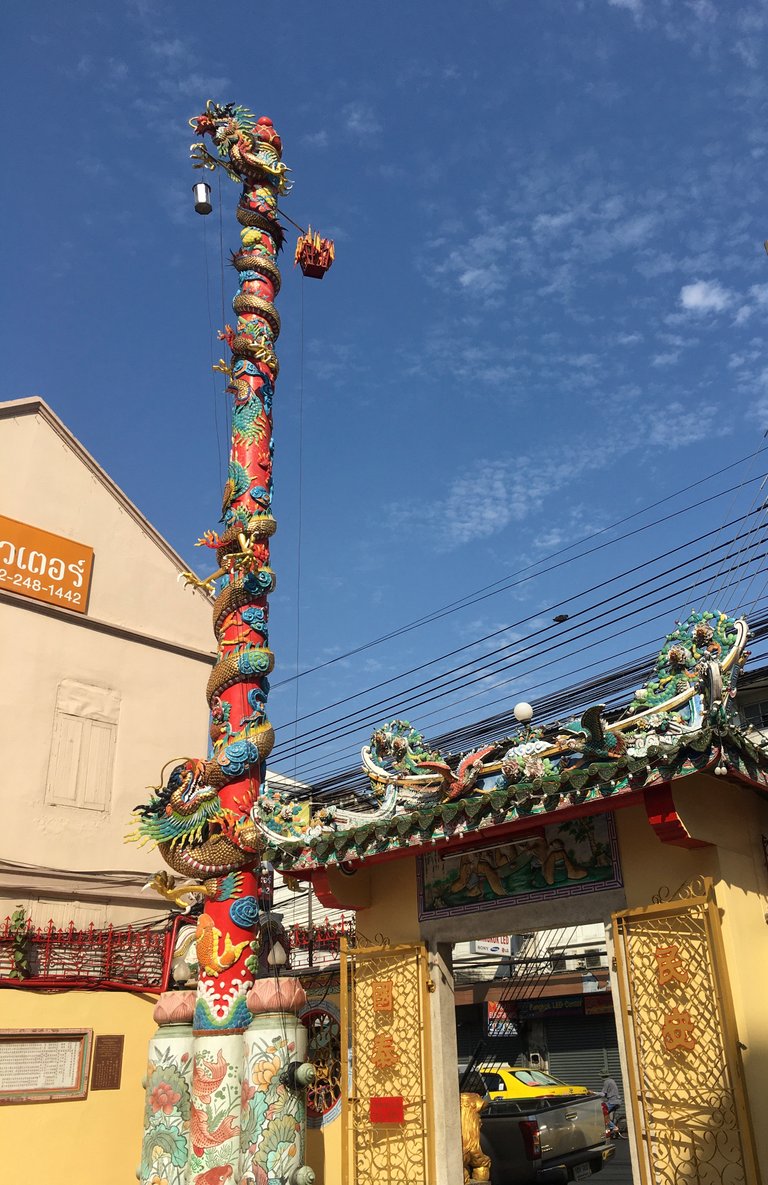 This time I took a tuk-tuk ride to get to the nearest bus stop so I could walk around a little. To my surprise, I stumbled on a small Chinese shrine which looked very simple and unattractive from the outside. There was something inside telling me to have a look. I was very glad to have followed that little voice. It turned out that this small shrine is one of the nine important Chinese shrines for the Chinese community. This is the famous Chao Mae Thapthim shrine in the northern end of Chinatown. The shrine of Chao Mae Thapthim (the Goddess of Ruby) is famous among people seeking for assistance on having difficulty of having babies. This shrine is over a hundred years old with the wooden statue of the Goddess made during the Soong dynasty over nine hundreds years ago. The early Chinese immigrants living in this area had gathered money and donations for the expedition of this old Goddess from China almost two hundred years ago. These Chinese immigrants needed this spiritual statue from their old village to be with them in their new foreign home.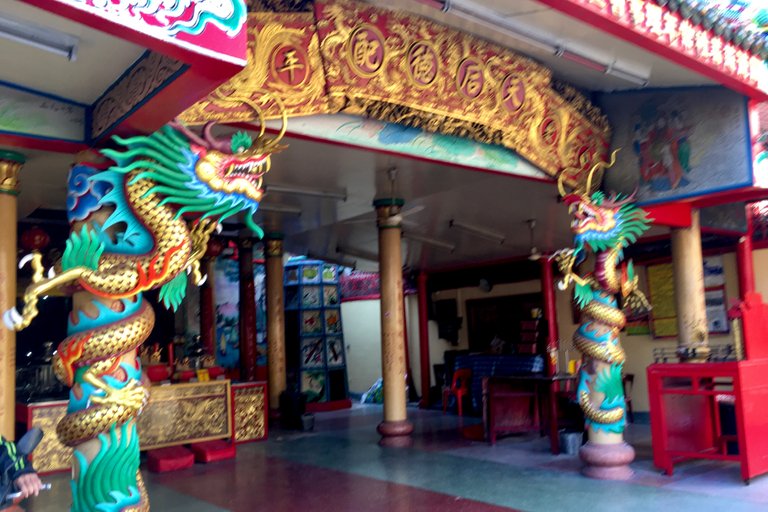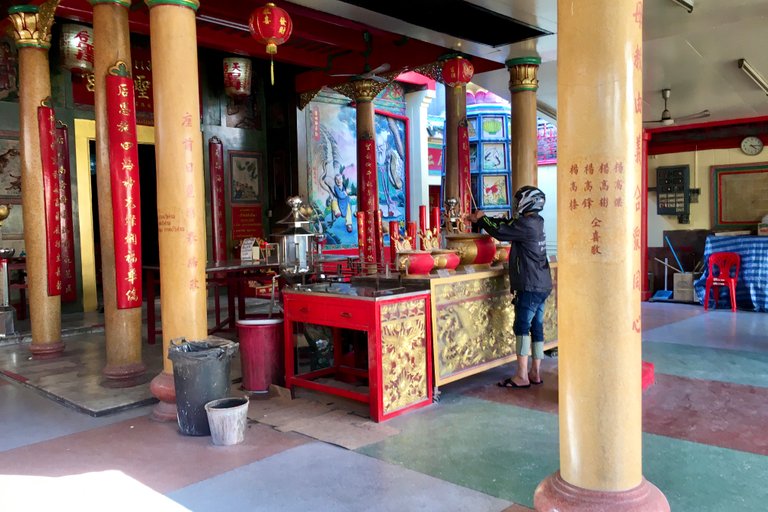 I often wondered why the local Chinese in China allowed several important statues to be taken out of their original shrines. It turned out that most of these villages gradually became empty as more people started to follow their neighbours who had settled down in Siam. These Chinese immigrants started sending money home to their old relatives and some had become very wealthy which spurred more brave souls to take the hazardous journey to Siam.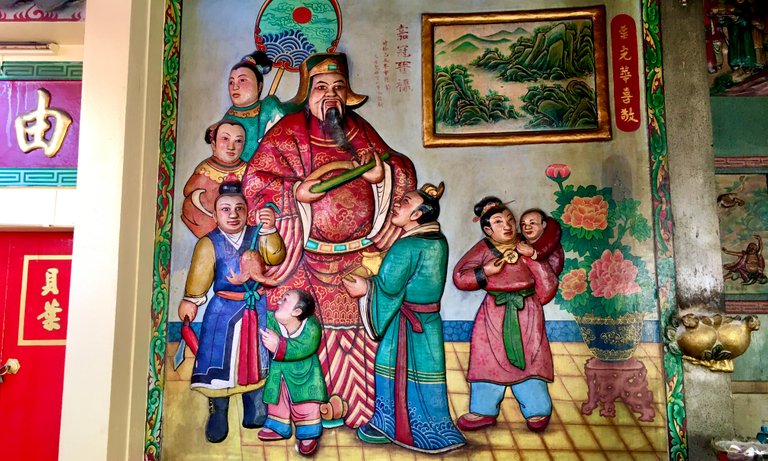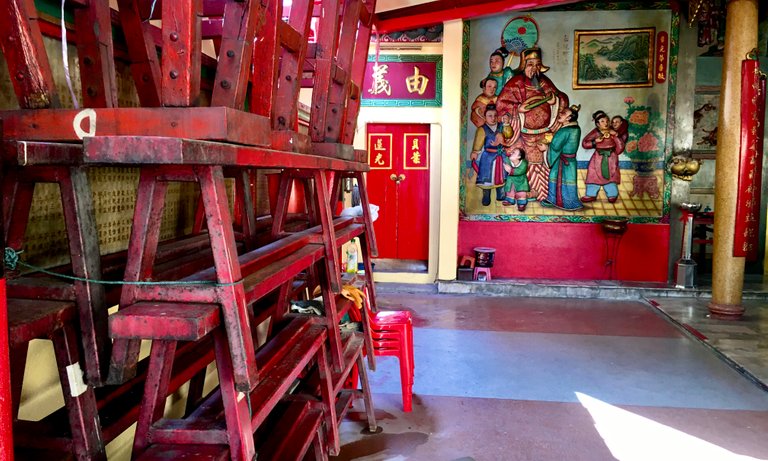 I thought that was very fortunate to have all the old and important historical statues being safe in Siam. I could imagine the Red Guards during the Cultural Revolution in China seeking out old shrines to destroy all the remnants of the bourgeoisie. My Chinese ancestors started their long journey from China during the beginning of the transition period in China, at the end of the Ching dynasty. Luckily they did not have to be enlisted in the Long March. So, old Chinese shrines always attracted my attention and reminded me of my grandmother who would always go to pray at her favorite shrine on religious days.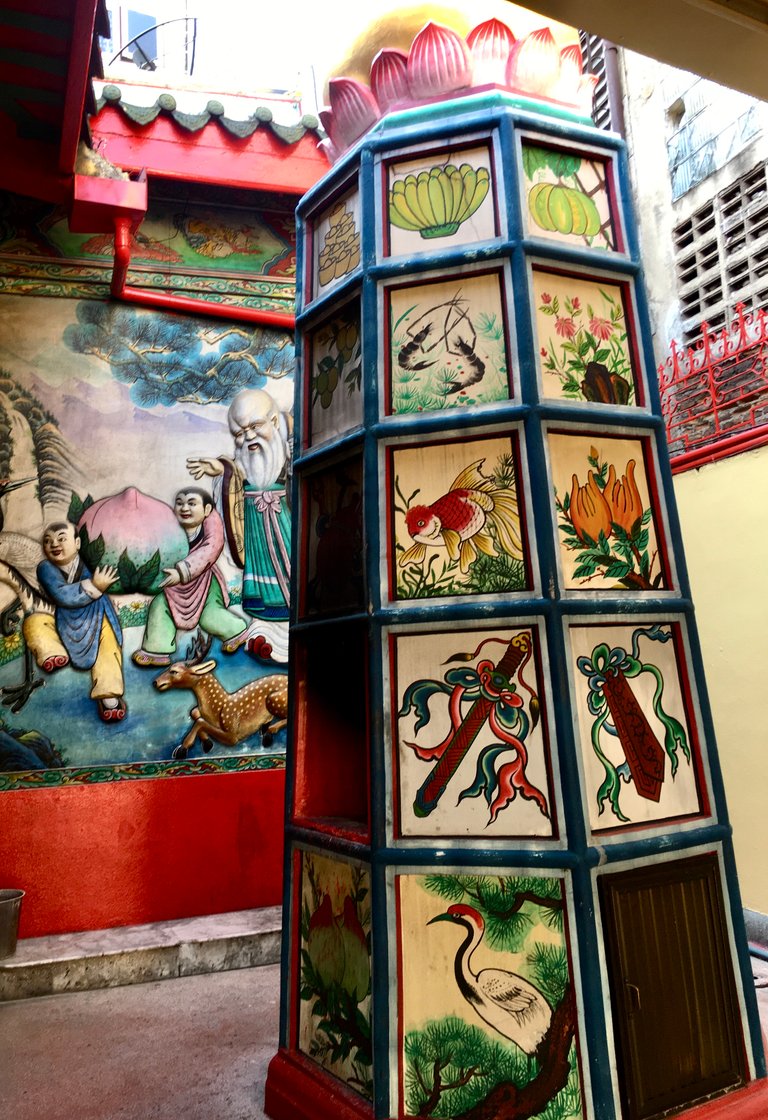 This month is the traditional time for all Chinese to pay respect to their ancestors' graves and to perform ceremony for all ancestors' spirits in other dimension. So, I took the opportunity to do a proper ritual of respect and prayer at this old shrine. I hoped that the good karma and charitable deeds would have beneficial effects on those ancestors still waiting for their next reincarnation. As a small child, I dreamt that my grandmother took me to a high mountain in China to visit all our Chinese relatives whom I never met before. They were waiting for their turn of reincarnation. As the morning sun was higher into the mountains, my grandmother told me to cross the wooden bridge and to get back home. I was so sad and refused to depart. Then, all those old Chinese started to scold at me and chased me towards the bridge. I was forced to walk over the bridge alone, none dared to walk with me. They all smiled, waved at me and talked in old Chinese language which I could not understand.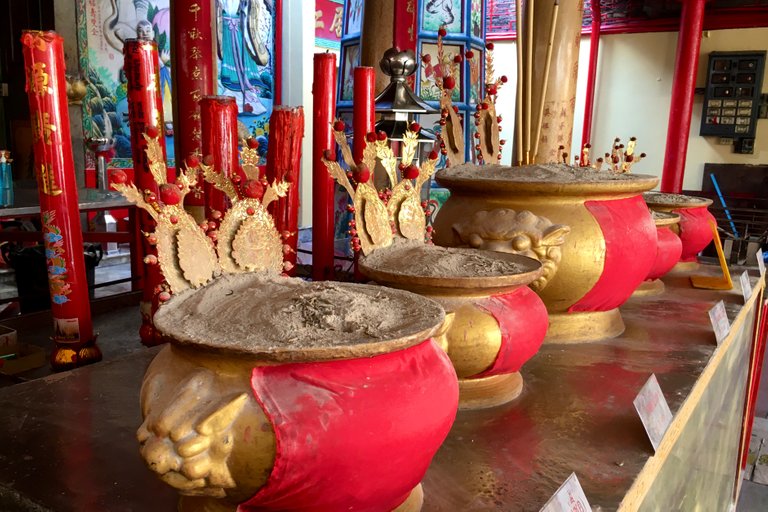 When I woke up, I knew my grandmother had kept her promise of showing me where she went after her death. As a child, I was curious to know if there's a place where dead people spirits would go and whether they would be reincarnated. Many years later, I had another dream about my grandfather which reminded me of such a place or dimension. I was so glad that I visited this shrine and perform a respecting ritual for all my dead Chinese relatives. I hope my they would know how grateful I have been to their unconditional kindness and loving.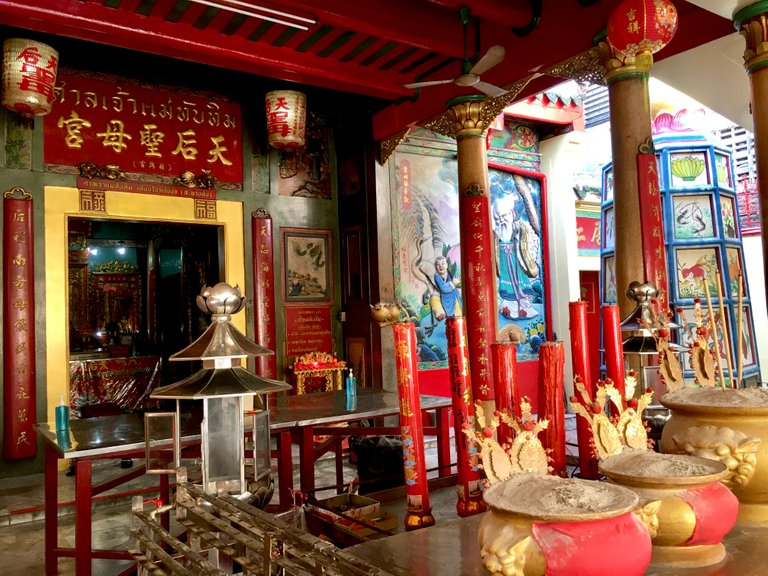 The caretaker of the shrine was very kind to me and allowed me to take a few photos inside. At first he was very reluctant as the order came from the authority, he told me that photos of old religious shrines had been found defaced and used in black ceremonies on the Internet; that was really quite sickening and bad karma. However, he somehow allowed me to take some photos.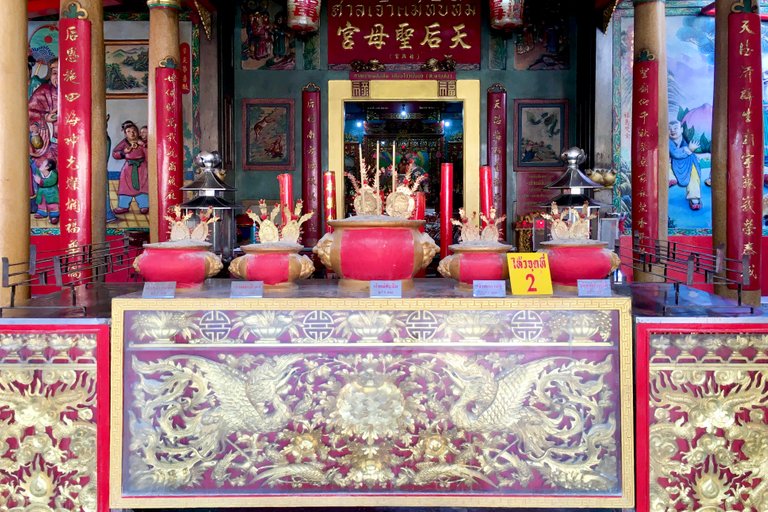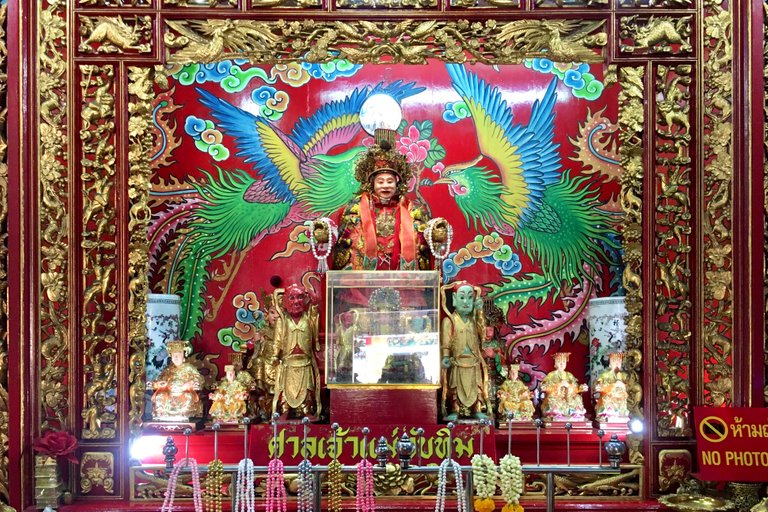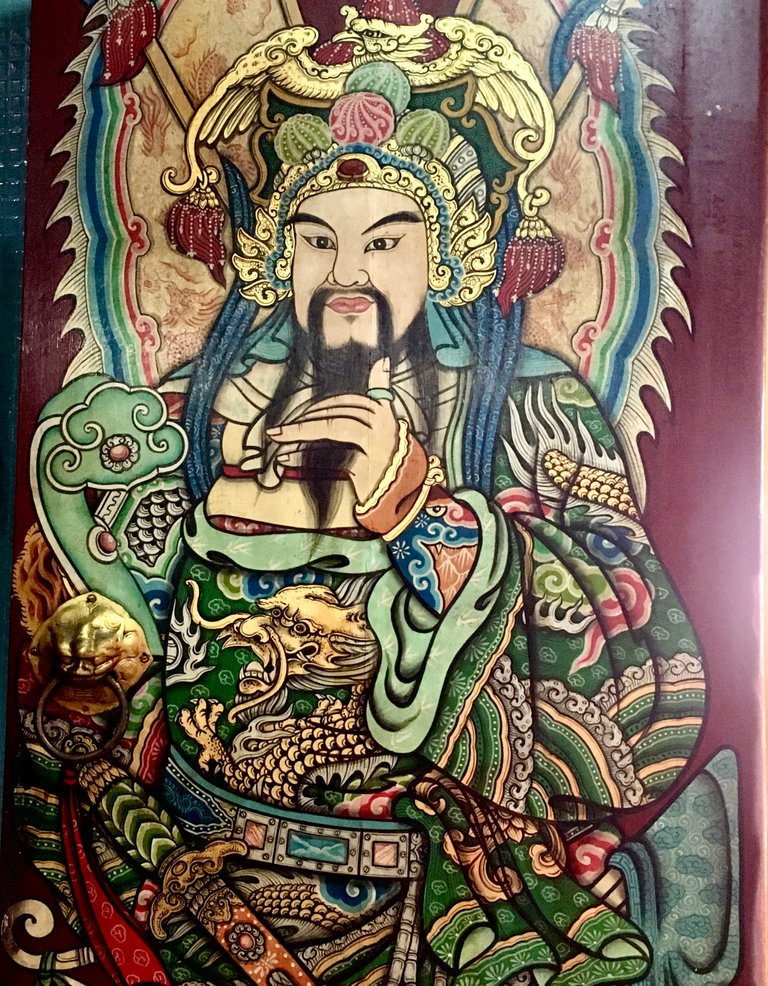 Some elderly Chinese ladies came to pay respect at the shrine and told me that her son survived an illness after she came to seek help from the Shrine. There is a big plague telling people how to perform a simple ceremony to ward off bad luck, especially for those people born in conflicting years to the present animal year according to Chinese astrology. The main ingredients are hard boiled eggs dipped in red dye, which are called red-eggs and a string of pearls (fake pearls). The staff would give each person a set of paper written with Chinese prayers to swipe around the body. Then these prayer papers which are supposed to gathered all the bad vibes and bad luck would be burned during the monks' chanting ceremony. This is a very good idea but I had no time for this ritual; it means I have to get back there again.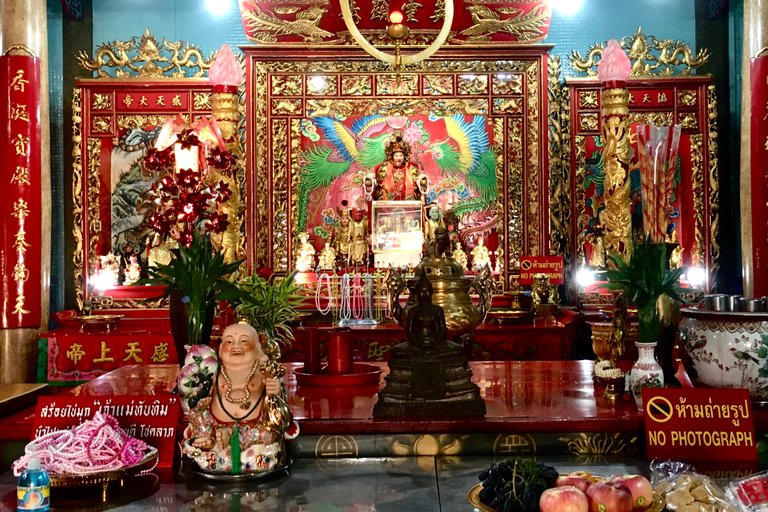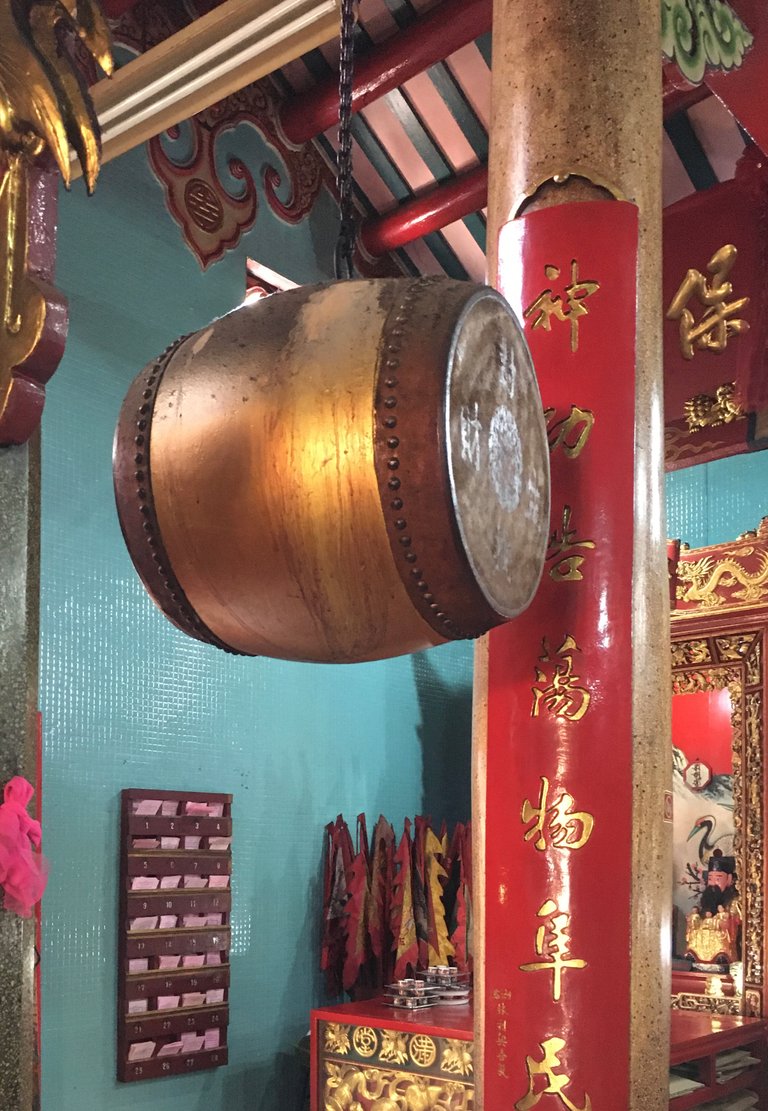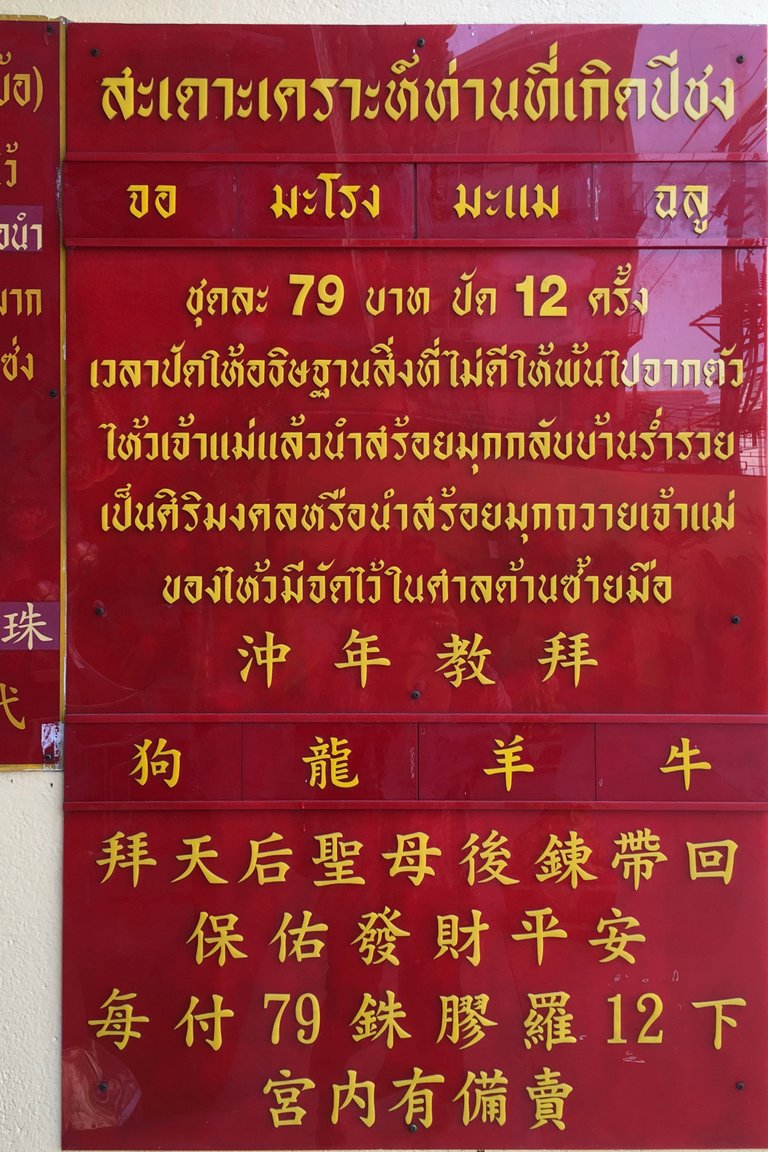 I almost forgot about my chic peas. The Indian market is only twenty meters away from this shrine. The coffee stall at the bus stop is next to the small alley where all the Indian shops could be found. To my surprise, there was a crowd at the corner of the alley. The samosa stall was doing a roaring business. I was glad to see usual routine and crowd waiting for their snacks. But the atmosphere along the Indian shops seem a bit subdue. Some shops still remained close after the long lockdown. However there was a new Indian sweet shop opened in competition with the old shop at the end of the alley. I saw some Thai youngsters looking for statues of Indian gods and some ritual accessories. Recently some Thai astrologers have been prescribing some rituals for Indian gods in order to attract wealth and good fortune. In times of economic difficulties, astrologers seem to be able to make lots of money. I continued to search for shops selling chic peas.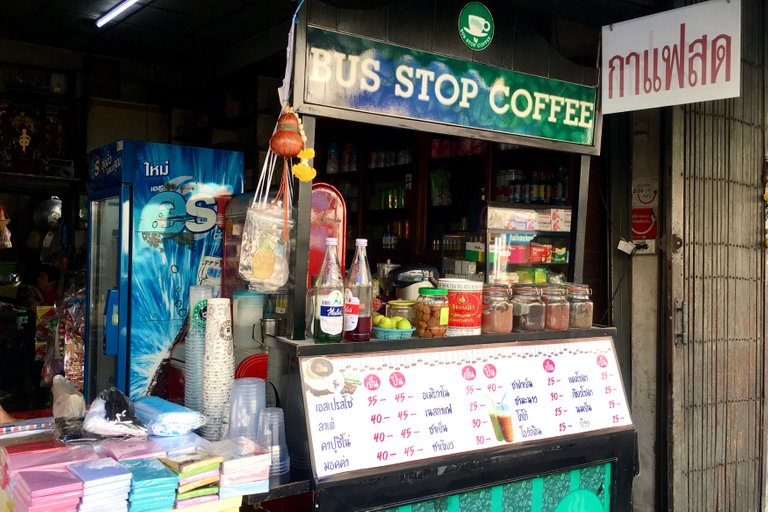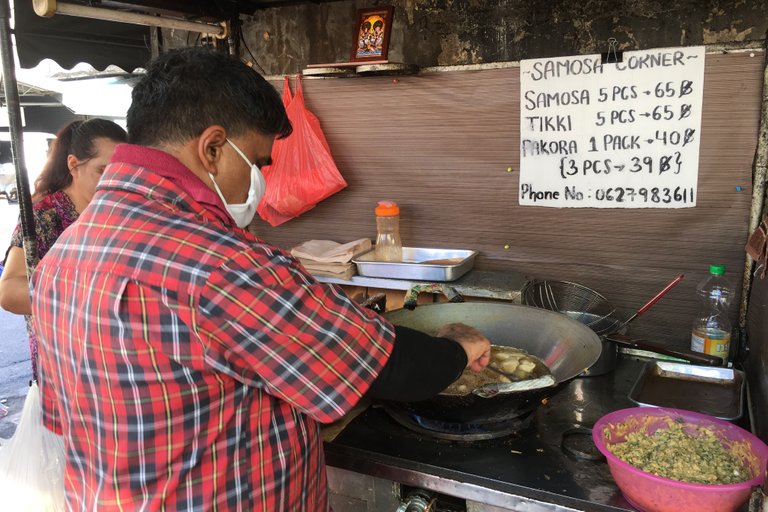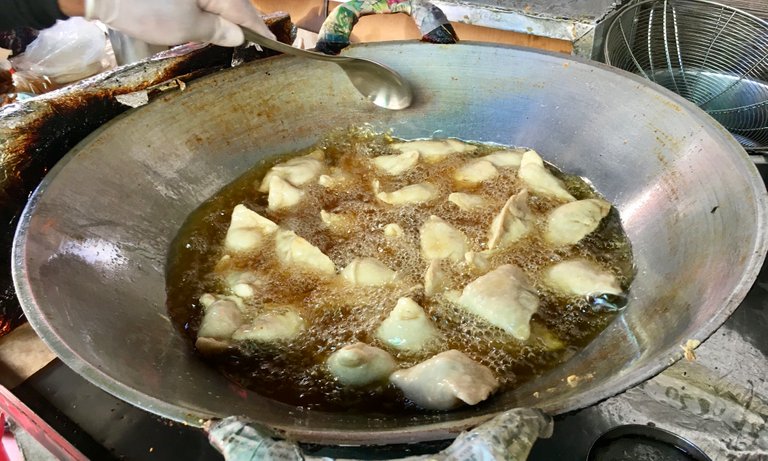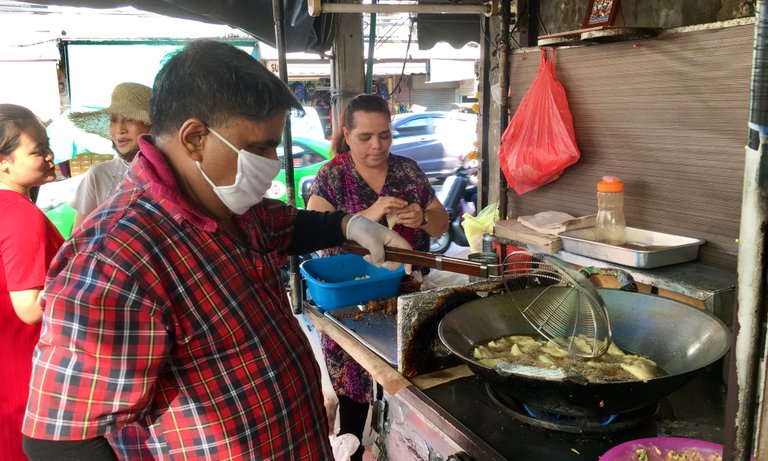 I met another group of Thai people chatting in front of the old Indian offer shop; they were buy favorite snacks for offering to Ganesha. These are very nice but fattening sweets made from beans and sugar. I was very tempted to get some for myself; but I knew I could not stop at one piece. So, I quickly walked to the grocery store.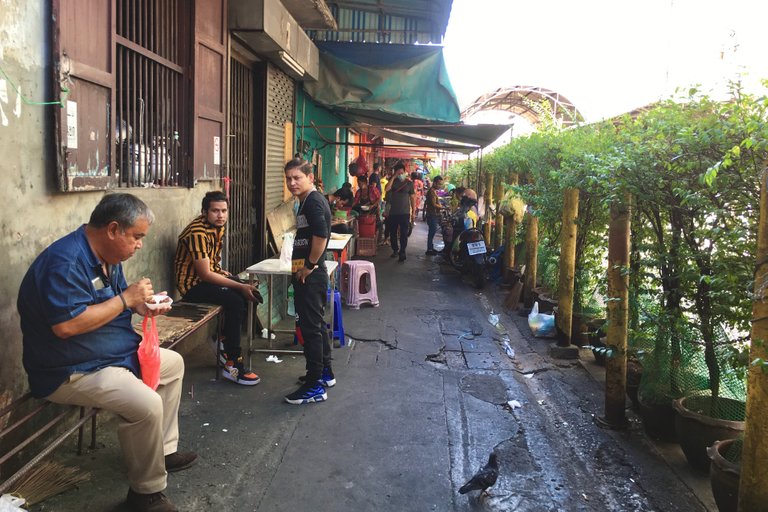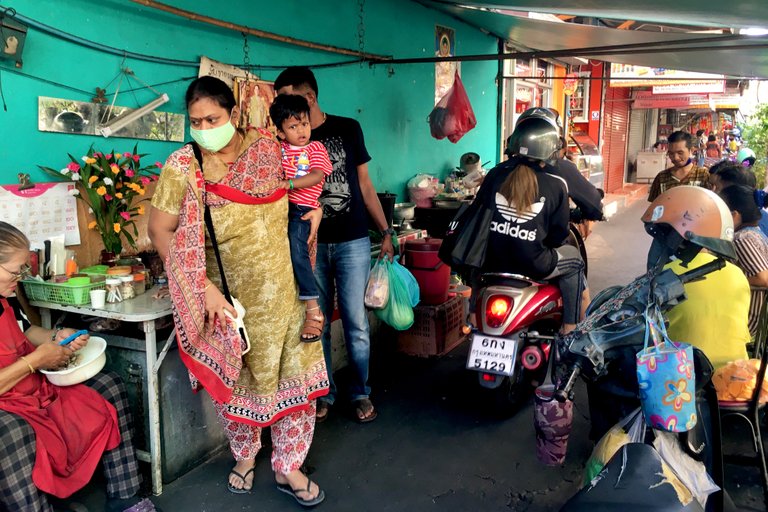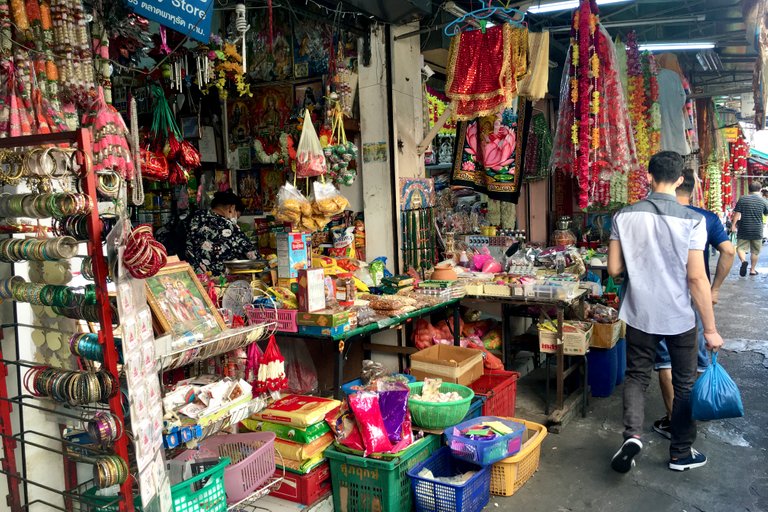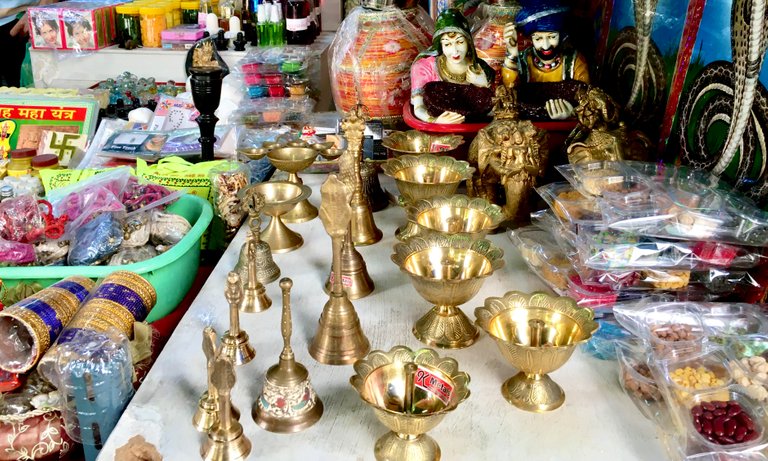 This old shop was full of grains and beans at half the price in the regular supermarkets. I bought four bags of chic peas and one bag of lentil. I am not a good cook so I will have to find out how to best to cook these beans. The informal and friendly atmosphere of these Indian shops really amazed me. They were very kind and polite vendors which were softly spoken with sincere gaze. They were a delight when haggling as they always gave me a reduction.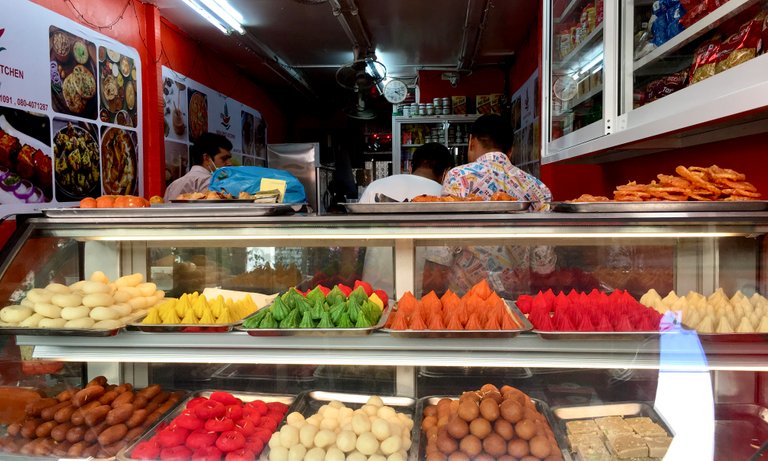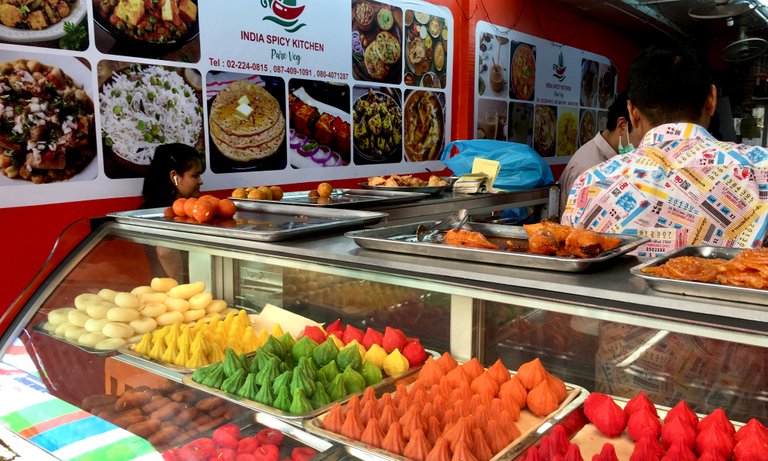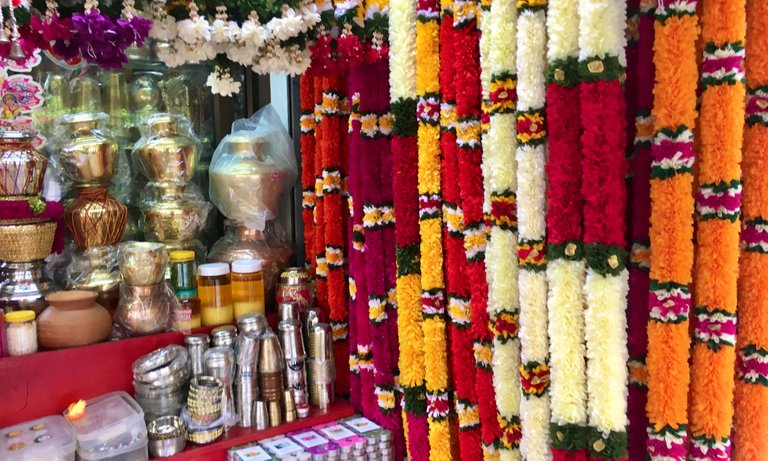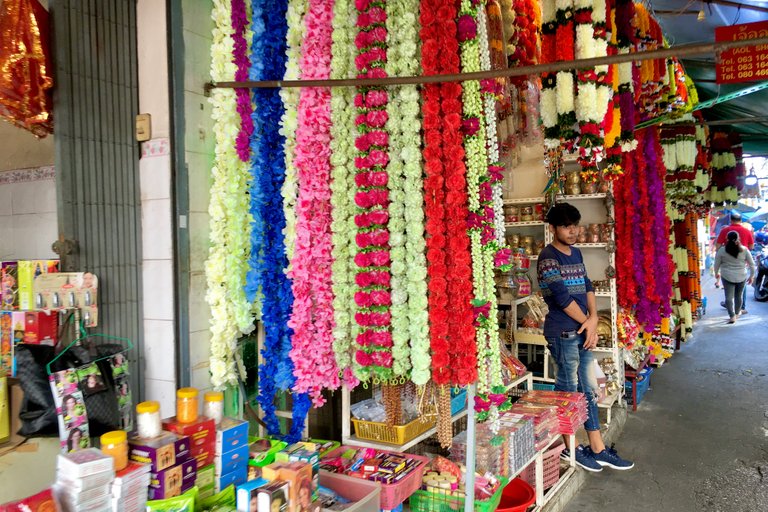 If I haggled so much in a Thai shop, vendors would give me a fierce look! All the shops allowed me to take photos without having to buy anything. Thai shop owners would not be so generous. I noticed that people have become a bit hardened by the pandemic and hardship it has caused in general. But I do hope that the increasing velocity of money during these last two months works make things easier for all vendors. When tourism has started locally and internationally, things would certainly become more lively and optimistic.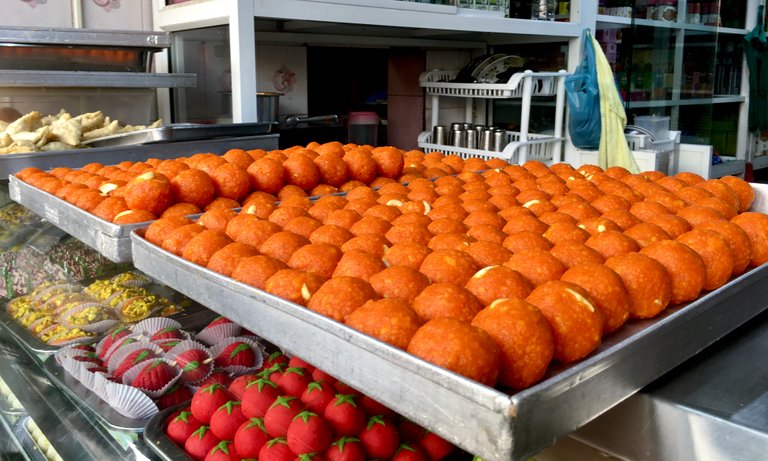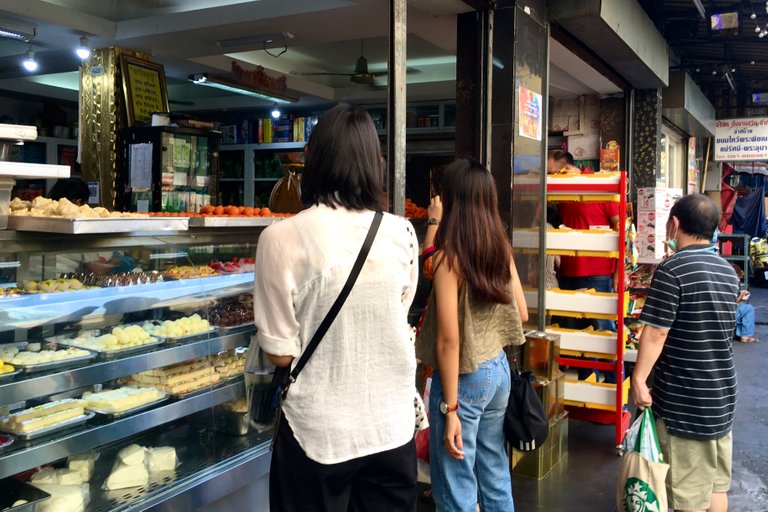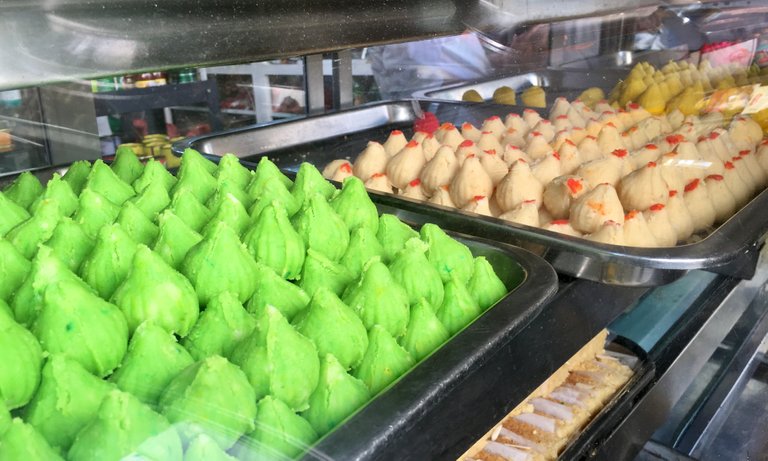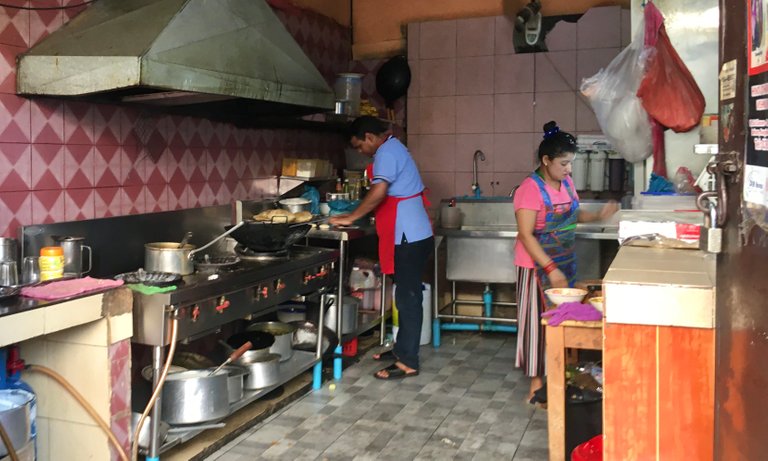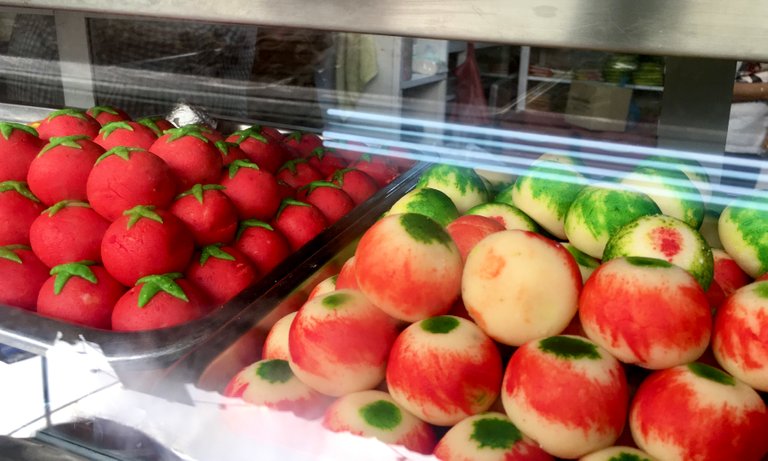 สัปดาห์ที่ผ่านมาเราต้องไปซื้อถั่วชิกพีที่ตลาดอินเดียแถวสะพานหัน เราก็นั่งรถตุ๊กๆไปเพื่อประหยัดเวลา แถวนั้นไม่มีที่จอดรถ เราก็อยากเดินเล่นแถวนั้นด้วย เราก็รับไปก่อนร้านปิด เราไปอีกทางหนึ่งทำให้ต้องเดินผ่านศาลเจ้าจีนโบราณแห่งหนึ่ง ดูเล็กและไม่ค่อยมีอะไรโดดเด่นนัก เราก็จะเดินผ่านไป แต่มีอะไรบางอย่างบอกให้เราแวะเข้าไปดูหน่อย เราก็เลยถึงบางอ้อ นี่คือศาลเจ้าแม่ทับทิมที่เราเคยอ่านเจอว่า มีความเก่าแก่และศักดิ์สิทธิ์มากสำหรับชาวจีน เราจึงรีบเดินไปดูรายละเอียดของสถานที่และถ่ายรูป พอเราจะถ่ายรูปข้างในก็มีคนบอกว่าห้ามถ่ายรูป เราผิดหวังมาก เราก็คุยกับคนดูแลศาลเจ้า จนในที่สุดเรารู้ว่าเขาถูกกรมศิลป์ฯสั่งมา และมีการพบว่าคนเอาภาพถ่าย ของสิ่งศักดิ์สิทธิ์ต่างๆ ไปทำการลบหลู่และใช้ในพิธีกรรมทางสายดำตามที่ปรากฏในอินเตอร์เน็ต เราฟังแล้วก็ตกใจมากที่พวกสมุนฝีห่าซาตานกล้าทำทุเรศถึงเพียงนี้ เราก็คุยไปสักพัก เขาก็อนุญาตให้เราถ่ายรูปได้บ้าง เราก็ถ่ายรูปมาเกือบสิบรูป พลังภายในศาลเจ้าแม่ทับทิมดีมาก เราจึงทำบุญและไหว้ท่านให้ถูกต้องตามธรรมเนียมจีน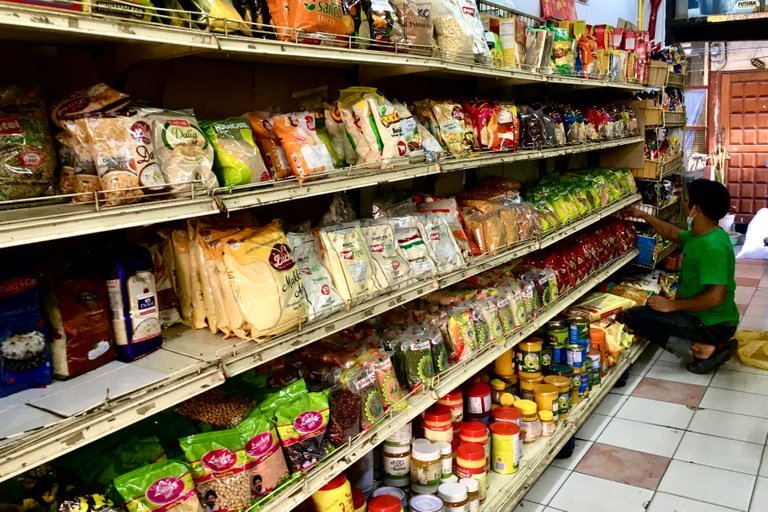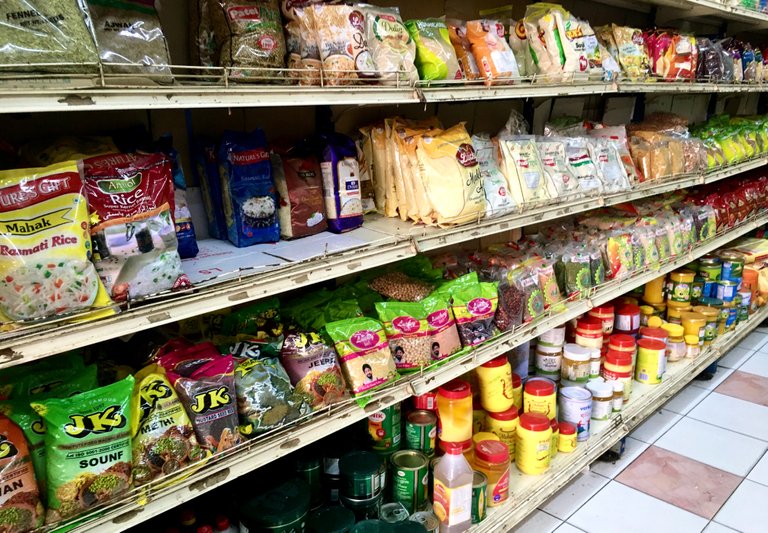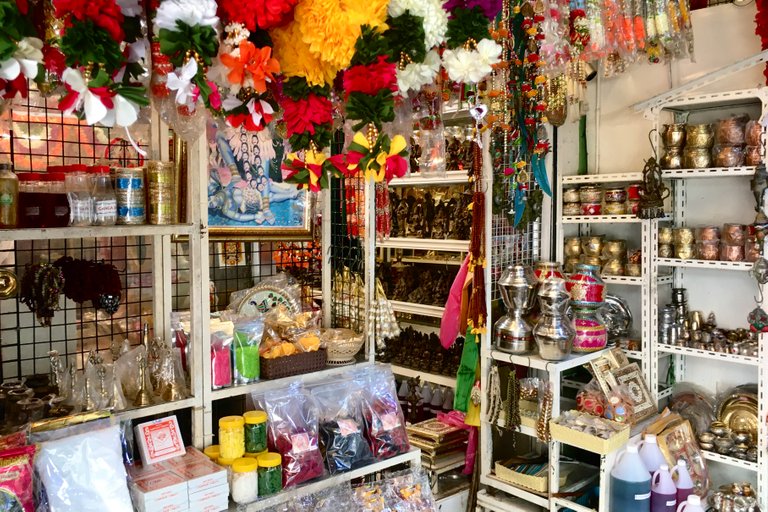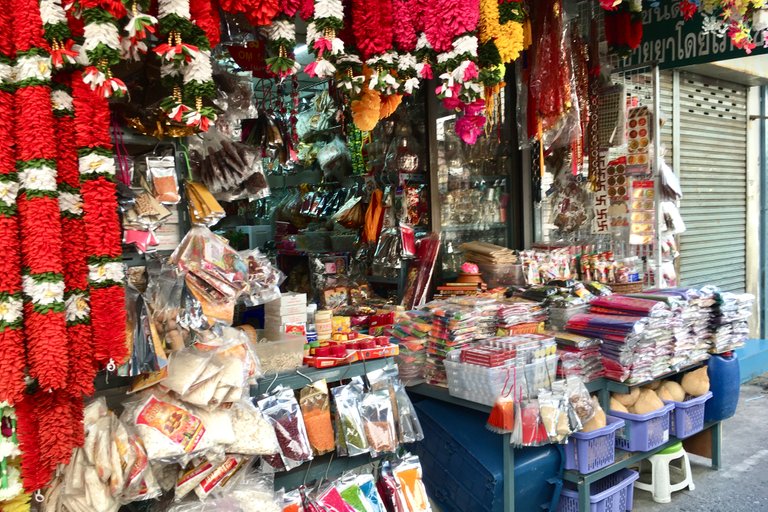 พอดีช่วงนี้เป็นช่วงการไหว้บรรพบุรุษของคนจีน เราจึงตั้งใจไหว้พระและทำบุญให้กับบรรพบุรุษทั้งหลายที่ได้ตายจากไปแล้ว เพื่อให้ อานิสงส์นี้จงไปถึงวิญญาณของท่านเหล่านั้นด้วย เรารูสึกดีมากที่ได้ไหว้เจ้าจีนที่คนจีนเคารพบูชามาข้านาน เจ้าแม่ทับทิมองค์นี้ทำด้วยไม้แกะสลักในสมัยราชวงศ์ซ่ง ก็เกือบเก้าร้อยปีมาแล้ว ส่วนศาลเจ้าจีนแห่งนี้มีอายุเกือบสองร้อยปีทีเดียว เราเจอคนจีนมาทำบุญที่ศาลเจ้านี้ เราก็คุยด้วย คุณป้าบอกว่าลูกชายรอดตายและหายป่วยเพราะเขามาบนที่ศาลเจ้าแห่งนี้ ไม่อย่างนั้นเขาคงเสียลูกชายไปแน่นอน ปรากฎว่าศาลเจ้าแม่ทับทิมมีชื่อเสียงเรื่องการให้คนมาขอลูก สำหรับคนที่มีบุตรยาก เราเห็นป้ายบอกว่าเวลามาบนเจ้าแม่ทับทิม ให้ใช้ไข่ต้มสีแดงและสร้อยไข่มุกมาถวายเจ้าแม่ และยังมีป้ายบอกวิธีการไหว้แก้ชงสำหรับคนที่ชงกับปีปัจจุบันด้วย เราชอบใจที่เขาไม่ต้องเรียกร้องให้มีค่าใช้จ่ายมากมาย พอได้มาไหว้เจ้าให้บรรพบุรุษเราก็รู้สึกดีมากแล้ว เราก็รีบไปตลาดอินเดียต่อ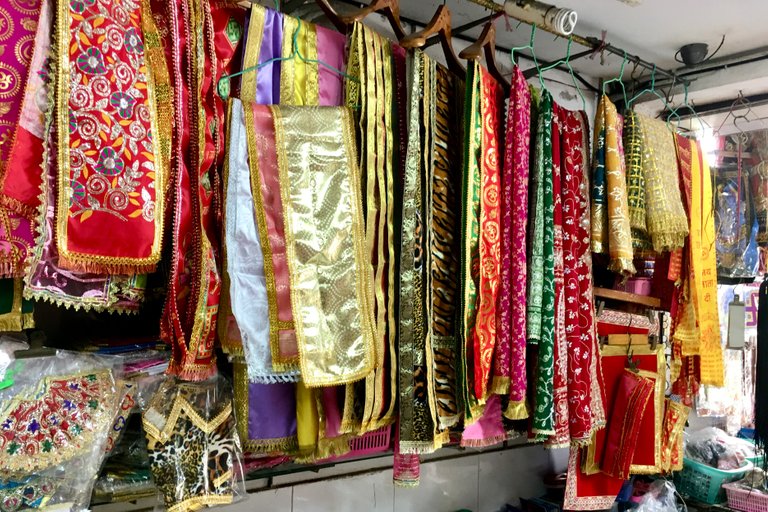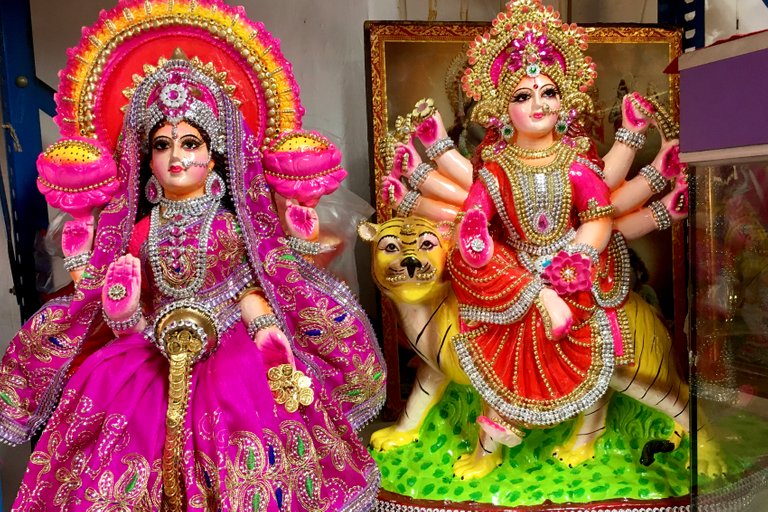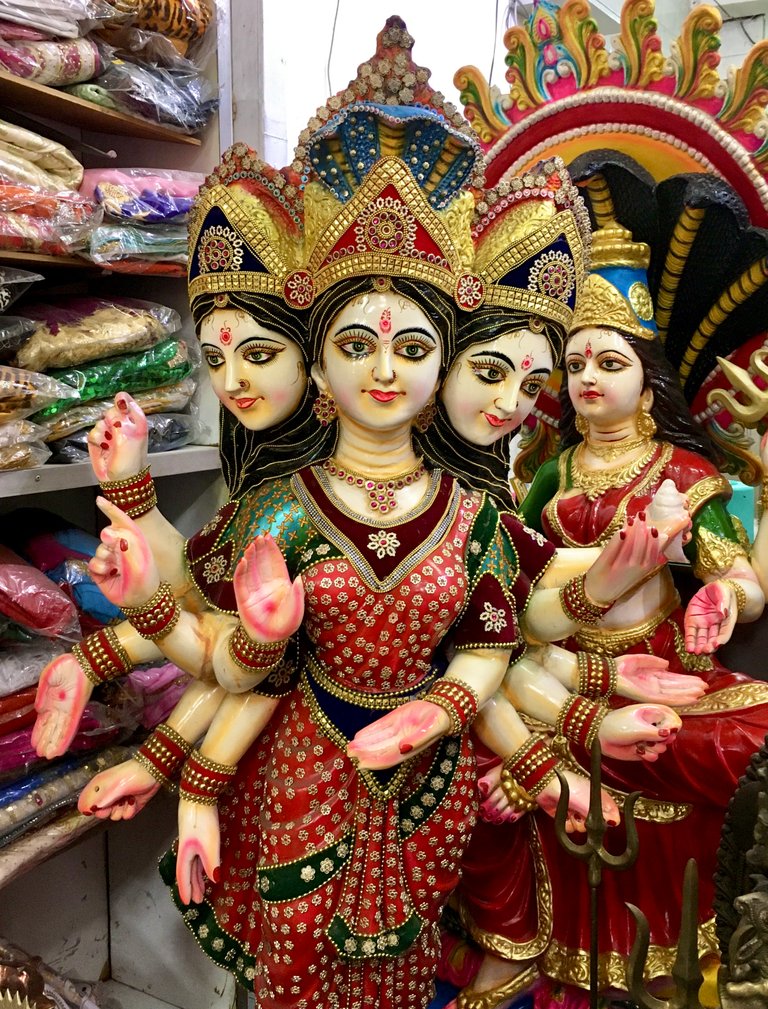 เราเดินไปอีกนิดก็เจอทางเข้าตลาด ที่ปากซอยมีคนมาเข้าคิวรอซื้อขนมแขกหลายคน ดีใจที่คนกล้าออกมาเดินซื้อของกัน เราเดินสำรวจร้านค้าก็ดูเงียบเหงาเหมือนกัน บางร้านยังปิดต่อเนื่อง แต่ก็มีร้านขนมและกาแฟเปิดใหม่ร้านหนึ่ง ร้านใหม่เอี่ยมเลยและมีขนมมากมาย เราเจอคนไทยมาเดินซื้อของแขกและ รูปปั้นเทพไปบูชา และก็เจอคนไทยอีกกลุ่มหนึ่งคุยกันอยู่หน้าร้านขนมที่เก่าแก่ที่สุดในตลาด เขากำลังซื้อขนมไปบูชาพระพิฆเนศกัน เราเห็นแล้วก็อยากกินขึ้นมาทีเดียว แต่พยายามอดใจไว้เพราะกินชิ้นเดียวไม่ได้ ขนมนี้ทั้งหวานทั้งมัน เรากลัวมากๆว่าจะหยุดกินไม่ได้ เราก็รีบไปร้านที่ขายถั่วนานาชนิด ในราคาที่ถูกกว่าในห้างสรรพสินค้าถึงเกือบครึ่ง เราก็แบกถั่วชิกพีมาสี่ถุงและเลนทิลหนึ่งถุง ร้านแขกที่นี่ใจดีมาก พนักงานก็สุภาพและใจดี เราชอบมาซื้อของที่นี่มาก เขายอมให้ต่อรองราคาแบะยอมลดราคาให้ด้วย ถ้าเราไปร้านไทยเราคงเจอสายตาดุตามมาแน่นอน และทุกร้านยอมให้เราถ่ายรูปตามใจชอบ เราเดินเล่นอย่างสบายใจก่อนออกเดินทางไปต่อที่สะพานหัน เพื่อหารถเมล๋เดินทางกลับไปที่จอดรถยนต์ไว้ เราเดินจนเหนื่อยเพราะต้องแบกถั่วมาหลายกิโลทีเดียว ก็คิดว่าคุ้มค่าการเดินทาง แต่เราอยากกลับไปที่ศาลเจ้าแม่ทับทิมอีกครั้งในอนาคต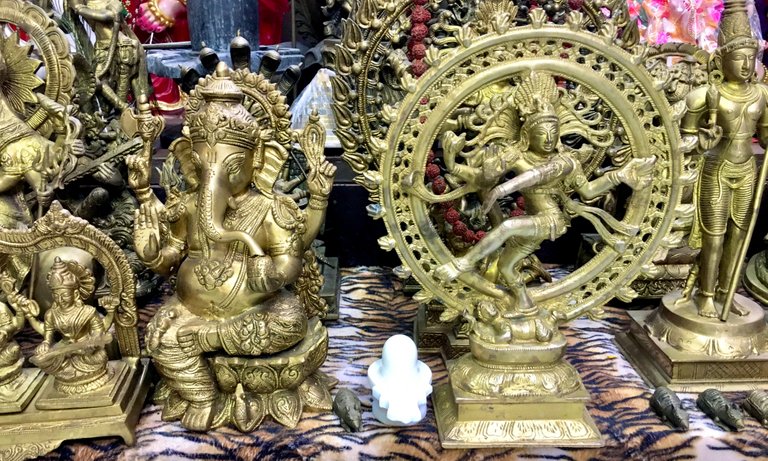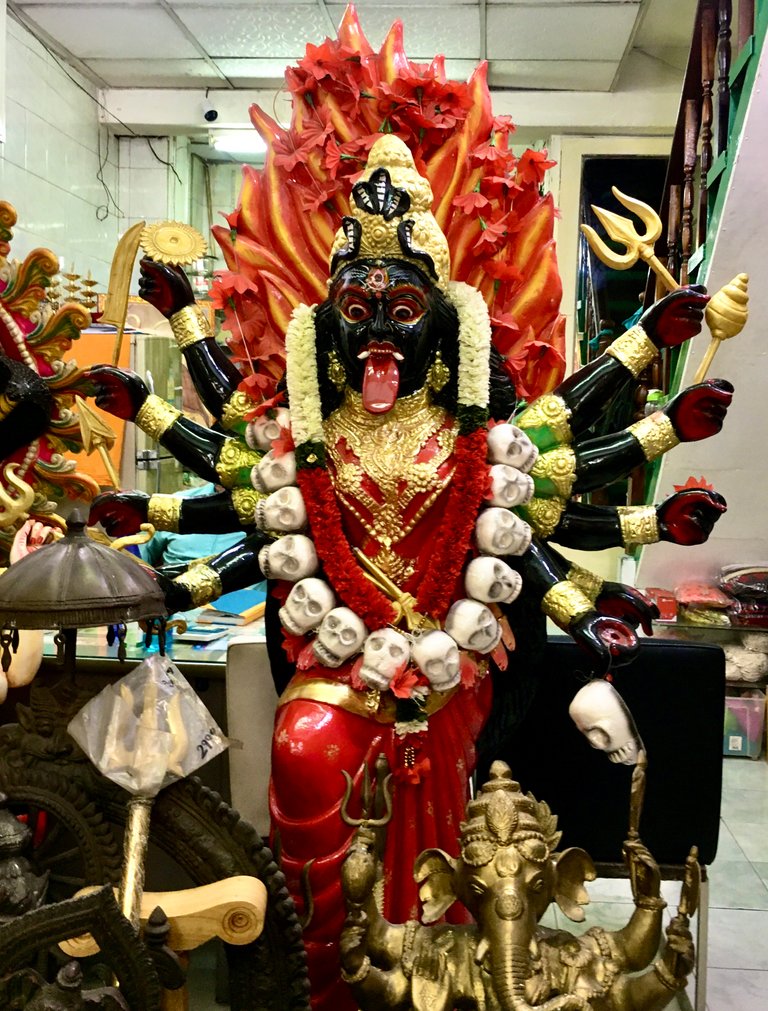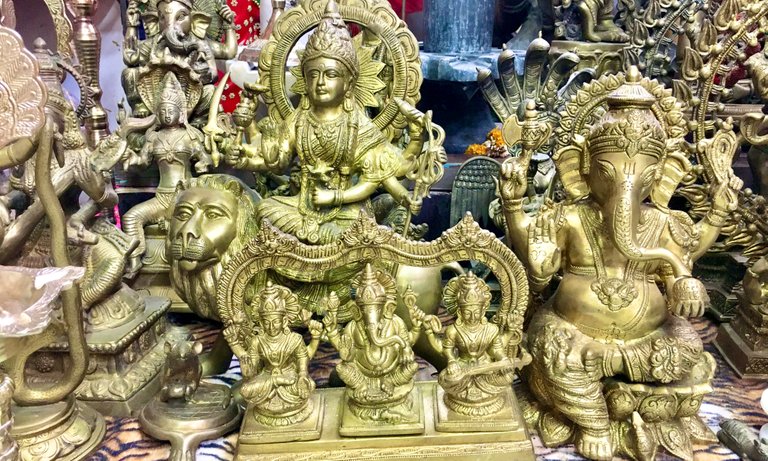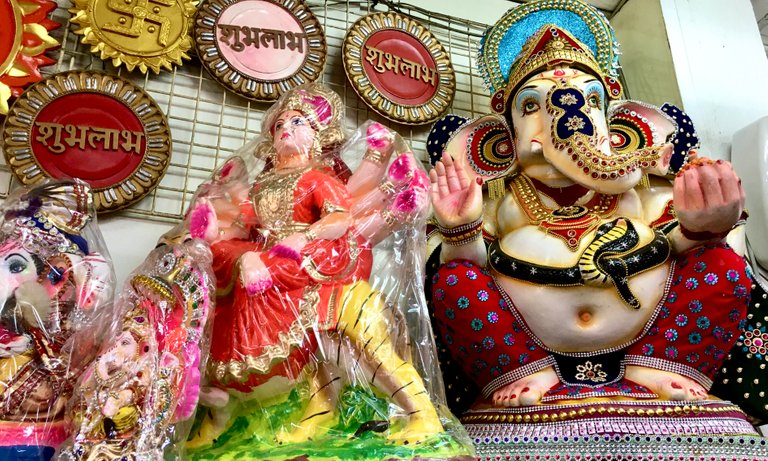 Wishing you all a very nice and successful week.
Stay strong and cheerful.