Time flies so fast and the changes in the future have become very sudden and unexpected, so I have promised myself to explore places I have not visited around Bangkok once every week. My old college friend agreed to this idea and we began our monthly outing in Bangkok. I have just realized how little I knew about Bangkok, there are so many hidden gems to be discovered and opportunities to experience 'back to the past' to reconnect with our cultural roots. One fine weekend, we went in search of the oldest Chinese mansion in Bangkok called 'So Heng Tai'.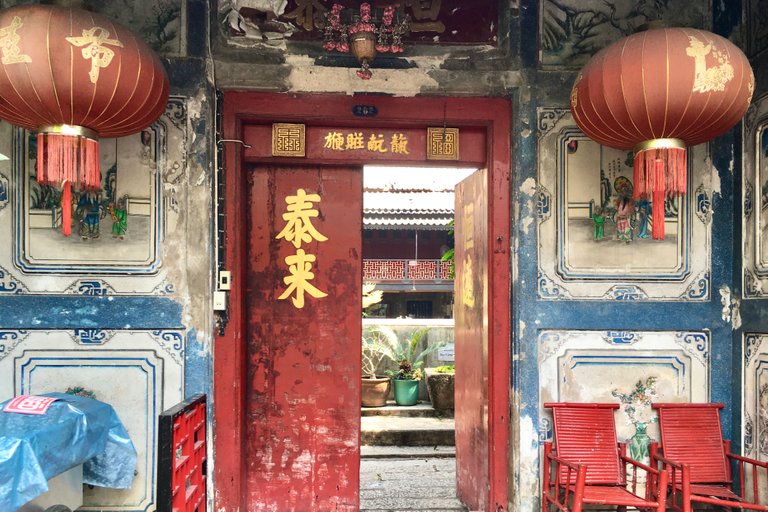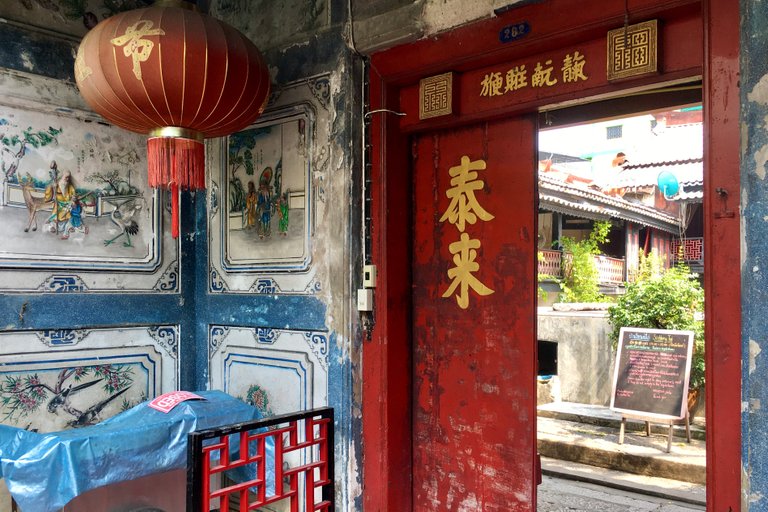 I could not help taking the photo of the front door of an old house not very far from So Heng Tai. The traditional Chinese talisman hanging above the door reminded me of my Chinese grandmother who would go to Chinese shrine during the new year to get new pieces of paper written with magic words. She would have them framed and hung them on the wall to protect everyone in the house. These must have been there for several years; no new ones had replaced the old ones. This told me that the grandparents were no longer there. It never dawned on me to continue my grandmother's protective action. I will have to visit the famous Chinese temple for some amulets or talisman one day.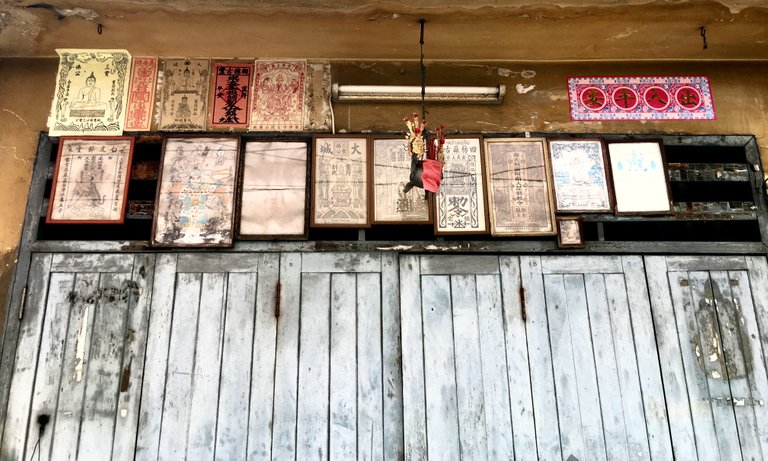 During the long lockdown last year, I found this old mansion by chance but it was closed during that time. So, I was determined to visit this old mansion with my friend on a hot sunny day. Local Chinese people call this 'Baan Chao Sua Son' which means the house of the tycoon named Son! It is now over 250 years old which is about ten years older than Bangkok(established in 1783). So, I was quite surprised to see the old mansion still standing! However, lots of the old stucco figures have broken and some just disappeared through years of exposure to rain and sunshine.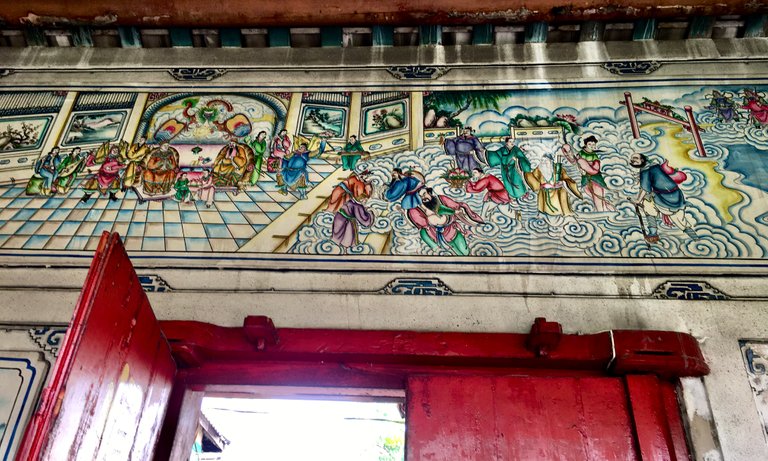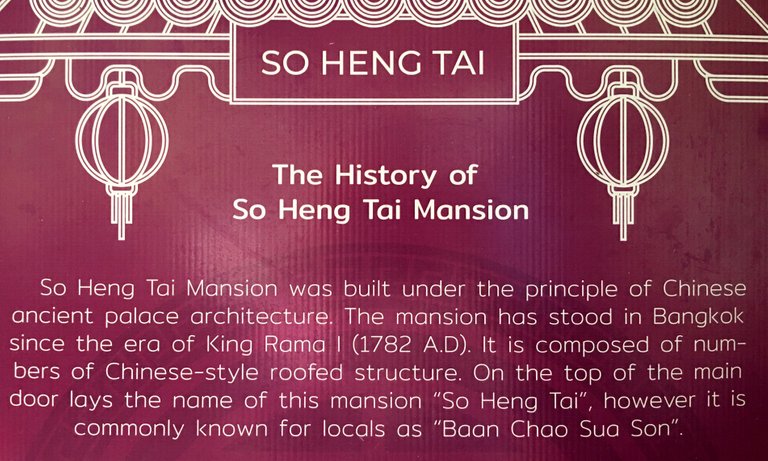 The design of the mansion was a mixture between the high ceiling of the ground floor of traditindal Thai houses in order to be prepared for the rainy season and avoid flooding of the house during high tide. The upper floor was built by Chinese craftsmen with golden teak wood. All the carved wooden pieces were put together without nails, the floor board was built from wide and thick planks of teak wood. The architecture was based on Chinese Feng Shui principles of having a wide square yard in the middle surrounded by four buildings. There used to be several big old fruit trees around this yard. In 2004, the owner of the house had a swimming pool built in the yard so that he could open a scuba diving school.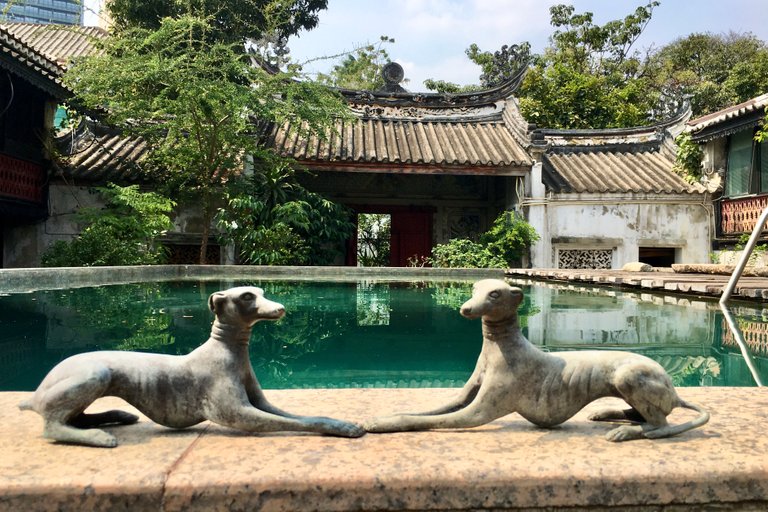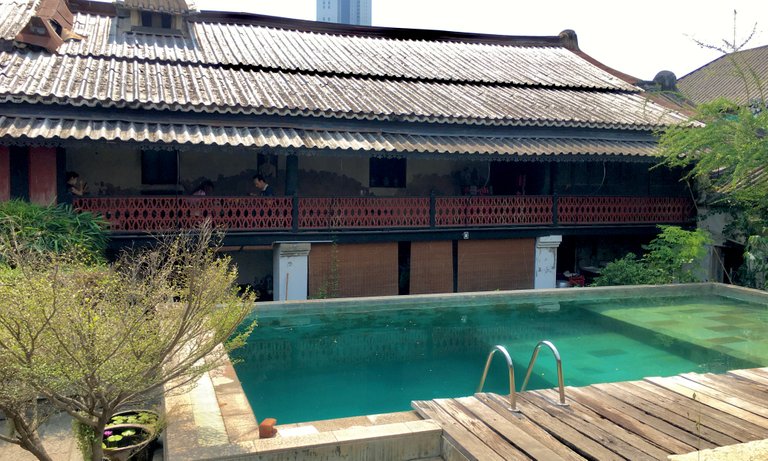 The owner did give an interview telling us his reasons for having a diving school and a swimming pool Source. The owner decided to come back home to live and work but he needed a lot of money to repair the old house which was in a sad state after the death of his father. He was already teaching scuba diving at other schools so he made a gamble that people would come to him for lessons. The cost of renovation of the house and construction of the swimming pool had doubled as machinery could not enter the narrow alley to his house. The swimming pool had to be dugged by hands! The time and cost of the whole project expanded relentlessly and he had to borrow money from other sources. Luckily, his school has become successful and visitors started to arrive at his house. So, a coffee shop was set up to make some income for up keeping the old house and paying staff' salaries.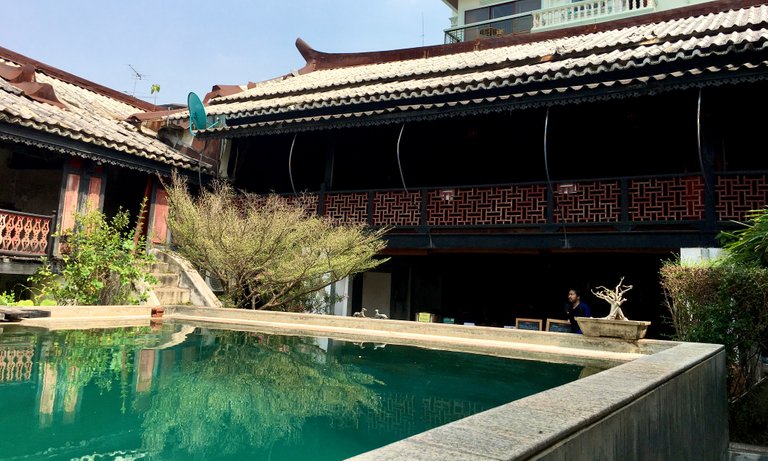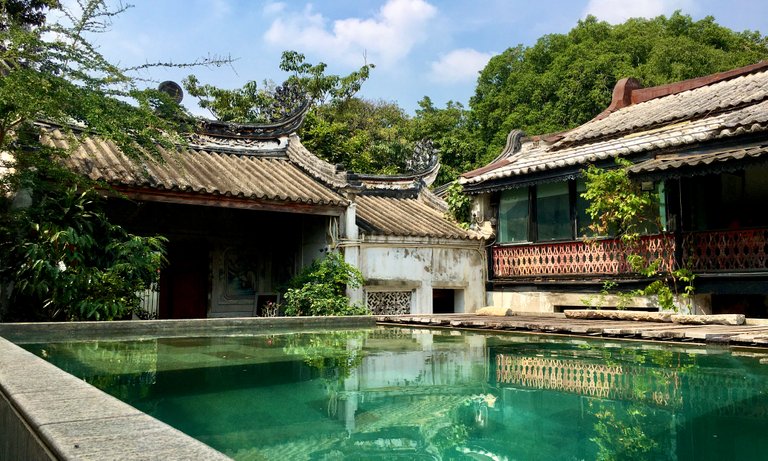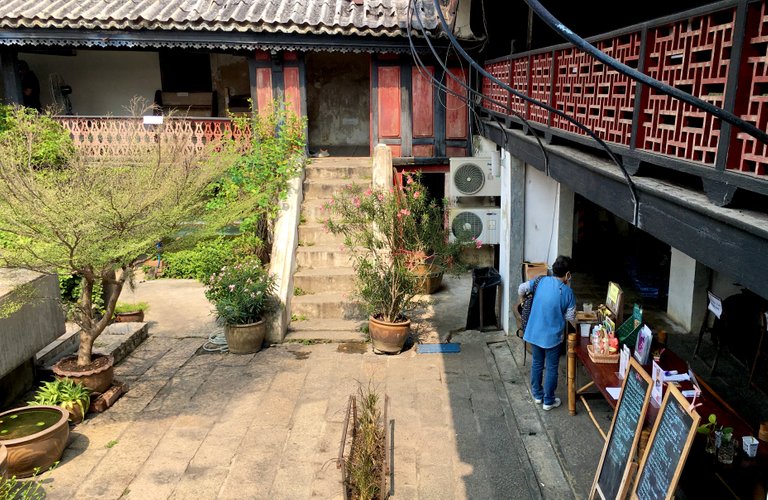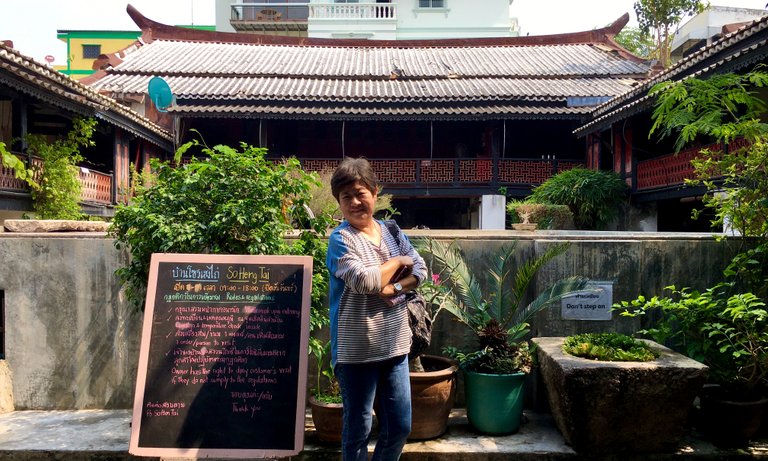 เรากับเพื่อนตกลงกันว่าพวกเราจะพยายามไปเดินเที่ยว สุานที่น่าสนใจในกรุงเทพกันอย่างน้อยเดือนละครั้ง เราเองบอกกับตัวเองวาาต้องไปเดินเที่ยวขมสถานที่สำคัญที่เราไม่เคยไปเที่ยวมาก่อน สัปดาห์ละหนึ่งแห่ง แต่เราก็ค่อยๆเริ่มเพราะหาเวลาว่างทั้งวันยากมาก แต่พอทำอย่างนี้เราก็รู้ว่าตนเองรู้จักกรุงเทพน้อยมาก มีที่ให้ค้นหาและสัมผัสด้วยประสบการณ์ตนเองมากมาย และในที่สุดเรากับเพื่อนก็ได้ไปเที่ยวชมบ้านคหบดีจีนที่เก่าแก่ที่สุดในกรุงเทพ คือมีอายุมากกว่า250ปี นั่นคือบ้านโซวเฮงไถ่ หรือบ้านเจ้าสัวสน ที่ตลาดน้อยแถวริมน้ำเจ้าพระยานั่นเอง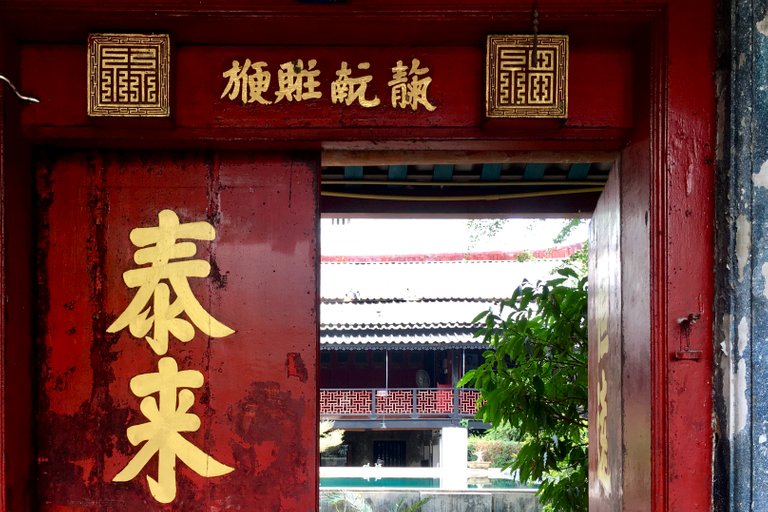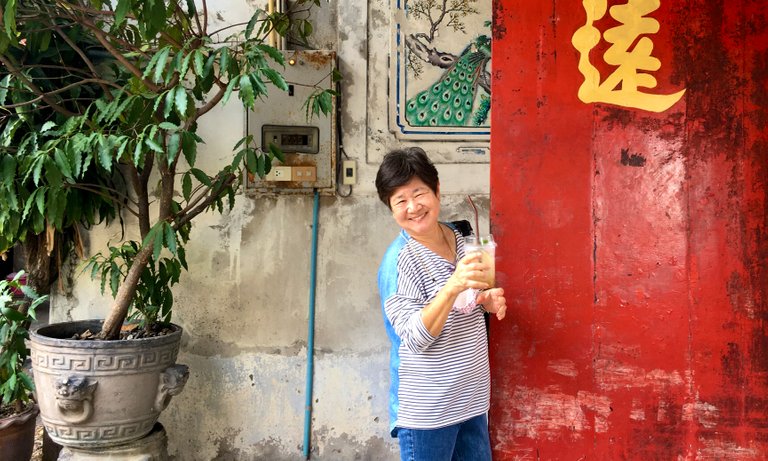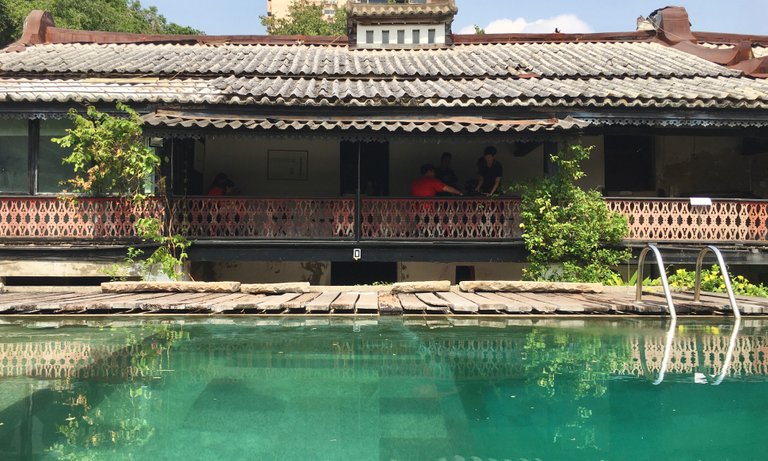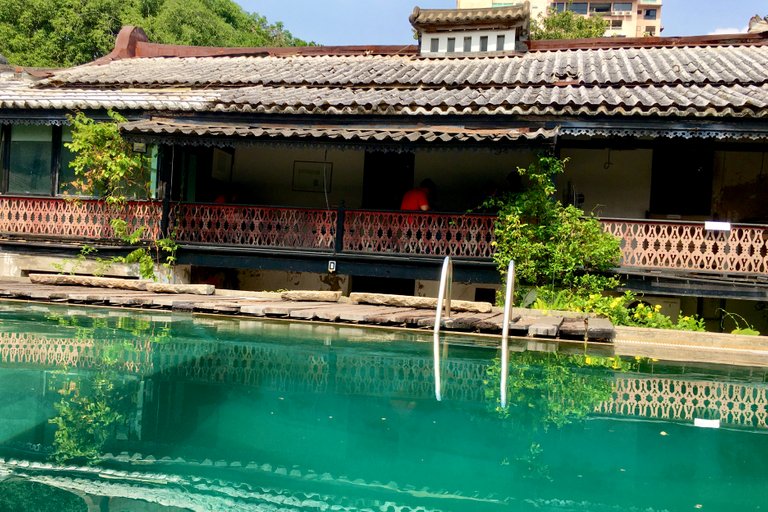 บ้านนี้สร้างโดยพระอภัยวานิช หรือเจ้าสัวจาด ซึ่งเป็นต้นตระกูลของตระกูลโปษยจินดา เจ้าสัวจาดเป็นนายอากรเก็บภาษีรังนกที่ขนขึ้นมาจากภาคใต้ จึงสร้างบ้านหลังนี้ไว้เปผขที่อยู่และที่ทำงาน โดยมีท่าเรือสำเภาจีนอยู่ไม่ไกล ทำให้สะดวกในการดูแลกิจการ บ้านแห่งนี้เป็นต้นตระกูลสำคัญหลายตระกูลต่อมาในสังคมไทย คือ ตระกูลพิศาลบุตร ตัณฑเศรษฐี ปันยารชุน ศรีวิกรม์ จาติกวณิช ล้วนเป็นลูกหลานบ้านโซนเฮงไถ่ เจ้าของบ้านที่เป็นครูสอนดำน้ำที่อื่นนั้น ได้ตัดสินใจกลับมาอยู่บ้านหลังจากที่คุณพ่อเสีย และคิดการเปิดโรงเรียนสอนดำน้ำที่บ้าน จึงตัดต้นไม้ใหญ่ในลานกลางบ้านออกเพื่อขุดสระว่ายน้ำ เขาต้องใช้เวลาและเงินมากขึ้นกว่าที่คิดไว้เท่าตัว เพราะคนก่อสร้างไม่สามารถเอาเครื่องจักรเจ้ามาในตรอกแคบๆได้ จึงต้องใจ้แรงงานคนเป็นส่วนใหญ่ แต่โชคที่มีคนติดตามมาเรียนดำน้ำที่บ้านมากมาย และได้เปิดร้านกาแฟเพื่อบริการนักท่องเที่ยวเพื่อหารายได้ในการดแลซ่อมแซมบ้านด้วย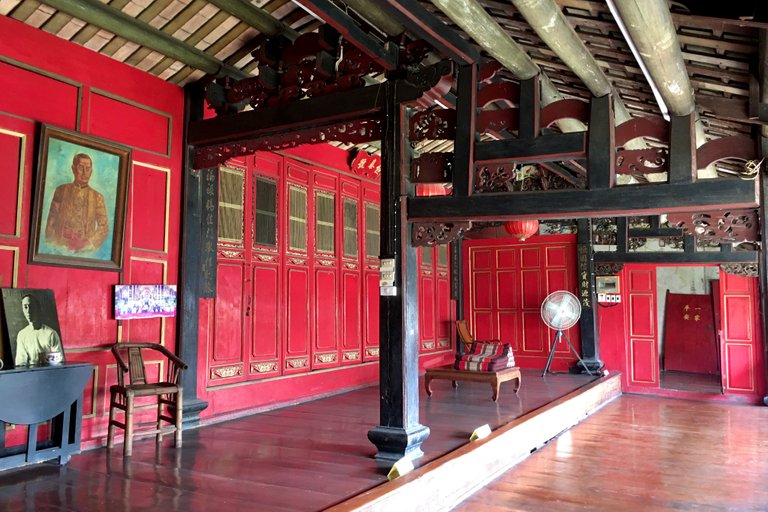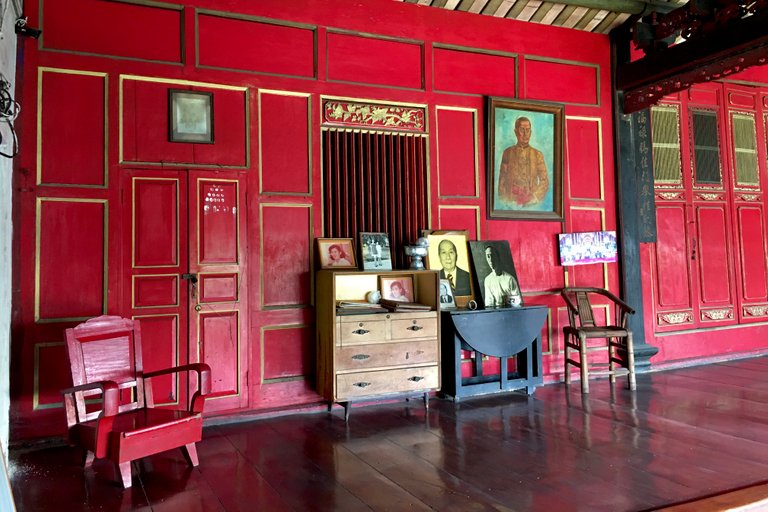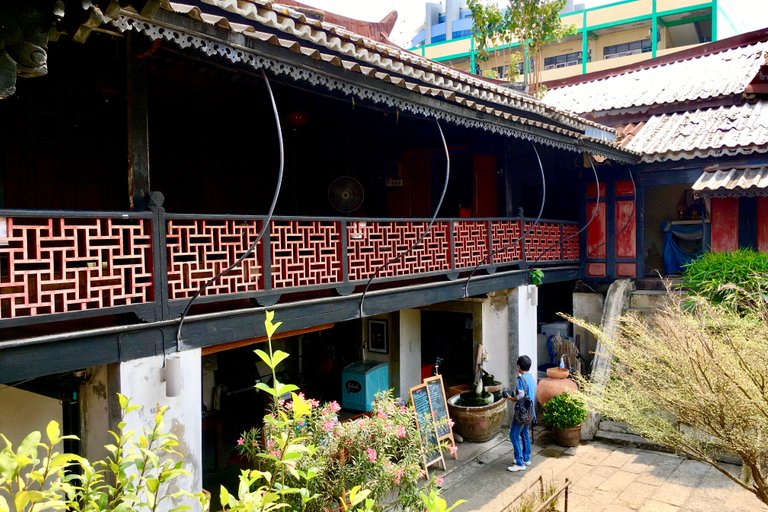 บ้านสร้างด้วยสถาปัตยกรรมผสมระหว่างไทยโบราณกับจีนแบบเก่า ใต้ถุนยกสูงเหมือนบ้านทรงไทยเพื่อรับมือกับฤดูน้ำหลาก ส่วนด้านบนบ้านนั้นใช้ไม้สักทองแผ่นกว้างและใหญ่มาก งานแกะสลักไม้ทำโดยช่างชาวจีนและการเข้างานก็ใช้วิธีการโบราณที่ไม่ใช้ตะปู งานจึงดูประณีตสวยงามมาก เขาเปิดให้ดูบ้านเฉพาะห้องโถง ด้านในเป็นที่ส่วนตัว เพราะเต้าของบ้านยังคงอาศัยอยู่ในบ้านนี้กันหลายคน เราก็ถ่ายรูปบ้านและสระว่ายนํ้าเป็นที่ระลึก เพื่อนเราไปซื้อน้ำดื่มส่วนเราก็เดินไปทั่วบริเวณบ้าน เราก็แปลกใจที่คนจีนสมัยก่อนทาสีบ้านแดงไปหมด เราคาดว่าคงทำตามหลักฮวงจุ้ย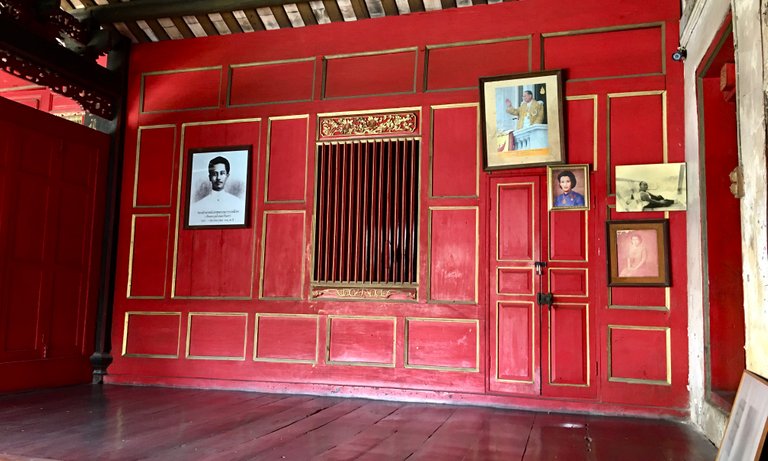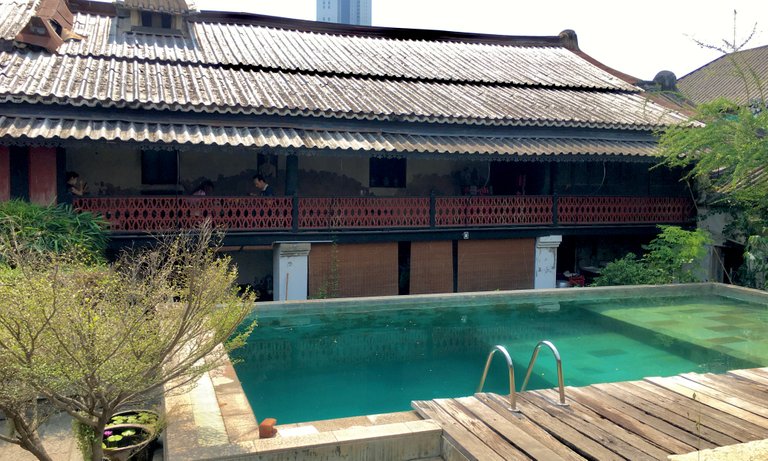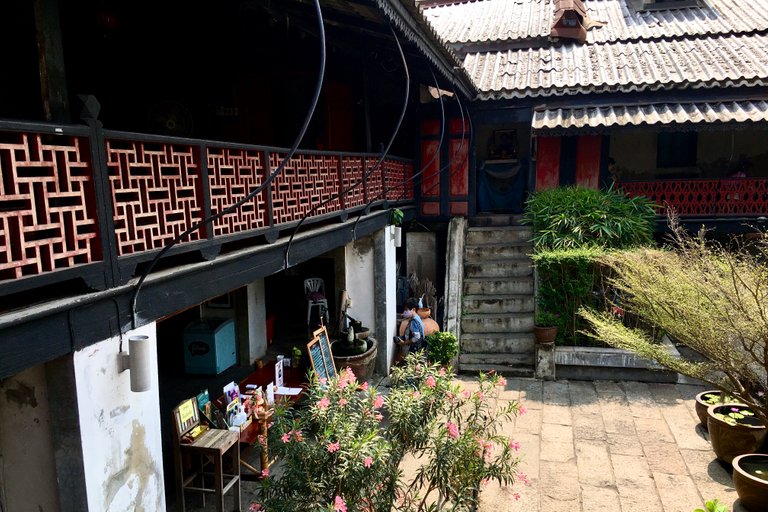 The atmosphere was very quiet and there were about five teenagers with nice and expensive cameras having a chat about photography on the balcony. I just walked around the place taking photos and observed the old house. I thought this old house still needed more repair and renovation which meant more money. Being in an old house, I could not help wondering whether there was any old spirits there. So, I started asking around in my mind but there was no reply. However, on the way out, I tripped on a piece of wood on the ground and my eyes fell on an old earthen jar. I could feel that there was someone standing there looking at me. I said my goodbye and thanked him for coming out to greet me.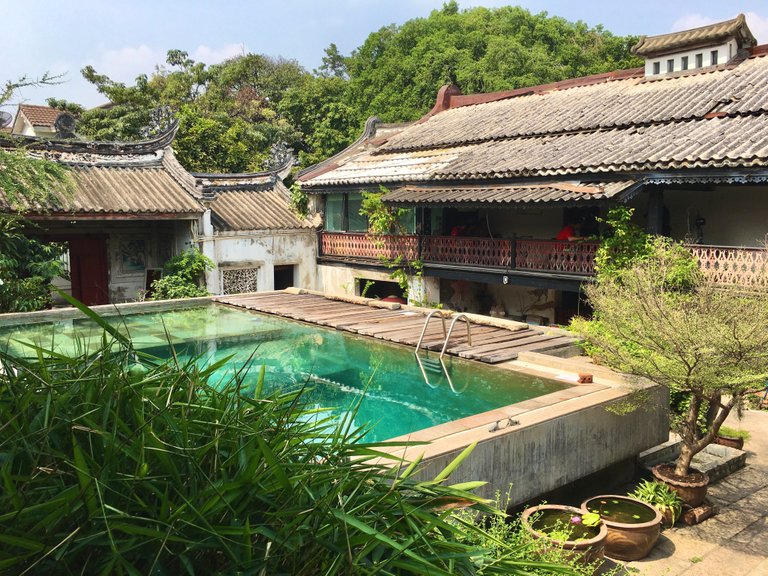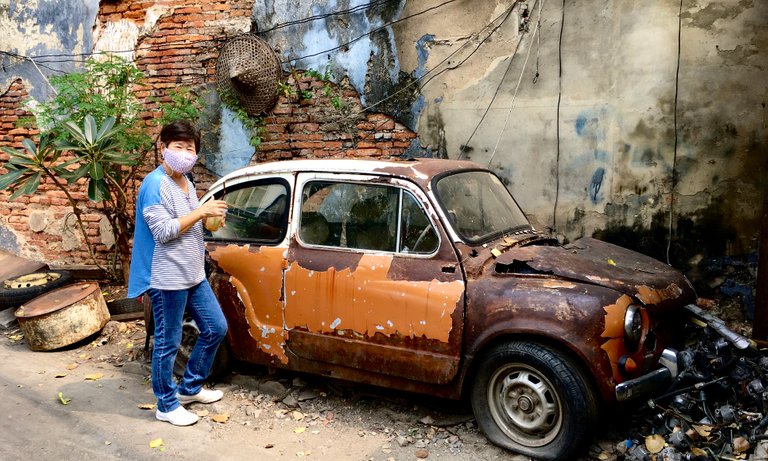 We walked past an iconic check point for one of the most selfie spot in Talad Noi. So, we were obliged to pay respect to the old car and take some photos.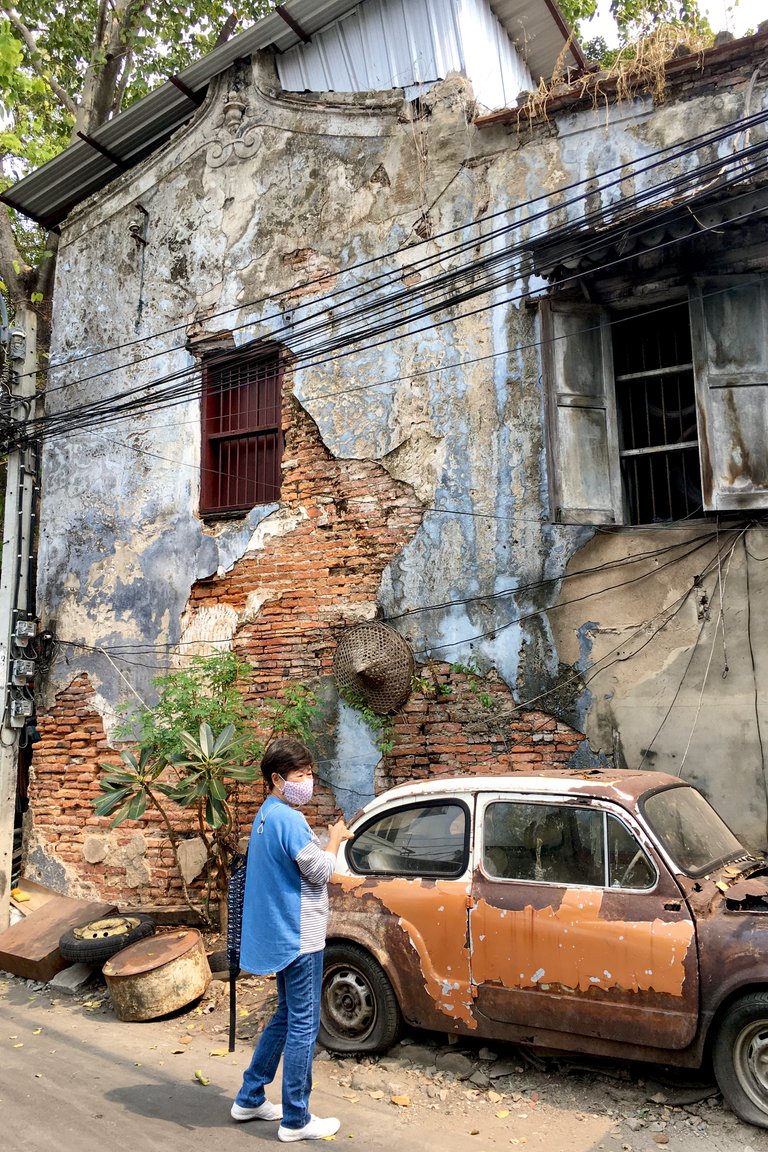 Wishing you peace, good health and prosperity.
Stay warm and keep calm.