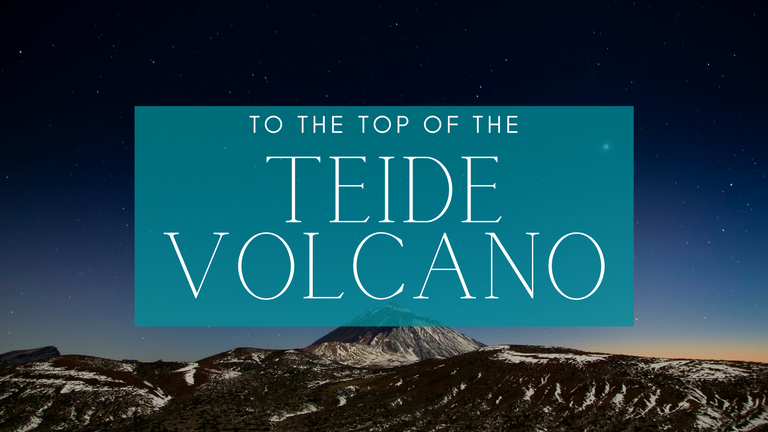 It's one in the morning and my alarm is ringing. I feel absolutely terrible: I've slept for an hour and a half and the evening glass of red that was supposed to help me sleep faster and deeper is still fermenting in my stomach. And I don't know what makes me sicker. Well, let's face it: conditions are perfect for climbing Spain's highest mountain (and supposedly the world's third highest volcano - if you count from the ocean floor, of course).
Pico del Teide, as the mountain is called, is the highest mountain in Spain, the Canaries and even the Atlantic. It towers 3,718 metres above the water, making Tenerife the 10th highest island in the world. And this is the monster my boyfriend and I are about to climb.
Well, at least he's not sick (for now, ha ha), and has enough energy to prepare us both snacks and coffee. Shortly after 2 am, we get into our rented car parked by the ocean and drive towards the National Park. The drive up takes us about an hour. There is no one anywhere, and we don't meet a single car on the whole way up to the caldera. Because what would they be doing there, right?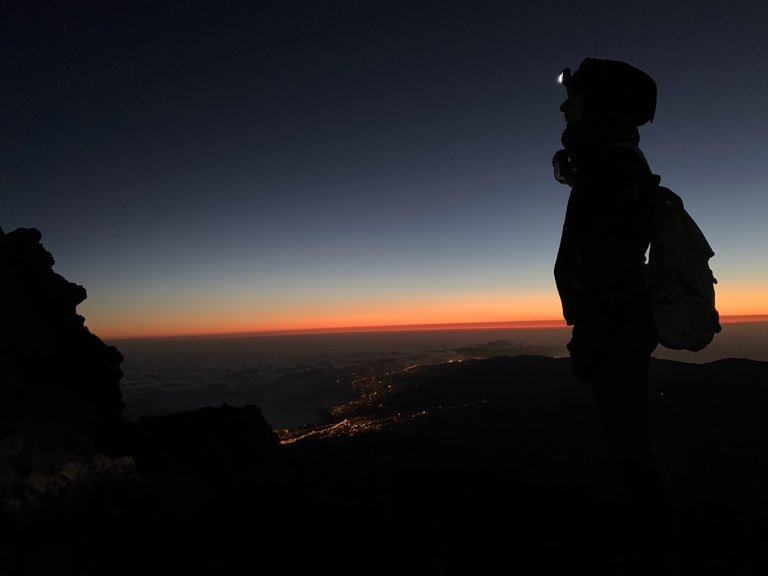 Up in the caldera, it turns out that there are more crazy people like us, only they came from the other side: the small parking lot at Montaña Blanca is completely full. So we go back a few hundred metres and park on the side of the road. A bit of a pirate move, but we have no time to waste. Normally, I already get a headache here: when you change altitude from zero to 2300 metres in an hour, it gives your body a bit of a workout. But maybe I am so numb from the lack of sleep, or maybe the adrenaline is buzzing inside me, but this time my head is not spinning or hurting. Maybe it's like she knows to save it for later.
It's cold outside. Really, really cold. After all, we are at an altitude of 2300, it is night and the wind is cold. I'm glad for my four thermo layers of clothing and put on my headlamp. Before I turn it on, though, I look up at the sky above me. And that's something. I've never seen the Milky Way with the naked eye before in my life: but here it's shining like crazy. Which it is, actually, because this is where one of the Canary Islands' "reserves of darkness" is, or one of the few places in Europe where you can observe the stars undisturbed without any light pollution. For that reason alone, I'd recommend going to the caldera at night, even if you're not going to climb the mountain.
But we are. We pack our bags and head up the road to the parking lot. There are two people walking a little ahead of us, but we can only recognize them by the headlights. Soon we enter the hiking trail and the climb begins. This first section is fine: gently uphill on a wide, rocky path. The only sound is the quiet howl of the wind somewhere in the rocks and the crunch of rocks under our boots.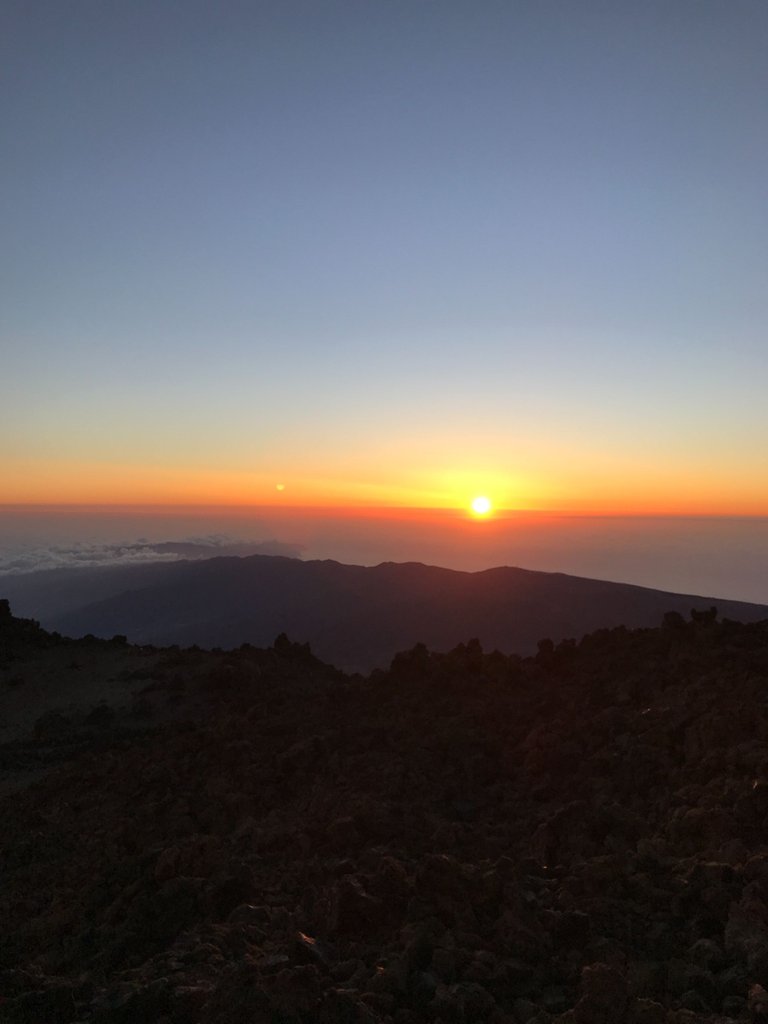 We don't even know how, and we are already halfway to the top (4.5 km). It is so dark that the only indicator of the volcano above us is the absence of stars where the mountain is, and the light from a few headlamps of people in front of us (or above us). And you know what? It's a good thing. Because seeing what we're about to climb, we may have changed our minds about the whole thing. Because where the light from the headlamp reaches, you can already see the terrain, which is going up really, really steeply. And we have no idea yet that it will be like this almost for the rest of our way up.
We take a sip of water and set off. And very quickly we start to feel how high up we actually are, although the only indicator so far is my iphone compass app. Already at 2,800 metres, you can feel the thinner air, and more importantly, the muscles "boiling" - the slope is so steep that after a few metres it feels like the muscles on the back of my thighs and butt will simply burst if I don't loosen them. Good thing we have sparkling magnesium with us. I already know we're gonna need it soon.
We get lost in one spot. The slope here has turned into a fairly flat but monotonous rock, and finding anything resembling a sidewalk is no fun (especially when your headlamp has a luminosity of three and a half fireflies). I climb a bit on all fours until I find the sidewalk again.
It's hard to tell at what stage of the climb we decide to take a break, but I suspect it was at about 3000 metres above sea level. It's still pitch black, but my muscles are screaming for a bit of energy (especially after not even eating "breakfast" at 1 a.m. due to an upset stomach). So we sit down on a rock, unwrap protein bars, and turn off our headlamps for a bit. Suddenly our only companions are the slowly fading wind, the stars in the sky and the lights somewhere down below and in the distance in the east of Tenerife and the west of Gran Canaria. And soon it will be cold, too. Only now do I feel that it is a degree below zero. So I don't let my muscles get too stiff and frozen and we get on the road again.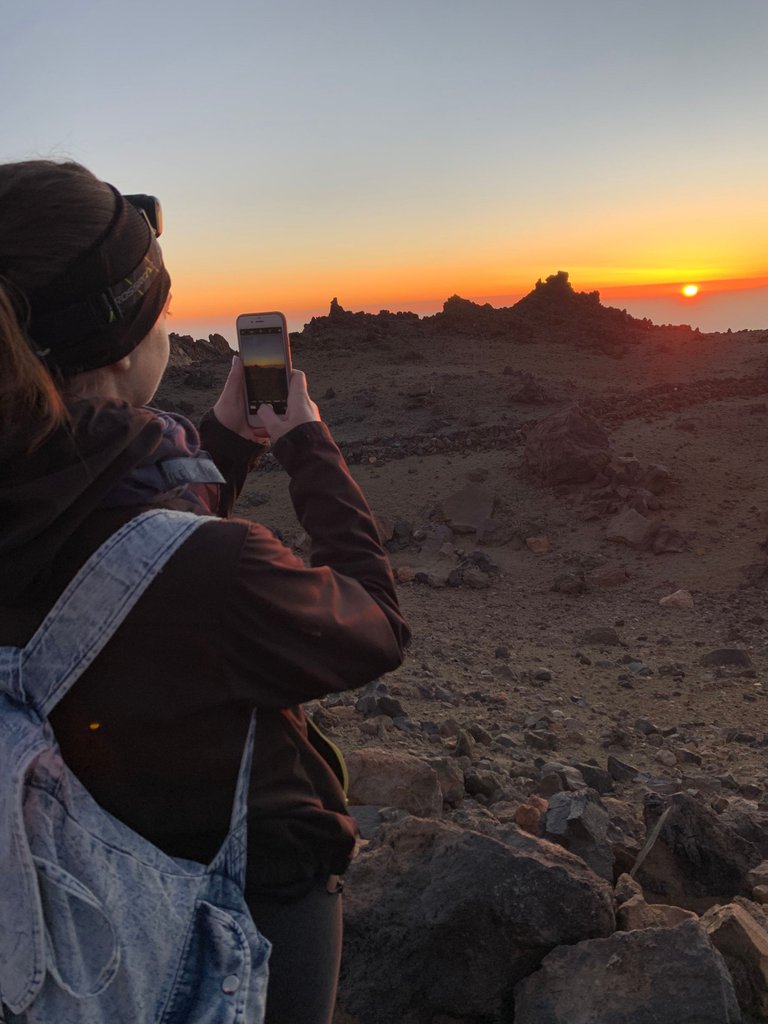 A little while later, I almost crash into a hut. I'm serious 😂 as I focus on just a few stones in front of me, and it's still pitch black, I don't even notice that we've reached the Altavista hut at 3260 meters. I'm happy about this, especially after I'd misremembered its location (I was under the impression it was around 3500 m so I'm overjoyed), but either way I'm quite encouraged. Especially when, moments later, an orange streak appears on the horizon and widens very quickly, glowing more and more, bathing the rocky mess under our feet in a pinkish light. Here, in these places, I smell the stench of rotten eggs for the first time and rejoice that we are approaching the summit. Which is true, but when the peak finally comes out from behind the rock, it's still some 300 vertical meters above us. Ugh.
Of course, the sun rises long before we reach the summit. But we're lucky: we're in a place where we can see everything beautifully and the backdrop is made up of rock formations, the peak of Teide in orange and a puff of stinking steam coming out of the ground and giving off that egg-like smell.
And now it's on! We reach the top station of the cable car, it's "only" 200 metres up and we are absolutely exhausted. It's almost 8 o'clock and we have to be back here in an hour because we don't have permission to go up to the top, and after 9 o'clock (when the first cable car comes) that's already a problem. So we literally crawl and convince our muscles, lungs and head that it's only a short distance away.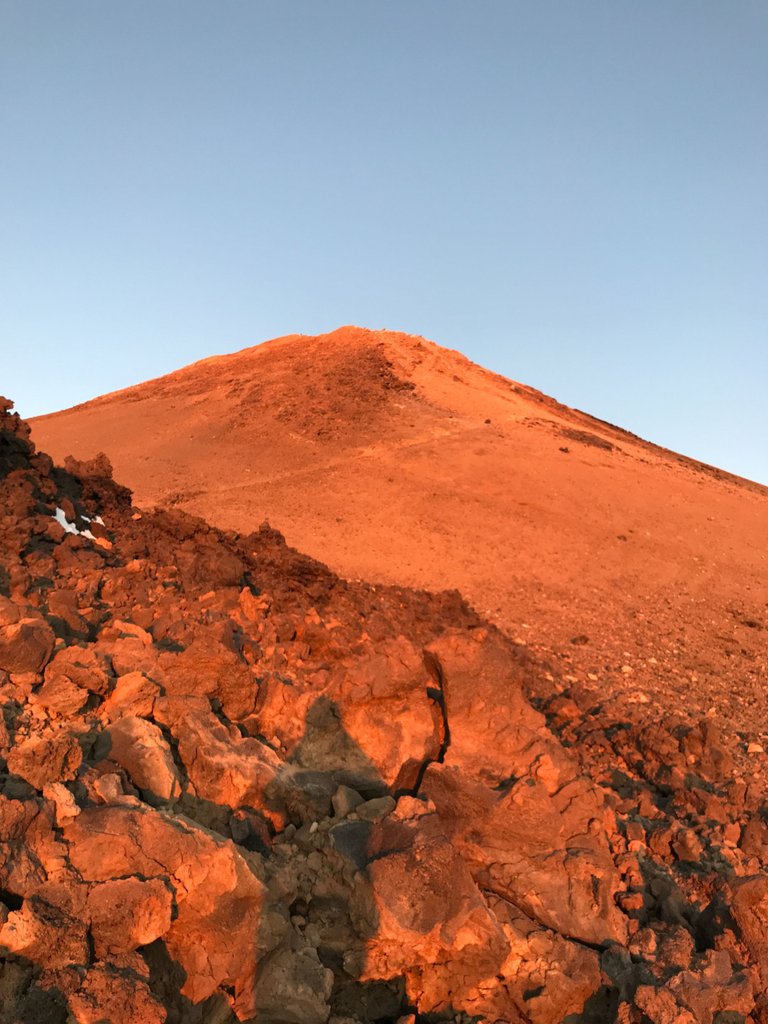 I feel like I'm drunk, my legs are spinning and I'm tripping over things that aren't even on the pavement. My head is pounding, I need to breathe twice to get one normal breath portion of oxygen, my stomach is starting to churn again and I feel like Frodo climbing into Mordor. We meet people already walking back, and they try to cheer us up with words: "just 15-20 minutes and you're there!" Let me tell you, telling someone on the verge of collapse that it's 20 more minutes of the worst terrain in the world is the worst thing you can do 😀
Added to this is the ever-increasing stench from the sulphurous "stinkers", as we are beginning to call them: they appear on both sides of the pavement. But that's when we FINALLY see the crater! Of course - full of sulphur and the stinkers. Now all we have to do is climb a few chains to the very top, and it looks like we're going to puke. My boyfriend is as white as the wall and looks like he's going to leave his stomach on Teide any minute. I untie the scarf I had around my neck and hand it to him to breathe through. The stinkers are everywhere now, including the sidewalk we're walking on. Just a reminder that the volcano hasn't died yet.
FINALLY! After a grueling 5 hours, 9 kilometers and an elevation gain of almost 1500 meters, we stand at the top of the highest mountain in the Atlantic, the 3rd largest volcano in the world and the highest mountain in Spain. And it's beautiful. All the other mountains in the area look hilariously small and the surrounding islands - Gran Canaria, La Gomera and La Palma are comically small. There's no wind at the moment (which on Teide equates to a miracle), and the sun is slowly starting to warm and sparkle in the Atlantic waters. We are so exhausted that the expected euphoria comes unnoticed, and in fact it doesn't even resemble euphoria, more like relief.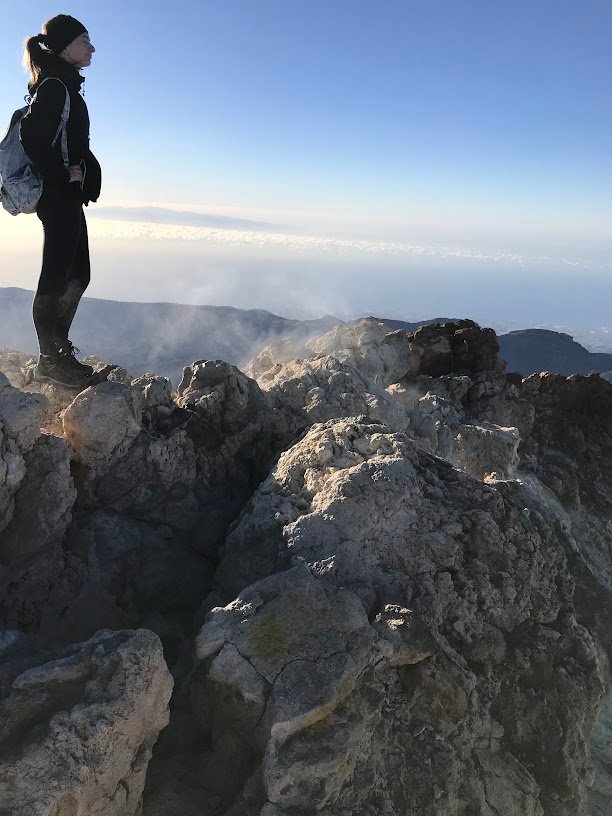 We are back by the cable car within 15 minutes and sit down somewhere on the steps with relief. We have some food and coffee and my boyfriend bursts into a laughter. You know, that kind of tiredness when you think it's funny that you've walked 9 kilometres... 😀 Well, now we're just going to go down, right? And be almost there...
You want some advice? Absolutely don't walk back down after you've just gone up! 😂 The sun will be beating down on you, your feet will be dizzy, you'll slip on rocks and gravel, you'll probably run out of water (even though you had 5 liters), magnesium won't help you anymore, you'll get heat stroke, you'll almost pass out half a kilometer from the car and then almost fall asleep behind the wheel on the way back to Puerto.
No, I'm not kidding, that's exactly what happened to us. If possible, take the cable car down. The 20€ is DEFINITELY worth it.
Anyway, to sum it up... even two months later, I still don't realise I actually climbed the Teide. And even two months later, I can't decide if it was the best or the absolute worst experience of my life. But it was definitely worth it 😉.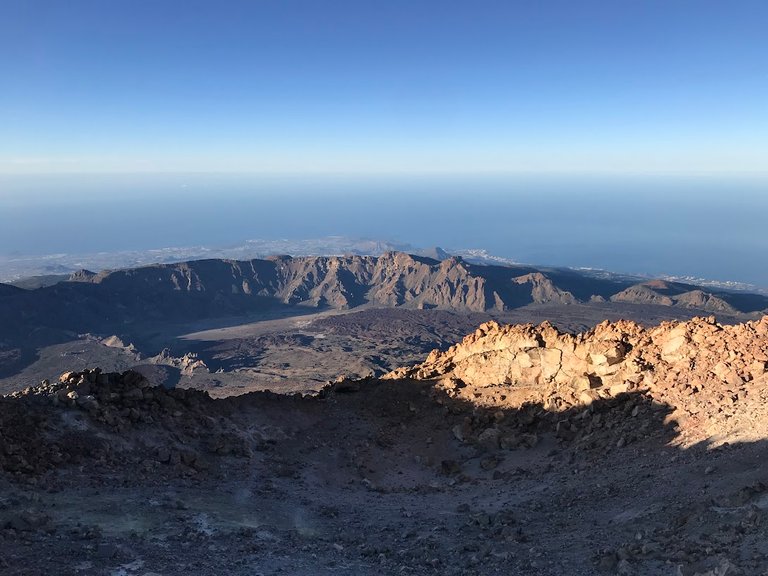 Practical information:
You need a permit to get to the top. No, I don't recommend going around it during the day, you may be fined.
If you still want to get to the top, you have to go up (and back down) between 5pm and 9pm.
As you can probably tell, it's a really tough hike. I thought I was physically fit, there I really doubted it 😀
The Altavista hut is currently closed for a long time, so don't count on any refreshments or overnight stays.
I recommend going at night. It can get really hot during the day.
As I mentioned in the article, it's definitely worth taking the cable car down (if possible, of course).
I recommend adjusting the hike to the weather. In May it was -3 degrees up there. In winter it can be -15 and the wind can be really aggressive and icy. For the forecast I recommend Google.
You definitely need a car. The bus only goes up and down once a day. It's not possible to manage the time climbing the Teide on foot.
Map from the car park to the top: https://mapy.cz/s/keposogose
What to bring:
o Good quality hiking boots
o Plenty of water (min. 2 liters per person, if you are going to walk down, better bring another one. For us 2,5 per person was not enough).
o Plenty of energy in the form of protein bars, nuts, chocolate... and snacks in general.
o Headlamp, hat, warm clothes, sunglasses and sunscreen.
o Magnesium and caffeine may be useful.
you can take a look at a short clip I made from the climb: https://www.instagram.com/reel/CdEHHb0DwnF/
Thanks for reading! I know it was long but maybe it will help somebody decide whether to climb this mountain. And if they do, maybe it will help them prepare accordingly. Because we were and I can't imagine doing it without it.
If you have any questions, feel free to ask! And in the meantime, enjoy more pictures 😉