I promised to continue, this is the third and final part of my little series. I went hiking last Sunday, when the weather was bearable, even very pleasant, but now the heat wave is back.
When I arrived in Dudar village and checked the bus schedule, I was sorry to see that the last one had only left a few minutes ago. Well, I wasn't surprised, because collecting forest garbage took up a lot of my time and I even had to look for a garbage bin, which wasn't easy.
I had almost 4 hours until the next bus and I had no idea where to go until then. So I stopped at a pub for a coffee.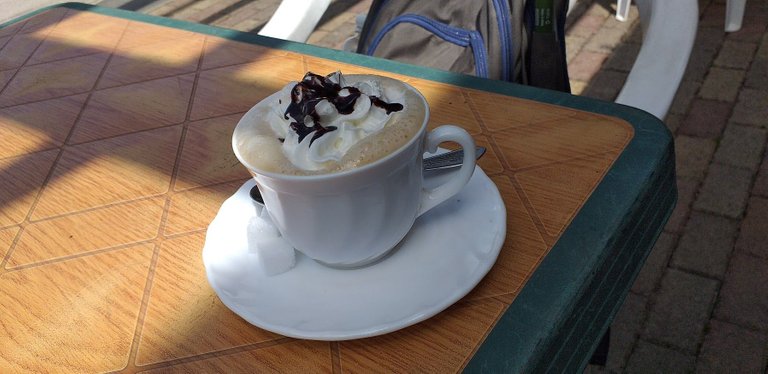 The owner brought me a very nice cream coffee and we got to talking. He asked me if I was lost. I said no, I had come here on purpose, but not now, but 3.5 hours later. I had no idea how on earth I had gained so much time when I was walking very slowly through the Devil's Ditch.
I have already experienced such a time anomaly before, but this was much better than losing time. Bakony has such strange surprises, especially if you go into caves. You might come out before you go in, or you might spend 10 minutes inside and by the time you come out it's night outside!
I didn't tell him these abnormal things because he would think I was crazy.
But he gave me a very good idea of where else to go in the area.
He said there was a cave about 1 hour away, just follow the omega sign (the conventional tourist sign for caves). That's why it's a good thing I didn't blather on about time anomalies, hahaha!
The cave is called: the kitchen of Csapóné (Mrs Csapó, who was probably the very cranky-grumpy wife of a local man, who poisoned her husband and moved to the cave to live as a witch). In my mind's eye, a real "house dragon" with stubby legs and a huge, stinky mouth with some rotten teeth appeared, wearing a torn and dirty apron and old wooden slippers. I took up an involuntary defensive position, lest the slipper hit me in the face.
Well, this is definitely a place I must see! What I wrote above about the cave witch is in all likelihood bullshit!
I went most of the way through the village, then past a football pitch into the woods, and from there it was another kilometer. In places the nettles were up to my waist and pinched my legs and hands, but I didn't mind.
First I spotted a high rock wall to my left, then I noticed a rickety ladder and a small hole in the rock, about 2.5 metres up.
It really had a witchy atmosphere!
I wasn't sure if the ladder would hold my weight, so I only climbed to the bottom, from where I could see the inside of the cave. I didn't climb up the rock ledge because the ladder was too rickety (what if I climbed up and it fell down?)
The hole was not very spectacular and the closeup photos were blurred, too.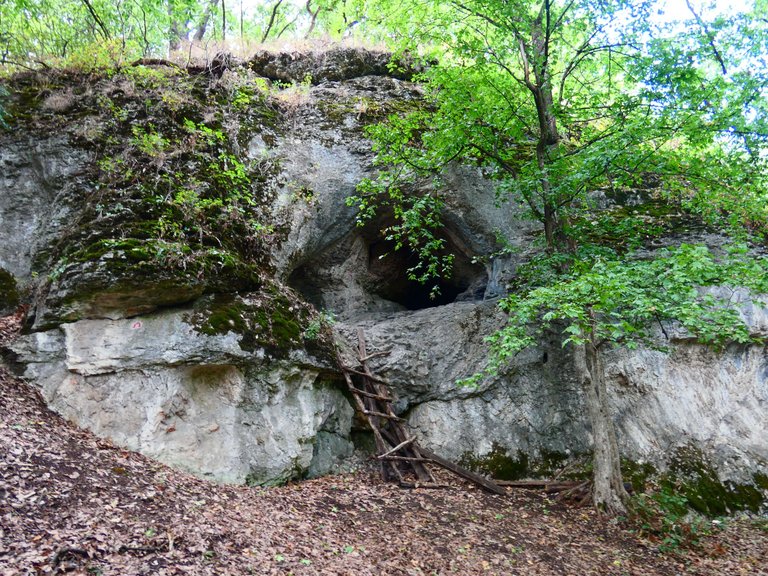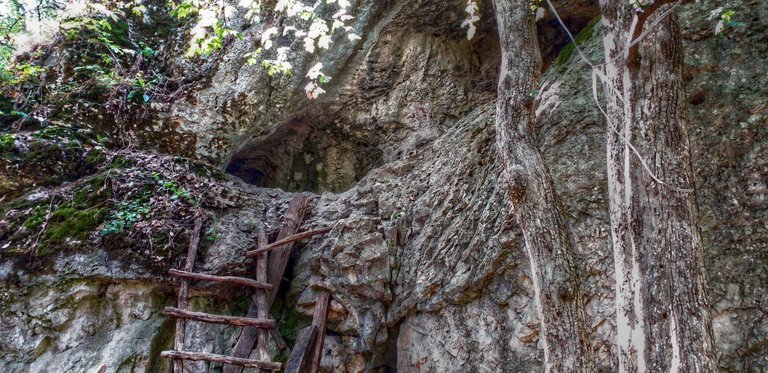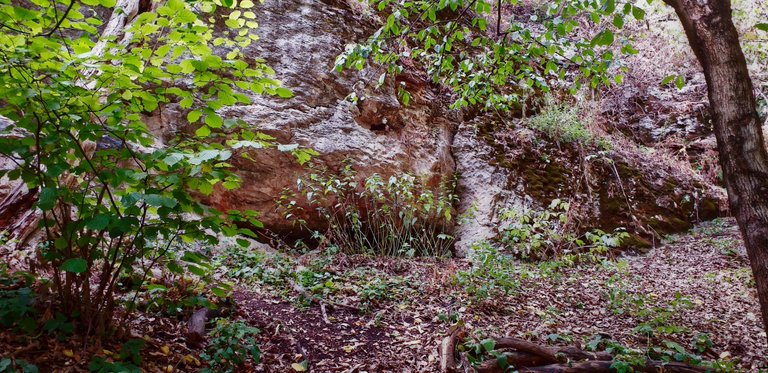 So I approached the other cave, which didn't have a ladder, but I was able to climb up the steep slope and crawl into the cave. This was just another hole, smaller than the other. But it had a nice colourful interior.
The latter hole was full of bottles and beer cans. I threw them down the slope and carried them to the rest area. It's easier to transport them from there.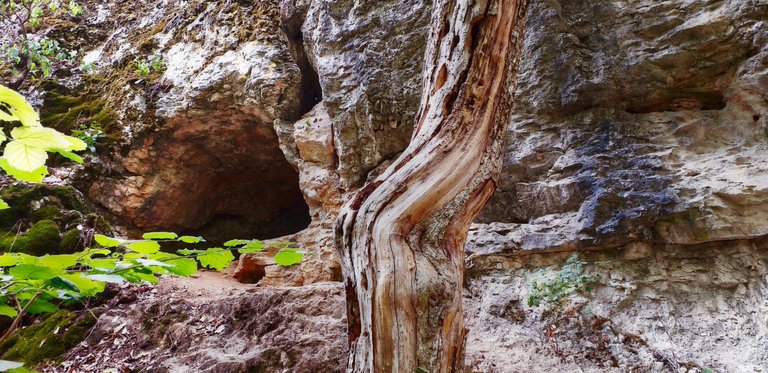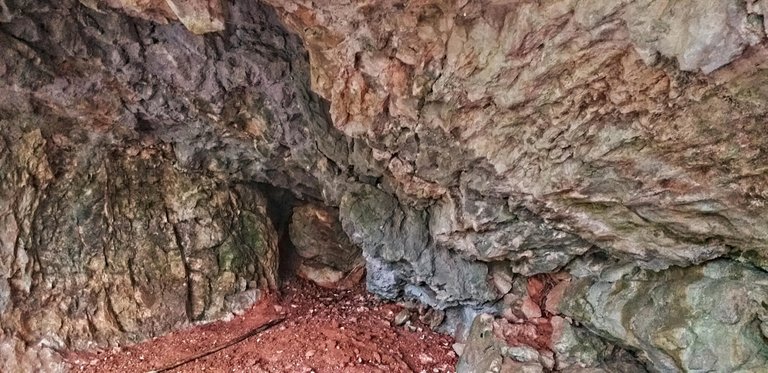 As I still had more than 2 hours, I visited the nearby quarry. Along the way I feasted on blackberries, they were very big and sweet.
This quarry was now abandoned, but until recently it was still in use.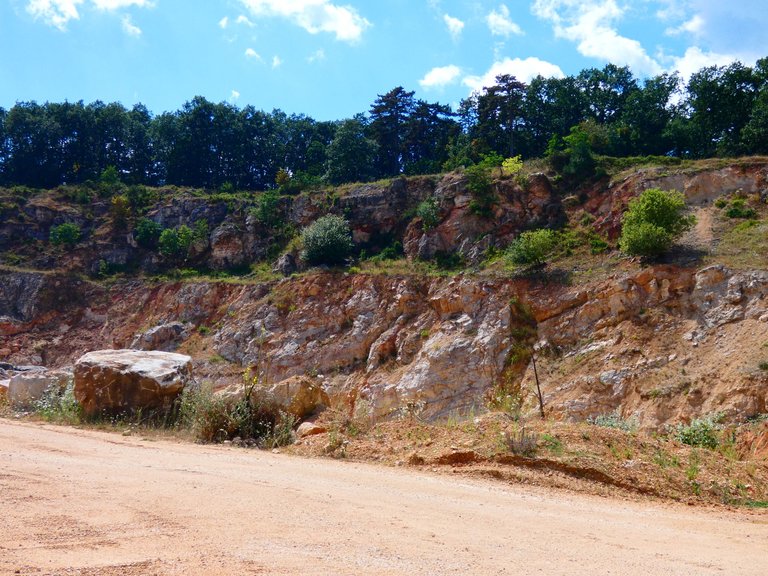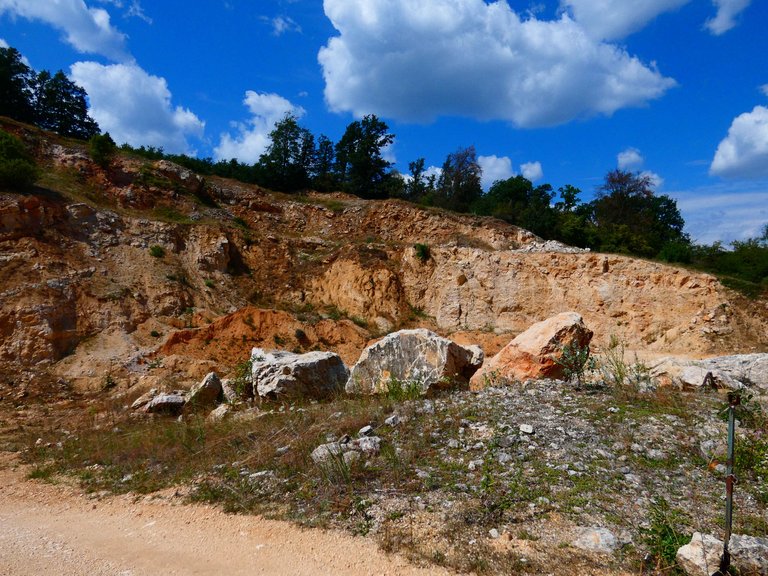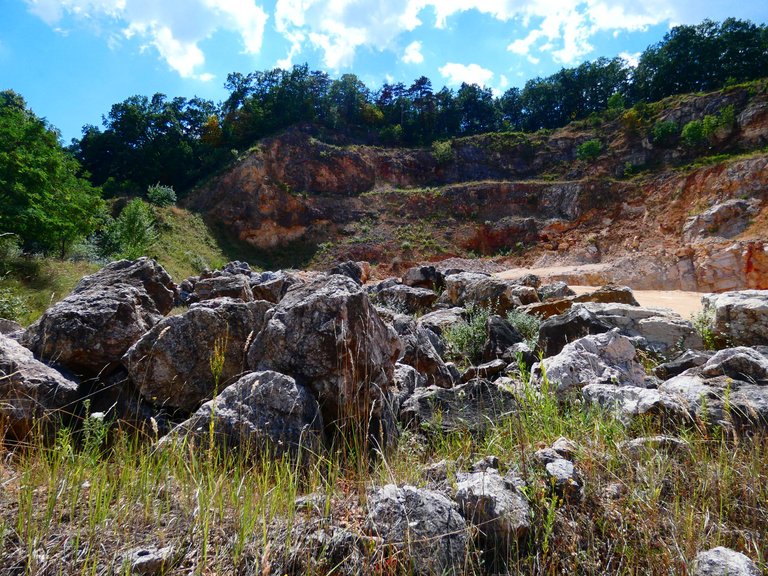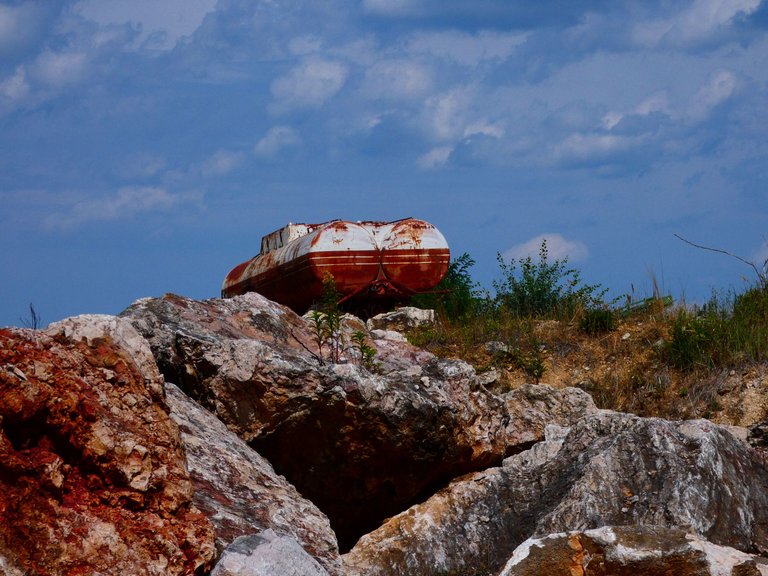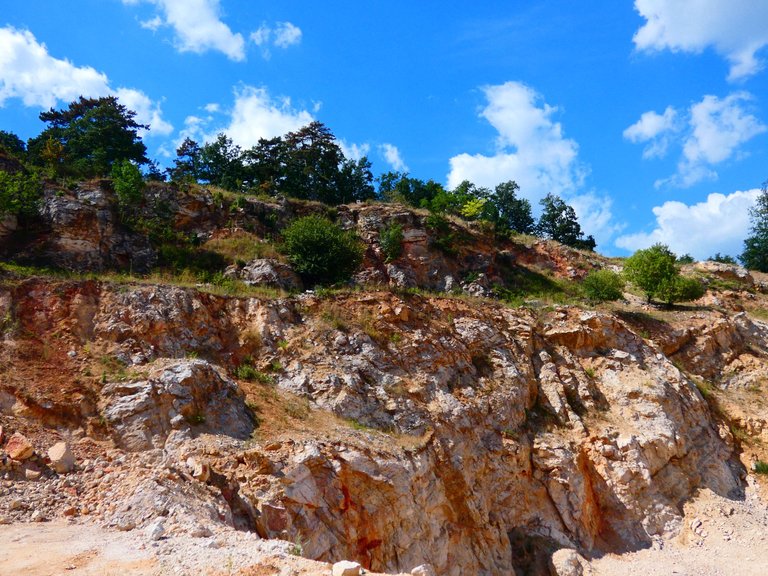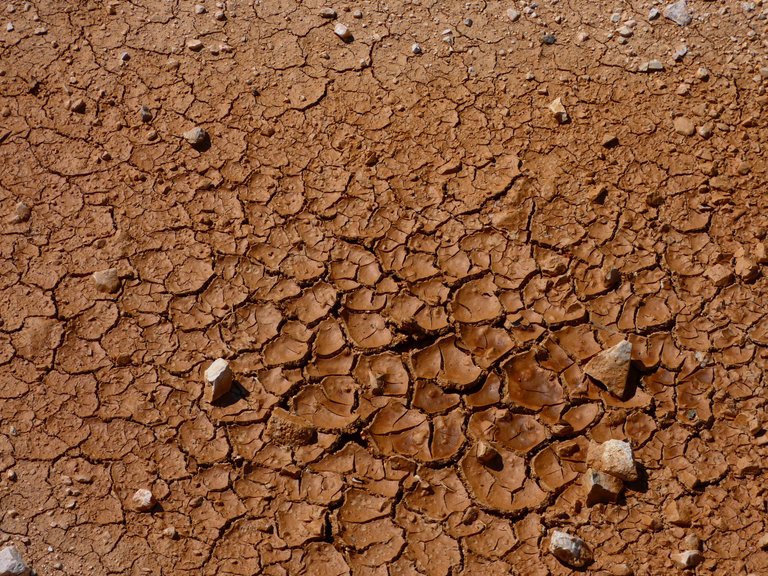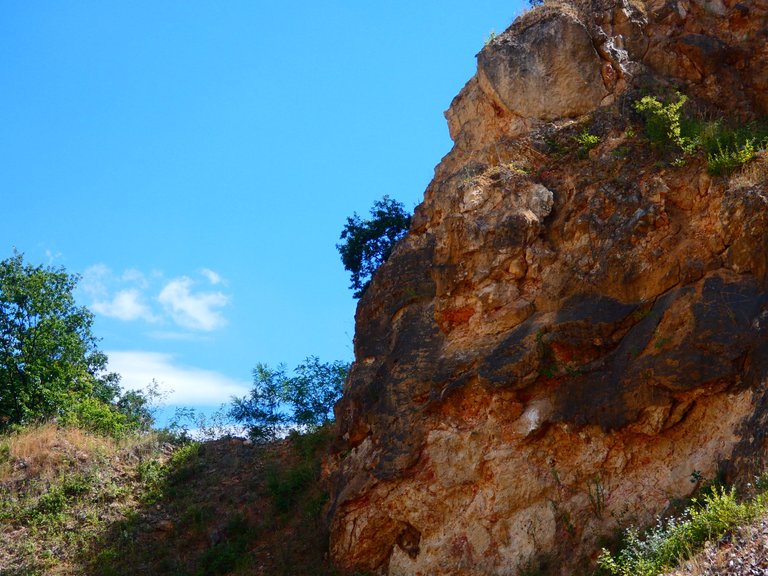 Every mine is like a wound on the surface of the earth. The wounds only heal when they are covered by vegetation. Everything here is still bleak and sad.
The drama is emphasised in black and white.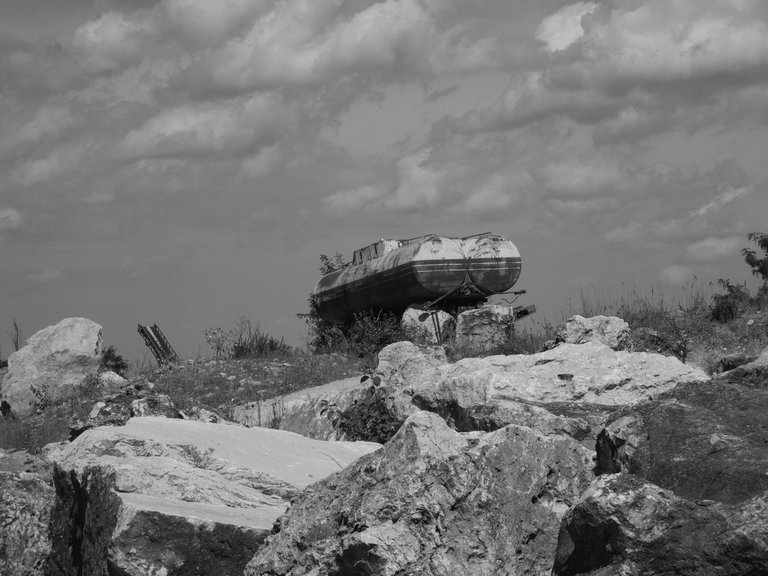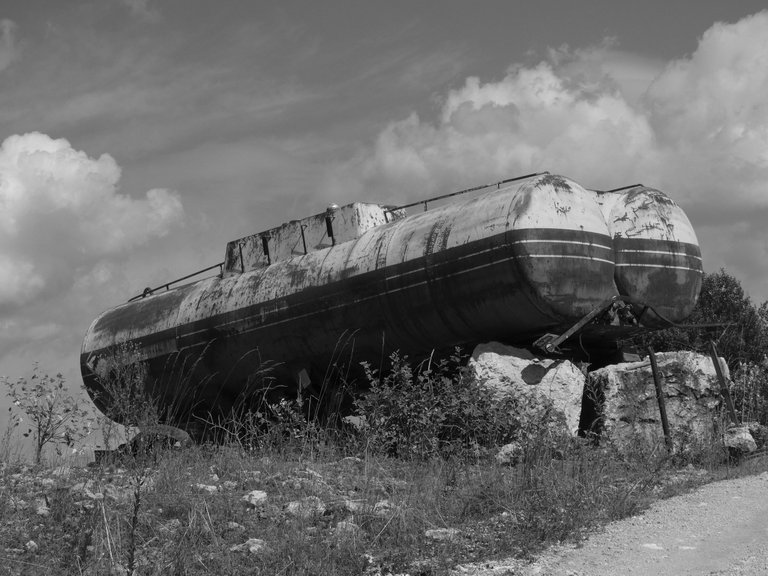 What a surprise: a goat in the shadow of one of the mining machines. I wonder where it escaped from? I didn't dare go near it because it had very big and sharp horns!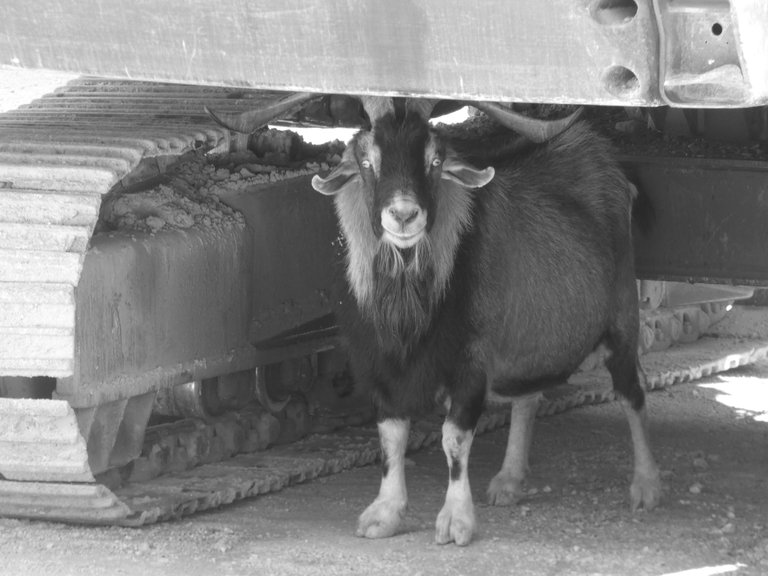 This whole area is a heap of rubble! Time to turn back to the village!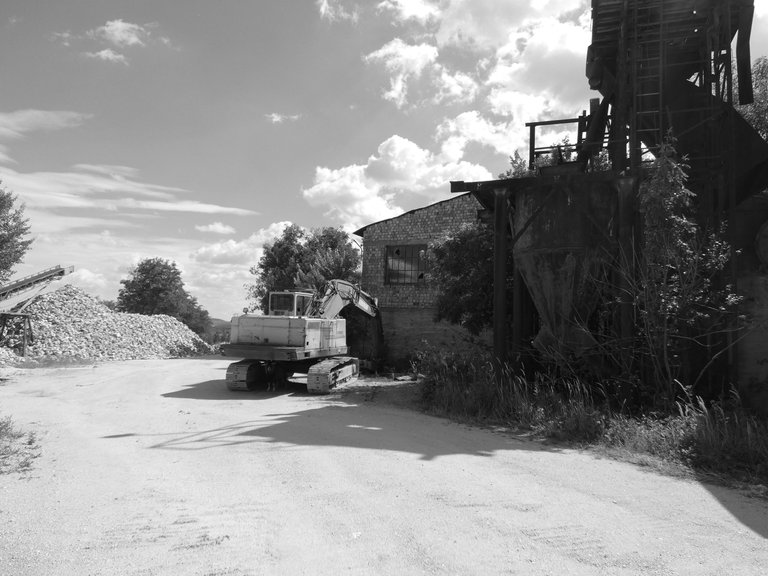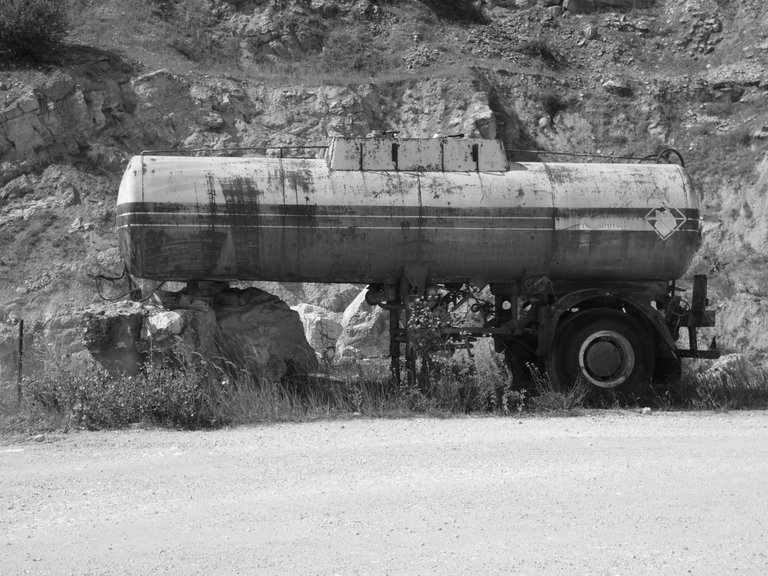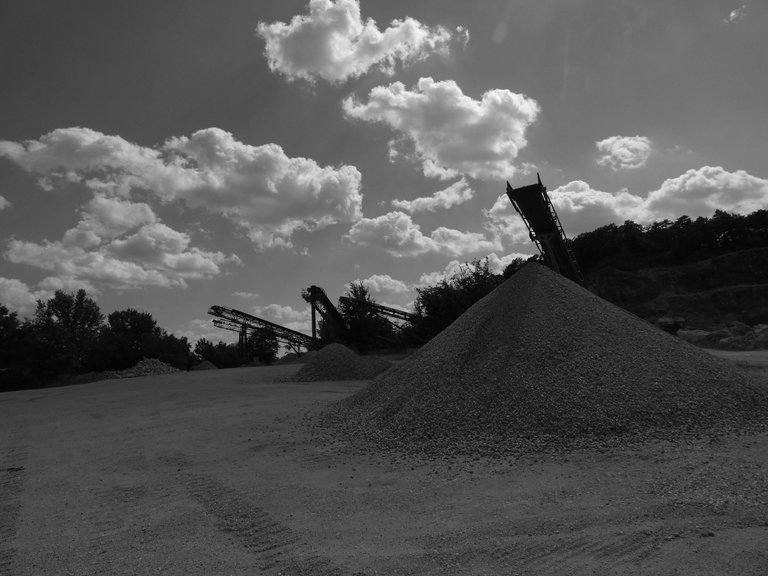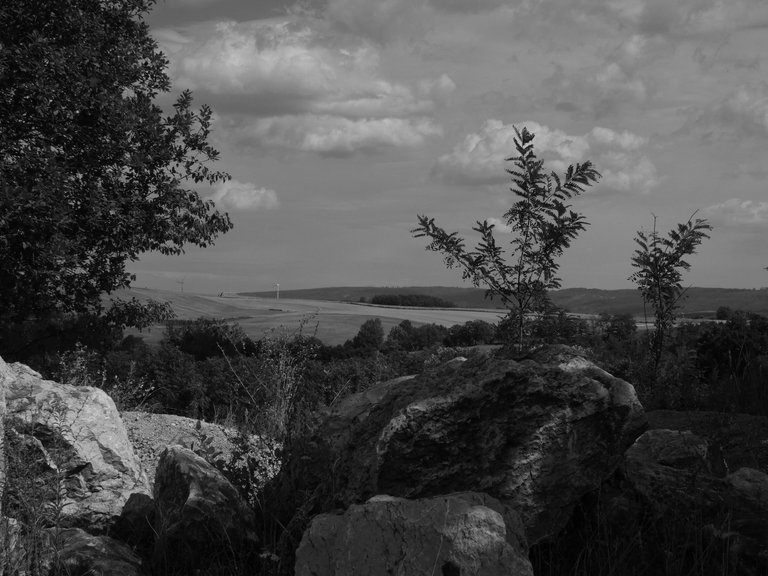 I still had a full hour to get to the football pitch, so I lay down on a bench and watched the clouds pass overhead. I felt calm, almost asleep. If for nothing else, I will come back for the big and sweet blackberries!