San Pedro de Alcántara es un municipio que pertenece a Marbella pero se encuentra a varios kilómetros de esa ciudad por lo que mantiene una pequeña independencia. Su casco antiguo se eleva sobre una colina alejado de la costa como todos los pueblos de la edad media para evitar los ataque de piratas. Actualmente sus edificios llegan a la playa terminada con un paseo marítimo. En esta ocasión vamos a ver un nuevo boulevard construido después de tunelar la carretera nacional, quedando una zona de ocio perfecta para hacer deportes y disfrutar del sol.
San Pedro de Alcántara is a municipality that belongs to Marbella but is located several kilometres away from that city so it maintains a small independence. Its old town stands on a hill away from the coast like all villages in the Middle Ages to avoid attacks by pirates. Nowadays, its buildings reach the beach, which is finished with a promenade. On this occasion we are going to see a new boulevard built after tunnelling the national road, leaving a perfect leisure area to do sports and enjoy the sun.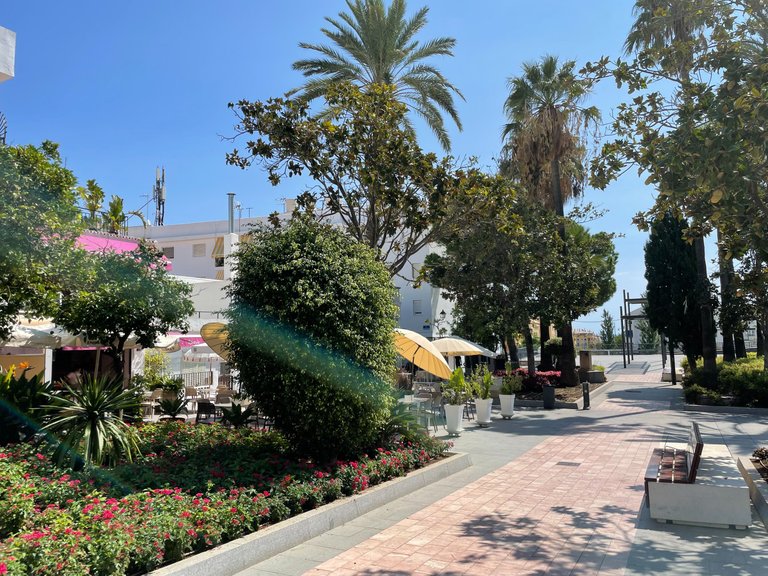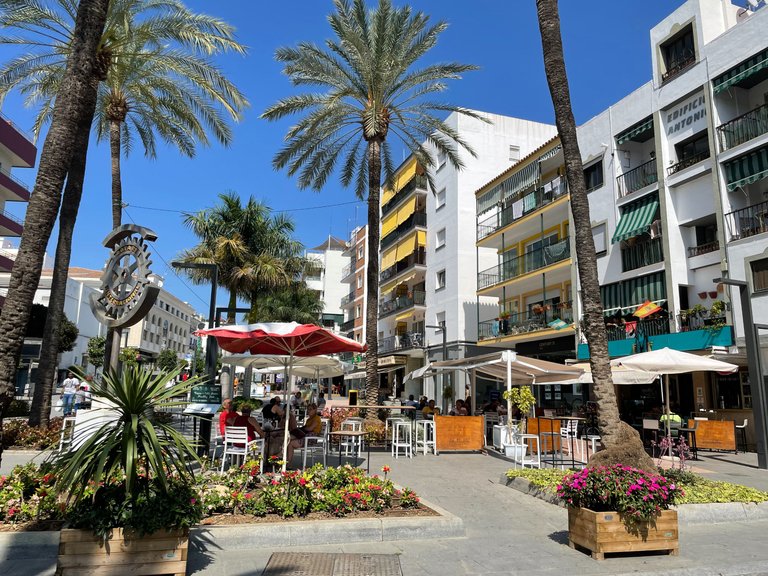 Las calles adyacentes al boulevard las han dejado como zona peatonal eliminando el tráfico de vehículos, quedando una zona muy tranquila y limpia. Los edificios construidos en los años sesenta y setenta han ganado mucho con esta reforma, llenándose los bajos de restaurantes y bares.
The streets adjacent to the boulevard have been left as a pedestrian zone, eliminating vehicular traffic, leaving a very quiet and clean area. The buildings built in the sixties and seventies have gained a lot with this reform, filling the ground floor with restaurants and bars.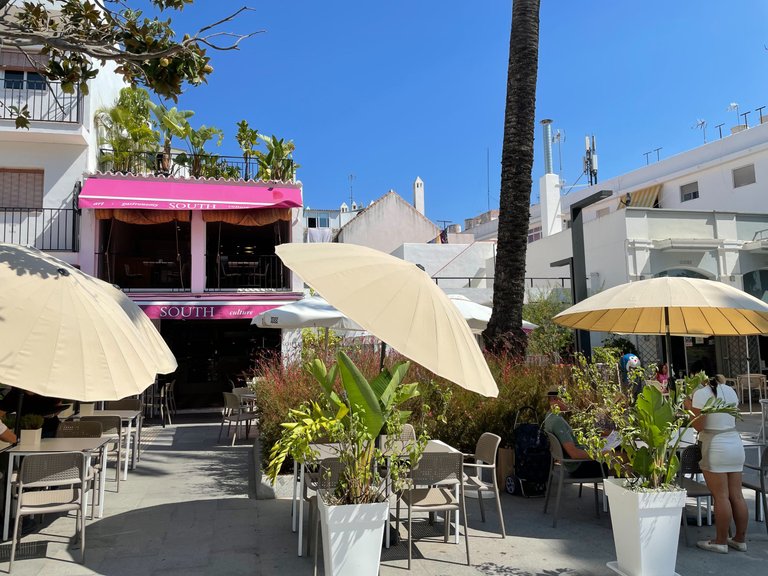 Los bancos públicos hechos de madera tropical, recuerdan a la cubiertas de los yates que hay en sus puertos deportivos.
The public benches, made of tropical wood, are reminiscent of the decks of the yachts in its marinas.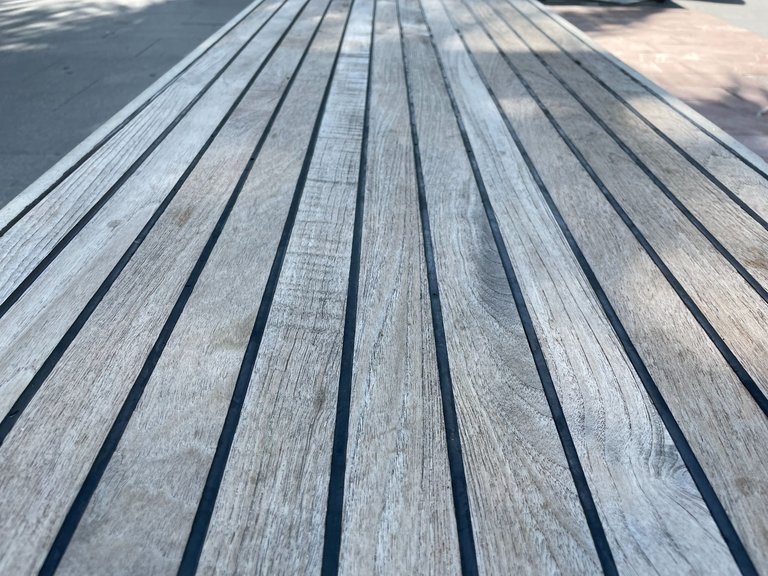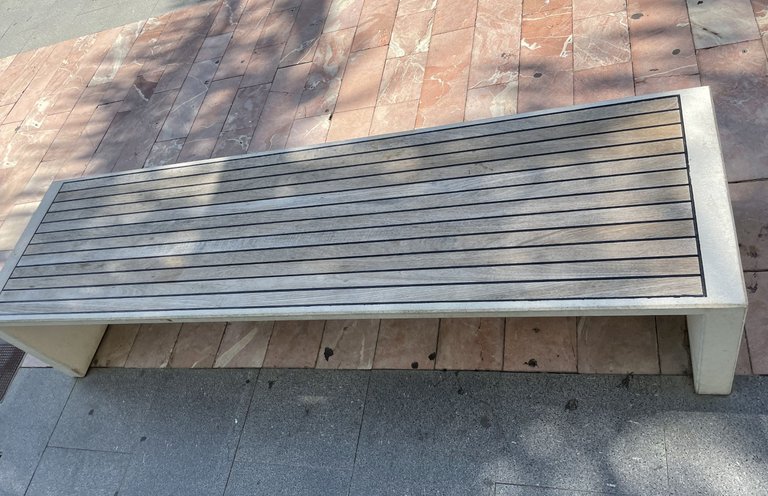 El boulevard ocupa toda la zona de la antigua carretera nacional. Tiene multitud de parques infantiles, fuentes y zonas para hacer deportes.
The boulevard occupies the entire area of the old national road. It has a multitude of playgrounds, fountains and sports areas.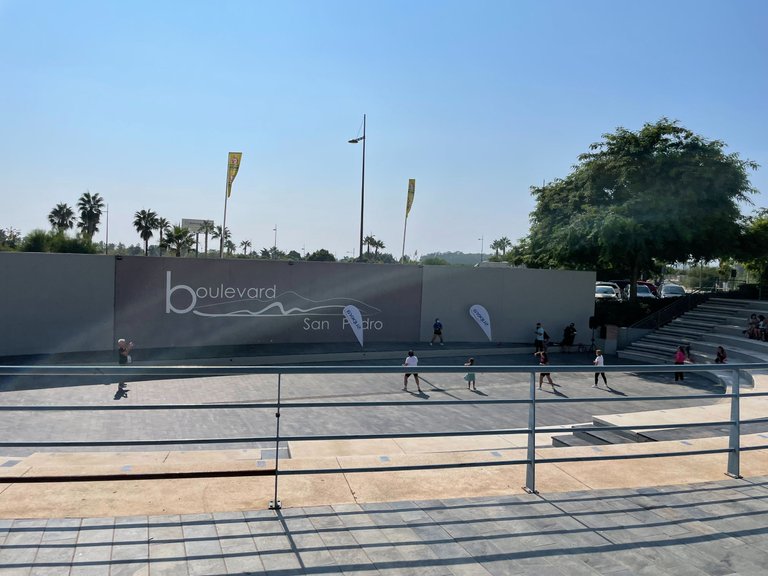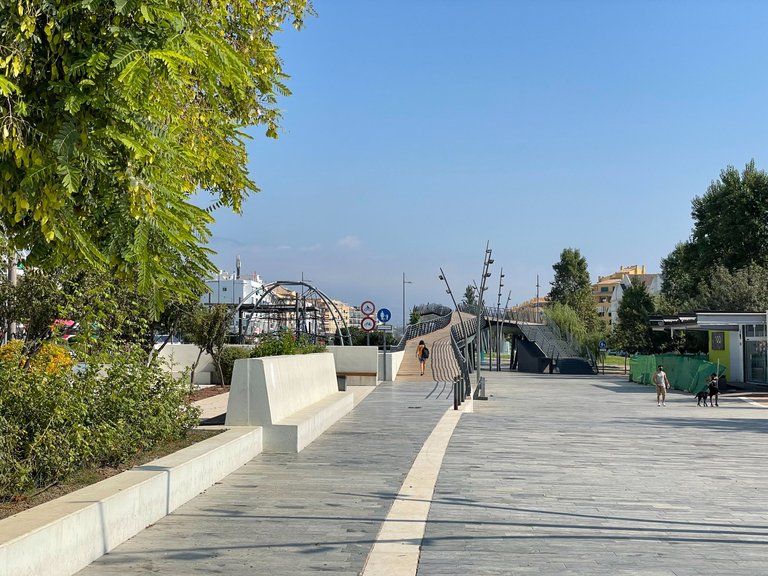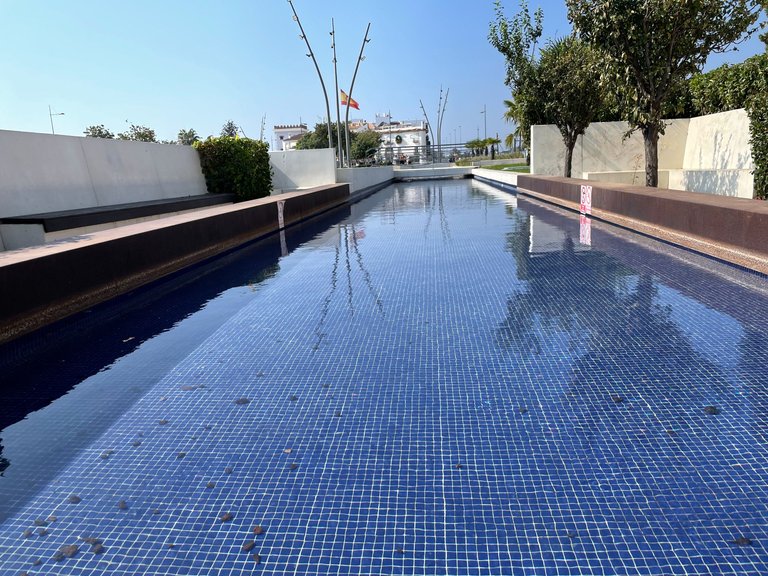 También es un lugar ideal para celebrar fiestas multitudinarias de música donde no molestar a los demás ciudadanos. En esta ocasión se prepara para la tarde-noche una fiesta de la cerveza.
It is also an ideal place to hold large music parties where other citizens are not disturbed. On this occasion, a beer festival is being prepared for the evening.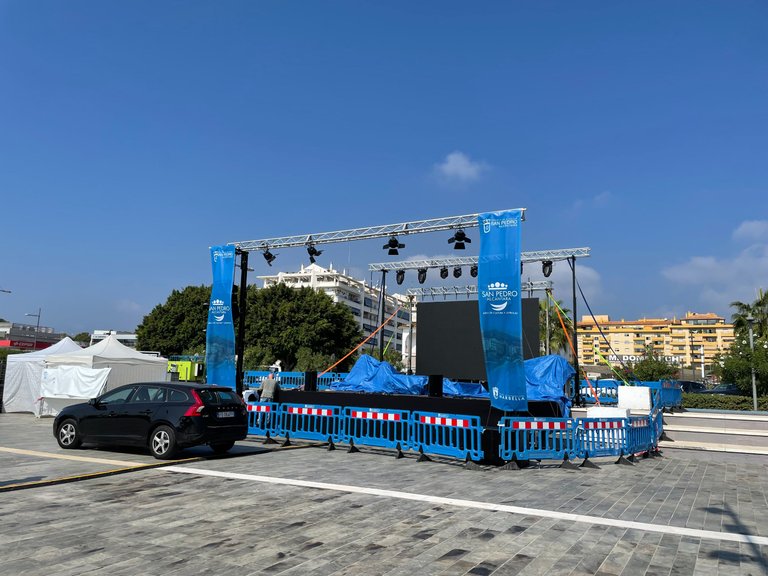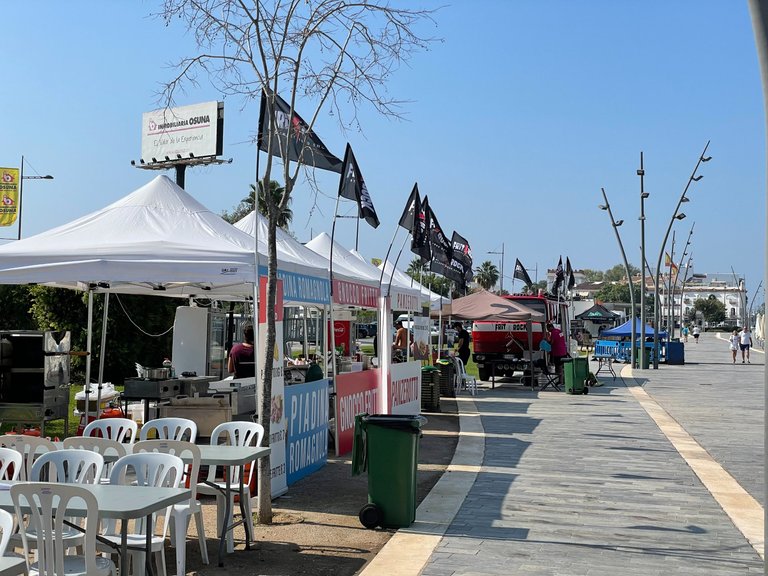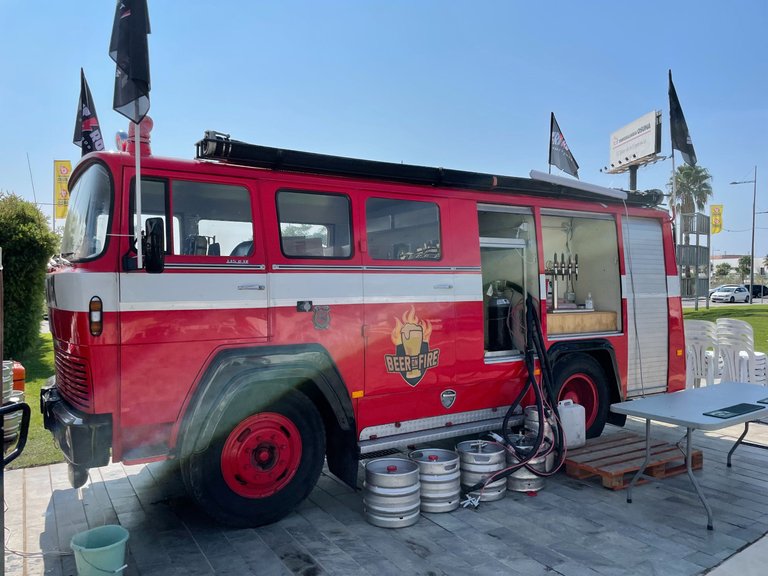 Para almorzar en esta ocasión he elegido un restaurante asiático especialistas en noodles y shushi, "Inch".
For lunch on this occasion I have chosen an Asian restaurant specialising in noodles and shushi, "Inch".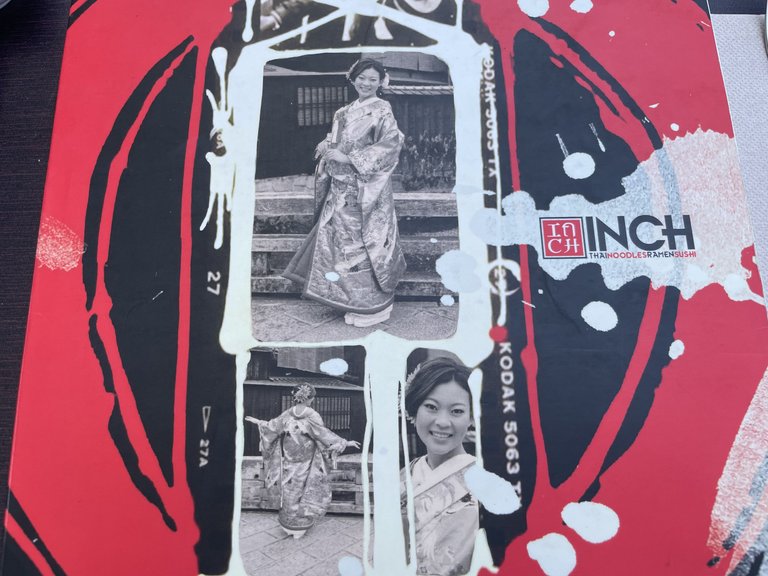 Siempre me pido un poco de salmón y fideos fritos con gambas y ternera que me encantan. El toque de lima no puede faltar. También está muy buena la sopa ramen que preparan, como el pollo frito y otras pastas. Recomendable al cien por cien.
I always order some salmon and fried noodles with prawns and beef, which I love. The touch of lime is a must. The ramen soup they prepare is also very good, as is the fried chicken and other pastas. One hundred percent recommended.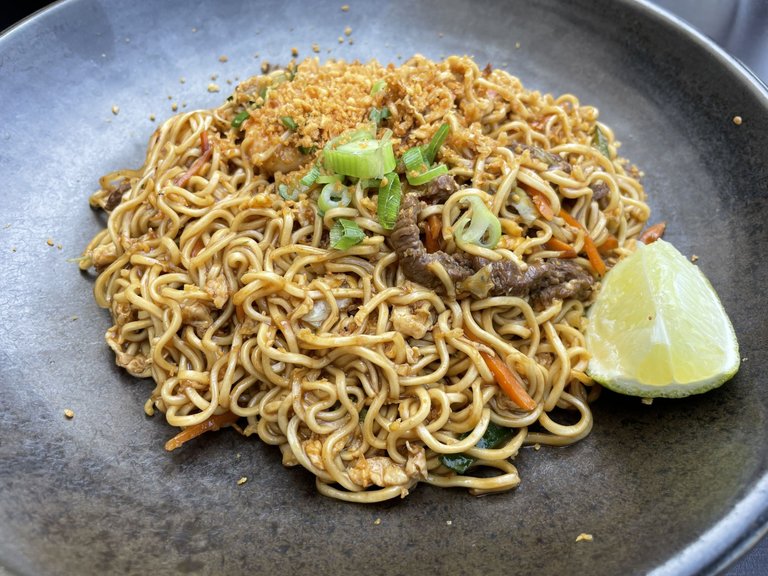 I used a web translator for english text (DeepL)
Photos by @cuvi taken with an Iphone 12 Pro.
2022 All rights reserved.
Fotografías de @cuvi hechas con un Iphone 12 Pro. 2022 Reservado todos los derechos.
By @cuvi,
Creador de contenido desde 2016
Content creator since 2016