---
NANDA IN CONSOLACION, CEBU
Spectacular View, Food, and Place
---
Grace and I always want to chill and relax after a busy and hectic week as public school teachers. But since we are getting married soon by 2022, we cannot do it as often as we want because we are saving money for our simple wedding and marriage life. Everytime we want to spend some little cash for relaxation and rejuvenation, we usually go to places away from the city either in the mountain or in the beach that is still budget friendly. Being wise to every decision is very essential for us two.
In order for us to enjoy while on a tight budget, we first check the facebook page of the place to know if there is an entrance fee, the prices of food, and the like. Sometimes, we also ask our friends who have visited the place if it is worth the price.
Then we learned about Nanda Cafe in Garing, Consolacion, Cebu through our friends have visited and dined in the place. They said in their Facebook posts that it is very beautiful and relaxing there. We did our routine of checking the place online and agreed to spend our Saturday afternoon there.
---
* * *
---
It was two in the afternoon when I picked Grace up at there place. I decided to wear my sweater and Grace wore her denim jacket on top of her black sleveless turtle-necked blouse. We arrived there roughly after thirty minutes of riding my motorcycle. Yes, it was quite long for a Mandaue - Consolacion ride, but it was normal for me because I really drive safely and by that, I mean the speed is not more than 50 kilometers per hour.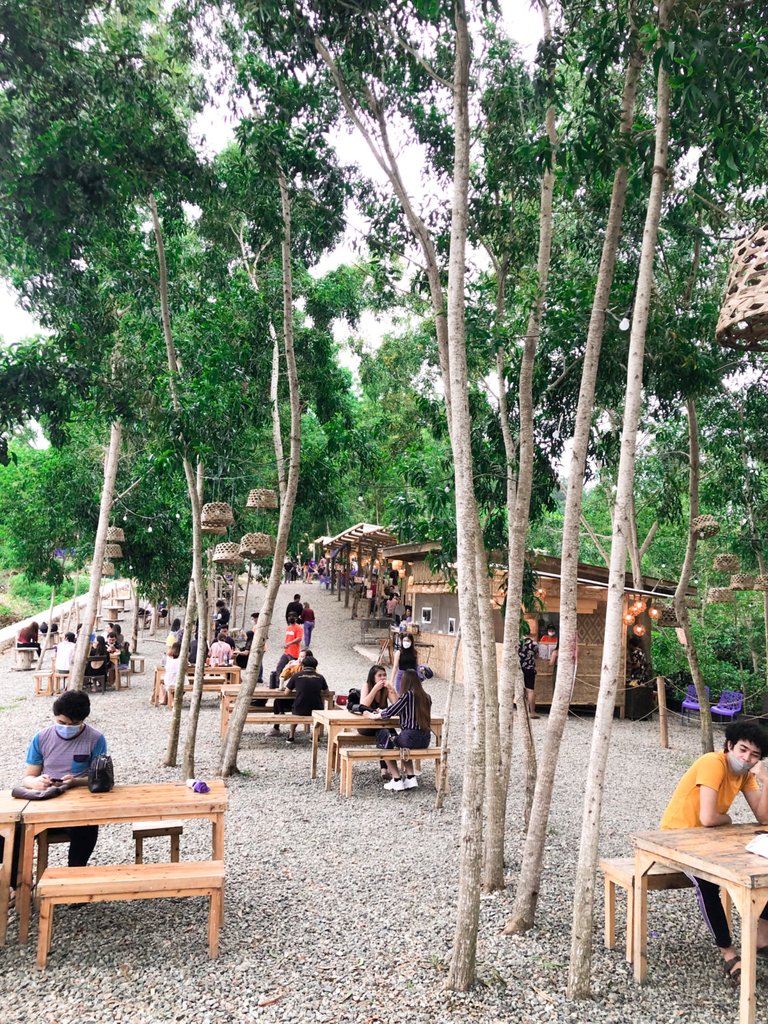 We were welcomed by this view when we set foot at Nanda. I initially said, "This is nice and relaxing". The first thing that I did was to look for a table for us two because there were already so many people in the place when we arrived. While I was looking for a table for us, Grace ordered the food.
I found a table but I guess it wasn't the best yet but it was okay because it was enough for us two and for our bags. The food was not served immediately, so we just decided to grab the chance to take some photographs of the place.
There is a swing facing the beautiful view of the green mountains of Consolacion. We waited until it was vacated for us to take over. After few more minutes the little girl stopped using the swing so we rushed to take the two swings. I also set up my phone with a 10-minute timer on the feet of a table because I forgot to bring my tripod. We cannot also ask help from the crew because they were all busy. So DIY is a sure thing in Nanda.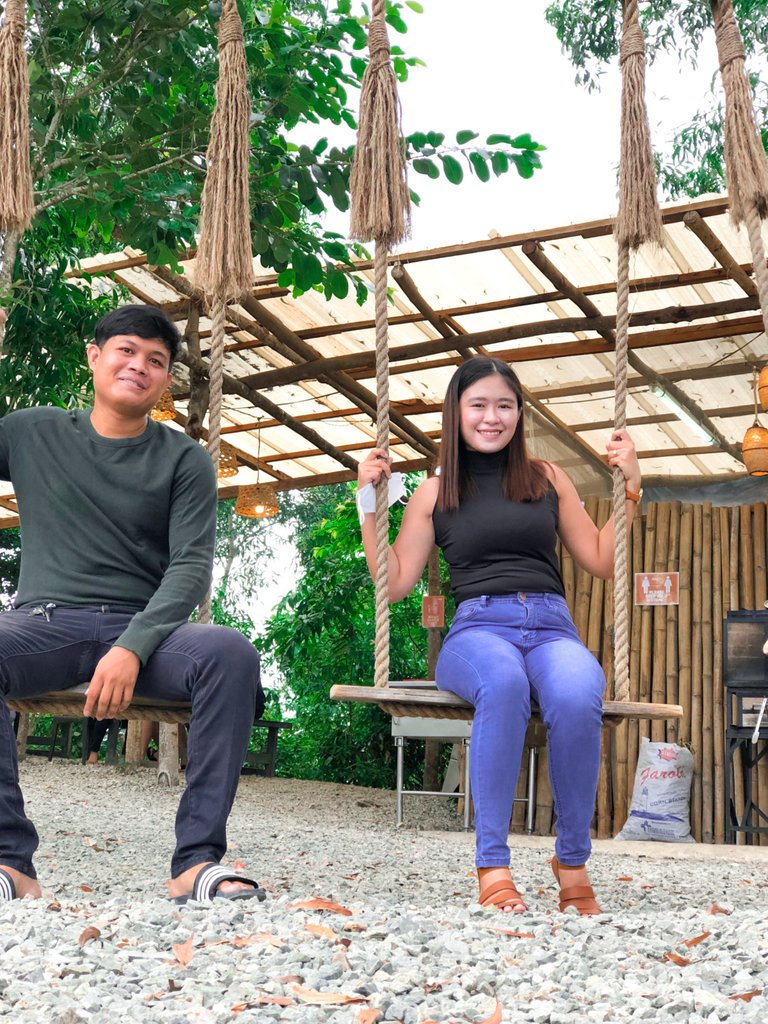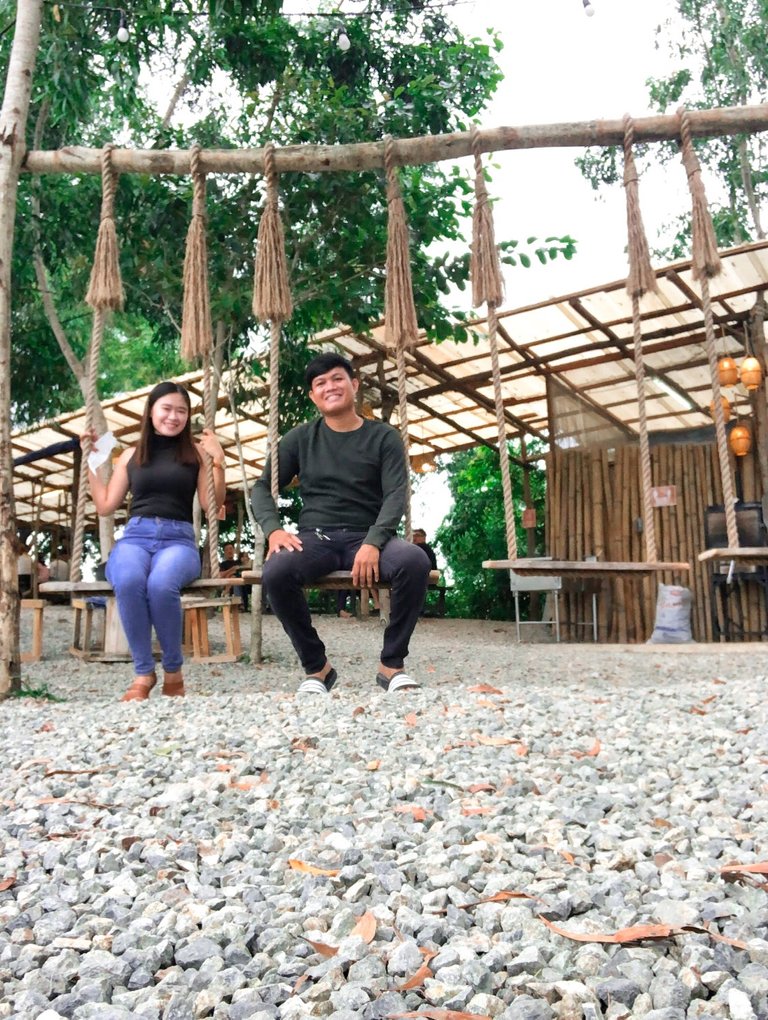 ---
Fortunately, one table was vacated by a leaving couple. We rushed to it and put our bags immediately to mark it as ours. We liked it here because the table was huge and horizontally parallel to the ground. The first table that we got was inclined a little, so there is a possibility that the food would slide and the dining experience would be not so nice.
Our food was not yet prepared after it was ordered fifteen minutes ago. It was just fine because we were really not hungry. So, I asked my fiancee that we take more pictures. She had no choice but to comply. This time, I placed my phone on the ground against the base of the tree's trunk.
In the photos below, you can also see that the ground is covered with gravel. I think the management thought of that so that when it would rain, the place would not be muddy. I really think that that is a very good idea. So, do not worry of getting your shoes muddy when you visit here because they had already thought about that possible complaint ahead of time.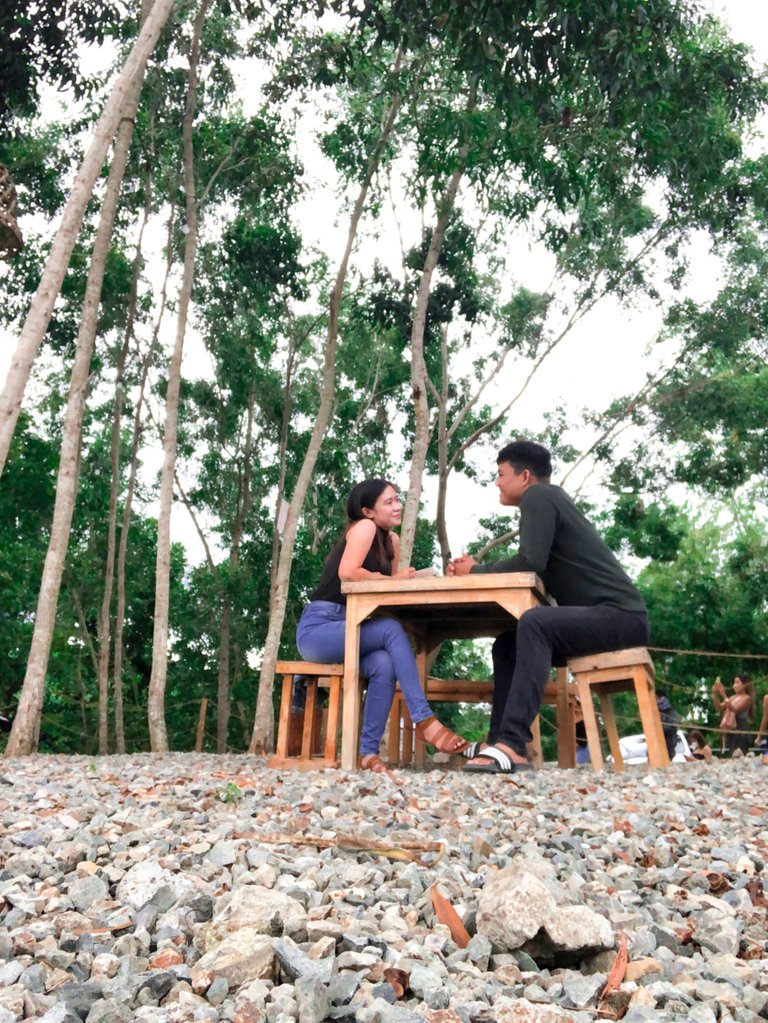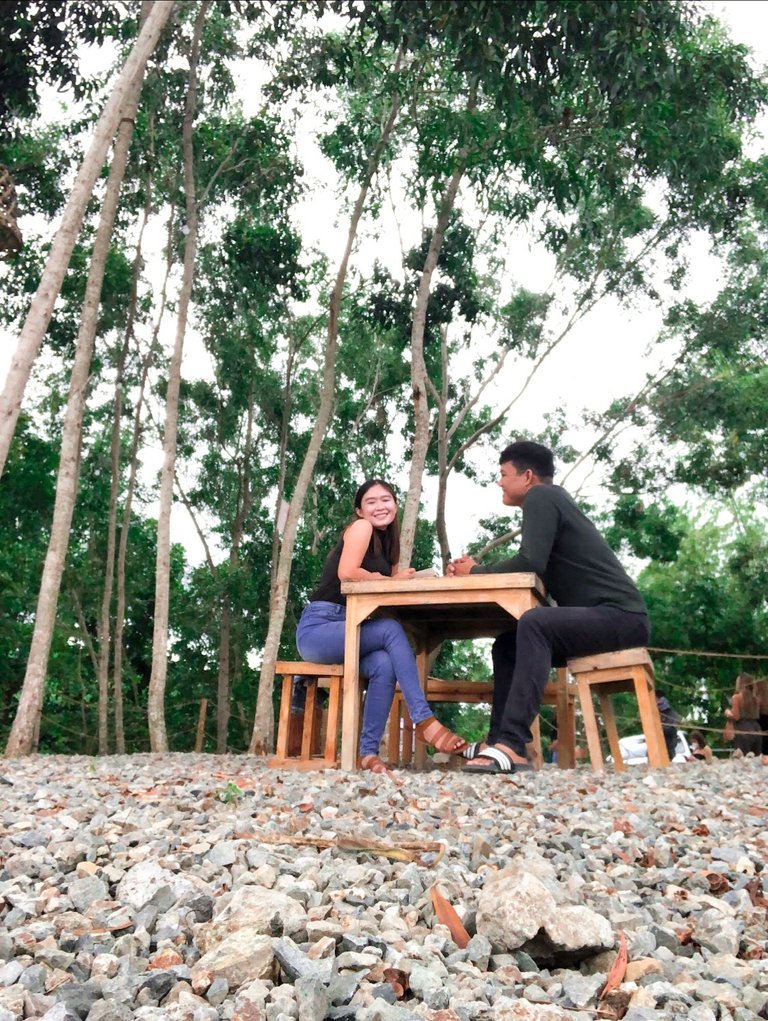 ---
After five more minutes our order was finally served. We only ordered one burger with fries and two bottles of water because we were still full and we didn't want to spend a lot of money. We just came here to chill out, see the view, and experience the cold temperature in the place. The burger meal was delicious and very tasty. I liked the flavor of the beef patty mixed with vegetables like tomatoes and lettuce. There was also cheese and mayonaisse spread that I surprisingly love. I told Grace not to order two burgers because I am really not a burger-type-kind of person. But I loved the taste of the burger, really!
We also liked the crispy and freshly served fries which we dipped in the sweet catsup. If I have to compare it with the other fries, I would give McDo fries 7 points, Jollibee fries 8 points, and Nanda Fries 9 points. But then again that is just a personal preference. I liked that it was still crispy even if it was very cold already in the place.
After eating our food we explored the place more and took more photos. They also have treehouses on the upper part of the place which is good for taking photos of the view. I like the idea that they did not put a table for dining in the treehouses so that everyone could have a chance to enjoy the view.
Anyway, you have to be very careful when you use the wood ladder because the steps are very thin and the ladder itself is so steep. I assisted my fiancee as she climbed up because she was wearing sandals that time. Here are some photos I took in the tree house: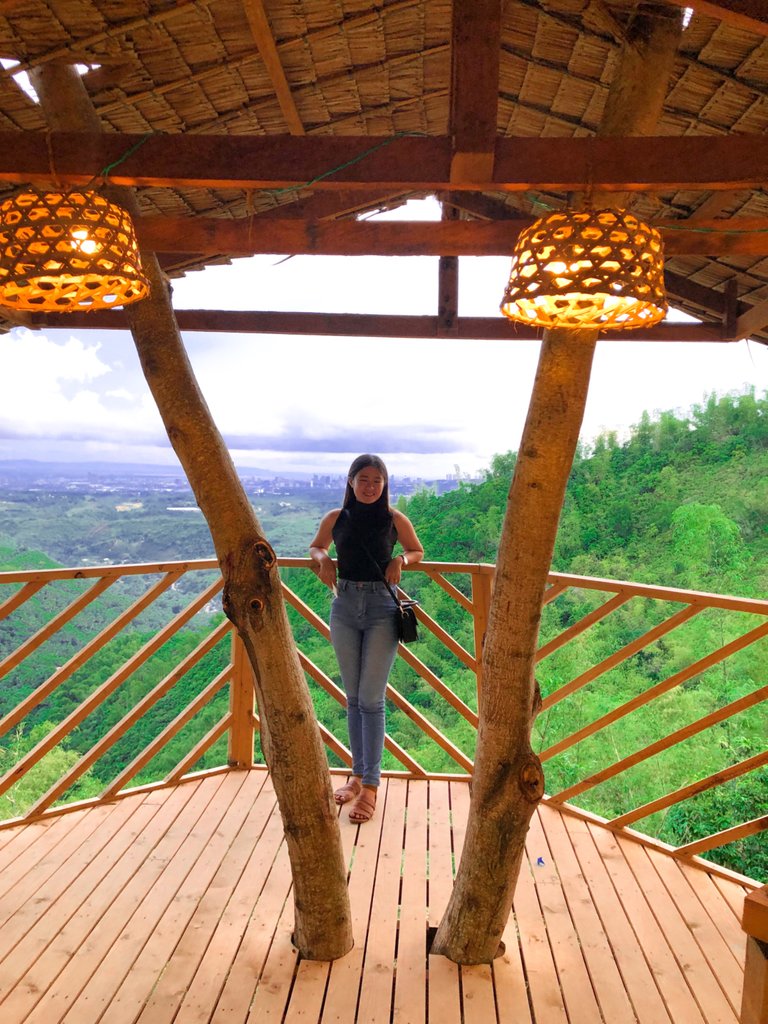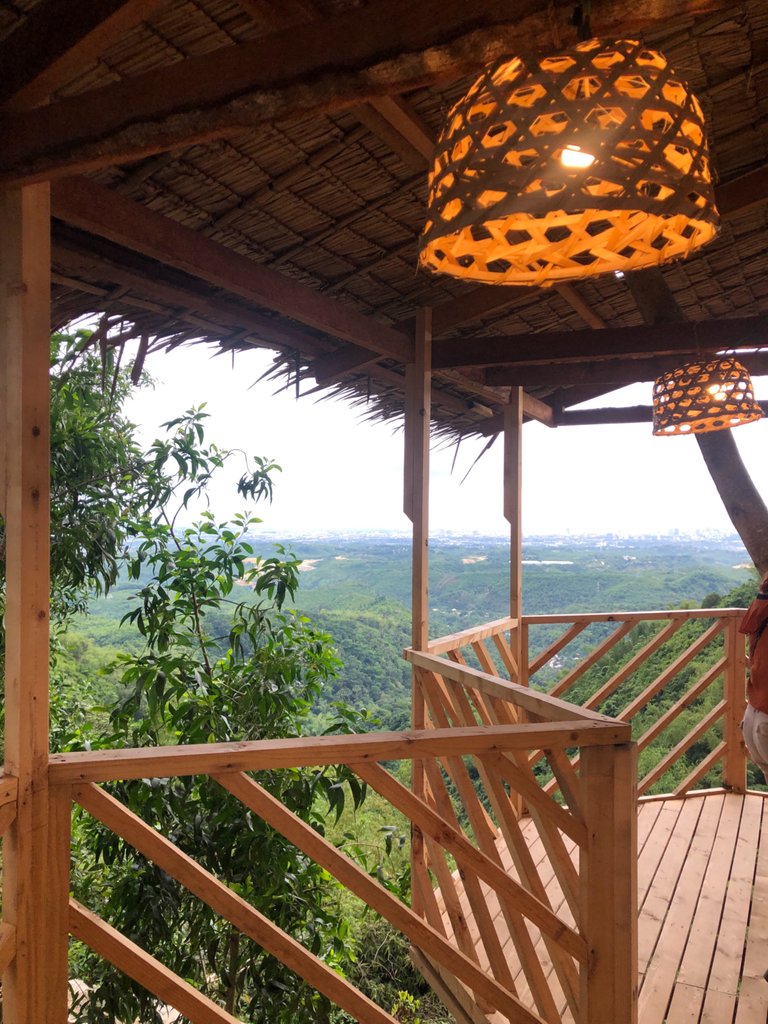 ---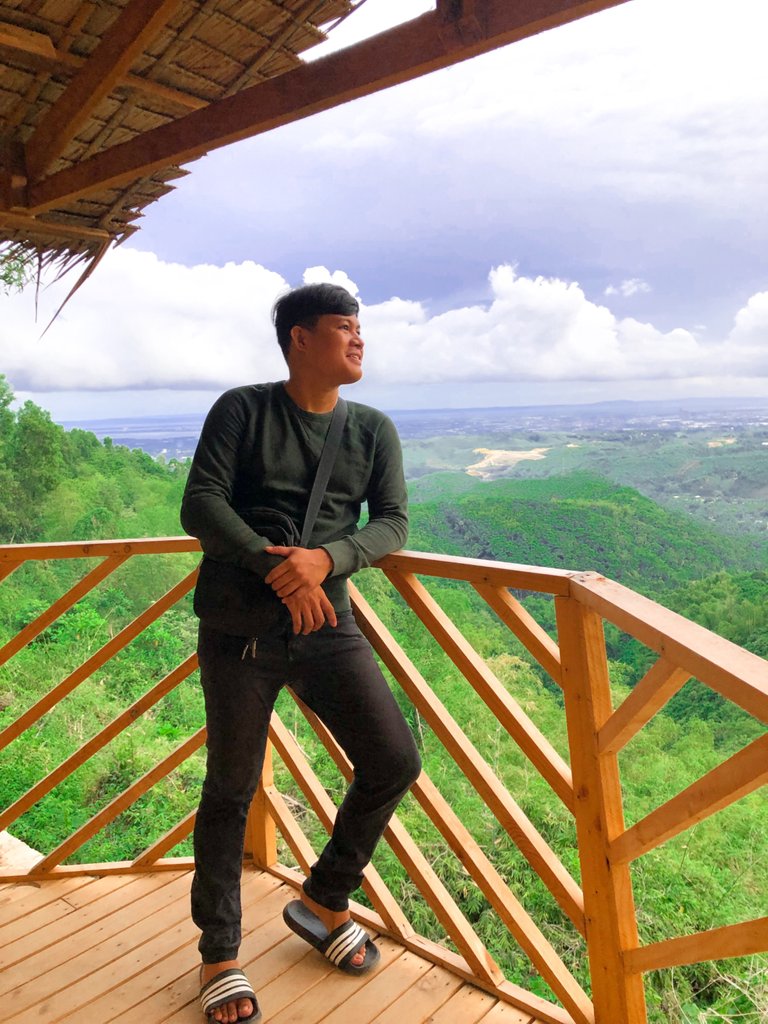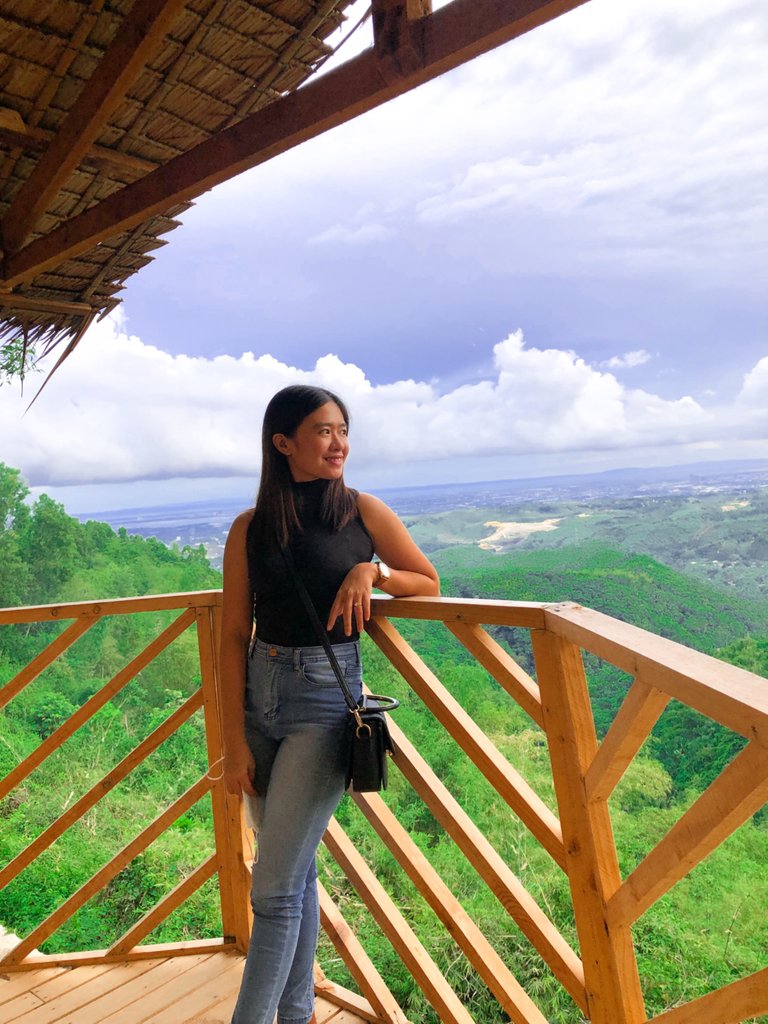 ---
I also wanted to be photographed here so I asked Grace to take my phone and take pictures of me. We did our pictorial quickly because there were already people joining us in the tree house to also enjoy the view and surely take selfies and groupies there. There were still other tree houses in the place but this one has the most beautiful viewing experience.
It was already getting dark, so Grace and I decided to leave but surely we had fun there and was able to attain our objectives to relax and talk about life and our dreams. It surely is a good place to visit by anyone whose after for relaxation, good food and nature.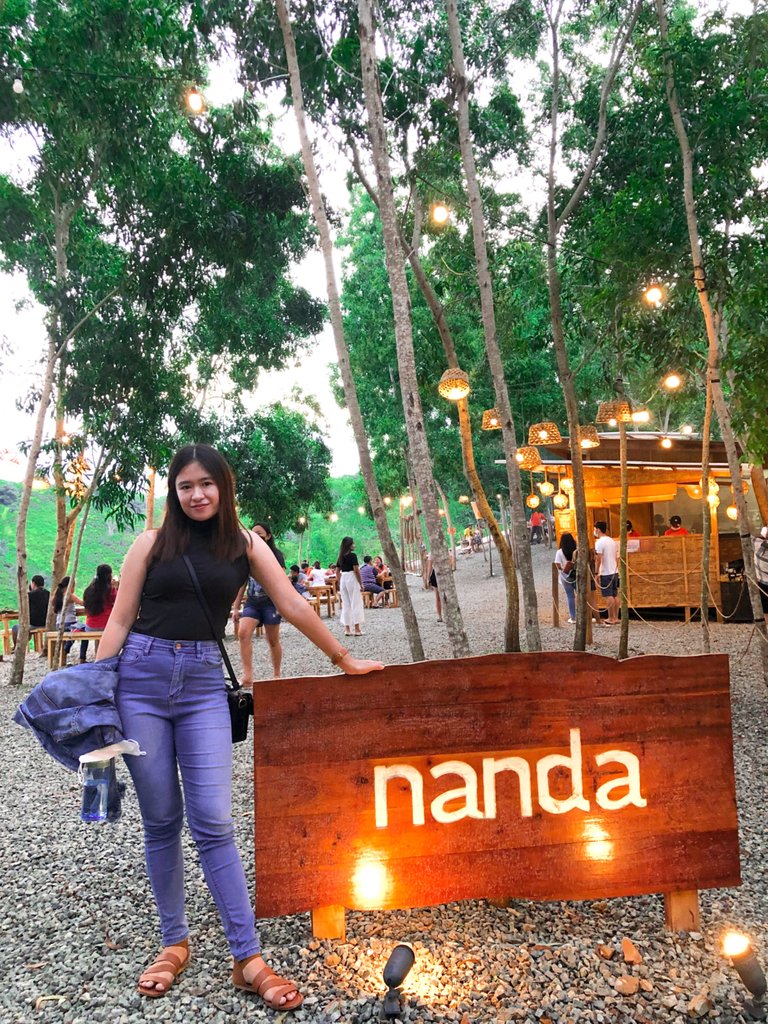 So, I am inviting all of you who will read this blog to visit Nanda a true and new gem in Consolacion, Cebu. I am certain that you will enjoy your time there as much as we did because of its instagrammable scenery, worth-trying menu, and cold temperature. This is the sign that you been waiting for to chill out and relax. Give yourself a break and treat yourself with fresh air, good food and stress-relieving activity or travel. And so, if you happen to choose to visit Nanda, please let me know your experience!
---