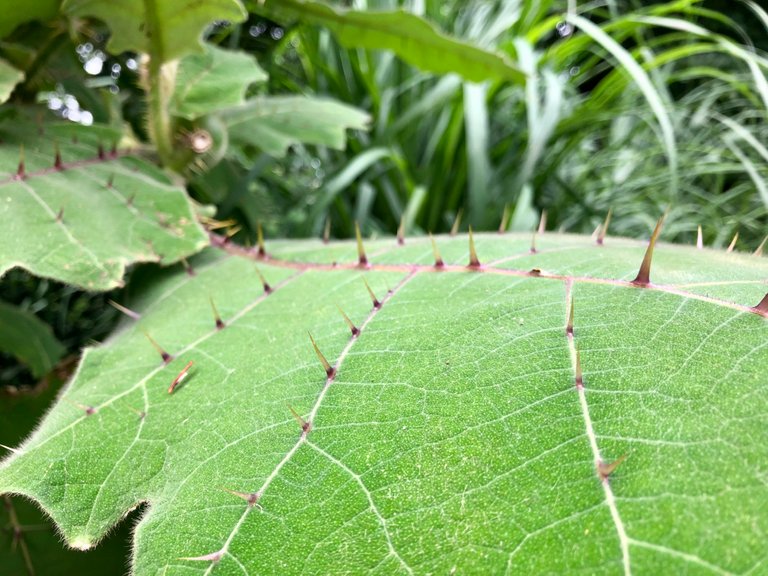 English
---
Come and be amazed with me at the Brooklyn Botanic Garden, USA.
---
Hello to everyone in the amazing Pinmapple community! I hope you are having a beautiful day.
Today I am here to share with you a place that I fell in love with. It is about the Brooklyn Botanic Garden.
Back in October 2018, when I was visiting New York, I had one last day left on my short list of 10 days wandering around the big city. My flight was scheduled for the evening of that day, so around 9 pm, I wanted to be at the airport.
Luckily, however, I still had a whole day to enjoy.
I had seen on the map of Brooklyn the Botanical Garden, but it was October and the cold weather was here to stay, so I estimated that the place would not be as beautiful as those who had visited it recommended.
Anyway, as I love nature, I wondered how many more times I would be in Brooklyn, and the answer was: I don't know.
So I took a subway that dropped me a few feet from the garden.
As soon as I got off, I was grateful for that decision, as Brooklyn once again surprised me with its relaxed and cosmopolitan airs.
Español
---
Ven a sorprenderte conmigo al Jardín Botánico de Brooklyn, USA
---
Hola a todos en la increíble comunidad de Pinmapple! Espero que estén teniendo un hermoso día.
Hoy vengo a compartir con ustedes un lugar que me enamoró. Se trata del Jardín Botánico de Brooklyn.
Allá por octubre de 2018, cuando visitaba Nueva York, me quedaba un último día en mi escueto listado de 10 jornadas paseando por la gran ciudad. Mi vuelo estaba programado para la noche de aquel día, por lo que alrededor de las 9 pm, yo quería estar en el aeropuerto.
Sin embargo y por suerte, aún tenía todo un día para disfrutar.
Había visto en el mapa de Brooklyn al Jardín Botánico, pero era octubre y el frío llegó de un momento para el otro, para quedarse, por lo que estimé que aquel lugar no sería tan bello como recomendaban quienes lo habían visitado.
Igualmente, como amo la naturaleza, me pregunté cuántas veces más estaría en Brooklyn, y la respuesta fue: no lo sé.
Así que tomé un metro que me dejó a unos pocos metros del jardín.
En cuanto bajé, agradecí aquella decisión, ya que Brooklyn volvía a sorprenderme con sus aires relajados y cosmopolitas.
---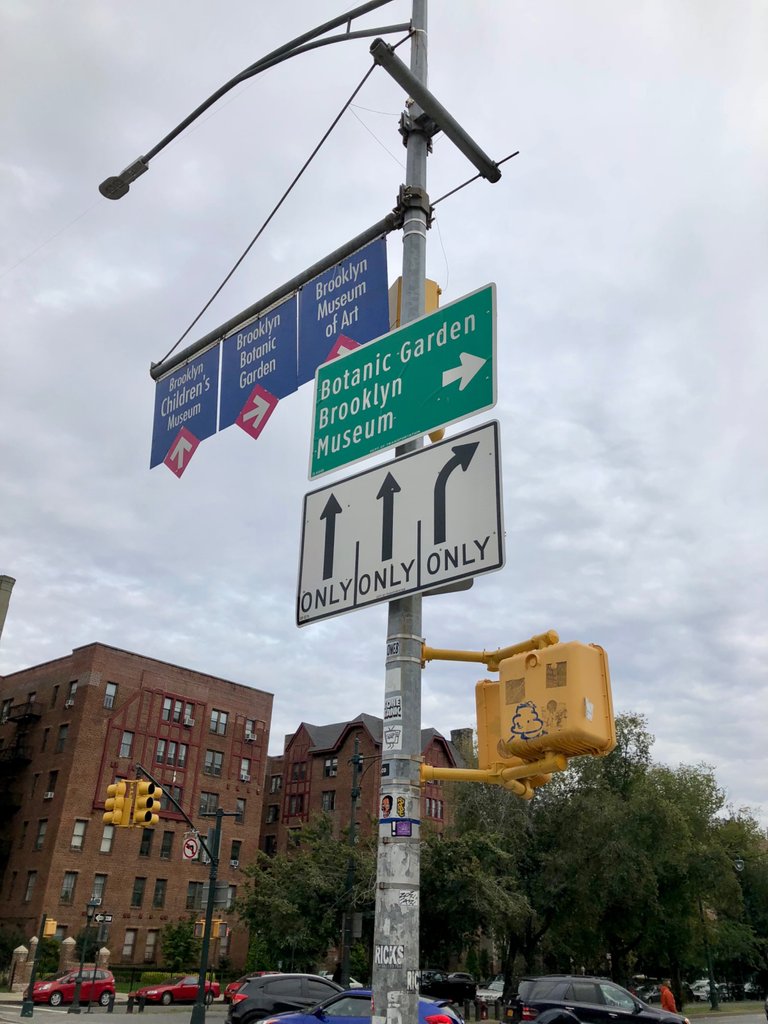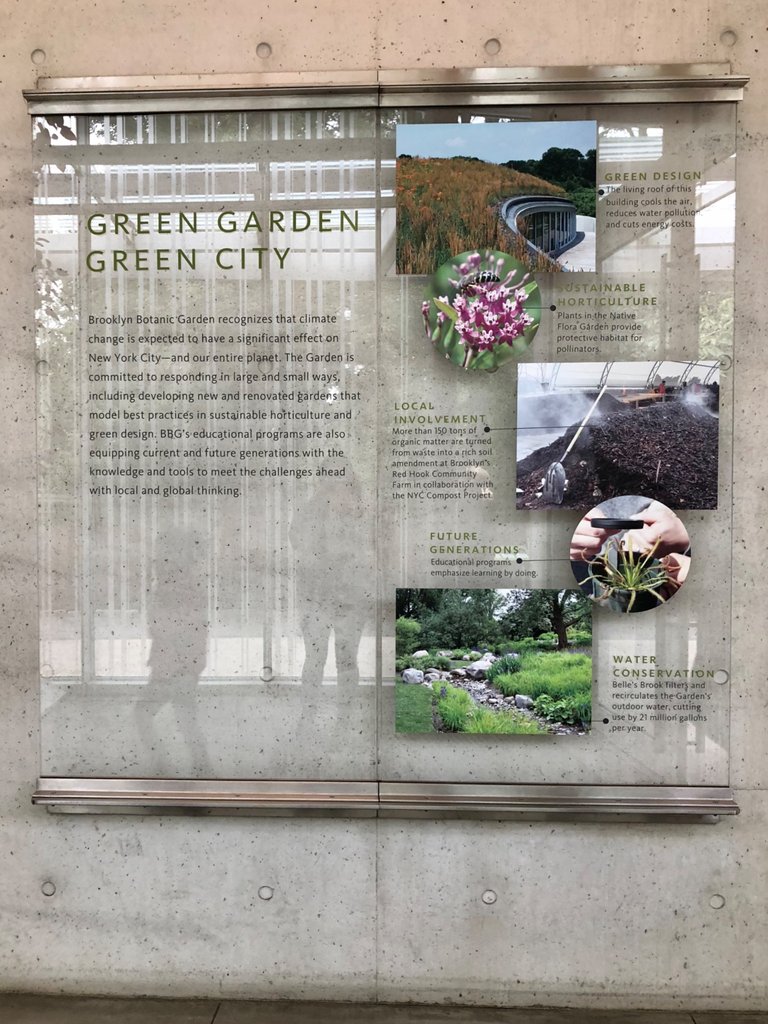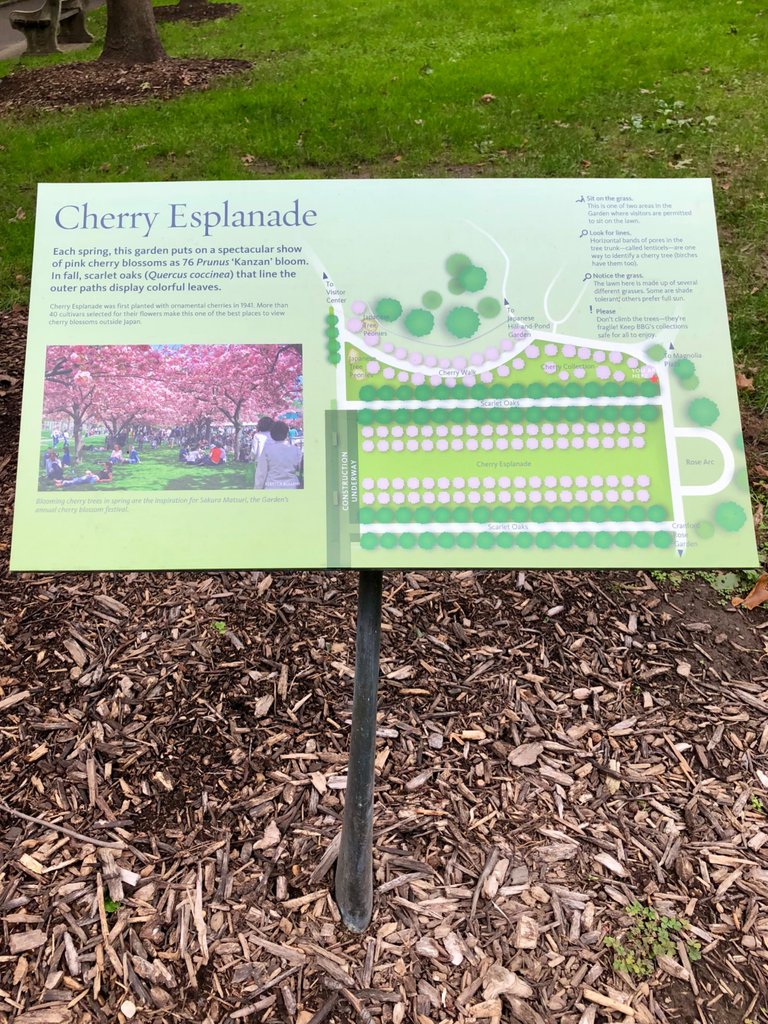 ---
I quickly arrived at the Garden. I knew it was quite large, so I had to walk through it quickly.
One of the first things that caught my attention was a huge rose garden full of flowers, which although autumn had already reached its petals, still surprised me with its beauty and perfection.
Not only were there roses there, but other flowers accompanied those beautiful red and pink ladies representing love and romance.
Rápidamente llegué al Jardín. Sabía que era bastante grande, por lo que debía recorrerlo rápidamente.
Una de las primeras cosas que llamó mucho mi atención, fue un inmenso rosedal repleto de sus flores, que aunque el otoño ya había alcanzado sus pétalos, aun sorprendían con su belleza y perfección.
No solo habían rosas ahí, sino que otras flores acompañaban a aquellas hermosas damas rojas y rosadas representantes del amor y el romance.
---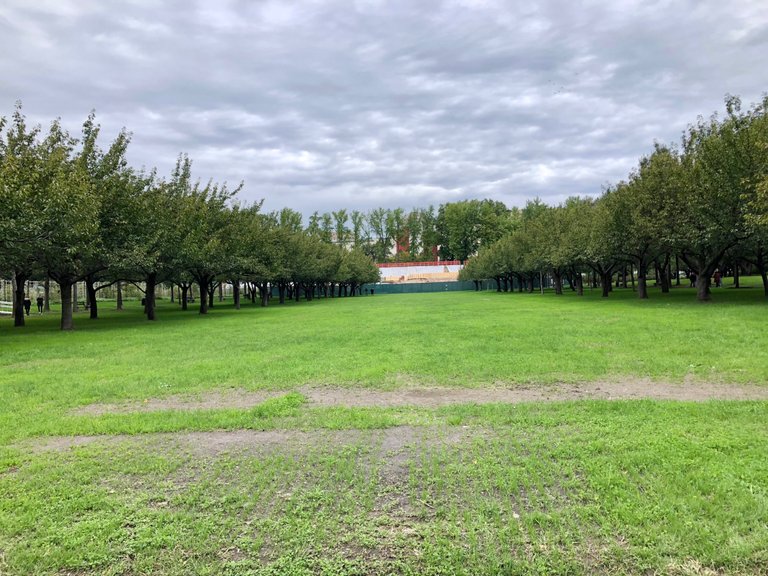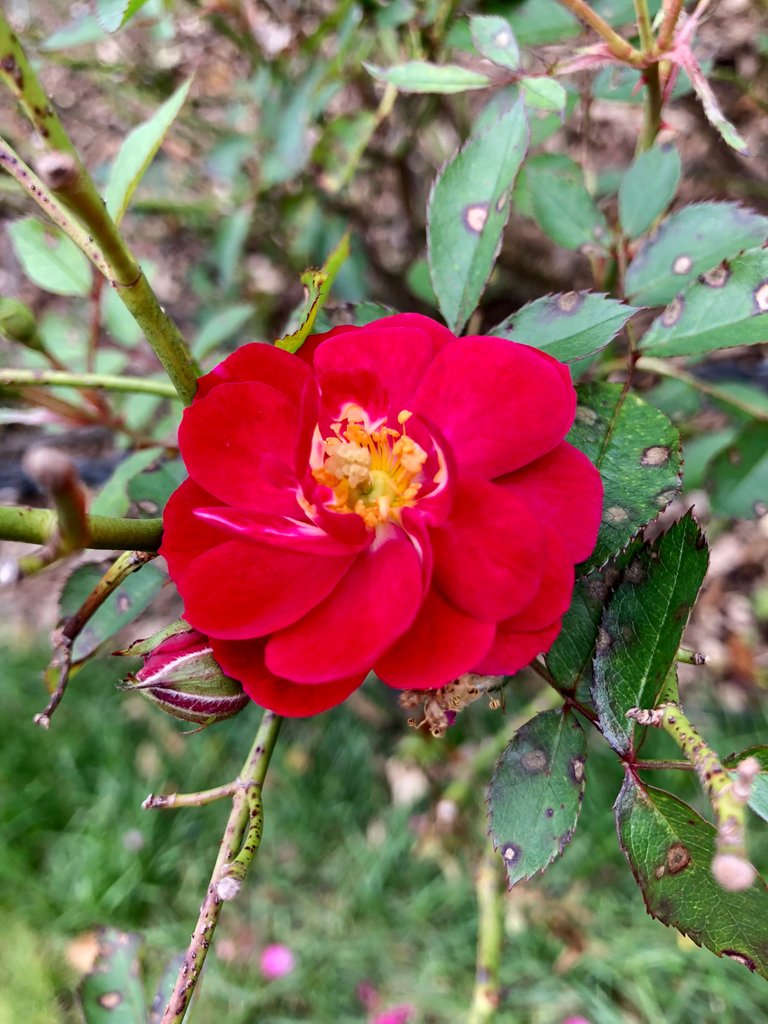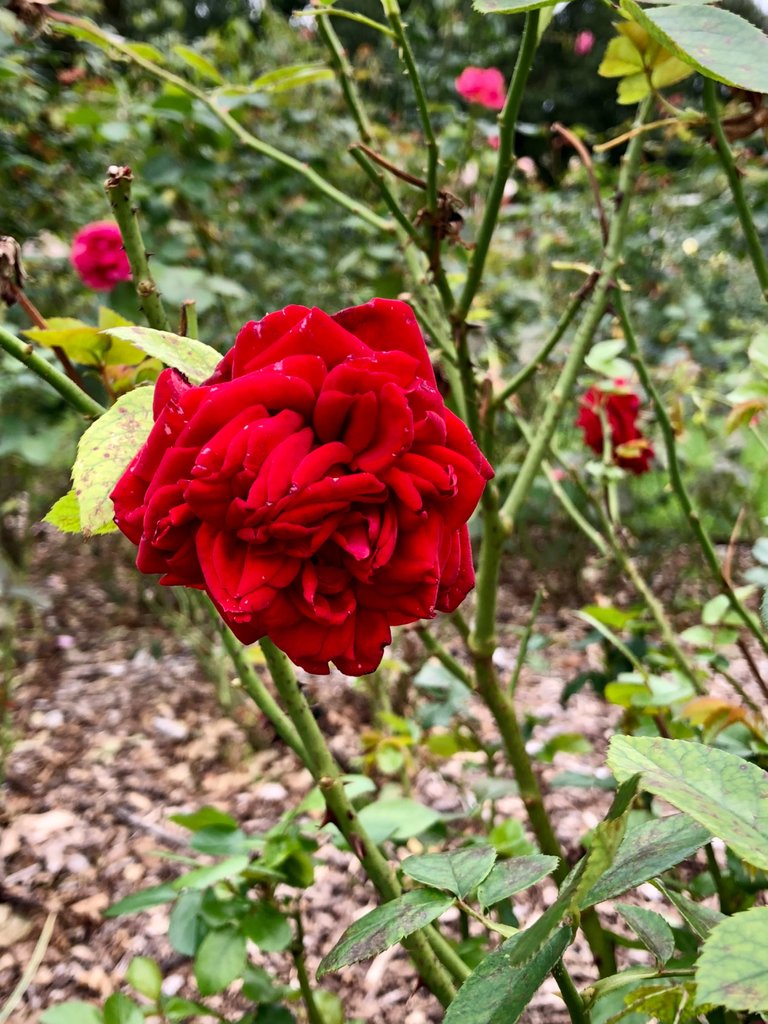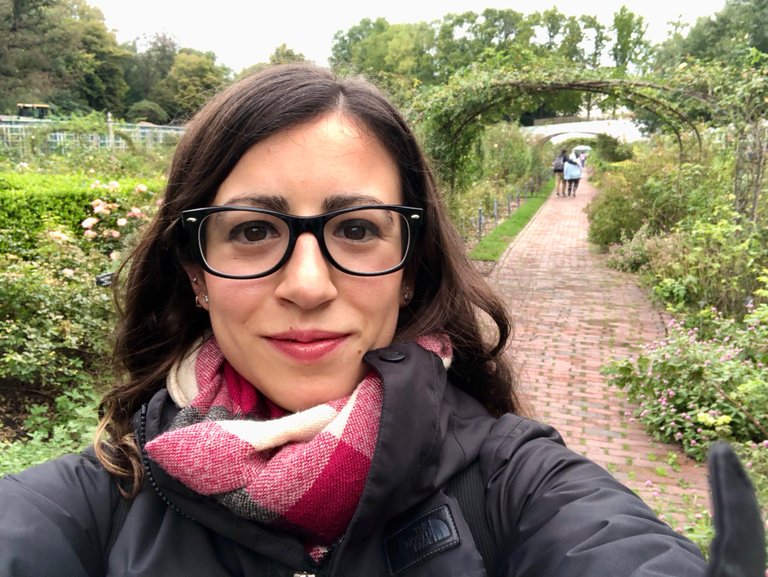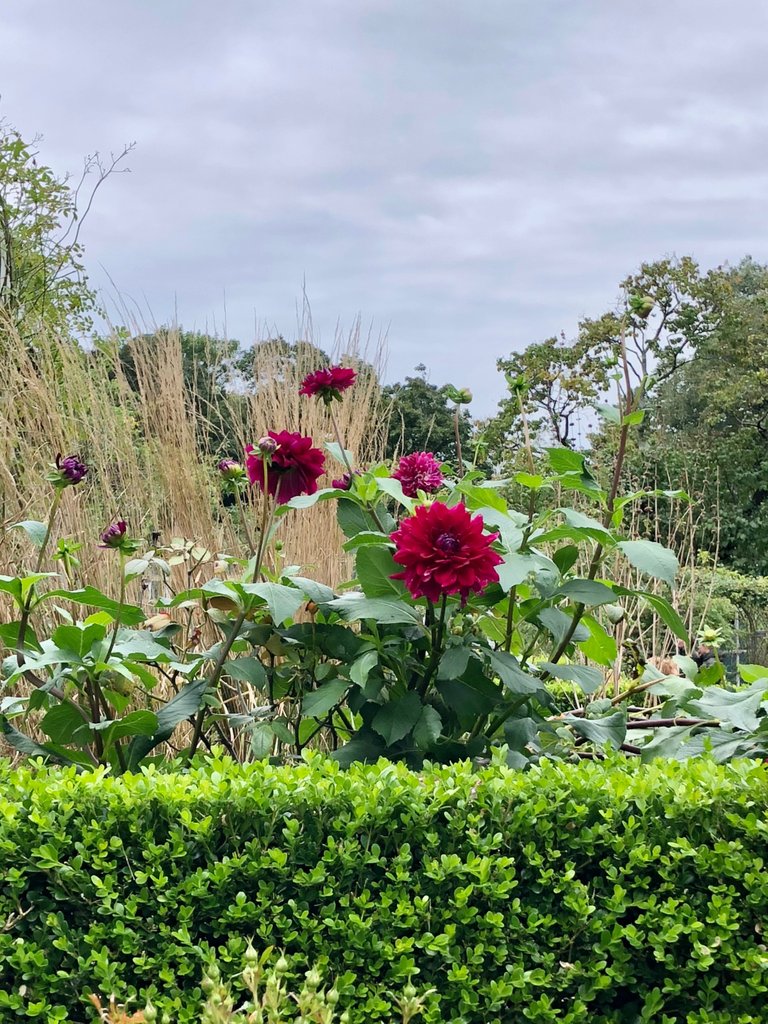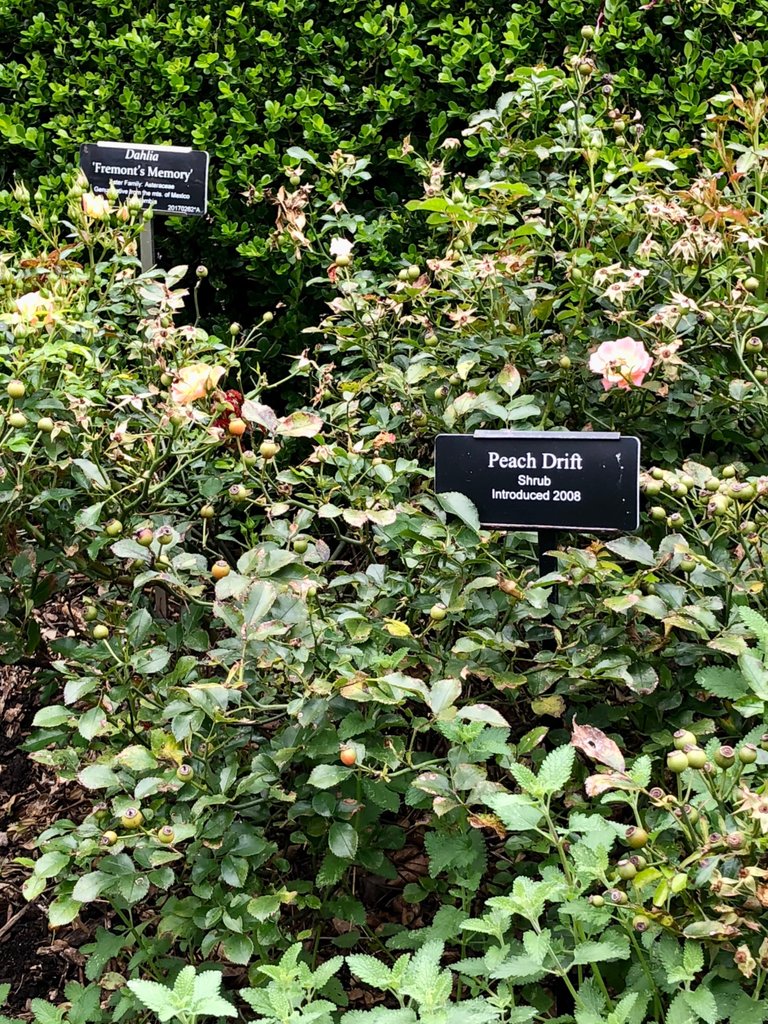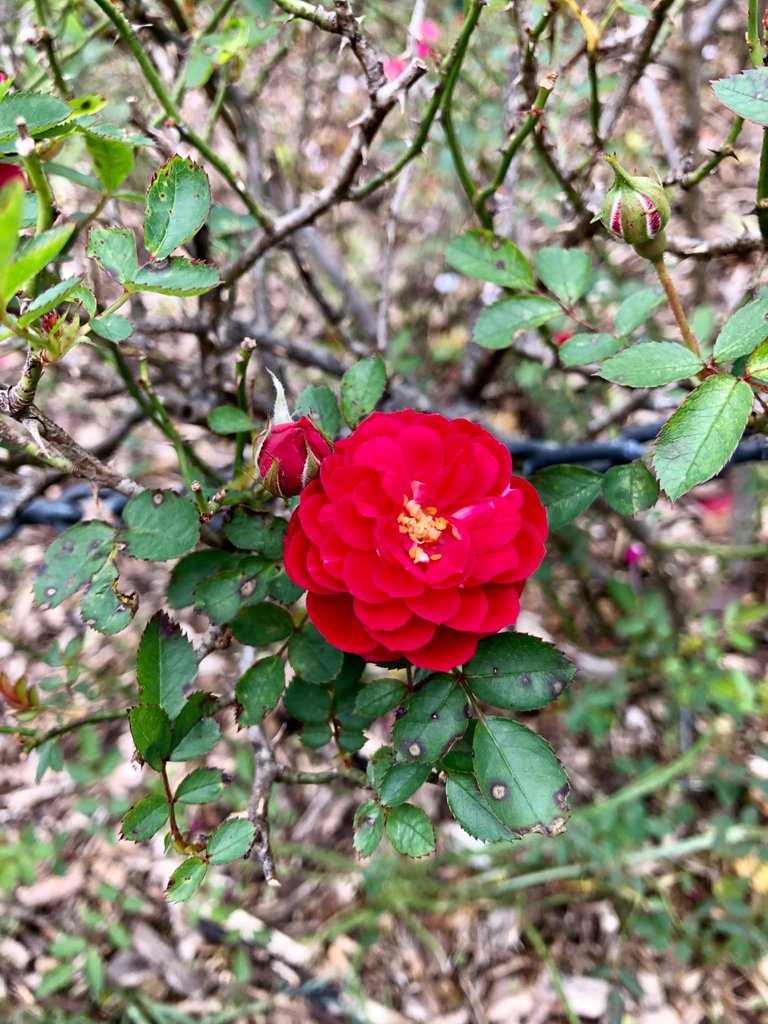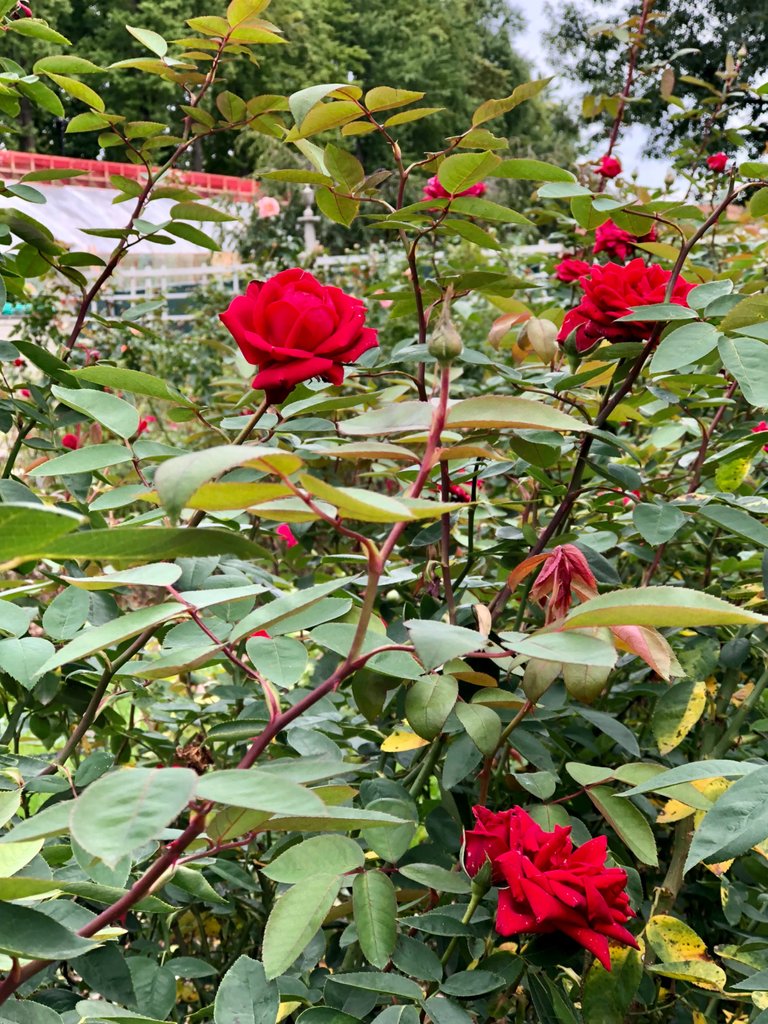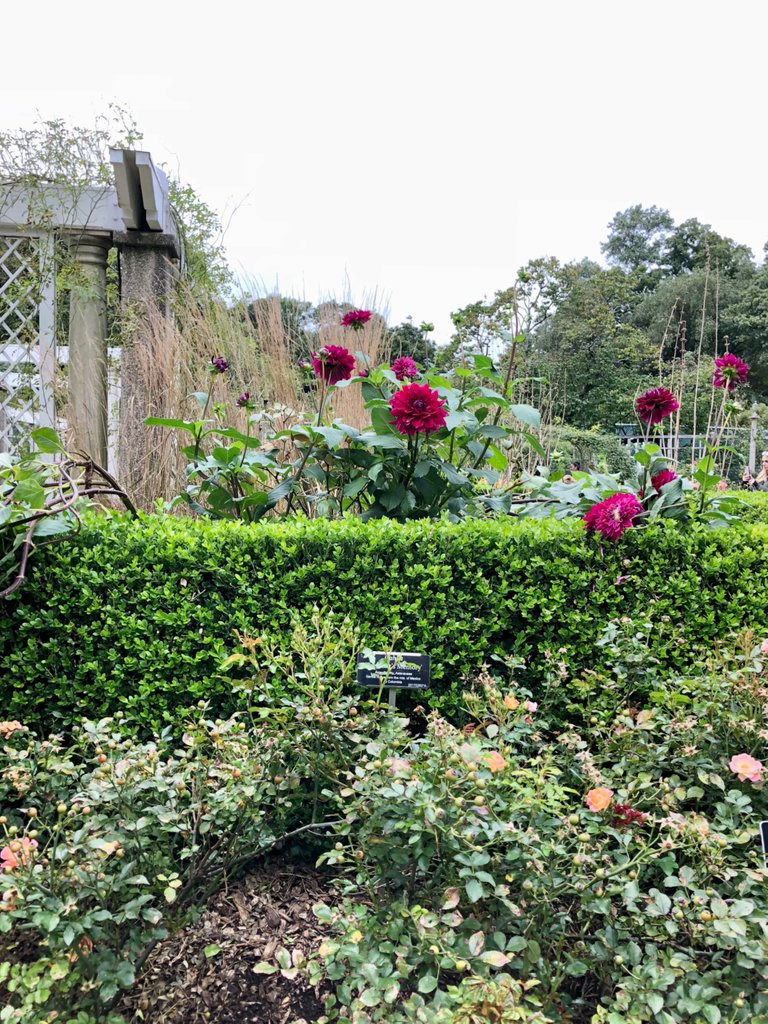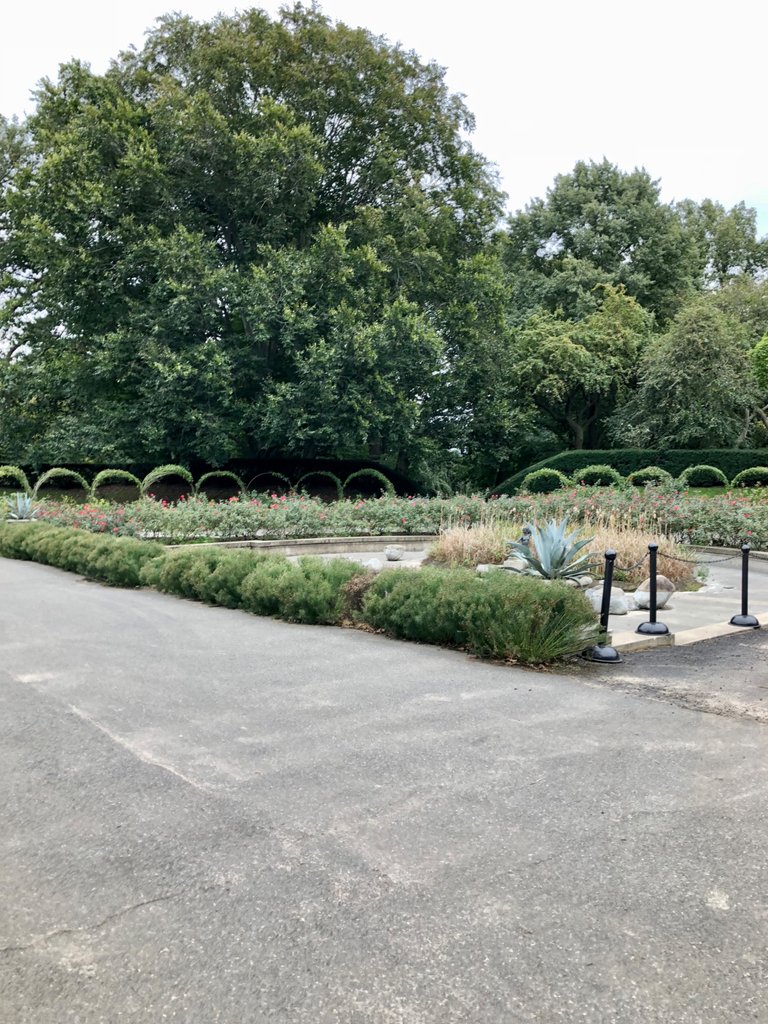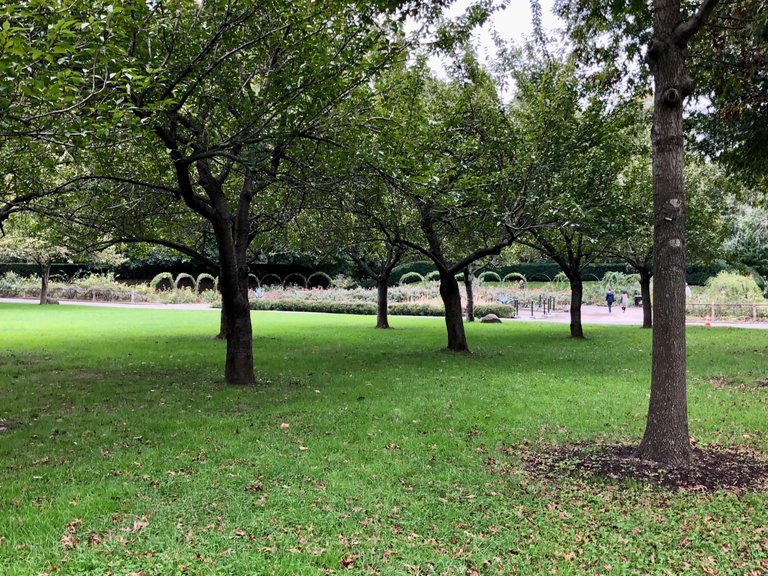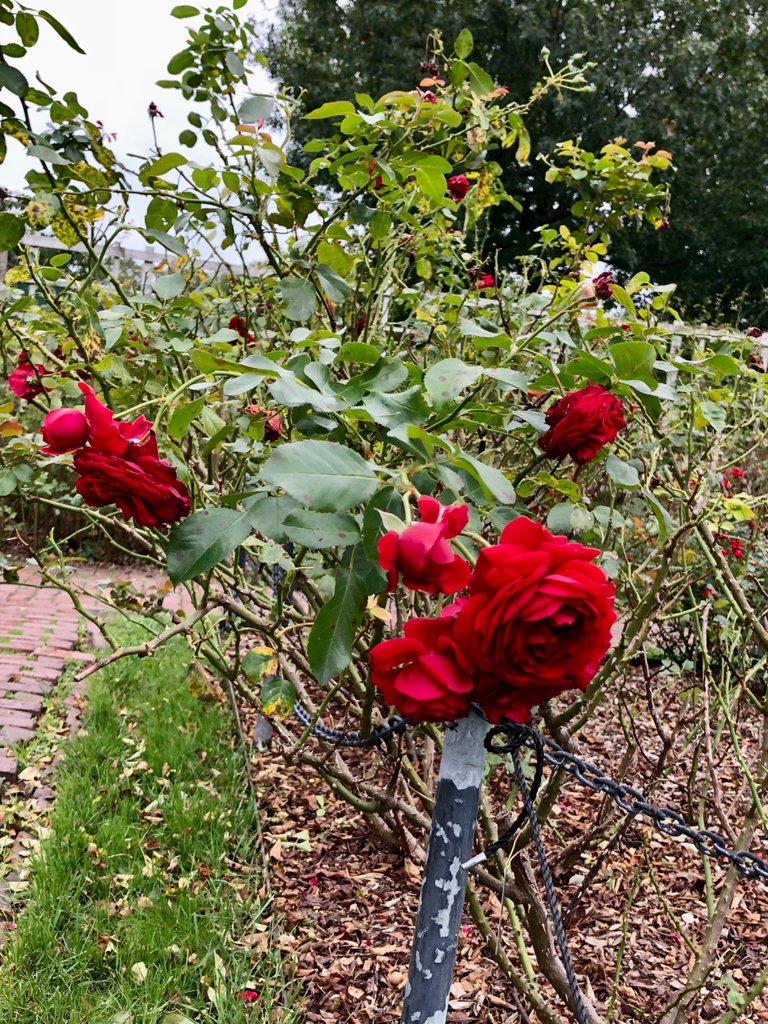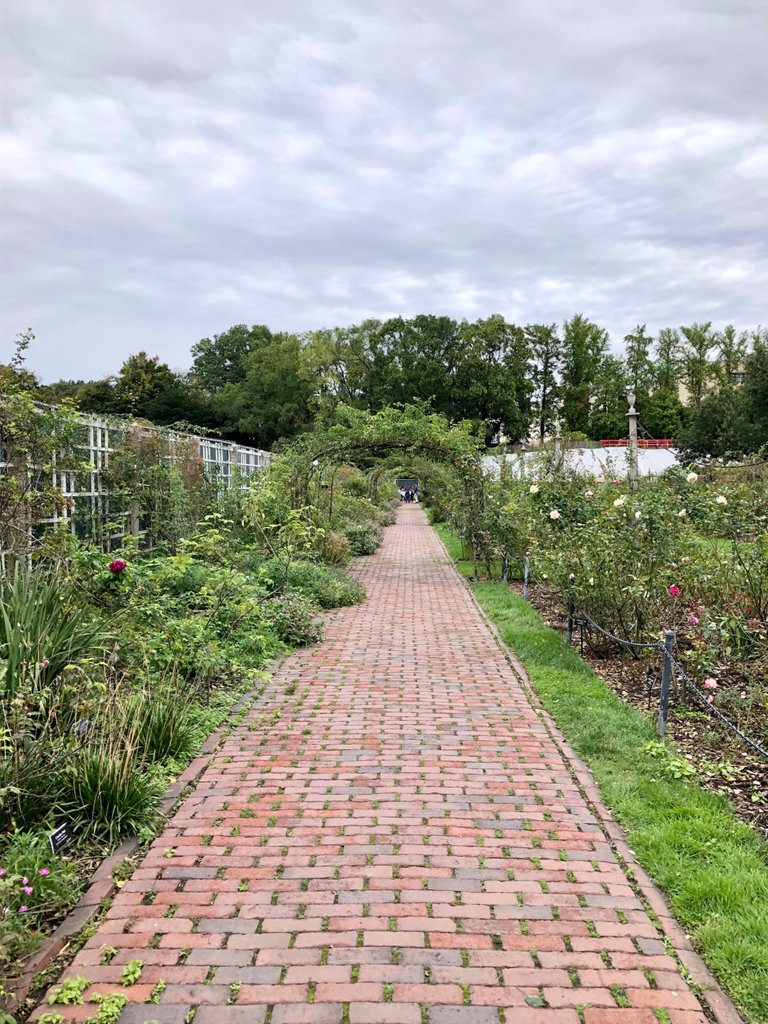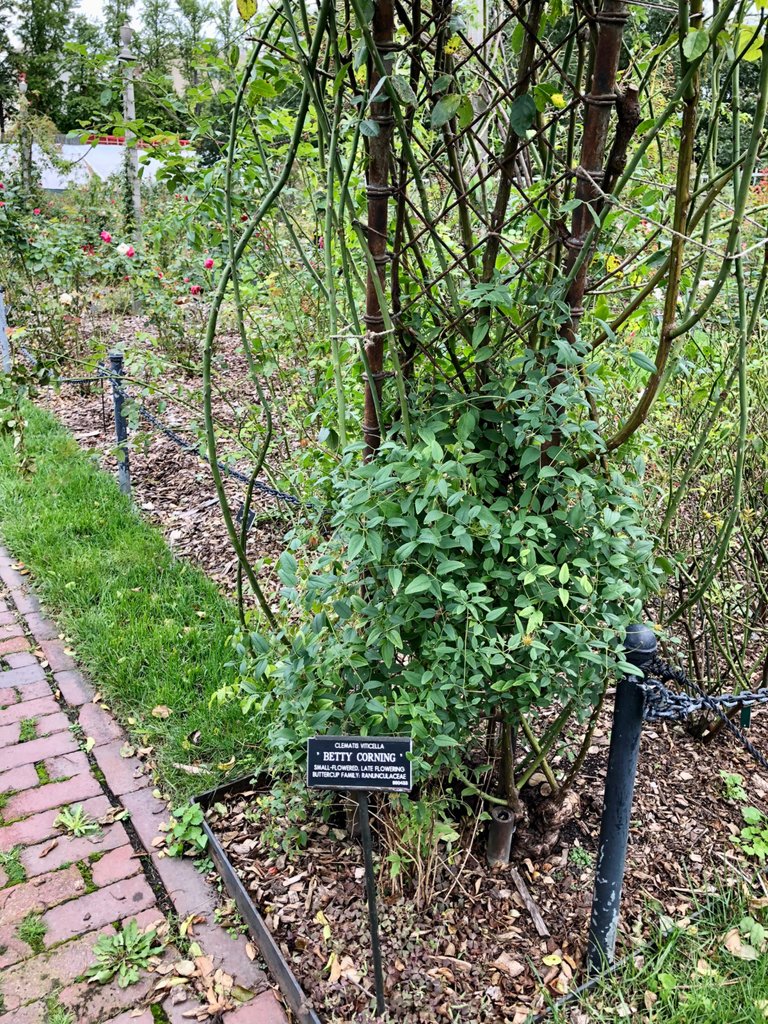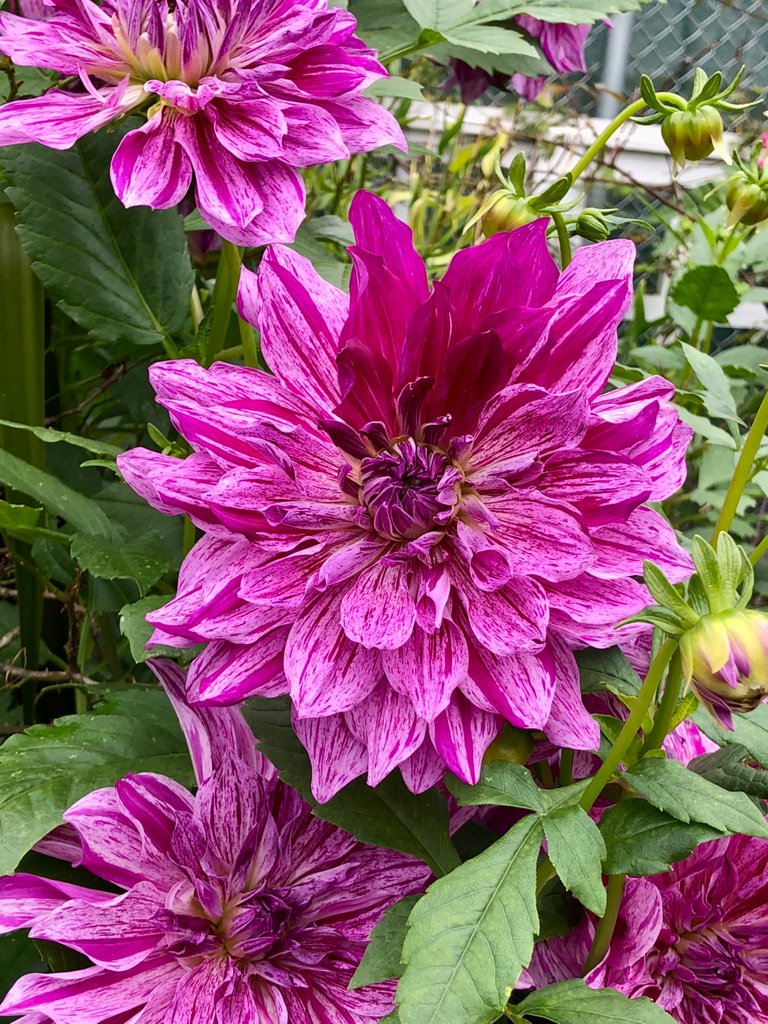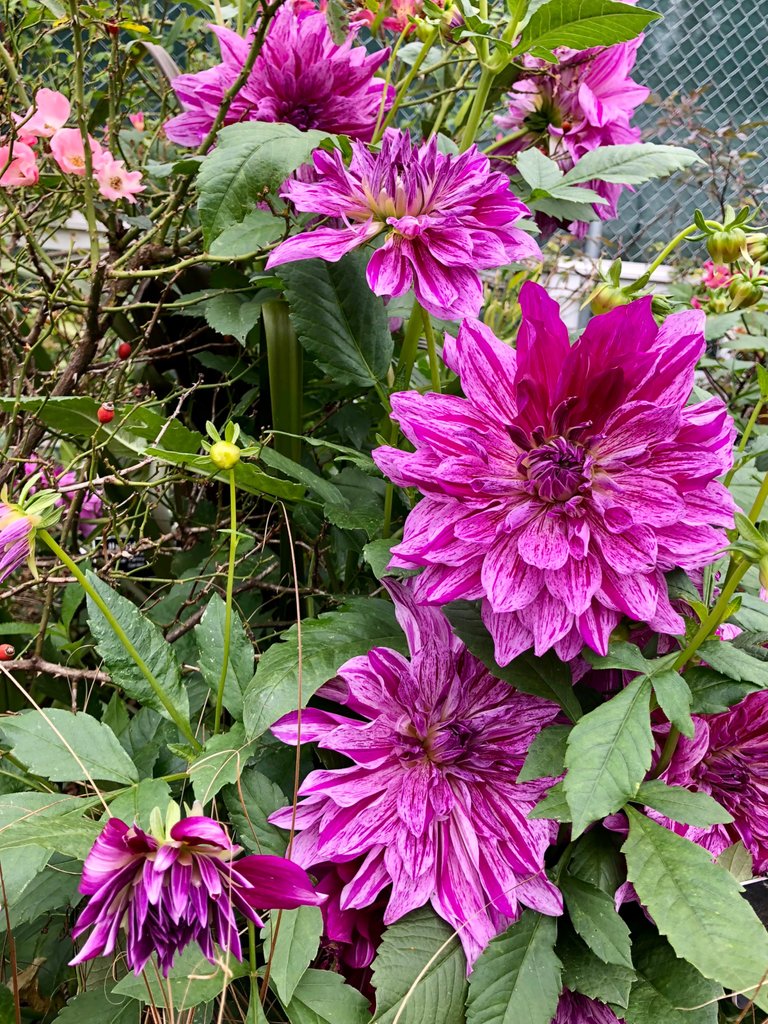 ---
Although I was hypnotized by that perfection and although I was there for several minutes taking pictures and breathing its aroma, I had to continue, in order to enjoy more of the Brooklyn Botanic Garden. And so it was that walking, I reached an area where there was a nice path full of different species of trees, plants and shrubs, and where tender birds sang and perched in the trees.
I took out my phone to take pictures, and saw that many people were doing the same. But I also noticed that some were simply contemplating, so I decided to imitate them, since the architecture of the garden invited to get lost a little bit around, as somehow the physiognomy of the place managed to take you out of Brooklyn and transport you to a kind of very natural forest.
Aunque estaba hipnotizada por aquella perfección y aunque estuve allí varios minutos tomando fotos y respirando su aroma, tuve que seguir, para poder disfrutar más del Jardín Botánico de Brooklyn. Y así fue como caminando, llegué a un área en donde había un simpático sendero repleto de diferentes especies de árboles, plantas y arbustos, y donde tiernos pájaros cantaban y se posaban en los árboles.
Saqué el teléfono para tomar fotos, y vi que muchas personas hacían lo mismo. Pero también noté que algunos simplemente estaban contemplando, así que decidí imitarlos, ya que la arquitectura del jardín invitaba a perderse un poco por ahí, ya que de alguna manera la fisonomía del lugar lograba sacarte de Brooklyn y transportarte a una especie de bosque muy natural.
---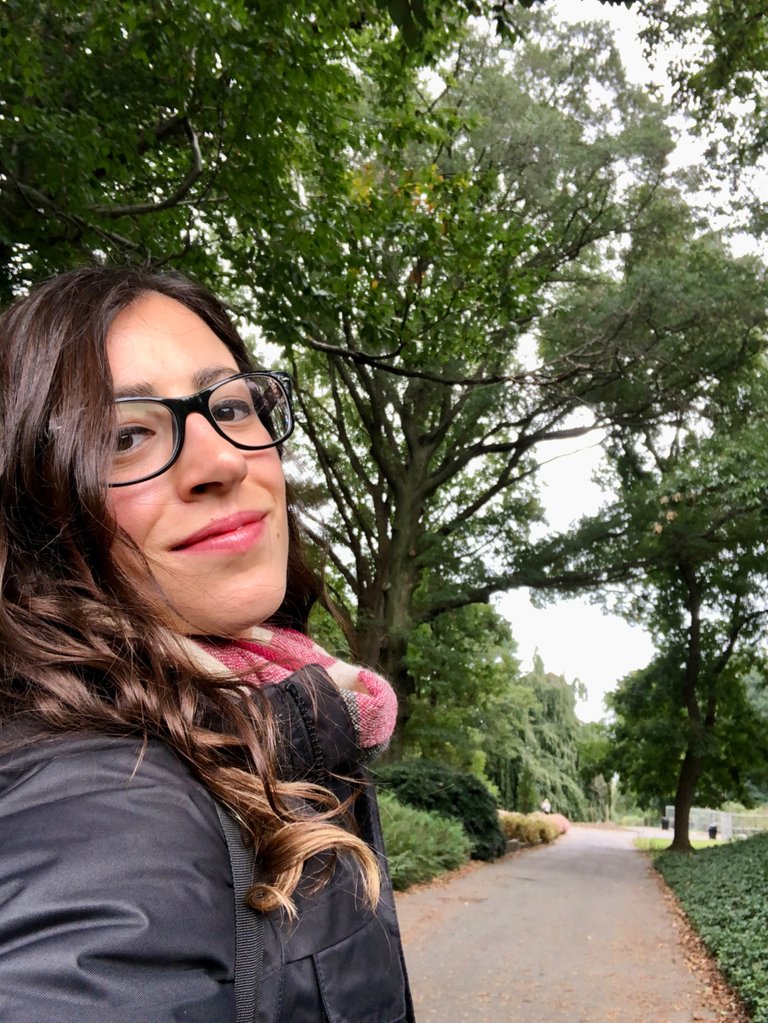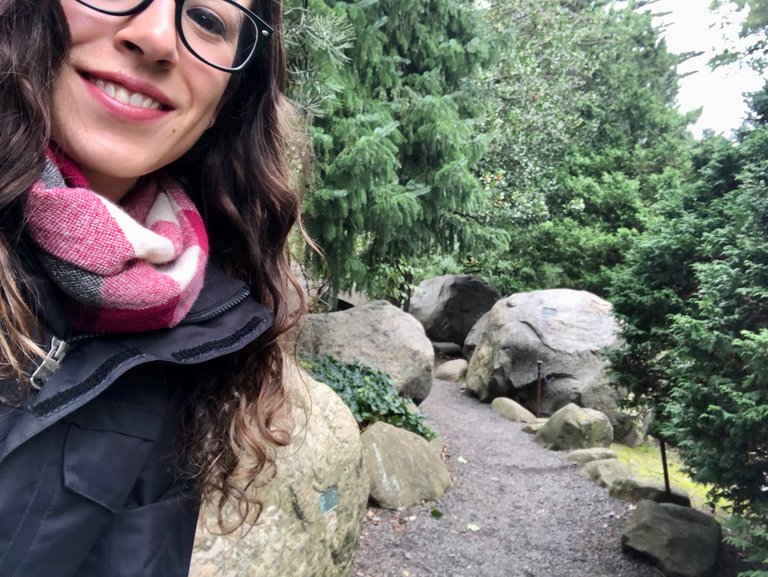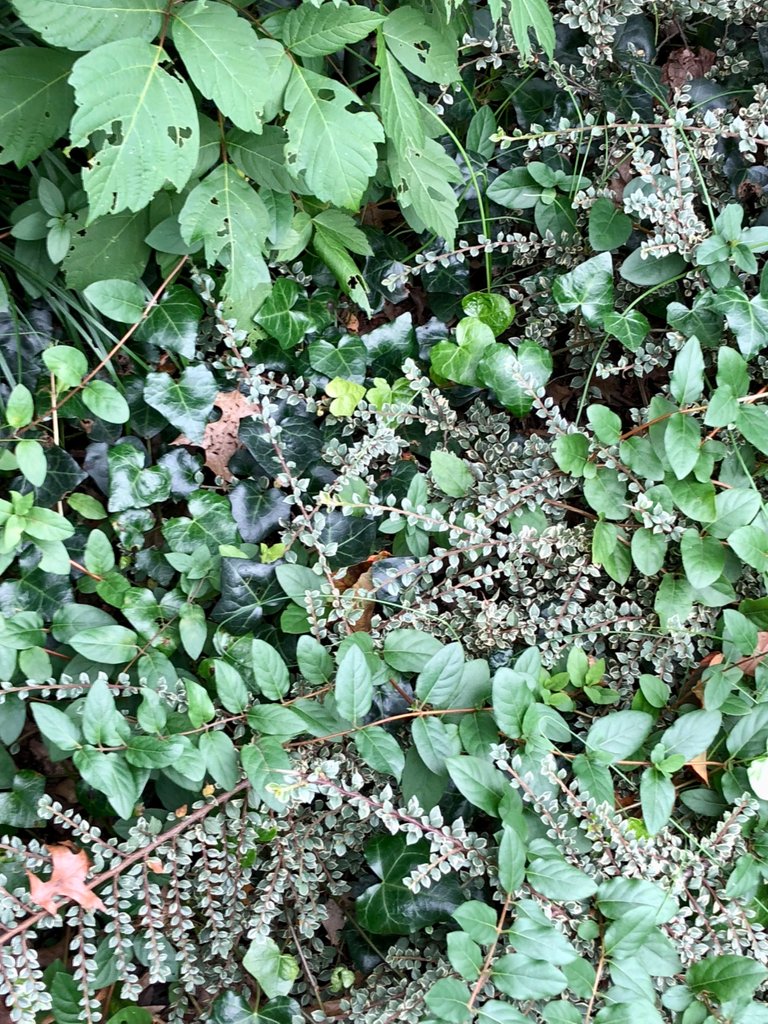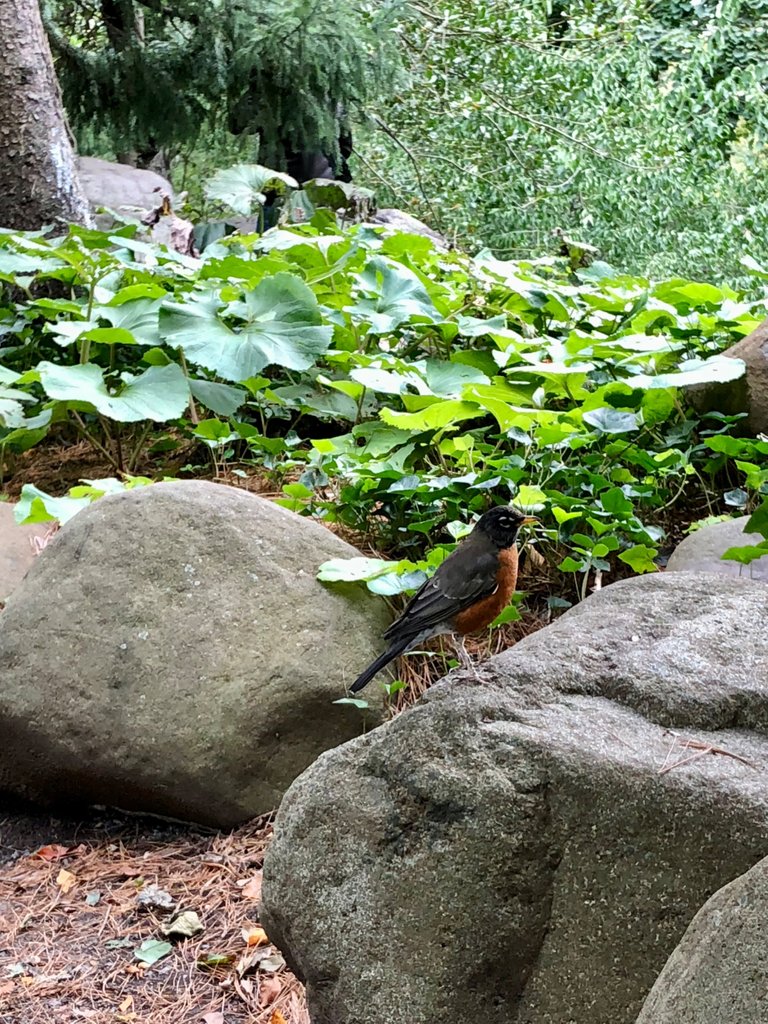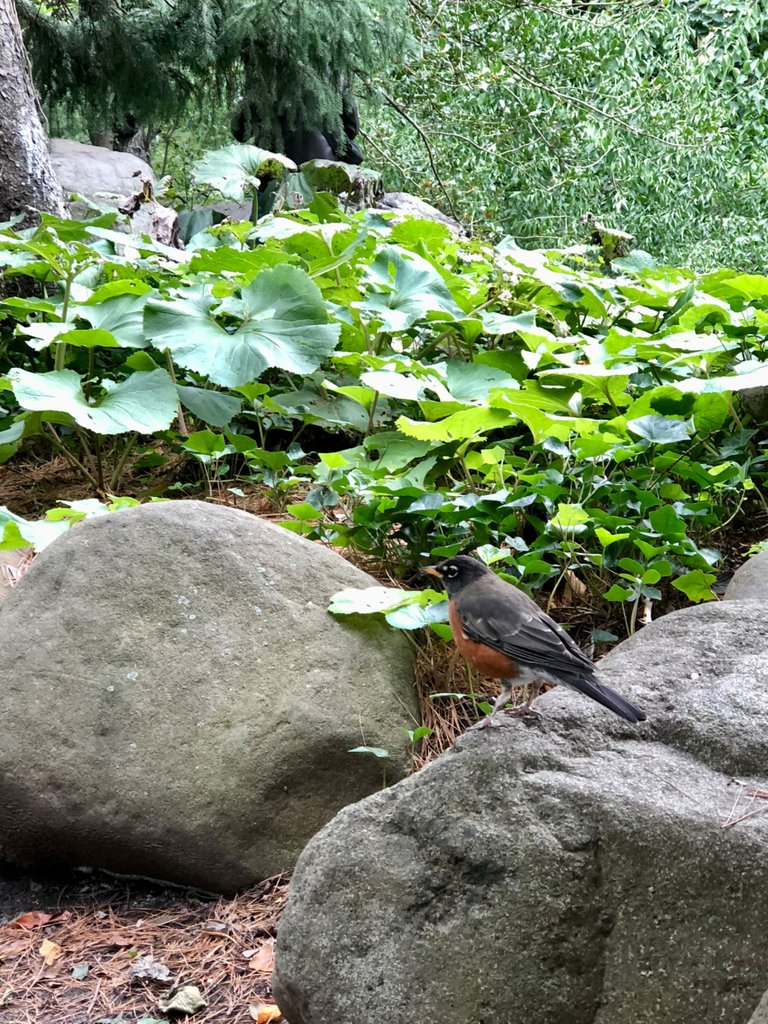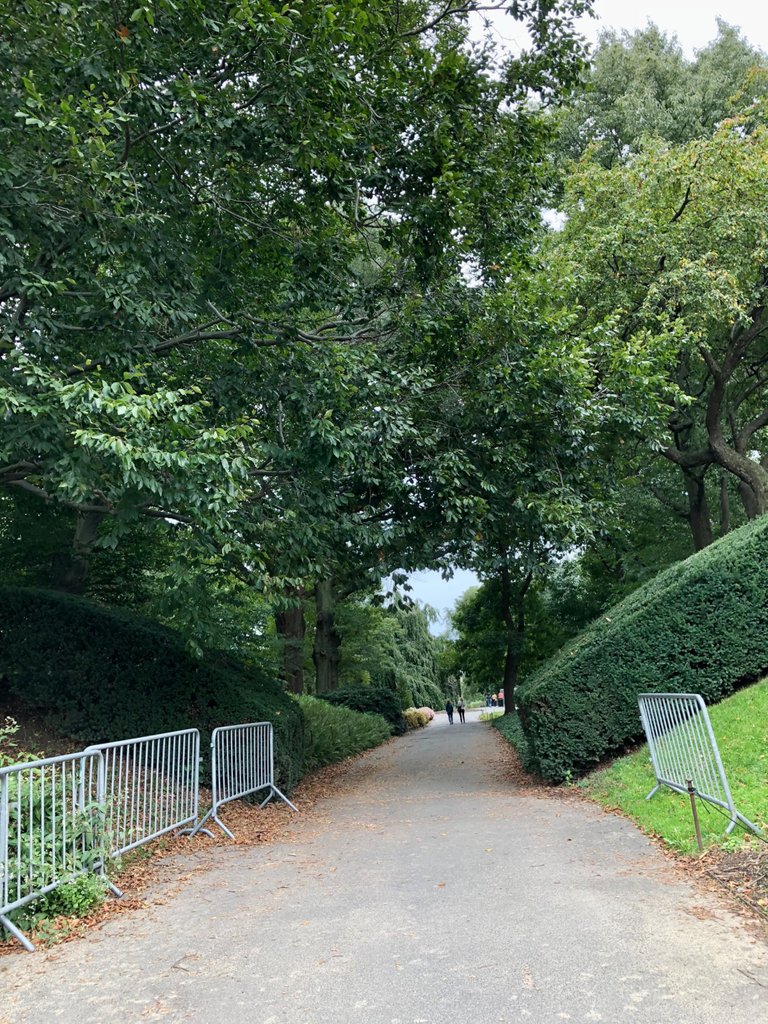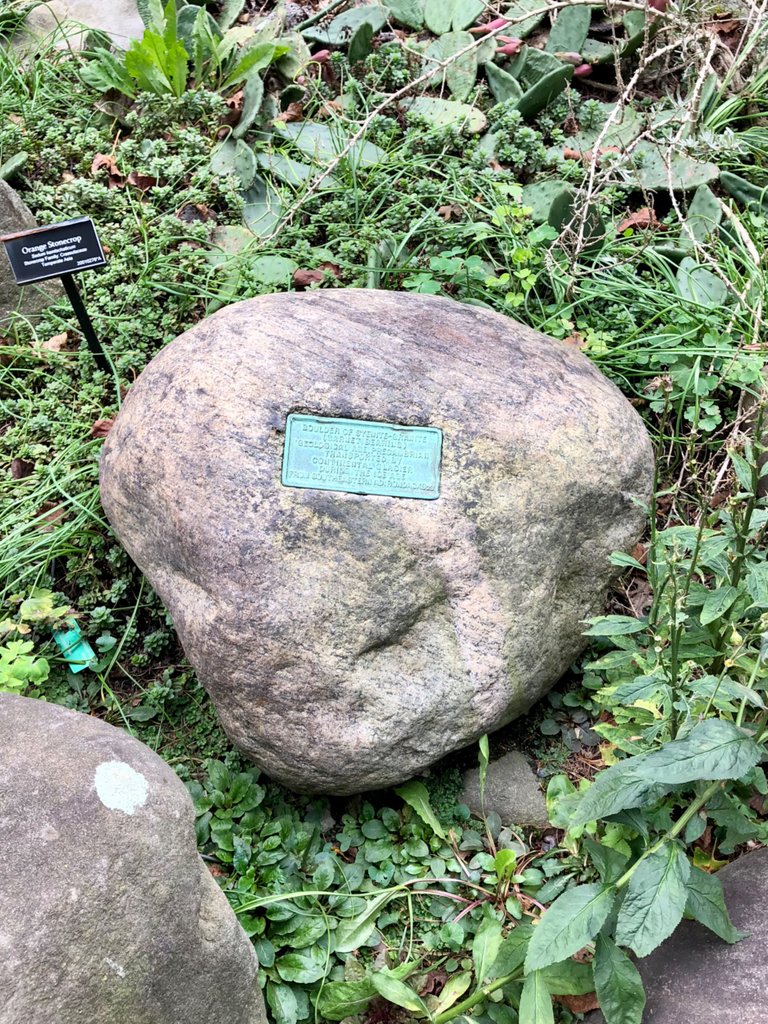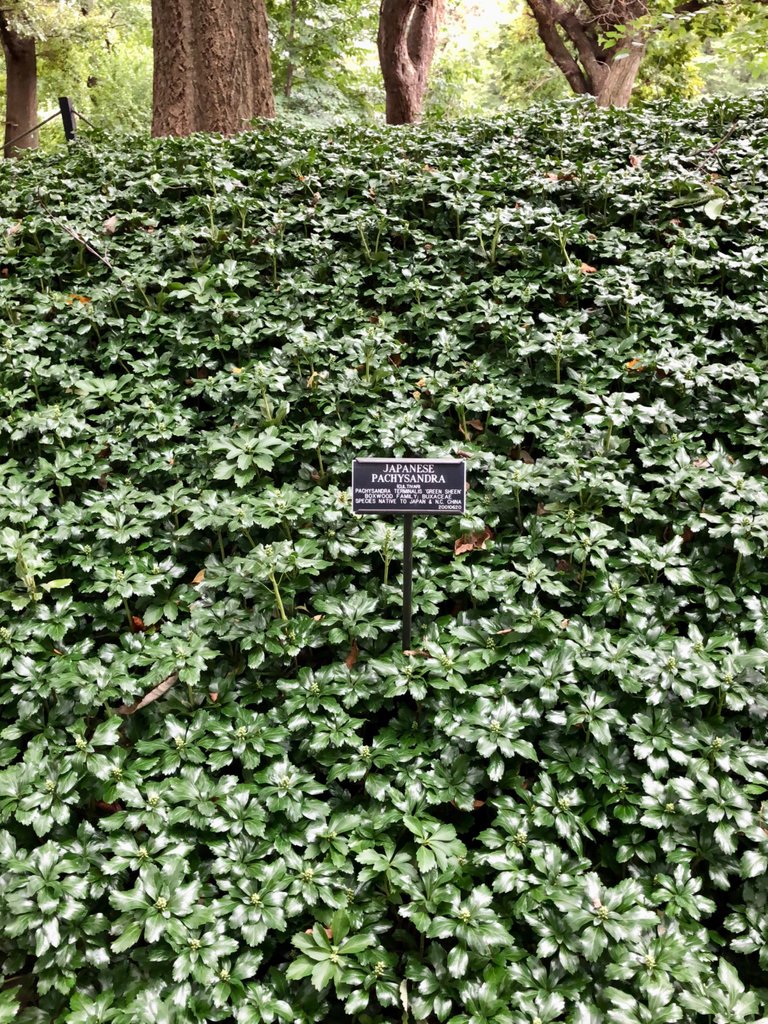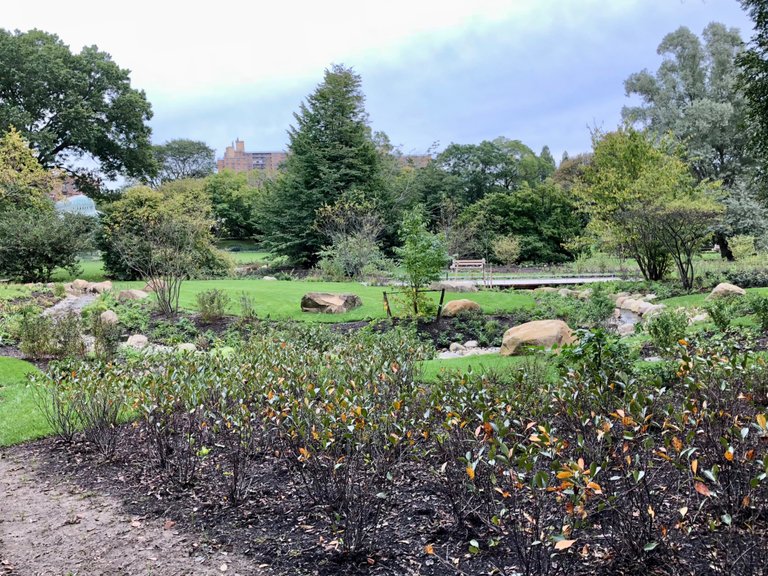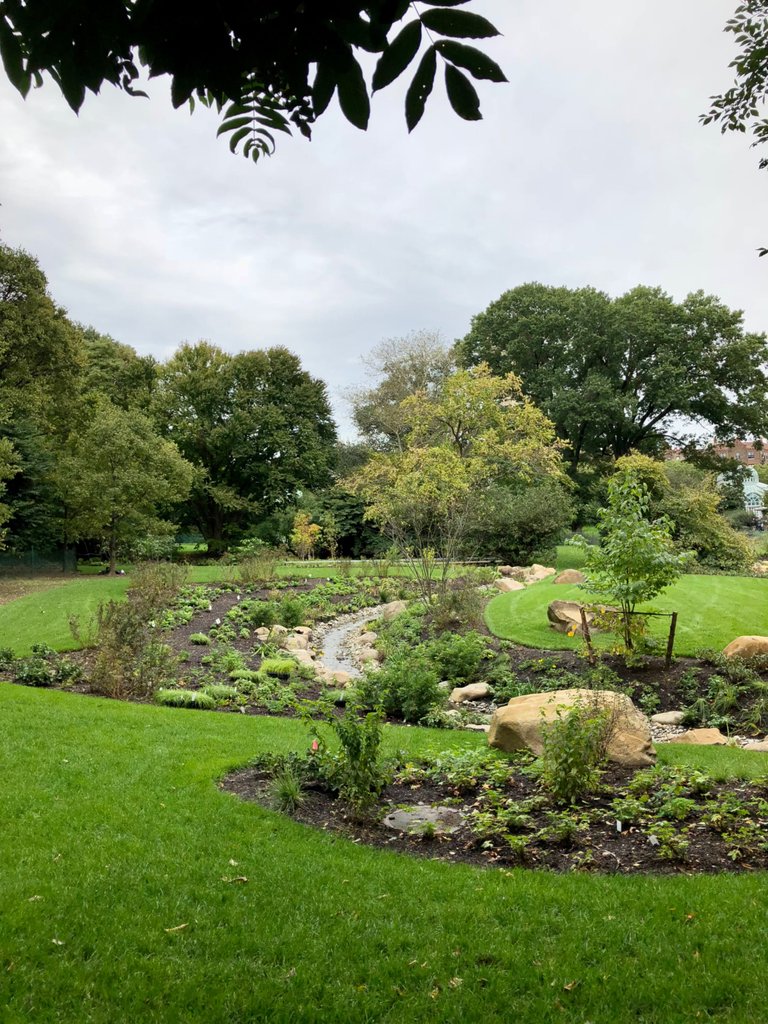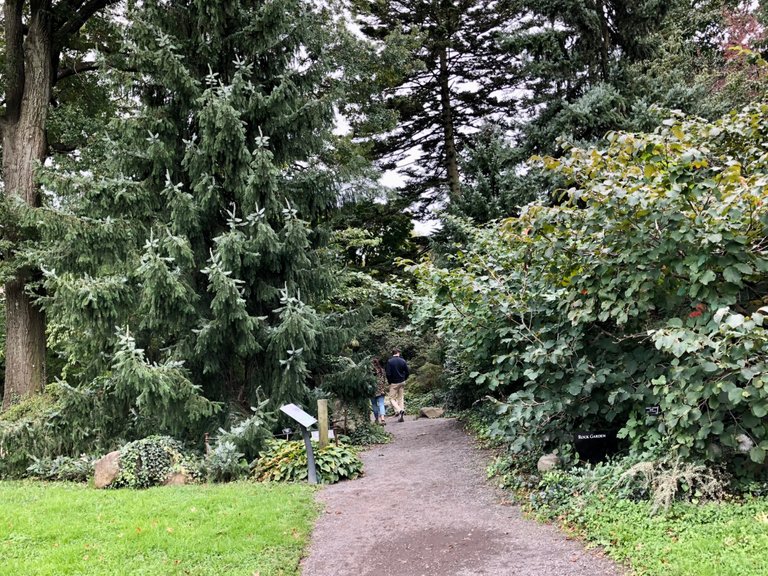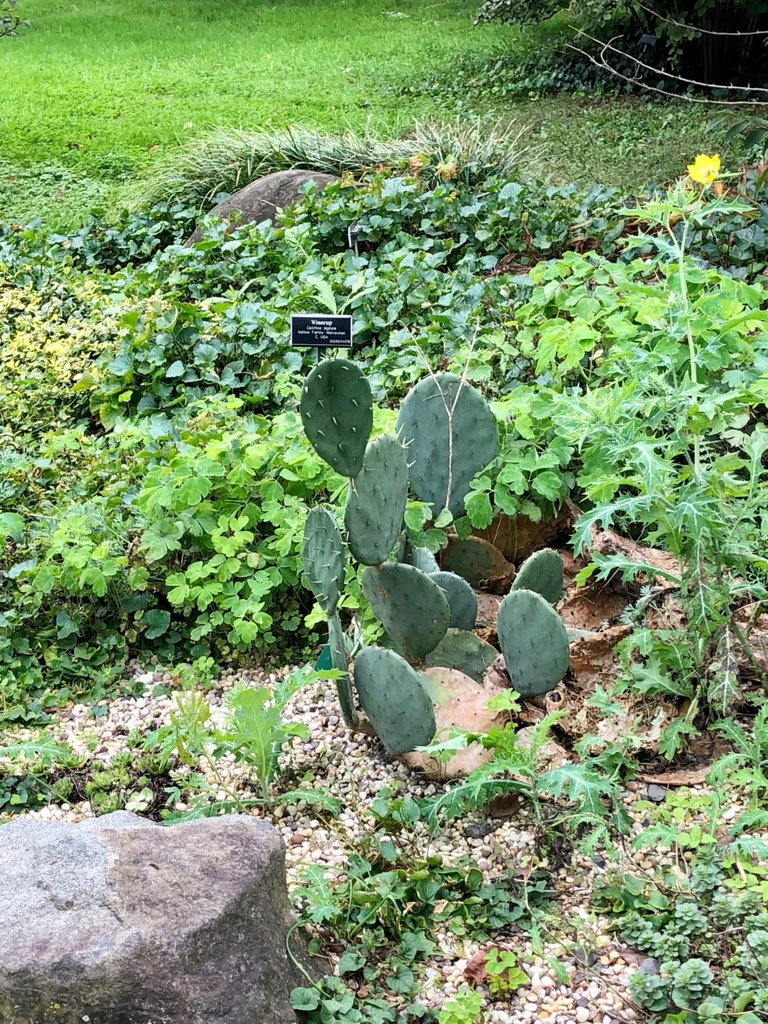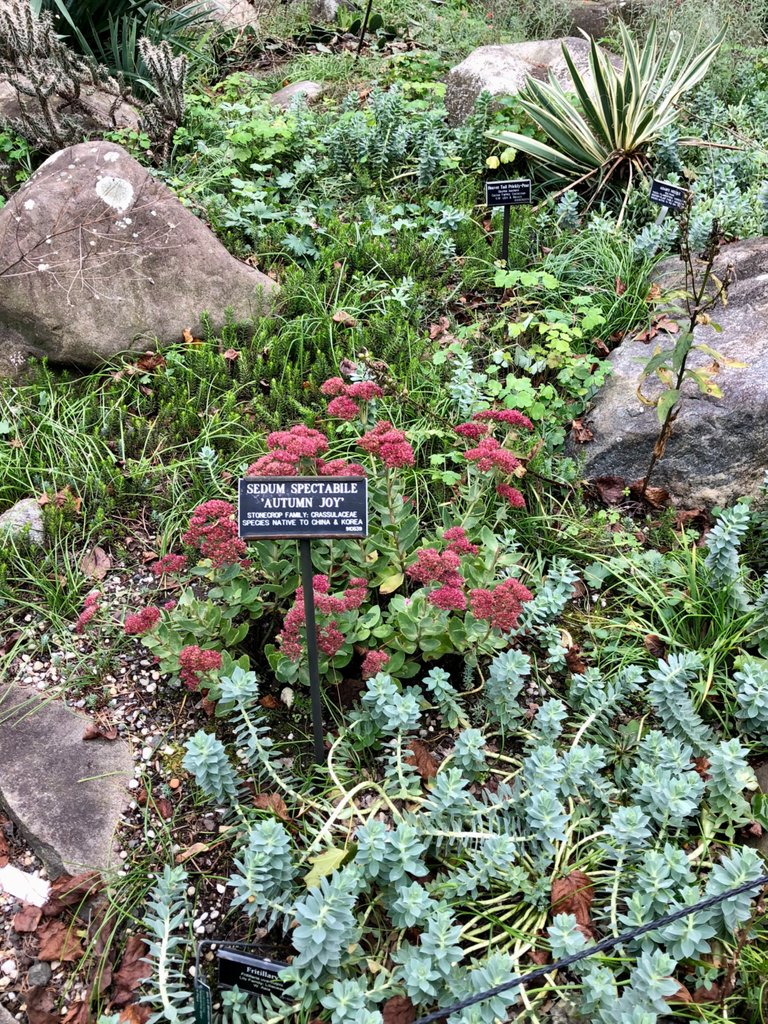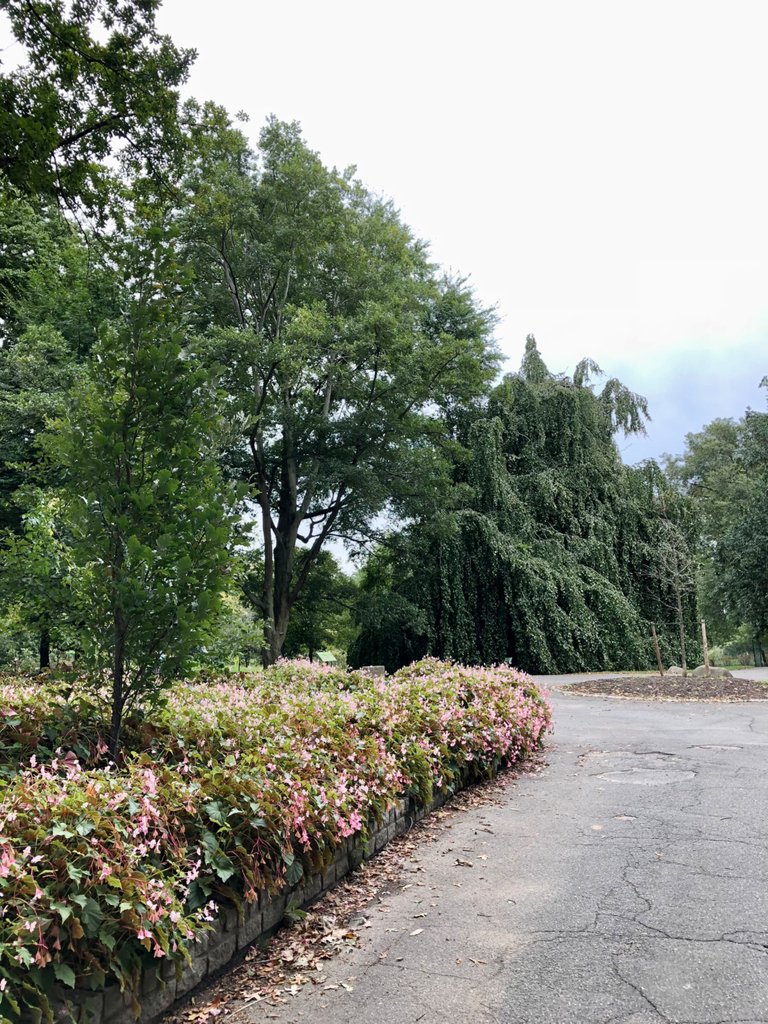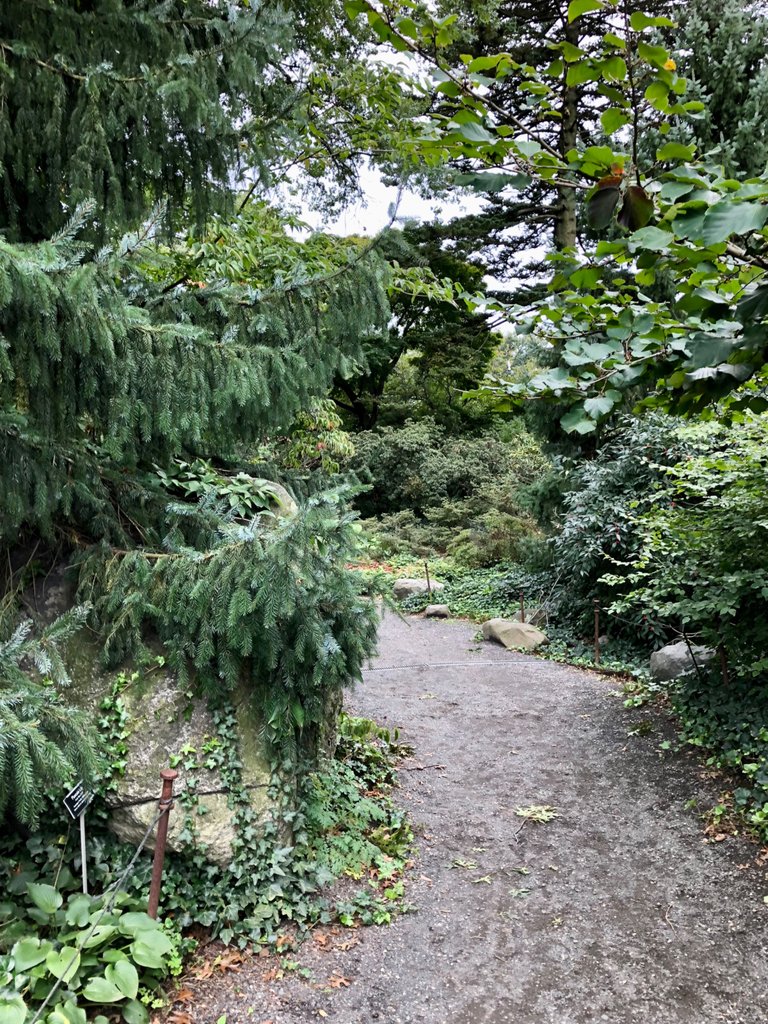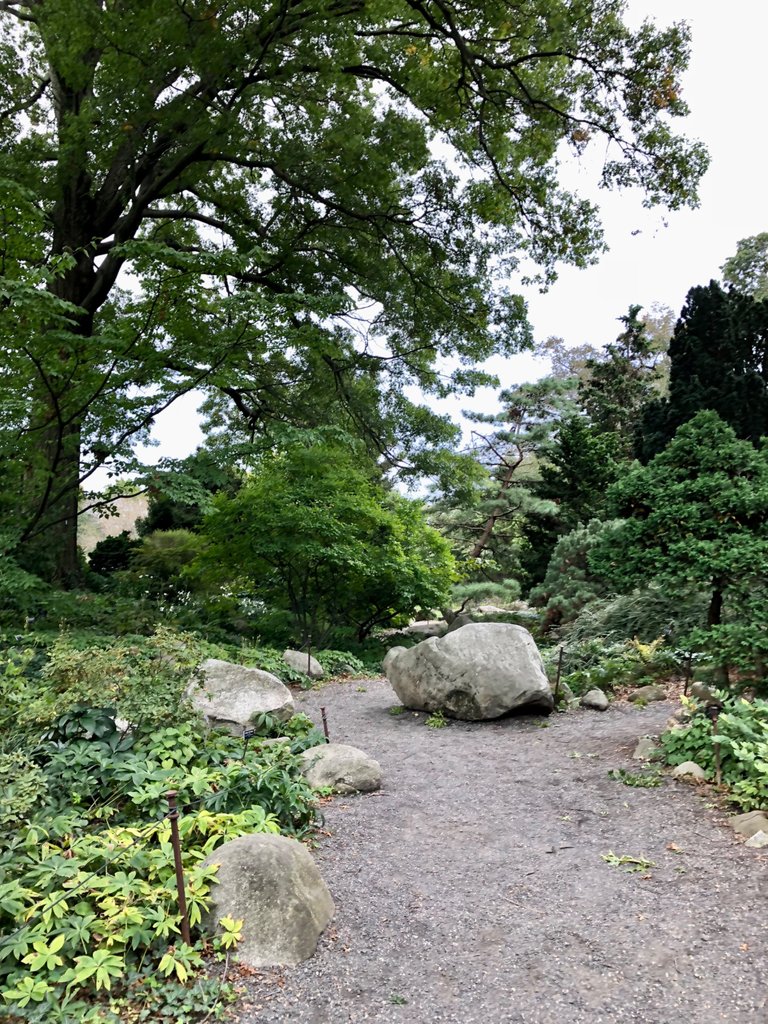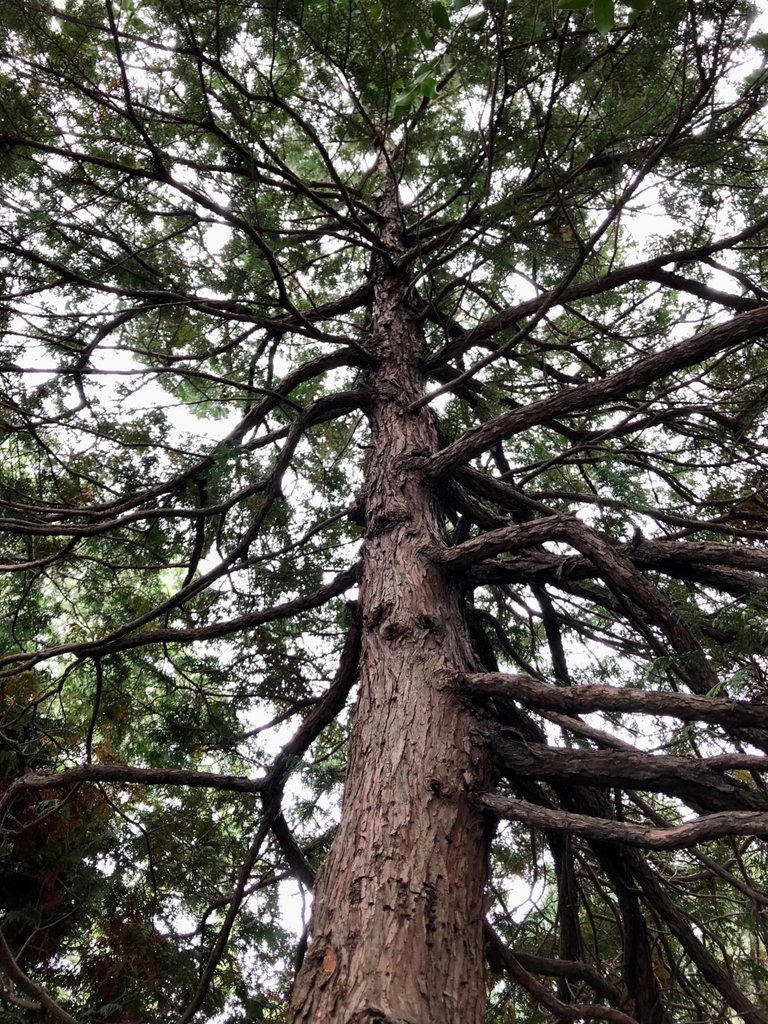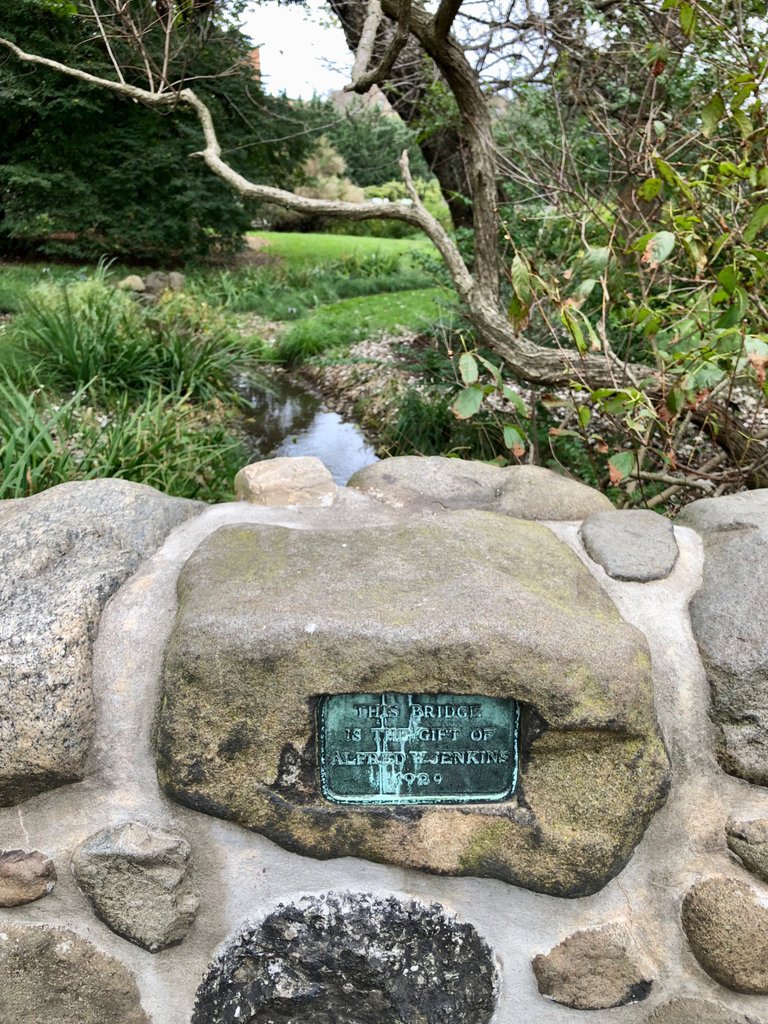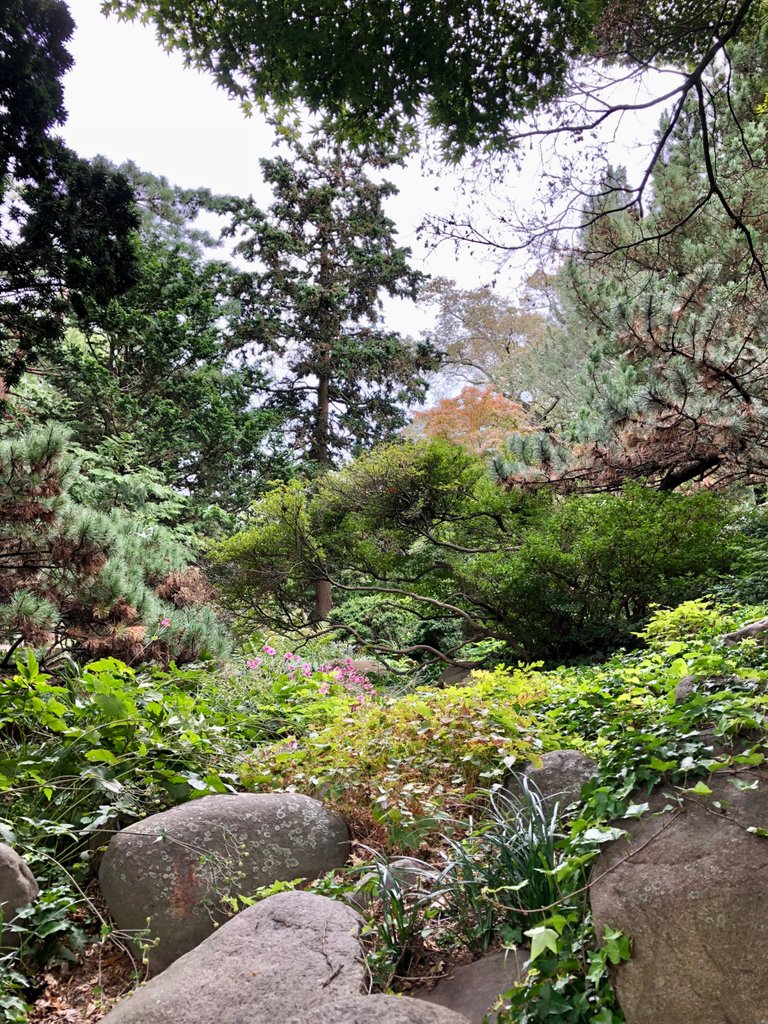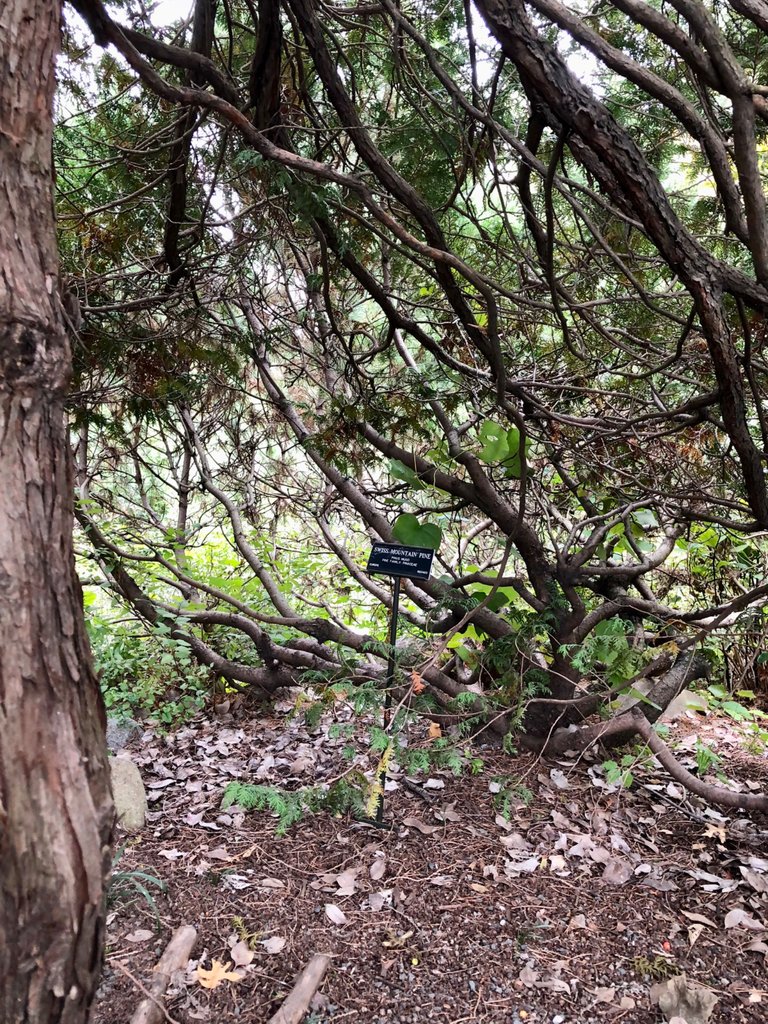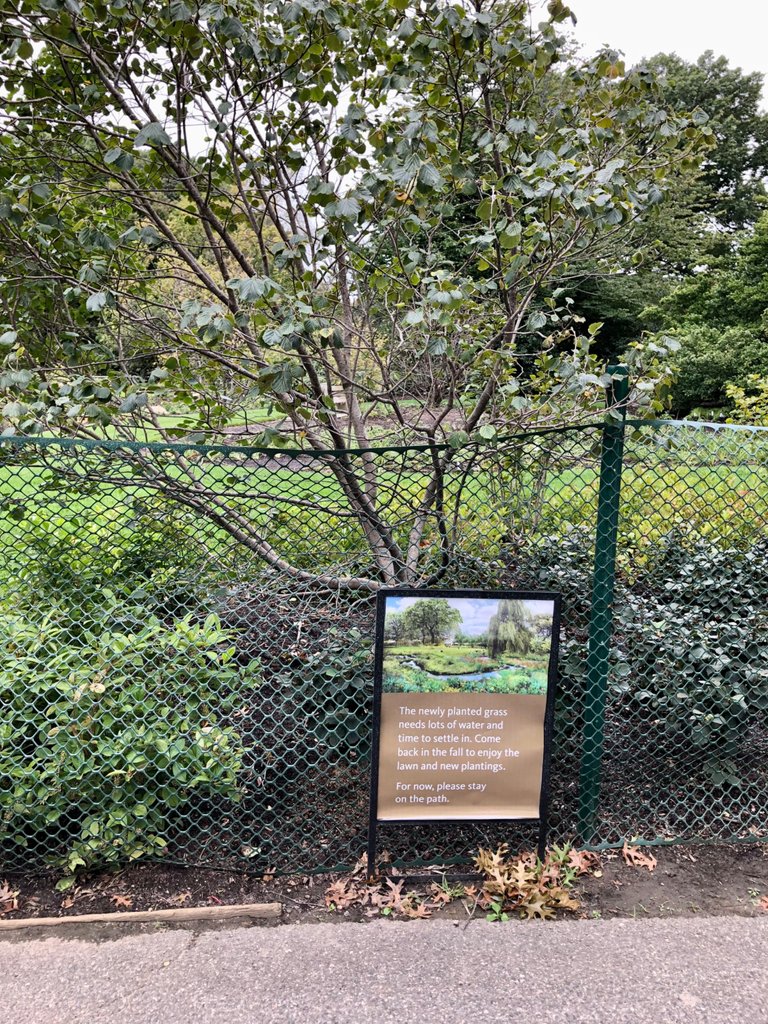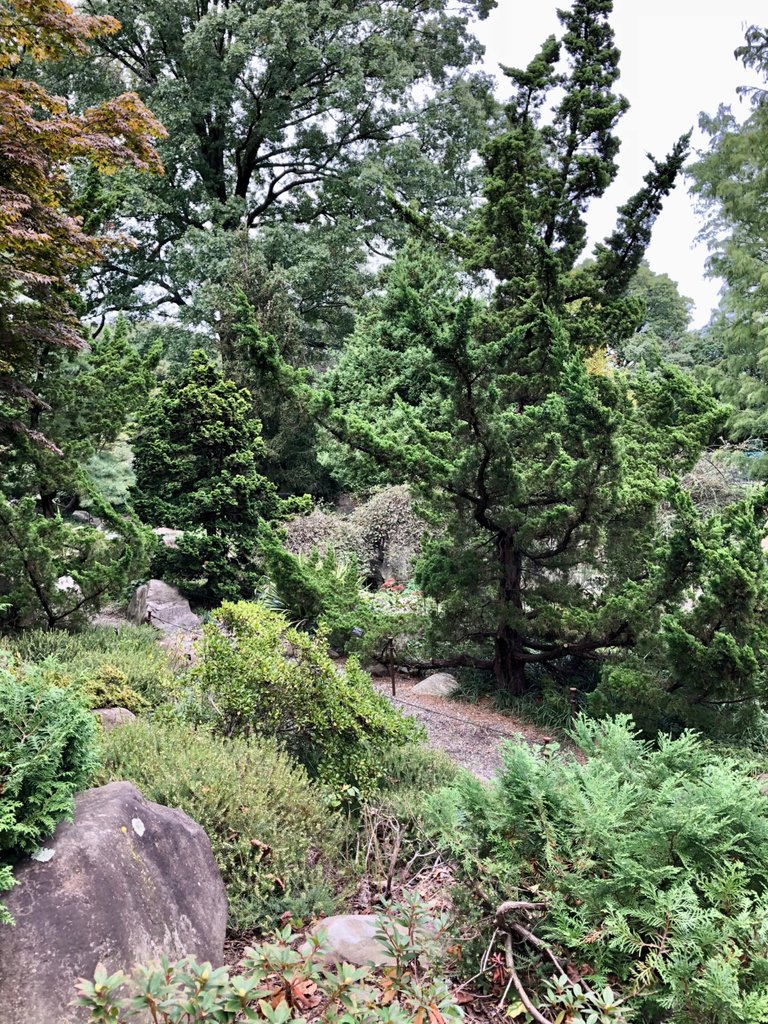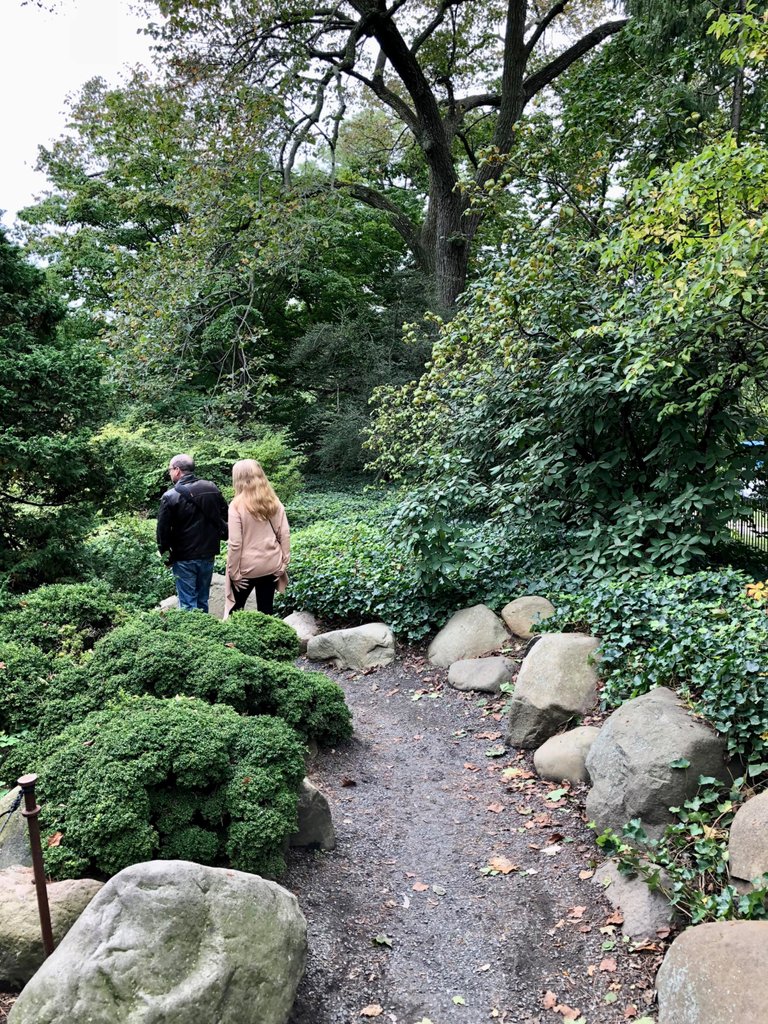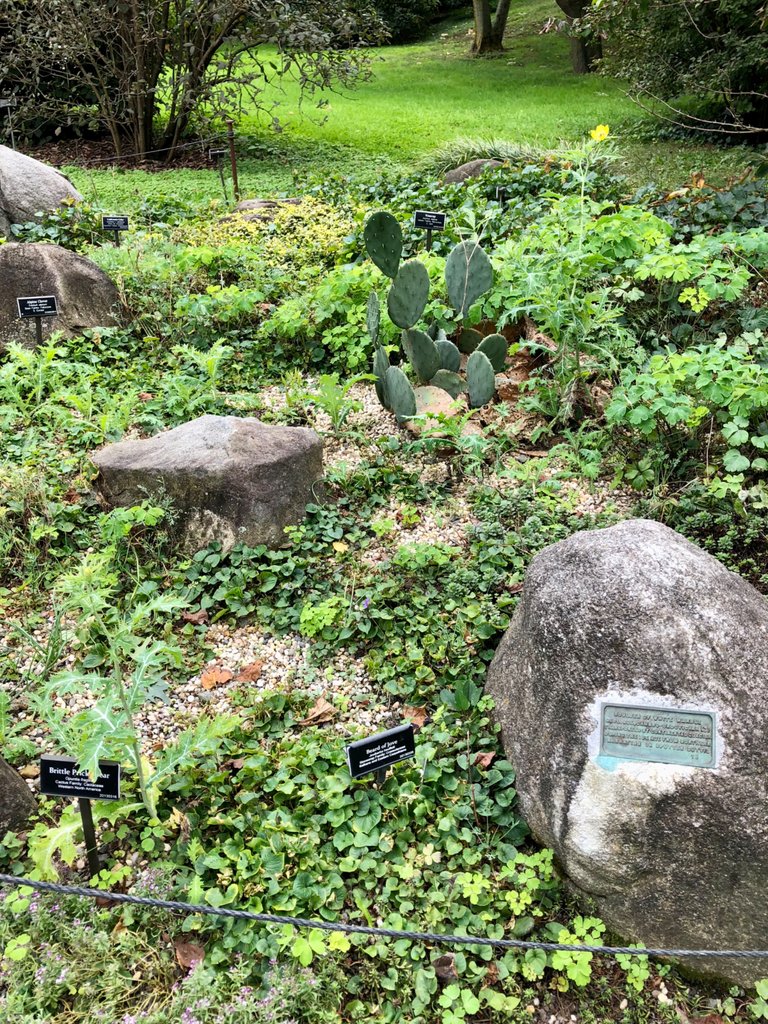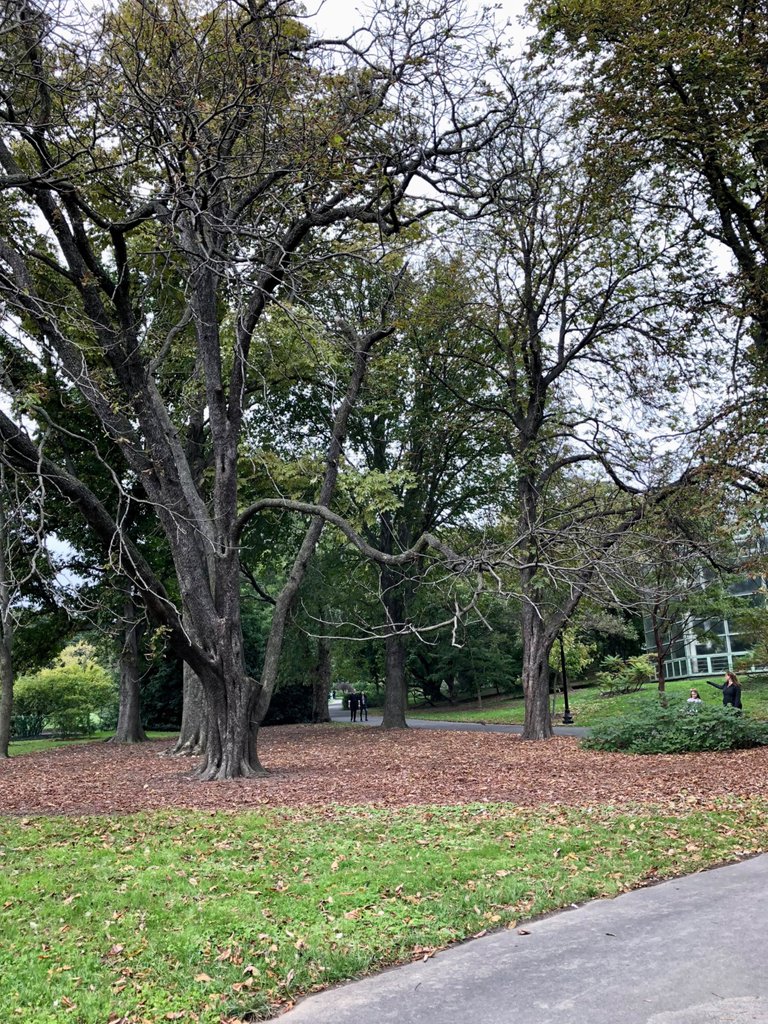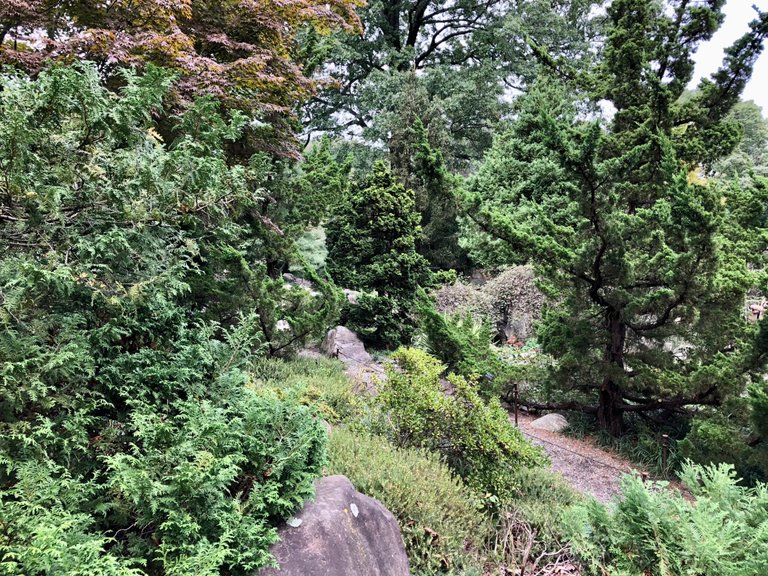 ---
As I continued walking, as it could not be otherwise, the Brooklyn Botanic Garden surprised me once again: I found myself in front of a door that said "Tropical". Yes ladies and gentlemen, I was in front of an authentic habitat created for tropical plants.
I entered and it was impressive! The temperature had risen, from the cold of October, it had become a Caribbean spring or summer. The humidity was also higher, and the plants were happily developing in that circuit created for them.
Even a lagoon harbored aquatic species and moss grew on the surface of some trees. It was like a dream!
Al seguir caminando, como no podía ser de otra manera, el Jardín Botánico de Brooklyn me sorprendió una vez más: me encontré frente a una puerta que decía "Tropical". Sí señoras y señores, estaba frente a un auténtico hábitat creado para plantas tropicales.
Ingresé y fue impresionante! La temperatura había aumentado, del frío de octubre, había pasado a una primavera o verano caribeño. La humedad también era mayor, y las plantas se desarrollaban felizmente en aquel circuito creado para ellas.
Incluso una laguna albergaba especies acuáticas y el musgo crecía en la superficie de algunos árboles. Era como un sueño!

---
Tropical
---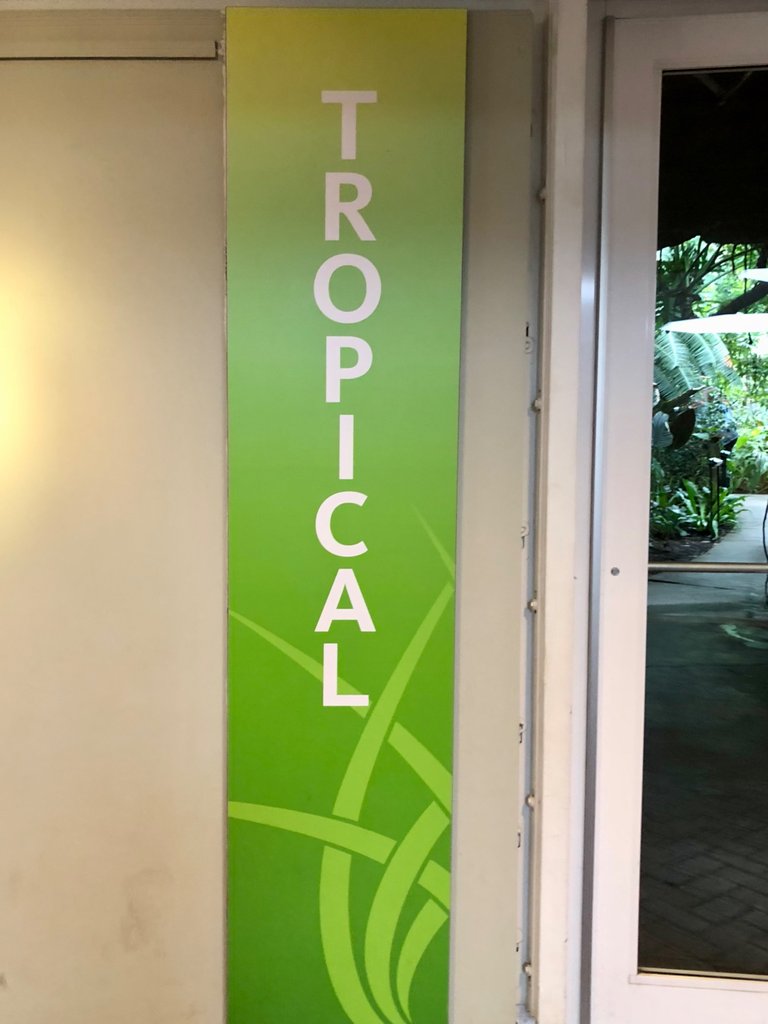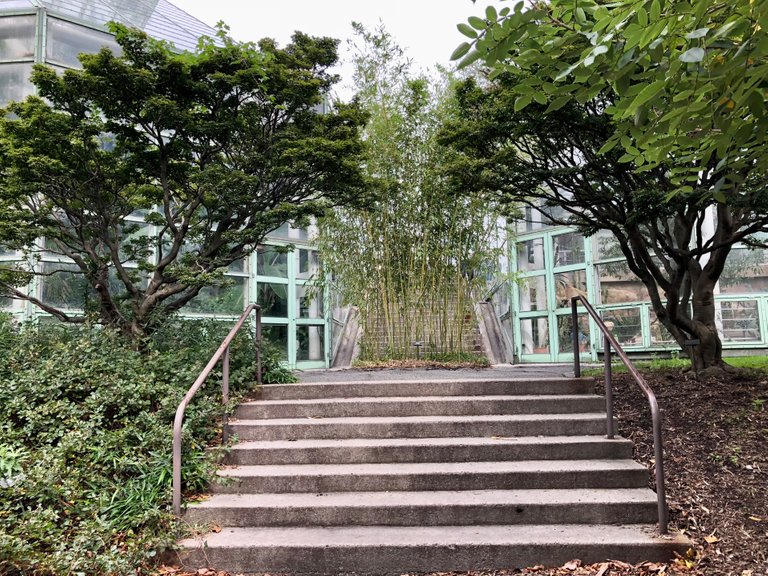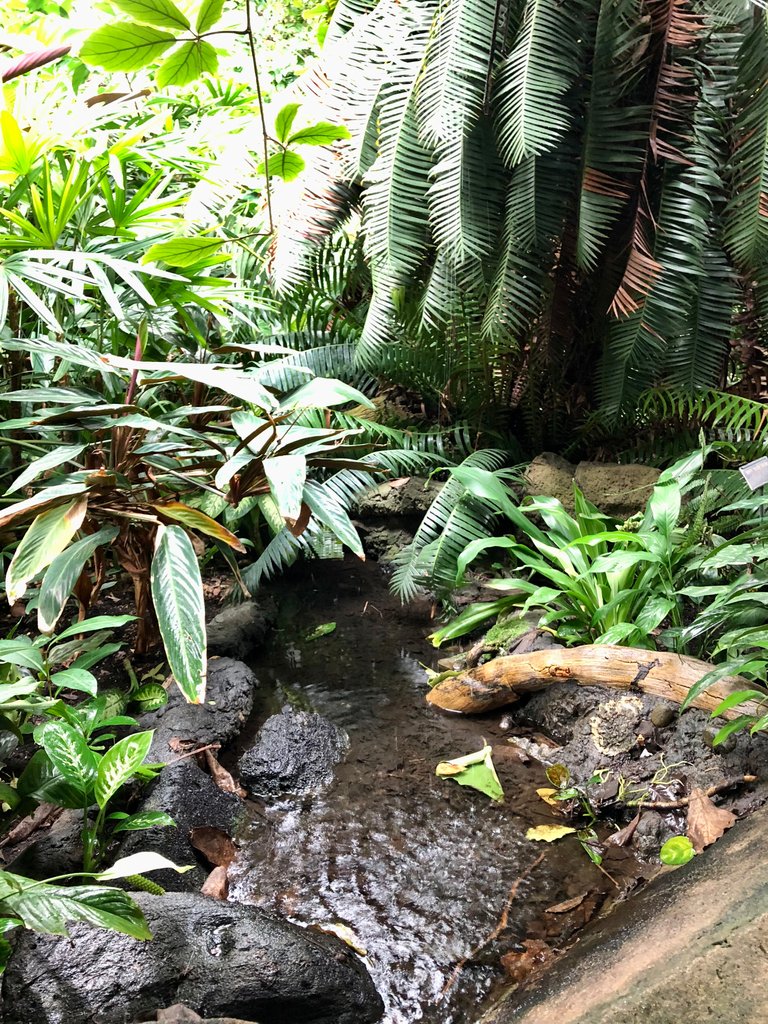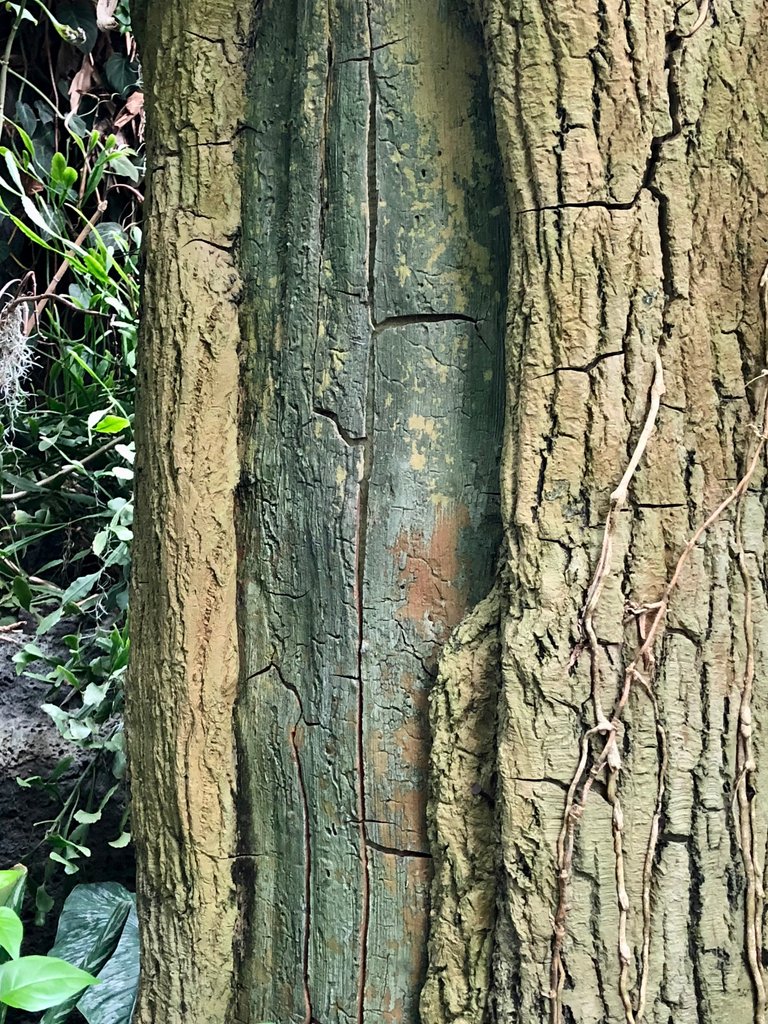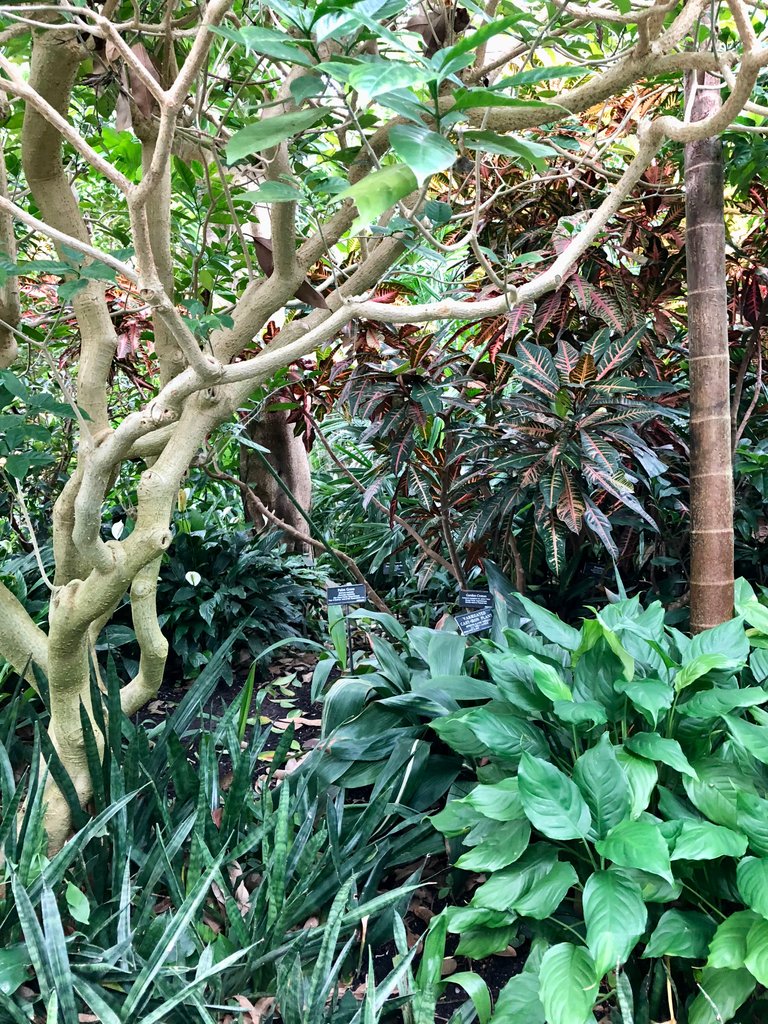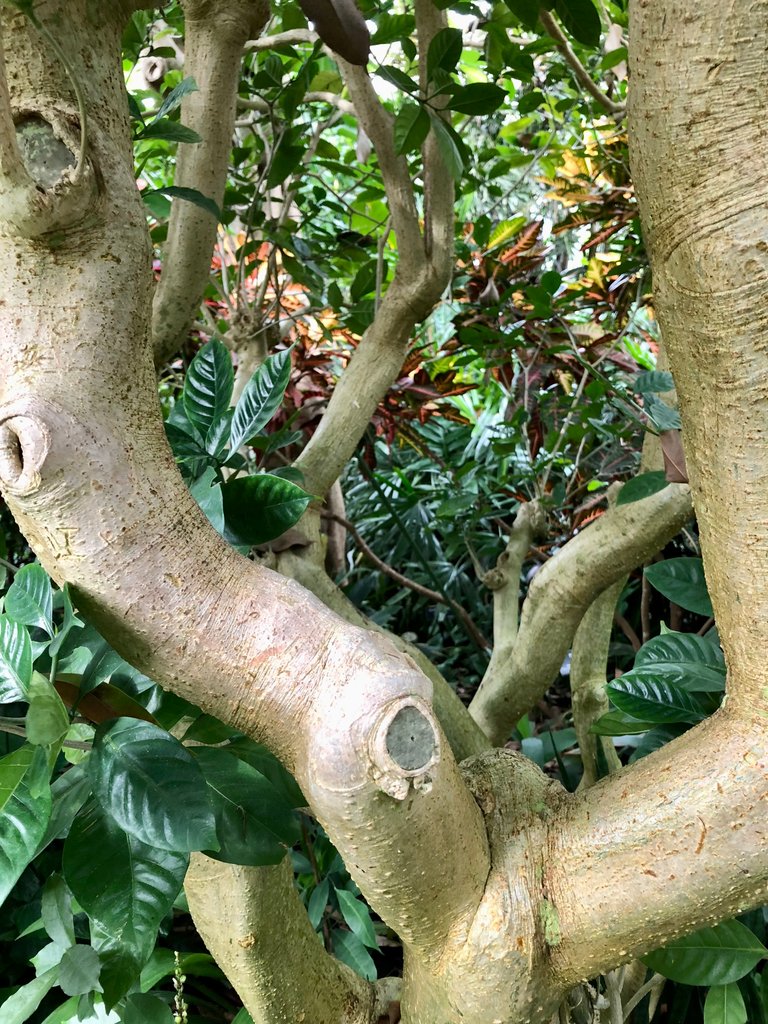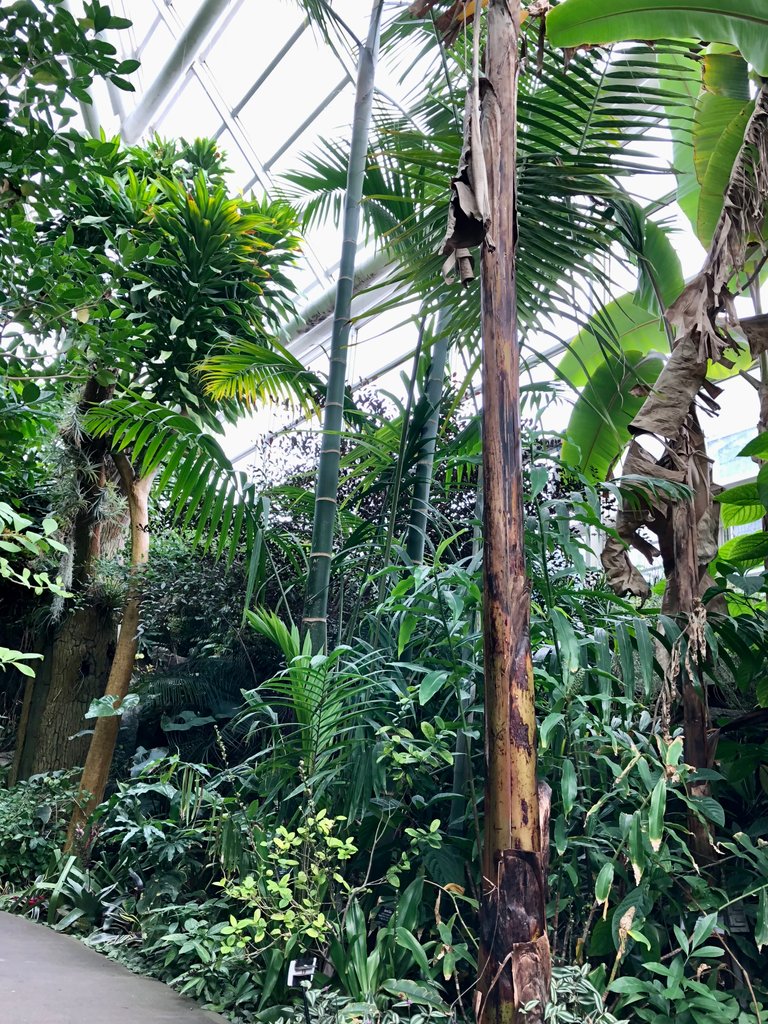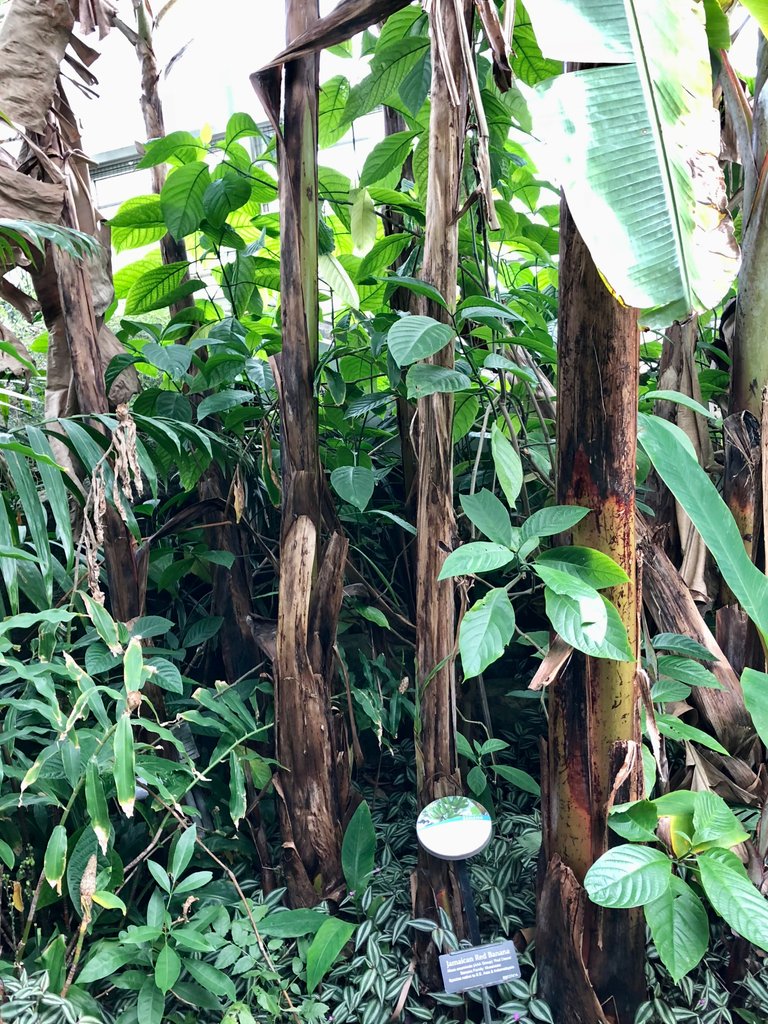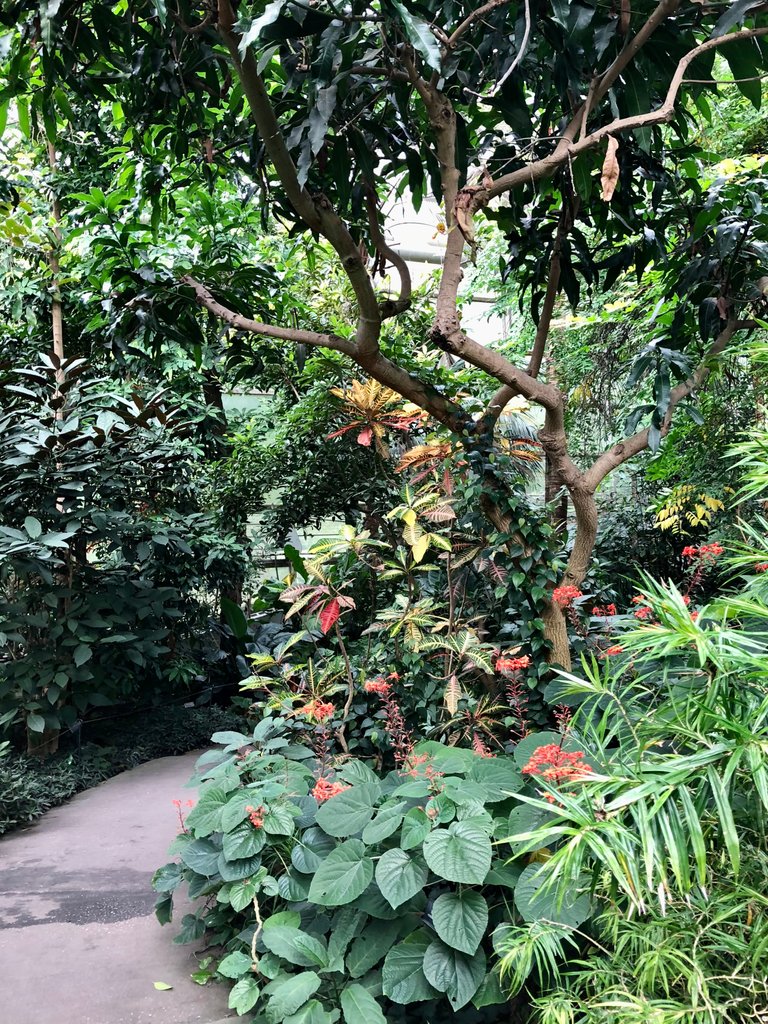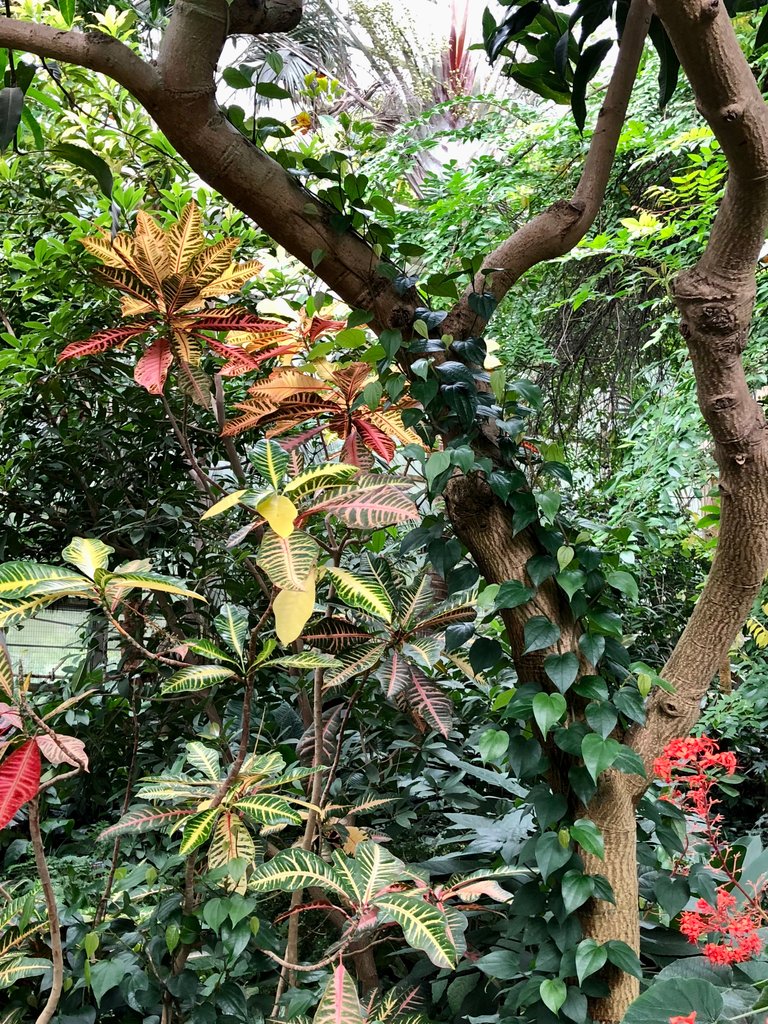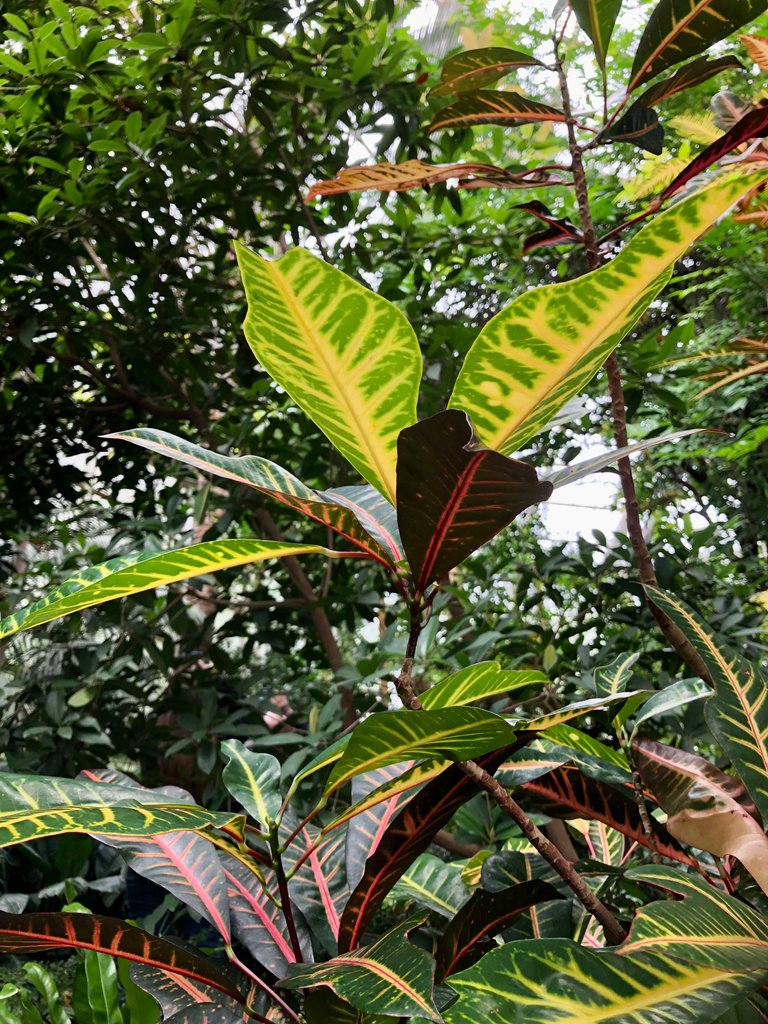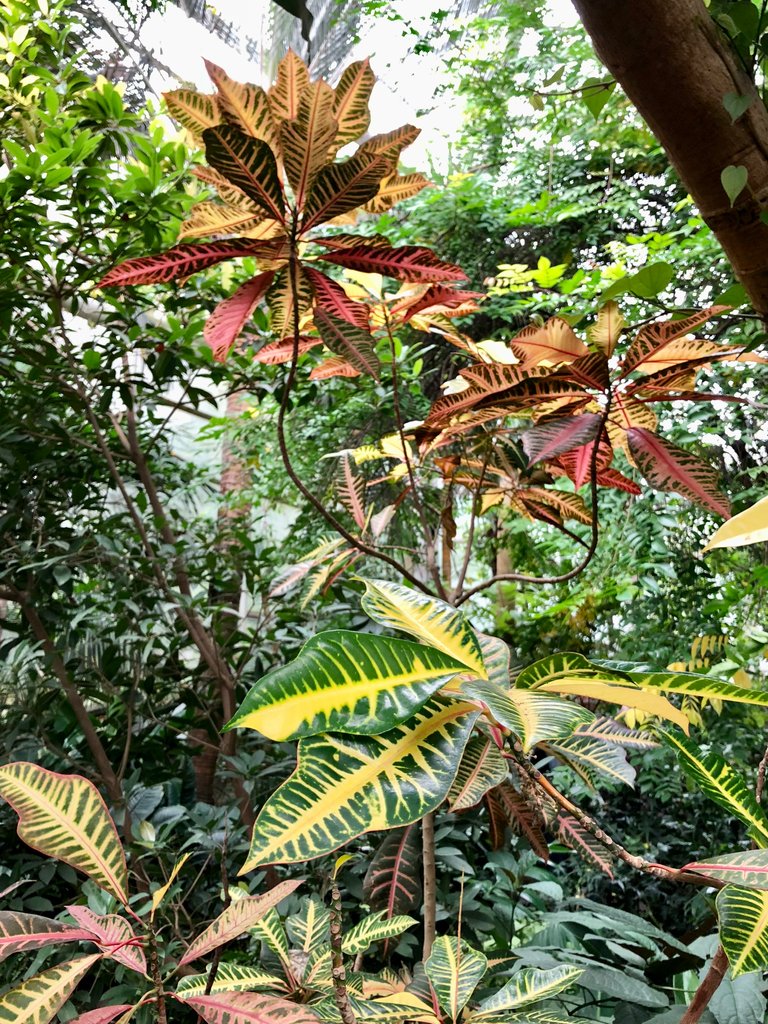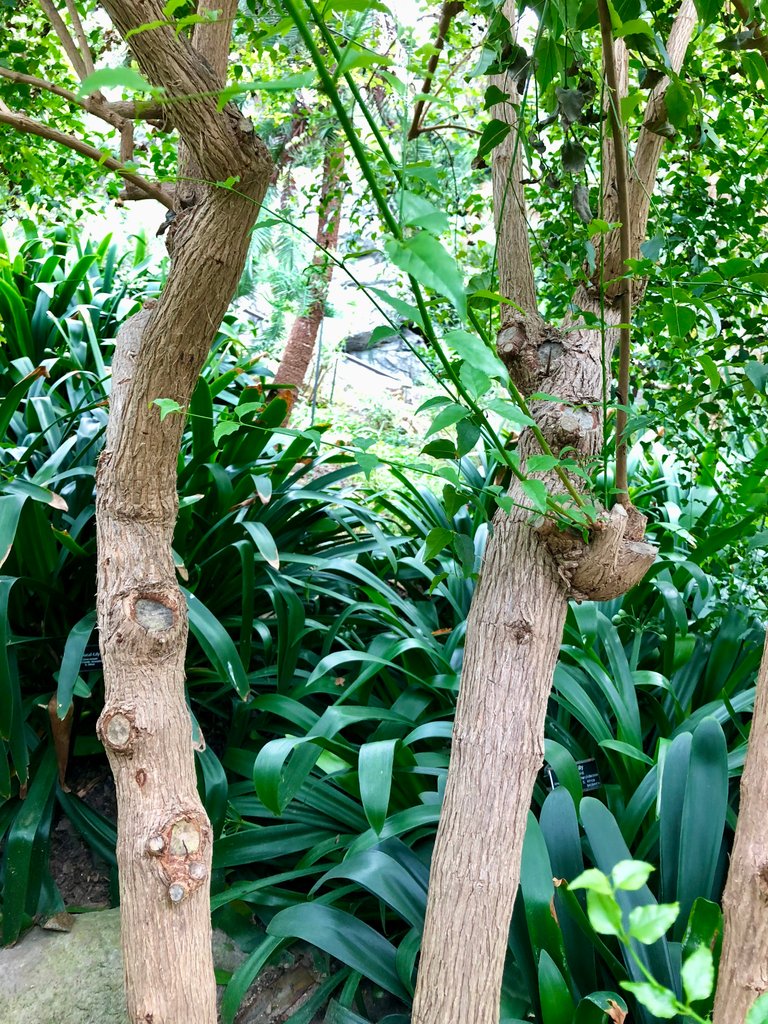 ---
Logic indicated that if there was a natural environment, then there were others! So at the time, I don't remember whether or not I had a map, but I'm pretty sure I decided to see if that was the case, and sure enough, it was.
It turns out that the Brooklyn Botanic Garden offers different habitats and in addition, a greenhouse exclusively for Bonsai! Well, it was time to pick up the pace.
In this way, I found the greenhouse for desert plants, the greenhouse for warm-temperature plants and the Bonsai Museum.
La lógica indicaba que si había un entorno natural, entonces había otros! Así que en ese momento, no recuerdo si tenía o no un mapa, pero sí estoy muy segura de que decidí fijarme si eso era así, y efectivamente.
Resulta que el Jardín Botánico de Brooklyn ofrece diferentes hábitats y además, un invernadero exclusivo para Bonsái! Pues había llegado el momento de acelerar el paso.
De esta manera, encontré el invernadero para plantas del desierto, el de plantas de temperaturas cálidas y el Museo del bonsai.

---
Warm Temperature
---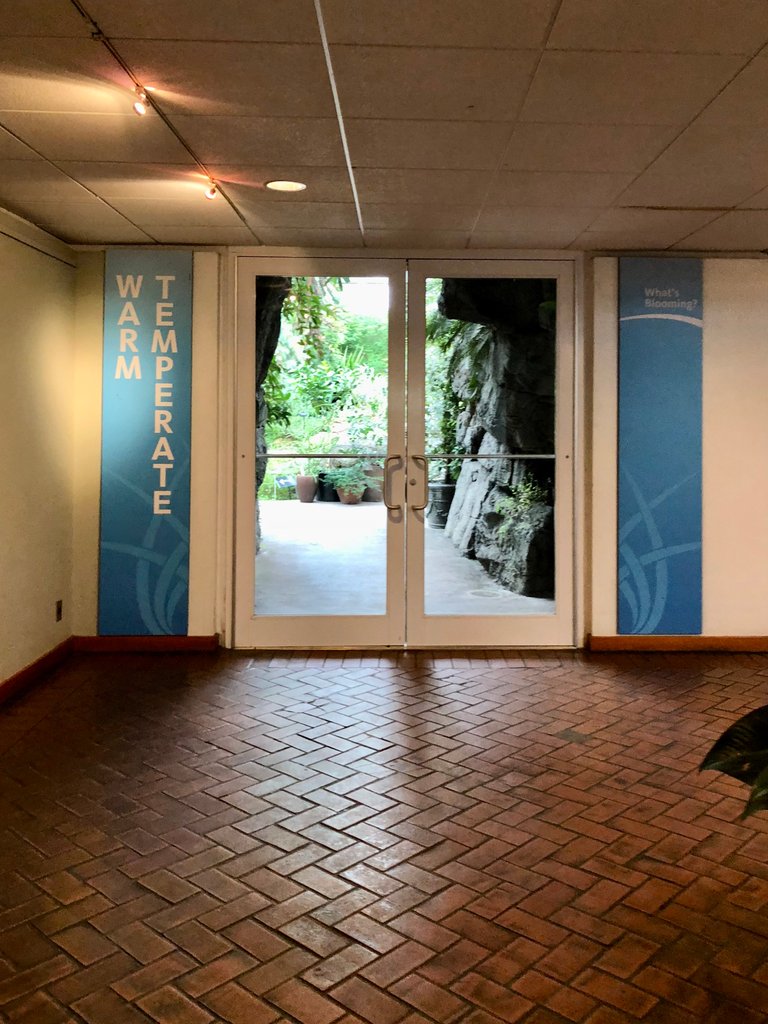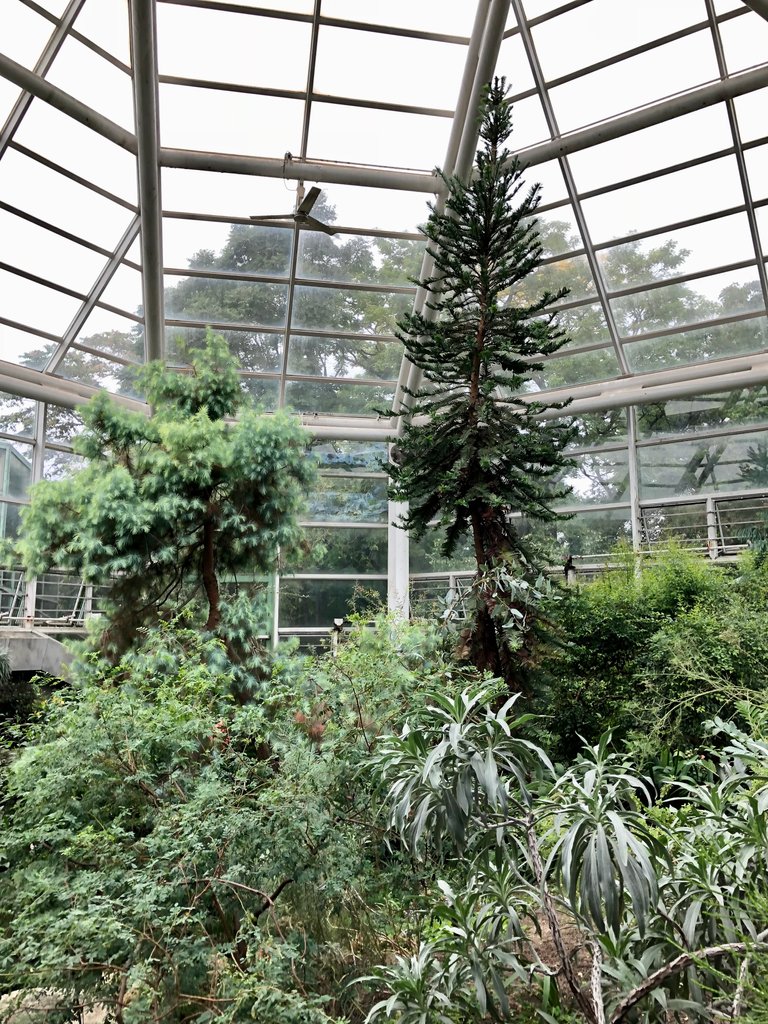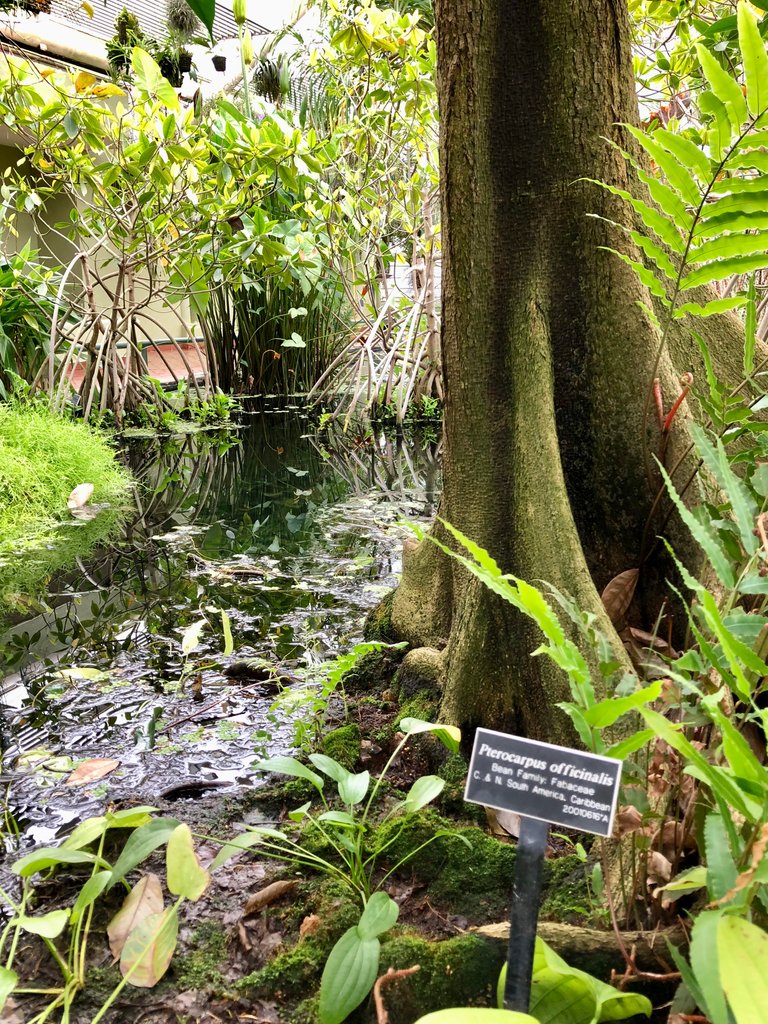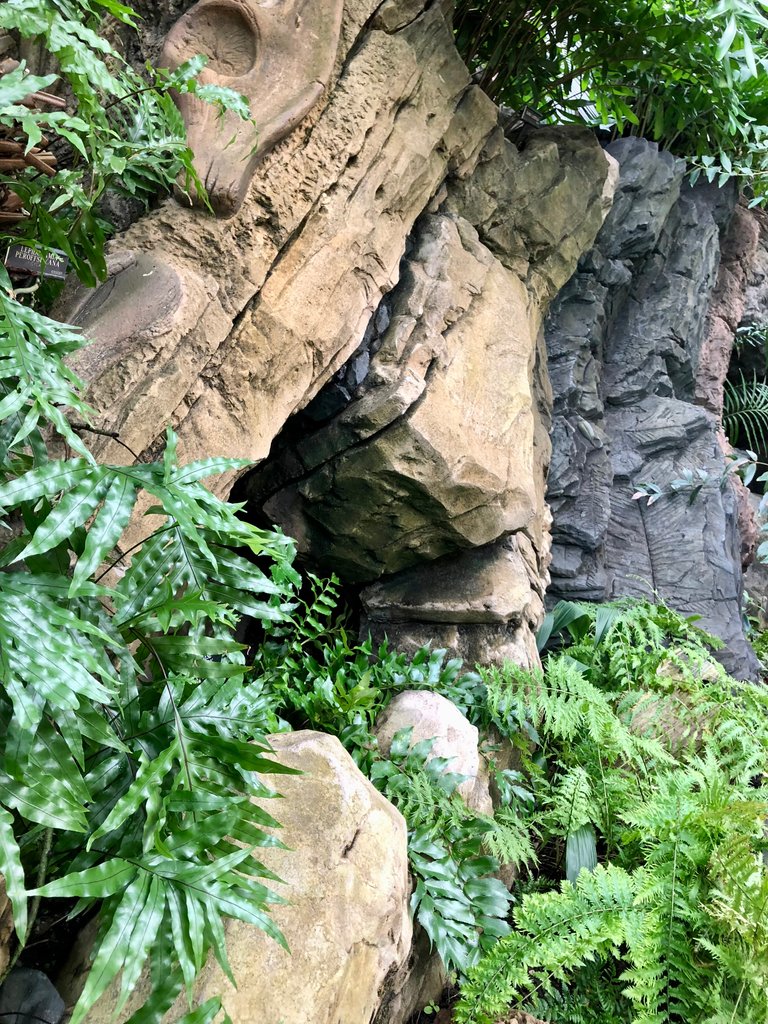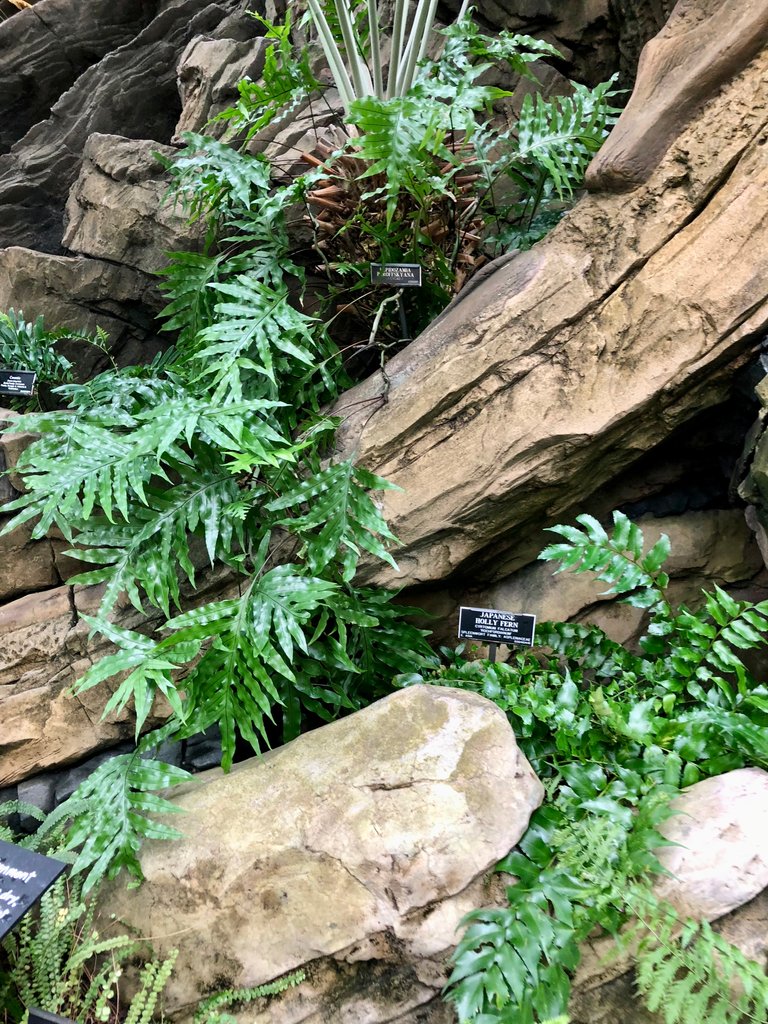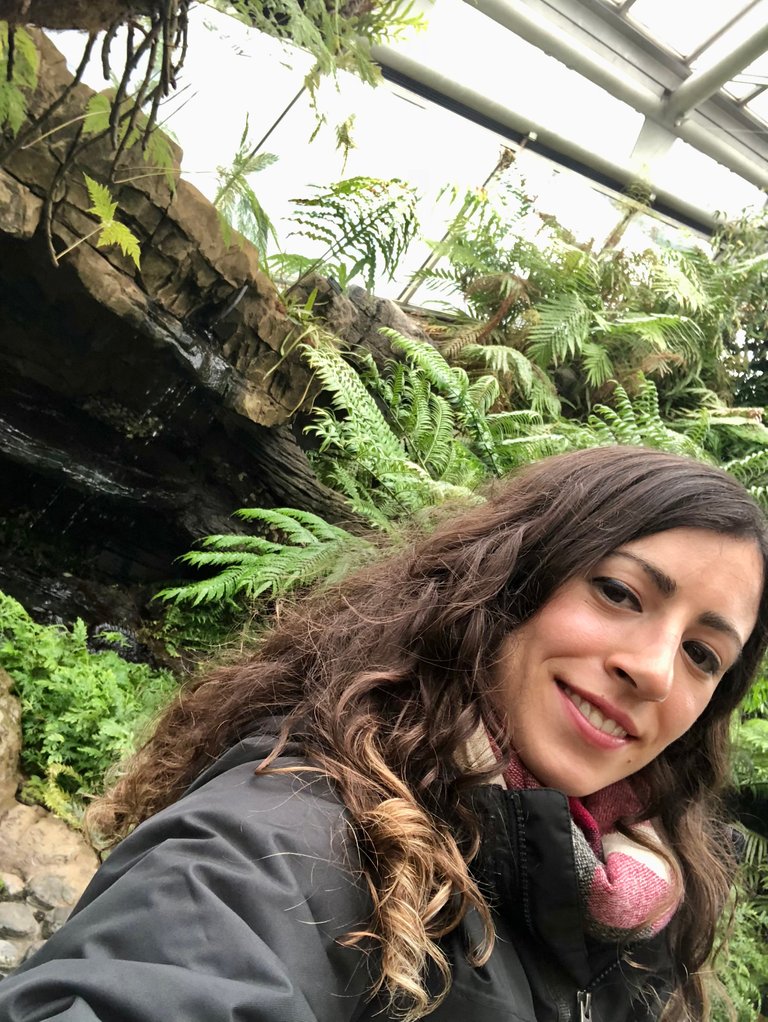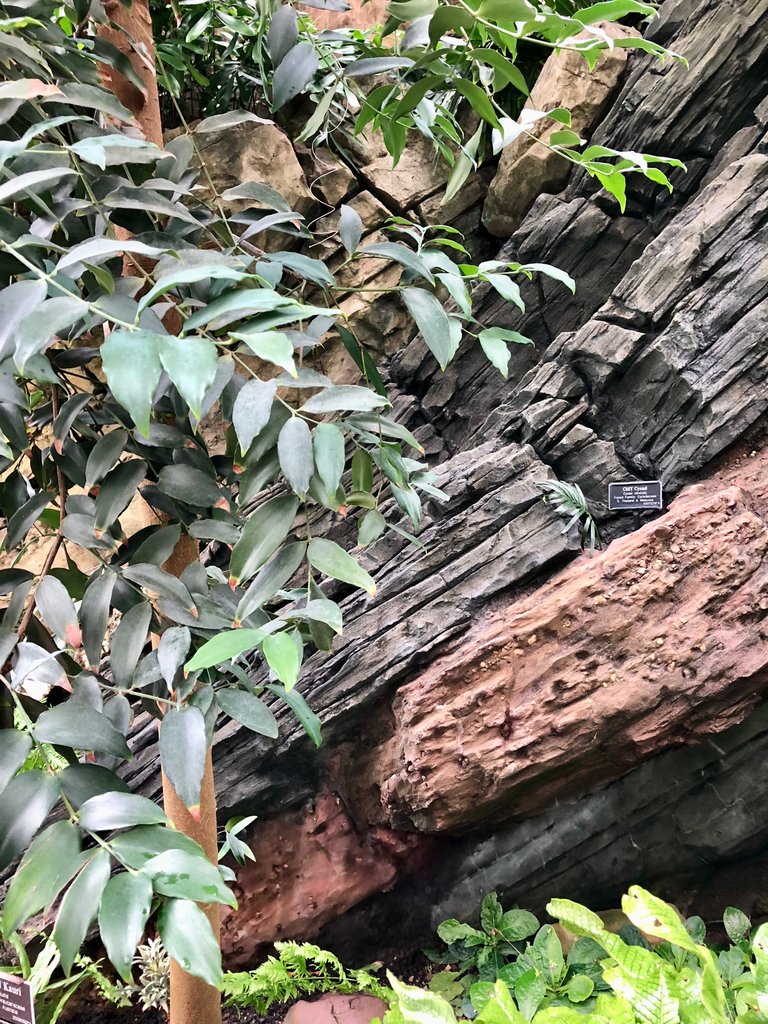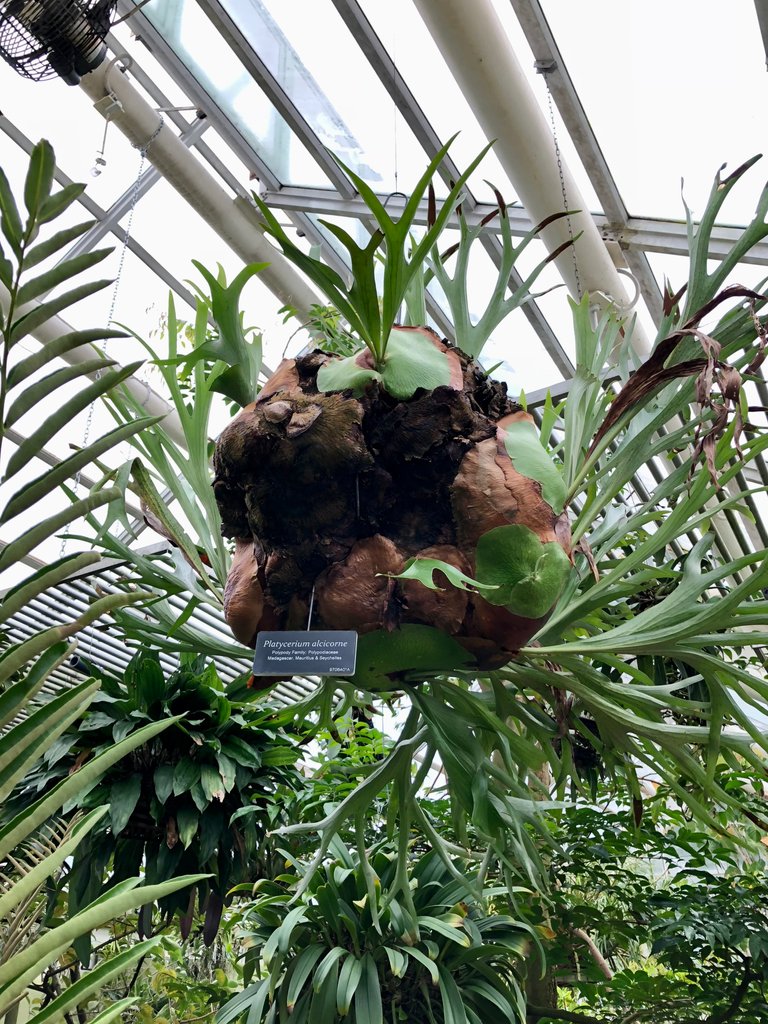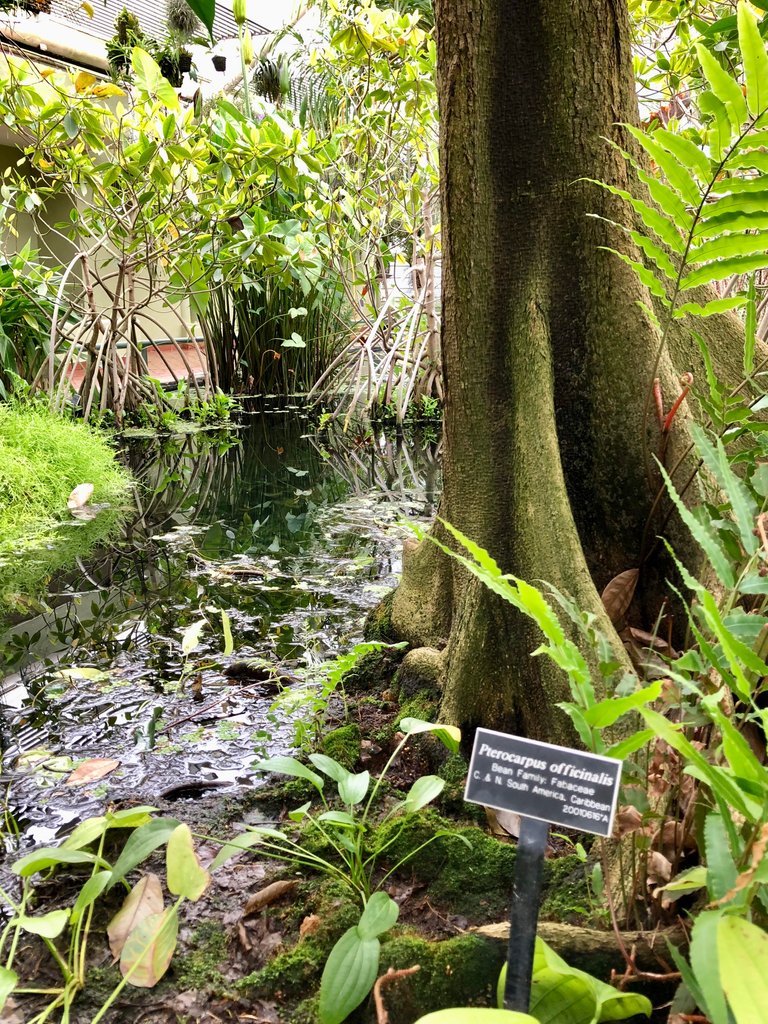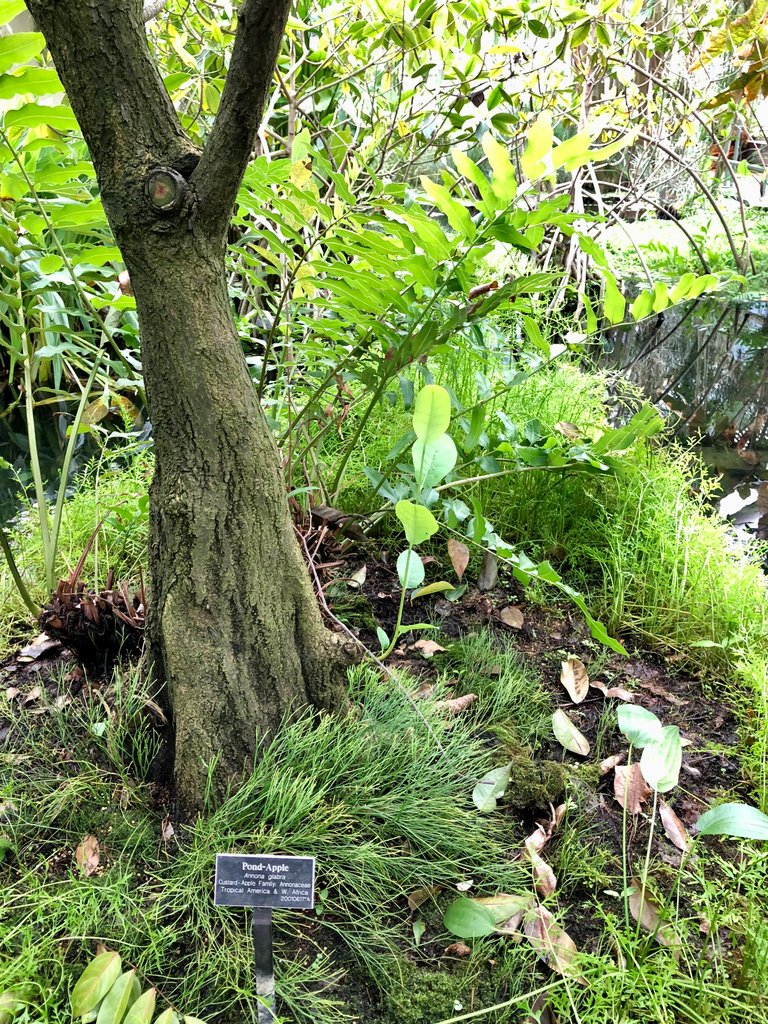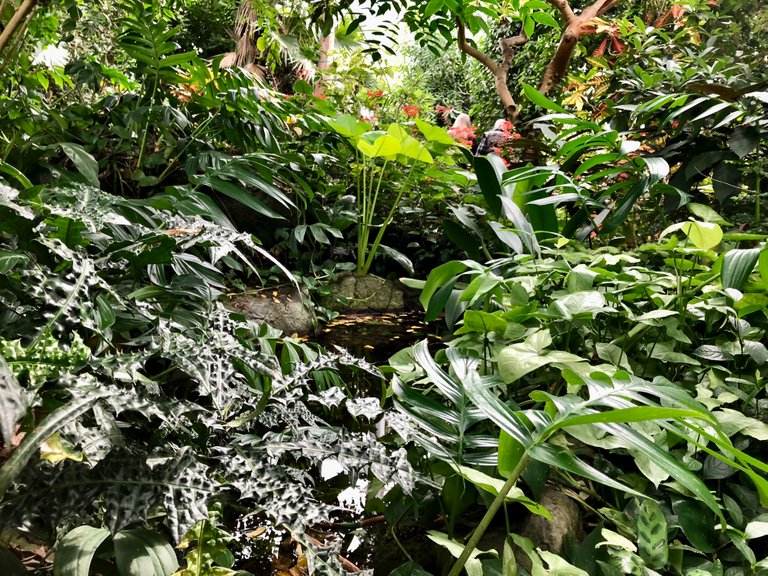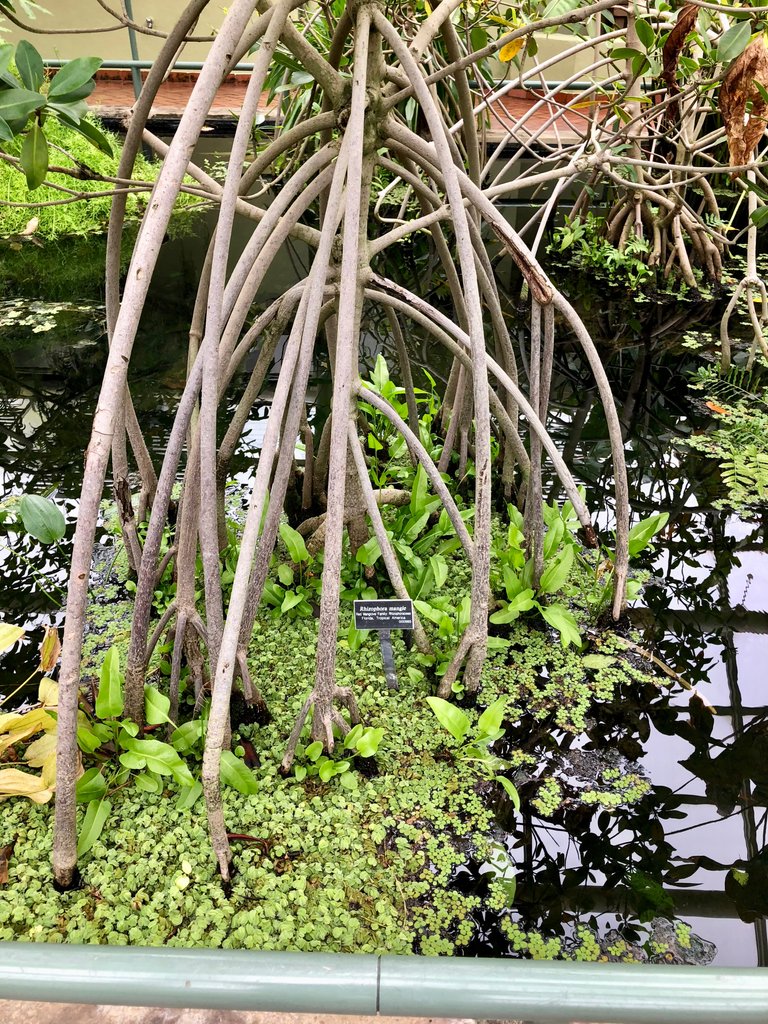 ---
Below you can see some of the desert plants. Although I love trees with lots of foliage and colorful flowers, I was born and raised in Mendoza, an arid place that naturally contains many of the species that this Botanical Garden offers.
When I began to see the plants, I could not believe that I was in a greenhouse where the conditions had been recreated for species that I see every day in the place where I live.
Each greenhouse had descriptions of the species and maps showing their distribution around the world.
A continuación podrán observar algunas de las plantas del desierto. Aunque me encantan los árboles con mucho follaje y las flores coloridas, nací y crecí en Mendoza, un lugar árido que contiene naturalmente muchas de las especies que nos ofrece este Jardín Botánico.
Cuando empecé a ver las plantas, no podía creer que estuviera en un invernadero en donde se habían recreado las condiciones propicias para especies que veía día a día en el lugar en el que vivo.
Cada invernadero, contaba con descripciones de las especies y mapas que señalaban la distribución de las mismas en el mundo.

---
Desert
---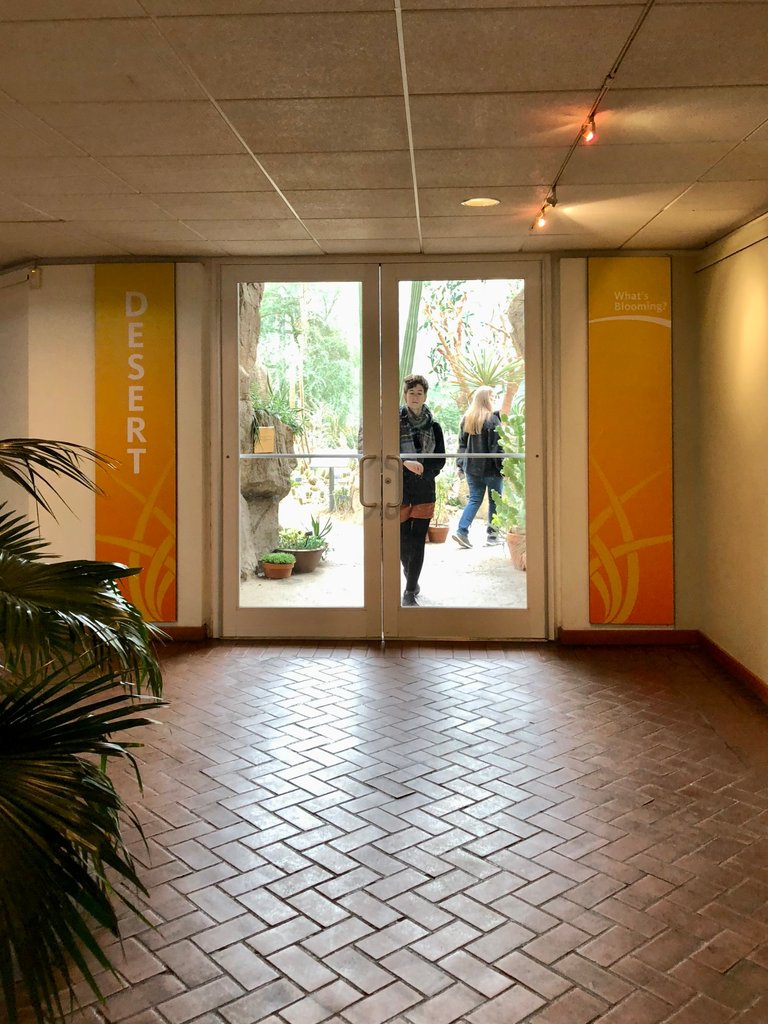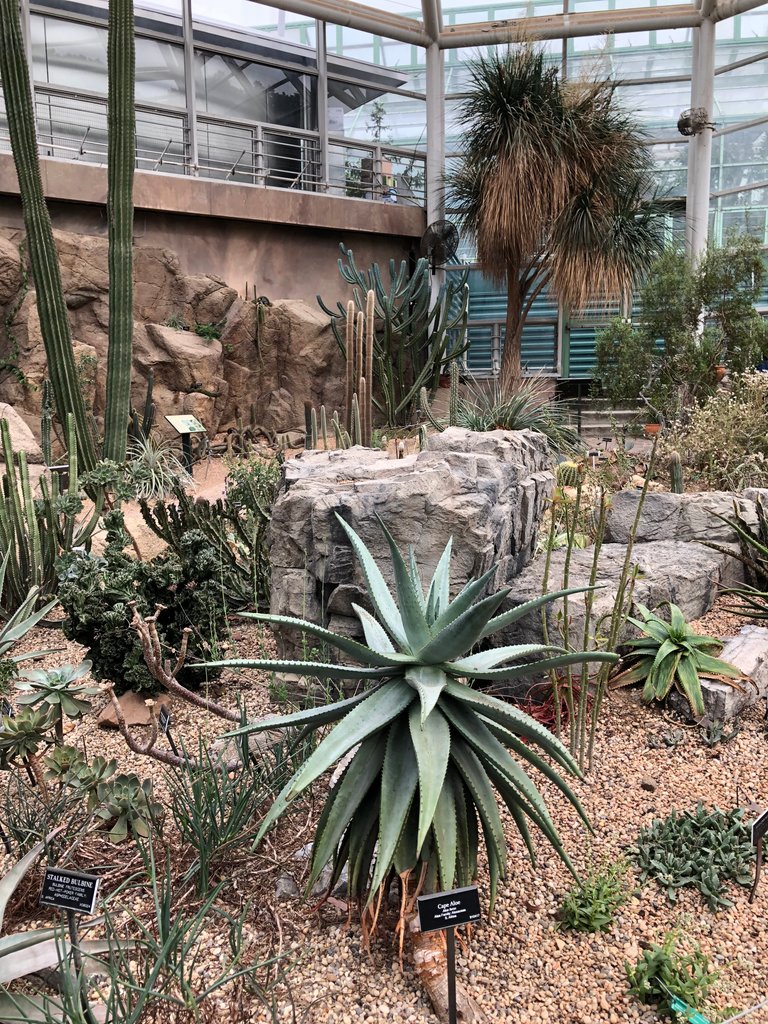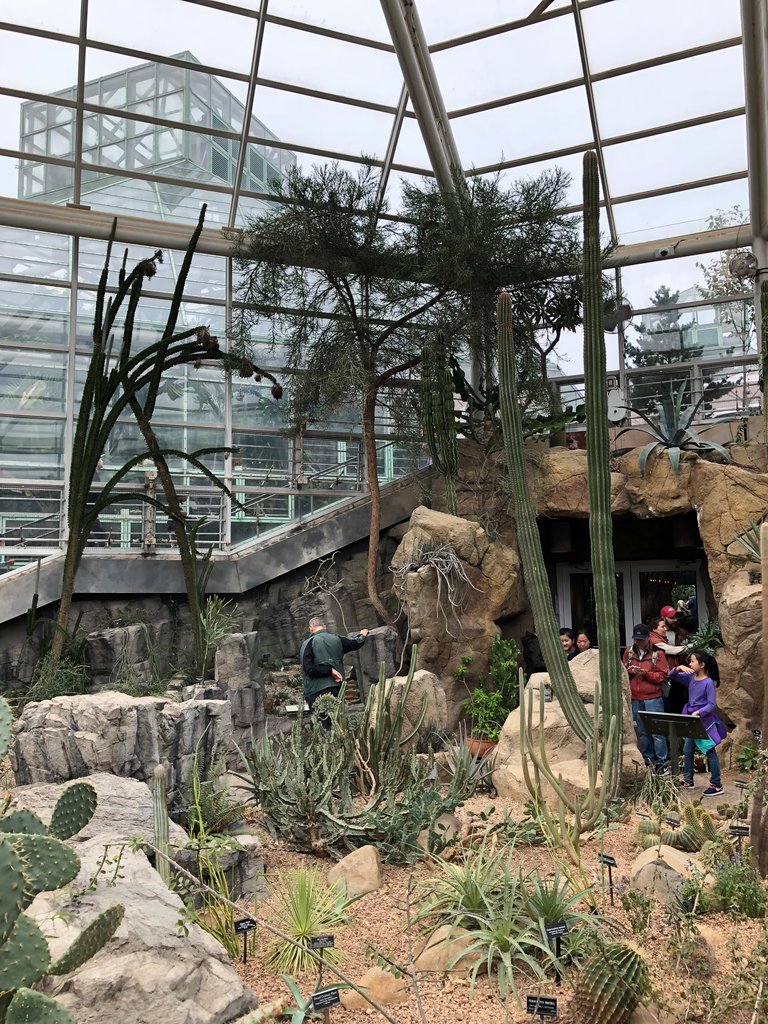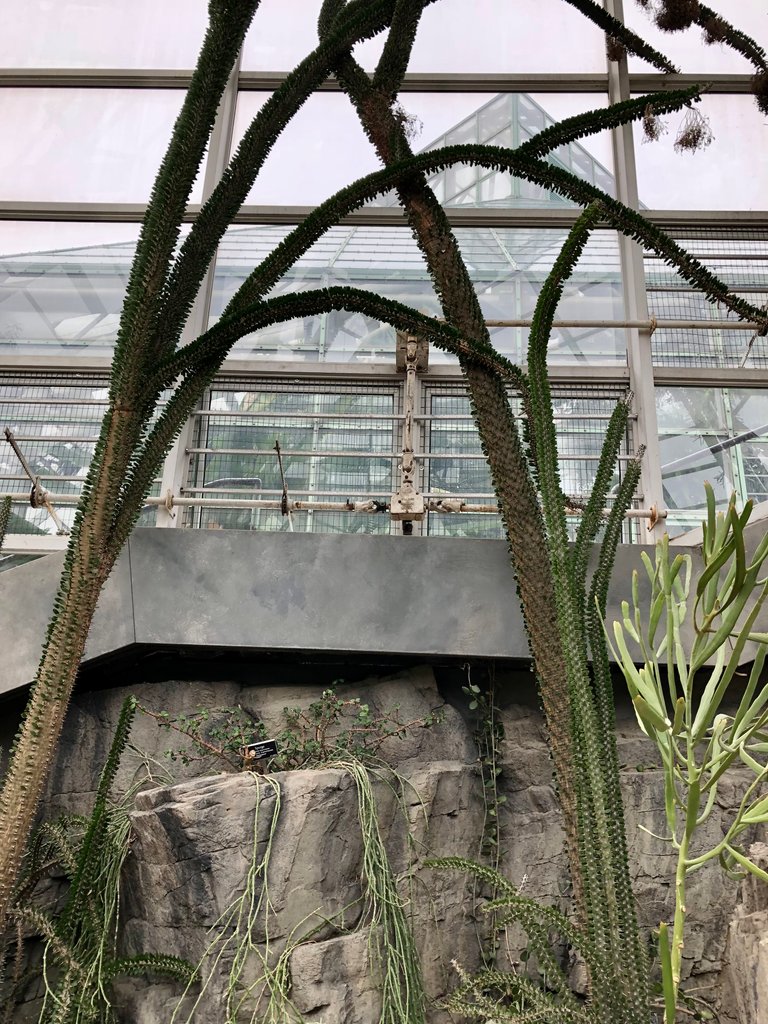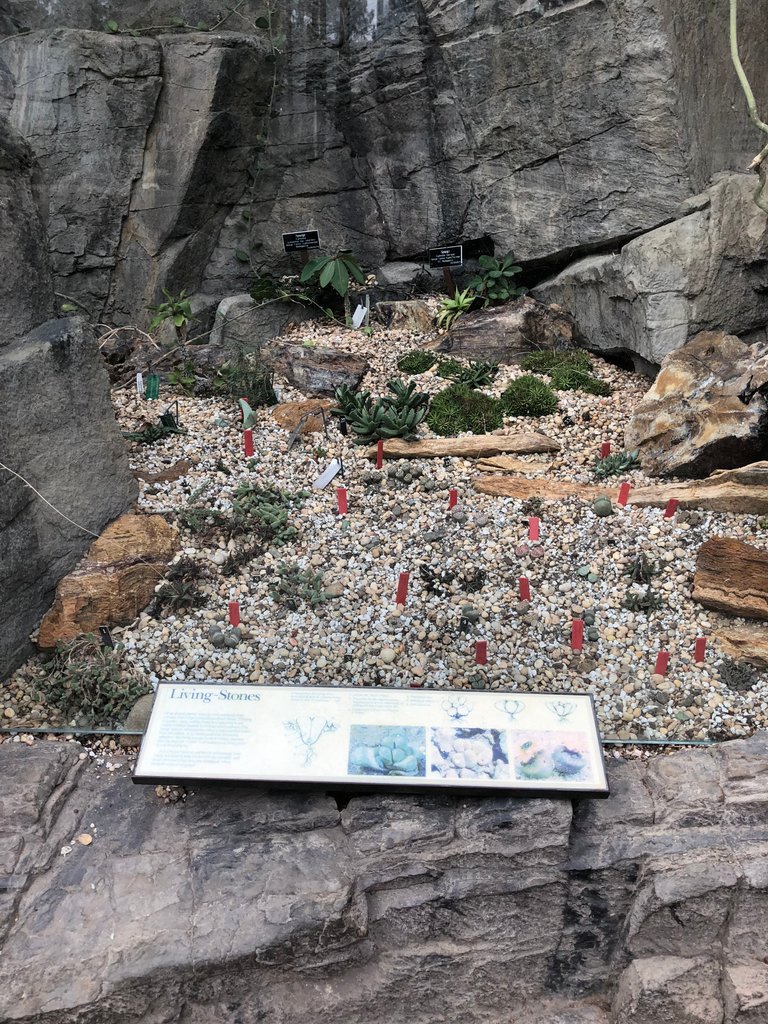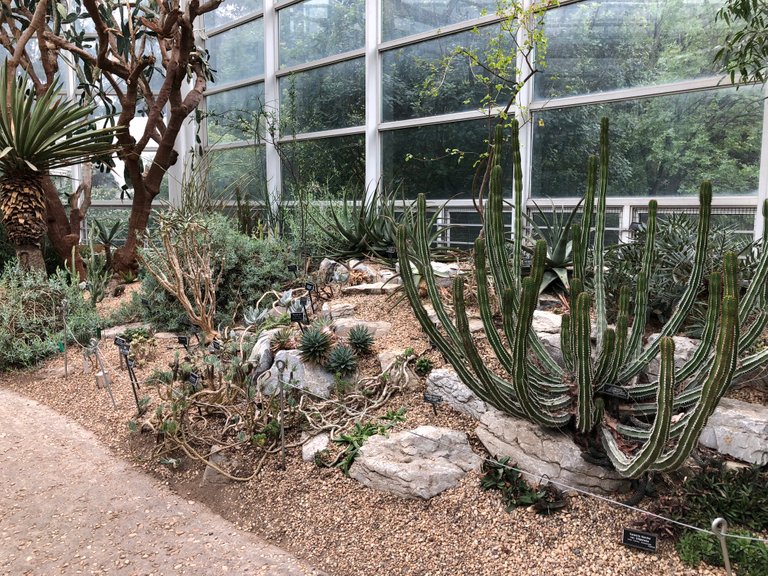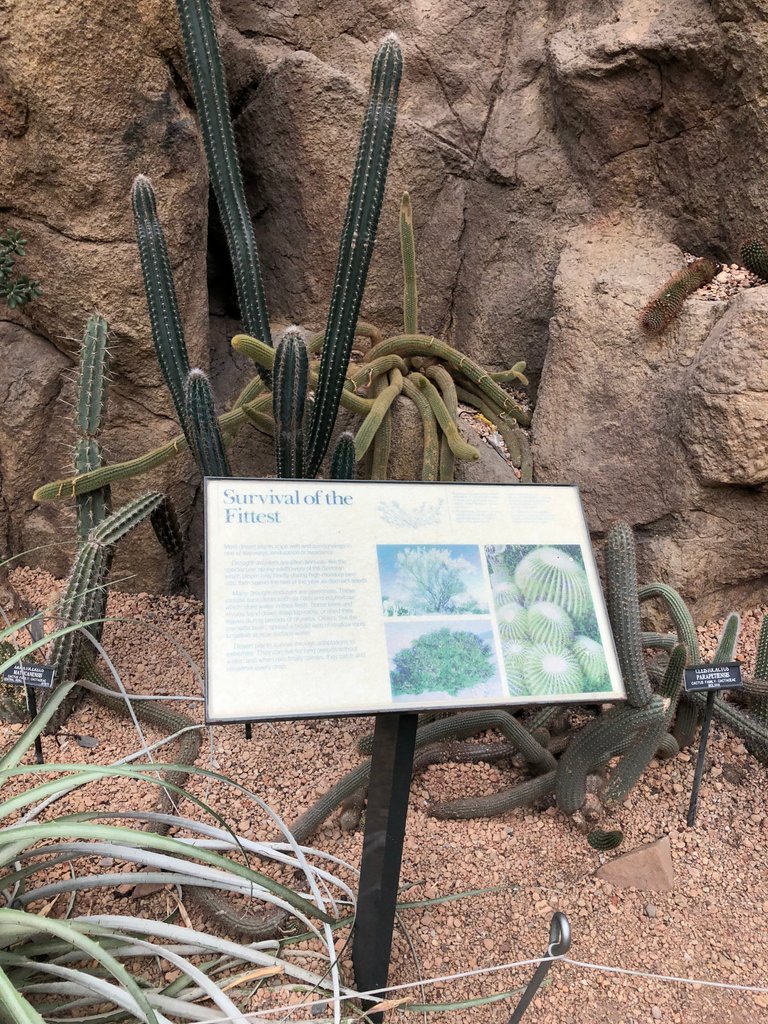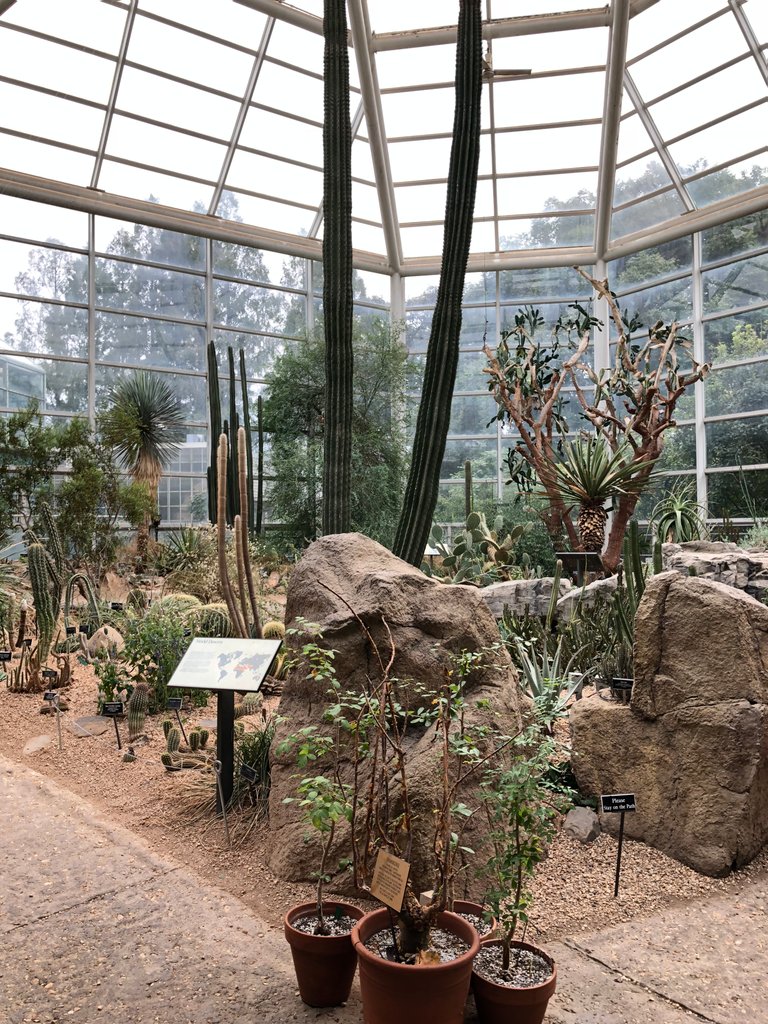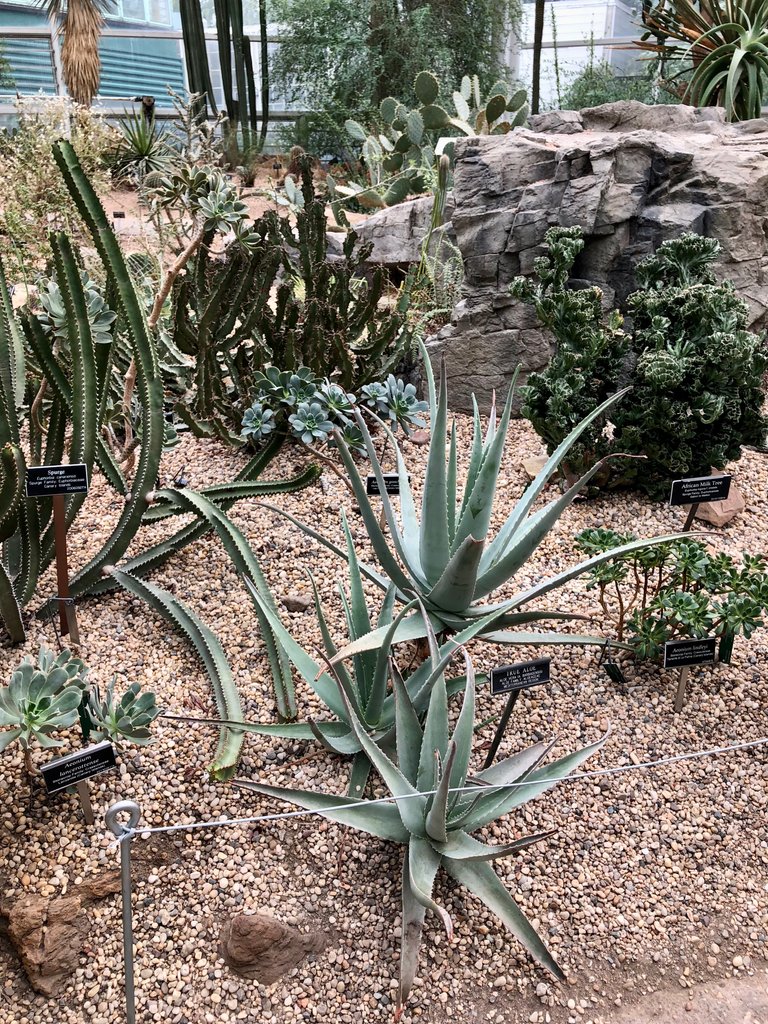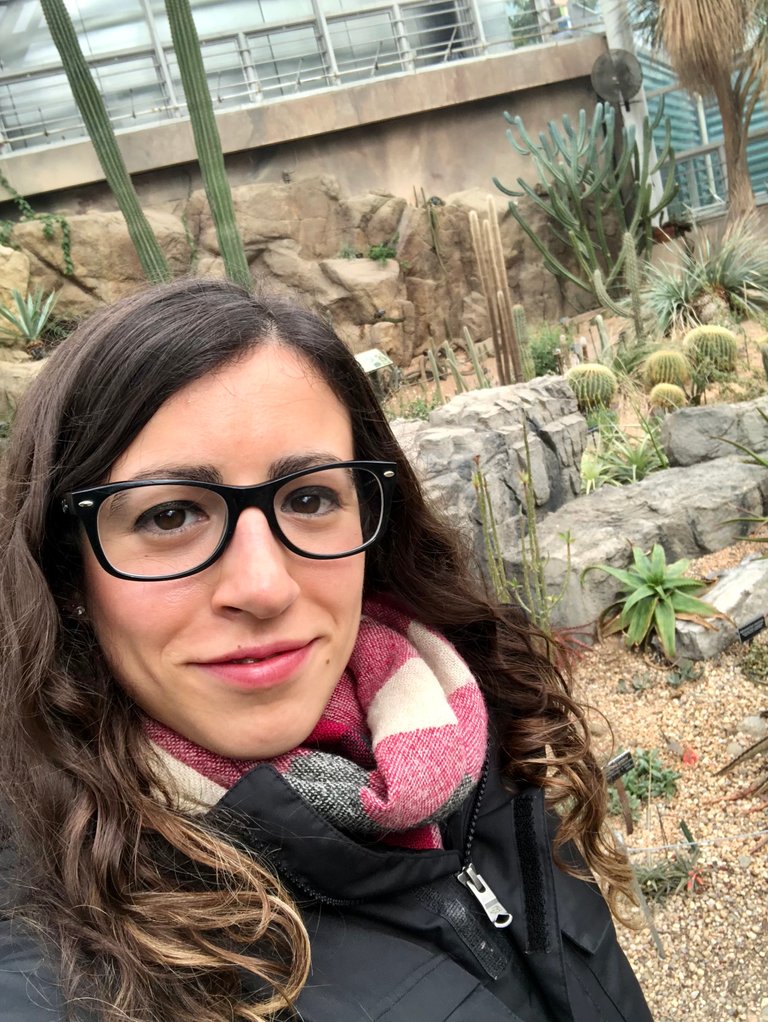 ---
After these three greenhouses I visited the Bonsai Museum. At that time I had a friend from college who was learning how to grow them and he had explained something to me, but I had never seen a live adult one.
I could not believe it. It was, each one of them, an ecosystem in itself, where its leaves and everything that made up each tree, had greatly reduced its size to give life to these unique specimens that made you feel like a giant.
Después de estos tres invernaderos visité el Museo del Bonsai. En aquel entonces tenía un amigo de la facultad que estaba aprendiendo a cultivarlos y algo me había explicado, pero nunca había visto uno adulto en vivo.
No podía creerlo. Era, cada uno de ellos, un ecosistema en sí mismo, en donde sus hojas y todo lo que componía a cada árbol, había reducido enormemente su tamaño hasta dar vida a esos ejemplares únicos que te hacían sentir un gigante.

---
Bonsai Museum
---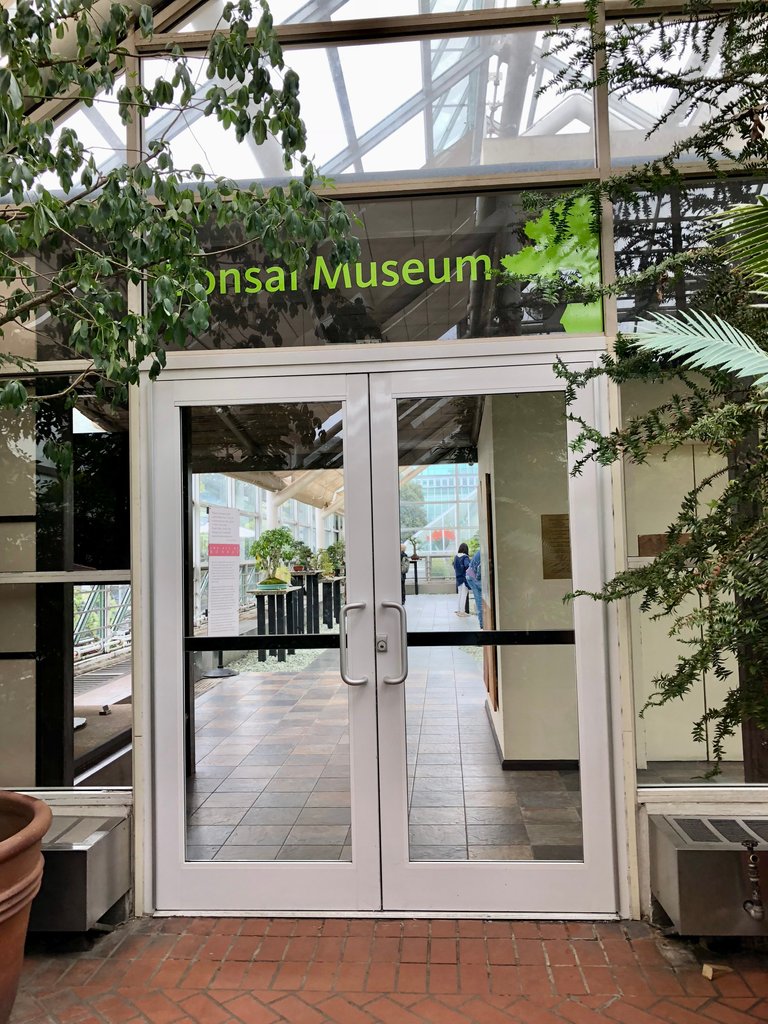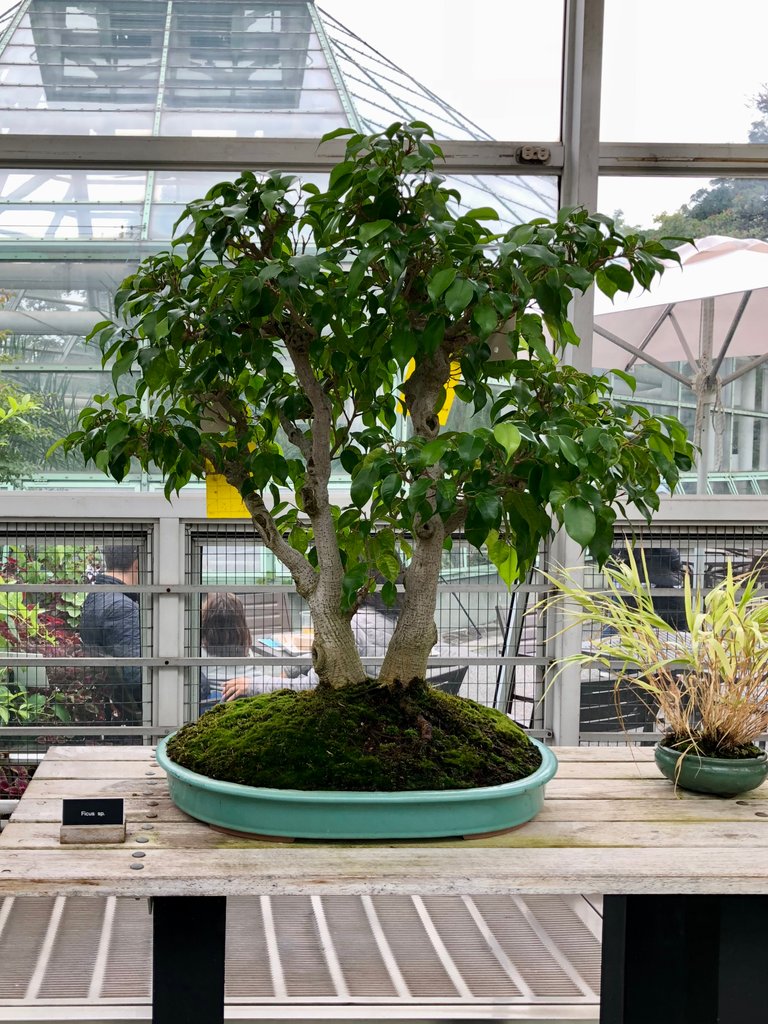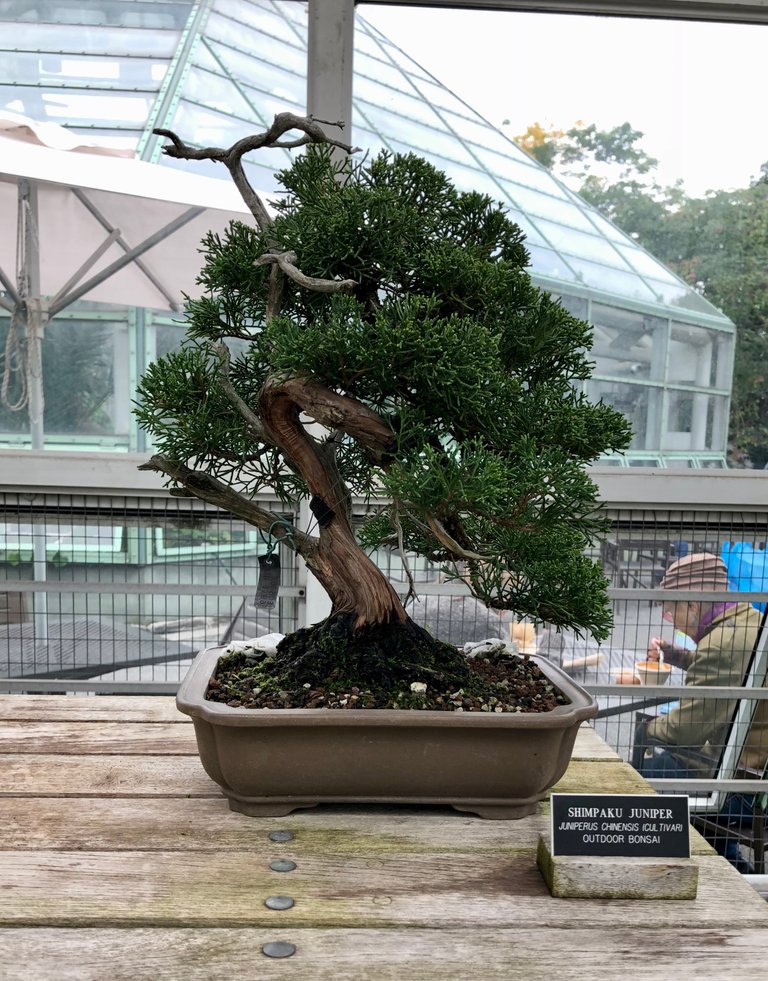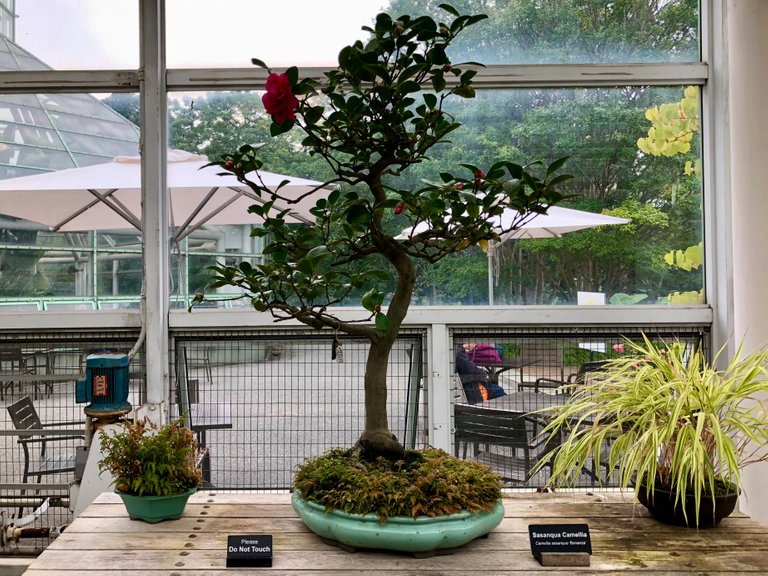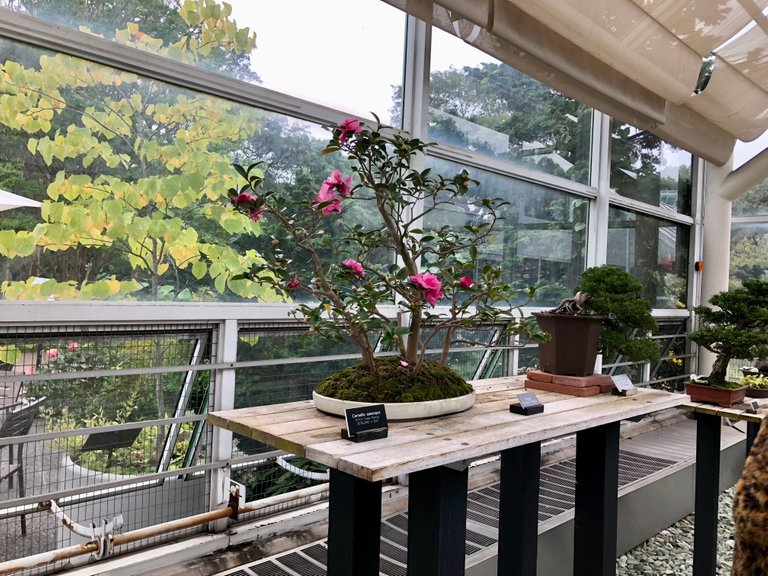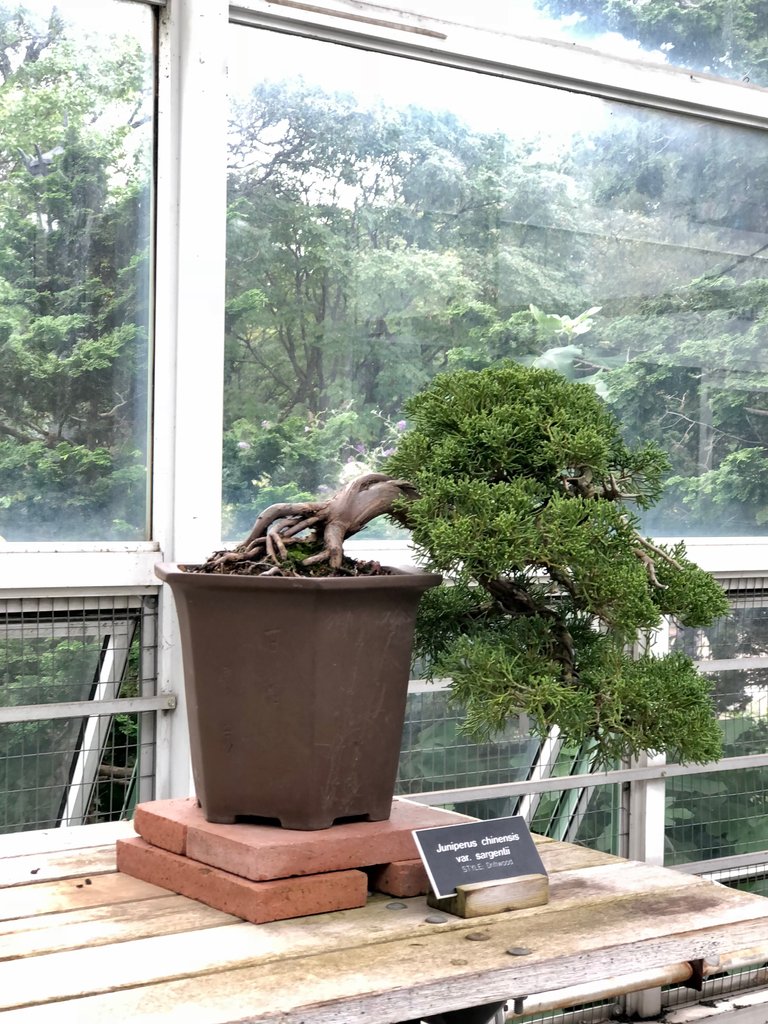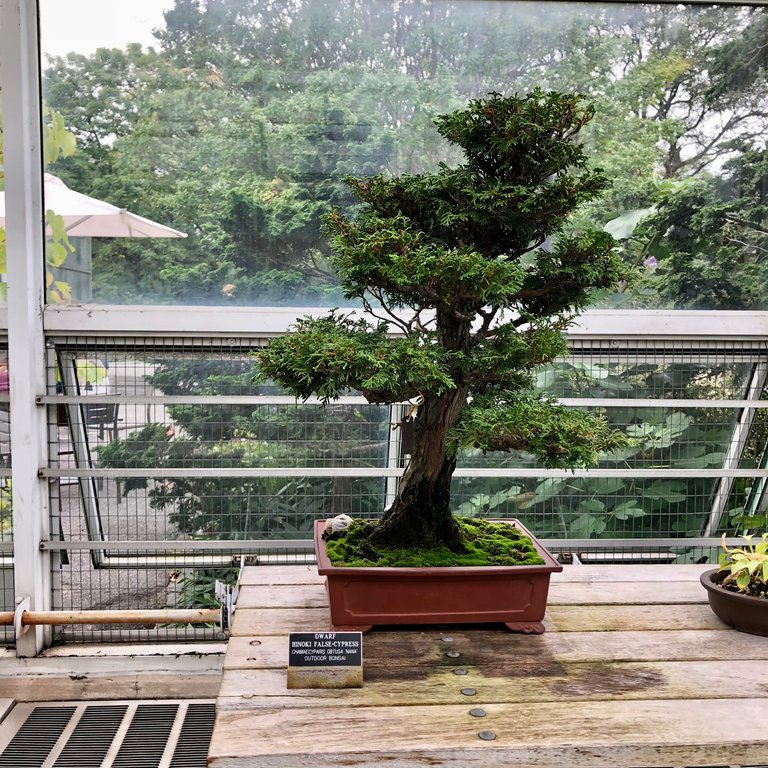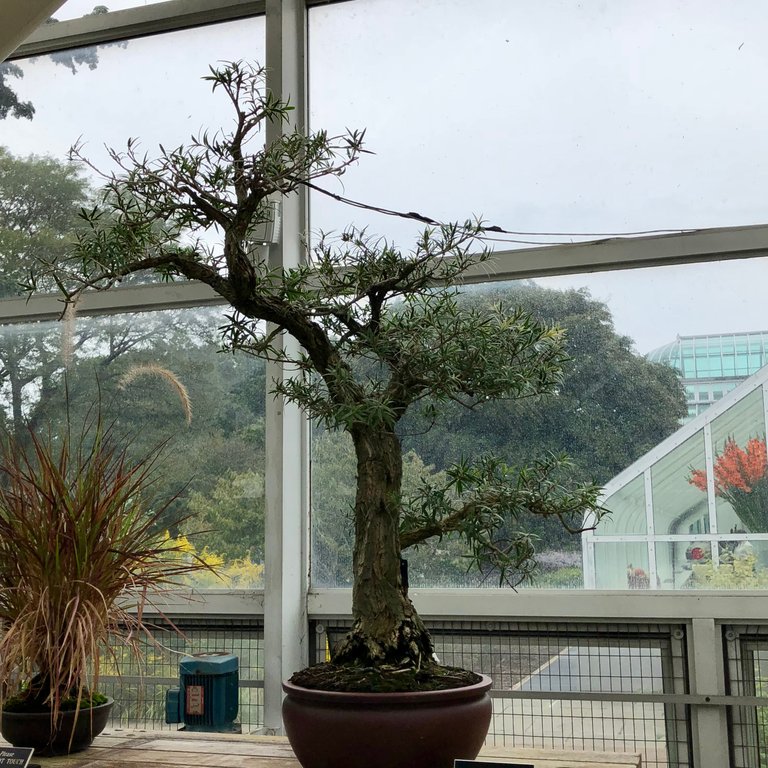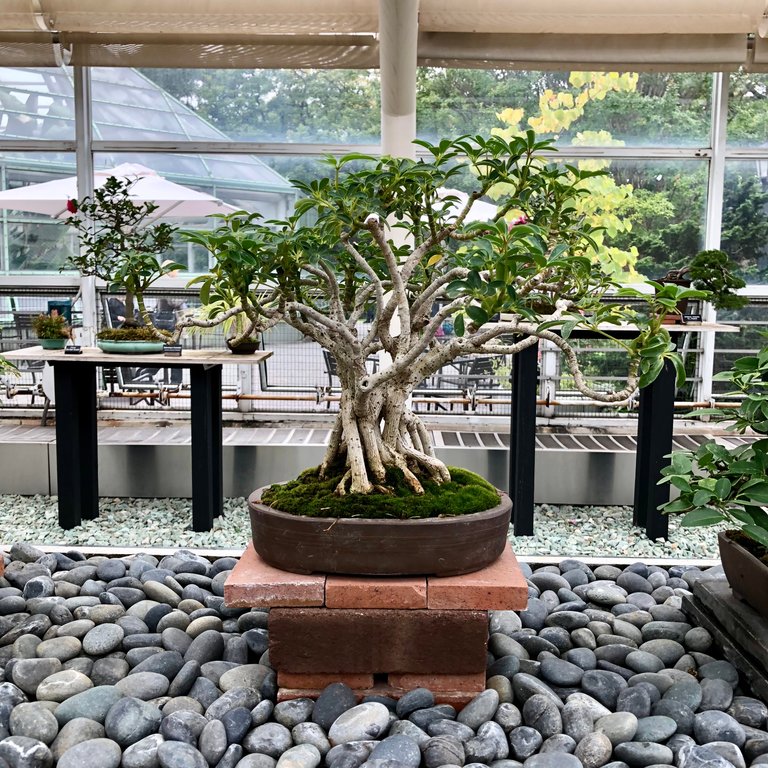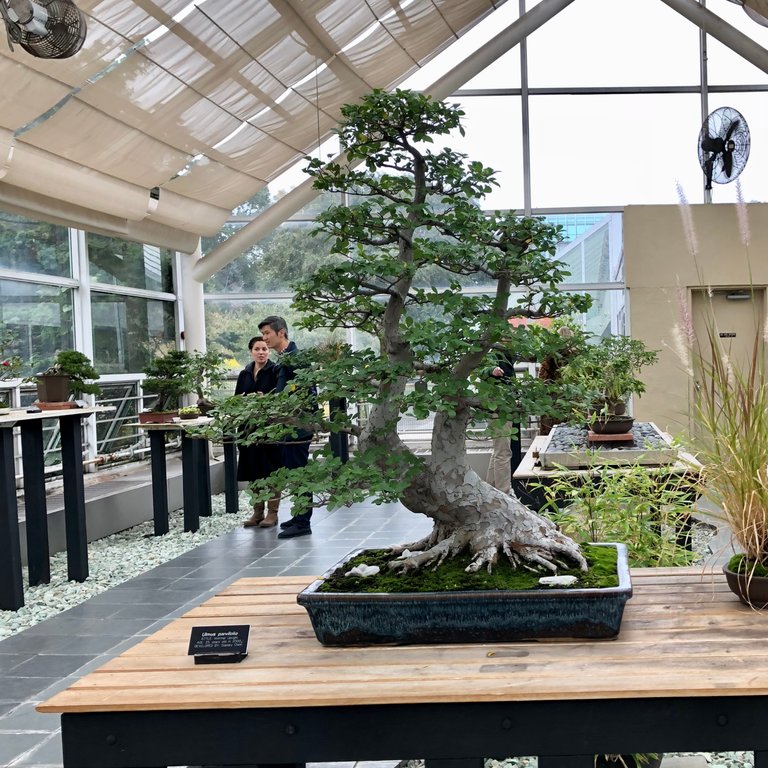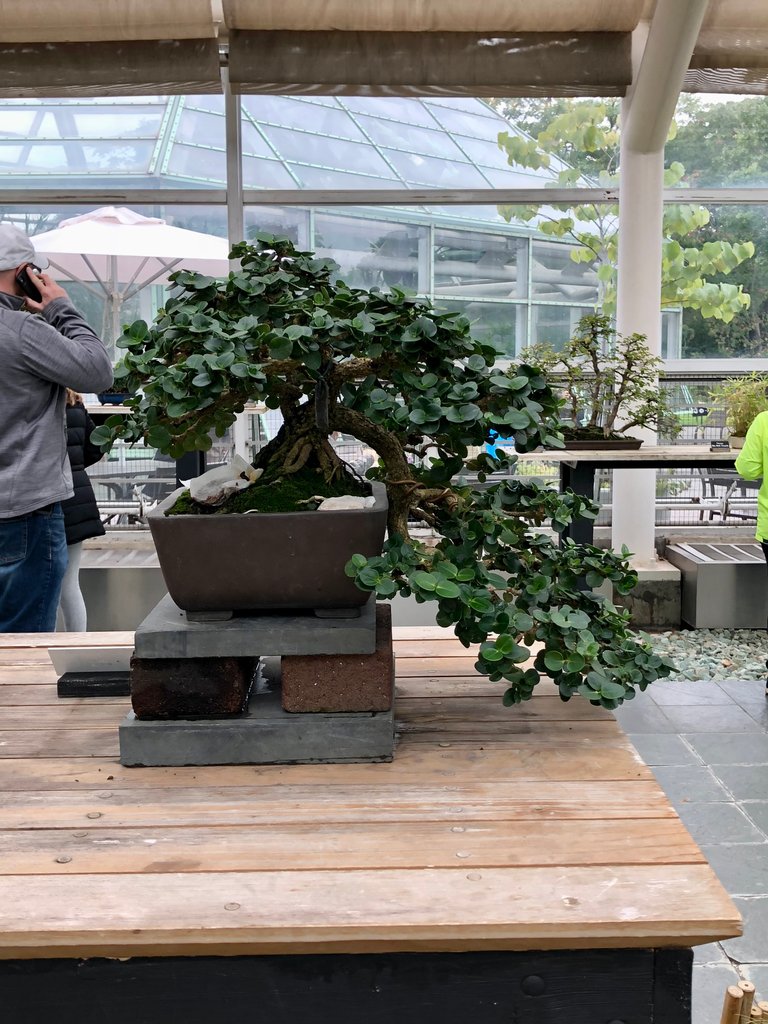 ---
I would have spent more time in each greenhouse and with the bonsai, but the truth is that I still had a long way to go and my time in Brooklyn was limited by the flight, so I continued on my way.
I came across a beautiful fountain, staircases, sculptures, characters that took me back to the Harry Potter book and more exotic, striking and beautiful plants.
I asked for pictures to the people passing by, I left my cell phone and took selfies, I took selfies, in short... I did everything to record my visit to that place.
Next I will show you a little more of the Botanical Garden and its beauties.
Hubiese pasado más tiempo en cada invernadero y con los bonsai, pero la verdad es que aún me quedaba mucho por recorrer y mi tiempo en Brooklyn era limitado por el vuelo, así que seguí mi camino.
Me encontré con una fuente bellísima, con escalinatas, con esculturas, con unos personajes que me trasladaron al libro de Harry Potter y con más plantas exóticas, llamativas y hermosas.
Pedí fotos a las personas que pasaban por allí, dejé mi celular y me tomé auto fotos, me saqué selfies, en fin… hice de todo para registrar mi visita a aquel lugar.
A continuación les mostraré un poco más del Jardín Botánico y de sus bellezas.
---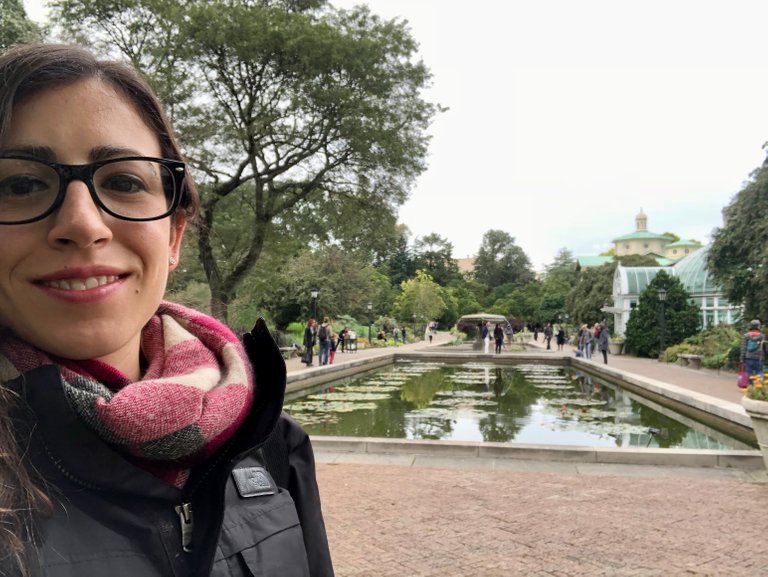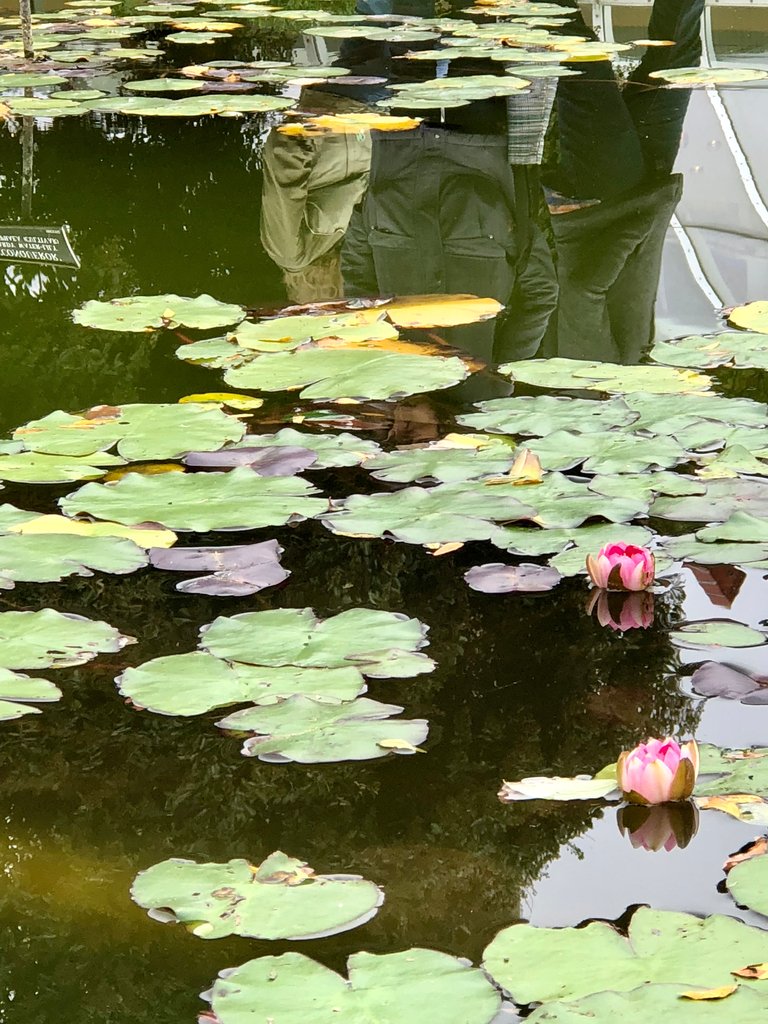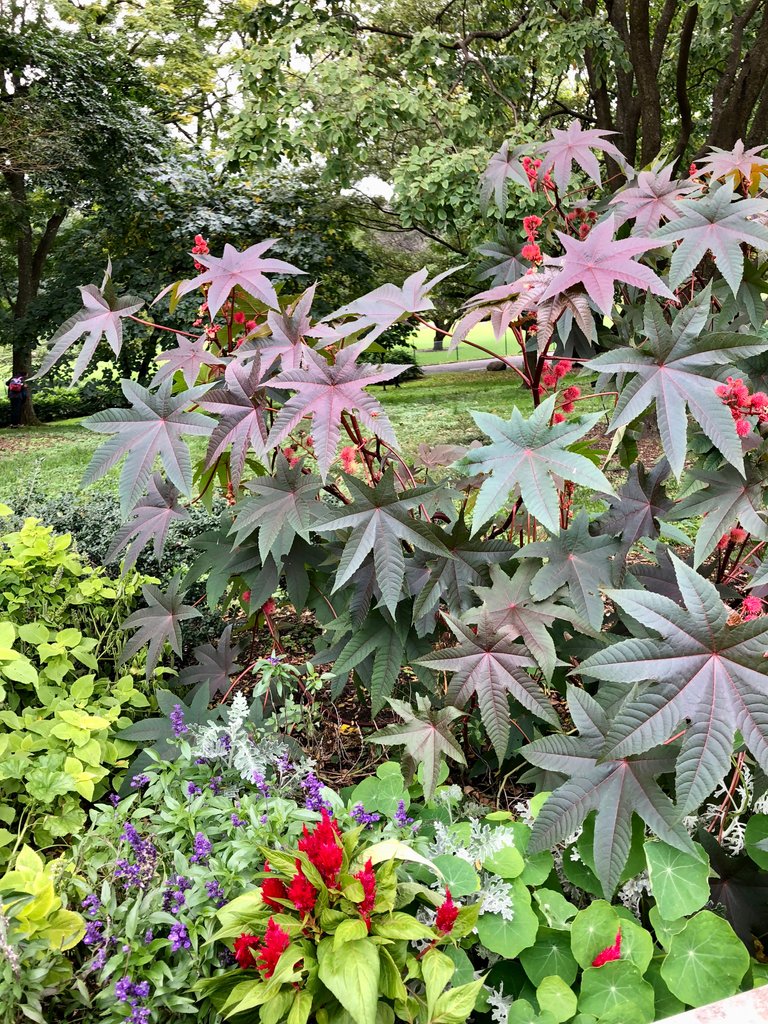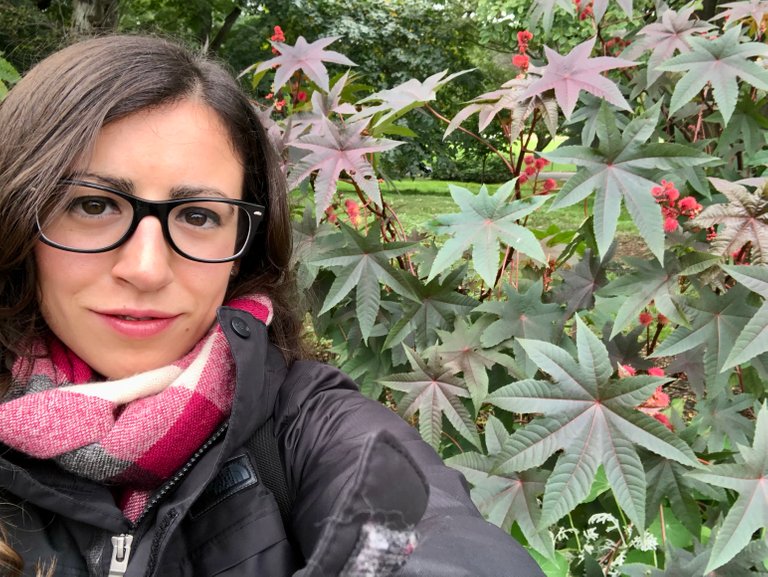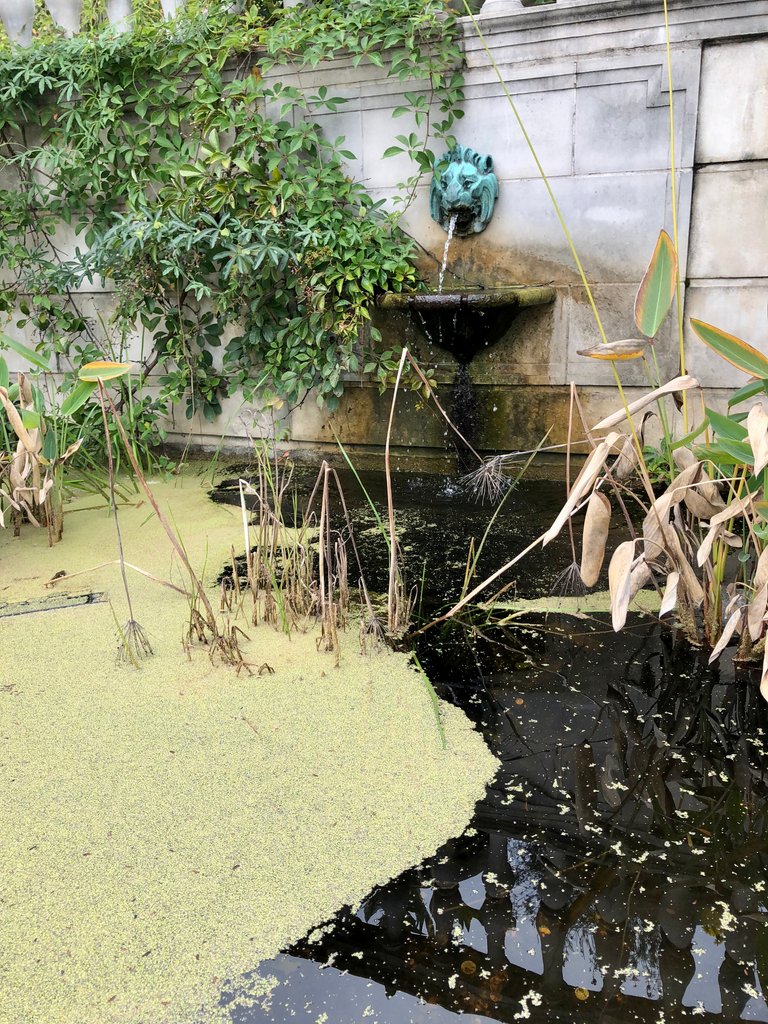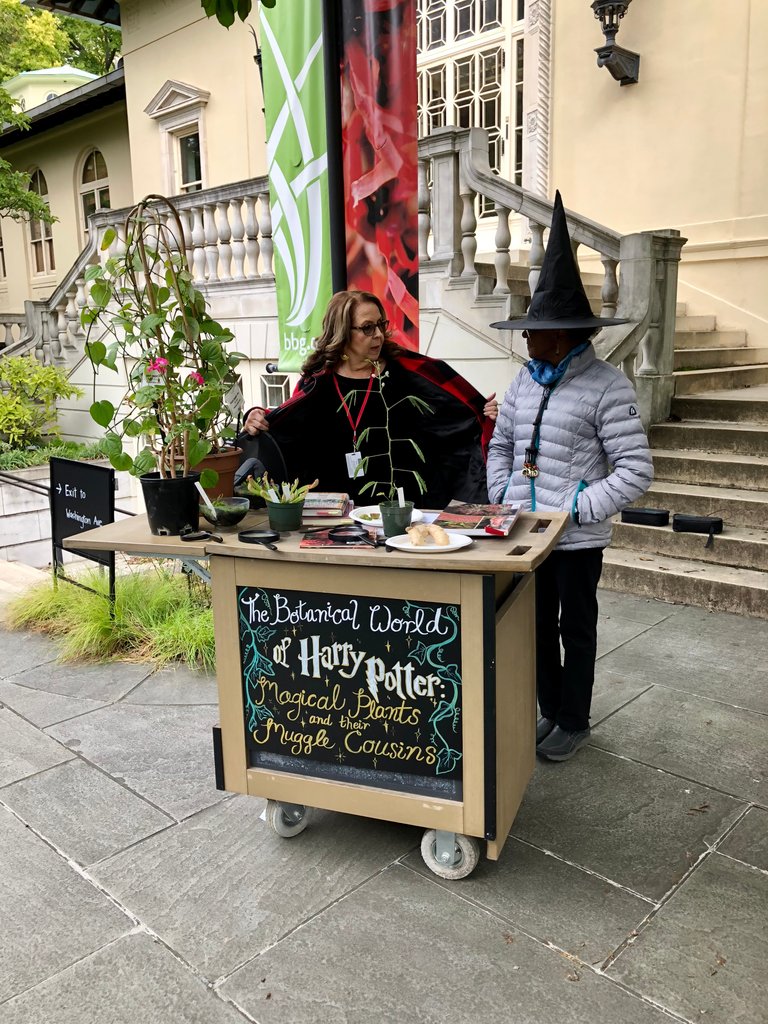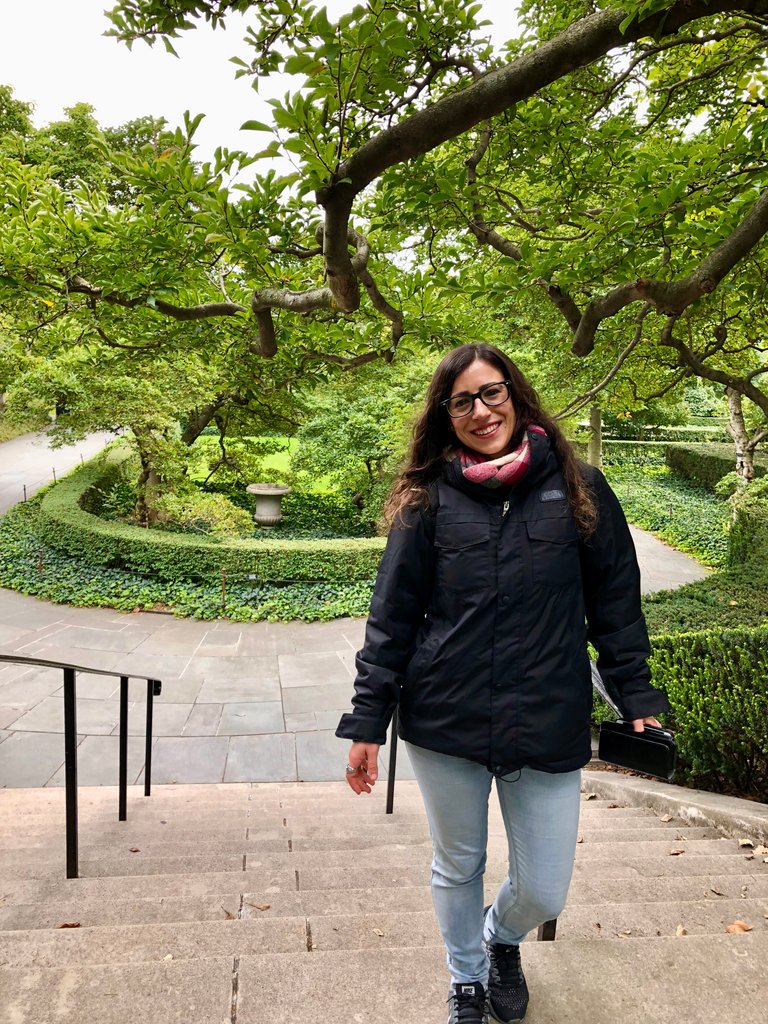 ![81447CC5-EB8A-48F7-ADA0-598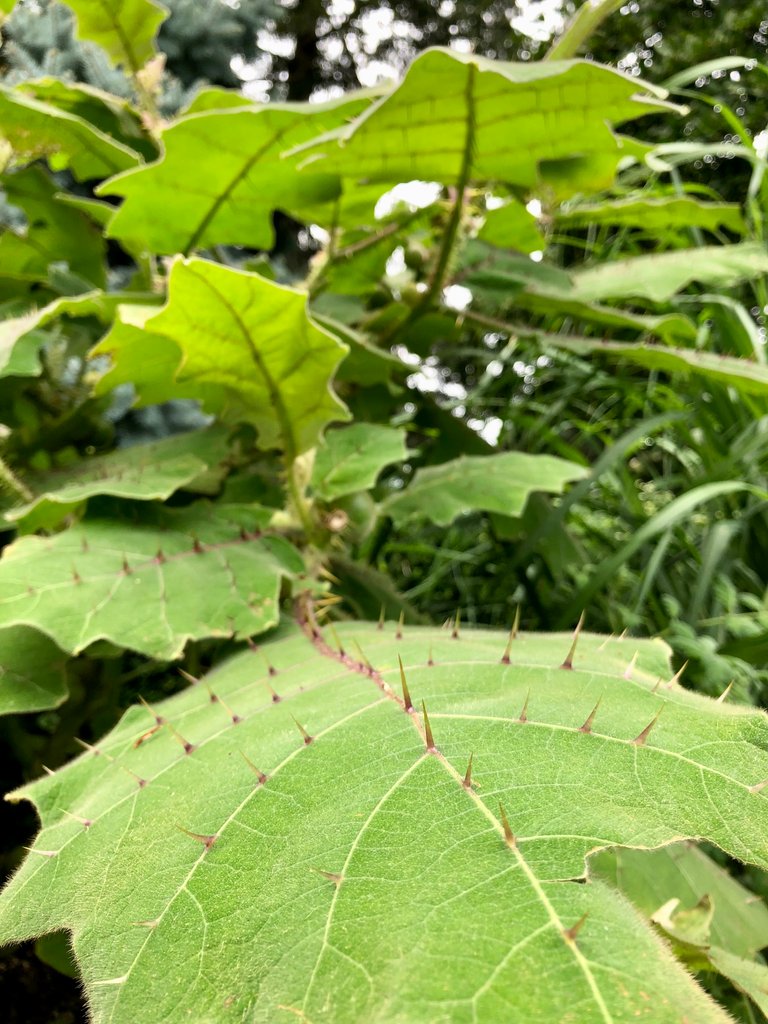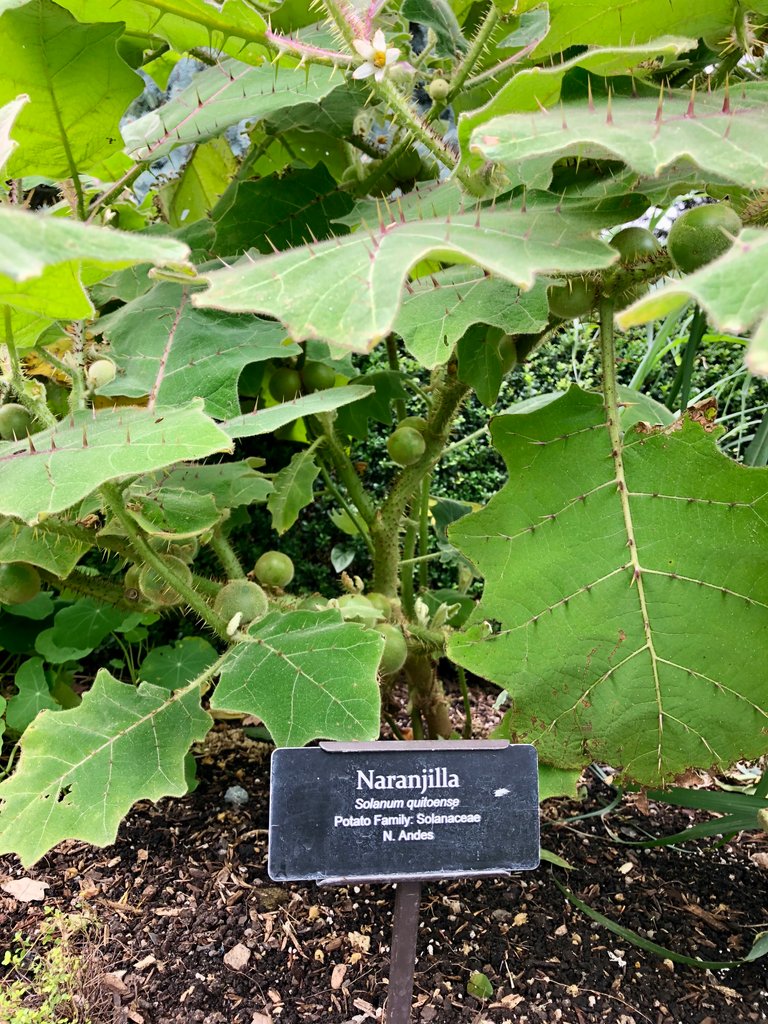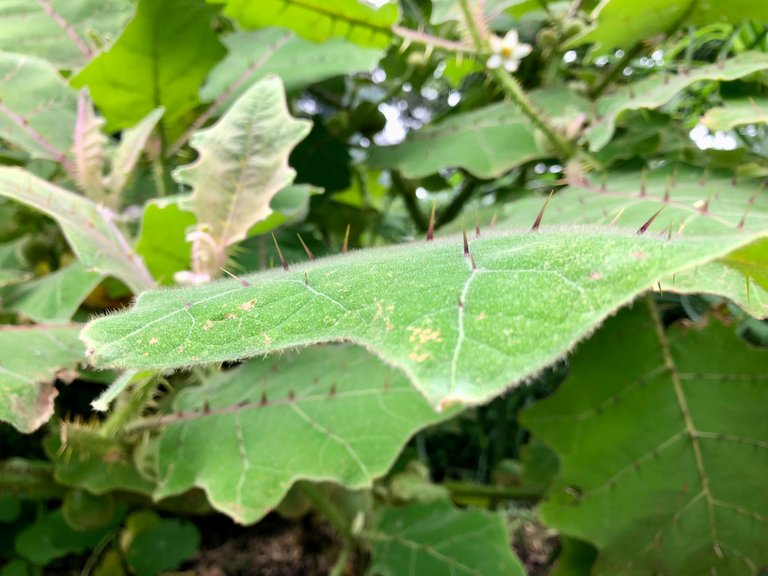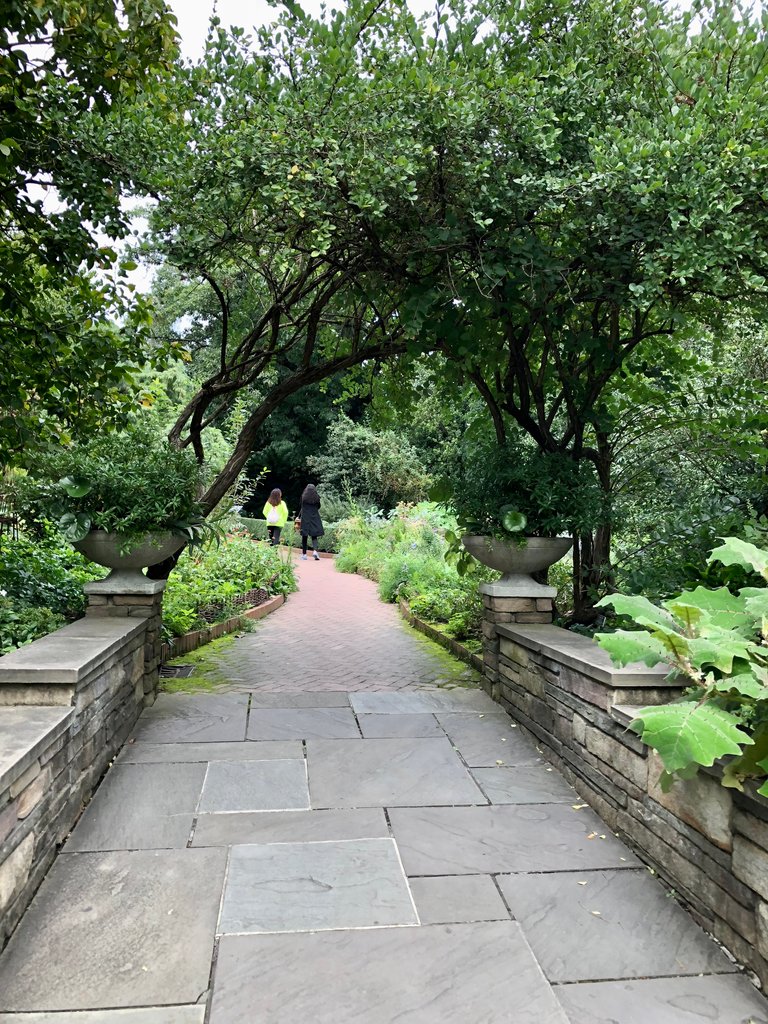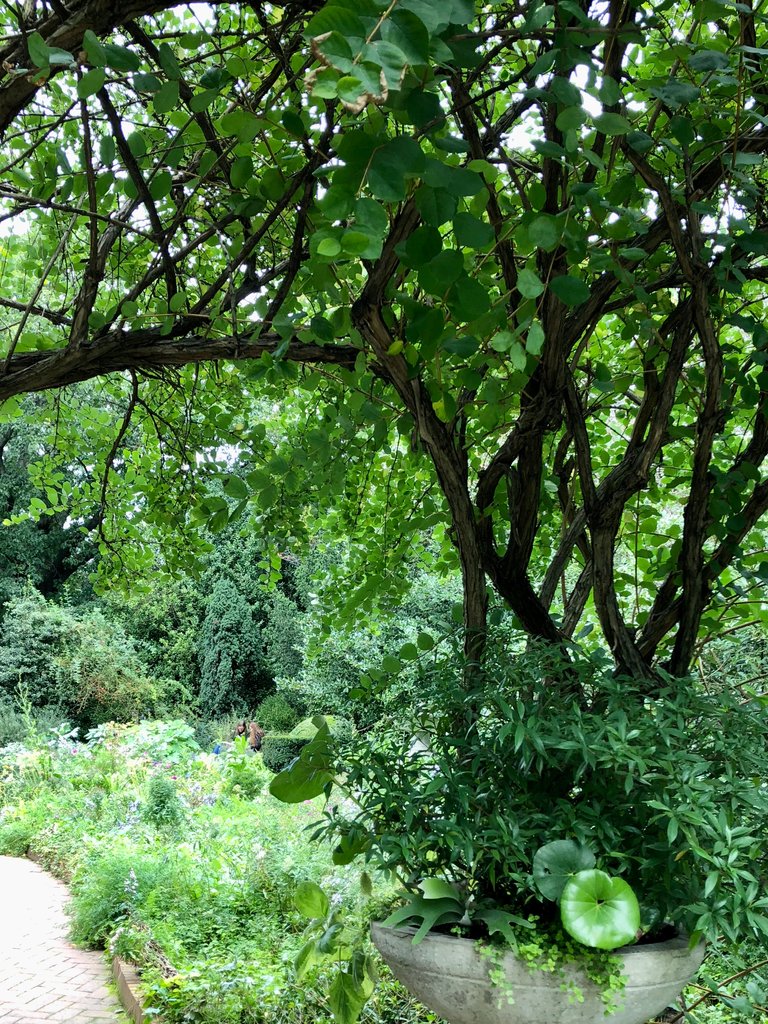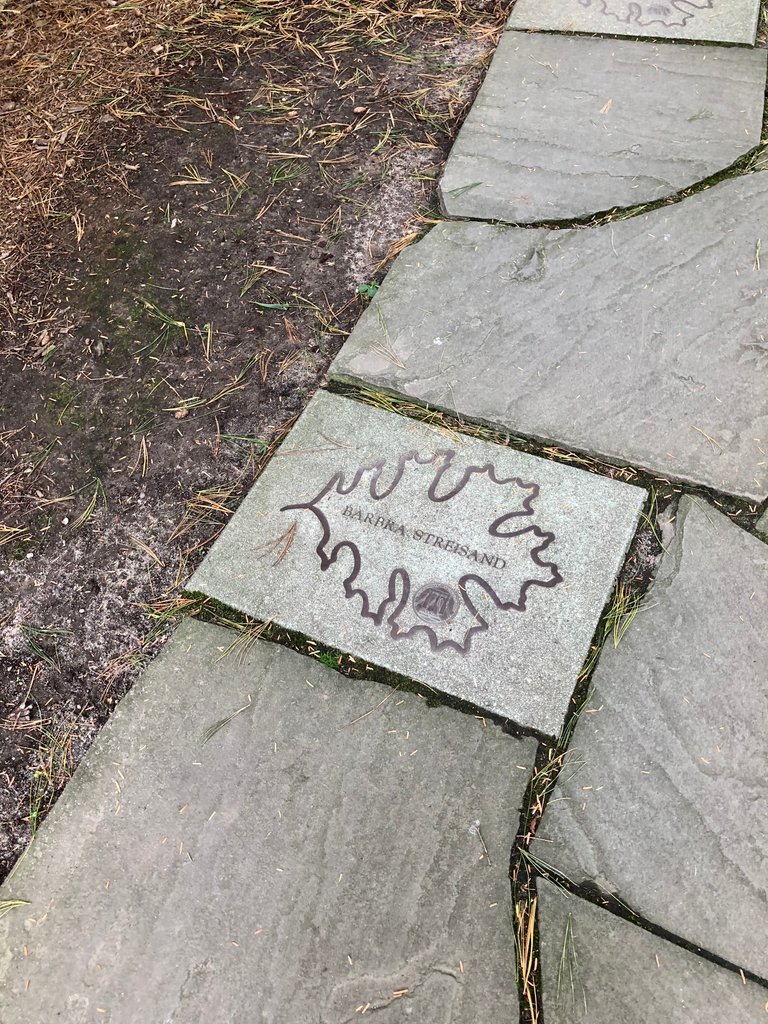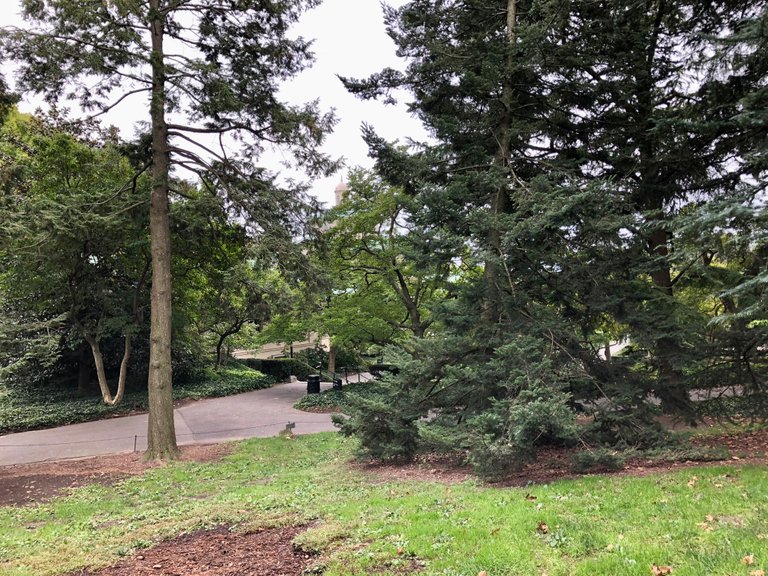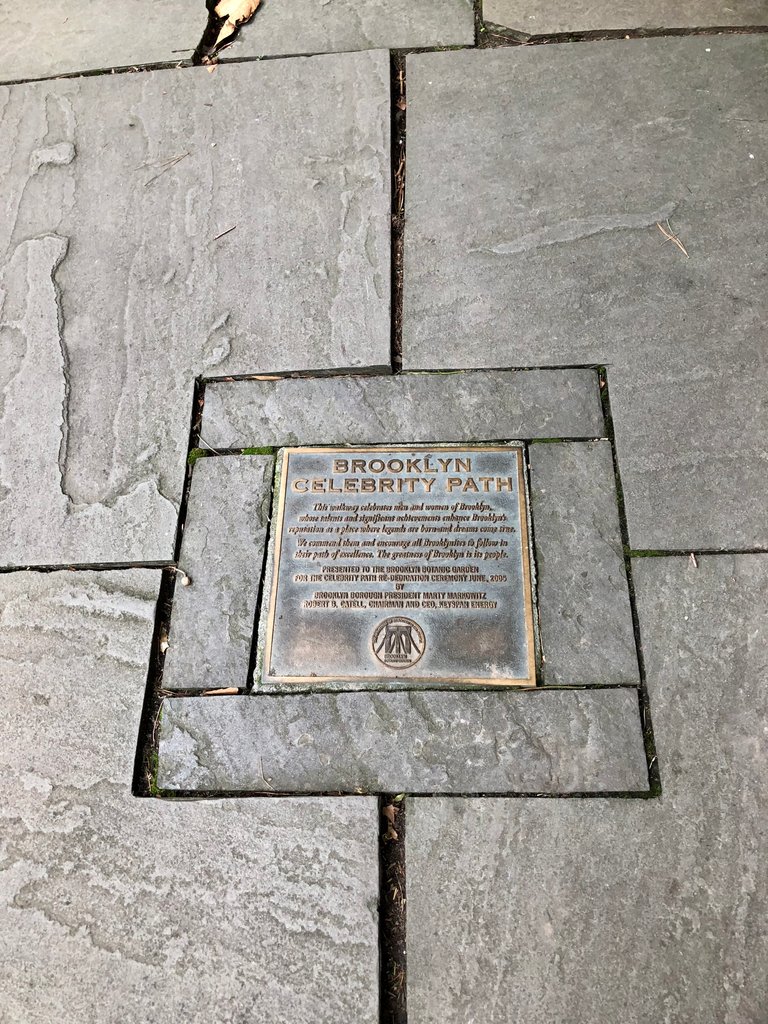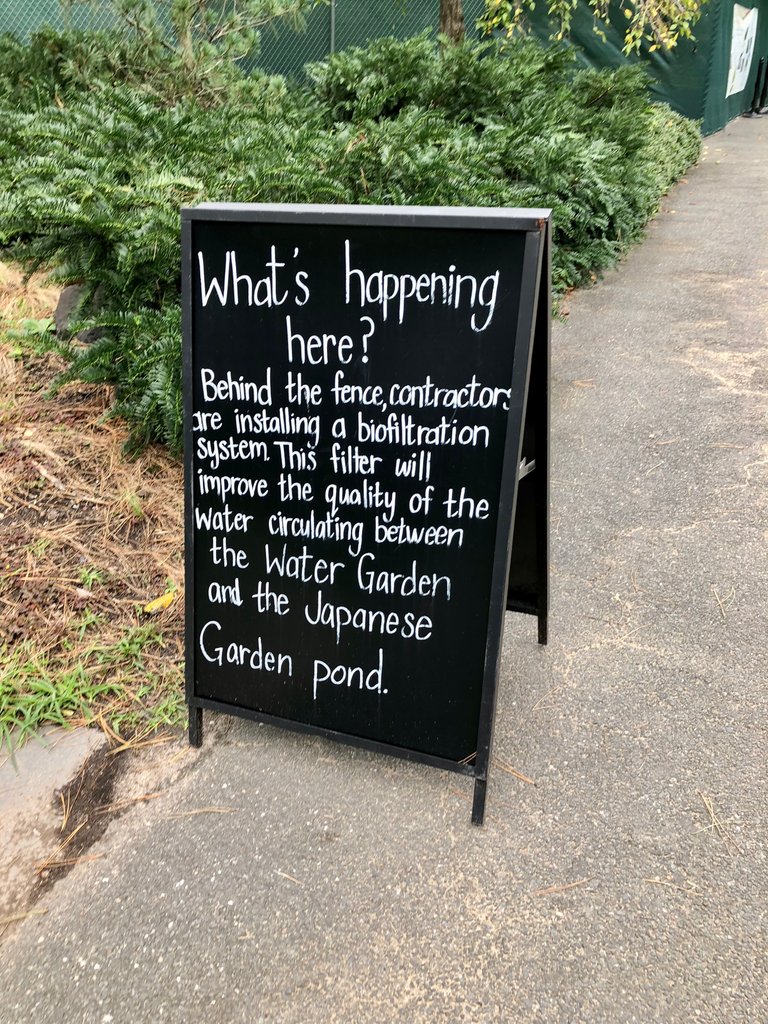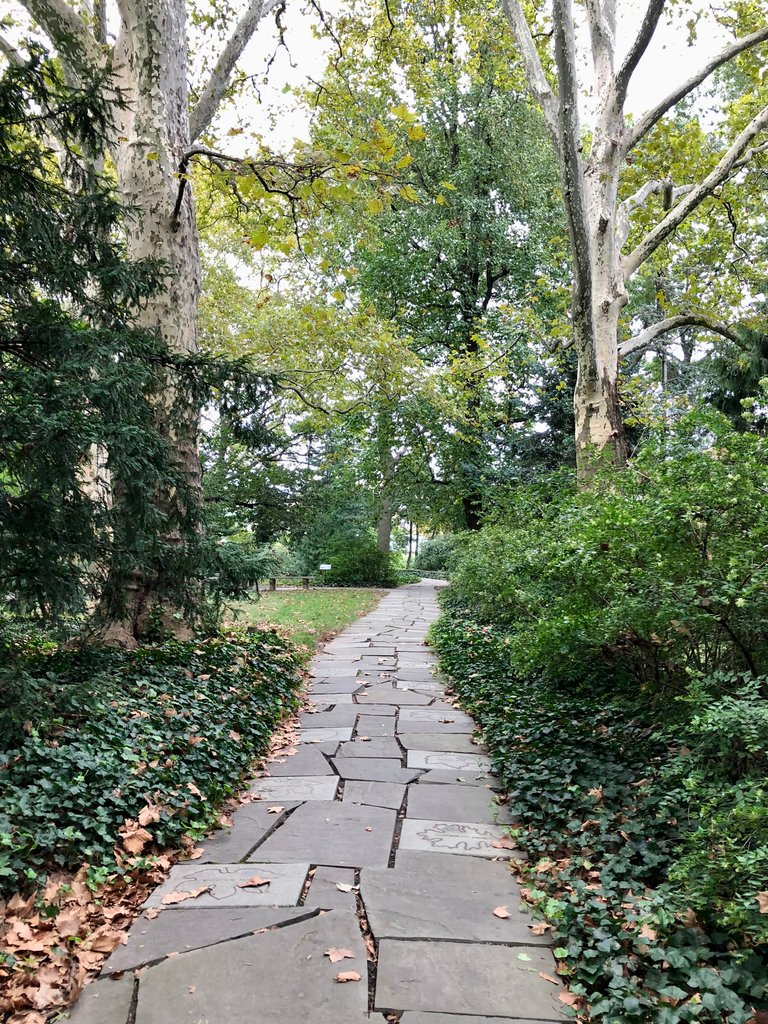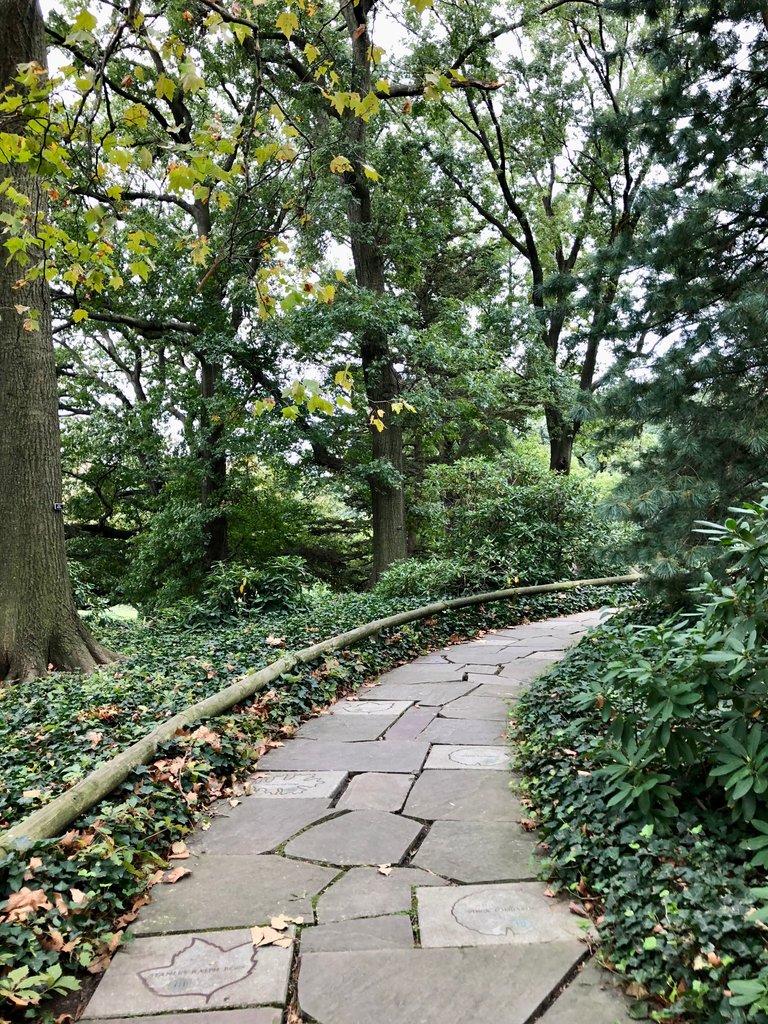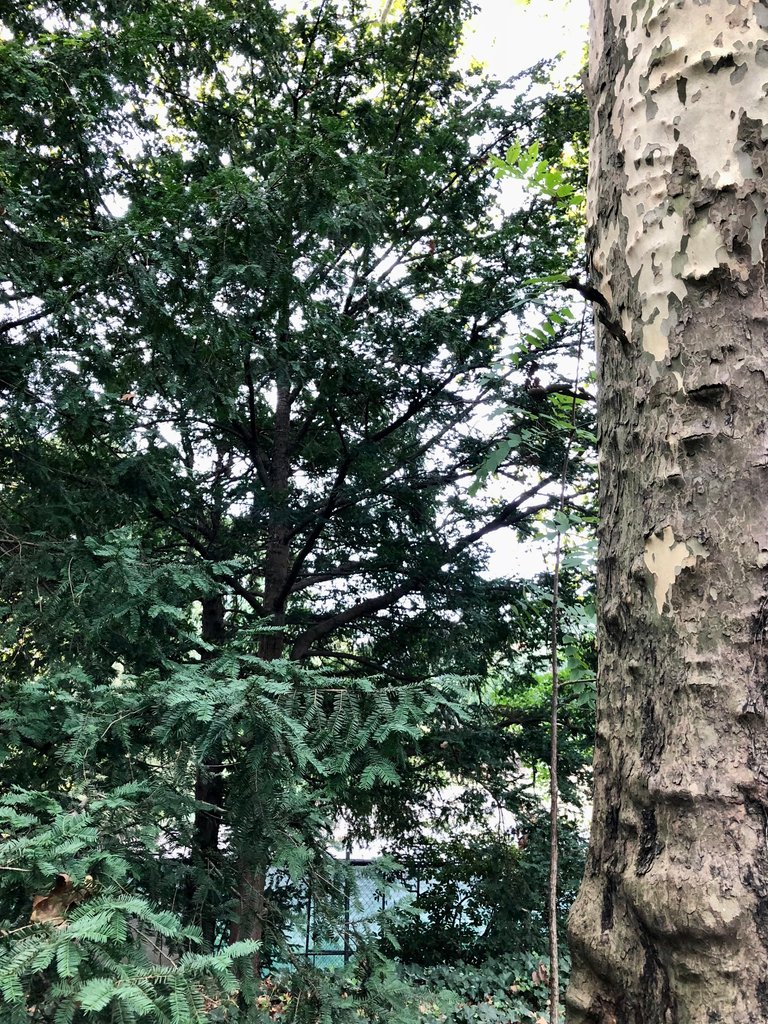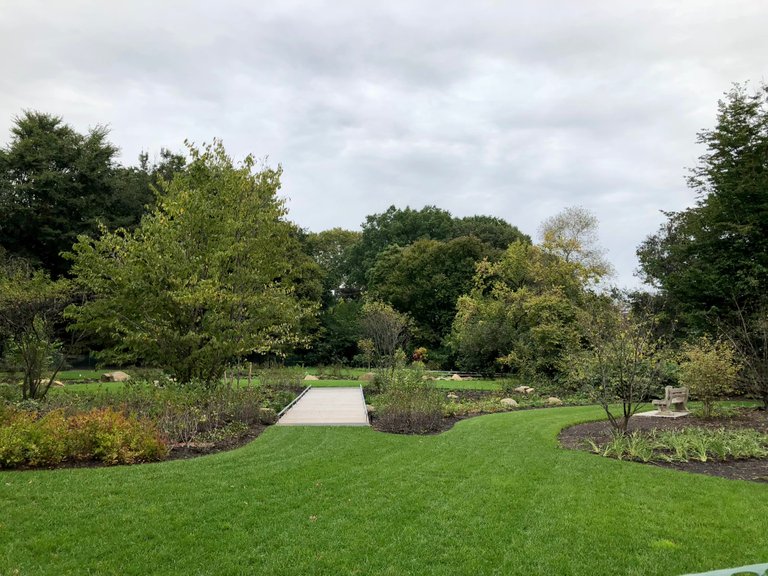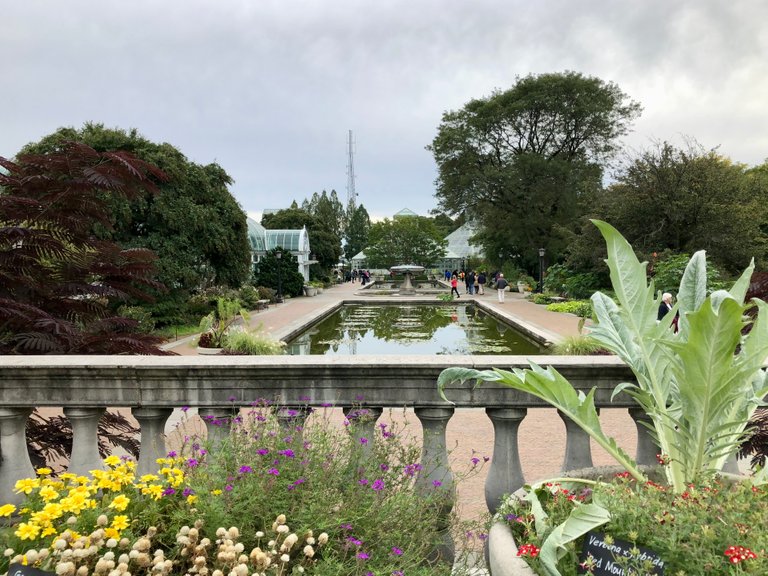 ---
This was without a doubt the best decision I made that day.
I highly recommend visiting the Botanical Garden if you are traveling to New York. You don't need to be staying in Brooklyn, you can take the subway and easily get there from Manhattan.
Or, if the weather is nice, you can even cross the beautiful Brooklyn Bridge and see if you can walk there. What if, as the place is very big (and as you could already see in the pictures), I would recommend you to leave both time and energy to invest in the garden itself, as there is a lot to see and enjoy.
For those of you who are not quite sure and have in mind to visit New York, I would advise you to add a day or an afternoon and visit this destination. While New York offers its unparalleled Central Park and its islands, which manage to disconnect you from the city, the Botanical Garden is perfectly designed and will transport you to other parts of the globe.
---
I hope you liked this publication. The quality of the images is not so good because they were taken with what at the time was my cell phone, an iPhone 8 Plus, and its features were of course inferior to many devices today.
---
Have a nice day!
---
With love,
Esta fue sin dudas la mejor decisión que tomé aquel día.
Recomiendo enormemente visitar el Jardín Botánico si viajas a Nueva York. No es necesario que te estés hospedando en Brooklyn, puedes tomar el metro y llegar fácilmente a destino desde Manhattan.
O, si el tiempo es bueno, puedes incluso cruzar el hermoso Puente de Brooklyn y ver si llegas caminando. Lo que si, como el lugar es muy grande (y como ya pudiste ver en las fotos), yo te recomendaría que dejes tanto el tiempo como la energía para invertirlos en el mismo jardín, ya que hay mucho para ver y disfrutar.
Para aquellos que no estén muy seguros y que tengan en mente visitar Nueva York, les aconsejo que agreguen un día o una tarde y visiten este destino. Si bien Nueva York ofrece su inigualable Parque Central y sus islas, que logran desconectarte de la ciudad, el Jardín Botánico está perfectamente diseñado y te transportará a otros sectores del globo.
---
Espero que te haya gustado esta publicación. La calidad de las imágenes no es tan buena porque fueron tomadas con el que en ese momento era mi celular, un iPhone 8 Plus, y sus características claro que eran inferiores a las de muchos dispositivos de la actualidad.
---
Que tengas un hermoso día!
---
Con cariño,
Thank you so much for being here!
I hope this post has liked you!!
Have a great day,
With love,
Muchas gracias por estar aquí!!
Espero que este post te haya gustado!!
Que tengas un hermoso día,
Con cariño,
---

---
Pinmapple code: [//]:# (!pinmapple 40.668527 lat -73.967015 long Come and be amazed with me at the Brooklyn Botanic Garden, USA d3scr)
Device: iPhone 8 Plus
Translation. DeepL
---