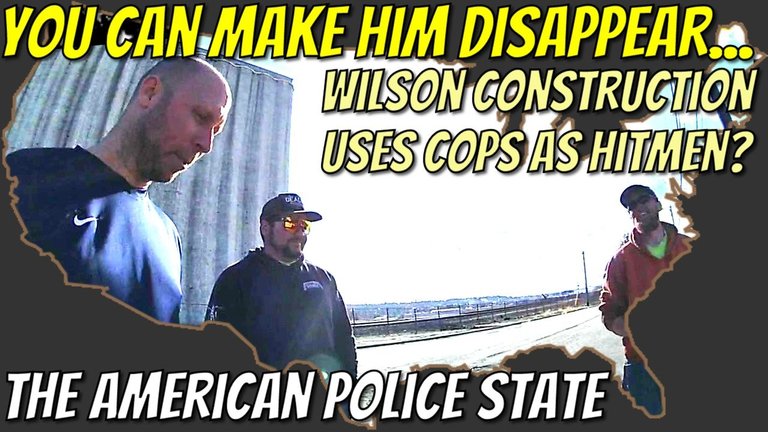 ---
Construction Company Calls on Cop to be Hitman
Back on March 23, 2021 I paid a visit to the Spokane office of Wilson Construction. I am doing an ongoing story on the installation of 5G repeaters in my region and since Wilson Construction is the company contracted by the local utility company to install these repeaters for Verizon I decided to pay their local office a visit for some footage. Apparently the workers at Wilson construction know what they are enabling because they don't like being documented. If it was so amazing and is so necessary than why wouldn't they be proudly displaying who they are and what they are doing in front of the camera? Seems weird to be so defensive if what you are doing is so purely good. Please upvote, reblog and subscribe.
Wilson Construction contact info
Corporate Headquarters
Wilson Construction Company
1190 NW 3rd Ave, Canby, OR 97013
(503) 263-6882
Facebook
Twitter
Website
Spokane office
2121 Springfield E Ave
Spokane, WA 99202
Phone: (509) 535-9487
Chad Divine's contact
Phone: (503)347-9470
Sources
RCW 9A.46.020 Harassment Definition & Penalties
RCW 9A.76.175 Making a false or misleading statement to a public servant
9th Circuit Court Upholds FCC Mandate
My other 5G videos
[My previous video on this incident w/out bodycam}(https://www.minds.com/newsfeed/1224917956462870528?referrer=questionableauthority)
First time they were filmed by citizens
My first interaction with Wilson in Liberty Lake, WA
Bodycam footage from 2nd interaction in Spokane
Bodycam footage from my interaction in Liberty Lake
Support Questionable Authority and Independent Journalism with Cryptocurrency or fiat currency
Pirate Chain(ARRR) - zs1txwcrkpzuxk9qscf993xpwxa59ryng3mqajfcu6hs988ety6r8enxutku5a7pgk8npr3q8mcz2y
Monero - 876CskHzzPL1d1npiYMUk5dGyLS5zo5swSn6SmhcHBvdH1GsQqMdxzwMxKTU27eZyZAjdjRxVDZQRZprsNcqDuzA6AHf6NH
BitCoin - 34LMmp4Pc2kQuRKmBCqhakD7EZudVsNY3S
Ethereum - 0x08aac07654b5f74eb7d3be80e369d2db5bfd2bfc
PayPal
Venmo
Cash App - $QuestionableAuth
Follow me on Flote.App to catch all my posts.
This is the place I will share video's, blogs, etc. It will be the one stop shop for all things QA from here on out. I will also be doing all of my Livestreams from here on out on Flote.App so come join me on a censorship free blockchain based social media app for everyone!
Start using LBRY/Odyssey as your new video platform to watch and upload.
Click here to start earning crypto currency for yourself and your favorite creators!
QA Now available on "Activism News Network" on ROKU!
Commercial free access and exclusive content from this channel and over 20 other activist channels for $3.99/month. Follow the links below to get more info and sign up. No censorship on this ROKU channel.
Activism News Network website
Sign up for the channel on ROKU $3.99/month
Check out the QA Merchandise shop here! Support us and show your love for freedom at the same time:
Click here for Spreadshirt store
Click here for TeeSpring store
Find QA everywhere online!
Any materials used are done so under the provisions of the Fair Use Act.
FAIR USE ACT
Fair Use
Copyright Disclaimer Under Section 107 of the Copyright Act 1976, allowance is made for "fair use" for purposes such as criticism, comment, news reporting, teaching, scholarship, and research. Fair use is a use permitted by copyright statute that might otherwise be infringing. Non-profit, educational or personal use tips the balance in favor of fair use.
---
▶️ 3Speak